Summary
Keen to increase your Instagram engagement? This guide will give you everything you need to take your Instagram game to the next level and build lasting relationships with your followers.
You will learn
Why engagement is important on Instagram
How to calculate your Instagram engagement rate
Strategies to boost your Instagram engagement
"There was a time when Instagram was all about pretty pictures, and that's long gone," says D'Shawn Russell, founder and CEO of Southern Elegance Candle Co.  "Now, the most popular brands engage with their customers."
Instagram engagement is all about connecting with your target audience — without engagement on Instagram, you're essentially talking to an empty room.
Keeping an eye on your Instagram engagement rates not only helps you see whether your social media marketing efforts are paying off but also guides you toward building deeper connections with your followers. For small businesses, that connection could make all the difference.
💡
Schedule your Instagram posts, carousels, stories, and reels with Buffer
Visually plan your content calendar and make your profile a "must-follow" with Buffer's suite of
Instagram scheduling and analytics tools
.
What is Instagram engagement?
Instagram engagement goes deeper than simply looking at your follower count, it measures how your audience is interacting with your content.
Basically any time one of your followers takes an action on your profile or in response to one of your posts, that's engagement.
Here are some of the common Instagram engagement metrics:
Post engagement metrics:
Other engagement metrics include:
DMs
Link clicks/swipe-ups
Mentions
Hashtag usage
Stories sticker interactions
(In this article, we'll be focusing mostly on post engagement metrics as well as measuring your engagement rate.)
Why engagement matters
Engagement matters for a couple of key reasons:
First, it shows you how people are reacting to your content. The more your audience relates to your content, the higher your engagement will be. This is a clear sign that your social media strategy is paying off.
Secondly, engagement is one of the important ranking factors for Instagram's algorithm. When Instagram loads its feed, the algorithm aims to surface the posts you're most likely to interact with, so posts from accounts and topics you regularly engage with are most likely to appear at the top of your feed.
In short: The more engagement your content gets, the more likely your followers are to see it.
How to calculate Instagram engagement rate
Instagram looks at any action people take on your posts, IGTV, Instagram Reels, and Instagram Stories. Instagram metrics that influence your engagement rates include likes, comments, shares, saves, website clicks, profile visits, followers, and replies to Instagram Stories. Refer to our Instagram analytics guide for more info on how to view these metrics.
Looking for an Instagram engagement rate formula? Well, that depends on how you measure engagement, whether by reach, impressions, total number of followers, video views, etc.
Here's a breakdown of the two most widely-used Instagram engagement formulas:
Engagement rate based on followers
Let's say you want to calculate the engagement rate for an individual Instagram post based on followers. You'll take the number of actions on the post, divide it by your total number of followers, and multiply by 100. If you're already sweating over algebra exam flashbacks, don't worry, we'll break it down.

So if you have 1,000 followers and your Instagram post received 70 likes, 15 comments, and 5 shares, your engagement rate would be 9%.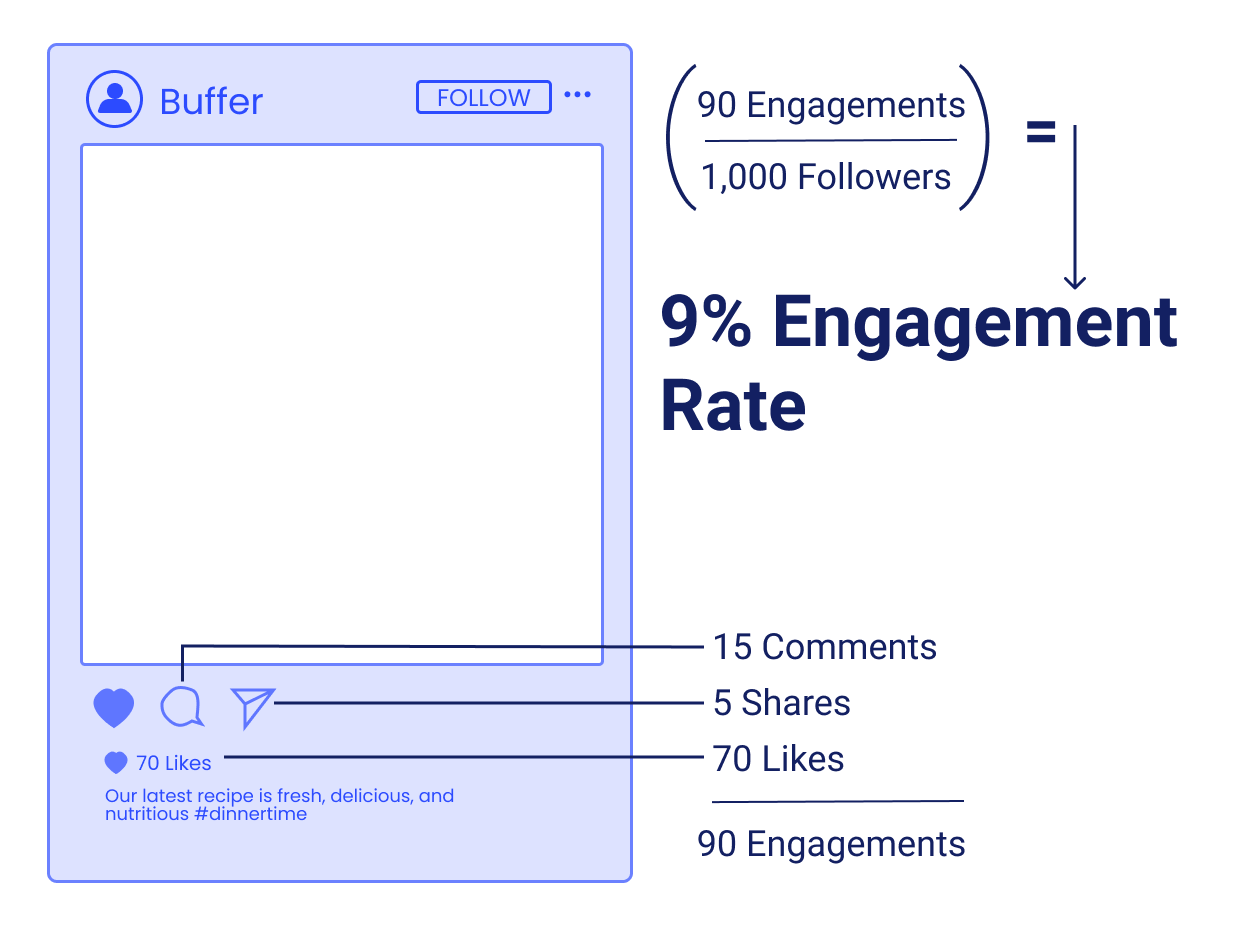 Calculating Instagram engagement rate based on your followers gives you a good idea of how your followers feel about the content. However, it does not take into account how many of those followers actually saw the post. To do that, you'll want to calculate engagement based on impressions.
Engagement rate based on impressions
To calculate your Instagram engagement rate based on impressions, you'll use the same formula as above but replace your number of followers with the total number of impressions. (This is the formula we use at Buffer.)

So if your post was seen by 515 people (impressions) and received a total of 25 engagements, your engagement rate would be 4%.

Third-party tools like Buffer's analytics will also do it for you. In the below screenshot from Buffer analytics, you can see our top post generated 317 engagements (Likes, Comments, and Saves) and 7,637 impressions, so the engagement rate is 4.3%.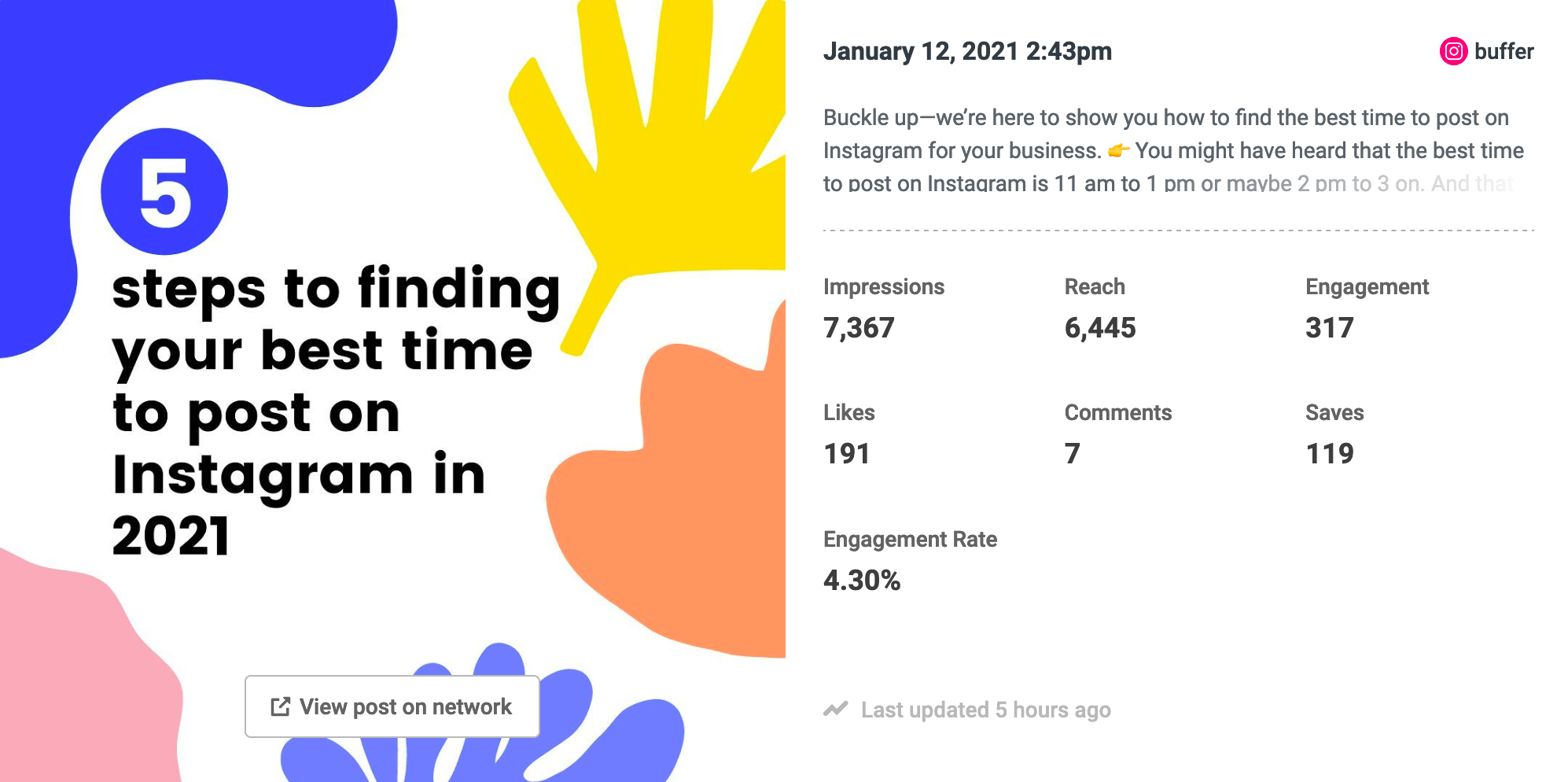 Why we choose to measure engagement based on impressions: There's no right or wrong formula to use here. We use the impressions-based engagement rate formula here at Buffer because it shows you how many people interacted with your content based on people who actually saw it, rather than the number of people who follow your account.
What is a good Instagram engagement rate?
Although "good" is a relative term, you might be surprised to learn that a good Instagram engagement rate can be as low as 1%. And that seemingly low number is pretty standard across industries — a study including 1,800 Instagram accounts in 12 different industries showed an average engagement rate of 1.6%.
A good Instagram engagement rate can be as low as 1%.
Before you label your engagement rate as good or bad, think about what makes engagement valuable to you. Giveaway posts may get you high engagement rates, but do they lead to more sales? Do likes translate to more customers? Instagram engagement is great for your ego, but it's much more important to consider how that engagement translates to business.
Instead of hyper-focusing on the numbers, define "good" by your progress over time. Take note of what content gets higher engagement rates, tweak your social media marketing strategy, and work toward increasing overall engagement.
6 Tactics to help boost your Instagram engagement
Engagement is all about connecting with your particular audience, so there is no step-by-step guide for increasing engagement rates. However, these tactics will help you gauge your audience's interests and cater future content to them.
1. Experiment with different content types
You can share content on Instagram in many formats: single-image posts, carousel posts, IGTV, Instagram Reels, and Instagram Stories. Varying your post types gives you a chance to see which formats your audience engages with most often.
Here at Buffer, we've been focused on diversifying the content formats we use on Instagram. In the below screenshot you can see a mix of IGTV, carousels, Reels, and single-image posts in our feed: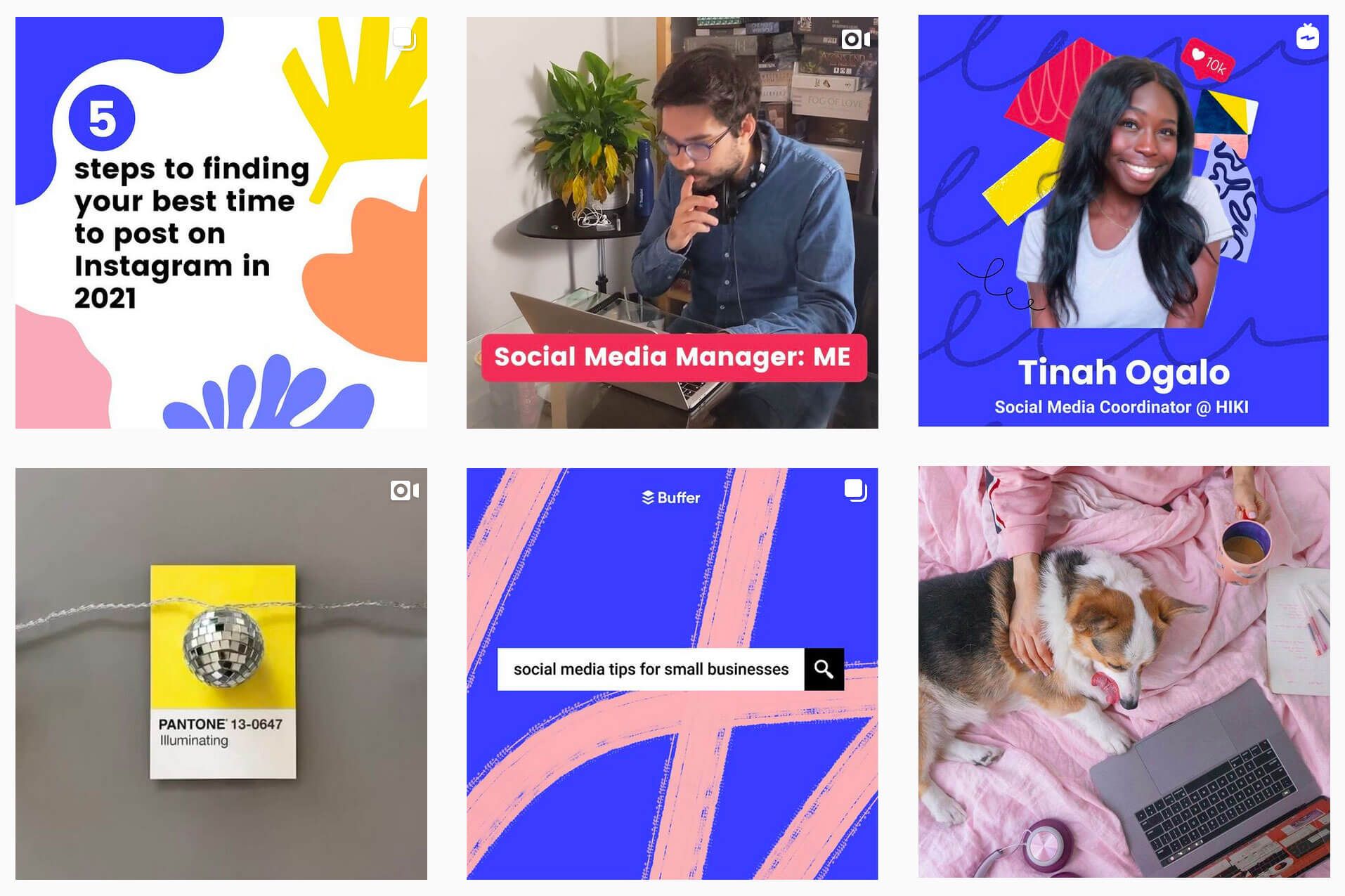 Studies show carousel posts have the highest engagement rates of all post types, with particularly high rates for posts that include a mix of images and videos. But what works for other businesses might not work for you. Don't treat engagement studies as law.

Think of it this way: If you run a dance studio, which is more likely to get potential dancers excited — still images in a carousel post or an IGTV of a killer dance routine you choreographed?
2. Look beyond likes
It's tempting to focus on racking up likes, but it's not the only Instagram engagement metric to watch.
"Previously, content was measured on likes and follower counts," says Madison Utendahl, founder of Utendahl Creative. "Now you need to be thinking about your saves and shares."
Now you need to be thinking about your saves and shares.
Likes are somewhat passive — we scroll, we double-tap, we move on with our lives. Other Instagram metrics say more about the people interacting with your content.
Comments say, "I care about this enough to type out my opinion."
Shares say, "I like this, and I think someone else will too."
Saves say, "This is so great. I want to revisit it in the future."
Many brands make the mistake of ignoring shares and saves because they aren't visible to the public. What good is engagement if you can't show off, right? Wrong. Saves and shares not only tell you who really cares about your content, but they tell Instagram, too. Instagram's algorithm takes note of who saves and shares your posts; it then makes sure your posts show up in those viewers' Instagram feeds more often.
3. Make it a conversation
Don't just toss your content into the world and expect to be showered with praise. Give people opportunities to have back-and-forth interactions with you.
Include questions or a call to action (CTA) in your posts to encourage comments. "Remember that you're talking to human beings, and human beings love to be heard, " Utendahl says. Posing questions is a great way to break the ice with your audience and get them talking. Just make sure you talk back — respond to comments and DMs as you would respond to calls to your business.
For example, at the end of a caption about one of its flavors, Popcorn Shed included a question asking: "Who's tried this one already?" This post generated plenty of comments, and Popcorn Shed made sure to respond to each one of them.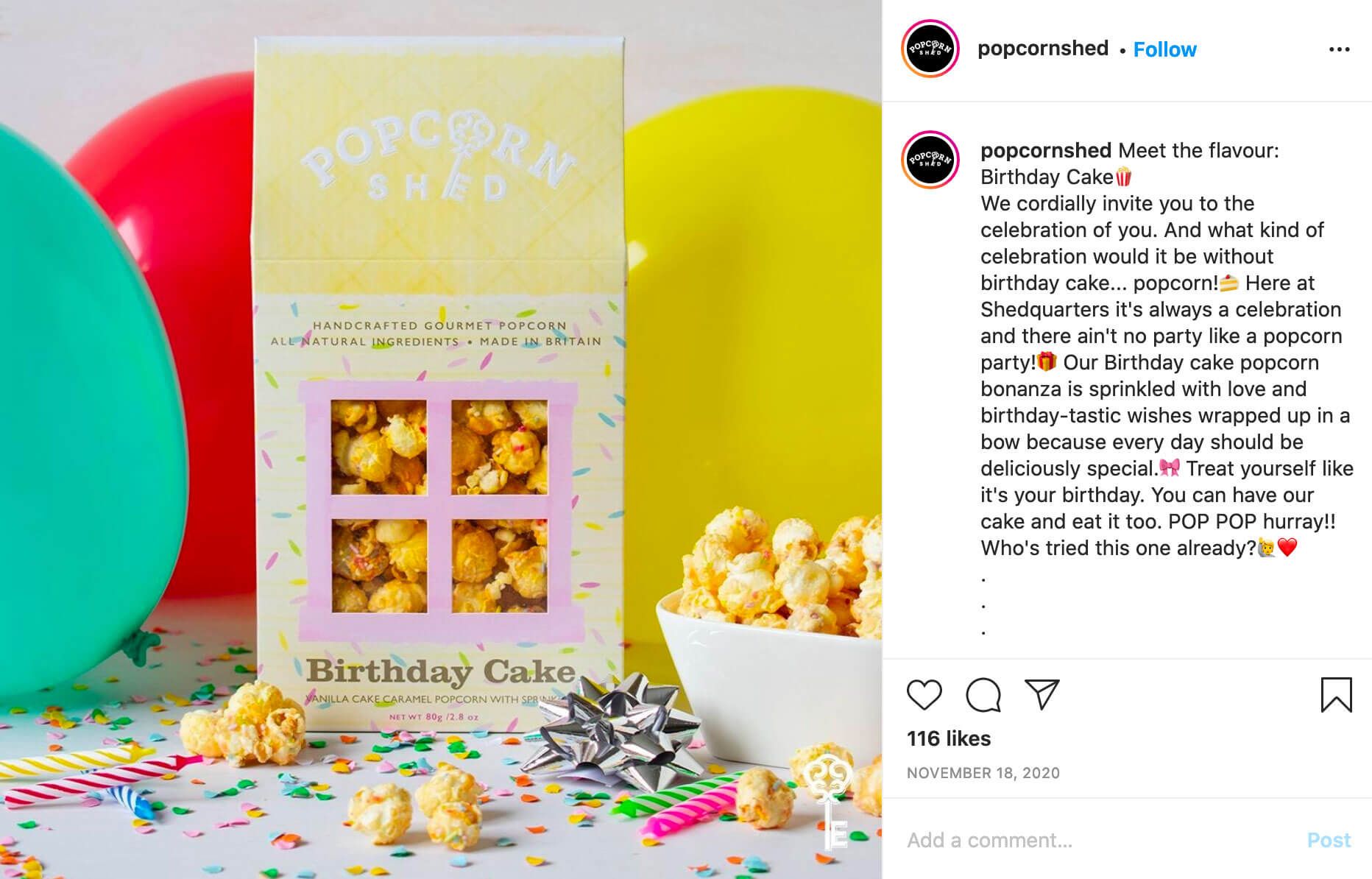 But staying on top of comments isn't always easy as notifications from Instagram quickly disappear. To help, you can now stay on top of important interactions from the comfort of your Buffer dashboard using our engagement features.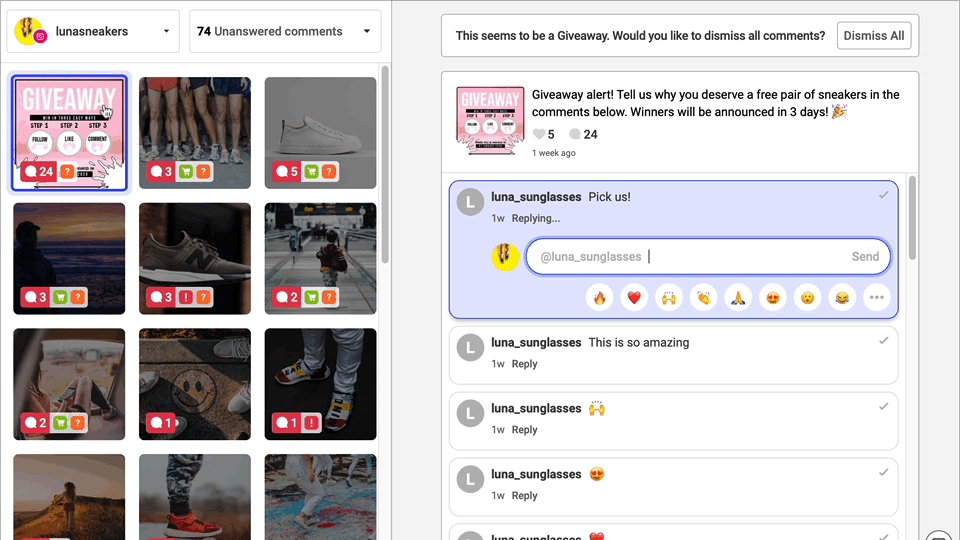 In the below Reel you can also see how Shine With Natasha uses Buffer to turn followers into fans:
4. Use Instagram's interactive features
Make use of interactive Instagram Stickers in your Stories, too. Stickers such as Instagram polls, questions, quizzes, and sliding scales all invite your fans to engage with your content.
What's great about Instagram Stickers is that it takes only a second for someone to vote in a poll, rate a cute dog photo with maximum heart eyes, etc. — and all of those quick actions encourage interaction between your followers and your content.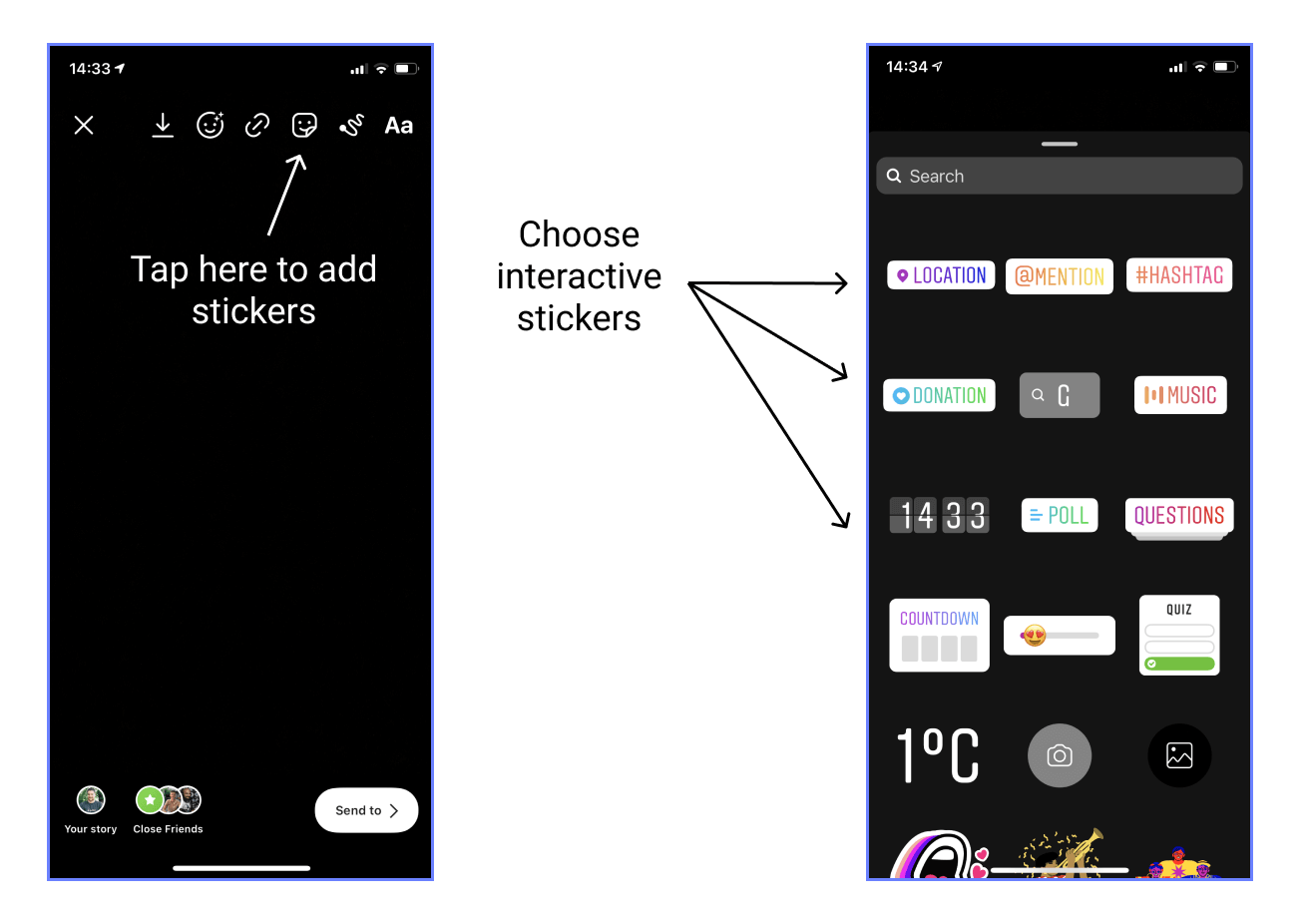 5. Be consistent
The Instagram algorithm favors active users, so posting frequently will help get your content in front of more people. Play around with your scheduling to discover the best time to post on Instagram for your brand in particular.
"Consistency kills the competition," says Marnely Murray, co-founder of Shored Up Digital. "As a business, you should be posting every day. If I decide to follow you on Instagram, it's because I want to see your content."
Posting consistently helps fuel your Instagram engagement. When users interact with your content, it signals Instagram to show those people your content more often. Keep in mind that more is not necessarily better. On average, businesses post about once a day on Instagram and don't see increases in engagement when posting more often.
6. Analyze what's working
If you want to boost your Instagram engagement rate, analyzing your content to see what's resonating with your audience is a great step. Once you know what types of content is getting the most engagement you can start to plan and ship more content in that style. For example, if user generated content is getting more engagement than other posts, you could look to share more user-generated posts.
To analyze your content, work out the engagement rate for each of your posts over the course of a week or month and make notes on which posts have the highest engagement.
If you use Buffer's analytics features, you can also quickly see which posts have the highest engagement in just a few clicks.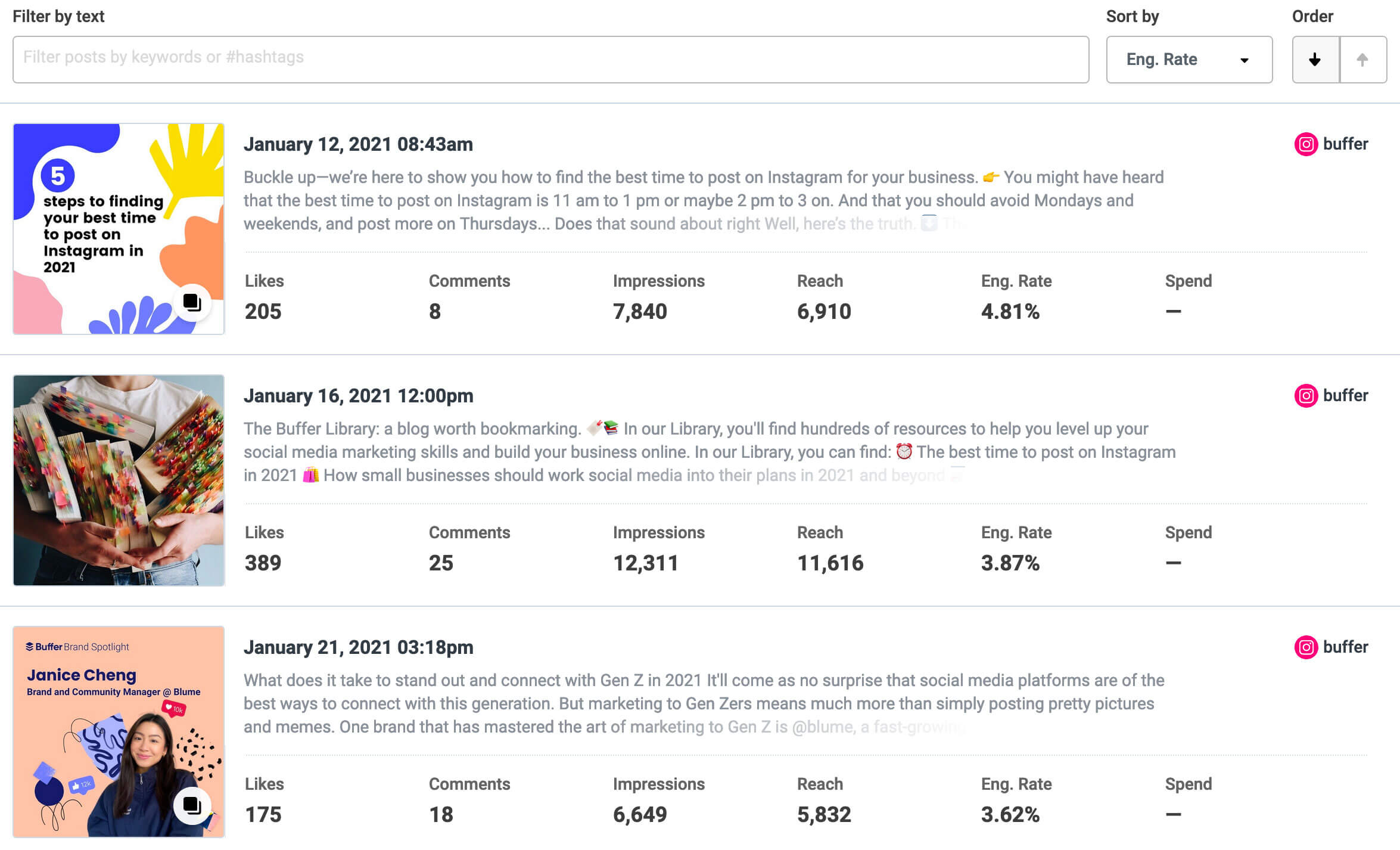 Focus on your audience and the engagement will follow
"Create your social media presence around what your customers want to see versus giving people what you want them to have," says Russell, of Southern Elegance Candle Co.
Create your social media presence around what your customers want to see versus giving people what you want them to have.
Measuring Instagram engagement starts with homing in on what your audience wants to talk about, share, and enjoy. Boosting that engagement is all about creating and sharing content that feeds those desires.  
"We spend a lot of time engaging with customers to find out what, exactly, they want," Russell says, "so we give them more of what they want, and, as a result, they look forward to our posts because our posts aren't about us; it's more about them."
Ready to measure and improve your Instagram engagement rates? Sign up for Buffer, and try out our new publishing, engagement, and analytics tools today.
Brought to you by
Did you find this article helpful? You might also like our all-you-need social media toolkit.
Get started for free now