From brands to babies, a lot of people have a TikTok account. For context, the app reached one billion global monthly users in 2021, making it one of the fastest-growing social media apps. TikTok's explosion in popularity has led both users and the platform to innovate different ways to make money on the platform.
For businesses and creators alike, TikTok is a great tool for discovery that also has the potential to create a new source of revenue or income. Of course, you might already know some popular ones like sponsored content and the TikTok Creator Fund. But there are some other methods that have been successful for creators which we'll discuss.
Here's how you or your business can make money on TikTok.
💡
Schedule your TikTok videos and reach a new audience with Buffer
Plan, create, and schedule content to get more exposure and engagement with Buffer's
TikTok scheduling and analytics tools
.
Collaborate on sponsored content
Brand-sponsored content is growing on TikTok. Sponsored content is when brands and creators work together to have products or to feature their offerings in your video in return for a fee. Sponsored content is one of the best ways for any creator to make money on TikTok or for a brand to partner with influencers. Sixty-eight percent of marketers made TikTok part of their influencer marketing strategy in 2021. So if you've been considering reaching out to brands as a creator, or to creators as a brand, you're on the right track.
If sponsored content is a path you want to explore, how you can get started? First, and perhaps most importantly, you need to identify and partner with brands that fit your niche and values as a creator and vice versa. This helps build trust with your audience as well as improves engagement on your sponsored posts since they match what your audience comes to your account for anyway.
You can start by working with smaller brands or creators for a more intimate working relationship. Reach out to local businesses or people with accounts in your region to see if they'd be interested in partnering up for a feature.
Also, consider joining the TikTok Creator Marketplace (TCM), a collaboration platform that allows brands to connect and run marketing campaigns with TikTokers.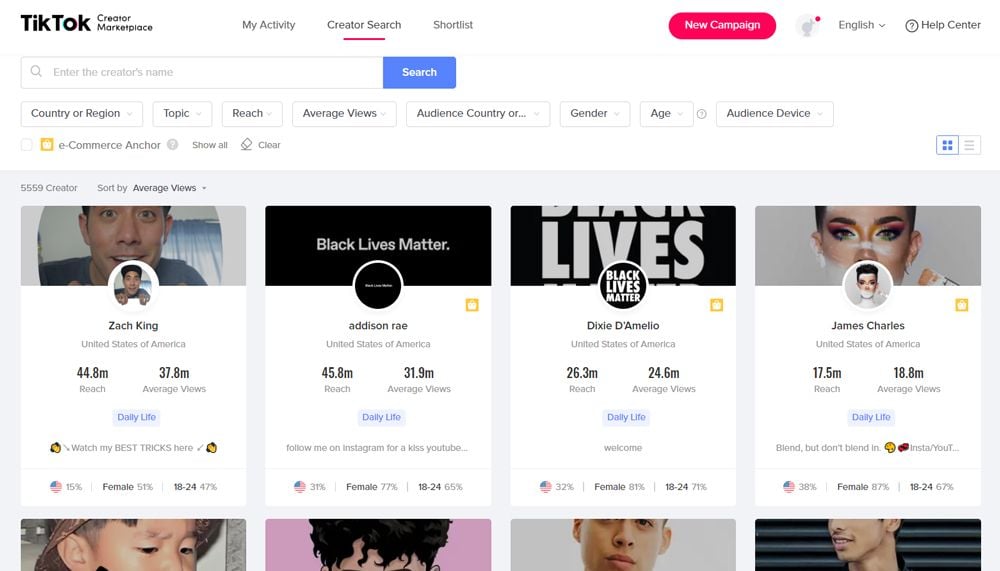 Whichever side of the brand-creator relationship you're on, using TikTok's native marketplace might be a better way of connecting and collaborating with the right people to monetize your content. Creators need to meet certain eligibility requirements to be invited to the platform, but brands can join and connect with creators instantly.
💡
Tip
: When creating sponsored content, look for ways to fit the product or service seamlessly into your video (this is why brand-creator fit is so important). An example is
sunny.tsao
, a skincare influencer who already talks about the products she uses. This means that sponsored ads from skincare brands aren't a jarring departure from her usual content.
Sell your own products
If you have an existing line of products or are considering creating one, TikTok can help you sell them. Creators from the U.S., Canada, or the U.K. with a TikTok for Business account will be able to add a shopping tab and product links to your profile.
The shopping tab is a new feature resulting from TikTok's partnership with Shopify as well as other e-commerce platforms. It's designed to help TikTokers with a Shopify store promote their products through the app. Users who click a product link are redirected to the merchant's Shopify store for purchase.
Brands like Youth to the People and Glow Recipe (which TikTok published a case study about) have made use of the Shop tab, putting their actual products on sale for purchase through the app. This feature is only available in the U.S. and U.K. for now, so that's a major factor for businesses outside those regions to consider.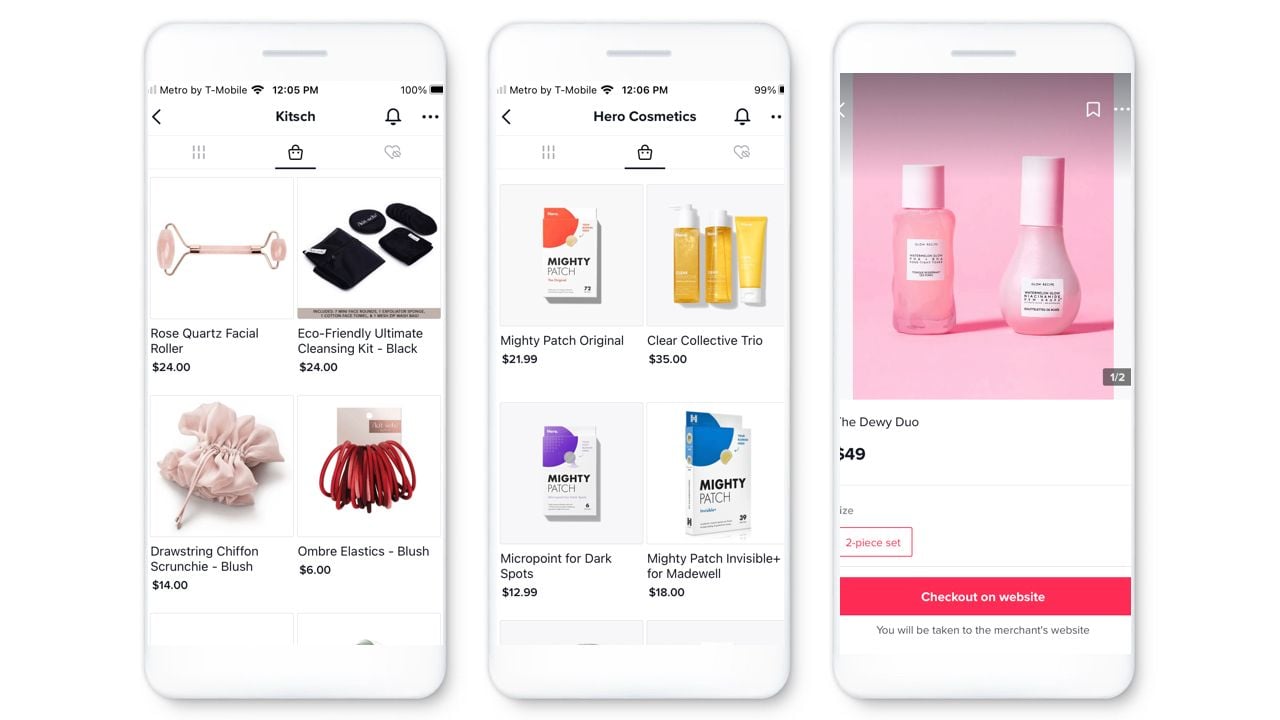 Another snag with using TikTok Shopping is that TikTok Business accounts only have access to generic sounds, making it more difficult to participate in trends on the app, so you'll have to get creative. An interesting example of this is a viral video where the Bed, Bath and Beyond social media manager hummed a viral sound that they couldn't access because of Business account restrictions.
💡
Tip: TikTok's official Shopping feature isn't the only way to sell your products. Sharing user-generated content and directing users to the link in your bio to shop from your website can also help increase sales.
Set up crowdfunding to collect donations from fans
If you're looking to fund a specific endeavor like your startup idea or becoming a full-time creator, crowdfunding is a great option. Offering an easy, no-pressure way for fans to give back or contribute to your idea is great for securing a regular stream of income. Crowdfunding could also be a great way of growing your audience if you're offering perks to contributors. Here are some crowdfunding sites to explore:
In practice, crowdfunding on TikTok has proven successful for businesses. Osien Gwynned found success with his Kickstarter campaign for Antur Supply Co reaching its almost-$35,000 goal 9.5 hours after going live
Collect tips from your audience
Crowdfunding platforms might not be ideal if you don't have a specific project to fund. Consider using a tipping platform to accept donations quickly and easily. Here are some great tipping platforms to check out:
Tipping platforms work just like a real-life tip jar – the option is available, but not mandatory, and your fans can donate any amount they like at any time they want. Creators like sarahopkinsart and thepaytonproject have put tipping platforms to good use by including these links in their TikTok link in bio.
Join the TikTok Creator Fund
The TikTok Creator Fund is the most straightforward way for creators to make money through the app. It's not an ad revenue-sharing program like YouTube's AdSense, simply a way for TikTok to share income with creators.
TikTok calculates its payouts based on factors like views, video engagement, and even region-specific performance. However, the payout isn't significant, with reports that TikTok pays between two and four cents for every 1,000 views. This suggests that you might expect between $20 to $40 for a million views.
The TikTok Creator Fund is available for users in the U.S., U.K., France, Germany, Spain, and Italy. The platform is rumored to launch the fund in additional countries in 2022. As long as you're in the right location, there are a few other requirements to join the Creator Fund:
Check out this guide for more details on joining the TikTok Creator Fund.
Advice for Growing Your Audience on TikTok
A lot of our advice relies on having a dedicated following of people that might be interested in whatever you're selling them. To get in a position where you can start making money, you'll need to grow your audience and keep them engaged with your content:
For more detail on building your brand on TikTok, check out Ask Buffer: Is It Too Late to Get Started on TikTok?
Focus on creating valuable content no matter your audience size
You don't have to have a massive following to monetize your TikTok content. Micro-influencers are just as in-demand as the bigger influencers, as they are easier for small businesses and niche brands to partner with. Focus on creating value for your audience as well as educating yourself on the best approaches to brand partnerships.
For business owners, keep in mind that being genuine is the best path to success in making money on TikTok – it's the easiest way to get audiences on the platform to trust you. From being transparent about the behind-the-scenes of your business to engaging with followers consistently and not leaving their comments hanging, there are many ways to grow your account and gain your audience's trust.
If you're not sure how to get started on TikTok, check out The Ultimate TikTok Marketing Guide for all our tips.
Brought to you by
Did you find this article helpful? You might also like our all-you-need social media toolkit.
Get started for free now