We reached the 50 team members mark in September! This feels like a big milestone and a special moment to reflect on.
For me, the most exciting part of this is that 50 people are able to join our journey of working as a fully distributed team, where you choose to live and work from the place which makes you happiest and most productive.
We've had several examples of teammates moving or traveling to find their happy place, or being able to move easily to help and be with their significant other for studies or a job move.
Here are all the latest insights from the Buffer team in September.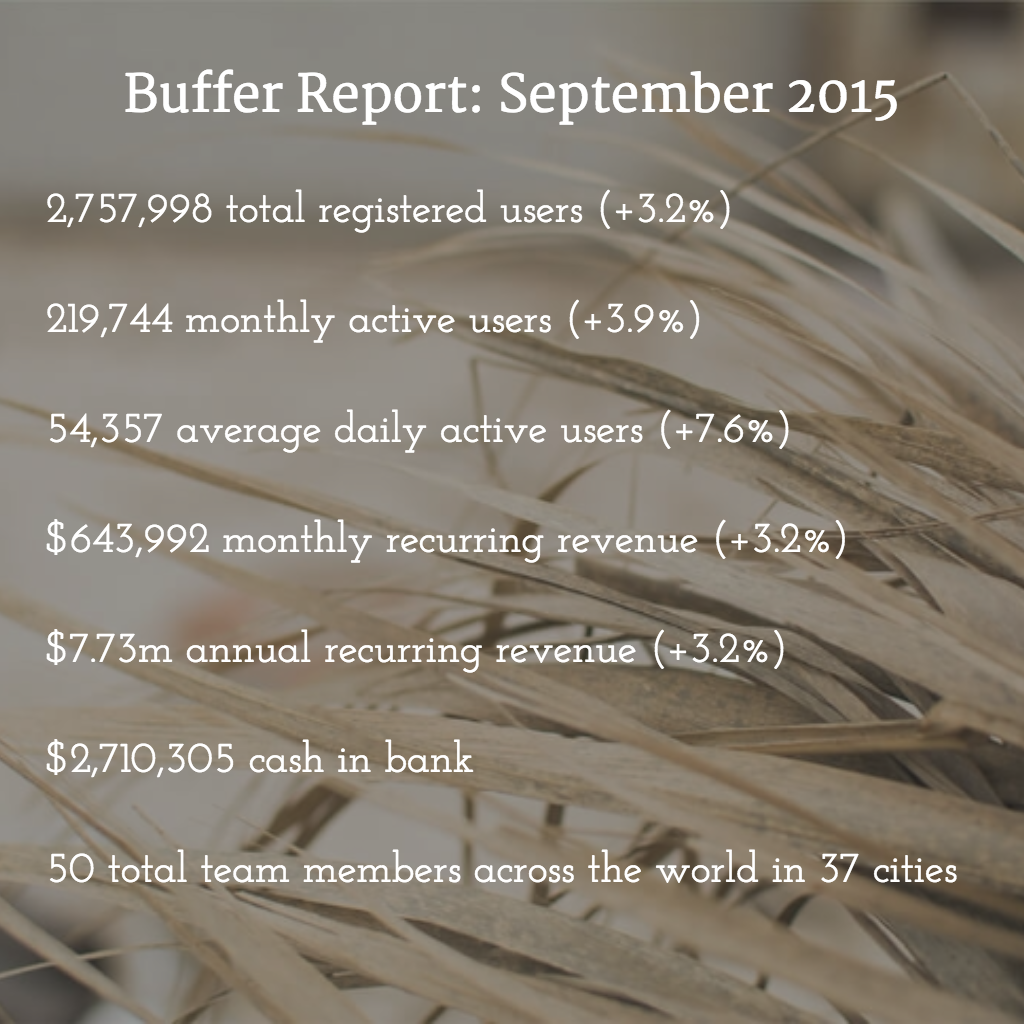 Buffer overview: Key metrics
We usually find that September is one of the months of lowest growth. We are seeing this here with 3.2%, which is lower than our recent months, however it's a number we're happy about for generally our lowest growth month of the year.
Our current YoY MRR growth stands at around 80%, a number we'd like to grow.
2,757,998 total registered users (+3.2%)
219,744 monthly active users (+3.9%)
54,357 average daily active users (+7.6%)
$643,992 monthly recurring revenue (+3.2%)
$7.73m annual recurring revenue (+3.2%)
$2,710,305 cash in bank
Team and hiring: 17 open roles
We are still growing the team fast and have 17 open roles we are hiring for, including new roles like Social Media Manager and Customer Hero.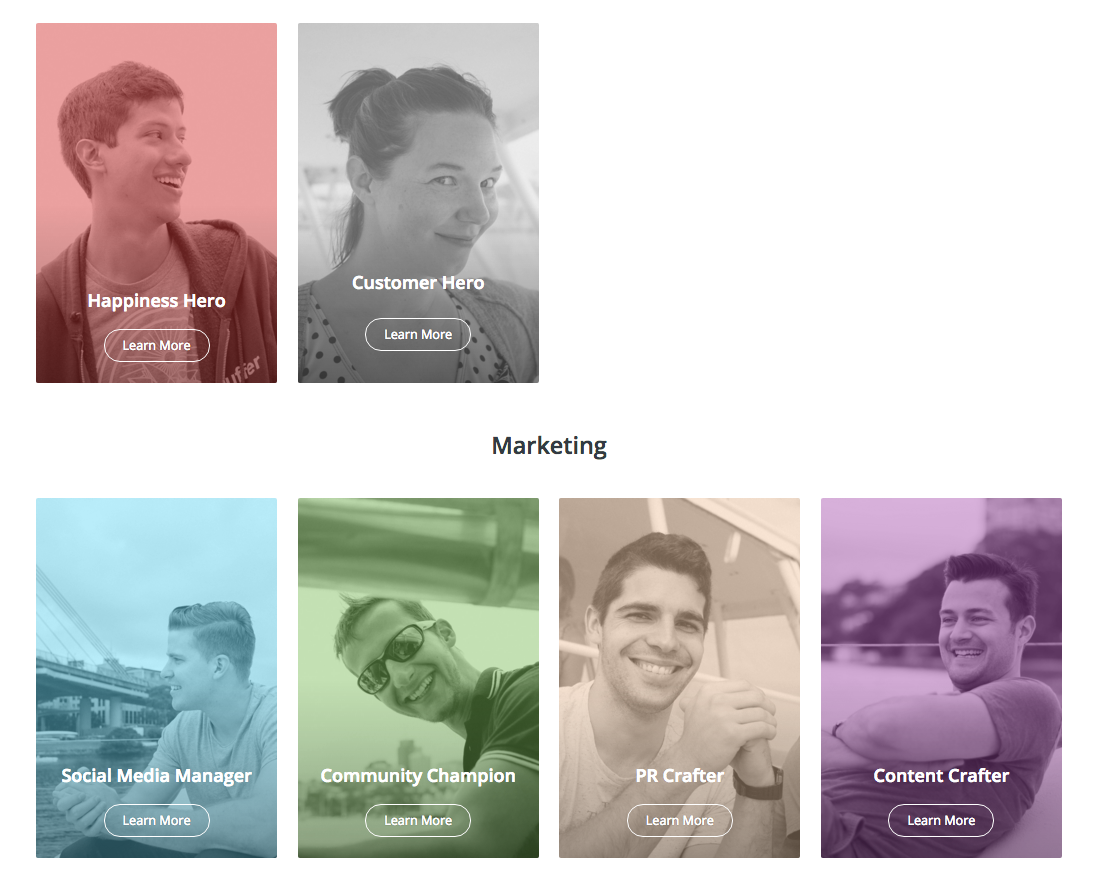 We received over 1,500 applications in September, on-par with the volume of application we have seen thus far.
50 total team members across the world in 37 cities
9 new team members started their bootcamp during September
At least 6 more people will start or have started during October
Product: New features and experiments
Our product teams are working together more closely than ever before, and as a result we've been moving quickly with new features and experiments! In September we adjusted Buffer for Business trials from 7 days to 30 days to allow us longer to help those in trial find value from Buffer. We're also working on a new landing page to clarify the positioning of Buffer clearly as a software-as-a-service product for small businesses.
Also, lots of new team members! We are so excited to have recently added to our team Philippe Masset as a developer, Steve Dixon as a product designer, Ivana Zuber as a front-end developer and Marcus Wermuth as an Android/iOS developer.
Awesome Plan ($10/mo) MRR: $370,580 (+2.7%)
Buffer for Business ($50+/mo) MRR: $272,959 (+3.8%)
We rolled out the new Pablo to a percentage of users
Launched the ability to share multiple photos in a single post
A new "calendar view" feature is now in beta—here's a look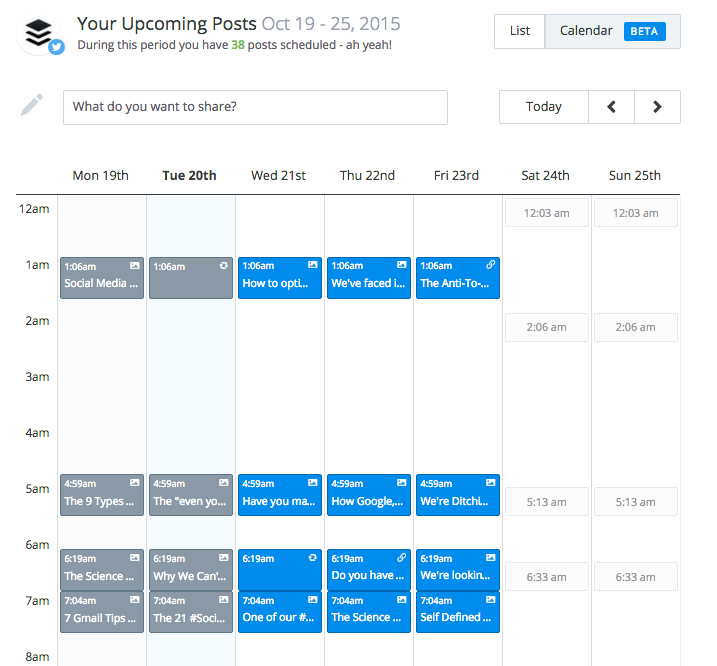 Happiness: Focusing on email response times
In September, the Happiness Team re-focused on email response times as our main objective. We saw big improvement on our speed while customer happiness levels stayed the same. Next month we're looking forward to more specialization on the teams within Customer Happiness. We are also celebrating one more full-time team member, Ross Parmly. Welcome, Ross! :)
14,000 email replies sent (+25%)
Customer Happiness Percentage: 94% (Same as last month)
57% of emails got a reply within 1 hour (+67%), 71% within 6 hours (+29%)
53% of Tweets got a reply within 15 minutes (-3%)
Marketing: New metrics focus
Thanks to great help from the data team, we built a series of Looker dashboards to fully track the metrics and conversions from our marketing efforts. Feels like we're in a great place to move ahead with some new experiments in October and see if we can move the needle.
We are also celebrating one new full-time team member, Sandrine Sahakians, as our new multimedia producer. Welcome, Sandrine! :)
3,496 signups via blogs (comparison data coming next month!)
227 upgrades via blogs
1,019,848 visits to the blogs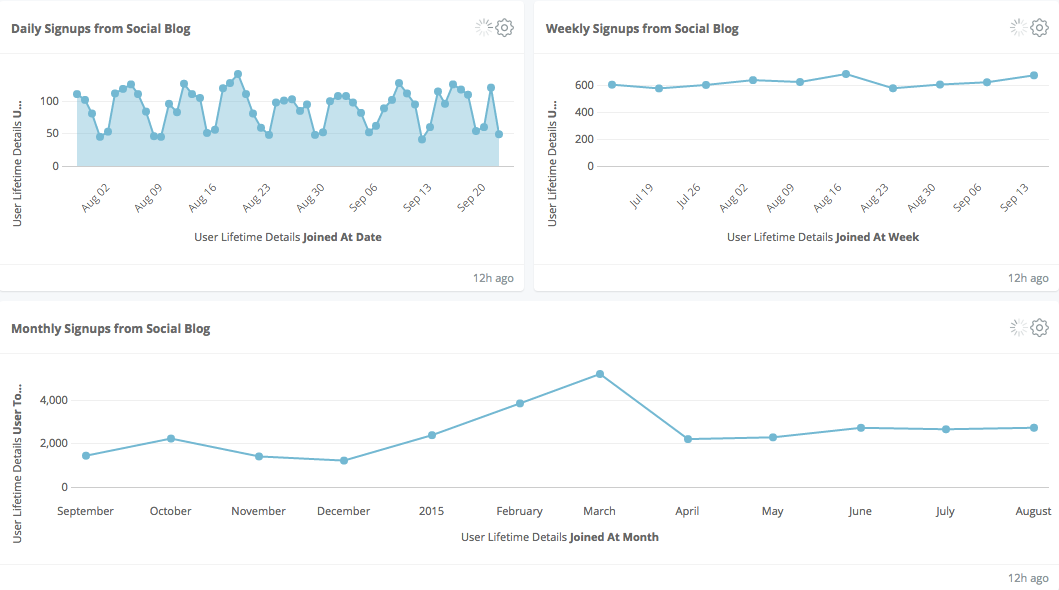 We'll have lots more to report next month. Thanks for your support!
Are there any questions about our team or growth that you'd like to know? We'd be happy to answer them!