Mackenzie Fogelson and her team at Mack Web strive to provide exceptional value to their clients and the social media marketing community–they created a comprehensive guide to building online communities and offer it free of charge. They've measured their success in the number of downloads—more than 8,000—and believe community is key to marketing success.
Mackenzie and her team joined us for #bufferchat to share how to include community-building in your online marketing plans.
Catch the full recap here.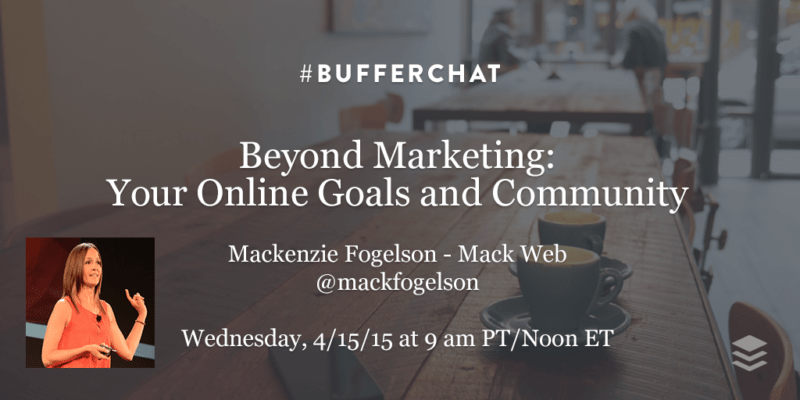 What do you believe is the main pillar of marketing success in today's online world?
From Mack:
Meaning beyond money. Your marketing should start with this. Then use your meaning to derive marketing goals and tactics
Authenticity. You can have the best product in the world, but if you're not human, there's nothing to spark a connection
Treating your customers/team like real people. They could pick any place to spend their money (or work), but they pick you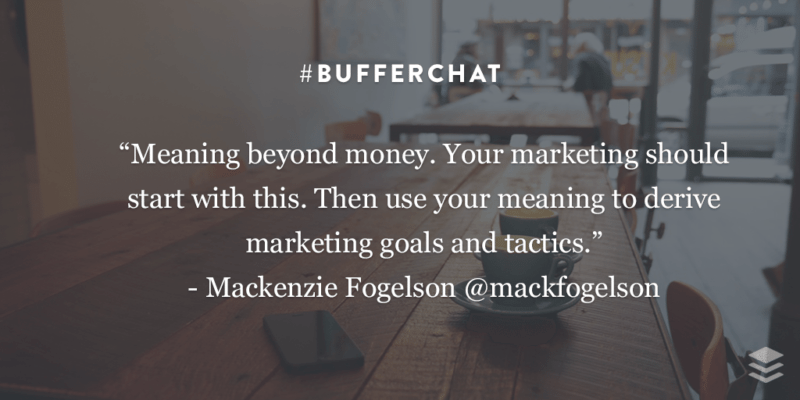 More great advice:
"Knowing your audience is a key to success in digital marketing. All tactics flow from there." @ross_quintana
"Views, revenue are measures of marketing success, but a cornerstone of success is in the value you provide to people" @ipsita_agarwal
"Relationships (built on authentic, well-meaning and shared passions)
What is the very first step in creating a powerful online marketing plan?
From Mack:
First step to successful integrated marketing = goals. Everything stems from that.
Balance both business (revenue) & brand (who you want to become) goals. Work from Visionary>Business & Brand>Campaign goals
Your teams can all have different goals. Just make sure they all align with the overarching Visionary goal of the company
More great advice:
"Go where your audience is. You don't have to be on every social channel – but you have to be on the right ones!" @lifeofaworkgirl
"Don't forget to watch your competition – what are they doing? What social networks & campaigns are they using?" @toby_metcalf
"Understanding how your product or service will bring value to your market." @elizabethtraub
What role does community-building play in online marketing?
From Mack:
It's important to remember that companies don't build communities, people do. Communities form around meaning
As a business, in order to foster community, you must continuously listen, improve, and live up to expectations
Your marketing should be focused on the value you provide your customers, community, & team. Develop strategy for/with them
Your community can provide focus and also validate that your marketing efforts are helping them
More great advice:
"Community = word of mouth + relationships + credibility + brand love… among a million other things!" @getspokal
"It widens the funnel and gives you a direct way to talk to, learn from, and engage with your audience (to start!)." @unbounce
"Community. Is. Everything. Community supports every marketing activity, engages fans, and creates advocacy and loyalty." @mattddrchs
Why are niche communities so important?
From Mack:
Trying to appeal to all audiences can dilute your brand and marketing. Focus on niches to stay relevant to communities
The 1:1 is really important to community building. Knowing the people in your niche helps you make stronger connections
More great advice:
"Niche communities are efficient and innovative with a profitable core demographic and technology helps to drive this" @simmereats
"Niche communities have the most passionate supporters! For example, the community that brought @Surge soda back" @aperfectstrum2
"Providing value to a niche can turn customers into raving fans. Serving their needs when others don't!" @mattquanstrom
How do you attract the right audiences?
From Mack:
Once you know your goals, identify persona groups. Focus efforts on the top 3 groups that will help you accomplish goals
Identify existing customers who fit into your top 3 persona groups. Validate you're talking to the right people with testing
Sometimes validating persona is through site data & sometimes it's through real-life discussions 1:1. Both are advantageous
Build an integrated, cross-channel experience w your brand. Align your teams. Focus on the right things not the shiny things
More great advice:
"Saying something meaningful to them: hit a nerve, strike a chord, solve an issue, make them happy" @charlesmccool
"Study audience to find out what works for them. Then ensure your messaging aligns with their needs. Outside in > inside out." @amandairel
"Besides research? Test the water. Post things and see what your audience is attracted to and expand on that content." @natashawest_WVU
How do you know if your community building is "working"?
From Mack:
Make sure you've identified KPIs that align with goals. Place equal weight on qualitative and quantitative metrics
Look beyond community/social indicators. How are your community building efforts contributing to success in other channels?
PS. the quantity of members in your community doesn't matter. It's all about the quality of the connections
More great advice:
"It's important to show engagement over amount of users. That way you know you're on the right track and users will grow" @mcartertweets
"If there's positive feedback from them, they share you ideas, contributions then the community building is on the right path" @Levente_Szfarli
"It's always important to understand what your objectives are. Test, Learn, and Repeat! :)" @julietchen
What are some great books or resources on community building?
From Mack:
More great advice:
Thank you so much for everyone who joined in on this great chat!
Catch #bufferchat each Wednesday at 9 am Pacific/noon Eastern and join our Google+ community for the latest news.
Do you have any comments or answers to these questions? Leave your thoughts in the comments! We'd love to hear from you!
Image sources: UnSplash