MRR
$1,396,138
ARR
$16,753,656
EBIDTA
$854,325 (-10.81%)
Paying customers
78,153 (+2.44%)
Q4 Revenue
$4,123,913.83 (+7.39%)
Cash in bank
$5,293,484 (+21.21%)
The end of the year always brings about a lot of reflection and this year it also marked many milestones for the team at Buffer.
One notable financial milestone for us is that we were able to deliver our first profit-sharing bonus with the entire Buffer team. It was heart-warming and uplifting to hear how each teammate planned to spend their unexpected income.
Another exciting highlight was bringing on a new teammate after a year of slow team growth. We welcomed Kara McNair to our Engineering team and we're looking forward to having more teammates join the Buffer journey in 2018.
Finally, we closed the virtual Buffer office for six days over the holidays, the longest period of time Buffer has ever had a 'closed office.' Last year, we experimented with giving the whole team two days off and it went so well that we expanded the amount of time we took off to six. We ended 2017 as a team by resting so we could start 2018 refreshed.
Let's dive into updates from each of the areas at Buffer to see how each of these teams ended 2017.

Jump to a specific area update:

Finance: Reviewing the Year, Planning for the Future and Focus
From Director of Finance, Caryn Hubbard
Our Finance team spent the final quarter of 2017 heavily focused on reviewing the past year's results while working alongside our fearless CEO, Joel, to solidify our financial, hiring and budget plans for the new fiscal year. We also worked closely with our executive leaders to understand their plans for 2018 before finalizing our 2018 budget.
We spent time studying and fine-tuning our financial projections, sharing the next evolution of our transparent salaries, tax planning, and creating our first profit-sharing bonus formula to share a portion of our profitability with the entire Buffer team. We were excited to introduce these bonuses in December, right before the team headed offline to spend time with families and friends over the holidays.
We're in a solid, healthy, profitable financial position heading into 2018 and couldn't be more excited for this year ahead!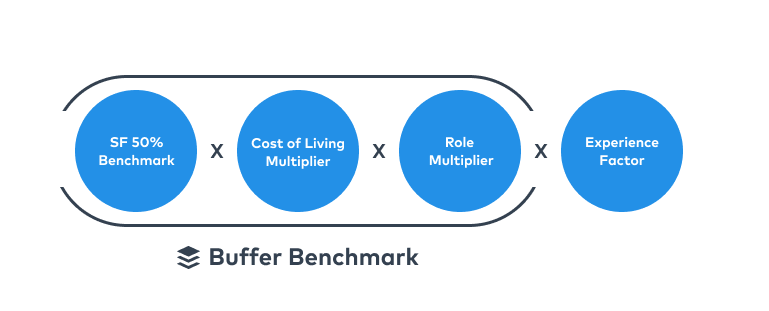 Advocacy: Defining our Purpose and Taking Over Customer Support for Reply
Customers helped via email
10,107 (–14%)
Replies sent
21,404 (–10%)
Average response time for paying customers over email
4 h 32 m (3 h 30 m last quarter)
First email reply within 6 hours
73%
Customer Effort Score
5.68  (5.87/7 Q3)
Customers helped on social media
8,067 (9,004 Q3)
Average response time for all social media engagement
18 h 54 m (16 h 45 m Q3)
Customers helped via live chat
N/A
Customer Satisfaction Score on live chat
N/A
Webinar signups
992 (-15%)
Webinar attendees
401 (-7%)
FAQ visits
221,427 (+24%)
Average % found an answer in FAQ Q4
73% (+3%)
From Director of Advocacy, Åsa Nyström
As we evolve our multi-product platform our team started working closely with existing bigger customers using Buffer Publish. To follow, our team has also taken over Onboarding, Account Management, and Tier 1 technical support for Buffer Reply.
Towards the end of 2017, we took some time to reflect and review our impact as a support team. After analyzing our numbers and many discussion around the team, we decided to change our team structure to improve customer experience as well as team member productivity. It also felt timely to clarify and launch the Customer Advocacy purpose, mission, vision, and strategy ahead of 2018.
In December, Buffer had its first ever 6-day holiday closure to encourage team members to disengage and re-energize. We spent eight days with our families and friends and launched our first ever on-call schedule to scan for urgent issues. Our customers encouraged our time off and the first year experiment was a huge success.
Engineering: Upgrades to LinkedIn and Stripe APIs, 25% of PRs are Open Source and a New Teammate!
Requests for Buffer.com monthly average
216m (–3.57%)
Monthly average response time for Buffer.com
332ms (+20.29%)
Requests for api.bufferapp.com monthly average
198m (–18.69%)
Response time for api.bufferapp.com monthly average
442.67ms (+27.11%)
Pull Requests to public repos in 2017
25%
Kubernetes cluster stats on a real-time dashboard!
From Director of Engineering, Katie Wormersley and Director of Engineering, Dan Farrelly
Q4 was a busy quarter to wrap up the year. We're especially proud of the changes to our on-call schedule and escalation policy that allowed us all to take 6 days off as a team over the holidays. We did this and were still able to provide a reliable service to our customers by sharing the on-call load and working to break down knowledge silos.
We upgraded both the LinkedIn and Stripe APIs to the latest version – major upgrades that will empower more product innovation. Teams are now working separate apps and codebases with shared components that can be more easily re-used across apps to keep teams moving fast while sharing code whenever they can and defaulting to build in the open. We reached one in four Pull Requests being open sourced in 2017. In 2018, this is a key metric we will be reporting along with our learnings.
In December, we were thrilled to welcome Kara McNair to the team as our new engineering manager!
Marketing: Creating Big Campaigns and Working in Squads
Buffer signups
443,105 (+12.4%)
Buffer for Business trials
8,438 (-19.9%)
Social blog sessions
4,194,378 (+4.6%)
Open blog sessions
311,782 (+5%)
NPS
52  (-5.4%)
From Director of Marketing, Kevan Lee
In Q4 we began work on some significant Q1 campaigns for The State of Social Media 2018 and The State of Remote Work 2018. Both surveys received 1,500 responses, and we reached partnerships with Social Media Week, Doist, WorkFrom, and Hubstaff. In addition, we wrapped up a branding project, working with a creative agency and a development team on a new brand style guide and website.
(We've since published the State of Social survey results and blog post.)
Beyond campaigns, we began experimenting with a new team setup where a handful of teammates dedicated a percentage of time to work together on an intriguing metric. In Q4, we had a squad focused on decreasing the churn rate, and we had a squad focused on increasing mobile app downloads. This mini-team structure might inform the way we organize ourselves a bit more in 2018.
People: Closing for 6 Days, a Joint Mini-Retreat, and a Few Exciting Changes
Team members
69
NPS score
72
From Director of People, Courtney Seiter
In the last few months of 2017, the People team was prioritizing rest for the team after a busy time – and paving the way for the year to come.
One initiative was particularly beloved by the team: Buffer closed for six days for the first time, in order to help teammates rejuvenate, reflect and spent time with those important to them.
Back "in the office," we held a joint online mini-retreat with the Finance team to bring our areas closer together. We stretched the boundaries of our video chat tool, Zoom, as far as they could go and experienced a lot of bonding as a result. We accomplished quite a bit more, too. Here's a short list:
Initiated a new, bimonthly All Hands focused on one area (these alternate with our bimonthly, more general All Hands)
Made offers to two new teammates (more about them very soon!)
Started scouting retreat locations for 2018
Launched our second annual internal survey to see how well we're living up to our values
Prepared for some major 2018 Q1 launches
Product: A Pause Button and Supporting Big Changes Very Quickly, Plus Lots More
Weekly active Awesome + Individual plan users
188,346 (11.2%)
Average weekly active Buffer for Business users
4,859 (-8%)
Social updates sent by users with Buffer
30,341,768  (-46%)
Users starting Awesome trials
26,232 (+82.4%)
Users starting Buffer for Business trials
13,850  (-19.2%)
Converted Buffer for Business trials
 699 (-36.9%)
Reply Q4 MRR
$31,6253  (+9%)
From Chief Customer Officer, Carolyn Kopprasch
Over in Buffer Product, we were able to bring several important improvements to customers in Q4. We are incredibly proud to have added a Pause button to Buffer's publishing toolset. (This empowers our customers to share to social media in a smarter and more empathetic way.) We welcomed the iPhone X with an updated design on day one. We were able to support Twitter's new 280 character limit within hours for tweets in English. Buffer Reply added Saved Replies, and made dozens of small improvements. We also simplified the Free plan for new customers to make it easier to sign up and get started with Buffer.
On the personal side, one of our male teammates took family leave. We were so thrilled to support him being fully present for those irreplaceable first few months. The baby pictures didn't hurt, either!
Behind the scenes, we made great progress on a number of projects. We made a small but fundamental upgrade to our Billing system. We are well into developing a mobile app for Reply. We have started recruiting a few (very) early adopters for our brand new Publishing interface, complete with a more intuitive scheduling area. Our Analyze team is continually improving the usefulness and accuracy of our social media analytics. We're also designing and building a unified login to support all of our products in one place.
—
Thank you so much for your support as we continue on the journey of building Buffer. I'd love to hear any thoughts, questions, or ideas that any of this might spark in the comments.
Photo by Cristian Escobar