Heads up! We've updated our transparent salary formula since this post originally was published. Learn more about the latest formula and see all the team's current salaries here.
Four years ago we introduced transparent salaries at Buffer. The practice has in many ways come to define us. We're proud of this, and the positive impact that it has had both within the team and in the wider community.
A growing company brings change and new learnings. Over time, our team has evolved – and so has our thinking around salaries.
Today we're introducing Buffer's Salary Formula 3.0 – a fresh, remote-first approach to our salaries.
We're happy to share that having an open pay system continues to breed high trust among our team while also holding us accountable to paying people fairly, equitably, and without bias.
Living up to our value of 'Defaulting to Transparency' means that we take the opportunity to share our beliefs, failures, strengths, and decisions.
We, therefore, remain committed to both salary transparency and sharing our approach and learnings. Read on to learn about the full formula and how we derived every piece of it. We're also sharing the list of all of our salaries as they are right now.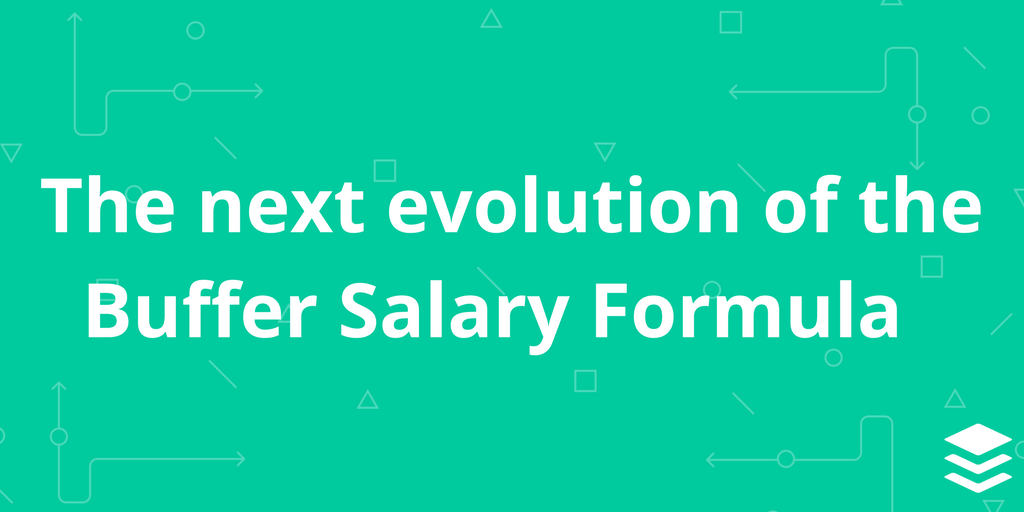 Why It Is Time For A New Salary Formula
Over the past four years, Buffer has seen a lot of growth. We realized over time that our salary formula became less effective and more complex than we'd like.
Over the past four years, a primary challenge was keeping up with pay benchmarks across a vast number of locations. It was complicated to explain how the formula worked to existing team members receiving promotions as well as new team members. With this level of complication, subjective decisions were made which put us further away from the intent of the formula.
It was time for simplicity. Our main goal was to build a framework that represents the unique elements of Buffer's culture and fits our strides towards becoming a workplace of the future.
With that goal in mind, we thought through a larger compensation strategy that aimed to accomplish several key components.
Simple and Accessible: Our formula needs to be simple enough for anyone to use
Do the Right Thing: We made sure take-home pay wouldn't drop
Adaptable: Our framework needs to be able to adapt and evolve
Competitive: Our compensation package remains competitive

Salary Formula 3.0
The latest evolution of our salary formula introduces an important new element – the Buffer Benchmark, where we're benchmarking all salaries to a single city and establishing a remote-first salary formula.
Without further ado, here's the latest evolution of our salary formula:
Salary = (SF 50% benchmark x cost of living multiplier x role multiplier) x experience factor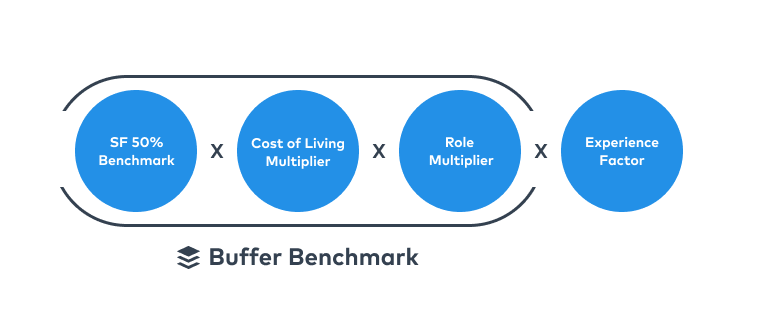 Our new salaries
You can see all our salaries via Google Sheets too!
(If you'd like to export a salary spreadsheet of your own, there's a spreadsheet we created where you can do that here.)
Here's a little more on each section of the salary formula:
Buffer Benchmark
With the Buffer Benchmark we've essentially created our own competitive base salaries for each role, which is symbolic of the ways in which we march to the beat of our own drum. To calculate the benchmark we multiply the San Francisco 50th percentile market rate by the Cost of Living and Role Multipliers. For consistency, we use PayScale's paid platform to gather all benchmark reports for the San Francisco job market.
While we use the PayScale benchmarks as the starting point for all of our salaries, we intentionally use this data to represent just that: a starting point for pay.
Cost of Living Multiplier
We're introducing the Cost of Living Multiplier as a way to replace the Good Life Curve in the previous 2.0 salary formula.
The multiplier is one of three geographic bands, based on a high, average, or low cost of living area. We use data from Numbeo to figure out which band applies for each teammate. For high cost of living areas we pay 100% of the San Francisco 50th percentile, average is 85%, and low is 75%.
We figure out each teammate's geographic band by comparing the cost of living index of a teammate's location to the cost of living index in San Francisco.
For example, Numbeo data indicates that you would need around $1,575 in San Francisco, CA to maintain the same standard of life that you can have with $1,000 in San Luis Obispo, CA, (assuming you rent in both cities). $1,000 divided by $1,575 provides an index of .63 which we've determined to fall under an "average" cost of living area. The Buffer Benchmark allows us to use a generous labor market (San Francisco) as the basis of our formula while addressing the impact of locality in a simple, affordable and sustainable manner.
This approach isn't perfect and doesn't consider all unique circumstances, but it has allowed us to minimize subjectivity.
Role Multiplier
The Role Multiplier provides a level of flexibility within our framework.
Today, it is applied to our Marketing and Advocacy teams to increase the Buffer Benchmark, as we found that the general market in San Francisco provided benchmarks that came in below our current levels of pay.
We also plan to use the Role Multiplier as a way for individual contributors to see salary progression and to contribute outside of the experience levels as defined in different area career frameworks.
Experience Factor
The Experience Factor correlates directly with individual area career frameworks. This factor means experience levels will be applied differently from team to team, and we're okay with that.
This is the part of the formula where we want to lean into the idea that compensation is an art, allowing for creativity and interpretation, and science, relying on market and economic data.
Other Factors
We have a few other unique elements that make up our total cash compensation: the Dependent Grant and the Salary Choice Option (offered to teammates in lieu of higher equity).
In 2015, when we introduced Salary Formula 2.0, we also added the dependent grant, to support teammates who have dependents, or family members who depend on their income.
Under salary 3.0, the dependent grant remains separate from the salary formula but is still a component of total compensation.
We've also honored all 2.0 salaries in the 3.0 formula to ensure that take-home pay would not drop.

The New Salary Calculator
We also have a fresh salary calculator live so that anyone can calculate what they would earn at Buffer and see compensation for each role.

Location, Loyalty, and Salary Choice: The Three Biggest Changes to the Formula
The New Formula Isn't Based on Location
The most significant change with this formula is that we've done away with many of the location-specific factors we had in the previous formula.
We believe that the work and value each teammate brings to Buffer is not limited by where they work from, and so our compensation for their contribution shouldn't be, either. This is also supporting each teammate to choose to work where they are most happy and productive. (Living by our "live smarter, not harder" value.)
We got more than a few raised eyebrows when we announced that we're now using the San Francisco labor market (one of the most expensive labor markets in the U.S.) as the basis of pay for all salaries at Buffer.
The question on everyone's mind was "Can we afford this?" and "is this sustainable?" When we sought input and advice from those outside of Buffer we also were asked, "Why would you pay your team members with more generosity than you need to?"
As it turns out, our answers are: Yes, Yes and because we believe it's the right thing to do.
Applying the Cost of Living Multiplier component of the Buffer Benchmark makes the San Francisco labor market both affordable and sustainable. It also helps us achieve one of the tenants of our compensation strategy: Objectivity and Simplicity. In other words, it allows us to use consistent benchmarks for teammates in the same position, regardless of where they live and work.
Another benefit of the location-agnostic approach is that it helps support our teammates who are digital nomads, by bringing consistency to their pay regardless of where they live and travel or how long they stay in any given location because we apply the average cost of living area multiplier for all nomads.
Removing 3% Loyalty Raise
One of the toughest decisions we made with the new formula was to remove the annual 3% loyalty increase given to teammates for each anniversary from their start date.
We looked at a lot of options and in the end decided to remove it as it created an unsustainable, compounding affect on pay. By removing this element, we'll have more opportunities and greater flexibility to introduce other benefits for the team down the road.
We're looking at other ways to recognize loyalty such as profit sharing, 401K matching, bonuses based on profitability, dividends, and future stock buyback programs.
The Salary Choice Option Now Phases out at 4 Years
Back in 2013, we began offering teammates the option between an additional $10,000 in annual salary or accepting 30% more in stock options.
71% of our current team opted to take the higher salary choice. This created an annual budget impact of $510,000.
In the end, we decided that in many ways we've outgrown the initial intention of this generous offer. In fact, in May of 2016, we stopped offering this choice. It became clear that it was best to retire the salary choice option and we've decided to phase it out in two steps ($5,000 each over the course of a year) beginning in 2019.

The Future of Salaries At Buffer, More Change To Come
When Joel first introduced Buffer's transparent salaries, it was both frightening and exciting. That vulnerability has opened us up to something more valuable than we ever could have imagined.
It's easy to allow transparency to erode with growth. That's for understandable reasons – it's tough to stay true to transparency as a company increases in size and becomes more complex. There are more edge cases and more voices. As a result, this version has been that much harder than any previous ones. We actively recognize this, and despite the challenges, we continue to believe in the value and remain wholly committed to radical transparency.
We've always seen our salary formula as a living document. We believe that this is just as true today as when we first introduced transparent salaries. Therefore we know that there will be more change in the future for salaries at Buffer.
We'd love to hear your thoughts on our latest version, and pay transparency in general, in the comments below.