MRR
$1.23m
ARR
$14.8m
QoQ
7.48%
Paying customers
73,503 +4.98%
MAU
302,710 +2.99%
WAU
186,594 +0.21%
Net income: $705,146 (+244.68%)
Cash in bank: $3.5m (+26.29%)
72 team members
across the world
Things have been moving ahead at Buffer at a fast and exciting pace. This is partly as a result of our new experiment with six-week cycles as a team. These short periods of focused time working on key projects have been very impactful for us since we've implemented them. We're keen to keep leaning into this method of working.
We've also seen big changes in our internal NPS score, which we use to gauge overall engagement of teammates at Buffer. Here's a look at our past 16 months:
March – April 2016: 89
May – June 2016: 57
July – August 2016: 54
September – October 2016: 61
November – December 2016: 51
January – February 2017: 62
March – April 2017: 71
May – June 2017: 80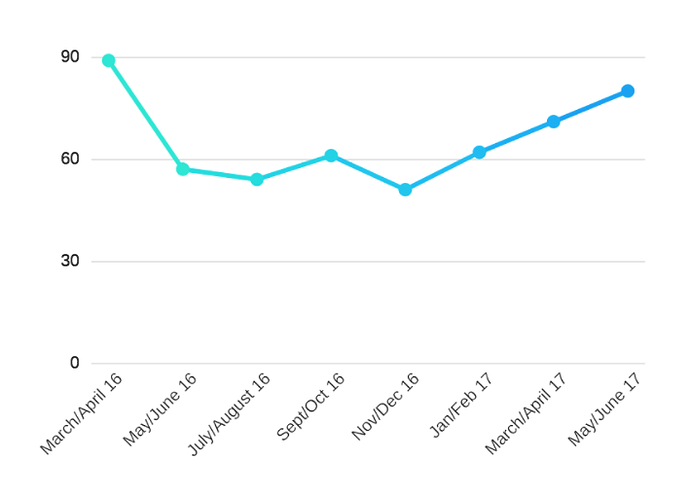 Let's dive into updates from each of the team leads at Buffer.
Finance: A healthy turnaround to $3 million in the bank and looking into churn
We're happy to report that in Q2 we've realized an incredibly healthy turnaround from the financial position we were in just one year ago. In this quarter, we surpassed our goal of having a healthy cash balance of $3 million.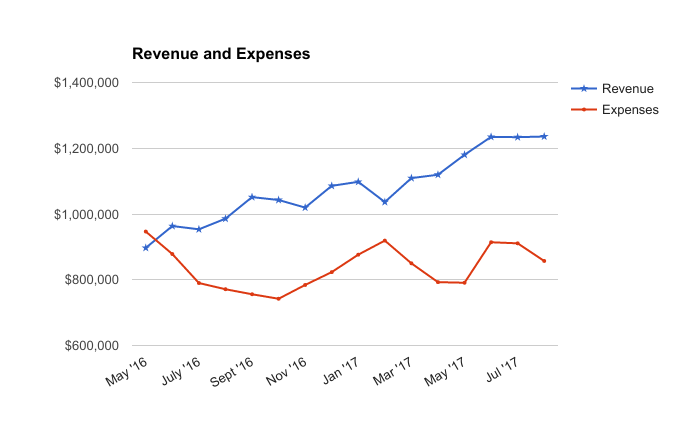 We've been consistently assessing and reporting our monthly metrics of churn, Average Revenue Per User (ARPU), Lifetime Value (LTV), and Customer Acquisition Costs (CAC). We kicked off a new level of financial discipline with the implementation of our operating expenses budget for 2017.
Marketing: #impactofsocial, new NPS reporting, and Buffer as a Harvard case study
Buffer sign ups
374,371 -3%
Buffer for Business trials
12,478 -11%
Social blog sessions
4,363,938 +3.92%
Open blog sessions
316,555 -26%
For Social Media Day (Friday, June 30), we reached over 3.4 million people with a hashtag campaign on Twitter and Instagram where we asked influencers and community members to share how social media has impacted them. #impactofsocial
We've changed our NPS reporting to deliver more insights on the full customer journey, surveying all paying customers at specific intervals of their Buffer lifetime: after they finish their trial and then every 120 days afterward.
Buffer is now part of the Harvard Business School curriculum! This semester, Harvard featured a Buffer case study, focusing on the unique ways we've grown the company, including our efforts in transparency. The case study can seen in their archives here.
Product: Simplified payments and launching features our customers love
Weekly active Awesome + Individual plan users
543,205 +0.2%
Weekly active
Buffer for Business users
14,075 +5.3%
Buffer for Business
Monthly Recurring Revenue
$641,928 +10.89%
Social updates sent by
Buffer for Business
users
15,317,951 +53.2%
Users starting
Buffer for Business
trials in Q1
19,595 -5.3%
Converted
Buffer for Business
trials
936 -16.5%
*We slightly changed our "Active user" definition at the end of last quarter, so the number for this quarters active plan users and the % change is based on the new formula.
This quarter our product team has been focused on simplification and building features that our customers are asking for:
Simplified payments: We were previously handling all Business trial payments ourselves, which was leading to incorrect data and bottlenecks. We just completed moving all Business trials to Stripe, where Awesome trial payments also live.
Tailored posts: Tailored Posts was launched, it gives our users the ability to craft the perfect, custom update for each social platform when sharing anything via the Buffer extension. It is a feature that we've been working on for a while and reflects the first big step towards our vision of customizing your message per network.
Pause button: A frequent request from customers has been an easy way to pause their schedule for a social account if they need to and we're so excited to have just launched it. With this pause functionality, the whole queue is paused and nothing will go out on that account until it is unpaused.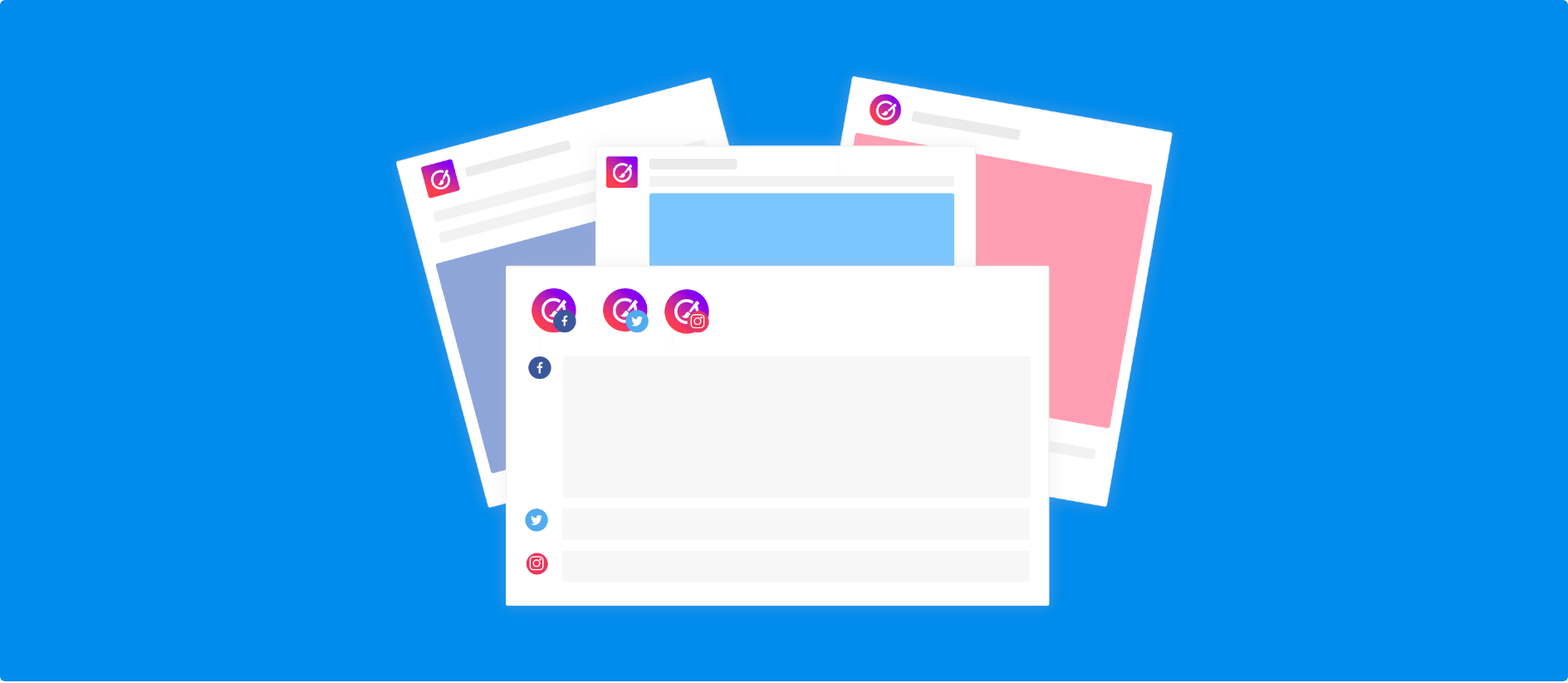 Engineering: Six–week development cycles, building in the open, and wishing Niel all the best
Requests for buffer.com
240 m +47%
Avg. response time for buffer.com
244 ms -5.3%
Requests for api.bufferapp.com
362 m +6.9%
Avg. response for api.bufferapp.com
260 +6.5%
*The Kubernetes cluster now serves well over 50% of our production traffic, and we're re-evaluating quarterly service level objectives to more accurately share the environment state.
Six-week shipping cycles are feeling like a Goldilocks zone for the team, who've shipped Tailored Posts, Drafts for Buffer, Facebook Overview Analytics, Android V6, and iOS 11!
This quarter we have tons of neat dashboards and building in the open that you can dive into if you're interested here:
With the progress in our move to Service Oriented Architecture, we're now serving much more traffic from our Kubernetes cluster, including the new homepage. The cluster has now moved to us-east–1 region to reduce latency as it serves more production traffic.
We're wishing Niel the best as he journeys on from Buffer after four years shaping the Buffer story and growing engineering into what it is today. He'll always be a part of Buffer's DNA and we're so grateful for the passion and creativity he brought to his work, and our lives.
Advocacy: Happiness is now Advocacy; team personal development
Customers helped via email
13,418 -1%
Replies sent
27,218 -6%
Average response time to paying customers
3h24
Customers helped on social media
8,922 -23.86%
Helpscout Customer Effort Score
5.84/7
Average response time on Reply
14 h 34 m +25.11%
Customers helped via live chat
1,045 +33.12%
Customer satisfaction score on live chat
4.85 +1.03
FAQ visits
146,708 +32%
Average % found an answer in FAQ
72% +13%
Webinar sign ups
797
Webinar attendees
301 -10%
Evolving the future of Buffer has meant several changes. One is that our Happiness team is now called Advocacy, we made this change to better reflect the work this team is doing in giving customers a voice inside of Buffer and helping customers get to the next level with social media marketing advice.
This quarter, the Advocacy team started spending four hours each week on professional development projects. Each team member has been working with their lead to set up a learning plan for this time, including goals and expected outcomes. Advocates have been diving into API courses, email marketing training, and customer language projects, just to mention a few.
We're excited to support team members to continue to grow as T-shaped individuals.
People: 360° reviews, better communication, and a new Buffer baby
Team members
72
Bimonthly team NPS score
71% +13.3%
This quarter the People team tried a new form of reflection for teammates: 360° reviews. Instead of receiving thoughts from a lead, each teammate learned from their peers! We wanted to try this to get more thoughts flowing across different teams and to reiterate the idea that everyone at Buffer can praise teammates as well as offer advice to help others grow.
Recently we've also been working on improving at asynchronous communication – not everyone needs to be online at the same time to make decisions or build a feature. Our first step was to put together the 10 Slack Agreements of Buffer.
We have a new Buffer baby! Congrats and love to Buffer's People Engagement Manager, Nicole, who welcomed to the world baby Aiden James on June 4. We're wishing Nicole all the best on her family leave!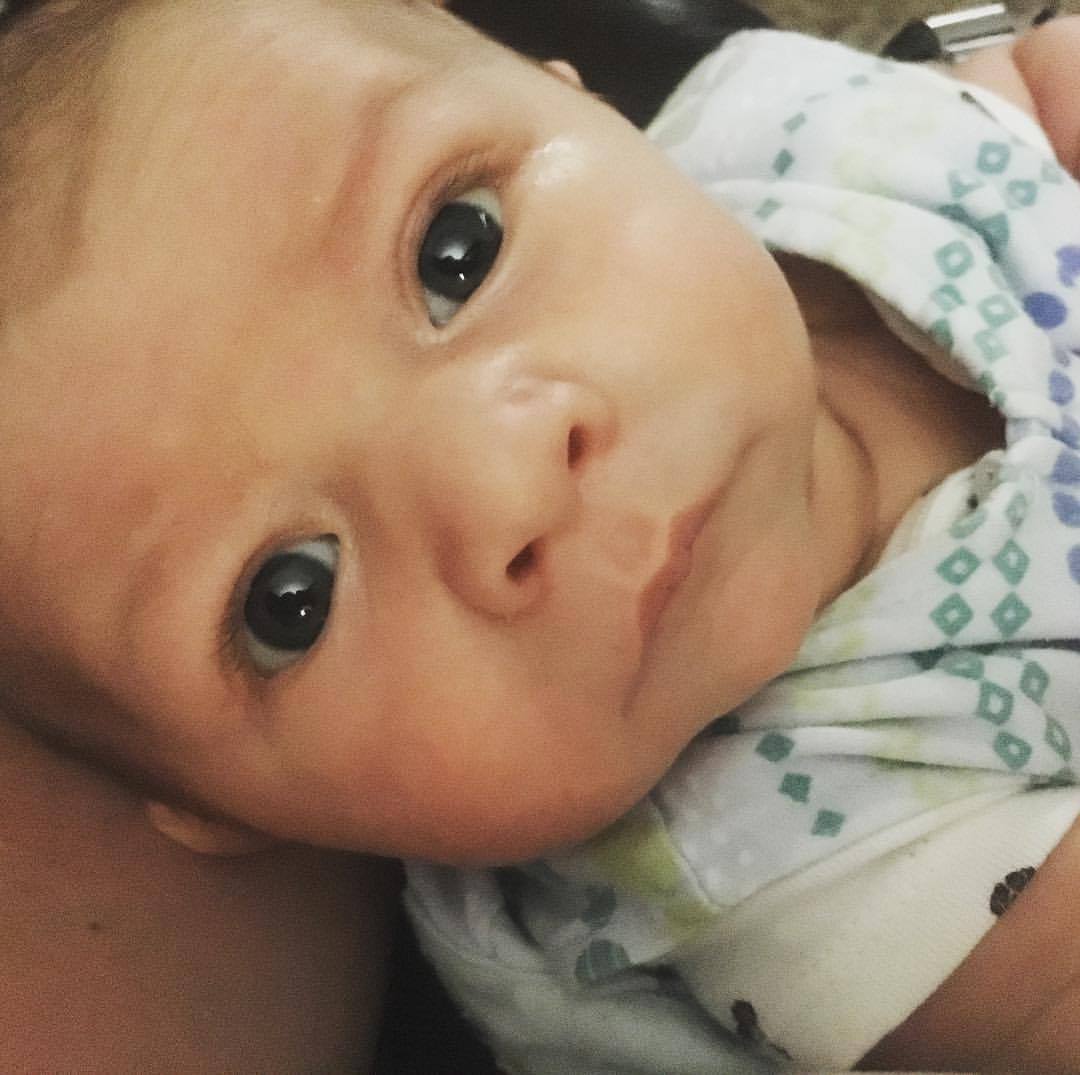 Reply: New name, plus now supporting Instagram comments
MRR
$16,017 +12%
Paying Businesses
100 +6%
This quarter, what was previously Respond has been rebranded to Buffer Reply. This move to a new name reflects where Buffer is headed – towards being one platform that connects all of our products, like Reply.

We have also rolled out early access to our latest social integration: Instagram comments! Teams can now manage all their social engagement from Twitter, Facebook, and Instagram, directly from one inbox in Buffer Reply.
Also rolled out this quarter is an all new scalable pricing, a new onboarding flow, and 15-day free trial, as well as incredible productivity features like automation rules, Facebook comment moderation and improvements to date ranges and exports for reporting.
—
Thank you so much for your support as we continue on the journey of building Buffer. I'd love to hear any thoughts, questions, or ideas that any of this might spark in the comments.