Buffer's People Team spends a lot of time thinking about perks.
One of our biggest and most important perks is maybe the toughest to quantify: The freedom to work whenever, wherever, and however we like.
Being a diverse, distributed team impacts our perks philosophy deeply. There's no one-size-fits-all approach; we all work differently and are motivated by different drivers.
So over the years we've built a robust catalog of benefits, focusing on a customizable approach.
To track how our team is using (or not using) each benefit, we've started performing quarterly audits. We wanted to know how many teammates participated in which perks, what we've spent, and how it compares to what we budgeted.
All numbers below are for the first half of 2019 only, and all spending goes only to the end of June. Here's a transparent look at the first six months of 2019 and how much, on average, we spend per teammate on perks and benefits.
Working Smarter Perks
​​These perks are designed to optimize each teammate's experience to help them work efficiently and productively.
⌨️ Tech Accessories: $200 per year per teammate for miscellaneous tech/office needs (headphones, etc.)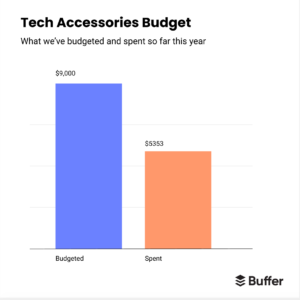 Budgeted: $9,000
Spent: $5,353
Teammates who participated: 32 participants/89 eligible
Average spend per participant: $167
Budgeted: $9,000
Spent: $11,400
Teammates who participated: 46/89
Average spend per participant: $248 total
? Coworking spaces reimbursement: We reimburse for coworking memberships or day-passes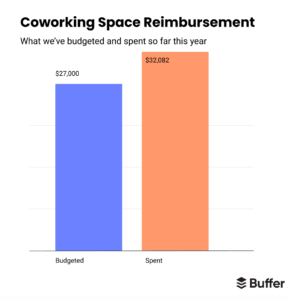 Budgeted: $27,000
Spent: $32,082
Teammates who participated: 33/89
Average spend per participant: $972 total
? Internet reimbursement: We reimburse teammates for home internet costs
Budgeted: $24,750
Spent: $25,594
Teammates who participated: 76/89
Average spend per participant: $337 total
? Home Office Allowance: $500 per teammate to set up a home office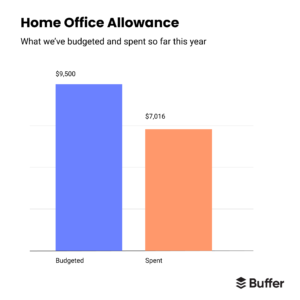 Budgeted: $9,500
Spent: $7,016
Teammates who participated: 21/68
Average spend per participant: $334
Note: This perk is for when folks first start at Buffer, but there's no time limit on using it. We budget this based on our anticipated new hires or for existing teammates who have not used this allowance yet.
Additional perks:
? Technology: We give each teammate with a laptop when they start.
✈️ Retreats + Area Onsites: We cover all travel costs for one company-wide retreat per year and one smaller, team-specific onsite gathering each year.
Learning Perks
Learning and development are key tenets of our culture, and we provide several ways for teammates to continue their education through reading, conferences, classes, coaching and more.
? Free books (and Kindle): We provide teammates with a Kindle and unlimited books (ebooks, audiobooks or printed books)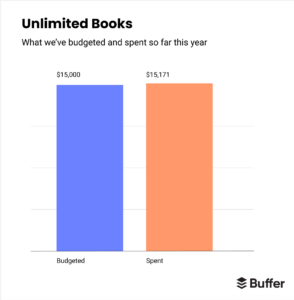 Budgeted: $15,000
Spent: $15,171
Teammates who participated: 51 (estimated)/89 eligible
Average spend per participant: $297
? Growth mindset fund: $850 per teammate per year on conferences, courses, coaching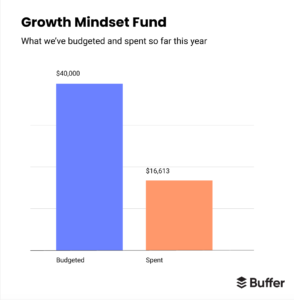 Budgeted: $40,000
Spent: $16,613
Teammates who participated: 40/89
Average spend per participant: $415
Financial Benefits
Our financial benefits bucket contains the traditional 401(k) that many businesses provide, as well as some more unique benefits for our global and distributed workforce.
? 401k: 2% match for US, UK and Canadian teammates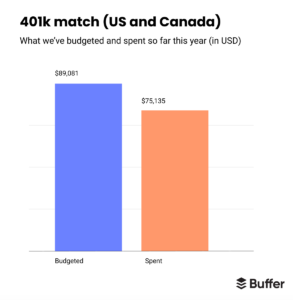 We're working on alternatives for our other teammates, too.
US:
Budgeted: $79,531
Spent: $68,585
Teammates who participated: 40/49 eligible
Average spend per participant: $1,715
Canada:
Budgeted: $9,550
Spent: $6,550
Teammates who participated: 5/6
Average spend per participant: $1,310
UK:
We just launched our UK subsidiary at the start of July, so we'll see how participation shapes up!
? Accounting fees: Up to $1,500 per year for accounting fees for international teammates (currently paid as contractors)
Budgeted: $25,000
Spent: $11,368
Teammates who participated: 16/40
Average spend per participant: $711
Family and Wellness Benefits
This category includes health insurance (which looks different in each country), an additional stipend for each dependent and a mental health service that is available for teammates and their dependents.
? Health Insurance: 100% of premiums for US teammates and 50% for dependents; for international teammates we reimburse up to set amounts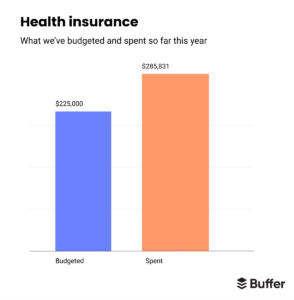 Budgeted: $225,000
Spent: $285,831
Teammates who participated: 79/89 eligible
Average spend per participant: $3,618 total
? Dependents Grant: $3,000 per calendar year, per dependent
Budgeted: $148,500
Spent: $133,500
Teammates who participated: 44/89
Average spend per participant: $3,034
? Digital therapy: All teammates and their partners have membership to a digital therapy service.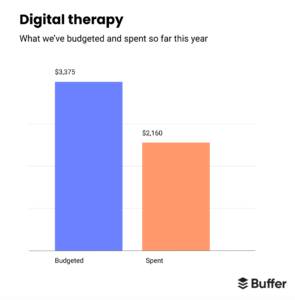 Budgeted: $3,375
Spent: $2,160
Teammates who participated: Unknown, as this is protected data. We'll get a yearly report from our provider at the end of 2019 and share more in the next benefits and perks report!)
Disconnecting Perks
Time off is perhaps as important as time spent working — that's why we prioritize a minimum time off and a variety of days for wellness, volunteering, family leave, sabbaticals and compassionate leave.
⛺️ Minimum time off: At least three weeks of vacation every year (plus local holidays)
Total time taken: 1,109 days, or an average of 12 working days per teammate
Total time taken or planned for all of 2019: 222 days for 7 teammates, for an average of 32 days per teammate
??‍⚕️ Wellness/Unsick Day: 1 day per calendar year to focus on preventive wellness
Total time taken: 14 days
*We'll need to encourage this more!
? Volunteering: 1 day per quarter to volunteer
Total time taken: 3.5 days
*We definitely need to encourage this one more. ?
Our first sabbaticals have just kicked off; more to come on this!
Additional days off:
? Local Election Day: We consider this a holiday.
? Company-wide holidays in 2019:
April 15th (post-retreat recovery day)
July 3-5 (mid-year break)
Five half-day Fridays in August
December 23 – Jan 1st (end-of-year break)
Over to you!
It was fascinating to learn that the total amount per teammate who has participated in these benefits in the first six months of 2019 is $10,149 (Total Q1-Q2 spend/ Total number of teammates).
This new exercise is giving us a lot of great insight into our benefits and how we can keep iterating on them to make sure they're as useful and meaningful as possible.
All of these numbers are helpful for understanding who has utilized which of our perks, but the gratitude and flexibility we hope to convey with these benefits mean far more than a final dollar amount.
What perks or benefits do you value most? What other perks could we offer?