One of our values at Buffer is to improve consistently, so we focus a lot on learning.
Up until recently, a Buffer perk we were pretty proud of was our learning and development stipend. This fund gave each teammate $20 per month, or $240 a year, to invest in learning from mediums like tutorials, online classes, or real-life courses.
Budget-wise, this worked out to about $20,000 for the year (assuming everyone uses the stipend every month.) But when we ran the numbers at the end of 2018, we discovered that we had only used about $5000 of it – this perk wasn't connecting with teammates.
When we dove in to find out why not, we learned some invaluable lessons. This is the story of our continuing education overhaul and the birth of our new Growth Mindset Fund to help keep teammates learning and growing.
Why teammates weren't spending the money
When asked, most teammates said they loved the learning and development stipend and wanted to take advantage of it. About 63% percent of teammates had used at least part of the stipend.
But more often than not, it fell off their radar. Here were the reasons people didn't use it:
They forgot about it.
They didn't feel it was enough money to do something worthwhile.
They didn't feel they had the time or capacity to do more learning outside of work.
Similarly, we found that folks hadn't utilized the budget we had set aside for attending or speaking at conferences, either. Many forgot about it or didn't have the bandwidth for travel.
Overall, our continuing education efforts were due for an overhaul.
Iterating on learning and development: More funds, more freedom
Together, the Finance team and the People team mobilized around this challenge. From our research we knew:
A larger overall sum would help teammates feel this perk was worth exploring
We'd need to regularly remind teammates about the availability of this perk
Everyone learns in different ways; more freedom could improve adoption
Finance ran the numbers and allocated even more funds, while the People team brainstormed on a new means of giving teammates access to the resources.
In 2019, we rolled out a brand-new continuing education program to the team, renamed the Growth Mindset Fund. Here's what we changed:
A larger pool of money: About $800 per person per year
Fewer restrictions; more freedom: If folks want to spend more, totally cool – they just chat with their lead first
Regular check-ins: People and Finance now run quarterly checks to ensure we aren't too off track with the budget.
The fund can be used for anything career-related, including:

Career coaching
Courses
Certifications
Subscriptions
Elective conferences (any conference required for a teammate's work is already fully covered)
Why 'Growth Mindset' Fund?
We named the new program after a bullet point that supports one of our values at Buffer, improve consistently: "We strive to exemplify a growth mindset and believe that any skill or talent can be learned through deliberate practice."
This fund is intended to support what makes our employees so amazing, and get them to the next level in the ways they want to develop. Here's how it has been used so far in 2019:
Career + leadership coaching
Conferences (for example, the Support Driven conference in Portland, Oregon and the SW Washington Society for Human Resource Management conference)
The New York Times and Harvard Business Review subscriptions
Online coding and design courses such as Udemy's "Universal React with Next.js" and "Complete Next.js with React and Node"; Treehouse's JavaScript Basics course and more
And more!
To prevent folks from forgetting this perk, our quarterly review is also shared with the entire company.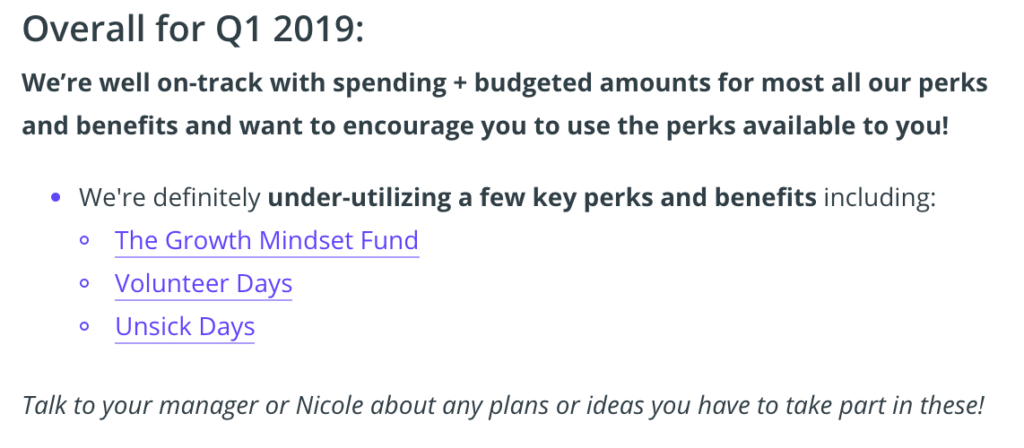 At the end of Q1, we encouraged folks to partake more in this fund and we saw participation grow from 26 teammates to 40. We still have more than half the team with capacity to spend funds toward their growth and development.
We've made progress, but more iterations are likely to come as we strive to improve continuously! We'll keep monitoring the Growth Mindset Fund to evolve it further, with the aim of a customized approach without too many restrictions.
Over to You!
Does your company provide resources for growth and development? What would you use your Growth Mindset Fund on? And do you have any tips for us to help this program gain traction? Let's discuss in the comments!