How Buffer's Content Team Uses AI
In this article, the Buffer Content team shares exactly how and where we use AI in our work.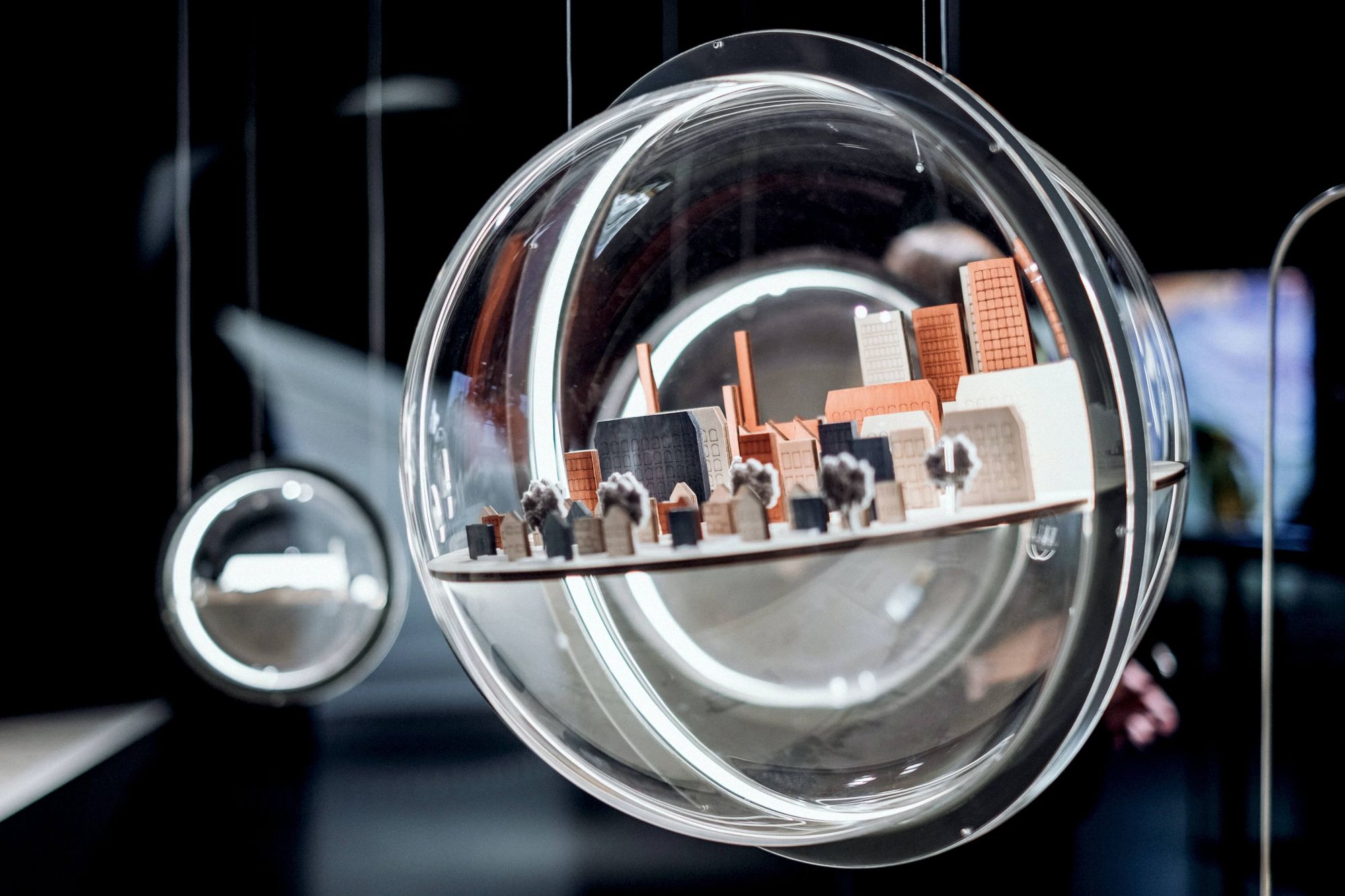 Photo by Maria Teneva on Unsplash
There's been much ado about AI lately, especially since ChatGPT was released to the public in November 2022. Since then, we've seen an influx of thoughts and tools around the topic and the use of AI.
We like AI here at Buffer – we've even launched an AI Assistant to help our audience create content better and faster. However, we understand its limitations, especially when it comes to creation, better than most. We also understand the (valid) concerns that many creatives and marketers have about the impact of AI on the quality of content.
So even though we use AI in our processes on Buffer's Content team (there are only three of us, and it helps us work more efficiently), we wanted to clarify exactly how and where we use AI in our work.
Our history with AI
We've been playing around with different AI tools for several months, and it shows in our content archive from the past year.
The first article from Buffer about AI went live in May 2022 to answer the question, "Should you be using AI for content creation?" Reflecting on this article is interesting because our stance then and now is the same – let it handle the small stuff, so you can better handle the big, creative work.
Our interest in AI has only grown since then, as ChatGPT went public, we published several articles mentioning AI on the blog, and we launched an AI Assistant.
Spending time with the different tools powered by AI has allowed us to define our boundaries better. As a result, we already have unwritten rules around AI in content. However, a pattern emerged in two recent events that prompted us to ask ourselves: how do we let people know our stance on AI?
The first was our latest (now closed) hiring run for a Content Writer. This article goes into more detail, but a surprising amount of applications were completed using AI. Our understanding of the typical AI-generated content helped us identify these applications, but it was prevalent enough to highlight.
The second event is ongoing – our recently launched Guest Post Program. The idea of the program is to open up the Buffer blog to knowledge stories from creators and small business owners. We want skilled writing that feels personal and leaves our audience feeling like they've learned something valuable. But, again, many pitches that come through are AI-generated with little to no editing. They all followed the same structure we've recognised from AI-generated answers, especially those created in ChatGPT.
Despite the speculation that AI is a ticking time bomb for people in creative industries, we beg to differ. No tool can replace the human mind and its capacity to create art that connects deeply. Also, it's worth remembering that AI is just an extensive language-learning model. It makes inferences from what you tell it and its limited bank of information to perform what several people have called "spicy autocomplete". It's a tool – only as good as the person who wields it.
So, yes, we had to take the time to clarify our stance because while it's great, it's not replacing any of us any time soon.
Our approach to AI in content
Here are the four statements that cover 90 percent of how we think about using AI in content.
AI assists but doesn't replace
AI never writes complete drafts or paragraphs without being edited by a human
AI content is always reviewed for accuracy
We don't believe AI can replace creative work in any sense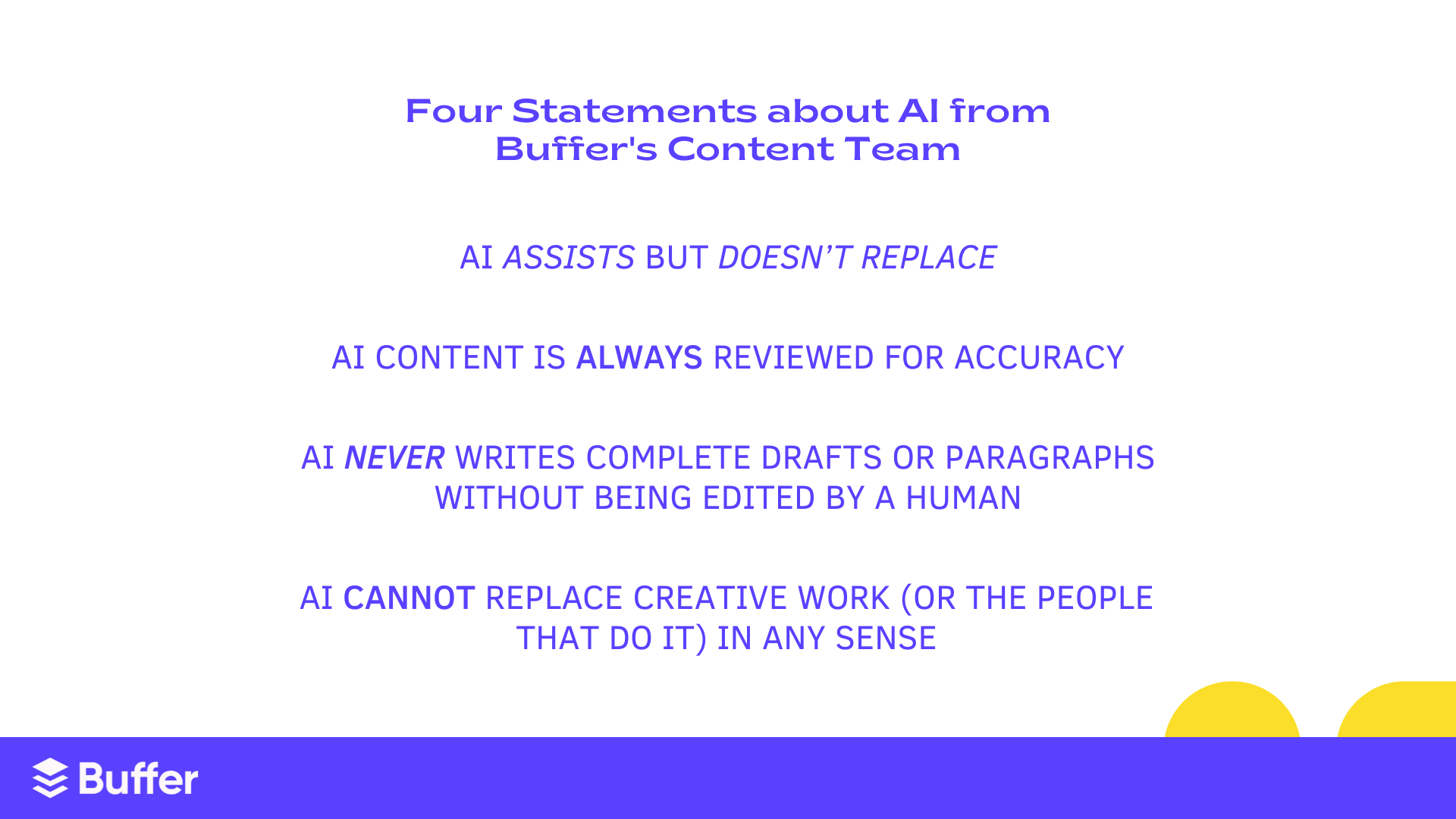 The Content team's experience with AI
Buffer's Content team comprises three people who manage the team's blogs, social media, PR, and other content and communication-related needs. The size of our team versus our responsibilities often means we must turn down certain projects and opportunities. We need to prioritize, but at the end of the day, content and social are top priorities for our team, so they can't be put aside.
Adopting AI tools has allowed us to free up more time to explore these opportunities and collaborate with other teams more effectively. For example, the first edits are done with Grammarly instead of one of us to catch the most visible errors in grammar and punctuation. This allows us to focus on deeper-level structure, voice, and tone editing. I use Otter a lot to record interviews. It joins my Zoom calls and makes rough notes – meaning I don't have to start listening and transcribing from scratch. It even gives a summary of each call.
Outside of AI-heavy tools, some of our other resources have AI incorporated into them like
Threads, which we use for internal communication
Notion, which we use for knowledge management
Canva, for designing social media posts and blog graphics
and even Buffer.
AI's an inevitable part of our process, and while we could choose not to use these tools, we'd all be less effective for it.
What we use AI for
We use AI for important, time-consuming tasks that a nonhuman can do.
To proofread writing and check for grammatical errors
To unlock inspiration before getting to the research process
To help with outlines
For creating templates
For coming up with interview questions
For suggesting title ideas
For the first draft of social posts
To repurpose existing content for multiple channels
To make our content more relevant for a hyper-specific audience
What we're not using AI for
We do not and will never use AI to
Research because it's wrong more often than not
Fully draft articles or write full paragraphs within our drafts – we use AI purely as a partner in brainstorming and writing
Create final posts for social media
Make artwork entirely from scratch. Currently, we only use real images from small businesses and creators they submit themselves or from Unsplash. If AI makes it into our images, it'll only be part of the design process.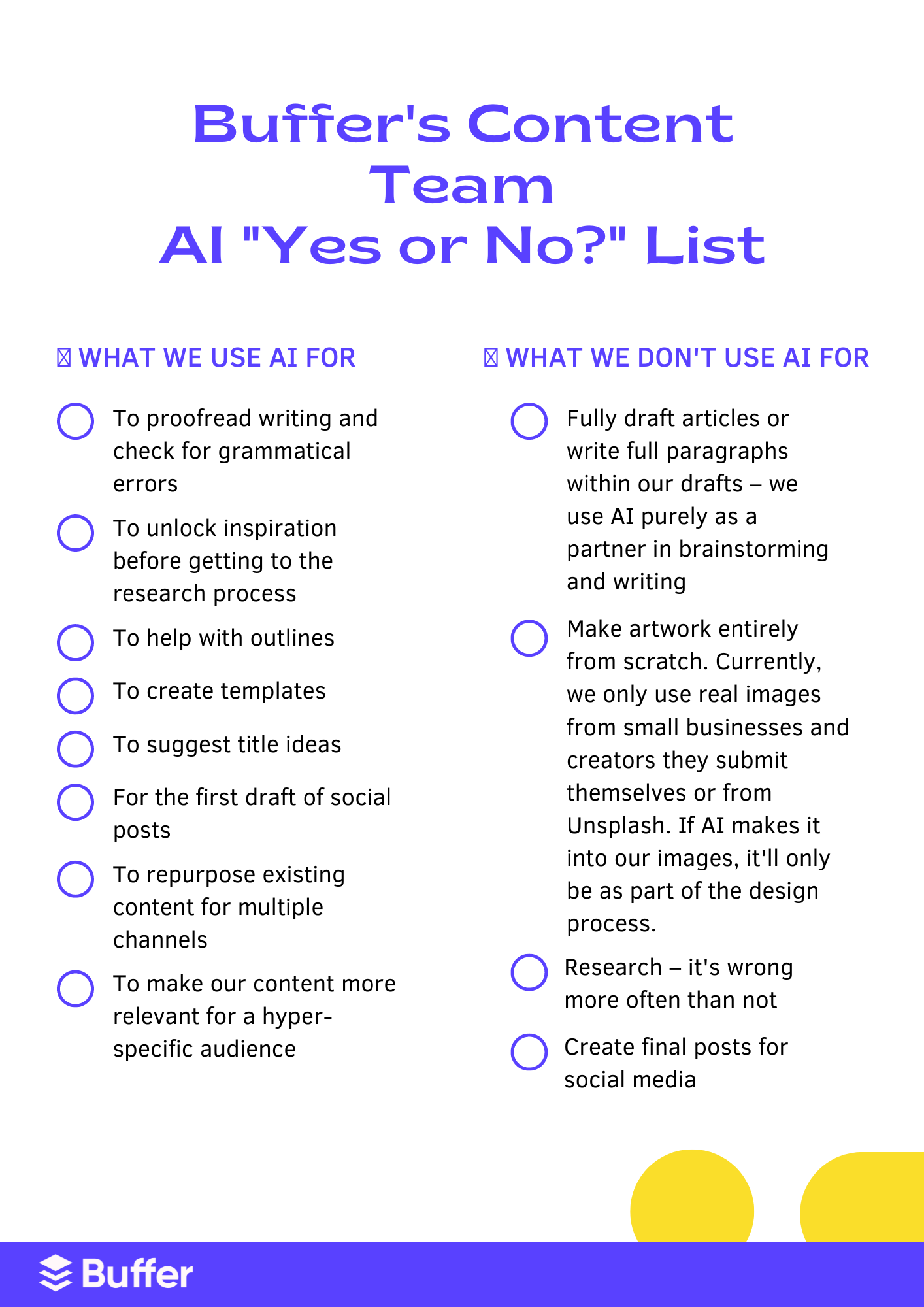 Real ways we've been using AI
The Content and broader Marketing teams view AI as a partner – and we have projects as proof. For a little more of the practical side of how we approach AI, here are some of the public ways we've been using it.
The social posts experiment
Our social media manager, Mitra, shared the results of her experiment of writing social posts with AI.
Mitra highlighted that AI didn't make a difference in the performance of the content and even used words that she would never use. However, Mitra gave the idea an A-plus for creating captions on days without inspiration.
Lunch and learn
I presented a lunch and learn on AI for the broad Marketing team at Buffer, sharing how I've been using it in my work.
Social media glossary
We recently launched a Social Media Glossary that resulted from months of hard work and cross-functional collaboration on the Marketing team.
It might have taken us longer to complete, but using AI cut the time we spent figuring out what to write under each term and how to write it in half. We developed a prompt that helped us fill out the basic outline of each term within our Glossary that we used as the foundation for each word.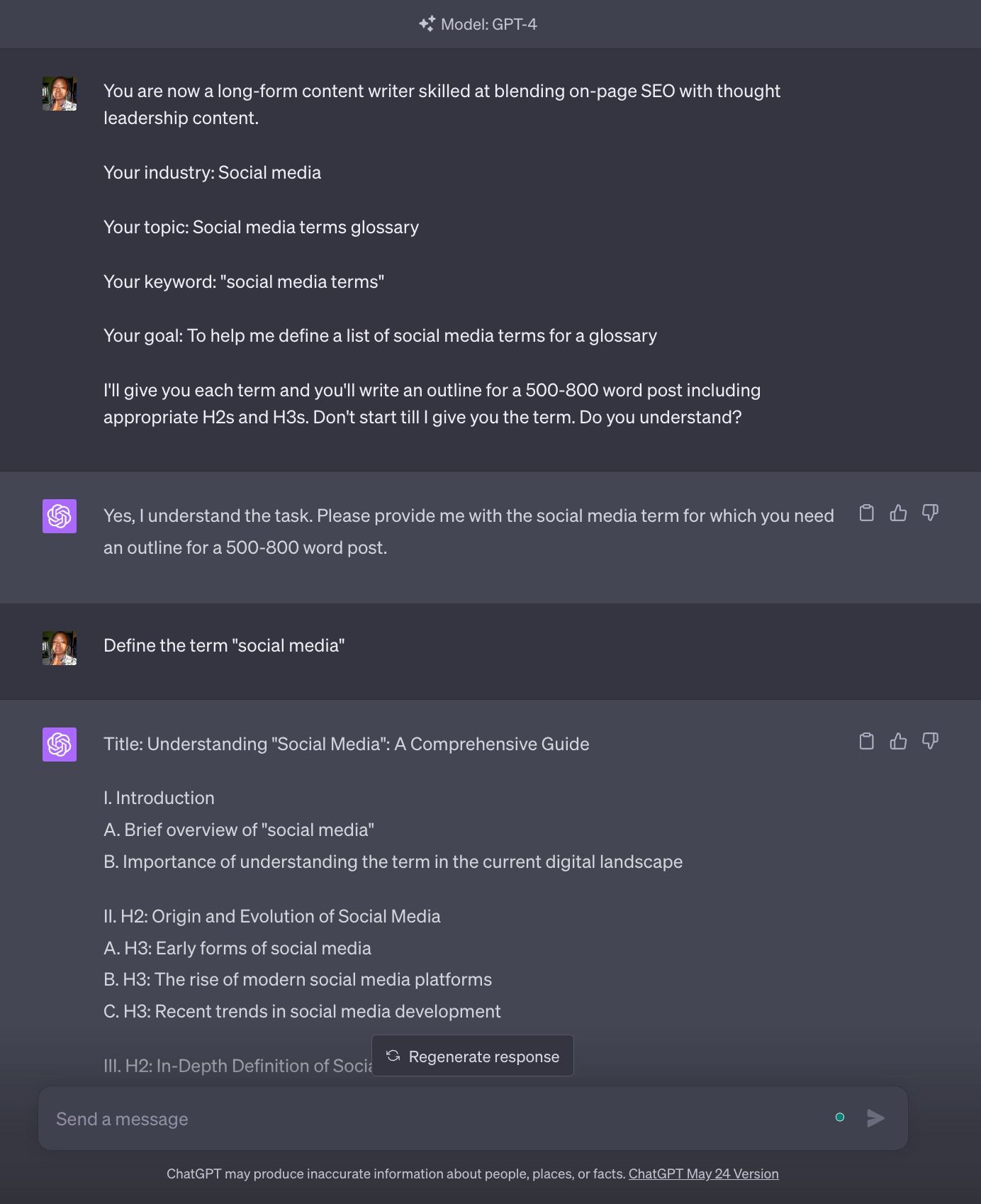 We also considered the impact of AI-only content on the performance of the page and its effectiveness for the reader. So, we spent a lot of time editing and adding additional resources to increase the value searchers would get from spending time on each page.
Localizing the entire Buffer website
We've been working on a project to localize the Buffer website to other languages, starting with Spanish – and AI has helped us realize most of it.
Of course, we're using a human translator to double-check our work, but we were able to do the bulk of the initial translation thanks to AI.
What's next for AI on Buffer's Content team
Where do we go from here? To be honest, not much else is going to change for us. Mostly we'll keep trying new tools and implementing them when they make sense. We've been using AI tools in our process for months, and it's helped us do our work better and better.
It's also worth noting that these guardrails (apart from what we won't do with AI) aren't strict. We can't possibly predict what will happen in the coming months with the advancements in this technology, so we'll stay open to adjusting these as required.
In sharing this, we hope to help content teams and content creators who are thinking about defining the place AI has or should have in their creative process. Let us know how it goes!