Working at Buffer takes many forms.
For some, it's working from home (sometimes surrounded by kids and/or animals), from a coworking space or co-living space or perhaps it's from a coffee shop.
(Psst – we just did a big ol' survey of more than a thousand remote workers to learn more about these trends in our 2018 State of Remote Work!)
When it comes to supporting our teammates, it's a part of our company values to live and work where you're happiest and most productive. That means we help financially cover the cost of coworking spaces if that is the best scenario for our employee.
In 2018, we added another dimension to our coworking benefit — up to $200 per month of reimbursement for beverages or snacks purchased to "co-work" from a coffee shop. This led us to a path of exploring how we view working from coffee shops and what is the proper mindset and etiquette for remote workers.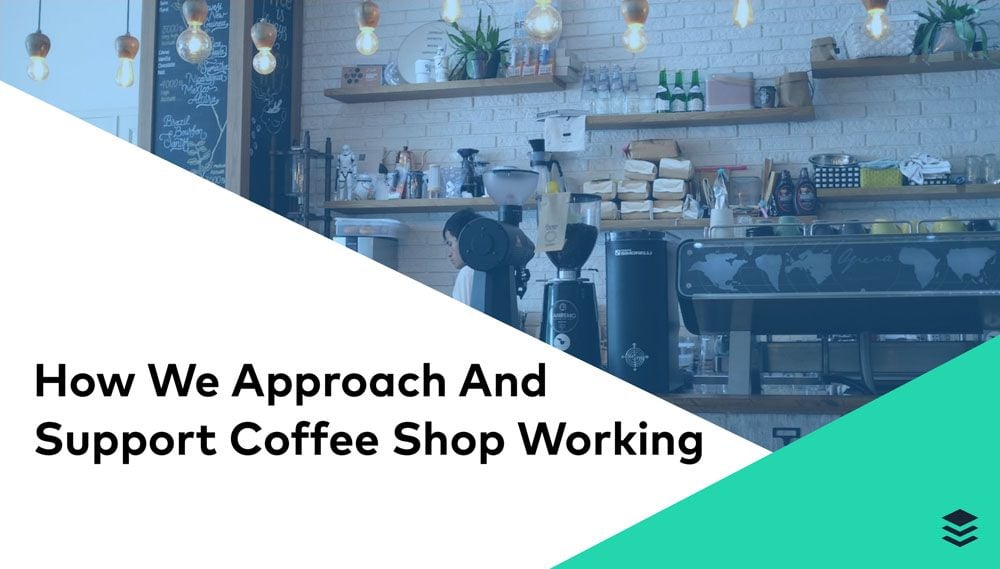 Coffee Shop Coworking: Benefits and Considerations
There are studies that point to the benefits of working from a coffee shop: the general change in scenery from your home or office, the energetic or social atmosphere and of course, the ready access to caffeine. For some workers, the ambient noise really helps them get into a zone. (There is even an app that emulates the noise from coffee shops to create the distinctive background noise if you're not physically in one!)
The New York Times recently published an article on the trend to dissuade or embrace remote workers and brought up several items we discussed as a remote workforce. Many coffee shops are addressing this in different ways; encouraging no-laptop zones or hours, or disabling Wifi.
We've heard from many of our teammates that this is a global trend and many of the etiquette guidelines apply across all cultures!
Tips from our Teammates
With our 70 teammates across the globe, all with a variety of different work preferences and experience, we asked them what were the sort of "rules" or norms they observed when it came to coffee shop working.
Here are some of the tips they advised!
Research Before You Work There
"Try to stick to places that I know welcome workers…There's also a great app called Workfrom that lets you scope out places, and the owners of cafes can mark in the app whether or not they welcome coworkers which is really nice." – Emily
"I usually try to do research on cafés I'd like to go online – Workfrom, Twitter, Google Maps to find indication whether co-working is welcomed. Google Map photos that show many people with laptops and seats with power sockets have been great indications, and its 'Popular times' feature could be helpful to only work at the cafés during their less-busy time. (You sometimes find a gem like this café owner in Paris who has developed an entire philosophy and strategy around this.)" – Juliet
"There are coffee shops that I just know don't want people in there with laptops (sometimes they even have signs) so I stick to the few I know are friendly. " – Hailley
"It may sound weird, but as a coffee shop worker myself I wouldn't want to see my favorite coffee shops become crowded with laptops only; I go to coffee shops for their atmosphere, when I'm there I want people chatting around, laughing, having coffee with their friends… Which is one of the reasons I'm mindful of that too." – Pioul
"Coffee shops that double as restaurants have a different turnover than a coffee shop would and might be best avoided during breakfast/lunch/dinner hours to leave tables open for their peak service." – Daniel
Make Regular Purchases
"I have to admit, it's really obvious when someone is a coffee shop lurker and the baristas know too. It's important to keep grabbing something from the shop to pay for the seat your sitting in." – Daniel
"So usually I'll start with a latte and then go back up after an hour and get a pastry or something to justify another hour. I spend about two hours per coffee shop and then switch it up and go somewhere else." – Hailley
Be Friendly
"If you're a regular at a place, don't be a stranger! Introducing yourself to the humans working at a place can have a huge impact on your day-to-day at a coffee shop." – Daniel
"I also try to become friends with the baristas and always tip well! It's nice to work from a place where you feel like you know the people working." – Emily
"When possible, I sit with groups. Tables with 2 seats on them might be best used by groups of people or people out for conversation. If I'm alone, I'll take advantage of community tables or invite others to share a table." – Daniel
Don't Camp Out Too Long
"I'm also in the one-coffee-per-hour camp. Plus I try not to take up a table around lunch time either. And always being willing to share or move as needed." – Colin
"I tend to try to avoid small shops unless I know it well and know how busy it gets. If a place has only 2–3 tables, or seating for ~5–10 people, sitting in a chair for hours might hurt a places business." – Daniel
"I love finding less-known cafés that aren't located on main streets as they tend to need more business during work hours, and I generally follow 1-item-per-hour rule as well." – Juliet
"Google's business indicator is good for knowing when a place might be busy, otherwise earlier in the day during the week (and avoiding lunch hour) is a good rule of thumb!" – Pioul
Be Mindful Of  Your Volume
"Some headphones these days are pretty rad at stopping noise from coming in. This can also lead to talking extra loud on calls. I sometimes keep one headphone out of my ear on calls to help gauge if I'm the only one yelling in a coffee shop (which has happened a few too many times." –Daniel
Tip Well
"If you live in a region where tipping is done, tip your barista! They are the incredible humans who make our coffee shop working possible and commute at the wee hours of the morning to help energize our days." – Daniel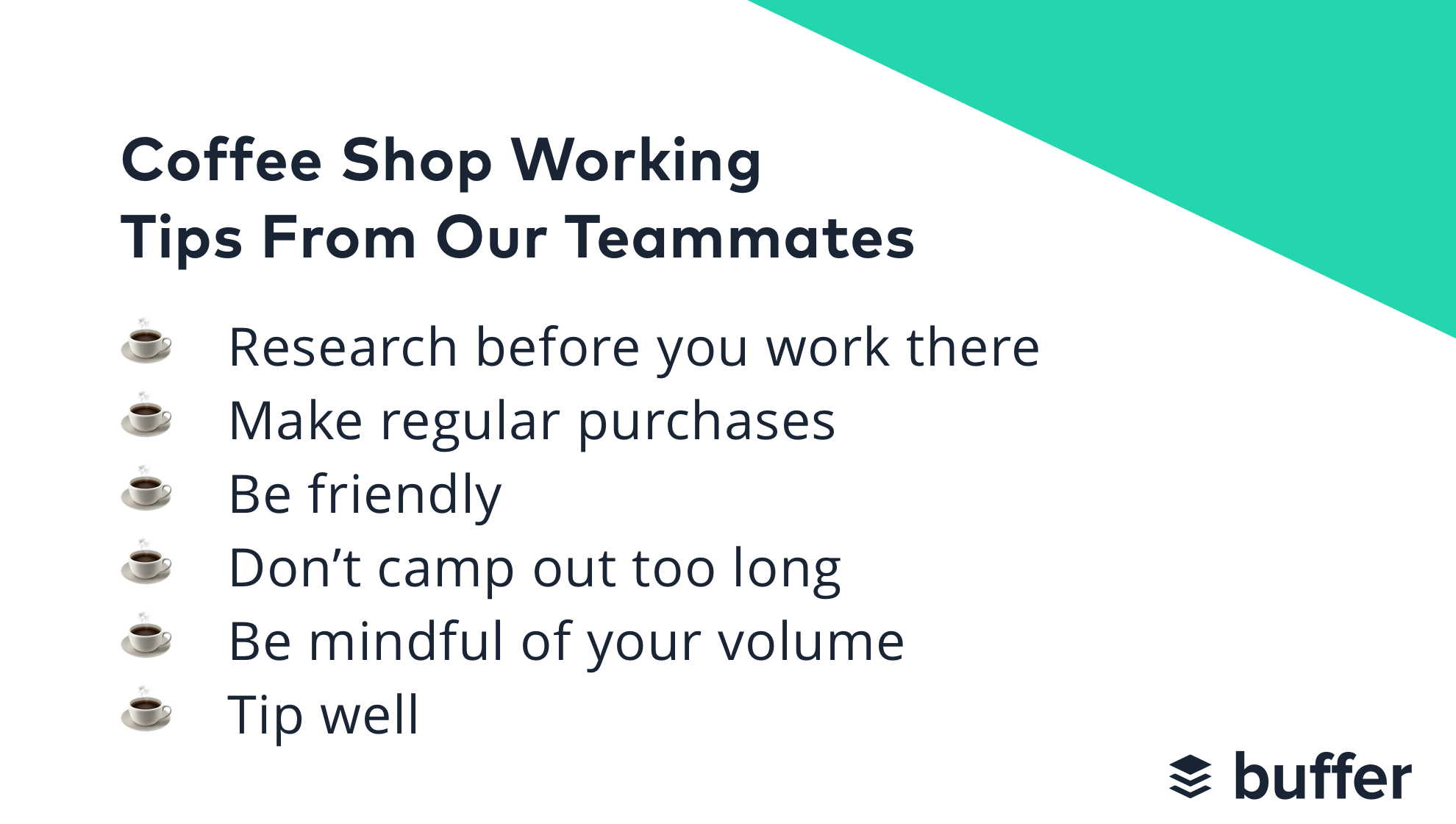 Over to You
Do you work at coffee shops? If so, what are some of your best practices?
Photo by Nafinia Putra