A few months ago, Leo and I decided that we really wanted to step up our Medium game to truly understand how the platform worked and how we can provide the best value to our audience there.
Truthfully, I was pretty clueless to begin with.
Logging into the Buffer account was likely my second time on Medium — ever. I was super excited to take on the challenge. Everything was started from scratch, with researching, creating spreadsheets, and experimenting at a rapid rate. I spent my time studying other brands on Medium and looking for posts that detailed what strategies and tactics worked for getting more traction.
The start of every day for me was Medium, I would import a story from the Buffer blog and edit it before publishing and then spending some time updating all of the tracking spreadsheets with the latest numbers, hoping for an indicator of what was working and what content should be posted tomorrow.
What follows are the 10 biggest experiments and how each one went. I hope it gives you some inspiration and ideas for what you might try next on Medium!
Our Best Medium Marketing Tips: Here's Everything We Tried
I'll go into great detail further on in the post about each of these strategies. Off the top, here's a quick list of what we tried, what worked, and what didn't.
Our top three Medium strategies were:
Repost older, evergreen content
Send Medium letters
Experiment biweekly
These three strategies felt like positive changes, though we weren't able to tie them to a direct impact on reads, views, or followers:
Tie a custom domain to your Medium publication
Design your Medium publication's layout for maximum impact
Experiment with finding the best publication title
And this list of strategies didn't perform the way we were expecting:
Posting on weekends
Sharing to Buffer's main social media accounts
Writing thoughtful responses to other articles
Publishing content from an individual person, rather than a brand/business
I'd love to share more on each of these. First off, here are the Medium marketing strategies that led the biggest results for us.
1. Repost
older

,

evergreen

content from your blog archives
Result: A 1,000% increase in views!
With our initial Medium strategy last fall, we focused on republishing our latest articles onto Medium, like many other companies and brands. We would wait about two weeks after the original piece was published on our Buffer blog, then republish it to our Medium publication.
And it worked okay — we didn't quite see hypergrowth, though we were able to build a solid foundation of followers and reads.
What might've held us back?
One theory was that we were hitting the same people twice with the same content. Since a lot of Medium followers are usually similar to Twitter followers, it's possible that two weeks after the blog post has been published, people had already read it on the Buffer blog or seen it promoted a few times on our Twitter account.
We switched to republishing Buffer pieces from a few years ago — articles that our Twitter audience had potentially never read or at least not read in a little while —  hoping the audience was more likely to read it.
And this is what happened: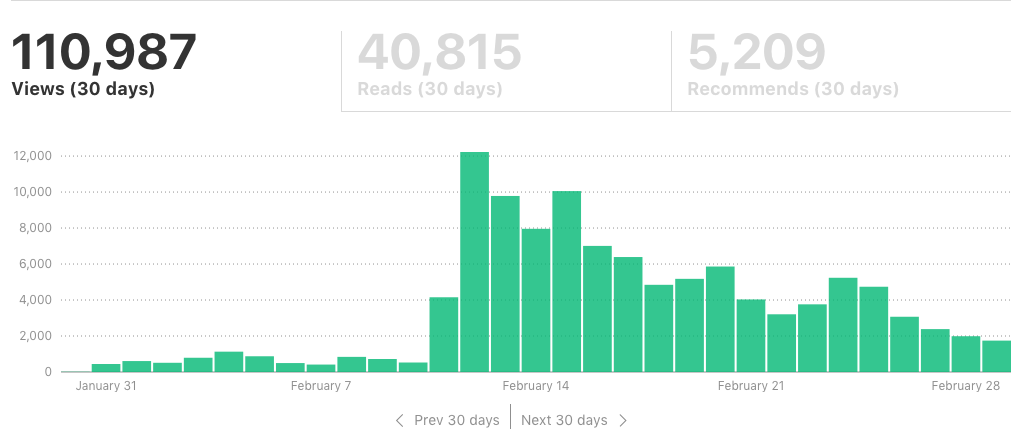 That big spike in the chart above shows our views jumping from 528 one day, to 12,226 two days later — a 1,215% increase!
The only thing I changed was posting older, evergreen content. I didn't change the day of the week or the frequency, just the content. And we were amazed at the results!
How can you implement this?
We're lucky at Buffer to have been writing lots of high-quality content for a few years now, so it's easy to dig back into the archives and pull out old popular pieces. If you also have older, evergreen content you can get from your archives, that's perfect!
To find this content, you can:
Dive deep into the pagination of your blog and look for evergreen content. For most WordPress blogs, you can navigate to a specific page by entering a URL like https://buffer.com/resources/page/14
Filter your Google Analytics results to show your top posts from a year ago. Go to Behavior > Site Content and change your date filter to see a full year (for instance, July 2014 to July 2015). Here's a look at ours: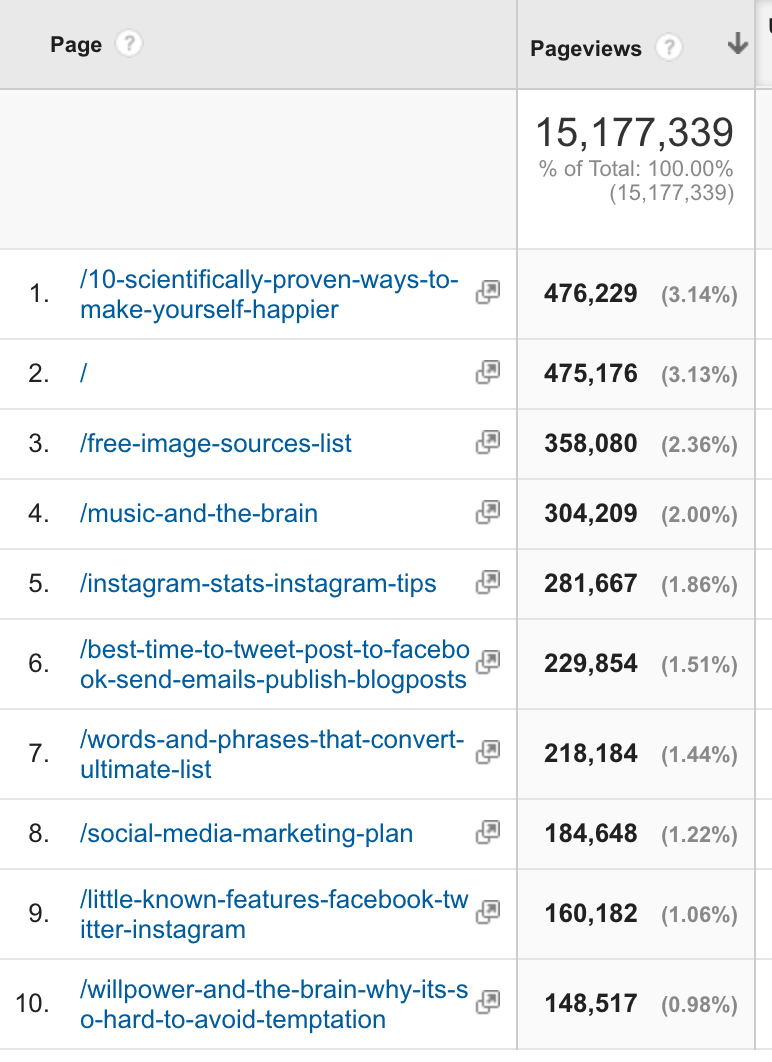 If you're republishing from a newer blog, I think part of the lesson here is that people might not want the same content from your blog on Medium again so soon, especially if they are already reading your blog and following you on Twitter.
One idea could be to try publishing different content on Medium than on your blog, at least for the first little while, to make sure you're not hitting your audience with the same content so regularly.
2. Send Medium letters to your followers
Result: A 3x increase in views
I remember the day I figured out you could send newsletter-style emails to all of your publication readers, I was so excited to see what would happen when I pushed the magical button that put the post I wrote into everyone's inbox.
The results? Hmm, not very many people read my first ever Medium letter.

And yet, the conversion rate of those that did open and read it was awesome at 83%:

So while it wasn't a terribly large spike in reads or recommends to either the letter or the post I was promoting, it was an intriguing start, and it definitely showed enough value for us to try it again.
Here's what happened when I sent my second Medium letter:
We say our daily views triple on the day we sent the letter and quintuple (5x!) the day after.
A couple of things I changed from Letter No. 1 to Letter No. 2:
Added a lot more visuals
Included links to more than one post
Added a personal touch with my name
And then my third letter kept the momentum going: Another spike in traffic on the day that we sent it.


Sending regular Medium letters is a powerful strategy for us. Like any newsletter, it's best to be consistent to keep your audience engaged, and seeing these results from our early experiments with letters has encouraged us to make letters a weekly habit for our Medium strategy.
How can you implement this?
If you're thinking of sending a Medium letter, these are the letter themes we've tried out so far
Changes to our Medium publication and trending articles (did really well)
Top articles to read
Publishing a new post (did not go so well)
I'm going to keep sending roundup-style posts via Medium letters to give readers a couple of post options and see what they're most interested in.
Some people have regular newsletters that express opinions or share updates that readers can only get by email. You can get very creative with Letters as well, check out this beautiful example by Bright: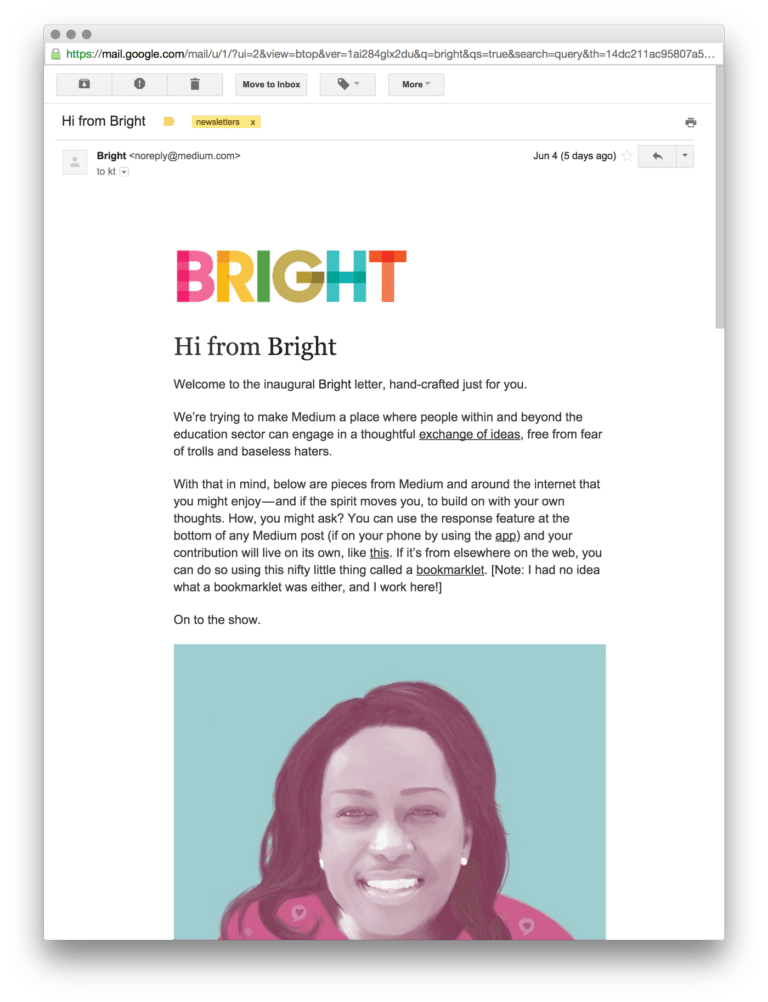 To send a Medium letter:
Visit your Medium publication
Click the Manage button at the top
Choose "Letters" from the drop-down list
Start writing, and hit Send when you're done!
3. Run weekly or biweekly experiments (here's a list to get you started)
Results: 10% monthly growth in reads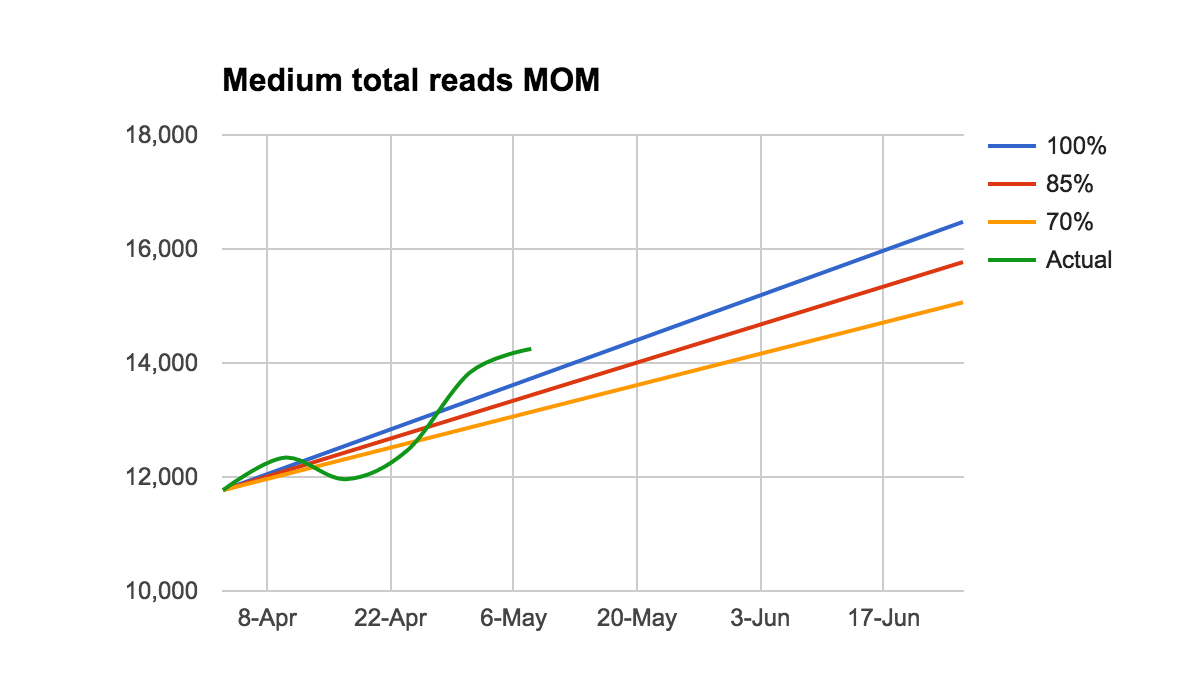 When I first got started with growth experiments, Leo sent me this talk called "Growth Machine" by Brian Balfour that models a lot of how we look at marketing experiments at Buffer.
Based on this framework, I ran one Medium experiment every two weeks and tracked all of my stats in a spreadsheet.
Here's a list of the 15 growth experiments and hypotheses I used. You're totally welcome to steal to get yourself started to see what works for you on Medium.
If we post to Medium on Saturday and Sunday, then we will rise to the top of the recommends list more quickly because there are less posts to compete with (less people post on weekends).
If we post to only publications with more followers than us, then our posts will get more reads and recommends due to the larger reach (top 11 publications on Medium here).
If we put a CTA in the post asking readers to recommend our post, we'll get additional recommends because we've asked for them.
If we ask our CEO to tweet our Medium articles, we'll get increased reads because he reaches a large audience.
If we ask the whole team to recommend our Medium posts right after they go live, we'll get more reads and recommends because we'll be featured more prominently on the Medium front page.
If we promote our Medium posts across our social media channels, we'll get additional reads because the Buffer social channels reach a wider audience than the Medium channel.
If we send out Medium subscribers a newsletter to let them know we have new posts, we'll get increased reads and recommends because we're taking subscribers directly to our posts.
If we post evergreen content from the blog that hasn't been on Medium before, we'll get more reads from people who follow the blog and are already caught up there, so we'll get reads from a different audience because it's varied content.
If we post only pieces that are a 7 minute read, we'll get increased reads and recommends, because that's one of the optimal lengths for Medium.
If we post only articles that touch on self-improvement, we'll get increased reads and recommends, because that's what a lot of the most popular content is on Medium.
If we go back to posting three times a week, we'll increase reads and recommends, because the lifespan for content on Medium is quite long.
If we post a piece about Medium to our blog, we'll increase followers, because of the link back.
If we write really thoughtful responses to top performing articles, we'll increase followers because we'll show right at the bottom of these high-performing stories.
If we post new stories from the author (rather than from our brand), we'll increase reads and followers because Medium shares author stories with the authors' followings and we've observed other publications getting good results from sharing content written by a person (rather than a brand).
If we mix up our posting and post to both our own publication, as well as publications with a different audience, we'll get more reads because we're posting more often and reaching more people.
How can you implement this?
Everything that works for us might not necessarily work for you. I think the first two tips I've shared above (evergreen content, Medium letters) are absolutely actionable for everyone, but it's essential to find out what your audience wants.
Every audience is likely to be slightly different. We wouldn't have found out what doesn't work until we tried it. Some of the things that didn't work for us (listed further below) might work for you.
If you're interested in implementing some of the experiments here, the best thing to do is go for it! Here's a sample spreadsheet to get you started and make it easy to track results.
And if you're looking for more inspiration, these posts have been helpful as we got started with the brainstorming process:
Which experiments didn't quite work out for us?
1. Posting on weekends
Here's the hypothesis I thought up: If we post to Medium on Saturday and Sunday, then we will rise to the top of the recommends list more quickly because there are fewer posts to compete with (less people post on weekends).
For us, our posts on average had far fewer reads and recommends on weekends — presumably because people aren't on Medium on weekends! So we went back to weekdays only.
2. Sharing Medium articles on Buffer's Twitter account
The initial hypothesis was that if we promote our Buffer medium posts across Buffer social media channels, we'll get additional reads because the Buffer social channels reach a wider audience than the Medium channel.
Yet these posts ended up having less reads than the ones we didn't promote at all. Sharing on Buffer's social profiles didn't seem to have much of an impact on the posts themselves. What I'm thinking here is that a lot of our Twitter followers were potentially our Medium followers and had already seen the post, or were most interested in recent content (since these were still evergreen pieces.)
3. Write really thoughtful responses to trending articles
This one is based on a common content marketing practice, whereby you comment on top pieces to get noticed. Here's what our results looked like:

In theory, we should show up right at the bottom of these top-performing posts on Medium to gain some traction there. It looks like though, the only way that your response is easily seen is
If the person reading the article already follows you; and
If the author recommends your response.
I've read a few posts about Medium being unhappy about people leaving too many responses that feel like comments. While mine were all pretty lengthy and I put a lot of thought in them, they still weren't their own stories so I felt this might not be the best strategy given Medium's changes.
4. Sharing articles from the original author
This is one we've seen lots of other successful brands on Medium do. The brands specifically post from the original authors (like the image below) instead of posting from "Buffer".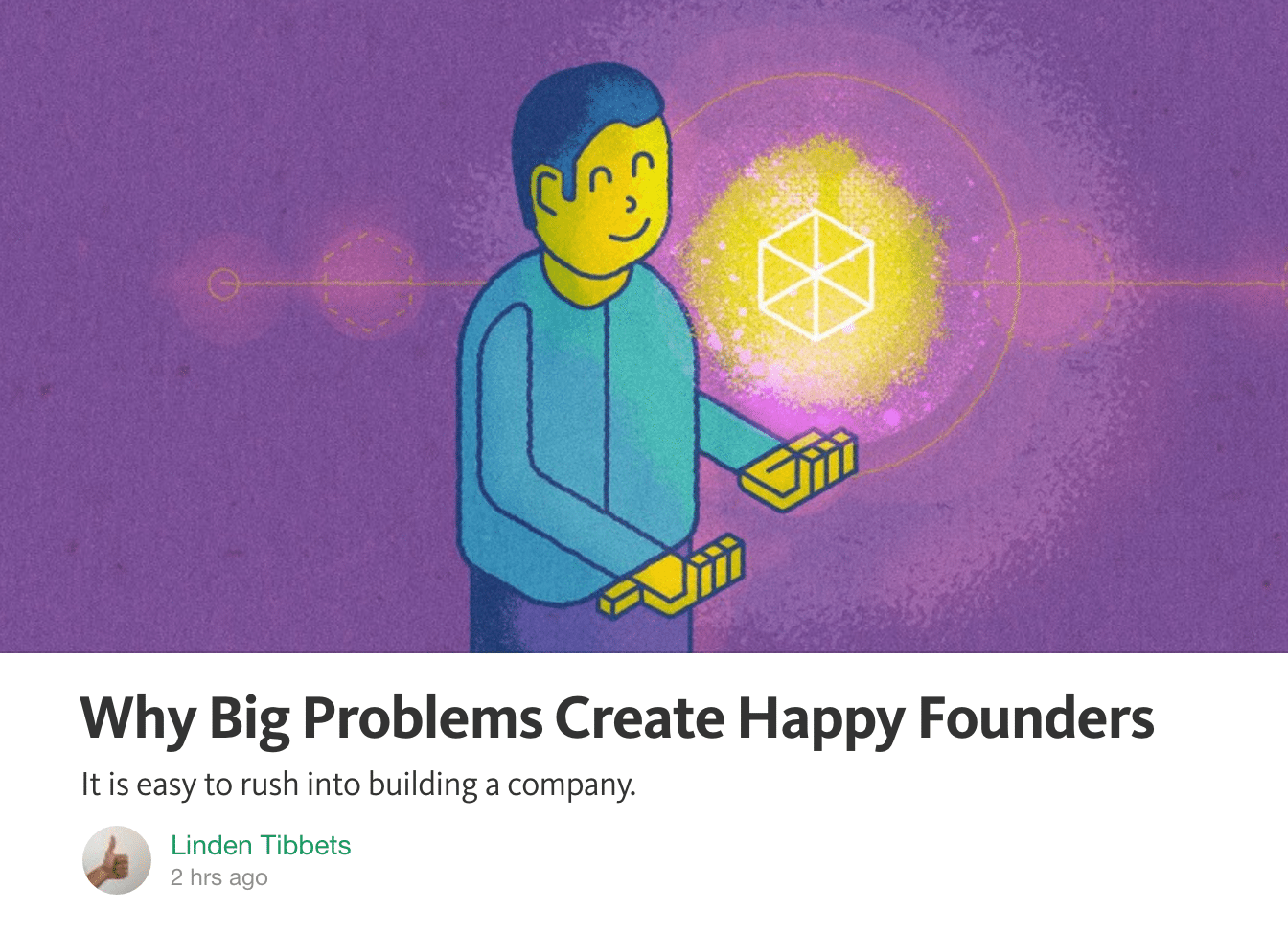 Other than the aesthetic part of this, our theory was that when we do this, the posts will get a larger reach because the author's followers will also see the content.
We tried this with three posts, and here were the results:

(One thing to note is that within your publication you don't directly have access to the stats for these authors , you have to ask them to share the stats with you.)
These posts were very social media focused, which usually does pretty well with our audience. On average, these posts had about 64 reads whereas the average for all of June was 292, so these posts performed 78% less well than the other posts from that month.
Quick Wins To Get Your Publication Looking Sharp
When I first took over our Buffer Medium publication, I made a couple of tweaks to start pulling things together, while I'm not sure if they directly led to any increased following or reads, these simple tricks can help make your publication look like the real deal:
1. Get a custom Medium URL
We migrated from a longer medium.com URL to stories.buffer.com, which felt a lot more clean.
Medium makes this whole process really simple. To start, kick off a ticket requesting to set up a custom Medium domain. After that, there's a bit of technical know-how required to get everything set up properly (we grabbed an engineer to help with the A records, CNAME, and DNS).
2. Change up the design
I hadn't realized how flexible and beautiful the Medium design really is!
There is tons you can do there. Here are a few things we changed up:
We added a larger, centered logo and larger publication title right at the top of the publication. We also added tags to our homepage to make navigation easier.
The tags were totally inspired by Slack's beautiful Medium account: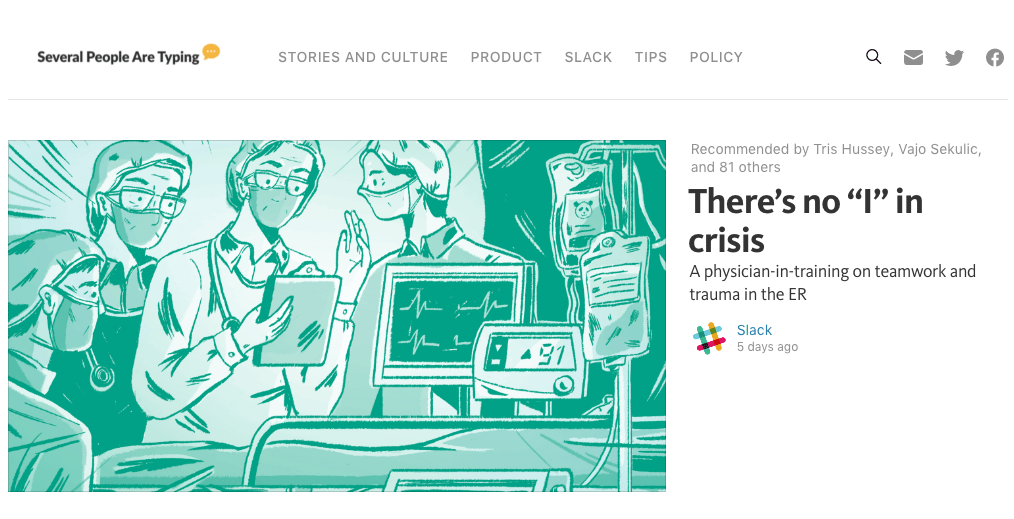 We also changed up the articles so that they would appear as images in big blocks.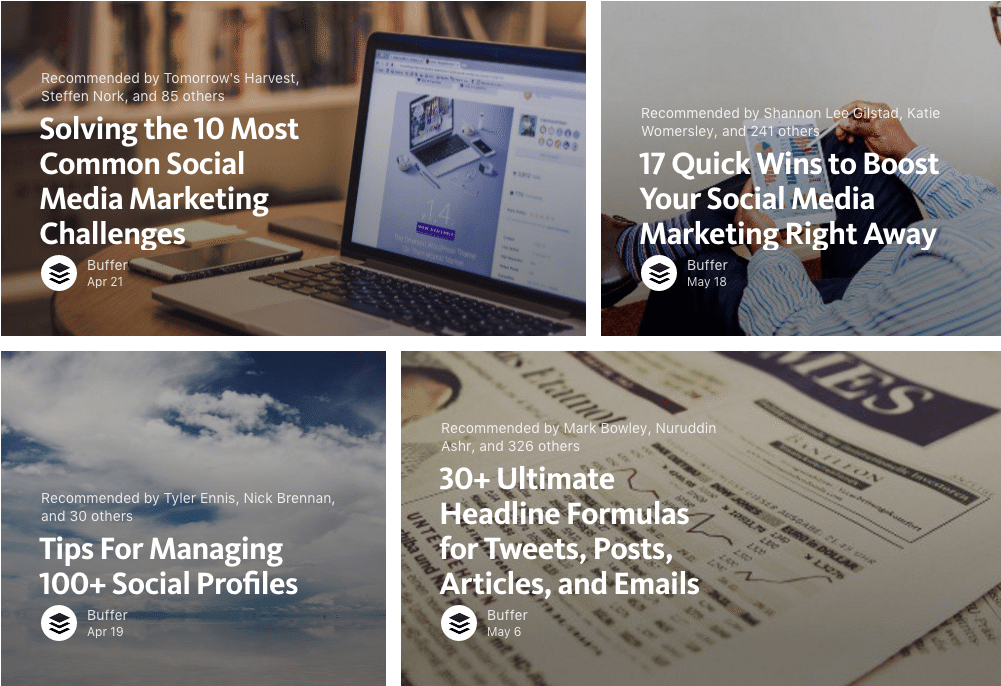 No need to do exactly as we did here, Medium offers a ton of flexibility for you to organize and showcase your posts in a way that looks great for you. Moving things around to see what kinds of design tweaks feel best for your publication can go a long way.
3. Play around with the publication title
In efforts to get more creative and unique on Medium, we went from Social Media Tips → The Queue → Stories by Buffer.
I love Slack's Several People are Typing, and Basecamp's Signal v. Noise.
Over To You
Are you on Medium? If so I'd love to know any of the Marketing tactics you're using! What's working and what have you learned? ?
Excited to hear from you in the comments.