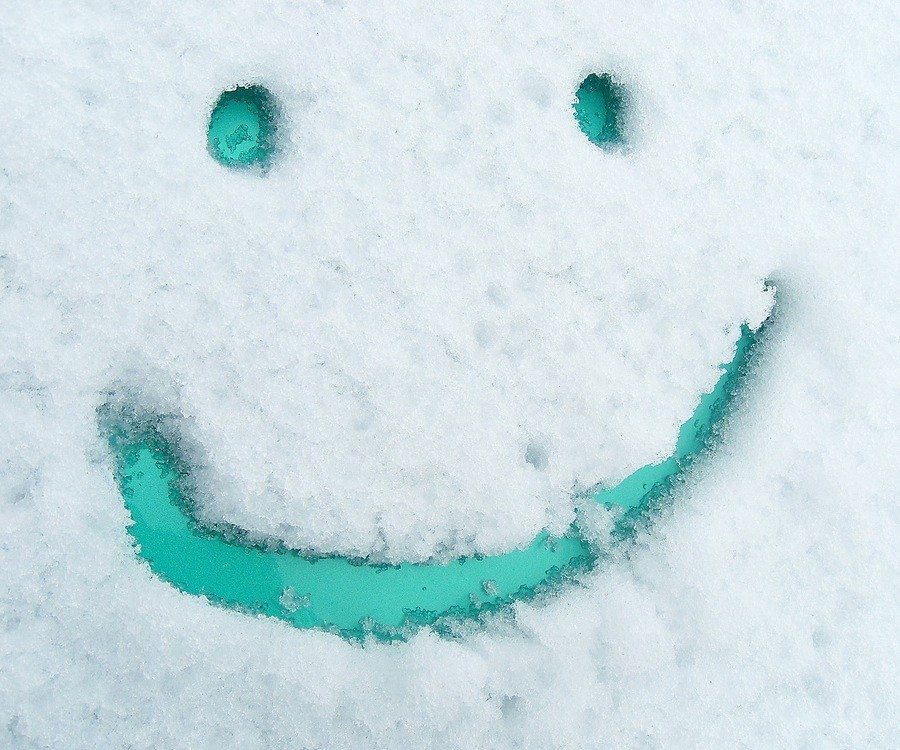 "Customers don't expect you to be perfect. They do expect you to fix things when they go wrong." ~ Donald Porter, V.P. British Airways
Well hello there! January has zipped by super fast but there's just enough time left to share with you our third Happiness Report and dive into how we managed support during December and also how happy people are when using Buffer. We'll walk through what worked well for the team here at Buffer, what perhaps didn't work so well, as well as new things we're trying on for size this new year.
A look at our numbers in December
Dipping straight into the data for the last month of the year, here are some of our most important stats from December.
Out of 3,965 email conversations, these were our response times:
52% of all emails got a reply within one hour
a further 13% within 1-3 hours
6% waited more than one day
overall: 75% of people who emailed Buffer during December received a reply within 6 hours.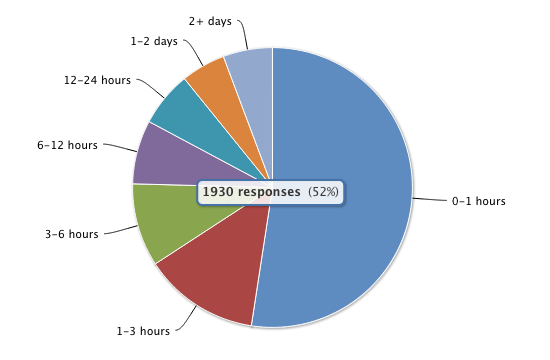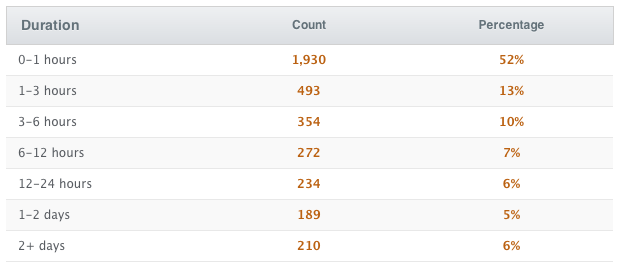 The number of emails received in December dipped by just under 100 – with our daily average sitting at 132 conversations and 1.63 replies per conversation.
Hopping across to Twitter, where we responded to a little below 5,000 mentions, slightly up on November. We also added around 3,500 new followers through the month.
Our use of TwitSpark has been settling in nicely. Much like the emails we receive, we prefer not to assign tweets to members of the team and instead leave them open and accessible to all.
The way we use TwitSpark is very similar way to our methods for managing our shared inbox for email inside Help Scout and we try our best to reach double inbox zero and delight with super fast responses across both channels as much as we can.
How are people feeling about our replies this month?
Through December we continued to keep a check on customer happiness by adding Hively smileys to the bottom of each email reply we send. It's an interesting technique which allows us to measure if people are happy, satisfied or unhappy with both our support and product. We can also see how many times we managed to deliver a little bit of WOW!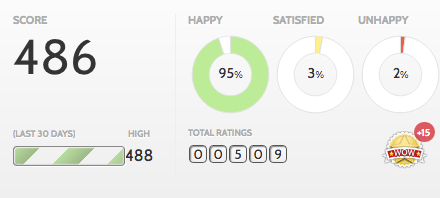 So onto the numbers. Out of our 3,965 email conversations, 509 people decided to hit one of the 3 smiley options (happy, satisfied or unhappy) and these are the feedbacks we received:
95% were happy with our response
3% were satisfied
2% were unhappy
15 people were WOWed
The percentage of people who gave their feedback increased to 12% so it continues to deliver valuable insights into how we're doing.
Behind the scenes: relaunching and relaxing
At quick glance, the numbers for December look similar to those for both October and November. But digging deeper into our stats and graphs reveal how it was actually a month of two halves.
Of the 3,965 conversations through December, 80% of these were handled in the initial two-thirds of the month, between December 1 and 21.
By contrast, just 929 conversations were handled between December 22 and 31, dropping from an average of 158 conversations each day to 103.
While Santa may have gifted us all a little time to relax and recharge at the end of the year (thank you Santa!), the relaunch of both our new web app and iPhone app on December 11 really kicked volumes into high gear.
The days directly after the launch were super busy, but it was pure awesome. Tons of positive feedback received, tons of questions and a huge buzz connecting with so many people, both positively and also helping those who found the changes a challenge.
After the initial rush of post-launch buzz, both our email and Twitter volumes remained high through to the holidays. The inbox wasn't pretty and we were a long way from monitoring, but Tom, Andy and Sunil were amazing at pushing through fixes as fast as we could identify frustrations and pesky bugs.
Looking back at the past 12 months
While this report focuses on the last month of 2012, we also want to take an extra minute to share how things have changed inside Buffer support through the year as a whole.
Skipping back to December 2011, Buffer was, back then, a small team of three – just Joel, Leo and Tom. With less than 100,000 users, the number of new support conversations daily was just 45. While volumes were significantly lower than they are today, methods for responding then were also a lot more 'sporadic'.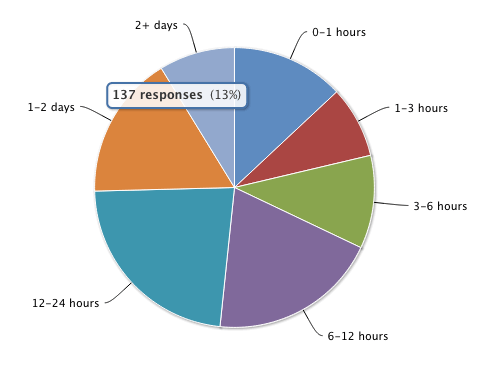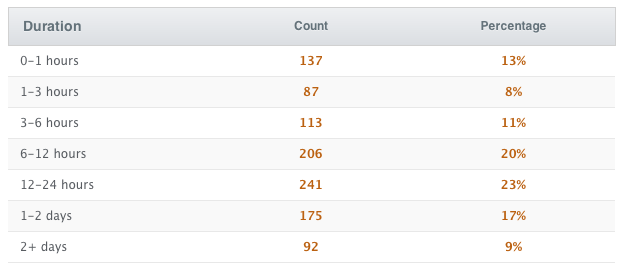 Through the year, while steadily growing to over 450,000 users, we were lucky enough to engage in nearly 35,000 conversations.
Each of these conversations was a chance to build a connection; to engage with those who use our product and an opportunity to learn how we can make it even better for them.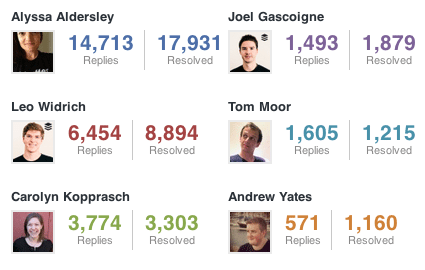 Everyone in the team feels truly grateful any time a customer reaches out to us and it's really important to the culture of Buffer that everyone on the team makes time in their day to provide a little support.
How are we looking to improve in January?
To wrap up this report, here are some of the new things we're looking to try in January. An inside look into our key challenges as volumes grow and an insight into progress we're looking to make:
1. Making a habit of our 5-veggies-a-day
In December we continued to encourage everyone in the team to answer 5 support emails daily. With an average response time of 5 minutes, each person needs to build 30 minutes of support into their routine.
Taking this a step further in January, this month we're working on making our 5 "veggies" a habit. With the assistance of Lift for a little habit tracking, the app is a chance to give props to coworkers while working on maintaining a personal successful 'streak'.
2. Going live with our FAQs
The questions we are asked most frequently inside support have been gathered together and we're building a Q&A into the site at the moment. We hope it will help people who would rather find basic answers on the site, but we also love to hear from people so it's definitely not our aim to reduce conversations!
3. Happiness Hero #3
We reached a decision earlier this month that the time was right to hire a third Happiness Hero and we're interviewing right now for an awesome person, based either in Asia or Oceania, to fill the time-gap in our support schedule.
We're hoping to have someone new on board to join myself and Carolyn soon and it's super exciting to know we'll shortly be able to offer support through nearly all of the 24 hour day.
Over to you
To round things off, here are a few of the awesome shout outs (the 'warm fuzzies') we received during launch day last month – you simply rock!
From all of us here at Buffer, thanks for an amazing year! Here's to 2013!
Photo credit: sj_sanders