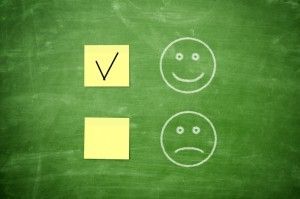 "Happy customers who get their issue resolved tell 4 to 6 people about their experience." ~ White House Office
Welcome to our very first Happiness Report.
I'm really excited to share for the first time our experiences of delivering happiness to our awesome customers here at Buffer. Each month we will talk about things we have learned, look at our analytics and introduce new ideas for increasing happiness we will be testing over the next month.
Our philosophy for bringing happiness to our users
The culture we're building at Buffer is one where customer support stands shoulder-to-shoulder with product development, with each aspect of the business having equal focus. It's something Joel has referred to as the happiness advantage.
While Tom and the product team work hard to drive growth, it falls to everyone on the team to chip in and answer emails and tweets. With shared responsibility for customer happiness, we each do all we can to delight.
The road to supporting awesome Buffer customers so far
At the start of the year we worked from oldest email first, trying not to keep anyone waiting longer than possible. Looking back it's easy to see this led to everyone waiting longer than necessary, and without a WOW in sight.
After a few months we switched on Help Scout (an awesome tool that helps us deliver our happiness efforts) reports and could begin to measure the number of emails we received each day, as well as how many we had replied to in less than one hour, 1-3 hours, 3-6 hours and so on. Armed with this information, we could now monitor our performance and set goals.
Looking back to January and 100,000 customers, here are some of the key insights:
21% of emails sent to Buffer received a reply within the first hour.
More than 50% waited more than 6 hours to hear back from us.
23% of Buffer users had to wait more than a day! Ouch.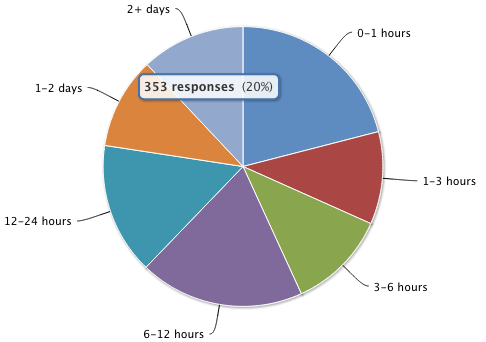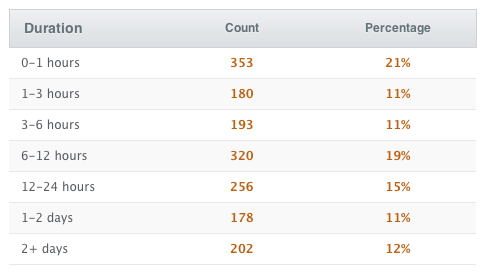 Leo and I experimented with different approaches and different schedules through the summer. But as customer numbers grew we knew we needed to grow the team, and the lovely Carolyn joined us in September (more from Carolyn in our next report!). So far it's making a world of difference, as we now have a lot more of the 24 hour day covered.
With a few extra tools to help with internal team communication and super fast responses – often within minutes – we try to do everything to now delight customers a lot more and hopefully deliver a little bit of WOW to their day.
How happy were Buffer customers in October?
Skipping forward to October and 400,000 customers, here are some of the most important stats:
Out of 3,597 email conversations, this was our response time:
56% of all emails got a reply within one hour,
a further 16% within 1-3 hours
5% waited more than one day.
overall: 81% of people who emailed Buffer during October received a reply within 6 hours.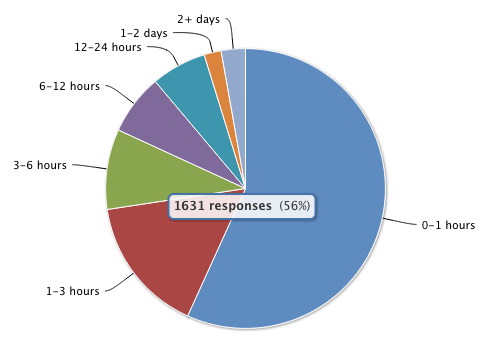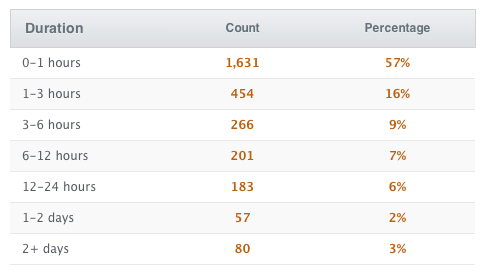 Over on Twitter we responded to around 4,500 mentions, doing our best to give super fast support, and gained an additional 8,000 new followers. Right now we're looking for a tool which will expand our measurement of this channel but open APIs should allow us to explore deeper metrics over the coming months.
Interestingly Facebook is much less of a driver for inbound support, with only a small number of posts to our timeline each day. And with App.net only just getting started, we manage only a handful of daily mentions there too.
How can we improve for November?
While I'm proud of the progress we've made so far, there's still much more we can do. We're working towards round-the-clock support and have a bunch of ideas in the works to keep boosting our ability to deliver Buffer happiness, and a little bit more WOW.
New ideas we're going to be testing in November include:
Real-time measurement of customer happiness by adding clickable smileys to our email signatures, capturing instant feedback.

Follow those who mention us on Twitter, as a thank you for their engagement.
Include a screenshot or screencast in our replies wherever possible. It will be interesting to watch for any effect on response and handle time.
Over to you
To finish up, here are just a few of the awesome messages we've received ourselves this month. Tweets and emails like these make everyone on the team jump out of bed each day to make Buffer even better. As a hat tip to our amazing Buffer community, you rock!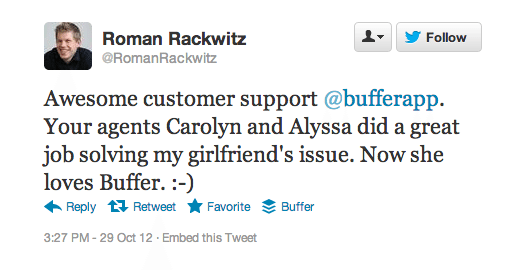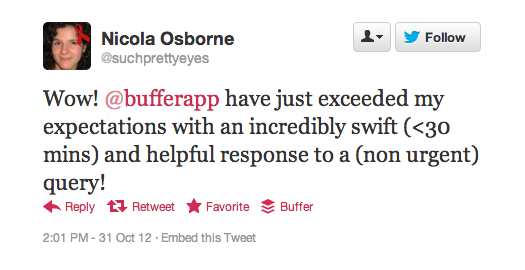 By being open and honest here, we hope others will find it useful and will watch and learn along with us. If you have awesome ideas for how we could improve further, or any questions about our work so far, I'd love to hear your thoughts in the comments.