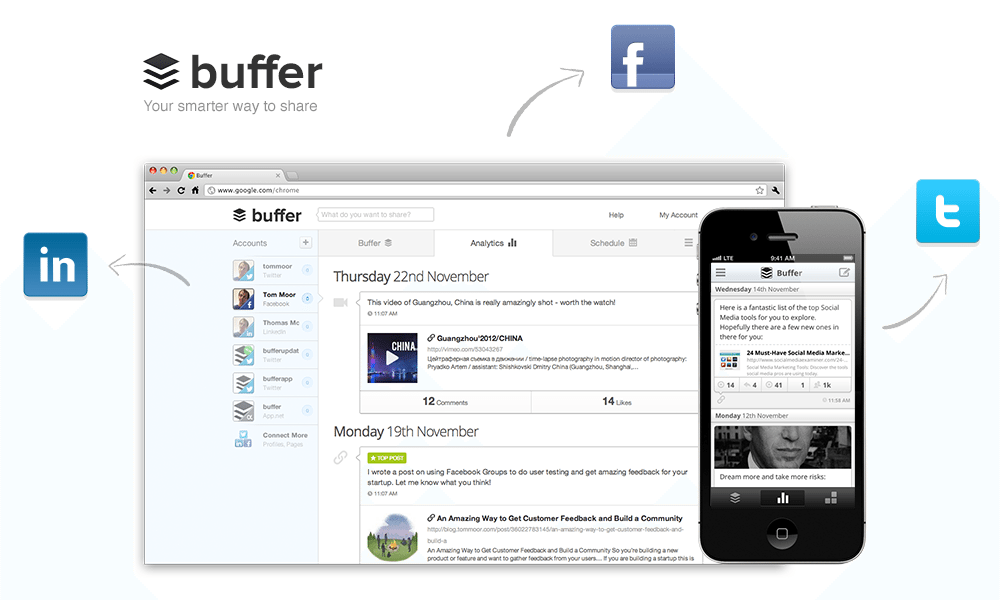 What a crazy few weeks here at Buffer HQ in San Francisco to make everything work out in time for Christmas. The last thing we wanted to happen was for you to not get your shiny new presents. And fortunately, it all worked out. The brand new Buffer is ready today. We're launching both a brand new web app and iPhone app today.
So without, further ado, let's dig in and have a look around about what's new:
Easily manage all your social accounts
With the new Buffer web app, we wanted to give you a much clearer overview of all the social accounts you want to post to: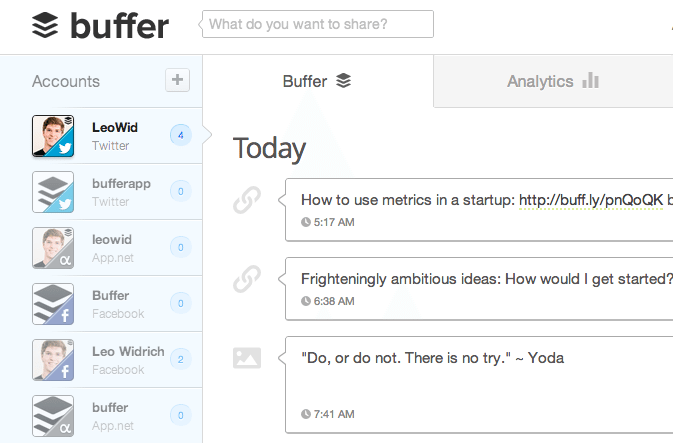 From the new compose menu in the top left you can easily start sharing to all your social accounts. Of course, the smartest way is still our browser extension, which lets you Buffer any page you come across: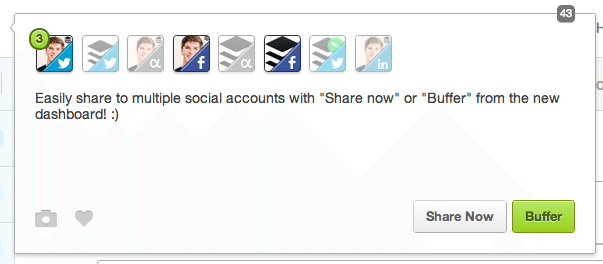 With the click of a button you can add multiple accounts to your Buffer stream, including Twitter, Facebook, Facebook pages, LinkedIn, LinkedIn groups and App.net: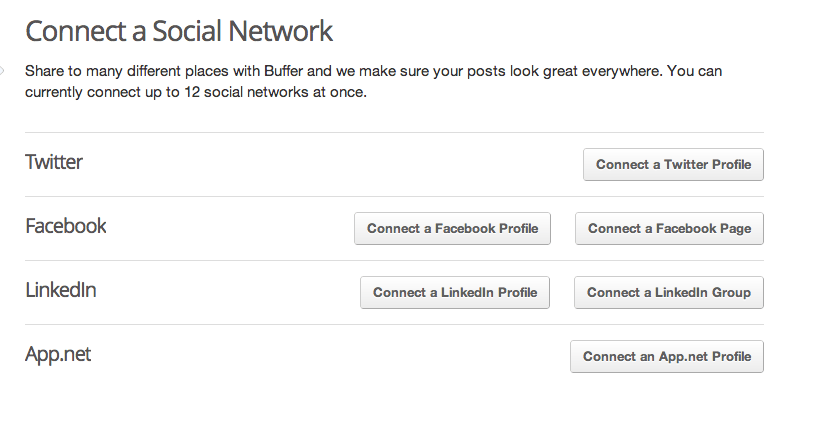 A better stream of all updates in your Buffer
An important thing that we noticed is that more and more of you started sharing images, videos and other media type next to links and text. We tried to optimize for this and show you all images, links and texts more clearly in your Buffer waiting to go out: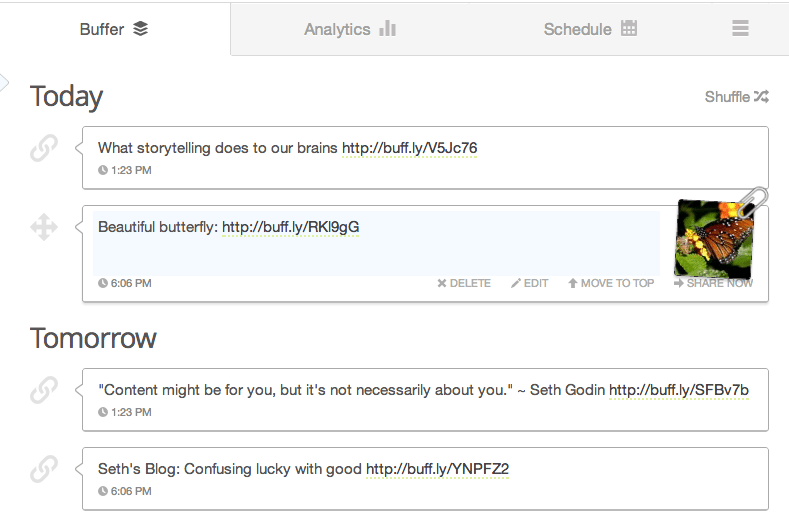 Better analytics, including "Top posts" from you
A key focus with this update was to improve the way you can access your analytics. It is now very easy to view the analytics, with a nice big button at the very top of your account area. You can browse through super easily and learn how many clicks, retweets, likes and so forth you've received on your updates.
We've also introduced "Top posts", which will indicate the best performing updates you've put out with Buffer: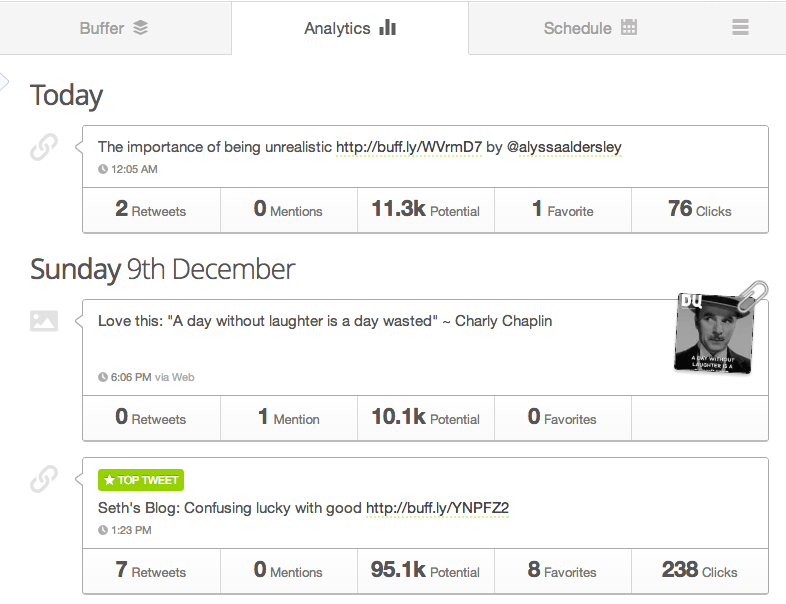 4 Awesome new features to make your sharing even smarter with Buffer
With the new dashboard we also have some awesome new features available for you. They are things focused to help you to share the content that performed the best and make your stream on Twitter, Facebook or anywhere else even more consistent. Here it goes:
1. Copy updates from one stream across to other social accounts
You can now simply drag and drop any update, say in your Twitter account, and drag it over to your Facebook or LinkedIn one. It'll be copied and go out for that account too:

2. A shuffle option: Mix up what's in your Buffer queue
Simply mix up the content that goes out of your Buffer and let our algorithm randomise the order. Especially if you are Buffering a lot of links from one source and want to have it mixed up, hit the shuffle button and give your friends and followers a better stream: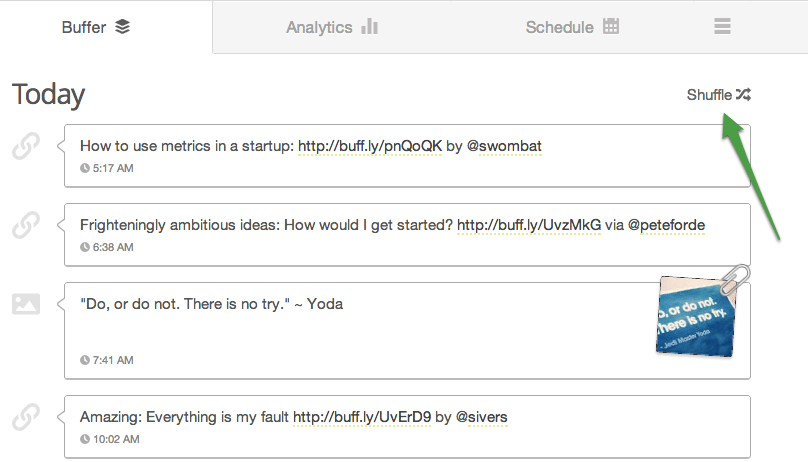 3. Share your "Top posts" from analytics to other accounts
Seen that one of your Tweets has done really well? Why not publish it on Facebook too, chances are you might get tons of engagement there as well. You can easily copy across to other accounts by simply dragging: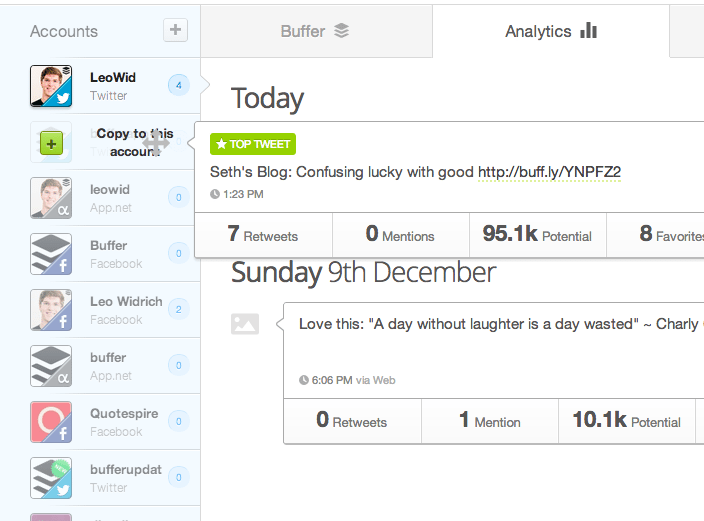 4. Reorder your profiles super easily
You can drag and drop all of your connected profiles on the left. It will also adjust the order of accounts in your Buffer browser extension. So in case you want to have all your Facebook or Twitter accounts closer together, take it for a spin: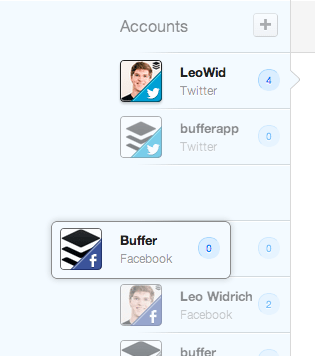 Easily manage and update your schedule
For the most part, managing and accessing your schedule has always been a bit hidden away. With your amazing feedback, we've put it more prominently, so you can easily change when your updates are going out. You can also easily create a second schedule for different days of the week with just the click of a button:
Link shortening, team members and more
We've also worked hard to make the interface around team members, shortening URLs and general settings a lot more intuitive and accessible. Hit the menu button on the top right and set everything up the way you want. Did I mention that you can connect your custom bit.ly account to track your URLs with more detailed analytics? All that in the account menu here: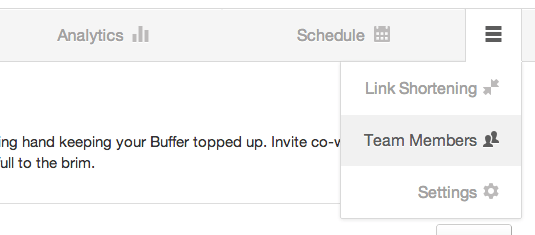 We've got several link shortening options for you available. Whichever one is best, simply choose it and of course you can also have different shorteners for different accounts: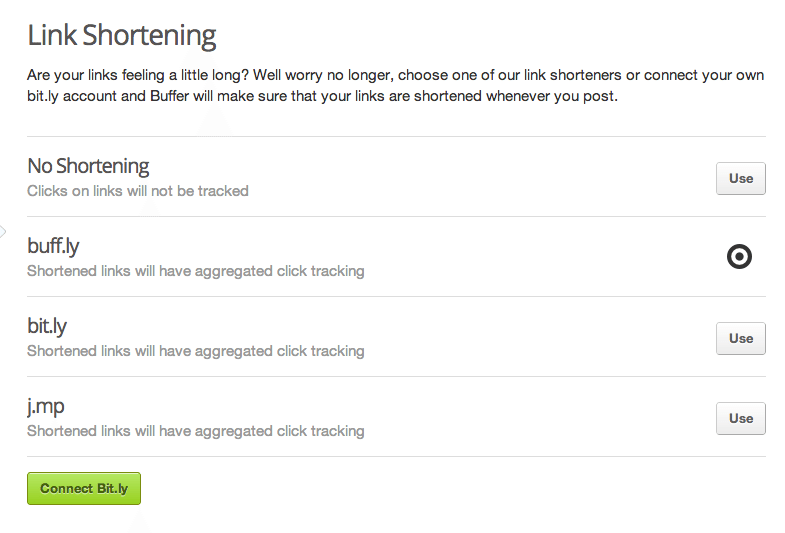 Want to collaborate with co-workers and friends on filling up your Buffer? Invite them over in the team members tab: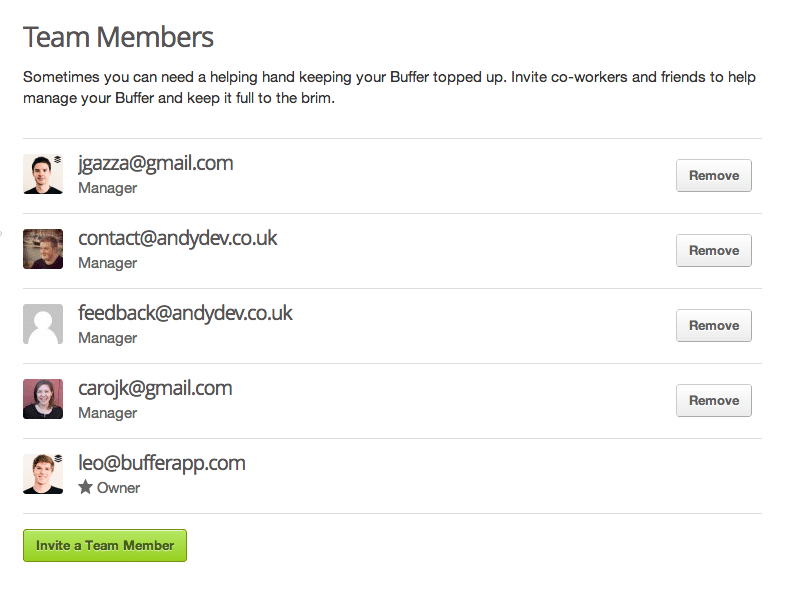 Where is Buffer going?
We've been speaking to lots and lots of you over the last 6 months while building the new Buffer. All the amazing insights from conversations have helped us shape the vision for Buffer.
One of the key realizations we've had was that the Buffer web app isn't necessarily the best place to share with Buffer. If you get up in the morning, chances are you are using one of the awesome news reading apps out there, on top of Twitter, Facebook and your browser to find great articles and content to read. So instead, to truly make Buffering smarter, we've worked with dozens of new apps who you can now Buffer from: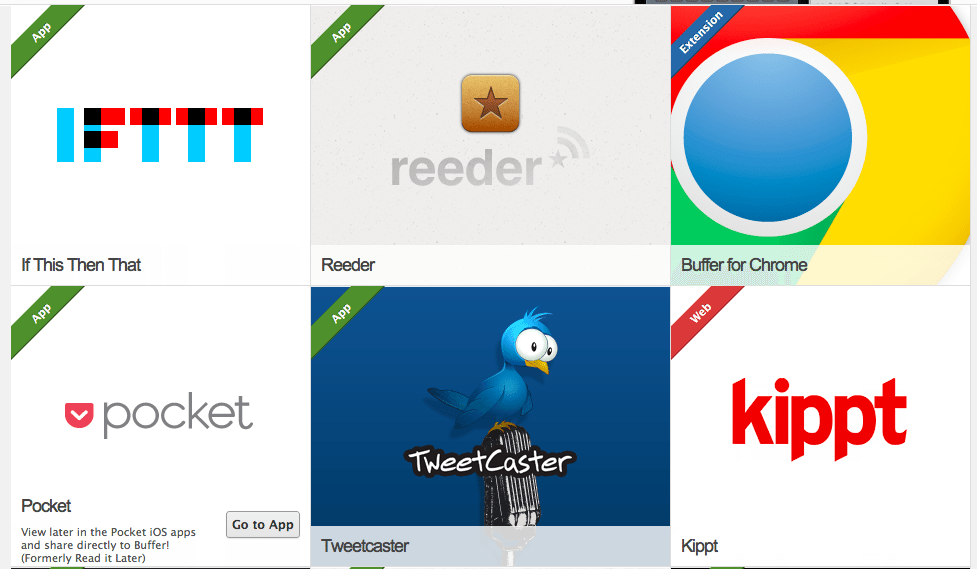 With this recent iteration, the Buffer web version is more tailored to manage and learn about your social sharing. It's become more of a place to check on how well your posts are performing and to move and edit updates in your queue more easily. As more and more awesome developers have built on top of the Buffer API, adding to your Buffer from anywhere has already become a ton easier.
We want to really focus on spreading the smarter Buffer sharing functionality across the web, be it with Buffer buttons, which over 10,000 sites have already put on their site or through great new integrations. When Mark Zuckerberg said that:
"Every year, we are sharing double the amount of what we shared the year before."
As Zuckerberg's law of sharing becomes more and more evident and we all share more and more, knowing which social network to post to and how well you are doing becomes more and more important too. That is exactly what we want to focus on with Buffer and what we'll execute for every day in the coming months. It's an exciting ride were we hope we can help lots and lots more people lead more efficient lives.
Whoa, we covered a lot there! With both new apps out, we are of course dying to hear your feedback. Give the new web app a go. What do you like? Where could we improve? I'd love to hear your thoughts on this!
Oh and be sure to check out our stylish new iPhone app too: