Highlights:
We spent $93,653 in August 2018
We spent $3,041 on ads. We budget $4,000 per month (total!)
We spent $3,151 on software tools (our stack includes 28 paid tools)
Grab your free marketing budget template
---
When I first started managing our marketing budget, I was a bit over my head. To put it mildly.
What software were we actually spending money on? I didn't know.
What made sense for a monthly ad spend? Not sure.
How much should we budget for the following year? *Searches Google for "what's a good annual marketing budget"*
Fast forward to the present, I have benefited greatly from working with our finance team to build out a marketing budget that answers all these questions and a budget that fits snugly within the company budget we have at Buffer. What I'm so glad I have now — and what I wished I had then — was a template to follow and some insight into how other marketing teams spent money. I hope that's what this blog post can provide for you.
In August 2018, our 10-person marketing team spent $93,653 total.
Here's how we spent it (and the free template you can borrow for your own team).
For more budget insights, we are publishing a series of blog posts about Buffer's transparent budget. We'd love for you to check it out!
---
Get the free spreadsheet →
Download from Google Drive or make a copy. Got any questions? We're here to help in the comments.
---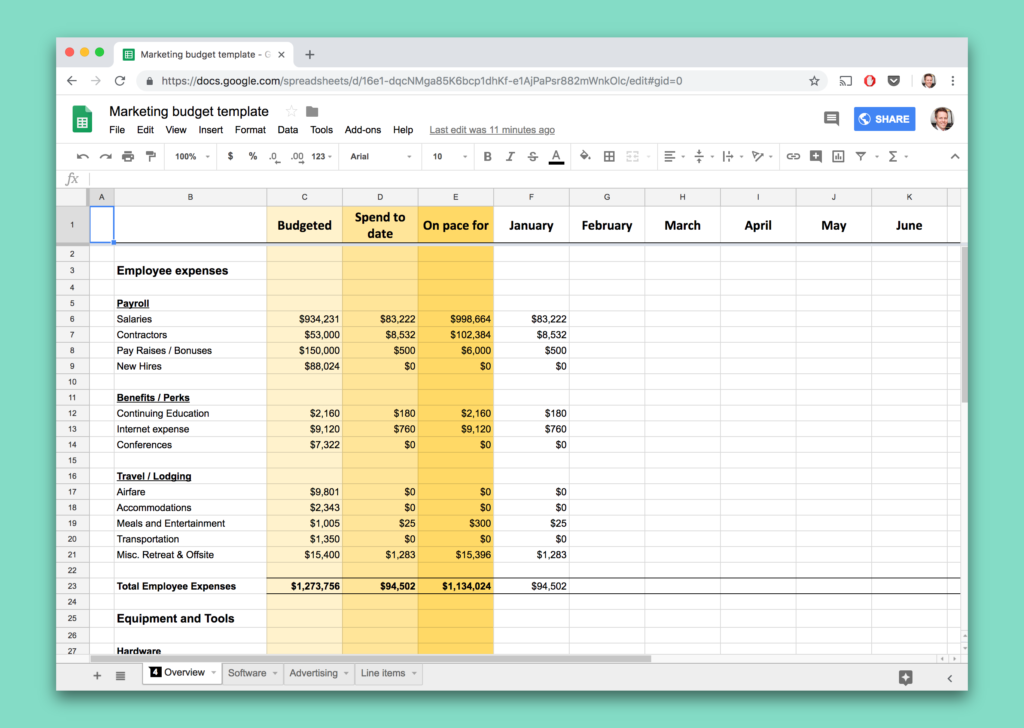 What all is included in a marketing budget?
Marketing budgets can look a lot of different ways. Some include just the costs involved in tools and advertising. Others include a more wholistic view of all marketing expenses: payroll, travel, perks, etc.
One of the metrics that is important to our marketing team is customer acquisition cost (CAC), which is calculated by dividing new customers gained by marketing spend in a given period. To calculate marketing spend, we include everything marketing-related, even remotely so. This means we add up:
Marketing salaries
Marketing team benefits and perks
Marketing software tools and vendors
Freelancers, agencies, and contractors
A percentage of customer support (which we attribute as a significant source of word of mouth acquisition)
In my marketing budget, I'll track all this except for customer support costs.
Here's the basic formula we use for CAC:
CAC = Total Marketing + Sales Expenses / # of New Customers Acquired
(Andrew Chen's blog has a good resource if you want to learn more about the nuance of CAC calculations.)
Let's dig a bit deeper into the exact categories and costs.
---
Note: Our budgeting rule of thumb: It's HARD to predict an entire department budget a full year in advance. We give ourselves some grace and flexibility, and we revisit budget things quarterly.
Everything we spent money on in August (and how much we spent)
Teammate Expenses
Payroll
$73,225
This includes salaries, contractors, and misc. payroll
Benefits / Perks
$367
Continuing education and conferences
Travel / Lodging
$9,402
For conferences and retreats
Equipment and Tools
Hardware
$0
Computers and accessories
Software
$3,151
All the tools we pay for
Channels
Advertising
$3,041
Display ads, search, social, and sponsorships
Swag
$168
Buying swag and shipping swag
Freelancers / advisors
$4,300
Consultants
Misc.
$0
Experiment budget
Total
$93,653
Teammate expenses
Payroll: $73,225
Benefits / Perks: $367
Travel / Lodging: $3,152
Equipment and tools
Hardware: $0
Software: $3,151
Channels
Advertising: $3,041
Swag: $168
Freelancers / advisors: $4,300
Misc.: $0
A breakdown of our marketing budget categories
Teammate expenses: Salaried vs. contract teammates
Since we're a fully remote team where people can work from home (we have no office), our salaries work a bit differently than at other companies. Buffer is legally situated as a U.S. entity, so any teammate with a U.S. residence is paid as a salaried employee. Any teammate who lives and works outside the U.S. is paid as a contractor.
On the marketing team we currently have:
Seven salaried employees
Three contractors (full-time teammates who live outside the U.S.)
At the beginning of the year, we also budget for promotions and new hires. Typically, each teammate will move to the next level in our career framework every one or two years. Hiring varies year-to-year, and plans may even change in the midst of the year. We try to make our best guesses.
(Speaking of salaries, you may already know that we use a salary formula and publish our salaries publicly.)
Teammate benefits and perks
We're quite privileged to enjoy a long list of benefits and perks at Buffer (not the least of which is being able to work remotely from wherever we're happiest).
You can see our full list of team perks here.
Many of the perks come out of the Admin and People team budgets. A handful of them end up on our marketing budget.
Continuing education
Each teammate receives $20 per month ($240 per year) as a learning and development perk. We encourage teammates to invest in themselves by learning a new skill (role-related or otherwise).
So far this year, marketing teammates have tried:
Udemy classes on web design, UI design, and real estate investing
Skillpop classes on illustration, painting, and Adobe Illustrator
Udacity class on web development
PR community membership
CMX membership
Skillshare classes
Enneagram personality tests
Ad Age magazine subscription
Conferences
We also encourage teammates to attend the conferences that interest them. Each team at Buffer chooses to allocate this conference budget differently across its team. On marketing, we divvy up the $4,500 annual budget equally among the nine of us. Each person gets $500 to spend the way they choose.
So far this year, we've spent money to attend (or speak at):
Social Media Marketing World
Podcast Movement
CMX
If a teammate might not use their conference budget, they can give it back to the team for others to use (if other teammates have gone above their $500 max).
Travel and lodging
For the most part at Buffer, teammates end up traveling twice per year: once for our annual company retreat and again for a once-a-year mini-team retreat just for our marketing area (every area of Buffer has their own also).
This category will cover expenses for those trips, and it also includes any travel that's needed for conferences or events. We also had some expenses pop up here with strategic meetings with partners that require travel or meals or Lyfts.
In August, we spent money on:
Plane tickets to our October mini-retreat in Nashville, Tennessee
AirBnB reservation in Nashville
Hardware: Computer and equipment expenses
For the most part, we have pretty low overhead with computers and equipment. When you join Buffer, you can get reimbursed for a new computer, and then every three years, Buffer will pay for an upgraded model.
In any given year, our marketing team only has two or three teammates who are eligible for this upgrade, so the expense is rather low. The annual cost occurs randomly during the year.
At Buffer, we reimburse the following machine (or its equivalent) for our marketing team:
Mac:
Macbook Pro: up to the 13" 2.3GHz i5 Processor, 8GB Memory, 256GB Storage (no touchbar)
Windows:
Dell XPS 13" /w FHD (1920×1080) Display, i7-8550 Processor, 8GB Memory, 256GB Storage
Microsoft Surface Book 2 w/ i5 7th Gen 7300U (2.60 GHz), 8 GB Memory, 256 GB Storage (2 in 1 laptop)
In addition, teammates are encouraged to spend $200 each year, however they see fit, on any particular tech or office items that would make them more productive and healthy.
In the past, teammates have used this on new desk chairs, ergonomic support, standing desks, headphones, and keyboards.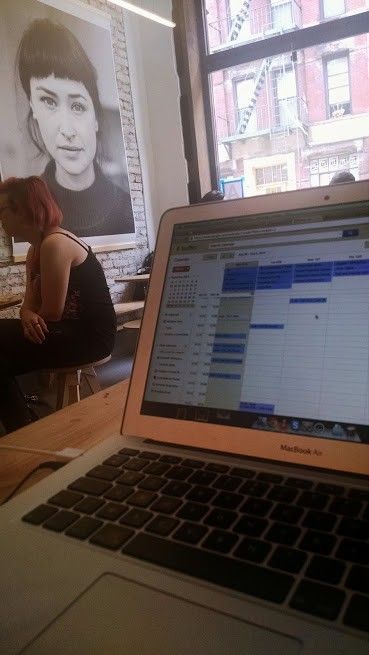 Software
This is one of our biggest expense categories. We budgeted $68,000 of this for the full year, and we're on track to spend about $48,000.
For the most part, our software expenses are tiny. The bulk of our software budget comes from web hosting for our blogs and email credits to message our millions of customers.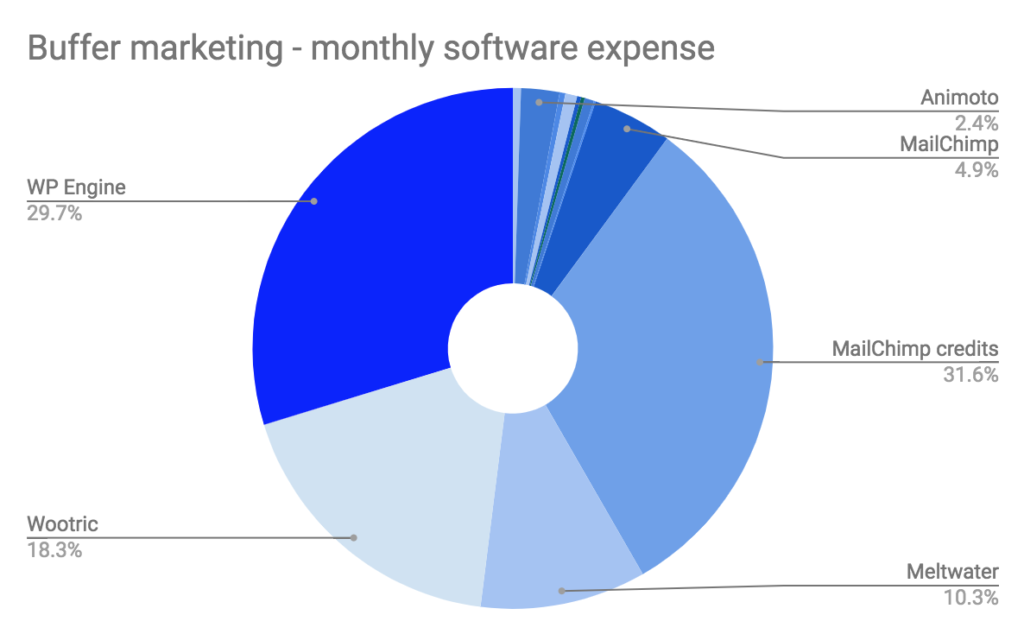 Specifically in August, here's what we spent on software:
Total for August: $3,151
For the year, we've spent on all these different software tools at one point:
(We use a lot of free marketing tools also.)
Advertising and marketing
There could be a whole post written about this category. Budgeting and tracking for ad spend is a huge task — and one we might not be especially suited to advise on. We don't spend that much, relative to others.
Typically, ad spend can be broken down into these categories:
Display ads — Banner ads, CarbonAds, etc.
Search ads — Google, Bing, etc.
Social media — Facebook, Instagram, Pinterest, Twitter, etc.
Sponsorships — podcasts, conferences, etc.
We haven't spent any money on display ads or sponsorships this year. We do dabble a bit in search ads and social media.
In August, we spent a total of $3,040 on advertising.
Monthly, we budget $4,000 for ads.
Here's the precise breakdown of what we spent, and where, in August:
Google — $500
Facebook / Instagram — $2,434.24
Twitter — $26.30
Pinterest — $80
Office expense (a.k.a. "swag")
Kind of ironic to have an office expense category when we don't have an office, right?
While the name might be deceiving, we do end up using this section — and its subcategories "Postage and Shipping" and "Supplies and Materials" — quite often.
Really, it's all code for "swag."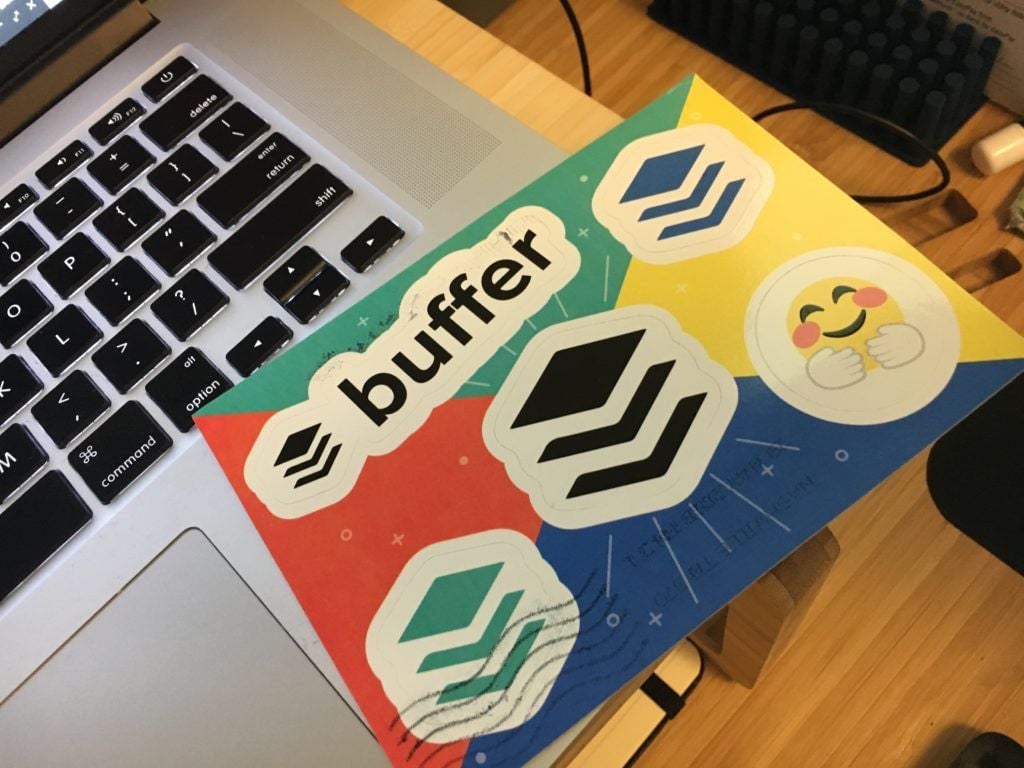 This is the place we put any expenses related to the Buffer-branded items that we purchase and ship out to customers and our audience. We've not spent much in this category so far in 2018 but do have some fun ideas and plans for later in the year and early 2019.
In August, we spent:
$118 on Stamps.com and USPS shipping
Outside services: Consultants
This year, we added a budget item for some outside help from agencies, consultants, experts, etc. This has come in handy for us with projects like branding and design, SEO, and content.
Our August expenses had a couple items:
Contracting with a designer for some fresh designs of our Buffer values
Contracting with a writer, Owen Williams, on a vertical video newsletter series
Bonus: Experiments
While not an explicit part of our budget, we did initiate something new on the marketing team this year:
Each teammate gets $50 per month to spend on any experiments they'd like to try.
The goal with this experiment budget is to remove barriers for the team to innovate and try new things. Hopefully, we'll learn lots and some experiments may become part of our marketing playbook.
So far this year, we've tried things like press release distribution, real-time analytics for the blogs, and community design workshops.
Get our marketing budget template
We're happy to make our marketing budget template available to anyone.
You can make a copy of the Google Sheet or download as an Excel file.
Hopefully the template is pretty self-explanatory. There is an Overview sheet as well as a sheet for Software, Ads, and Line Items. Feel free to edit and manipulate the doc as much as you'd like!
Over to you
What does your marketing budget look like?
Learn anything new from the way that we budget at Buffer?
For any other marketing teams out there who are curious where money goes and how it's spent, I hope it's been helpful to share how we do things on our team. We're a bit unique — no sales, no lead gen, super amazing LTV:CAC ratio. Still, I hope there were some interesting nuggets here.
Got any questions? Please do ask in the comments. I'd love to help!
P.S. If you enjoyed this post, you might also like our three-part series on How We Built the Annual Budget for Our Startup.