Our customers are the true heart of all we do here at Buffer — and we want to make sure the community knows it. We work on this in lots of ways—from striving for excellent customer support to hosting meetups to sending hand-written notes, swag and special gifts.
From the very beginnings of Buffer, our founder and co-founder, Joel and Leo, sent hand-written thank-you cards and stickers to customers. They recognized the value of one-on-one relationships and how going an extra step can help show how much we truly appreciate our customers.
Since then, we've continued in and grown the tradition of showing our love to the community through a variety of ways. Here's a look inside a few things we do, along with a transparent look at the processes and costs.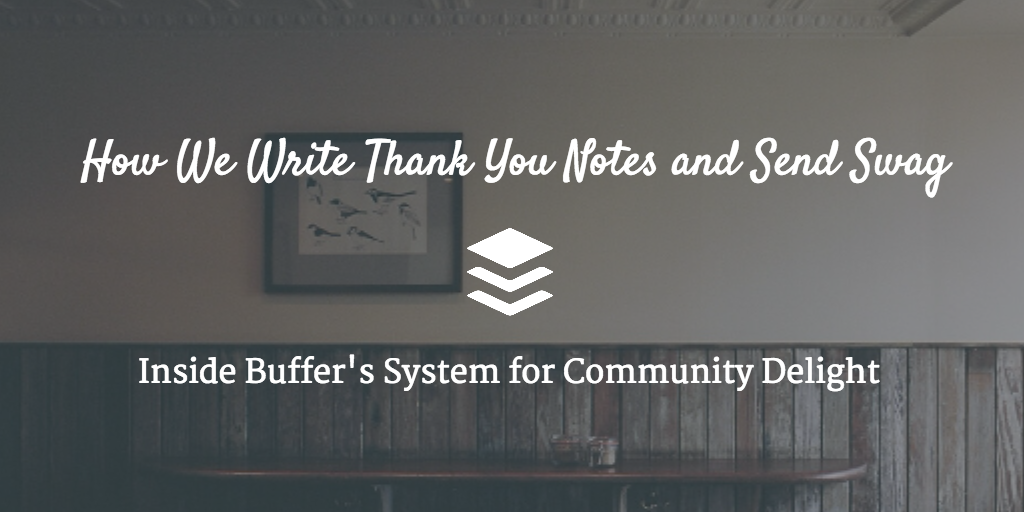 The Buffer swag routine
As part of my role as Buffer's Community Champion, I dedicate 50-60% of my time to managing swag stock, packaging, writing cards and gathering addresses.
I spend 1-1.5 days a week where the entire focus of the day is "Buffer love," and I go drop items off at UPS about once a week.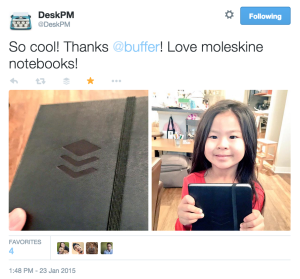 We average 40 to 60 cards and packages mailed each week. In the past year we have mailed more than 1,200 hand-written cards, gifts and more.
Who gets some swag? We operate out of a spirit of abundance and will send goodies to anyone, (pretty much) anywhere! (We have yet to send anything to Antarctica, as far as I know.)
We try to ask for an address anytime we get a hint that someone might need swag, for any reason. We also reach out to new faces at our weekly Twitter chat, #bufferchat, and thank them with a personalized note and stickers.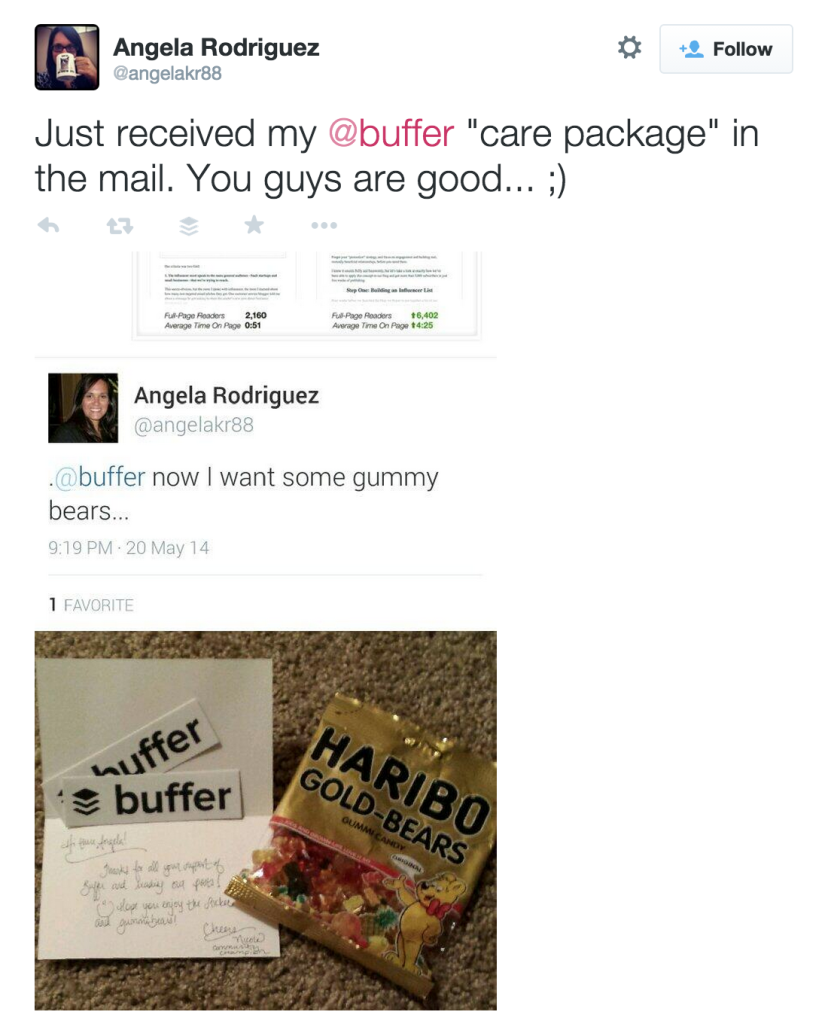 Anytime a new team member joins Buffer, I encourage them to be on the lookout for any potential community members or industry partners who would enjoy some Buffer gear. Up to 10 percent of our mailings come from team member suggestions, and I'm so honored to include that team member's name on the card. :)
Five ways we work hard to delight our community
1. Know your company's values and vision
Buffer's values are ingrained in every decision and action we take—from the wording of cards to the quality and type of swag items we purchase. Everything reflects on our company and team, so we strive to uphold the highest of standards.
We have an over-arching Buffer voice and tone, but each card reflects a more tailored personal voice (and handwriting!). For example, Dave in the UK also sends out some cards, and his sentiments might sound and look a bit different than mine.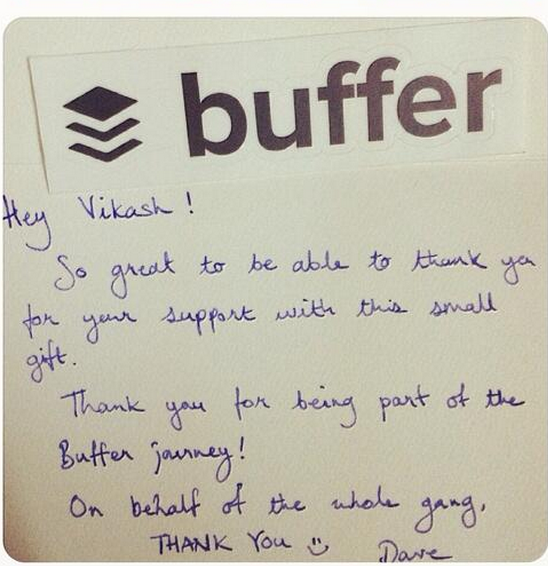 2. Take the extra minute or two to learn more about your community
Many times, a quick read through a customer's Twitter or Facebook profile will reveal some details that will help you craft the perfect hand-written note or unique gift.
For example, you might discover the community member is a big time dog-lover. Perhaps some dog treats would be a great surprise!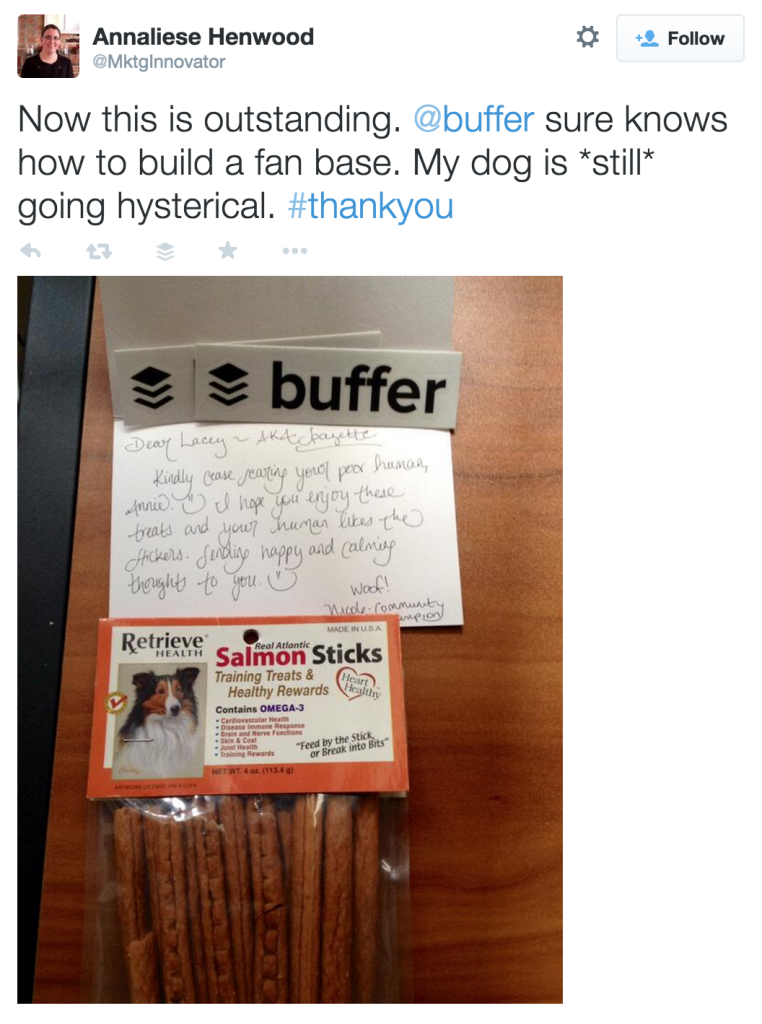 I particularly like to dig into the details of our #bufferchat guests and find special ways to delight them.
One example is Nick Westergaard, social media expert and a recent awesome guest. He mentioned his children in the chat and also told us how he keeps little red Moleskine notebooks in his back pocket for ideas. Instantly, I knew the perfect gifts to thank him for all the effort he put into sharing his expertise with our audience!
Here's a screenshot from his blog reflecting on the gifts.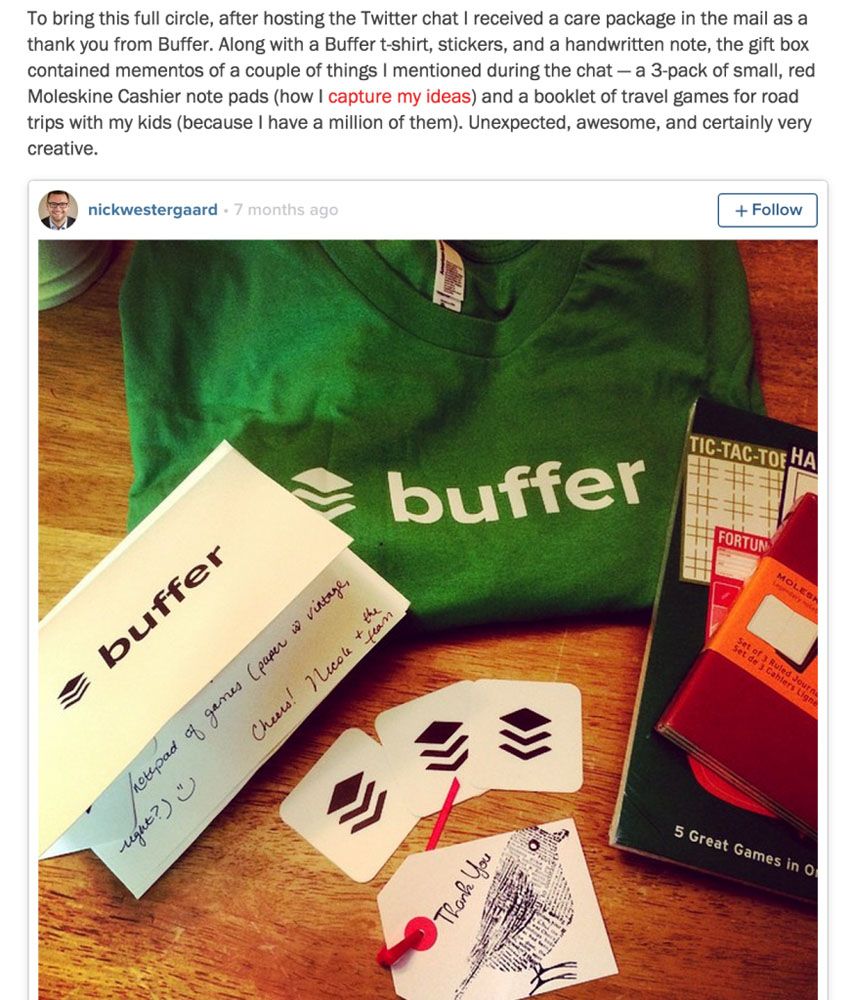 3. Read between the lines
Our happiness team is able to spot when there might be an opportunity to send a ray of sunshine to brighten someone's day. They're experts at empathy.
It's not just the happy customers who need a thank-you. It is also the ones who have pioneered through some tough times or been patient while getting to the bottom of a bug.
In one instance, our happiness hero, Adam, spotted on a customer's Google+ profile that he'd recently gone through a rather trying time in his family, and it struck Adam at a very personal level. He passed this along to me and we crafted a note together with a Buffer T-shirt and hoped to offer a bit of comfort.
4. Forge relationships with your vendors
When it comes to keeping swag in stock and plenty of blank cards around to fill with thank-yous, having a great working relationship with your printer, vendors and post office will create a smooth workflow to optimize your time and allow you to scale the amount of appreciation you can send out!
I'm very fortunate to have an entire room that serves as my home office, which allows for plenty of storage space and the ability to ship out a lot of swag. If you have storage limitations, other options might include services like Shyp or fulfillment services like Printfection to store and ship.
Whatever route you choose, you'll likely work closely with those vendors. Sometimes, swag and thank-you cards are appropriate for them, too!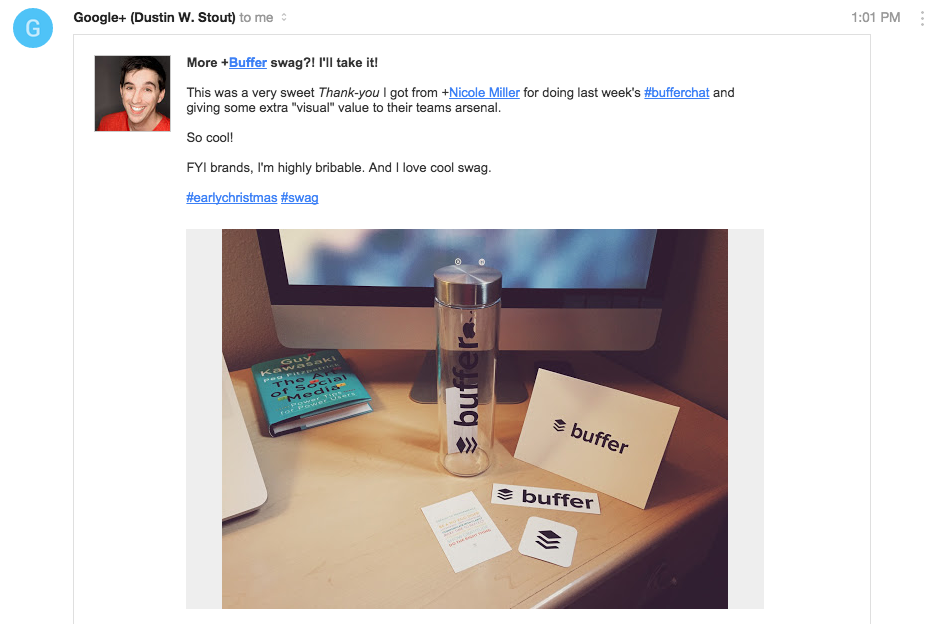 5. Keep the focus on your community
It can be a bit tough to measure the ROI of a thank-you card, though it's not always about the numbers. We're so grateful for the community and hope they truly know it.
We've also learned it's not about the size of the gift, but the heart behind it. Many times, our community members are happier about the hand-written note than the stickers or shirts. This makes me think that this sort of connection is attainable at any size company on any budget. Maybe test it out and see how it works for you. :)
The tools we use
I keep track of all our "Buffer love" with a Trello board available to all team members. It's got a list of "To Do" tickets, "Done" and "Pending" tickets.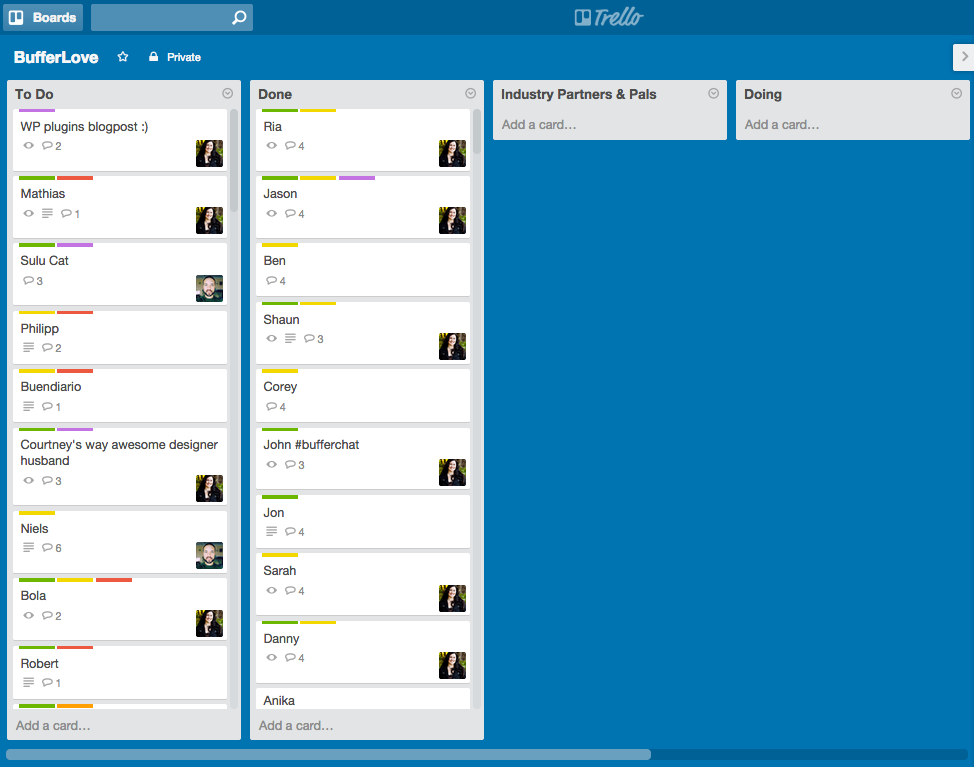 We've found this to be a great way for any team member to add a swag recipient to our list, and keeping track this way also allows us to archive and keep addresses on file in case we ever want to send out some more goodies. Trello is also helpful with being able to search current and past tickets.
Sometimes a little online digging can lead to an office building's address so you can send some unexpected delight!
Pens
I'm partial to gel and ultra fine-tip pens, and love Pilot G2 (.38) as well as Signo DX (.38) pens. I also use my precious fountain pen, delivered from Europe by dear team mate, Dave.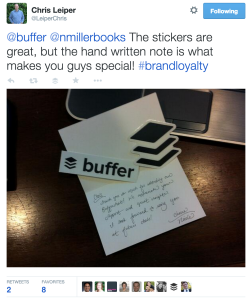 Notecards and envelopes
Paper quality and thickness are important —the feel of a card can say as much as the writing. We use a 100# paper stock with a linen texture. We're also experimenting with a smooth finish for the next batch of 500 cards.
When you're looking for paper and quality, it can be helpful request samples.
Return address stamp
If you work with a custom printer, you can have your business address printed on the envelope for a few more cents per envelope. At Buffer, we wanted to go for a bit more of a personalized feel, and I hand-wrote out the address for many months.
To help scale a bit, I found a custom return address stamp and used a jpeg of my own handwriting with the Buffer logo. It feels personal and the stamps have lasted through more than a thousand cards. Well worth it!
UPS Store
We have a business account with UPS, and the awesome folks at the UPS store know me right away. They help with special packaging, label and ship big items and also assist with international shipping. They're like an extension of the Buffer team and help make my job so much easier. Finding folks you trust and enjoy working with is so essential.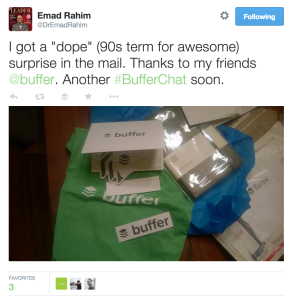 Boxes and shipping supplies
Most of my shipping supplies (tissue paper, bubble wrap, poly mailers, cardboard boxes, mailing labels, etc) I've ordered through Amazon or the local OfficeMax store. Your shipping supplier might have these as well and can package for you if you don't have much space to store all these goodies.
Packaging can help set the first impression with your community delight, so I include a fun-colored tissue paper to give a "gifty" feeling. We also include our values on the packaging for an extra bit of personality.
What all this stuff costs
Notecards: $.92 each
We use a Portland, Oregon, vendor (just down the road for me!) called Alphagraphics for our notecards, and we rely on their expertise and knowledge of the best quality for the best price. Many times, printers will work within your budget and help you find the best option for your needs.
Notecards: $.92 per card/envelope
Mailing cost: $.49 domestic, $1.15 international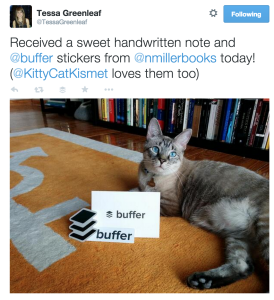 For miscellaneous stationery (birthdays, thank-yous, everything!), I turn to Paper Source. They have great quality, price and personality.
T-shirts: $9.47 each
We love soft, quality shirts and hoodies! We've found Jakprints to be a wonderful vendor for shirts.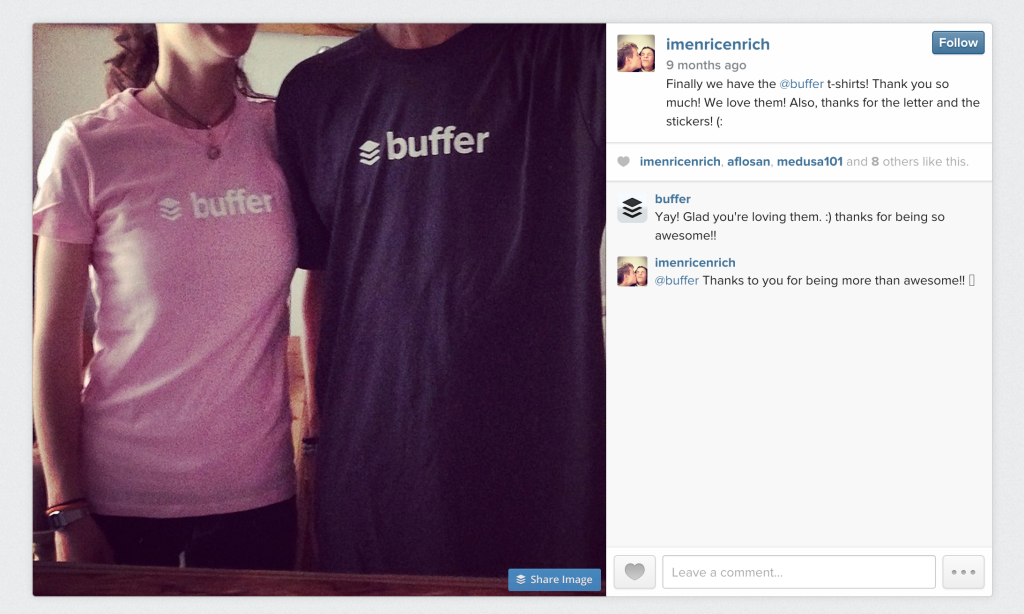 Hoodies $23.07 each*
Mailing cost: $8-15 domestic
T-shirts $9.47 each*
Mailing cost: $5 domestic
Moleskine notebooks: $6.80-$19.74 each
Many of our team members are huge fans of Moleskine, so when it came to looking for Buffer-branded notebooks, we decided to go with those. The team at JenniBick offer amazing support and service along with many customizable options for the notebooks. We've purchased several different sizes and have been very pleased.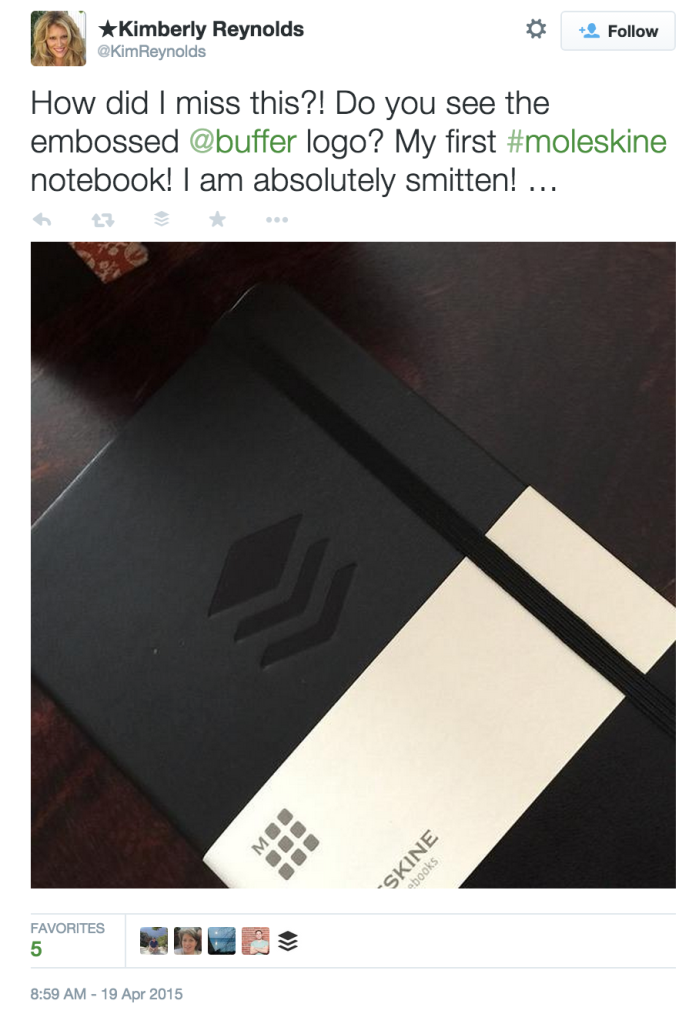 Volant Moleskines: $6.80 each
Mailing cost: $2-3 domestic
Small Moleskins: $14.45
Mailing cost: $3-5 domestic
Large Moleskines: $19.74
Mailing cost: $5 – $8 domestic
Stickers: $.29-$.56 each
StickerMule has great service, timely delivery and awesome prices. We also have our own little marketplace within Sticker Mule for those who might want to purchase stickers (though we're always happy to mail some out to you!)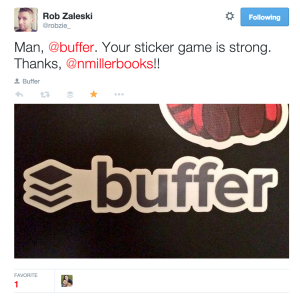 Full logo: $.29 each
Small icon: $.28 each
Clear icon: $.56 each
Values: $.38 each
Mugs: $9.11
Mugs are amazing, though it's important to note they can be quite expensive to ship.
When looking for mugs, we tested several brands and sizes to find the just right fit. After some advice from tea and coffee-drinkers within the team, we opted for a hearty 16-oz mug with a fun green inside (which matches the interior paint of our San Francisco headquarters). 4Imprint is great to send free samples to test and examine the quality of the products and printing.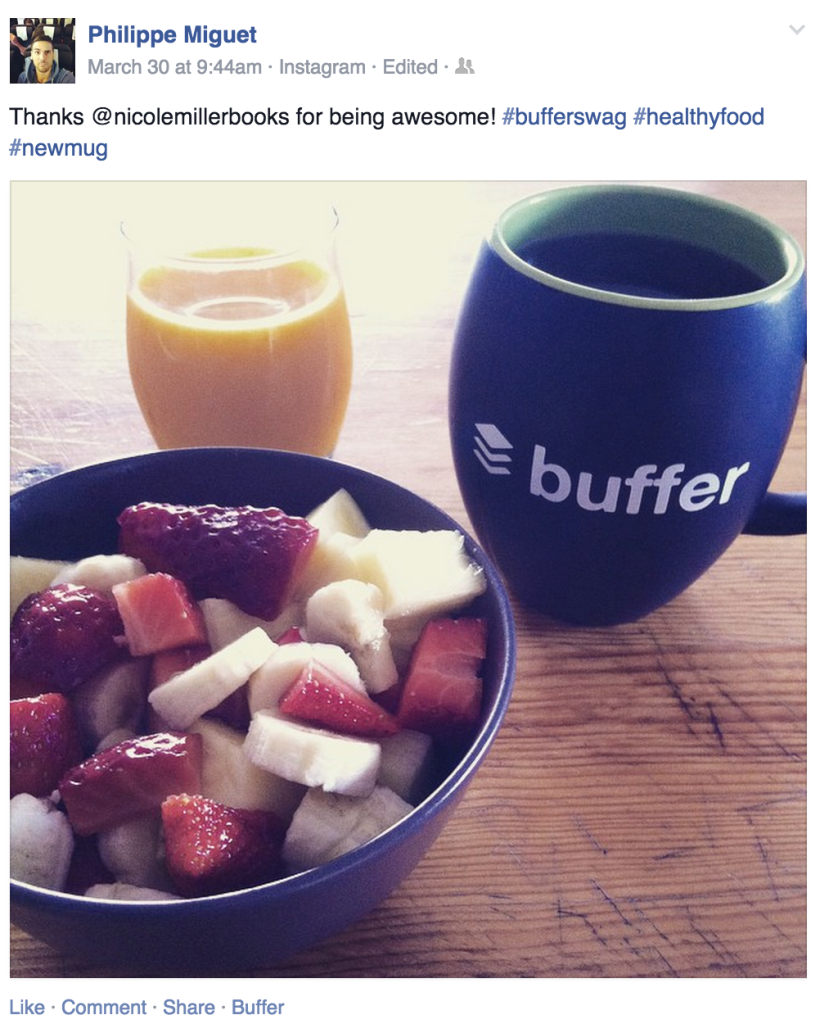 Mugs: $9.11 each
Mailing cost: $15 domestic, up to $100 international
*Costs are calculated to include average shipping. Per-unit costs vary based on the total quantity ordered.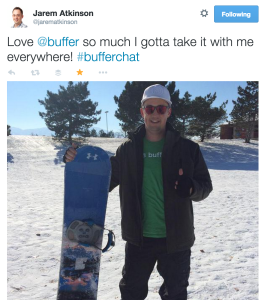 Over to you
How do you delight your community?  Are there any gifts you've sent out that have impacted your community? I'd love to hear all about it and answer any questions about our community delight process in the comments!