Being a distributed team as Buffer is has a few special challenges, many of which we've talked about here on the blog. :)
Working out our office perks isn't one we've mentioned yet—but come to think of it, it is a little tricky. Typical startup perks are pretty much off the table. Long-distance Ping Pong is kinda tough. And Buffer doesn't share a kitchen where we can stock yummy snacks or tasty communal beverages.
With team members all over the globe—and a special set of values that guide pretty much everything we do—we do things a bit different than most other startups when it comes to perks. Ours are designed to both connect us and help us improve ourselves each day.
From your first day at Buffer, you get a free Jawbone UP, which tracks your sleep and your exercise and steps, and a Kindle Paperwhite with all the free Kindle books you'd like (fiction, non-fiction, no questions asked).

In this video, Joel and Leo explain how Buffer's perks came about and how we use them.
Needless to say, we talk about reading, sleeping and exercising a lot (you may have noticed as much if you've read over any of our weekly improvements).
And these tools really do serve to connect us deeply. Seeing smiling faces and little notes of encouragement on your UP readings is a great feeling. For example, here's a sleep reading from a recent evening when I was sick (check out that total!). Knowing my teammates were thinking of me was so lovely!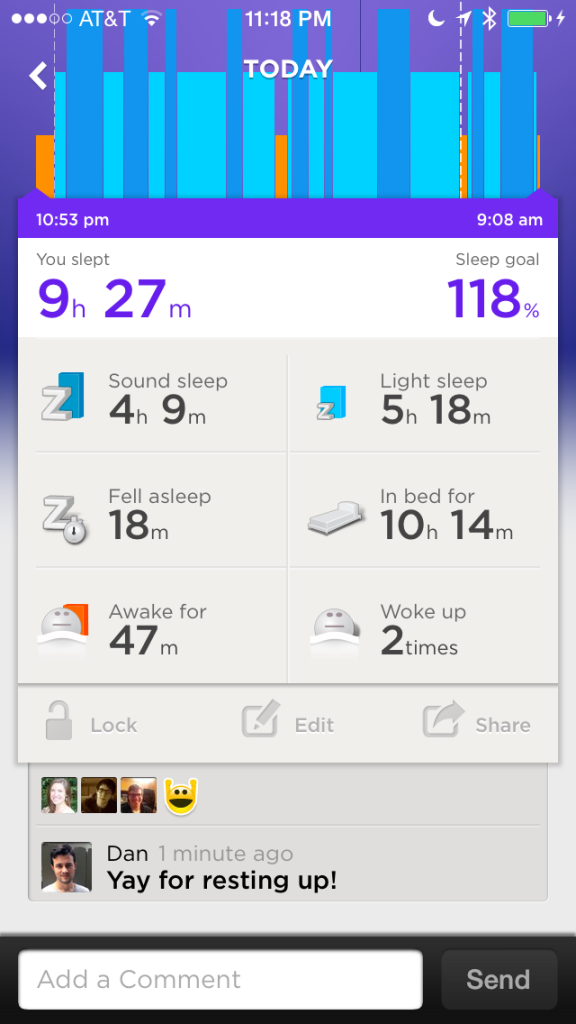 And each new Kindle book invariably starts a great discussion, either in Hipchat or our Facebook Group. Here's a recent example: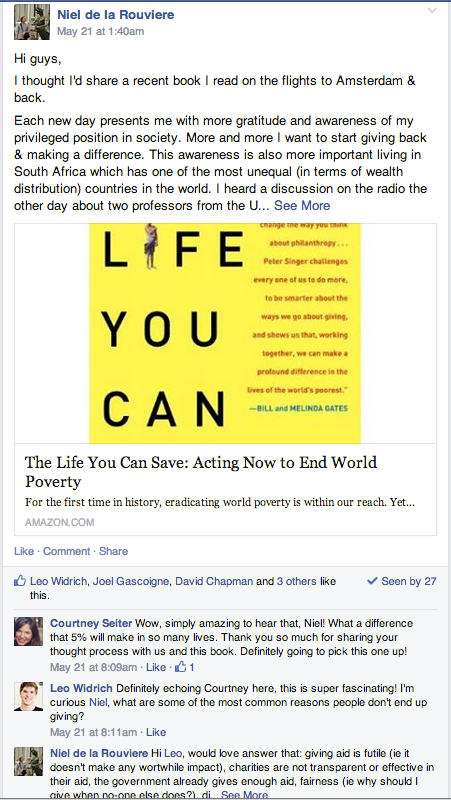 Want to know more? Follow along with the Kindle books we're picking up! Our Pinterest board stays updated with all our selections.
Follow Buffer's board What Buffer is Reading on Pinterest.

There are a few other perks, too—like our Buffer retreats, which bring us all together in amazing places, and the ability to grab whatever we need (laptop, coworking membership, etc.) to work productively. Like the rest of Buffer, these perks are always evolving as we think and re-think how to work more productively and happily. Recently, Buffer expanded the Jawbone UP and Kindle program to family members of team members, which has been an amazing change to see! What sorts of perks does your office provide? What perks do you think would help you work happily and productively? We'd love to hear your thoughts in the comments!
P.S. If you liked this post, you might enjoy our Buffer Blog newsletter. Receive each new post delivered right to your inbox! Sign up here.