Awhile back, a phenomenon swept the Internet where people shared pictures and video of what's inside their refrigerators.
This isn't that, but it's close. ?
I asked 20+ wonderfully generous and incredibly talented marketers to share what's on their smartphone home screens. In need of any app ideas? Looking for new ways to organize your phone? Check out our list of 20+ home screens and favorite apps. Hoping inspiration strikes!
(And if you're up for it, we'd love to see your home screen, too!)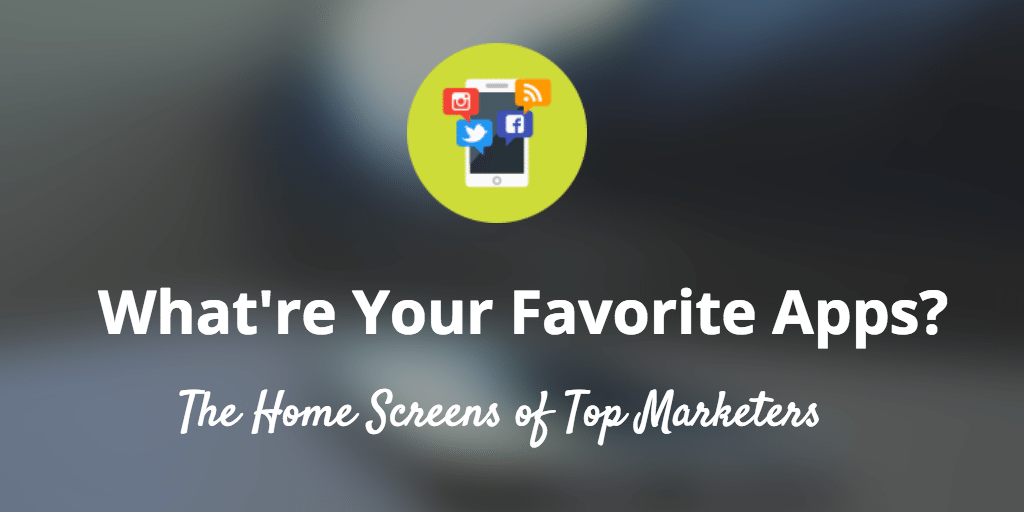 Marketers featured here (it's a great list!):
Rand Fishkin
Hiten Shah
Demian Farnworth
Noah Kagan
Danny Schreiber
Anum Hussain
Belle Beth Cooper
Paul Jarvis
Greg Ciotti
Mark Macdonald
Maizie Simpson
Jimmy Daly
Janet Choi
Brian Dean
Dan Norris
Dan Levy
Peg Fitzpatrick
Ginny Soskey
Laura Roeder
Garrett Moon
David Mizne
David Fallarme
And for fun, I've included the screens of Kevan Lee (me!) and Courtney Seiter, from the marketing team here at Buffer.
For another perspective on home screens, we've published a companion post on the Open blog that shows the home screens of many on the Buffer team, including our co-founders Joel Gascoigne and Leo Widrich.

Now, onto the phones … ?
Moz
Rand's phone (one of only two Android phones in this list, btw) has a lot of great standard apps, including social networks for Twitter, Google+, and Instagram. Travel apps are some of the more unique ones on the homescreen: two ride services and an airline.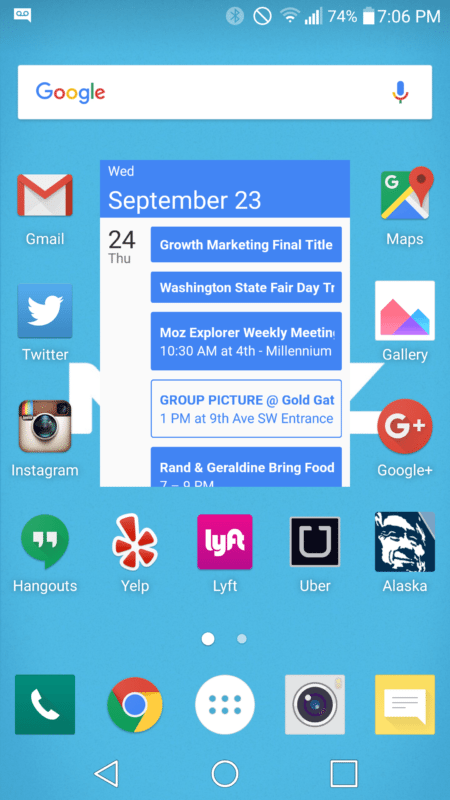 Notable apps:
2. Hiten Shah, @hnshah
KISSmetrics & Crazy Egg, Startup Chat podcast
Hiten, like many on this list, bundles sets of apps into folders. Hiten's folders include Browse (things like Chrome, News, and Tweetbot), Productivity (Dropbox, Google Drive, Intercom), and Social (Facebook, Twitter, Snapchat).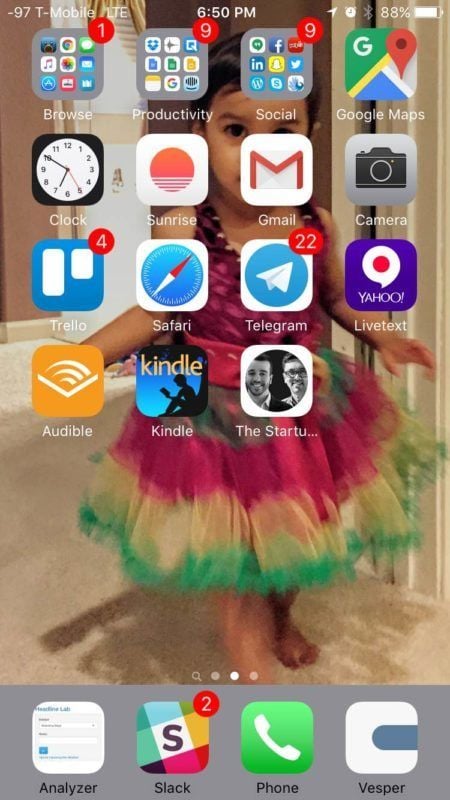 Notable apps:
Vesper – Note-taking, thought-collecting tool
Yahoo Livetext – Live video texting, without sound
Telegram – Messaging app that syncs across devices (desktop, tablet, phone)
Startup Chat – A podcast Hiten hosts along with Steli Efti
Copyblogger, Roughdraft.fm
Demian's got just the one page of apps on his phone, with nearly everything organized into folders. Among the apps that didn't fall into folders: NFL and newsletters. (Two of my favorite things also!)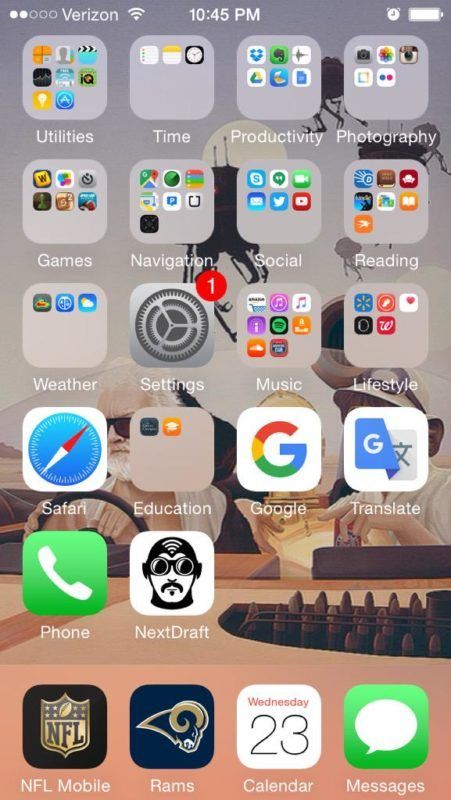 Notable apps:
NextDraft – A curated view of the day's best news stories
NFL Mobile – Videos, highlights, scores, and stories from the NFL
Rams – Demian's favorite NFL football team
SumoMe
I love seeing how the different homescreens here show off which social networks are fun to access on-the-go. In Noah's case, Instagram and Snapchat are two big ones, along with Yelp.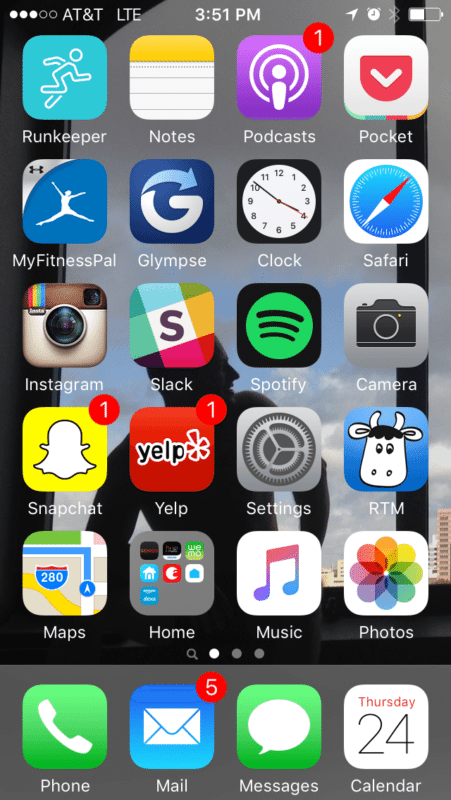 Notable apps:
Zapier
Danny's crisp-and-clean screen has a couple cool weather apps (details below) and a messaging vibe as well—apps like Slack and Messenger (the mobile version of Facebook messenger), which seem to be gaining more and more traction into our workflows and communication.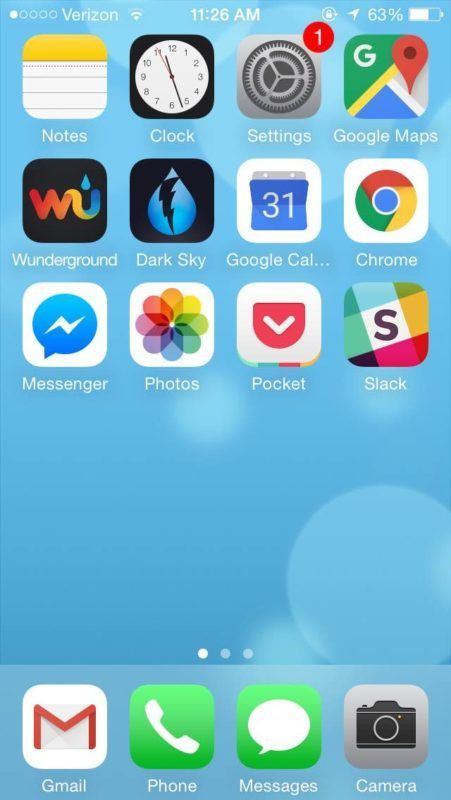 Notable apps:
Wunderground – Weather Underground: forecasts, radar, and alerts
Dark Sky – Hyperlocal weather reports and down-to-the-minute weather updates
6. Anum Hussain, @anum
Sidekick
Anum's phone has just the essentials, plus enough whitespace for a motivating message to help keep things on track. (What's more motivating than a Beyonce nudge!) There're more apps on page two.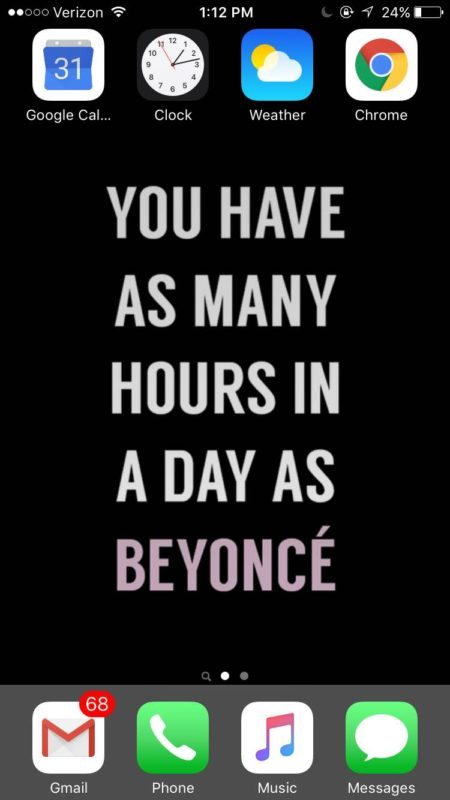 HelloCode, Exist.io, and Ghost
Belle's phone is one of the most unique ones on the list. She used a jailbreak to get this fresh look, and she's got a lot of cool apps to go with it. Here they are, row-by-row:
Settings, Slack, Momentum
App Store, Clever Deck, Duolingo
Watch, Word Streak With Friends, Overcast
Tweetbot, Unread, Exist for iOS
Dock: Spark, Safari, Telegram
(More below.)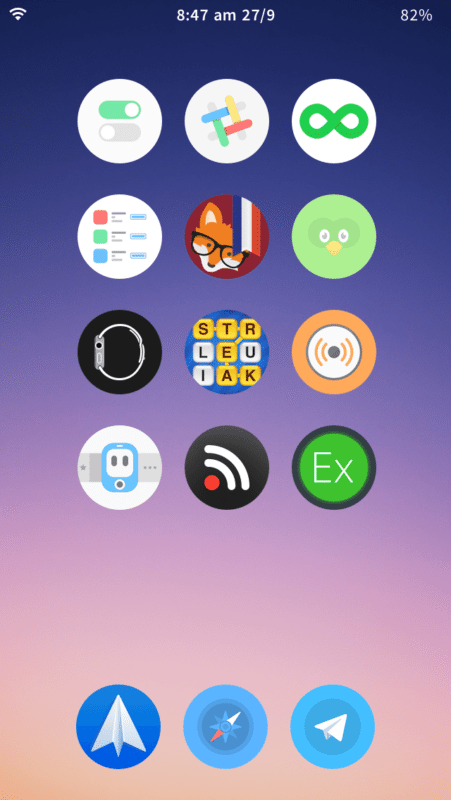 Notable apps:
Momentum – A habit tracker for helping set daily routines
Clever Deck – A flashcard app (Belle's using it to learn French)
Duolingo – Language-learning app
Apple Watch – Official app for the Apple Watch
Word Streak With Friends – Word search game
Overcast – Podcast app for finding and listening
Unread – RSS reader
Exist – The iOS app for Belle's startup, a cool quantified self tool
Spark – An email client by Readdle
8. Paul Jarvis, @pjrvs
Creativeclass.io and pjrvs.com
Paul's phone has a lot of great, essential apps—and just the one page, too, with all the extras grouped into a folder. It's cool to see a peek at some mobile workflows here also, with both a writing app (iA Writer) and an email marketing app (MailChimp) on the homescreen.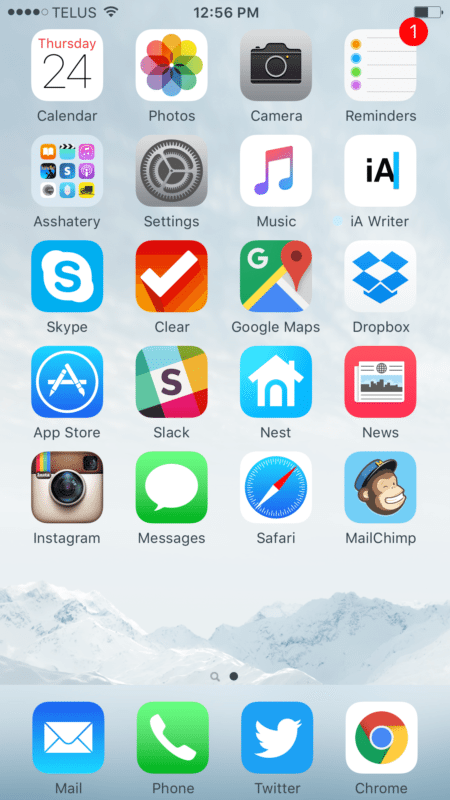 Notable apps:
iA Writer – Digital writing app
Clear – To-do and reminders app
Nest – Smarthome device controls (temperature, security, etc.)
HelpScout
Greg gets a lot of great use out of Trello for editorial calendar and marketing plans, Abacus for tracking expenses, and Simplenote for collecting thoughts and ideas as they come.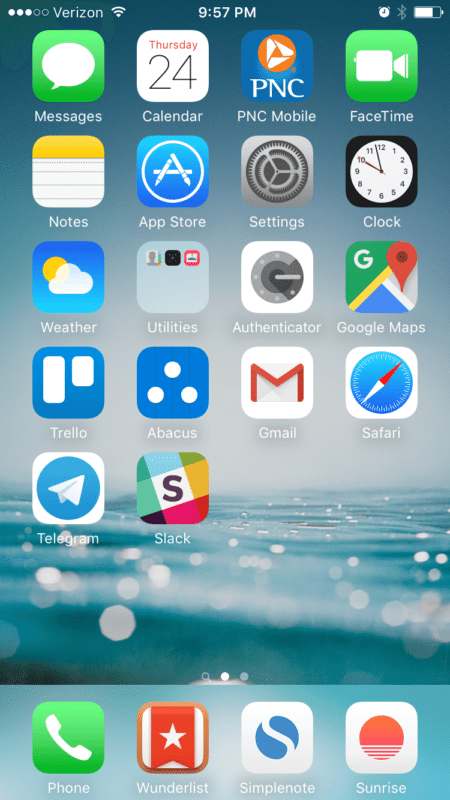 Notable apps:
Shopify
Mark's got a great bunch of social media apps on his homescreen (Facebook, Twitter, Instagram, Reddit, Snapchat) and is one of several on this list to have Snapchat on page one.
Notable apps:
Cleartune – Chromatic tune for tuning instruments with an iPhone
Pushbullet – Messaging app for messages, photos, songs, links, etc.
Alien Blue – Official Reddit client
Shopify POS – Point-of-sale app for selling with Shopify
Shopify – Shopify app for managing your online store
Magoosh
Like Mark (above), Maizie is one of the few on this list to have Reddit on the homescreen, along with a handful of other social media apps: Facebook (and Messenger), Twitter, and Instagram.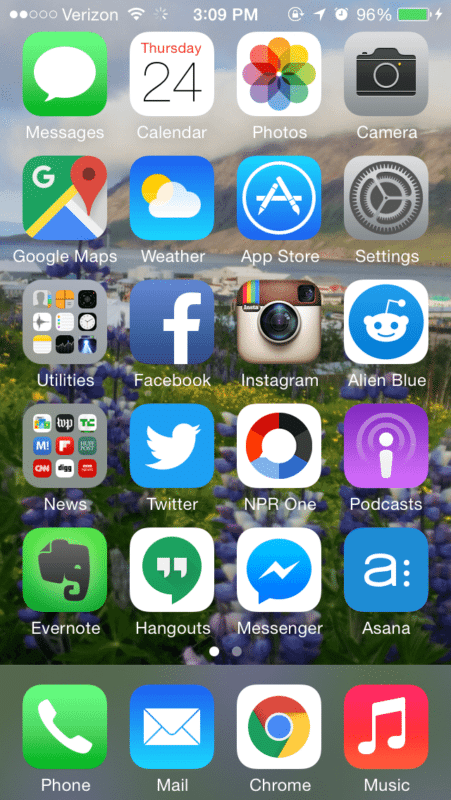 Notable apps:
Freelance writer and Vero editor
It's neat to see the different ways that Jimmy takes notes here, using Evernote, Simplenote, and Jotbox—all of which are useful note-taking apps with their own unique features.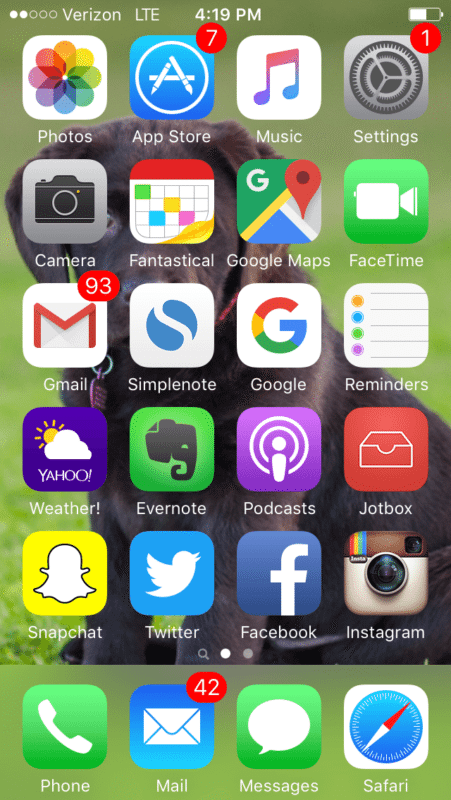 Notable apps:
Fantastical – Calendar app
Jotbox – Take notes, send to your inbox
Customer.io
Janet's phone is the first on the list to have WhatsApp on the homescreen, and the first to have a game—Threes—among the most readily available apps (great choice!).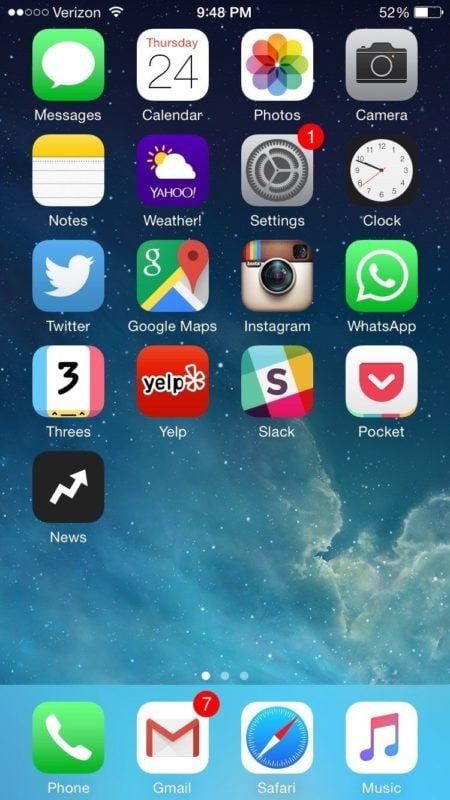 Notable apps:
Threes – Puzzle game about matching numbers
Backlinko
The inbox count (16,000!) is fascinating, and Brian's phone is one of the few to have Passbook/Wallet and TripAdvisor on the homescreen.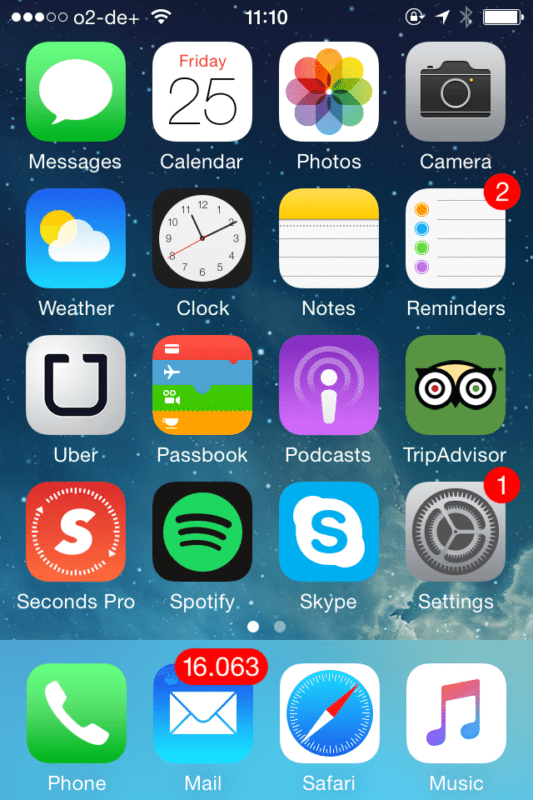 Notable apps:
Passbook/Wallet – Repository for tickets, cards, coupons, and passes
TripAdvisor – Travel app
Seconds Pro – Timer for interval training, circuit training, and fitness workouts
WP Curve
One neat theme of Dan's phone is all the different ways to message. Messages, Messenger, WhatsApp, WeChat, blab, Slack, and Kik are all messaging apps in one form or another that help Dan keep in touch with friends, family, and colleagues.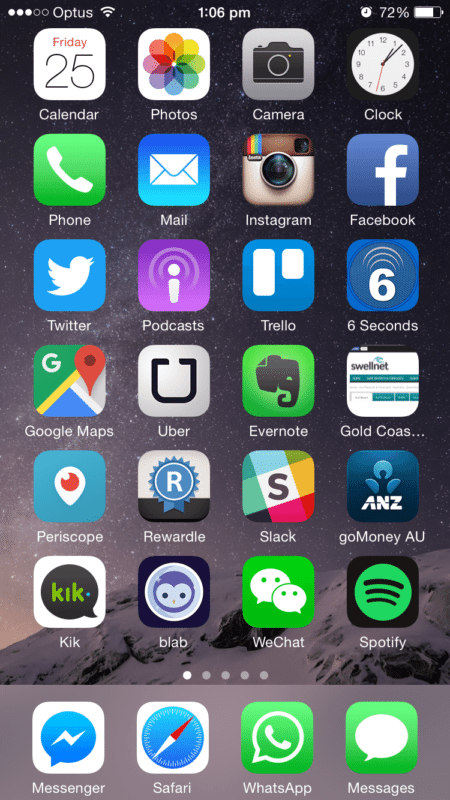 Notable apps:
6 Seconds – Free radio streaming
Kik – Chat and messaging app
blab – Live video conversations
WeChat – Messaging app
Rewardle – Punch card / loyalty card alternative
Gold Coast – Surf reports
GoMoney AU – Online banking
16. Dan Levy, @danjl
Unbounce
Some neat audio apps appear on Dan's homescreen—GarageBand for making music, Downcast for downloading and listening to podcasts, and POP Montreal for getting music info.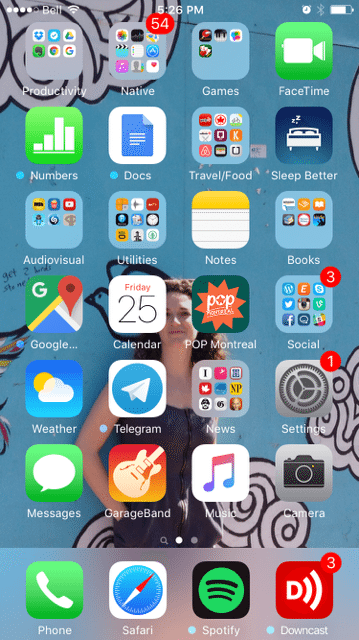 Notable apps:
Sleep Better – Sleep tracker, smart alarm
POP Montreal – Music festival info
Downcast – Download and listen to podcasts
Social media author and expert
Like some others here, Peg has her social media apps mostly bundled into a folder with just a special Facebook app getting a spot on its own.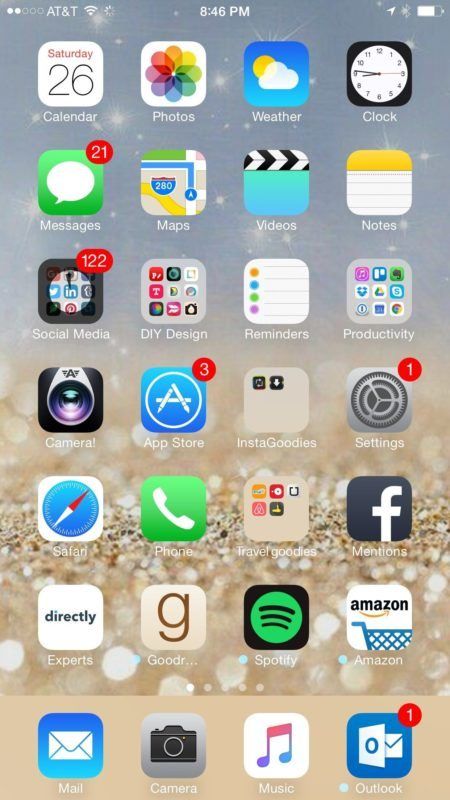 Notable apps:
18. Ginny Soskey,@gsosk
Hubspot
Ginny's phone has some fun folders for things like Games (Candy Crush, Flappy Bird, Tetris, Dots) and Wedding (Pinterest, the Knot), along with some neat, unique additions—for instance, Yahoo Fantasy, UP (a favorite of the Buffer team's too), and the first on the list with Google's new Inbox app.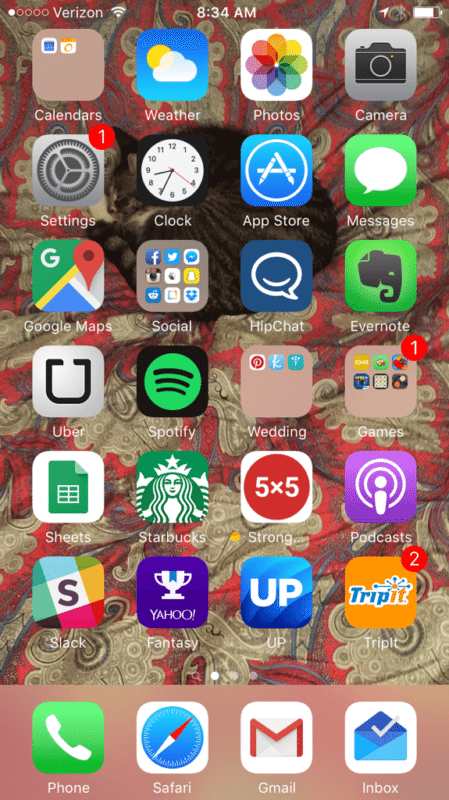 Notable apps:
19. Laura Roeder, @lkr
LKR, Meet Edgar
Along with Rand Fishkin, Laura is the only other Android user on the list here. She purposefully keeps her phone a bit bare, reserving it for just the essentials (and keeping as much work as possible on the desktop).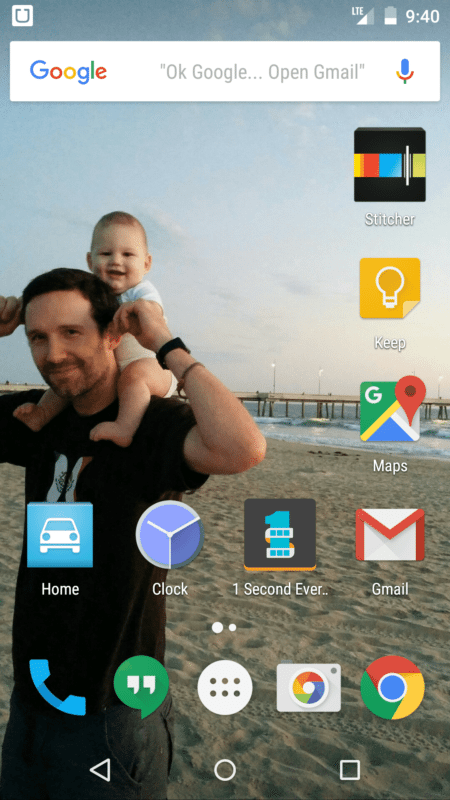 Notable apps:
CoSchedule
Like Demian's inclusion of NFL apps, Garrett shows his love for baseball with the MLB app on the homescreen (always neat to see people's passions represented in that way). Along with MLB, Garrett's phone has a lot of other unique and interesting apps, including one of the few phones with Netflix up front.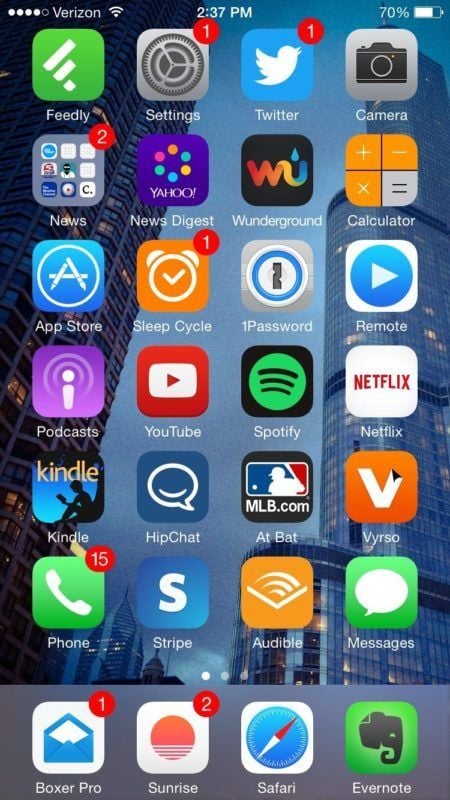 Notable apps:
Feedly – RSS reader
Yahoo News Digest – News and top stories
Remote – Control for your iTunes library and iTunes radio
MLB At Bat – Video, scores, and news for Major League Baseball
Sleep Cycle – Intelligent alarm clock and sleep tracker
1Password – Password management
Vyrso – Christian ebooks and Bible references
Boxer – Email management
Stripe – Track and manage Stripe payments
15Five
A few apps that stand out to me on David's phone here are the multiple ways to call and video chat with Facetime, Skype, and Zoom.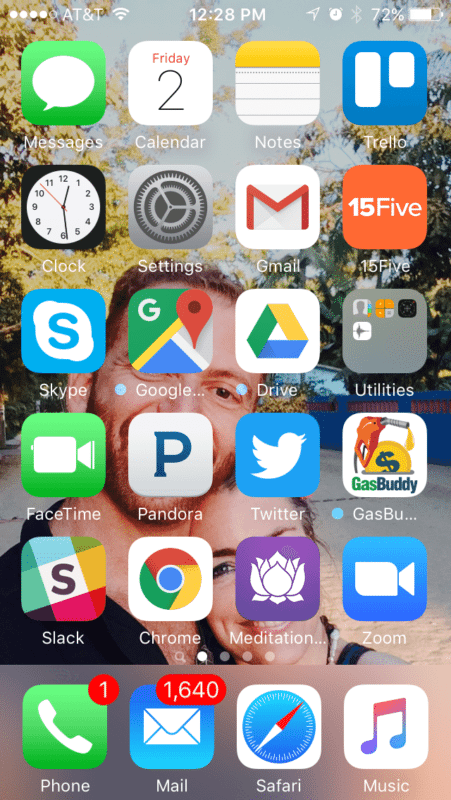 Notable apps:
Referral Candy, GrowthHero.net
There've been lots of neat to-do apps on the list here so far. David's go-to is Todoist, a favorite of many on the Buffer team as well.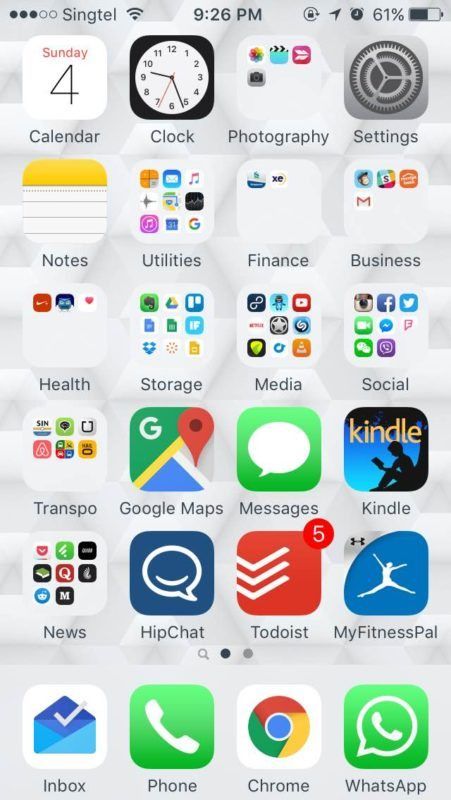 Notable apps:
Todoist – To-do list and task manager
The Buffer team
I get a lot of great use out of my smartphone as a notification center: I get buzzed for each Hipchat message by the team and can then hop on the computer to check things out. I run the phone off of Wifi around the house mainly, and it's a great companion on team retreats for staying connected with teammates.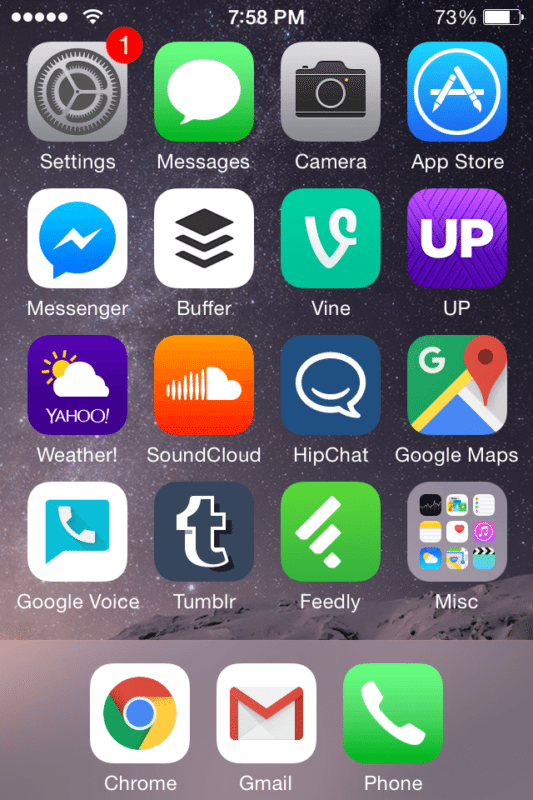 Notable apps:
Courtney's got a great collection of social media apps like Facebook, Twitter, Snapchat, a full Instagram folder, and Periscope even. There's a folder for Buffer things also—some of the awesome tools we use like Trello, Hackpad, WordPress, etc. And knowing a bit about the team's focus on personal improvements, it's fun to see apps for language learning, health, and meditation, too!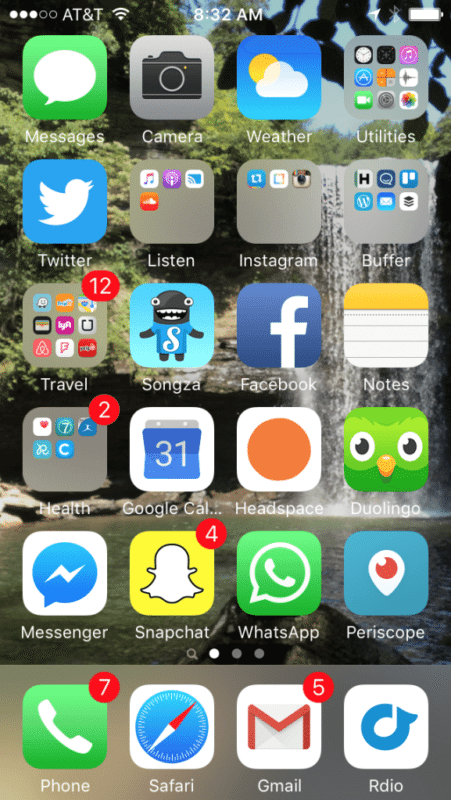 Notable apps:
Songza – Free songs and playlists
Headspace – Meditation app
Duolingo – Language learning app
Rdio – Music streaming service
Yours?
If you're up for sharing, it'd be so neat to see your homescreen too!
Feel free to share the screen here below in the comments, along with any favorite apps that fit with your workflow. I'd be so excited to learn from you!
(To take a screenshot of your iPhone screen, press Power + Home. To take a screenshot of your Android screen, press Power + Volume Down.)
And if you've got any questions about the apps or homescreens here, feel free to drop us a note in the comments. It'd be great to chat apps with you.
Image sources: Pablo, IconFinder, Unsplash