According to Wyzowl's 2020 State of Video Marketing report, 92 percent of marketers who use video say that it's an important part of their marketing strategy.
There are many good reasons for that. Videos help increase traffic and sales, reduce support queries, and help users understand our products and services better. But creating and editing videos can be an expensive and time-consuming process. We understand that as we create many videos for social media, too.
To make the work easier for you, I've compiled a list of the best free video editing software that'll make putting videos together easier and more affordable plus – several of them don't put a watermark on your videos!
Tip: Did you know that you can schedule social media videos with Buffer? Read more below.
1. Headliner
Headliner might be the easiest way to create a video with captions. (Remember that designing for sound off is key for social videos!)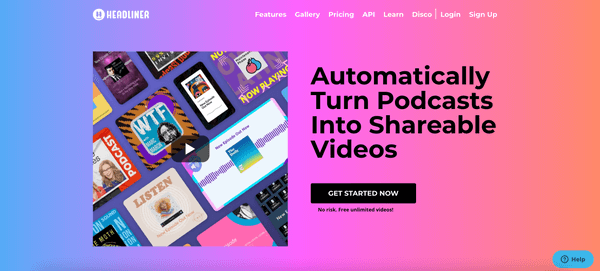 With Headliner, you can upload a video and let it automatically transcribe the audio into captions or create a video simply by uploading an article or an audio file. You can also upload or search for images, videos, and GIFs to be added to your video.
Price: Free; $9.99 per month or $79.99 per year from the Basic tier
2. Clipchamp Create
Clipchamp Create is one of the most generous free online video editing tools I've found in my research. The free plan lets you create unlimited video projects, gives you access to all basic editing tools, and allows you to export your videos in 480p output resolution without a watermark! (There'll be a watermark if you use the stock footage, which is reasonable.)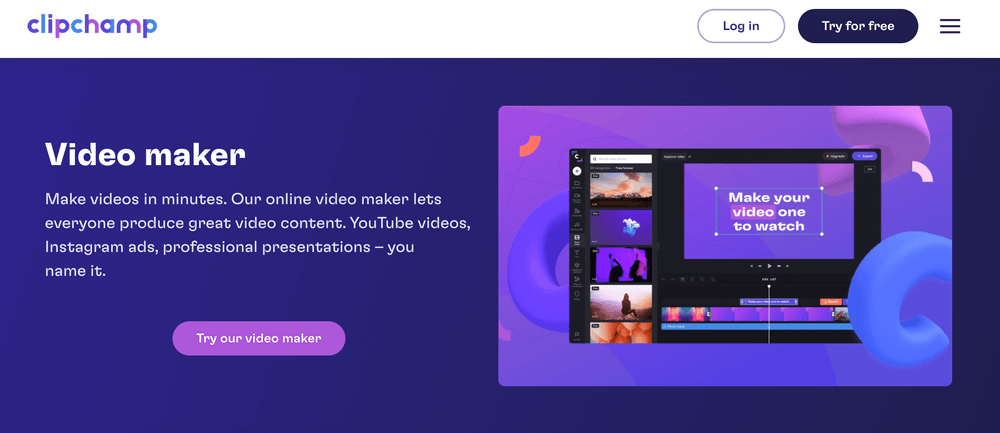 You could upgrade to Premium or higher to gain access to their stock library and to download your videos at better resolutions.
Clipchamp also provides a few other video tools, such as a video converter, video compressor, and webcam recorder.
Price: Free; $9 per month to upgrade to Premium
3. Quik by GoPro
GoPro has two free video editing apps for creating and sharing content from your smartphone and GoPro devices. (It doesn't have to be GoPro footage at all, and the videos created won't have any watermark!)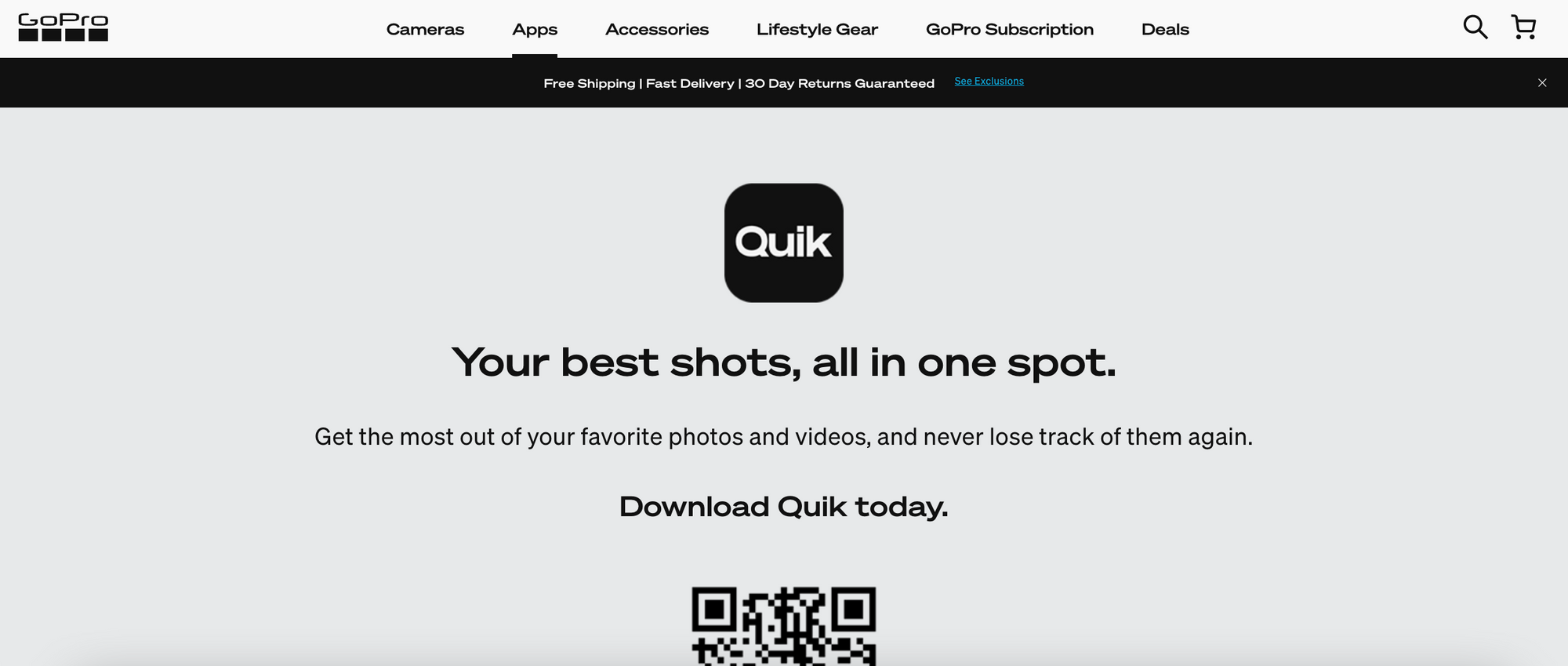 Quik is the simpler of the two, which aims to let you create videos with minimal effort. As GoPro stated, "it automatically analyzes your footage to find the best moments, adds beautiful transitions and effects, and syncs it all to the beat of the music." (Mindblown!)
Price: Free
4. Splice by GoPro
Splice is the other video editing app by GoPro. According to GoPro, Splice 'puts the power of a professional desktop editor at your fingertips.'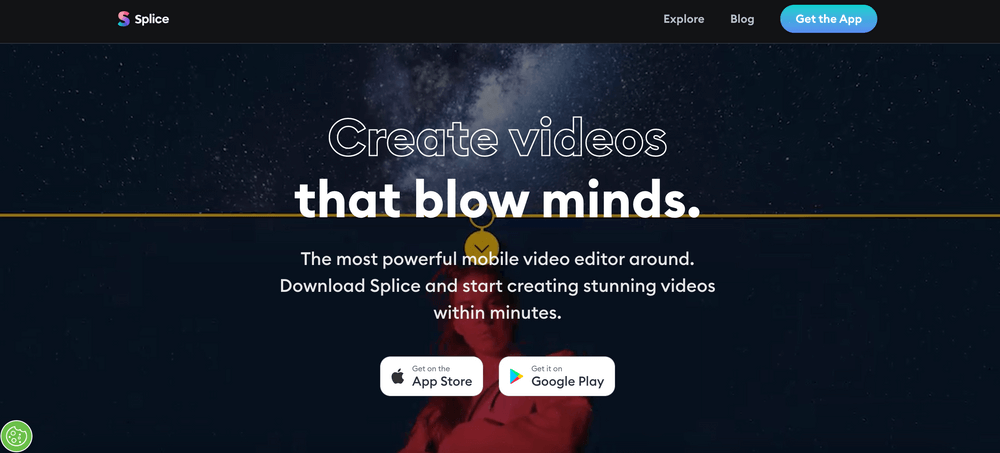 You can select transition style, trim your footage, add text, change the video speed, and more. Splice also provides a huge library of free soundtracks for your videos.
Price: Free
5. Canva
Canva is well-known for its design and photo-editing capabilities, but a more recent addition is its video creation and editing features.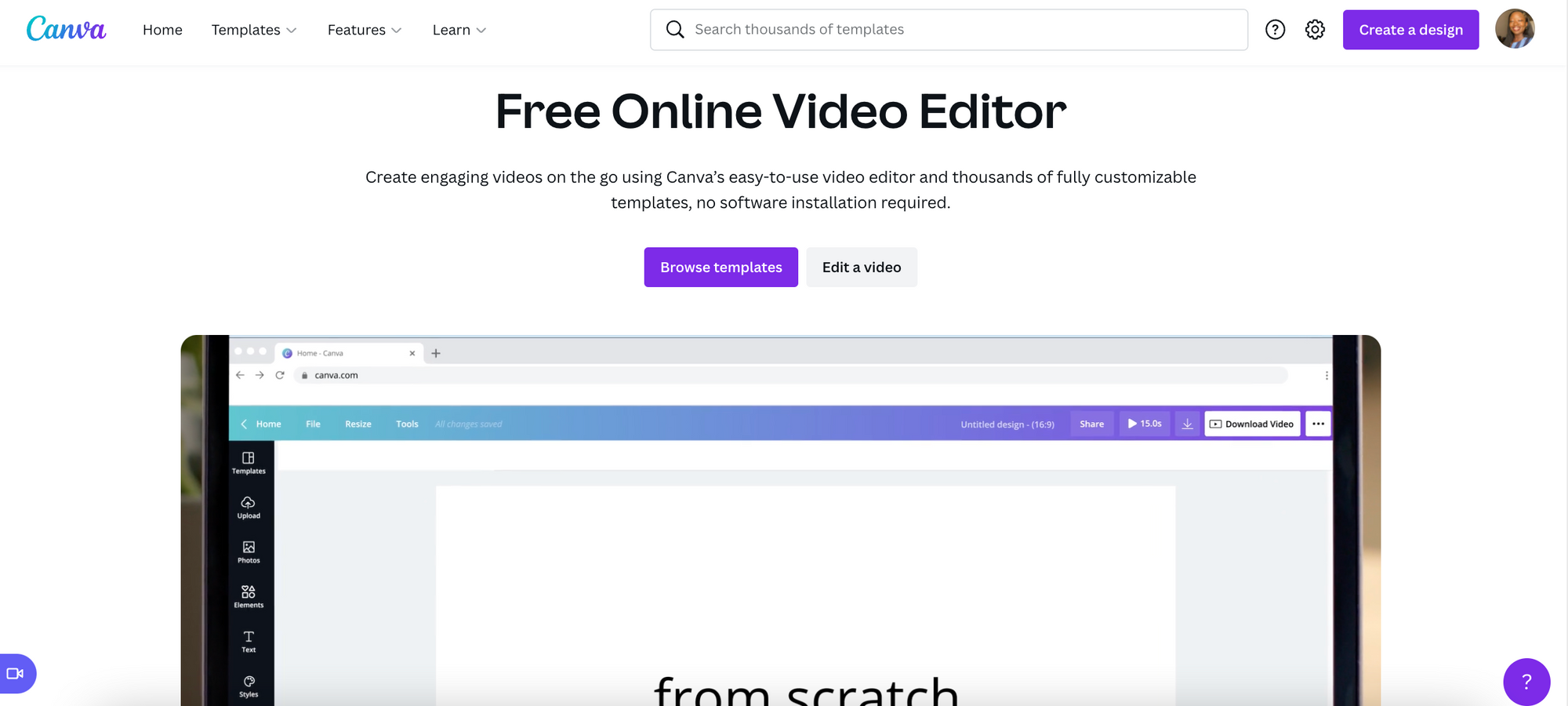 With Canva, you can edit your videos using a variety of templates and access to a library of images, music and more.
Price: Free; $12.99 per month for the Pro upgrade
6. FilmoraGo
Wondershare FilmoraGo is such a comprehensive video editor app that you might feel like you are editing your videos on your desktop.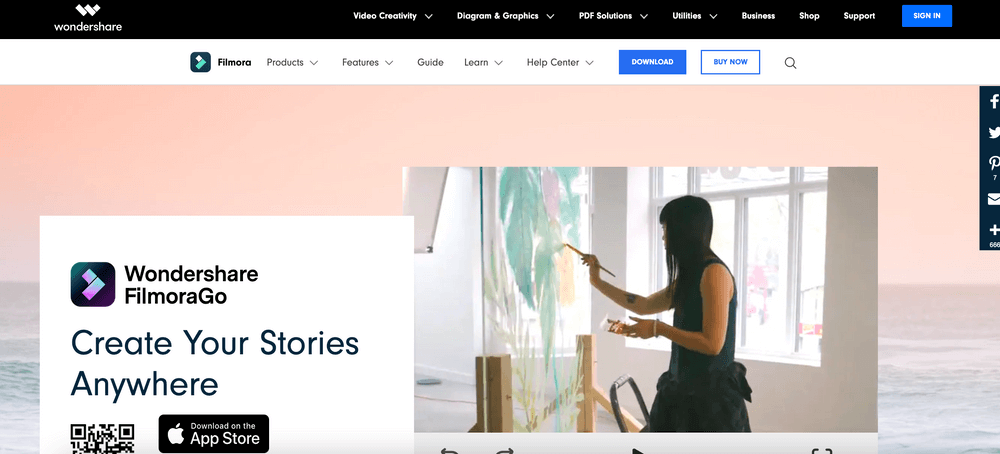 Besides the usual features such as themes, text, and transitions, it also offers a range of video editing features — trim/split, ratio/crop, speed control, reverse, voice-over, audio mixer, and picture-in-picture. It's amazing that FilmoraGo is free and it doesn't add a watermark or limit the length of your videos.
Works with: iOS, Android, Mac, Windows
Price: Free for Mobile; Starts at $49.99 per year for additional desktop features
7. Typito
Typito is another drag-and-drop online video editor with a great free plan. An interesting unique feature Typito has is the ability to add a branded banner on your video. This will allow your audience to easily recognize your videos on social media.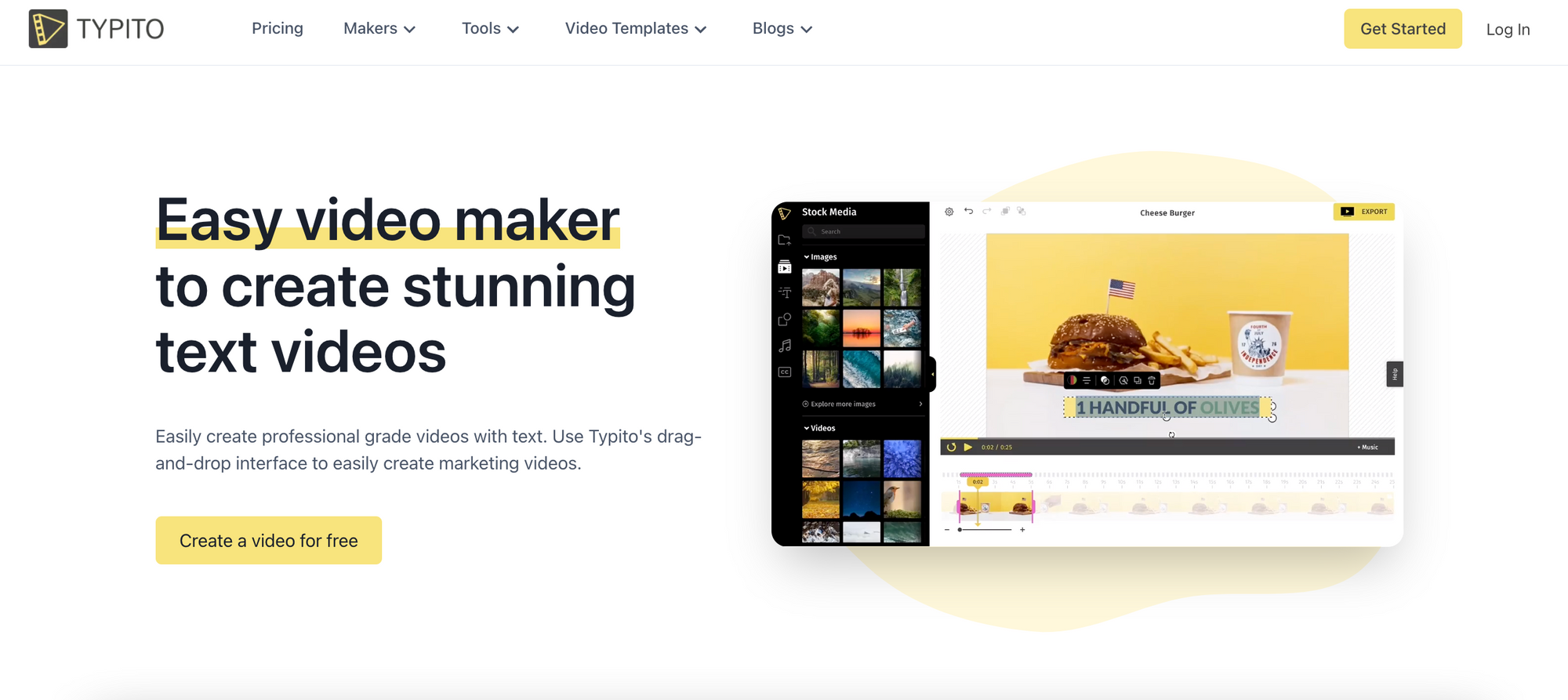 Typito also lets you resize your video in seven different sizes with a click. The downside to this tool is that all videos are watermarked, which you can only remove if you upgrade to their Solo plan.
Works with: Web
Price: Free; $12.99 per month for the Pro upgrade
8. Adobe Creative Cloud Express
Adobe Creative Cloud Express (formerly Adobe Spark) provides multiple storyboards, layouts, and themes to help you put together amazing videos. You can access all the features for free!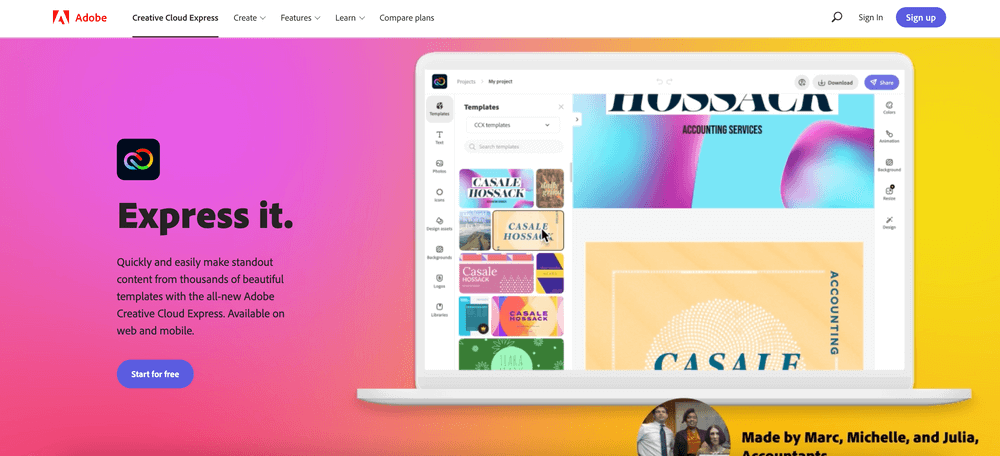 The only catch is there will be a tiny watermark in the bottom-right corner of your videos. (If you are already paying for Adobe Creative Cloud, you'll have access to Creative Cloud Express' premium features, including removing the watermark.)
Price: Free; $9.99 per month for the Premium plan
9. Kapwing Video Montage Maker
Kapwing created an awesome free video montage maker for combining videos, images, and GIFs into a video slideshow.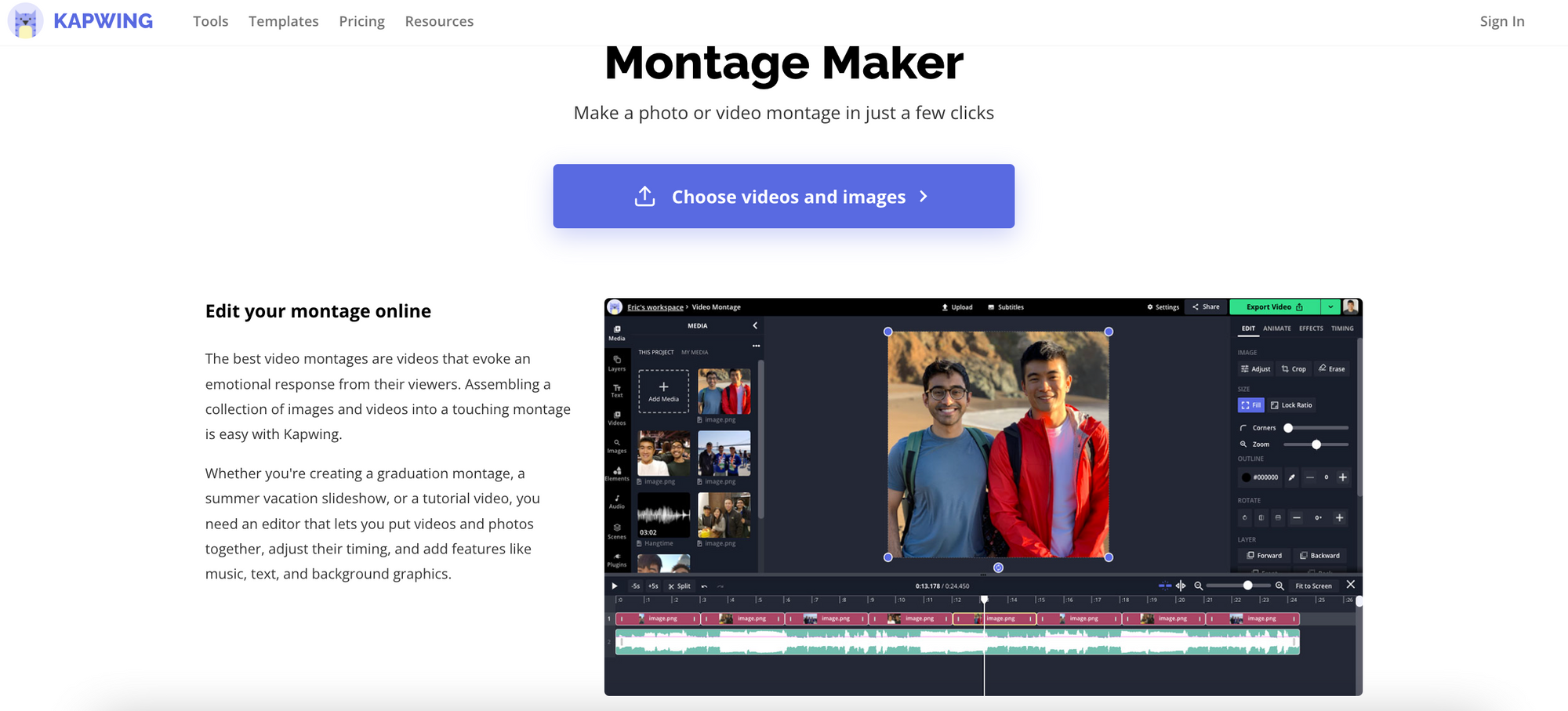 While it doesn't come with many editing features, it is quite easy to use and allows you to create square, vertical, and horizontal videos. The videos will have a watermark, which can be removed with a subscription.
Price: Free; $24 per month or $192 per year for the Pro upgrade
10. Veed.io
Veed is a fast and easy in-browser video editor with a robust list of features including subtitling and transcription, live collaboration and an extensive template gallery.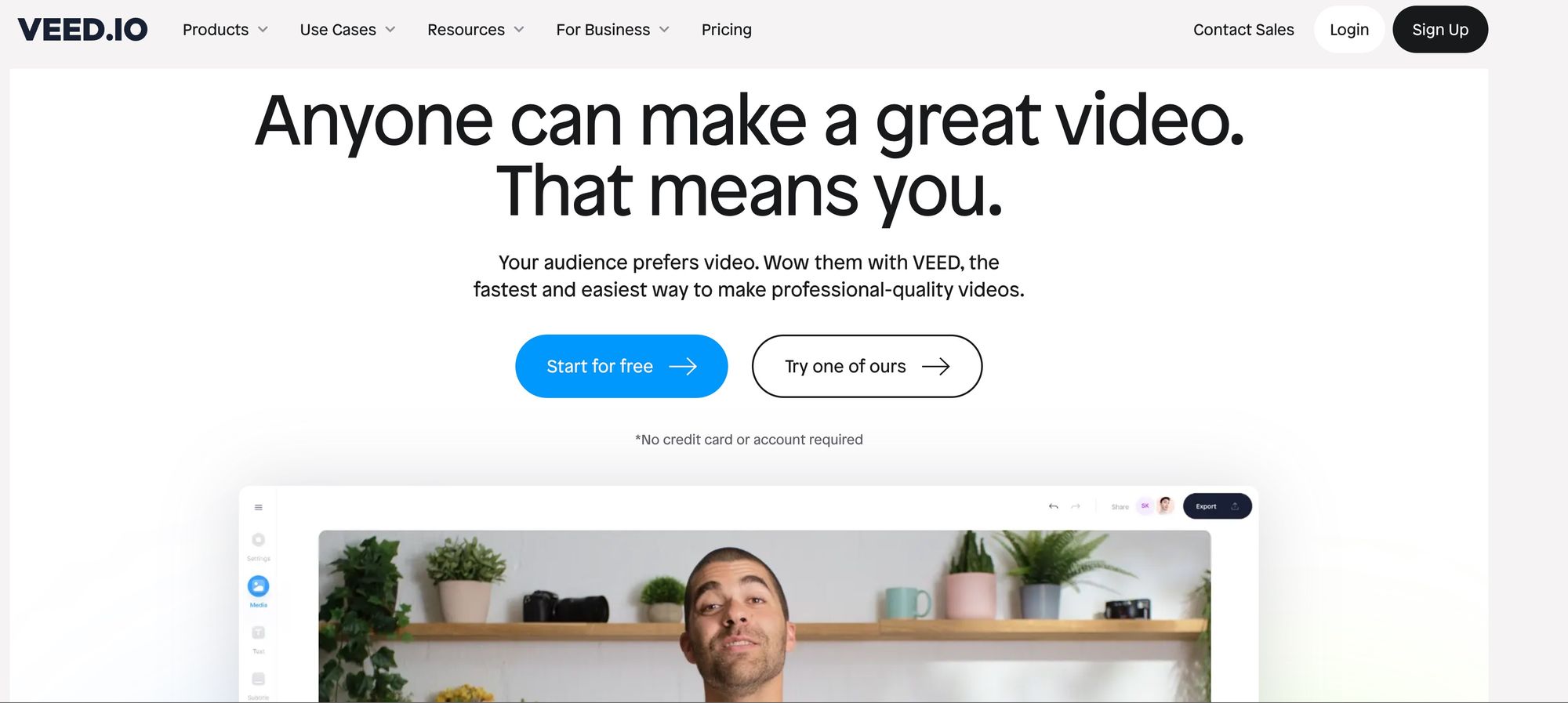 Works with: Web
Price: Free; paid plans start at $20/month or $288 per year
11. Wave.video by Animatron
Wave.video is an online drag-and-drop social media video maker. You can even resize your videos (vertical, horizontal, square) in just a click to create videos ideal for each social media platform.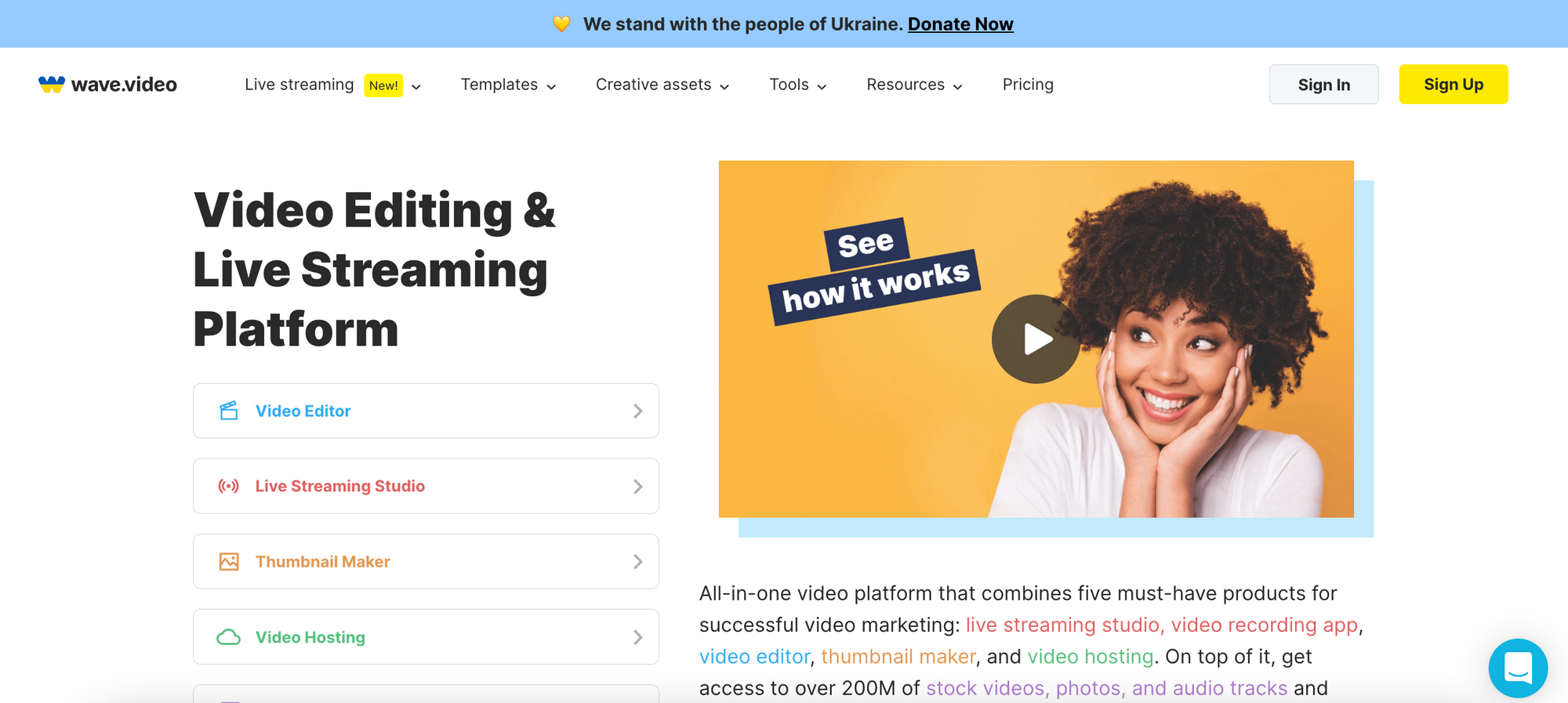 On its free plan, you can create up to 10 videos and export them up to two-minute-long each in standard definition quality. The videos will have the Wave.video watermark. Also, you can upload only 10 video clips, 20 images, and 10 audio files (up to 500MB each). You could also use their stock videos, images, and audio files but they do come at an additional cost.
Works with: Web
Price: Free; $20 per month or $192 per year for the Streamer plan
12. Soapbox by Wistia
Soapbox is a Chrome extension that lets you record, edit, share, and (even!) measure presentation videos. It records both your screen and your webcam simultaneously, which will then allow you to have a "split screen" view of both you and your screen in your video.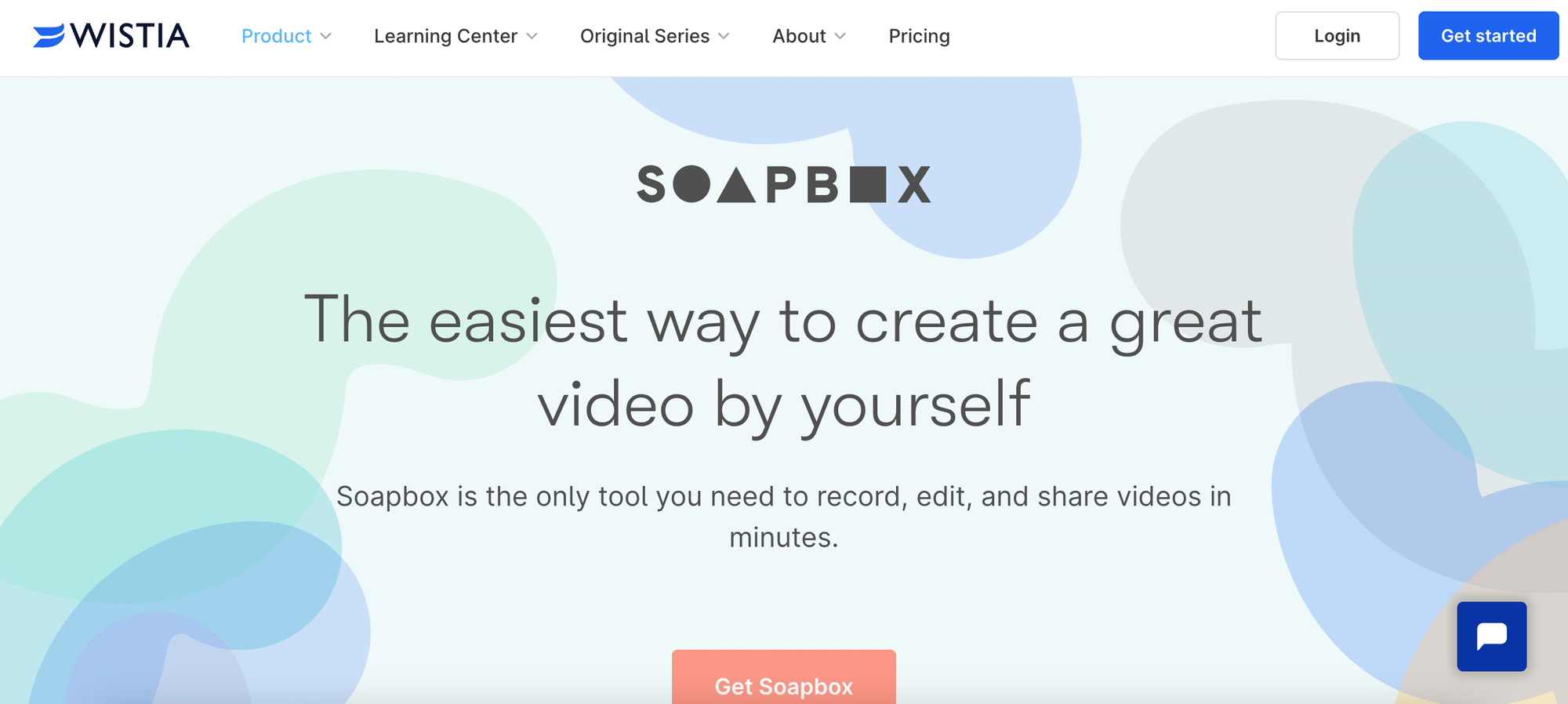 On the free plan, you can create unlimited videos, add a link to the end of your video, customize your player color, and generate a unique thumbnail. Downloading your videos, tracking engagement, and other advanced features are included in the $300 per year plan.
Works with: Web
Price: Free; $300 per year to upgrade
13. Biteable
Biteable is an online video maker for social media videos, ads, slideshows, and more. Videos created with the free plan will have a watermark and can only be embedded or shared via a Biteable link. You also cannot upload your own video clips on the free plan.
To download your videos and get access to more features, such as 85,000 extra stock videos, video privacy, and more, you can upgrade to their Pro plan.
Works with: Web
Price: Free; $99 per month or $588 per year for the Pro plan
14. Movavi Video Editor Clips
Movavi Video Editor Clips is a video editing app for both iOS and Android devices. Unlike many other mobile video editors, it lets you create videos of four aspect ratios – square (1:1), vertical for Instagram Stories (9:16), vertical (4:5), and widescreen (16:9).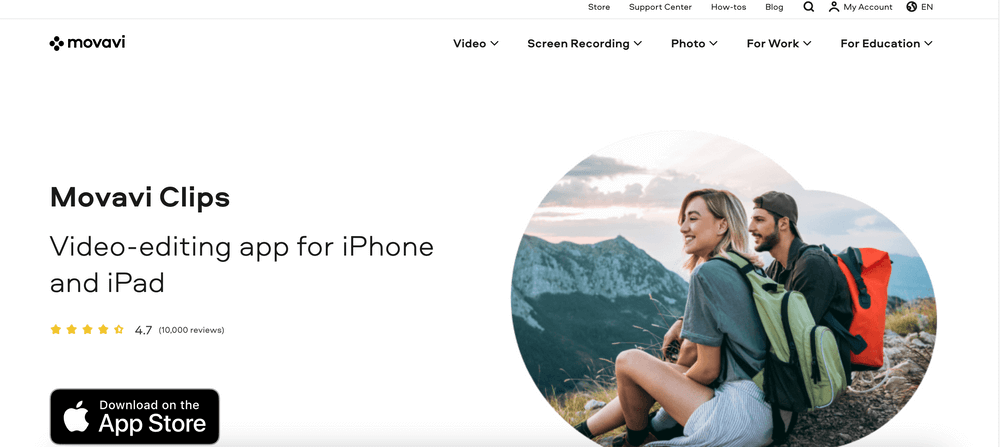 On the free version, videos do come with a watermark. The subscription, starting at $1.99 per month, lets you remove the watermark, add custom company logos to your videos, add animated stickers for Instagram Stories videos, and enjoy new features for free.
Movavi also has a desktop video editing software, Movavi Video Editor, starting at $49.95.
Works with: Web
Price: Free; $99 per month or $588 per year for the Pro plan
15. CapCut
CapCut is a free video editing app from the company that created TikTok, ByteDance. As a result, it's very much created for editing mobile videos in the familiar portrait format of social apps.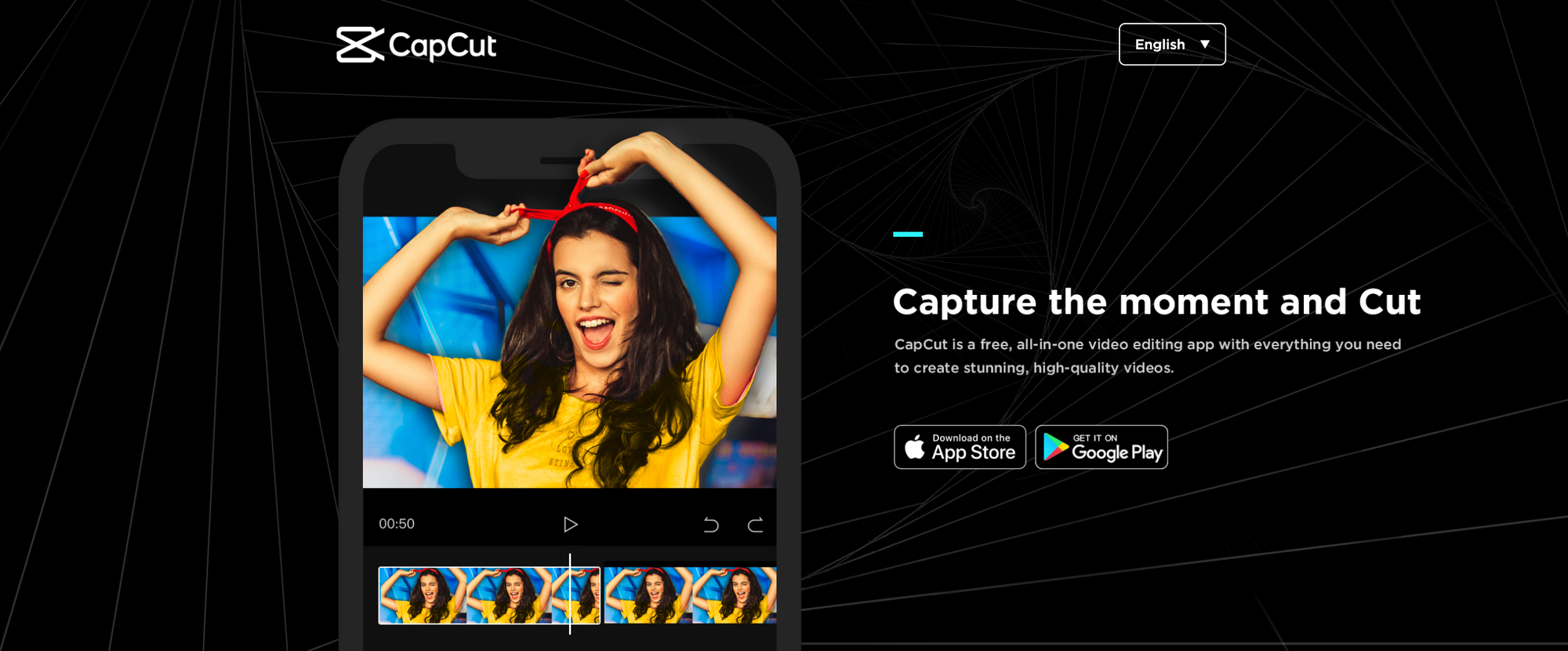 Editing with CapCut gives creators far more control over what they do with their videos than in-app features allow.
Price: Free
16. InShot
InShot allows you trim, speed up, or add music and filters to video. It's pretty simple, but also easy to use. It also allows users to edit photos, and create image collages.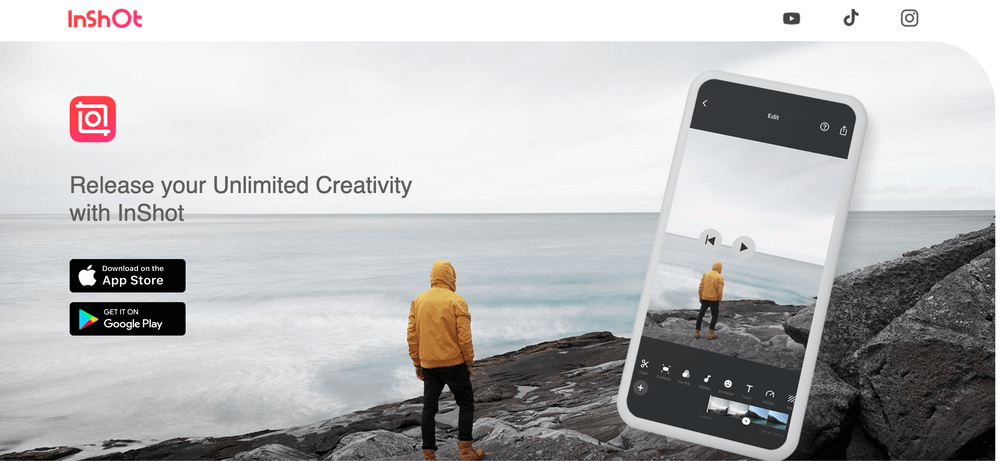 Price: Free; $2.99 to remove ads and watermarks
17. VidLab
VidLab is a free multi-track video editing app, which allows you to easily add and adjust text, images, music, and audio recording. You can pay to remove watermarks and unlock all features such as extra video effects, sound effects, fonts, and more.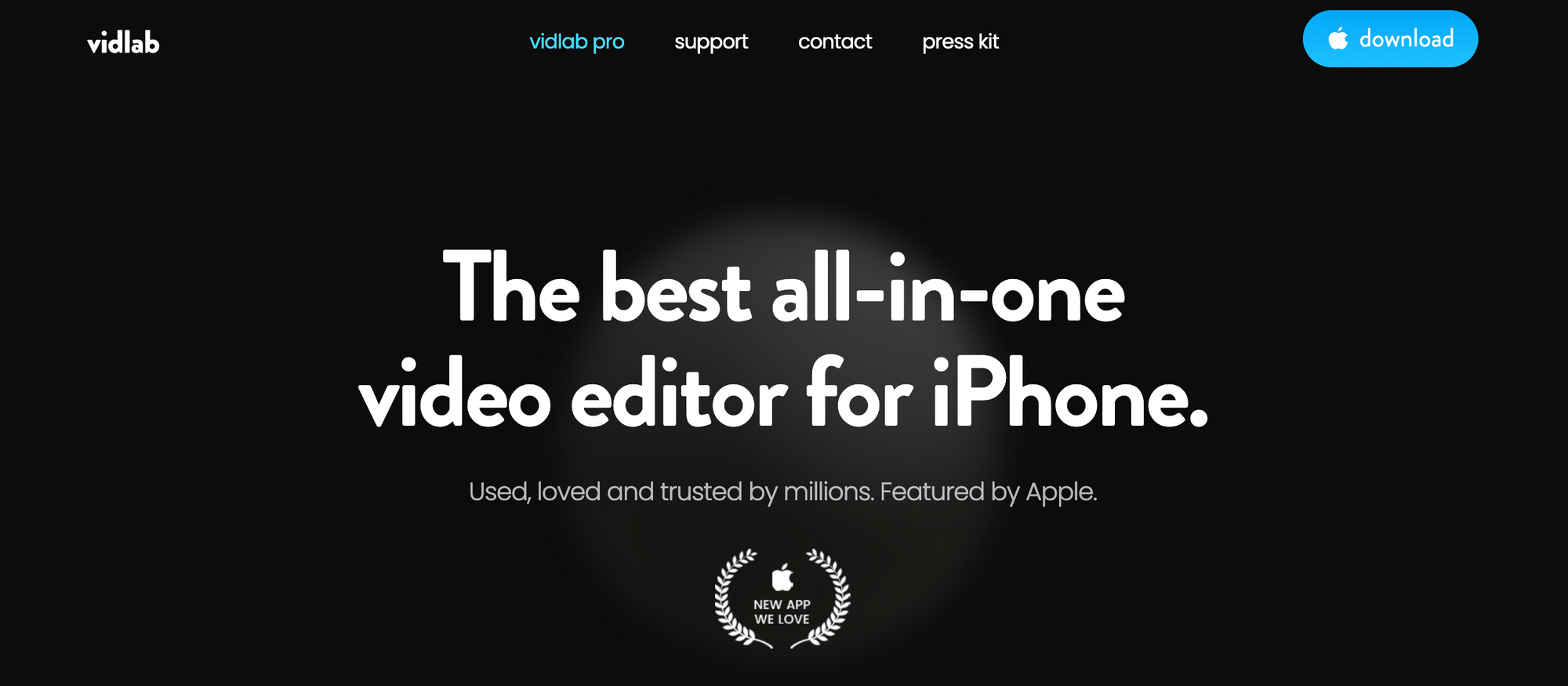 Works with: iOS
Price: Free; $1.99 to remove watermarks and $5.99 to unlock all features
18. Animaker
Animaker is an online tool for creating animated videos. I might classify Animaker more as a video maker than a video editor. But it does let you upload your own images and audio files to be used in the animated videos.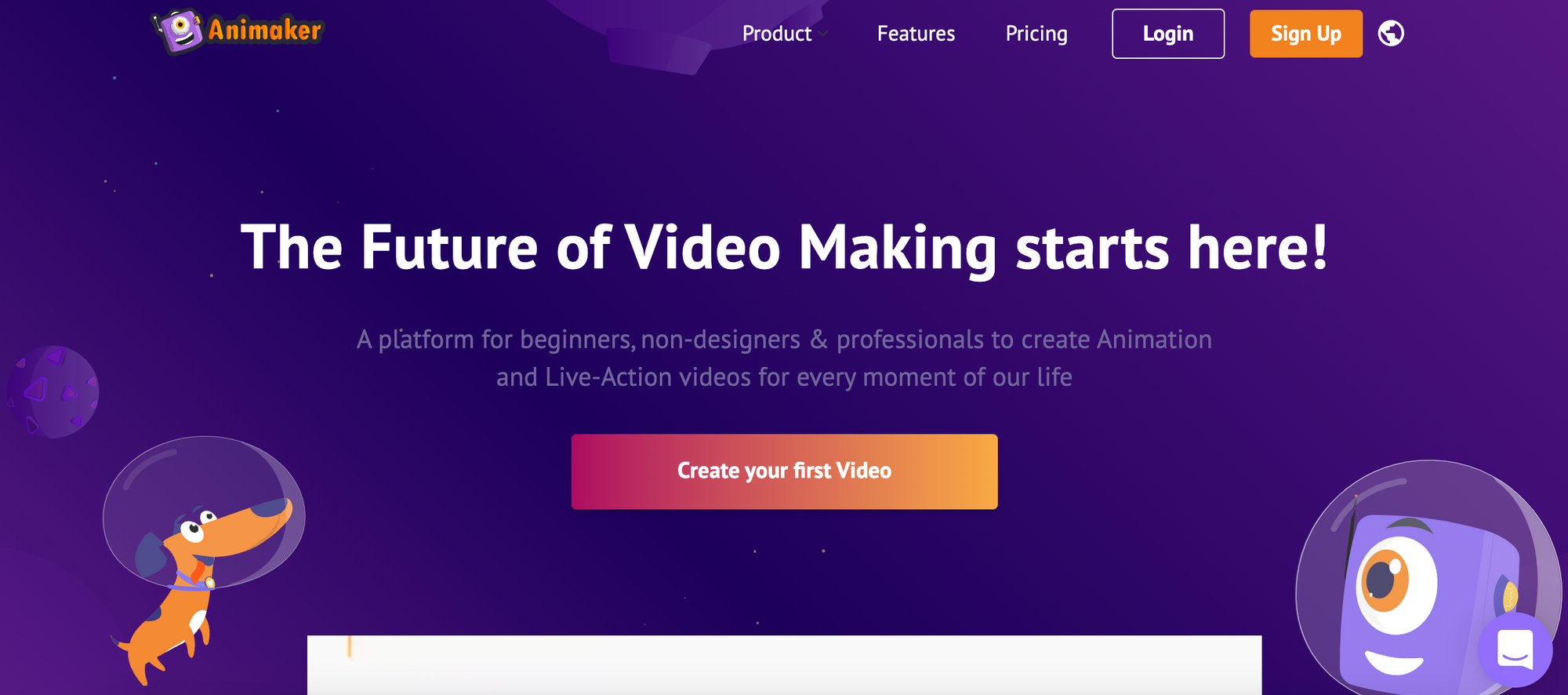 On the free plan, videos will have a watermark and can only be published to YouTube or Facebook (and not be downloaded). Their paid plan starts at $19 per month.
Works with: Web
Price: Free; $20 per month or $120 per year for the Basic plan
19. iMovie
If you are a Mac user, consider giving iMovie a try. It offers many advanced video editing features, which most online video editors don't provide, for free! And with the mobile app, you can edit your videos on your Mac, iPhone, and iPad.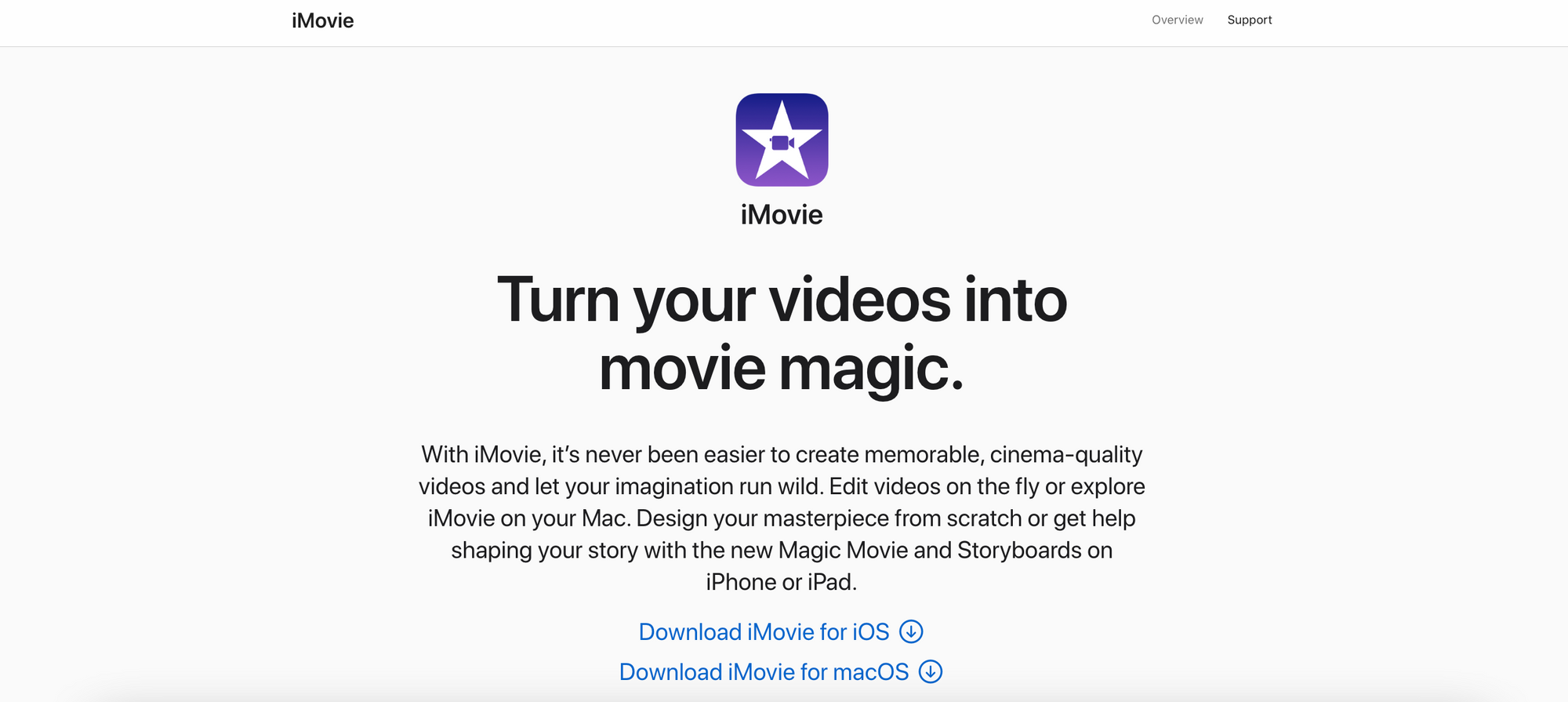 Works with: All Apple devices
Price: Free
20. Windows Movie Maker
No worries if you are not a Mac user – Microsoft also provides video editing software for Windows users for free.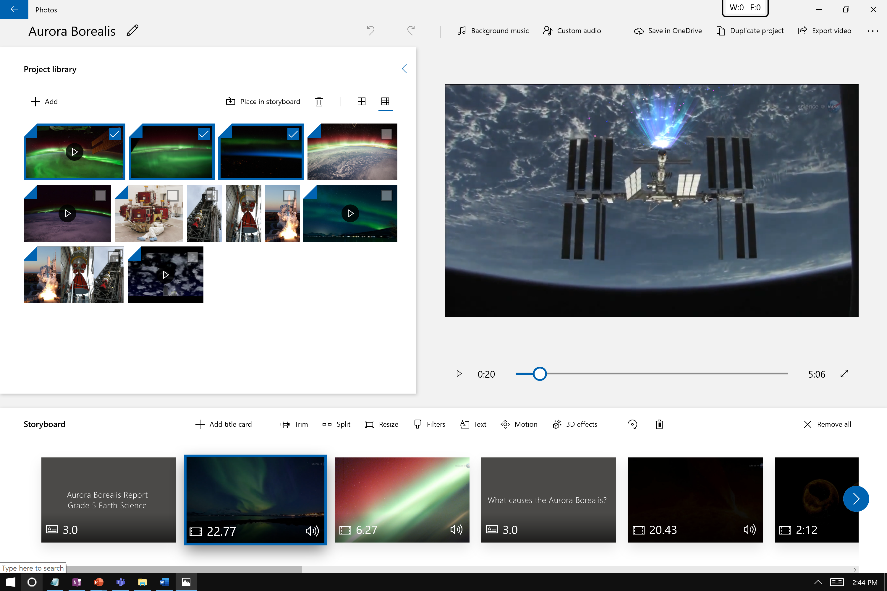 Works with: Windows devices
Price: Free
Schedule your social media videos
We know that creating and editing social media videos takes a lot of time and effort. We are thrilled at the opportunity to streamline the process for you. With Buffer, you'll be able to schedule videos to Facebook, Twitter, Instagram, and TikTok (with Reminders).
Let us handle the publishing for you so that you can focus on making great videos. Start scheduling your videos here.
If we missed your favorite free video editor, let us know on Twitter @buffer!
Brought to you by
Did you find this article helpful? You might also like our all-you-need social media toolkit.
Get started for free now