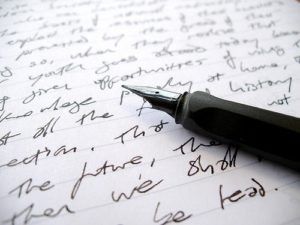 One of the thing that people often ask us is how we are running the Buffer blog here. A few of the key questions that people ask us are the ones below:
How do we come up with ideas?
How do we manage our content pipeline?
What do we use to write?
What are our goals with the Buffer blog?
How do we measure results?
As we work hard on growing and improving the Buffer blog, we thought it would be fun to answer these questions and share what happens behind the scenes to keep fresh content hitting your inbox or RSS feed every day. Hopefully this will give you a bit of insight into how we do things at Buffer, and why we do them this way. And if there are still some questions unanswered, just ask away in the comments!
Content types – why we choose broad topics and how they work for us
At Buffer we have fairly broad content coverage. You'll find articles about Facebook and Twitter, productivity, life hacking, customer happiness and even writing. We do this for a reason, which Rand Fishkin sums up perfectly in his Content Marketing Manifesto. The whole slide deck is worth looking at, but I really love this section:
Content marketing's goal is not:
to convert customers directly
to acquire leads directly
to make sales directly
Content marketing exists to:
build familiarity
build likability
build trust
To trigger these results, the content must show some combination of:
exceptional
inspirational
unique
credible
fun
beneficial to share
Don't get sidetracked by an obsession with relevance.
This image from Rand's slide deck really sums up what we're trying to achieve with our content at Buffer: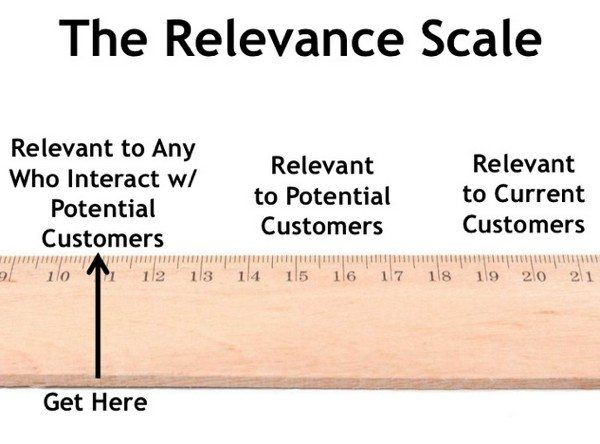 Although we have a few different topics to focus on, most of our posts fall into one of two categories (unless it's Buffer news):
Life hacking and productivity
Social media and blogging
Each of these broad topic areas has a different purpose for us. For posts that fit into life hacking and productivity topics, we find that these are best at helping us increase brand recognition. These posts are more likely to be republished and shared on social media. Here are a couple of examples:
Social media and blogging posts, on the other hand, don't spread as widely but they do perform better in terms of conversions. More readers of these posts tend to click through to find out about Buffer and sign up for an account. Here's a screenshot of our metrics dashboard on the day I drafted this post. This shows the blog posts that led to visits to the Buffer home page and subsequent sign-ups:

As you can see, most of the posts there are either about a Buffer feature or are social media-related posts. A couple of life hacking posts show up there as well, but social media topics are overwhelmingly more successful in this regard.
Writing a post – from idea to published
This is where things can get a little messy. Although we try to have a process for how we build up a post from nothing, you can only structure creative work— like writing—so much. Once we start working on a post, it's common for it to change directions or even be scrapped completely if we realize it's not a good fit after all. Having said that, here's the rough structure we work with.
Ideas
We use a Trello board to keep track of our ideas and the posts we're working on. Each topic sits in the ideas column until we choose it for a specific week. We use Trello's colored labels to keep everyone in the loop of a post's status as it moves through the process.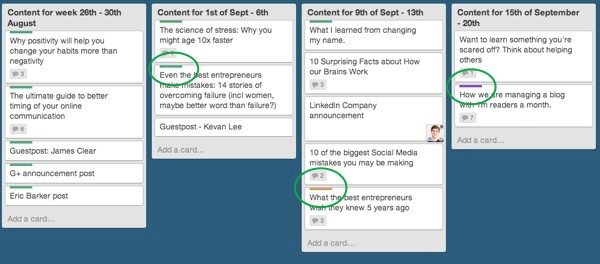 Most weeks Leo and I will have a 1:1 chat about our content for the following week and choose five posts to publish—normally one or two of these will be guest posts or Buffer news announcements and the rest are posts that I will work on.
Research
Once we have a topic chosen and Leo and I have had a quick chat about what angle the post might take, I start on the research process. One thing I've started to do recently is to research a good overview or two of the topic, to help me get an idea of what points I might want to cover in the post. Once I have a rough idea, I can write an outline and some brief notes about what research I need to do for each section.
Writing each post in sections helps to make the work itself more manageable, as I quickly found that 1–2000 word posts every day were feeling like mammoth tasks instead of achievable ones. Now, I put more time into breaking down a post into sections and writing notes for myself on what to research and what points to cover in each section.
This is what this blog post looks like in my task manager, broken down into small steps: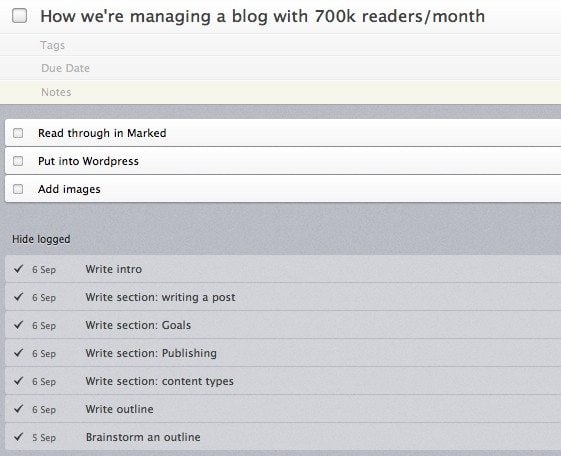 Editing
Every writer knows editing is imperative to good writing, but pretty much all of us hate to do it. I'm lucky that Leo helps out a lot on that front. Once I have a draft I'll often send it over to Leo for some thoughts and feedback before I go into editing mode. Sometimes we'll need to discuss a new direction or how to adjust the angle of the piece to fit what I've written about so far. Once I've cut down the post to get rid of unnecessary bulk and made sure my points are clear, I'll pop into WordPress and between the two of us, Leo and I will get it ready to publish.
Polishing
The final adjustments to a post will include things like finding images to illustrate our points, or screenshots of examples I've talked about. We often spend some time brainstorming possible titles of a post in HipChat, where more of the team can get involved.
Lastly we make a few SEO tweaks to help our post perform better in search engine results. This will usually mean choosing a keyword or phrase that we've focused on in the piece and including it in the post title and image alt tags. We like to keep this part fairly simple so the content can speak for itself.
Publishing – the headline says it all
Once a post is ready to go, we switch to more strategic tasks to help it get to the right audience. One of the most important things we do is testing our headlines. Leo's written about this before, but let's go over it again, briefly.
Multiple headlines
What we normally do is tweet a blog post two or three times over a couple of hours, with different headlines. We use Buffer to do this so we can easily compare the analytics and see which headline works better than the others. Here's an example of how that might look:
First tweet:

Second tweet:


Network-specific posts
Something else we do is pay attention to what works best for each different social network. For Facebook and Google+, for instance, image-based posts are more likely to garner engagement. There are a couple of things we try to keep in mind here.
One is what kind of image we're posting to these networks. Although images do work better in general, we've found that unless an image is useful and interesting on its own, it won't get much engagement. Using an image that's nonspecific and doesn't make a point by itself ignores the why behind the fact that image posts work better.
The other thing we do is to repurpose our blog posts for these networks, so if we've already posted an image, we'll share it again later as a link.
Niche networks
Lastly, depending on the piece of content, we might share it on smaller networks like StumbleUpon, Reddit, Quora or Inbound.org or reach out to some people we know who might like it.
The conversation
Once our post is published and shared on social networks, we're often lucky enough to have conversations about the topic or the post itself with our amazing readers. Here's how we manage the areas where we have the biggest volume of conversations around a post.
Blog comments
We get all of the comments on the Buffer blog piped into our content room in HipChat. We use HipChat as if it's our office because we're a distributed team, so it's easy to keep on top of these as they roll in since we're usually hanging out in there anyway. We try to jump onto comments with questions or suggestions for our post as soon as we can, and answer as many others as we have time for. When we get questions about Buffer the product, we usually grab our Chief Happiness Officer, Carolyn, to answer those ones.
Twitter
We're lucky enough to have a great audience who loves to share our content, especially on Twitter. Usually this means a small influx of @ mentions for the post author, which offers us a great way to engage with our readers. We've recently added Twitter follower buttons to our author bios to encourage more of these great conversations.

For the tweets that mention our official Twitter handle, @buffer, our amazing Happiness Heroes and engineering team cover most of these in the process of responding to product-related tweets. This means that someone can always engage with our readers in a conversation, even if the author of the post isn't available—one of the many benefits of having a distributed team!
Emails
One thing we experimented with recently was adding a text link at the bottom of each post to encourage readers to email in about the post. This link goes to our support email inbox where, again, our team of amazing support staff and engineers take care of the emails. They do a great job of engaging our readers and passing along any questions or suggestions specifically for the author of each post.

Goals for the blog – where we're headed?
In the past couple of months we've tried some new things on the Buffer blog, delved into the metrics side a bit deeper and set some goals for ourselves. We want to have specific, high goals to work towards so we can do a better job of experimenting and testing for what works.
Here are some screenshots of our recent stats. The first is from May 1st to the end of August: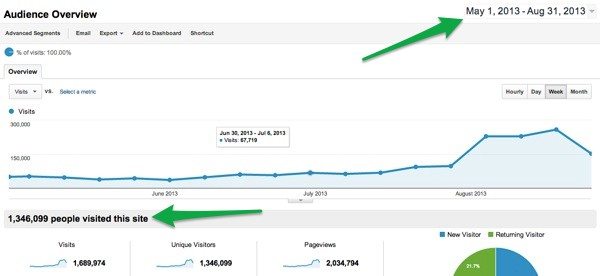 And this one is just for the month of August: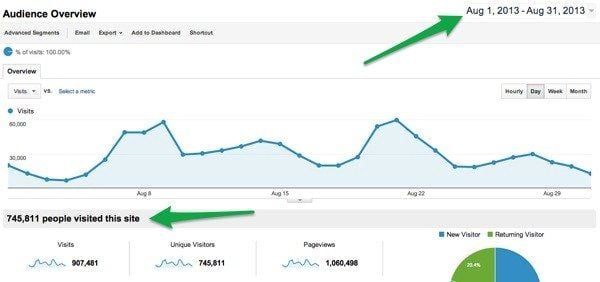 Currently our goals are in two areas:
Email subscribers: 25,000 total
Traffic growth: 1 million visits/month
Our aim right now is to get to these numbers by the end of October. If you take a look at our recent stats on the Open blog, you can see how we're tracking—not bad so far, but we've got a long way to go.
To reach these goals, we're trying a few things. We've moved our email subscribers over to MailChimp and we're focusing more on building this list with calls-to-action on the blog to encourage sign-ups.
We're also trying some different angles for our content, and looking into ways of adding more personality to our blog posts (which will hopefully help us work towards Rand's goals for content I mentioned earlier: building familiarity, likability and trust).
What's worked for you in this area, and what hasn't? We'd love to hear any ideas, suggestions or tales from experience that you have.
Image credit: Phil Gyford