Every month, the Buffer team shares some stats about our business, including how our blog posts did, what's happening in Buffer for Business, and even our revenue. We also love to share what's happening in the world of Buffer support. Here's the latest chapter in that story.
October was a particularly unique month for us, because we were hacked. I'll let you read the full story, but the bottom line is that hackers used our name to send spam from some of our customers' accounts. As you can imagine, this had an interesting effect on our support stats. (It also had an interesting effect on our business stats, which Joel shared earlier this month.)
The Hack – Volume
The spam was sent from our customer accounts on Saturday, October 26th. Immediately, we got a flood of tweets and emails as people tried to figure out what was going on. We sent out tweets to all followers and also answered each question individually.
Here's what that looked like:
Volume of emails sent, tracked by Help Scout: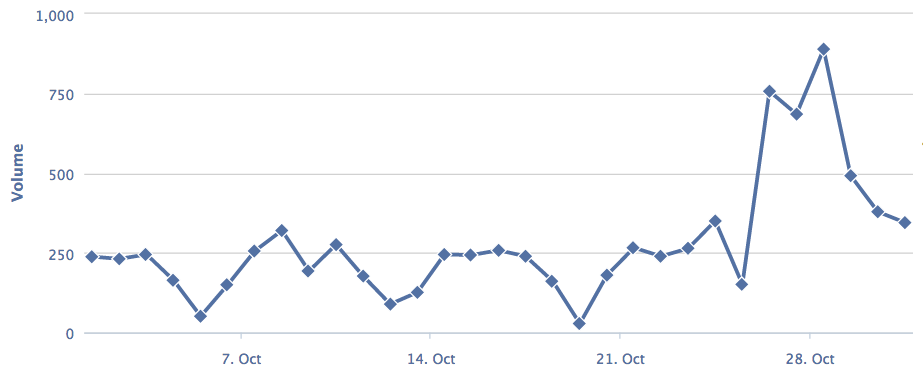 Volume of Tweets sent, tracked by Sparkcentral:

The Hack – Sentiment
This seemed like a good month to wade into the world of Twitter Sentiment Analysis so we could get a better sense of the pain we put our community through. Here's a graph of the data from Topsy: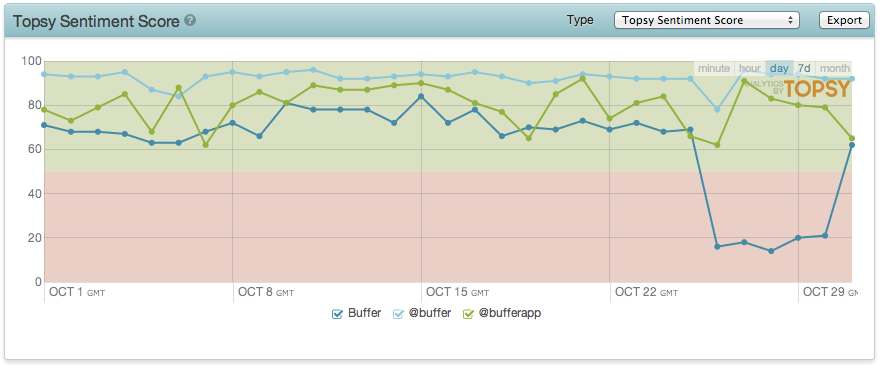 What you see here are the searches for @buffer, our main twitter handle, in light blue, @bufferapp, our old twitter handle which we still watch closely in green, and the search "Buffer" without a specific twitter handle mentioned, in dark blue.
What I find most fascinating here is that the sentiment from people who mentioned us is still, on average, "positive" for that weekend and the days following. (The deep kindness and forgiveness we received from our community is a whole story in itself.) However, the sentiment of the people speaking about us, without mentioning us specifically, dipped far into the negative. This is incredibly valuable information, as it highlights the importance of watching our brand mentions even without our Twitter handle, especially in a crisis. We hypothesize that some of the tweets that were kindly cheering us on may have been categorized as negative due to the words "hack" or "spam," but it's still valuable to see the overall trend. We use Sparkcentral to help us search for terms like "Buffer" and "Twitter Buffer" normally. This month, we added search terms for "Buffer Hack" and "Buffer Spam" so that we could find and answer those questions, too, even if the tweet didn't @mention us.
The Hack – Takeaway
Aside from the many security lessons we learned during this experience, one of the main takeaways from this experience was that transparency and prompt communication are key. I was floored by the patience and extreme kindness of our listeners and followers, and many people shared that this was due to our dissemination of information as soon as we had it. Our original tweet had almost 600 retweets, and we continued to tweet, update the blog post, and send mass emails throughout the following days.
We owe a special thanks to our followers, and the tech press, for helping us get this information out regularly, and fast!
The greater October Story – Stats
Partly due to the hack, and partly due to volume simply increasing every month, October showed another big jump. Our speed took another dive this month. We are hiring more Happiness Heroes, so we look forward to turning this trend around, hopefully next month!
Email volume and speed: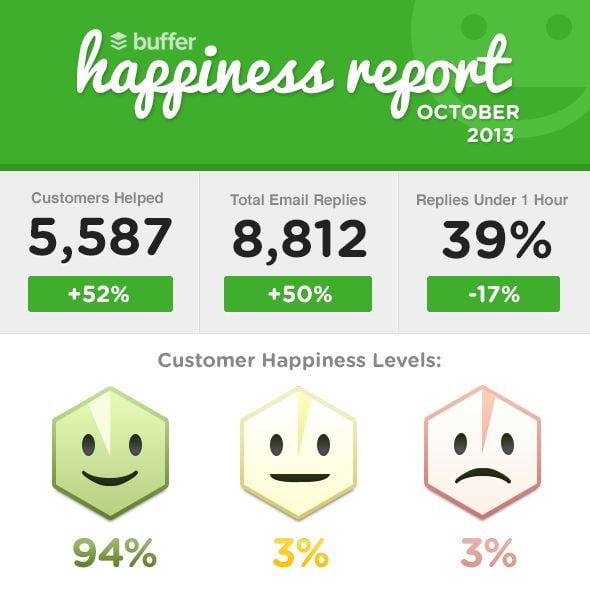 Speed details: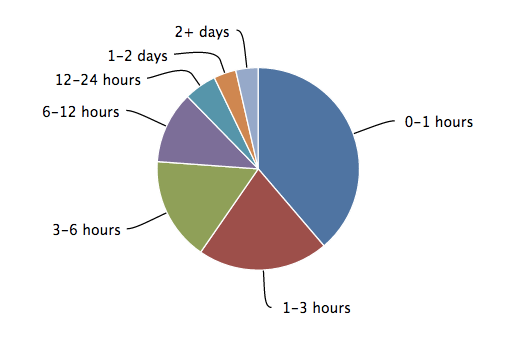 We also sent a total of 6255 tweets, a 30% increase from September.
The rest of the October Story
The other change that's worth noting is that I took myself largely out of the email inbox this month so that I could focus primarily on hiring more people for the team. We were incredibly fortunate to get many amazing applications, so I made hiring my priority. (We processed over 1,000 applications in October!) I also helped out in twitter, but the support emails were largely handled by Åsa, Brian, and the rest of the team, including the engineers, our content crafter, and Joel and Leo. The Happiness team is very lucky to have daily help from the entire Buffer team.
A look back over the last year
Just for fun, we took a dive into the stats for the last year, from September 2012 (2 people on the team) through September 2013 (3 people on the team). In that time, our emails sent per month more than doubled.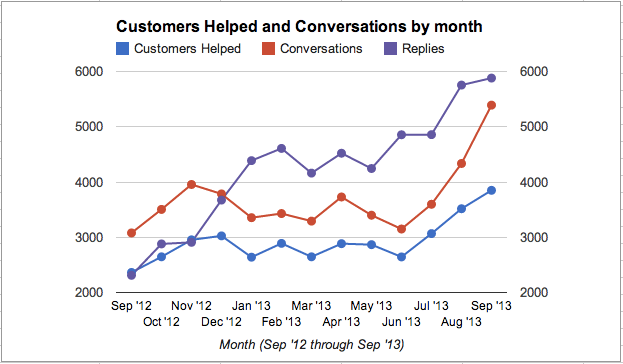 It is just amazing to look back and reflect on how many members of the Buffer community we've been privileged to help, teach, and learn from. We're so excited to be growing our team and dreaming up new ways to serve our customers. Thanks for following along with our journey. Please share any questions or ideas in the comments or at @buffer! :)