Below is the monthly update email I have just sent this morning to all our investors. I hope you enjoy taking a read about the full details of our work on Buffer in the last month. I'm excited to hear from you in the comments if you have any questions about what we're up to!
Growth/numbers:
New users: 77,000 (Total: 1,123,000, from 1,046,000: +7.4%)
Daily active users: 32,500 (from 30,000: +8.3%)
Revenue: $199,000 (Annual: $2,388,000 up from $2,088,000: +14.4%)
Business revenue: $30,510 (up from $12,340: +247%)
Cash in bank: $311,719 (last month: $283,457)
Security breach last weekend:
On Oct 26, Buffer was hacked. Access tokens of Facebook and Twitter profiles were exposed during the hack (around 19% of facebook profiles and 32% of twitter profiles). Since then, we have identified the source of the breach and have significantly increased the security of our product and company. We have also built two-factor authentication for Buffer and are using it internally within the team. We plan to launch this to all users soon.
The hack led to a spike in downgrades during the week of Oct 26 (1.6x the average weekly downgrades). We see from the daily numbers it has come down back to the normal levels.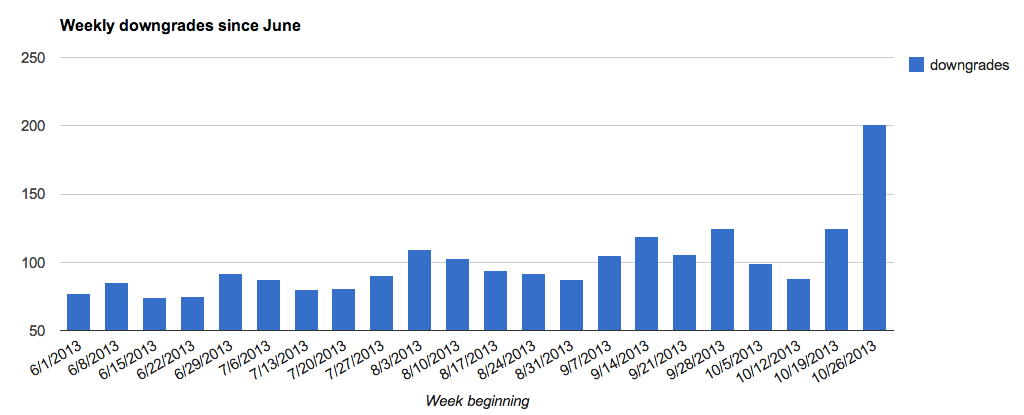 Buffer for Business and Enterprise:
59% MoM MRR growth of Buffer for Business (to $16,350)
247% MoM total revenue growth (to $30,510)
Buffer for Business was 15.3% of total revenue in October (7.1% in September)
268 total paying customers compared to 164 in September (63.4% increase)
More data on Buffer for Business for October.
The team will soon be 16 people:
This month, we made two offers to customer support staff and one backend engineer (and all have accepted!). A month from now, our team will be at 16. We are looking for 6 people: 2 support engineer, 1 front-end engineer, 1 back-end engineer and 1 devops and 1 community manager. With our focus on culture-fit we're happy for this to be a long-term endeavor.
Let me know any questions you have on our progress, I'd love to answer them.