Prefer audio? Press play to listen to this post.
"We all had what I guess you call 'real jobs'," Jay Perkins told me.
Back in 2013, Jay worked at Bigcommerce, an e-commerce software provider where he learned about what it takes to have a successful online business.
But Jay could only hold back his entrepreneurial ambitions for so long.
After kicking around business ideas for a year-or-so, Jay and his two business partners decided to take the plunge and launch an online store of their own.
Fast-forward to 2018 and Kettlebell Kings is a leading kettlebell equipment supplier based in Austin, Texas, generating mid seven-figures per year in revenue — with much of its new business coming directly from leads generated on Instagram.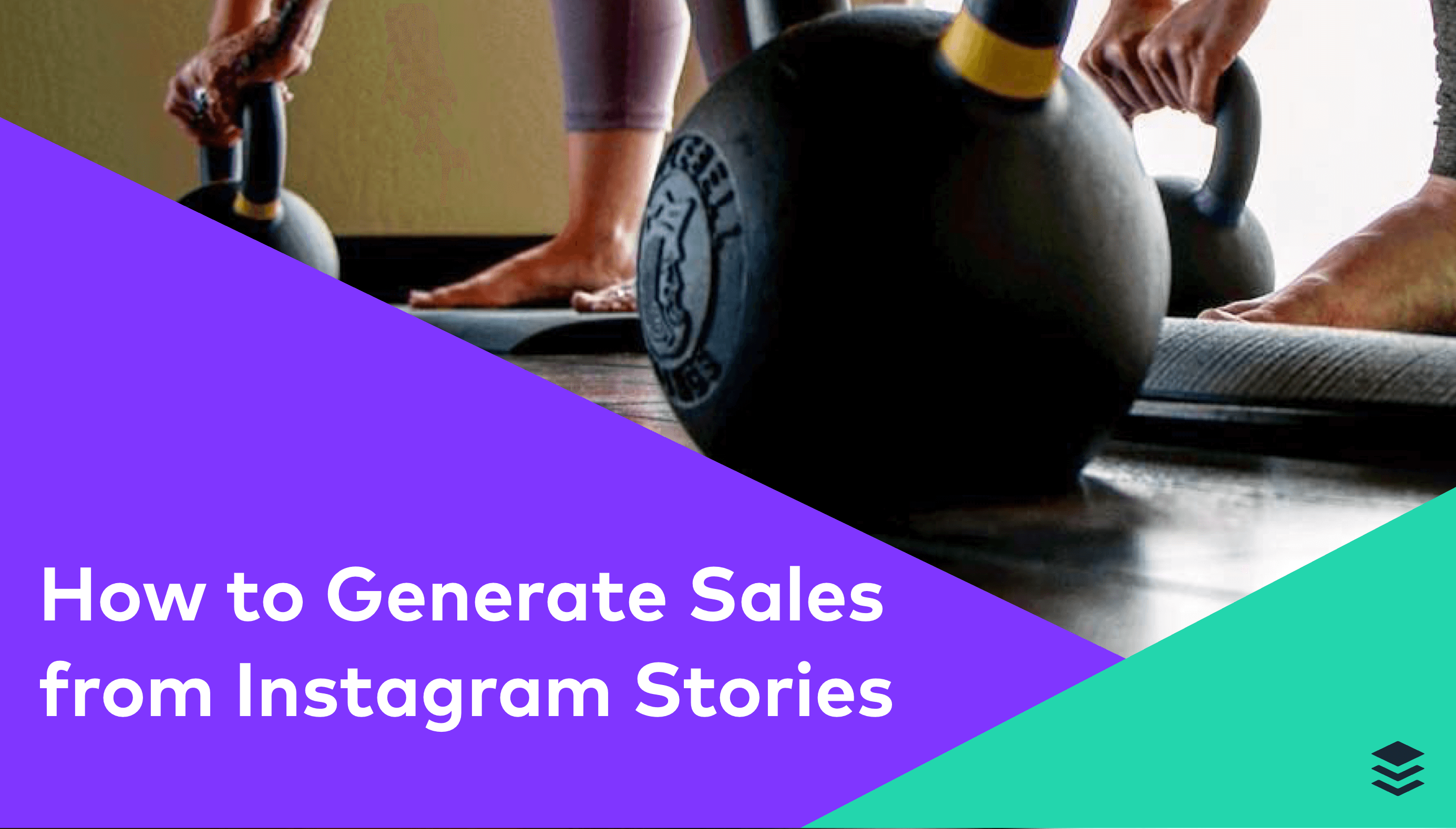 'Most of our biggest deals and business development relationships have come through Instagram'
There was a time, when Kettlebell Kings first started out, that Google AdWords campaigns and a compelling free shipping offer — "the first of its kind in the kettlebell space," Jay said — were its main marketing tactics.
Yet as the company grew, social media took over as the #1 way to generate new business and Instagram is now Kettlebell Kings most successful marketing and acquisition channel.
"On average we get 400-600 leads per week from social media, with half coming from Instagram," Jay told me over email.
When it comes to revenue generated directly from Instagram "it would be in the hundreds of thousands," he revealed (Kettlebell Kings uses Hubspot to track its conversions).
But Instagram hasn't just helped Kettlebell Kings to generate one-off sales to consumers, it's also an important channel for business development.
Jay explained:
"Most of our biggest deals and business development relationships have come through Instagram — we have even signed deals with national gym chains from leads generated on the platform."
Instagram didn't become a lead generation goldmine overnight, though. It took a lot of work.
'We're very strict on the posts that go into our feed'
The first step to a successful Instagram marketing strategy is creating content for your Instagram feed that your audience wants to see and engage with.
In the Instagram feed, Kettlebell Kings focuses on sharing educational content and workout examples — this strategy has helped it to amass an audience of over 79,000 followers. It also reposts images and videos from customers and this user-generated content angle has lead to the hashtag #kettlebellkings being used more than 20,000 times on Instagram.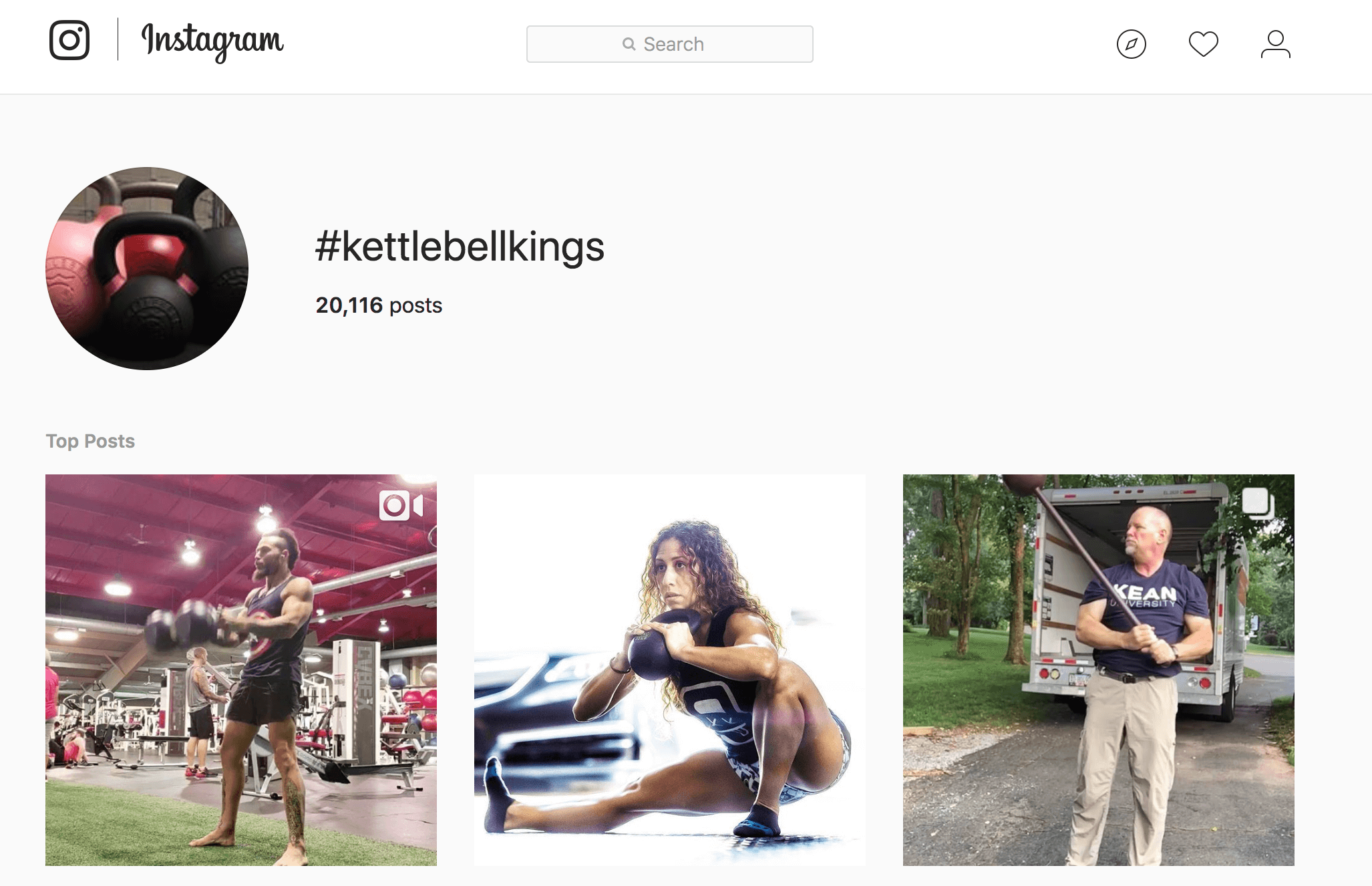 Key takeaway: User-generated content
"Back in 2016, we started to embrace user-generated content for our Buffer Instagram account. In the first year, this strategy helped our account grow by almost 400% – 4,250 to 21,000 followers. Now we have over 40,000 followers."
Brian Peters
Digital Marketing Strategist
"We're very strict on the posts that go into our feed," says Jay. For a post to make it to Kettlebell Kings' Instagram feed, the content must:
Feature good use of a Kettlebell Kings product ✅
Show good form (when using the kettlebells) ✅
Provide a ton of value to the viewer (helping them to learn something new, improve their technique) ✅
But with stories, Jay believes there's more freedom to post less-polished content at a higher frequency.
Kettlebell Kings can also repost and feature more of its customers using stories than it can within the feed. "We can repost 10-12 customers who tag us on a daily basis through stories," says Jay. Being reposted by the Kettlebell Kings account is highly engaging and rewarding for those featured and it also encourages more and more customers to share their content on Instagram.
Here's how that strategy plays out…
Within the Instagram feed, you might see a video of a perfectly-executed kettlebell workout: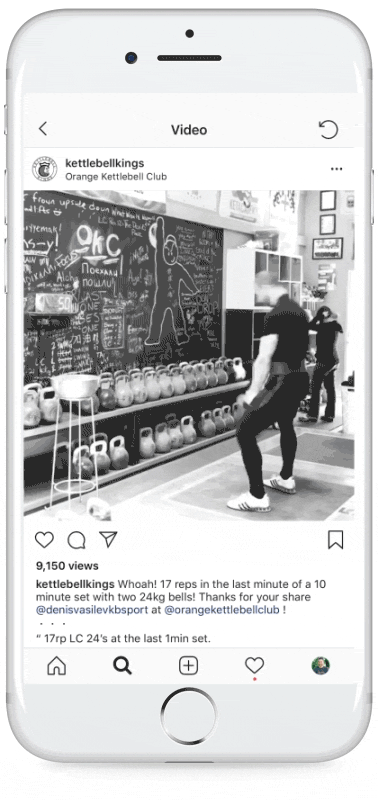 Or a shoppable, high-quality image of a Kettlebell Kings product: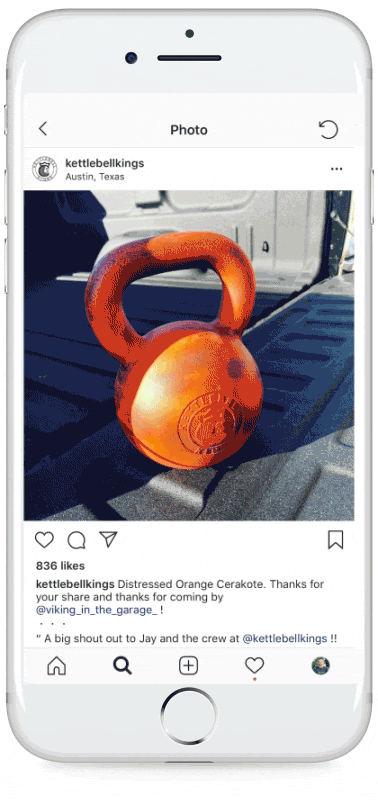 Then on Instagram Stories you might see a Kettlebell Kings customer working out: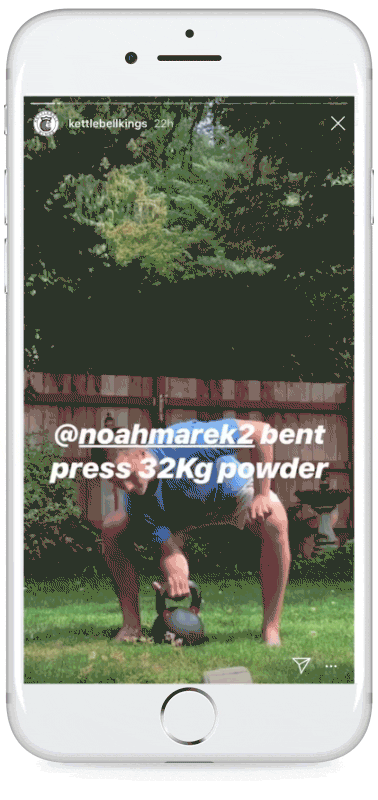 But how does this all translate into leads and revenue?
Instagram Stories: The lead-gen secret weapon
Now we move onto the conversion focused part of this strategy.
Here's how Kettlebell Kings drives hundreds of leads per week directly from Instagram.
1. Share engaging content to stories
First, Kettlebell Kings will share content to Instagram Stories. Often these posts will be workout examples or reposts from customers: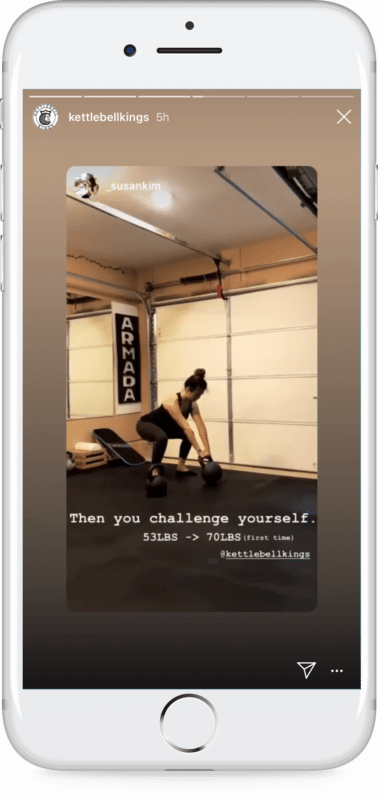 On average these stories will be viewed by around 10 percent of Kettlebell Kings' followers, sometimes up to 15 percent if there's a CTA in a feed post to 'check out stories'.
2. Include swipe up CTAs to drive traffic to a landing page
Next, Kettlebell Kings will include a CTA to 'Swipe Up' for workout examples or more content within one of its stories posts: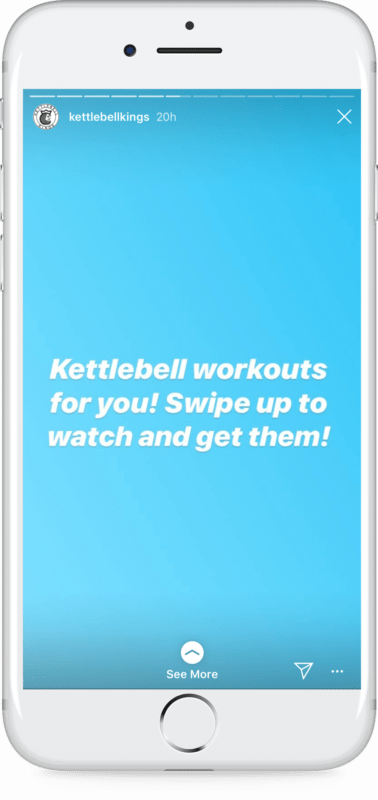 (If you want to create simple Stories graphics like this, we build Stories Creator to help you do just that. It's free and no signup is required.)
Writer's note:
The Instagram Stories 'Swipe Up' feature is now available to all Instagram business accounts with 10,000 followers or more.
If you don't quite have 10,000 followers, here are some resources to help you grow your account:

Ash Read
Managing Editor
Once a viewer swipes up, they will be taken to a landing page or an article where they can read more about a topic and enter their email address for more exclusive content: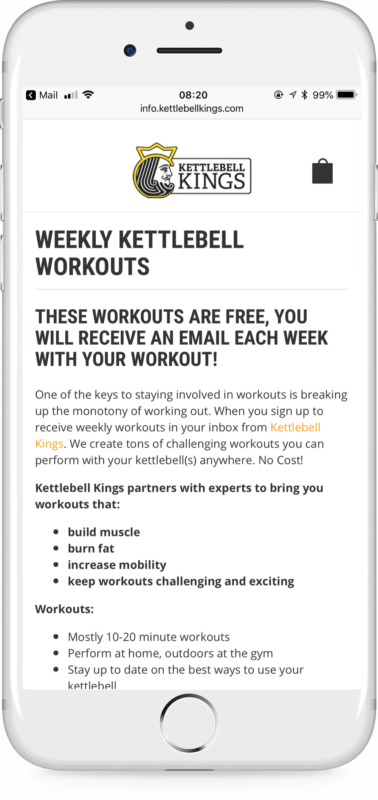 These pages tend to convert visitors to email addresses at around 25-45 percent, depending on the traffic source. So 100 visits would generate between 25 and 45 new leads, on average.
3. Create custom email flows for each landing page
Finally, once the visitor has shared their email address it will be entered into one of many email workflows Kettlebell Kings has designed to serve helpful emails about kettlebell workouts and techniques from experts.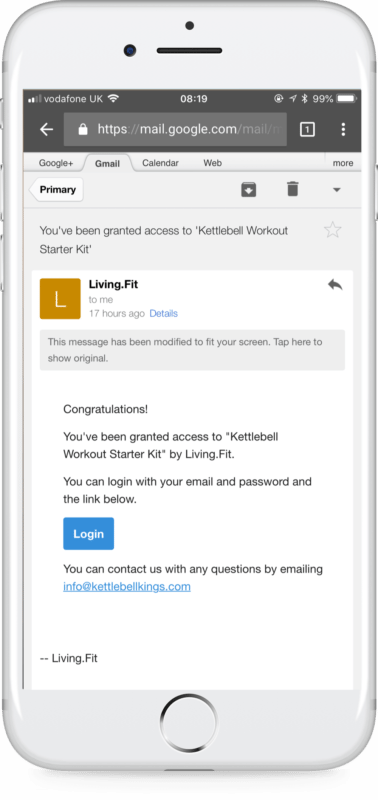 "We have unique workflows depending on how someone has entered our system," Jay explained. All its workflows are about building value and trust with new leads. Kettlebell Kings purposely includes product photos in its emails but rarely sends offers or tries to make a sale. Instead, providing high quality content is the number one goal.
Kettlebell Kings aim to stay top-of-mind by providing value to potential customers in every email with the goal of eventually converting when a lead decides it's time to purchase some new equipment.
Due to the work Jay and his team put in ensuring Kettlebell Kings' Instagram feed is always filled with fresh, engaging content the company constantly has batches of new followers — "about 1,000 new followers per week right now," Jay says — to check out its Instagram Stories and enter into its email funnels.
Over to you
This strategy has generated 'hundreds of thousands' in revenue for Kettlebell Kings and there's no reason you can't also implement within your own social media plans.
How does your business use Instagram Stories? Let me know in the comments below.
The Instagram Marketing Strategy Series
A nine-part series on how to use Instagram for business. ➡️
Up next: