Whole Foods has gone all in on social media. In addition to its main Twitter account (boasting 4.83 million followers), there are hundreds of smaller ones run by individual stores.
Many locations also have their own Facebook pages, with follower counts any marketer would be happy with. For example, Whole Foods Austin has more than 32,000 fans.
Clearly, there isn't a single department that "owns" social media at Whole Foods. It belongs to everyone: from the CEO, who blogs about the natural food industry, to individual employees, who share product recommendations and stories about their jobs.
Interested in seeing how every team within your company can use social media? Great! Let's jump in.
Engineering
It's no secret that the Buffer team believes in transparency. Even if you're not sharing employee salaries or company financials, you can still give your audience a peek behind the curtain by showing them how your product is made.
That's the idea behind many engineering-centric social media accounts. For instance, Twitter's engineering team has its own Twitter account (@TwitterEng), sharing product updates, blog posts, and other behind-the-scenes content. More than 1.1 million people from all different industries and professions follow the account.
Social media is also a great way to recruit more engineers.  It turns out that the majority of tech professionals use social media for work—which is good news if you're one of the 82% of employers having trouble hiring engineers. By taking to social media to promote your team, culture, and opportunities, you can boost the quantity and the quality of your applicant pool.
We can see this in action with Uber's engineering blog and Twitter account (@UberEng). The content is highly technical, as you can see from this sample tweet: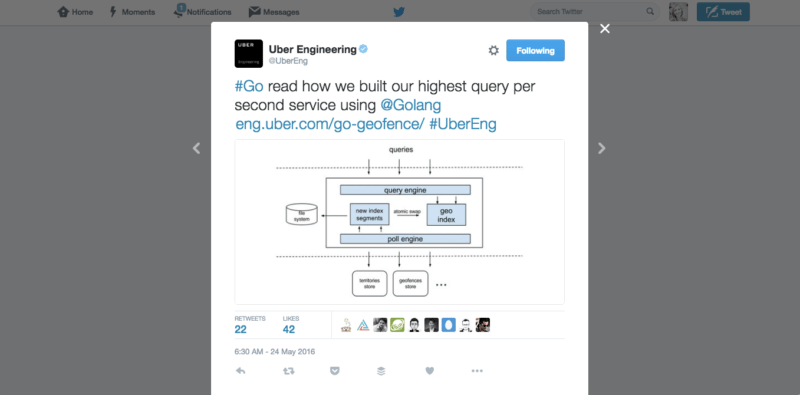 Salesforce's engineering team uses Twitter as well, primarily to share photos and videos from their events. They'll occasionally drive engagement with a fun contest, like the recent "May the Salesforce Be With You" giveaway.
Buffer engineers also Tweet about their experiences over at @BufferDevs and blog openly at the Overflow blog.
Design
I'm part of a pretty privileged group. Along with roughly 995 other people, I get a behind-the-scenes look into Airbnb and how it innovates.
Okay, I wasn't exactly chosen for this role—I just follow Airbnb's design team on Instagram, along with Spotify's, Uber's, and Ikea's design team accounts. Seeing the people behind the product is fascinating, and I always feel special when I learn about an upcoming product update before everyone else.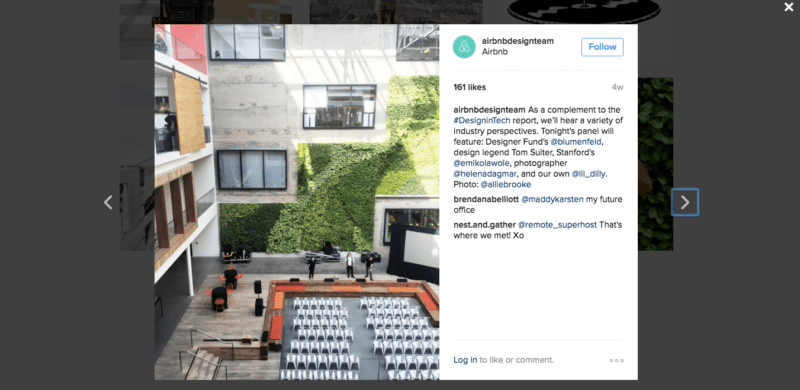 Separate design accounts are more common on Twitter than other networks. These accounts are usually dedicated to recapping conferences, talks, and other events and sharing design-centric articles. Since most of your customers probably won't be super interested in this content, don't be surprised if your design team's audience is much smaller than your primary one. For example, @spotify has 1.8 million followers, while @spotifydesign has approximately 5,000.
Also, like the engineering team, your design team probably won't be using social media to achieve traditional marketing goals. Instead, it should use social as a recruiting channel, a way to join the larger conversation about design, a chance to engage your power users or all of the above.
PR
Social media isn't making PR unnecessary—in fact, experts think it'll be responsible for 75% of the industry's growth.
Why? Well, first, it's a great platform for building relationships with influencers. Like most writers, I constantly get emails from PR reps asking if I'd like to interview their CEO or cover their product. I delete the vast majority of these emails—unless I recognize the rep or the brand from our interactions on Twitter, LinkedIn, or even Instagram.
To give you an idea, the PR rep from InVision responded to my Twitter request for book recommendations with several awesome suggestions. So, when she emailed me a product update, I was happy to cover it.
Social media is also invaluable when it comes to monitoring the conversations around your brand and its competitors. With tools like Buffer's Respond, Google Alerts, Mention, and Sprout Social, you'll always be up-to-date—so if a potentially negative discussion starts brewing, you'll be able to jump in and do damage control before it becomes a full-blown problem. Also, you can use the insights from social media to learn more about your audience's likes, dislikes, reasons for engagement, location, etc., and plan your PR campaigns accordingly.
Lastly, you can amplify company announcements and updates by sharing them on social. But don't renounce wire services just yet: according to HubSpot, traditional press releases are syndicated 20% more often than social media ones.
Sales
I recently spent a whole day at a B2B tech company watching Sam, a sales rep, call prospects. Before he picked up the phone, Sam would browse their various social media accounts—usually commenting on or sharing one post and liking a couple more.
"Now, when they see or hear my name, it'll set off a little ping! of recognition," Sam explained. "Plus, it helps me build a relationship with them."
Sam's not the only salesperson using social media to engage with prospects (and ultimately, close deals!) According to research from Social Centered Selling and a Sales Guy, reps who incorporate social media into their process meet their quotas 23% more often than reps who don't. Plus, more than half of all reps say they've closed at least one deal in the past year as a direct result of social media.
When it comes to platforms, LinkedIn is far and away the most popular. Reps are also active on Facebook, Google+, and Twitter, in that order.
Some reps have even started using Snapchat. Sean Mitchell, an account executive, explains there are five ways salespeople can use this platform to build their brand and connect with prospects. For example, he suggests sharing a typical customer scenario, posting a testimonial, answering direct questions, or showing how your product is made.
Customer Support
Last week, seconds after clicking "Confirm" on a not-too-cheap purchase, I realized I'd unthinkingly chosen the wrong shipping address. I could've contacted the company's support email or called their customer service—but who knew how long that would take, and I needed to reach them before the package was out the door.
So instead, I quickly dashed off an "SOS!" tweet to their company Twitter handle. Less than three minutes later, I got a response saying the address had been corrected.
I'm not the only person turning to Twitter rather than traditional methods of support: research from McKinsey & Company shows the number of people who have done the same jumped 70% in one year, and one in three people would rather use social media than call.
And here's the stat that actually blows my mind: twice as many people would recommend a company that responded quickly but ineffectively as a company that responded slowly but effectively. As you can see, social media's ability to let you respond at lightning speed is hugely important.
Some companies make separate accounts for their support teams. Evernote, for example, uses @Evernote to post tips, tricks, and other fun content, and @EvernoteHelps to respond to questions and concerns.
Other companies, like Jet Blue (and Buffer!), keep everything under one roof. Although this option can present some organizational challenges, it also makes it easier for your customers to get the help they need, when they need it.
Twitter isn't the only place your customers will request help (although it is the most popular). Check out our complete guide to using social media for customer service to learn more.
Customer Success
Unlike support reps (who tend to jump in to reactively engage with customers), success reps should be reaching out to your customers from day one—helping them get as much value from your product as possible. Thanks to social media, they can connect with customers in a bunch of different ways.
For example, if you use Pipedrive's sales CRM, you can join its user group on Facebook. Members periodically pop in to ask for product help, describe which features they'd like, and provide feedback. Plus, they don't just interact with the Pipedrive moderators: they talk to each other as well, posing open questions like, "How do you manage existing enterprise customers?" and "How many pipelines do you use?"
HubSpot, meanwhile, has created a forum for current and former students of HubSpot Academy (its inbound marketing certification course). Not only can HubSpot use the forum discussions to improve its courses, but the team can also help users take advantage of what they've learned.
Some companies have taken their communities to Slack. Drift, which provides relationship marketing software, has a Slack group, while we've created one for anyone interested in social media. If you create this type of group, it's unlikely that every member will use your product. However, it's still a great way for the customer success department to deepen customer trust, loyalty, and ultimately, retention.
CEOs
Marc Benioff, the CEO of Salesforce, is a busy guy. Yet he's also an active Twitter user, frequently sharing cool articles, company updates, and random thoughts with his 218,000 followers.
Like Benioff, it's a safe bet your company leaders have jam-packed schedules. But social media is well worth their time: According to a 2012 BRANDFog study, having a social CEO builds greater trust, brand loyalty, and purchase intent. It also improves engagement with employees, potential job applicants, and investors. With all these benefits, it's probably not too surprising that the number of executives on social media is expected to grow 50% in the next five years!
Seventy-three percent of CEOs dip their toes into the social waters with LinkedIn. Youtube and Twitter are the second and third most popular platforms, respectively, trailed by Google+ and Facebook.
After you've gotten your leadership team on board, you should work with them to develop a social media strategy. CEOs who post business-related content (product updates, info about existing products, customer stories, and company initiatives) tend to have the biggest follower counts and get the most engagement.
Why? Let's say your CEO tweets about an award your company just won. When customers see that tweet, they feel proud and excited to be involved in your success—so they like the tweet, retweet it, or both. As this MIT Sloan Management Review article explains, retweeted tweets are highly likely to reach other people who aren't yet invested in or aware of your company. So, not only will you make your followers feel good, but you'll also drive more brand awareness. It's a win-win.
Recruiting
According to a 2015 CareerBuilder study, 70% of job seekers check out a company's social media presence before they decide to apply. So, it's pretty important to make sure your organization not only has content oriented toward candidates—but that it's easy to find, engaging, and representative of your culture and philosophy.
In fact, almost two in five people are most interested in content that speaks to your company's values. They're also looking for answers to "Why do people join the team?" and "Why do people stay?"
Let's say you were hoping to work for Slack. Its Instagram is chock-full of photos that tell you what life with the company is like: there are silly pictures, like a stuffed animal sloth perched on a plant, along with ones of the employees at events and in the office.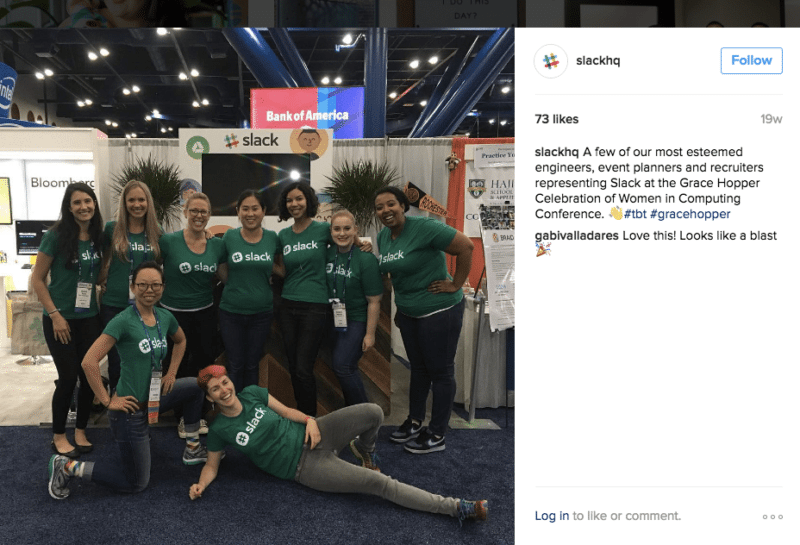 Your Turn
When it comes to each department at your company using social media it's important to think about the "why" behind it as each department will most likely have very different goals.
Thanks for reading! I hope you enjoyed this post. I'd love to hear your thoughts in the comments below:
Do any of your non-marketing departments use social media?
If yes, which teams? What are their goals?
Do you think any departments shouldn't use social, and if so, why?