Dave grew his newsletter traffic by 2.5x using one simple (and fast) tactic. Here's how. 👇
---
Dave Anderson is a senior technology leader with a diverse background. He spent 12 years at Amazon, leading organizations as a general manager and technology director. Then he became CTO at Bezos Academy, a non-profit organization founded by Jeff Bezos. After leaving Bezos Academy, he decided to start a paid newsletter focused on career development, organization design, and hiring. He wanted to see if he could create a source of revenue through a combination of subscriptions and corporate training services.
One of the biggest challenges Dave's newsletter faced was the growing his subscriber list. He knew posting consistently on social media could help but struggled with the time-consuming nature of social media management.
In order to grow his business, it was necessary to continually engage with followers on LinkedIn and Twitter, but Dave found it difficult to allocate time for this task on a daily basis. He wanted to invest as little time as possible to get the most value, and was constantly searching for ways to optimize his time.
"I want to invest as little as possible to get 80% of the value. I'm not trying to grow my business as much as possible, but I'm also not retired. So I'm constantly searching for ways to optimize how I spend my time, and stop doing things which don't appear to give me a lot of value."
To help, Dave turned to Buffer, a social media scheduling tool, to queue up posts and streamline the process. By using Buffer, he was able to sit down and write all his social media content in one sitting, rather than having to spend time on it throughout the day and week. This allowed him to treat social media writing more like article writing, where he could sit down weekly or even monthly, spend a few hours writing, and then not think about social media for awhile.
The decision to use Buffer was not without its challenges. Initially Dave was hesitant to pay for a service, and searched for a free alternative. However, he ultimately realized that the paid features and flexibility of Buffer were worth the investment, and that just a couple of new newsletter subscriptions would cover the cost of the recurring fees.
Dave signed up for Buffer and has not looked back since.
How Dave grew his audience
Since implementing Buffer, Dave has been able to more effectively manage his social media presence and grow his business through increased visibility on LinkedIn and Twitter. He has found it to be one of his best business decisions, and continues to use it as a key tool in his work.
"I have a daily posting schedule for Twitter and LinkedIn. My goal is to ensure that my queue of upcoming posts is never empty. I keep an eye on how many upcoming posts I have queued up (at this moment, exactly 34 days), to ensure that I sit down and write more posts before I run low."
His process with Buffer is fairly simple. Here's Dave describing it in his own words.
"When my queued posts are running low, or I feel particularly inspired to write, I'll sit down with Buffer open. I use the Calendar view, and create a new post.
I'll often open up my newsletter article archive, and pull up a large number of my articles.
I'll read through those articles, and pull out insights. Each insight becomes a Buffer post. I'll make the post approximately a tweet length, and put a link to my article (usually).
Once written, I add it to my queue, and keep reading and writing new posts.
When I'm done for the day, I'll go into the settings for each channel (LinkedIn and Twitter), and hit the "Shuffle queue" button.
This randomizes the order of my social media posts, so that I don't have to worry about being stuck on the same topic for days in a row."
Here's a breakdown of Dave's process:
Open Buffer in the Calendar view and create a new post
Open up his newsletter article archive and pull up articles
Read through his articles and pull out insights
Turn each insight into a Buffer post and link back to his article
Add the posts to his queue
Repeat with the rest of his articles
Once he's through all of his articles, he hits "Shuffle queue" (in the settings for each of his connected channels) to randomize the order of his social posts
And that's it!
In addition to Buffer, Dave also uses Ghost, an open-source platform for writing his newsletter, and Obsidian for taking notes on coaching engagements, writing draft articles, and organizing his thoughts on new business ideas.
The 2.5x improvement
Dave's results are impressive. Implementing Buffer led to significant growth on LinkedIn and Twitter.
Both LinkedIn and Twitter have been growing significantly faster than they were before Dave started using Buffer. In fact, site traffic from social media has gone from 19 percent pre-Buffer to a whopping 46 percent post-Buffer—a 2.5x increase.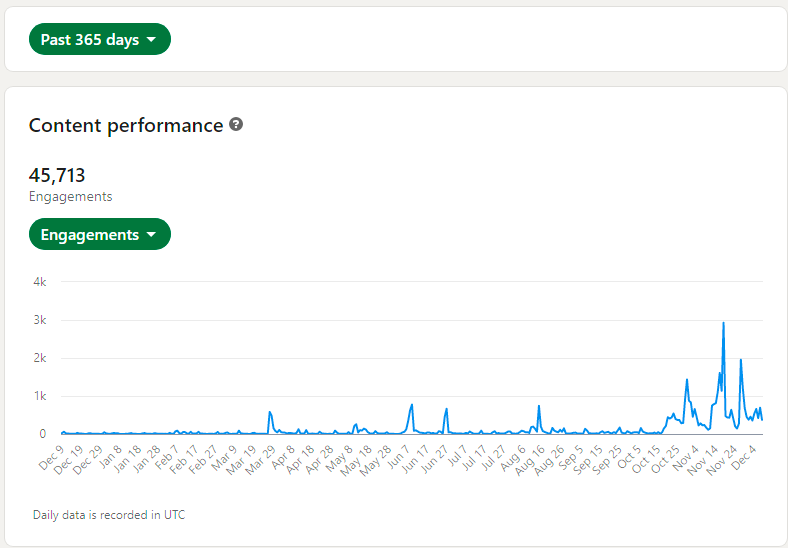 But it's not just social media that's benefited from Buffer. Dave's newsletter has continued to grow at an impressive rate of over 10 percent per month, and it's likely that the increased visibility on social media has played a role in that growth.
Here's Dave's stats (which he shared in his brilliant round-up blog):

Pre-Buffer, 19% of traffic came from social media,
Post-Buffer, 46% of traffic came from social media.
---
Pre-Buffer, ~100% of my social media traffic was from LinkedIn,
Post-Buffer, 90% LinkedIn, 10% Twitter.
---
One more output metric from Dave:
I had around 10,000 LinkedIn followers a year ago, and I'm now north of 27,000. I had ~350 Twitter followers a year ago, and now I passed 2,700.
My LinkedIn and Twitter engagement has drastically increased because I'm posting regularly. I'm posting regularly because the process has been simplified with Buffer.
All in all, we'd say that implementing Buffer has been a pretty great decision for Dave's business.
So, if you're struggling to manage your social media presence and want to free up some time to focus on other things, it might be worth giving Buffer a try.