Looking to catch up on the latest social media news, but short on time? We have you covered! This week (episode #110) we're chatting about all of this and more:
According to an interesting article from Digiday, Facebook is shifting gears with brand advertisers. After years of trying to sell brands on the Facebook news feed, they're changing their pitch to Instagram, Stories, and Messenger engagement.
Facebook interviewed some of the top video producers on social media media and compiled their latest tips, tricks, and helpful suggestions to move your business forward with video.
YouTube requires a unique focus. The best practices for YouTube video won't necessarily be the same as they are on Facebook or Twitter. We have some really interesting YouTube stats for you on how to improve your brand's performance on YouTube.
Join 17,500+ weekly listeners for the Buffer podcast, The Science of Social Media, where we bring you the latest and greatest in social media marketing news, updates, stories, insights, and actionable takeaways.
Let's dive in!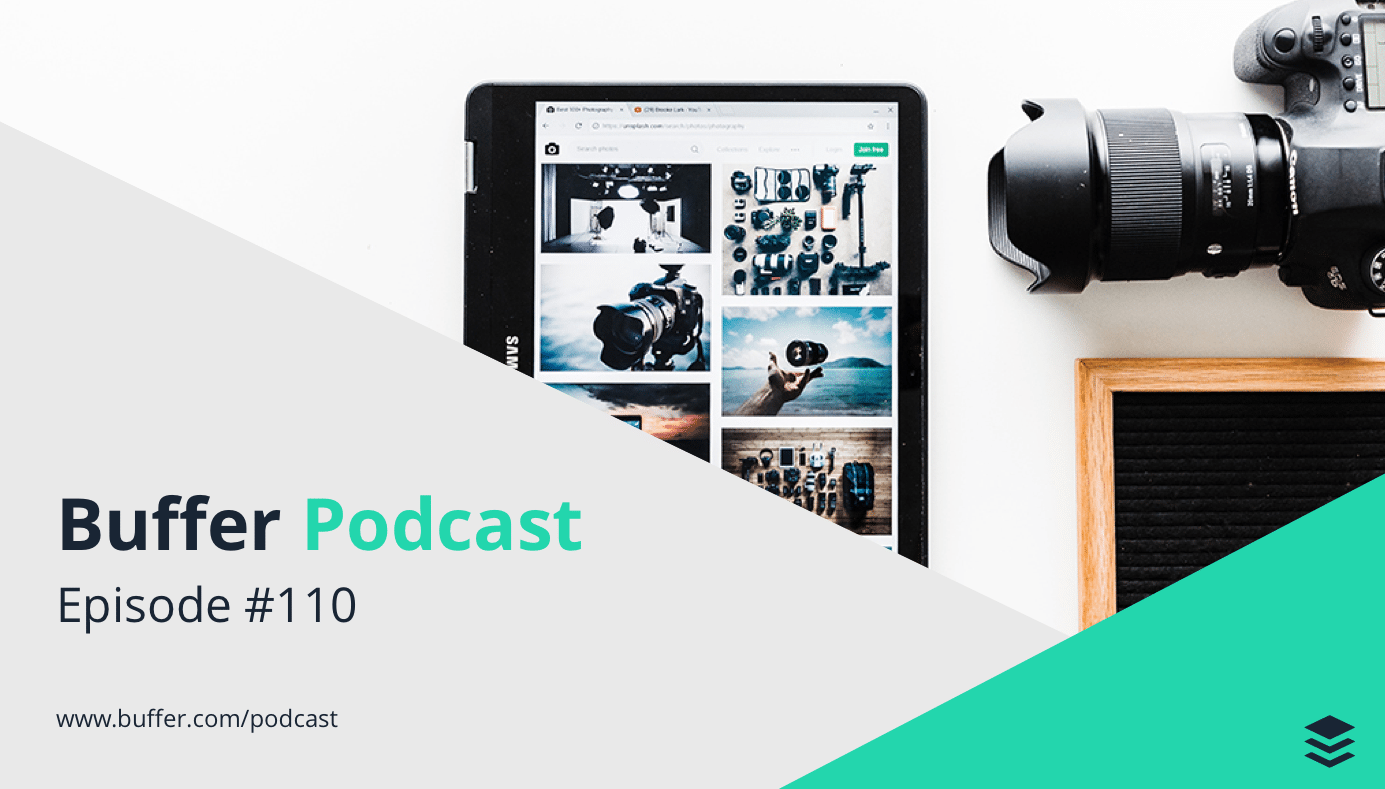 A new Facebook guide to creating video, the shift to Instagram Stories ads and Messenger, and 5 YouTube facts you can't miss [complete podcast transcript]
What follows is a lightly edited transcript of the conversation between Hailley Griffis and Brian Peters.
Brian: Hi everyone! I'm Brian Peters and this is The Science of Social Media, a podcast by Buffer. Your weekly sandbox for social media stories, insights, experimentation, and learning.
Hailley: Welcome to episode #110! I'm Hailley Griffis and this week we've got an exciting episode on the docket for you this week. Tons of interesting things to talk about in the world of social media, including a brand new guide from Facebook on creating videos, the shift to instagram stories and messenger, youtube, and more!
Brian: Usually these news-style episodes are filled with things that have already happened on social media, but this week we're looking towards the future and how your brand can stay relevant on social media in the coming weeks and months.
Hailley: Let's kick off the show!

Part I: The Shift to Instagram Stories Advertising and Messenger Engagement
Brian: Facebook is shifting gears with brand advertisers. Well, they are according to a really interesting article from Digiday.
Essentially, after years of trying to sell brands on the Facebook news feed, they're changing the pitch to Instagram.
Hailley: Brand marketers have somewhat cooled off on the news feed as an advertising vehicle because they are beginning to see it as little more than a place for less-premium direct response ads, said four ad buyers interviewed for the Digiday article.
Many big advertisers have noticed that Facebook hasn't been able to make brand budgets work in the news feed because of content competition and saturation, and so it's doubling down on its strengths — which is performance.
Brian: The Facebook news feed's original selling point was about being reach-driven, but as Digiday mentioned, over time brand advertisers have had growing concerns about the news feed being a "brand-safe" environment and whether ads there are actually seen in the feed.
Users are also pulling back from Facebook in favor of Instagram.
According to Merkle, ad-spend growth on Instagram has quadrupled (roughly 177 percent), while Facebook ad spend has only grown around 40 percent in Q2, compared to a year ago.
Hailley: To add to that, Facebook's market value last month dropped by $120 billion — the largest ever corporate loss in history — when it announced that growth would slow.
And so with places to show ads in the news feed running out, Facebook is looking to their pride and joy, Instagram, to help accelerate growth quickly.
Brian: Facebook executives, with all that is going on, said they are looking to fine-tune their pitch.
In short, and I thought this was a really great way to look at the current ad ecosystem, Facebook's news feed is being sold as a product for performance advertisers.
Instagram, with its short-form video Stories and visual content, is more of the brand-building play.
And Messenger is for brands interested in customer relationship management. Which, as we've talked about in the past, is extremely important in today's day and age.
Hailley: Agreed. It's a lot of the reason we're putting so much time and investment in building out and enhancing our product Buffer Reply. We think that customer service, monitoring, and brand management will be a critical piece of marketing strategies moving forward.
But of all of the advertising options within the Facebook ecosystem, Stories is the one that Facebook sees as its next big revenue driver.
Stories is now used by 400 million daily active users, according to Instagram.
Brian: I think one of the most interesting part of Stories, besides it's incredible growth is the idea of vertical video, which is still relatively new to so many brands.
So demand for the Stories ads product is still low, but I really believe that we will soon be at a point where a good chunk of brands and budgets are using Stories as an ad platform.
Hailley: One of the things that Instagram's really has going for them is even though their total audience is smaller than Facebook's (about half), engagement is super strong.
And I think that's in part because it's a highly visual platform where brands are almost forced to create beautiful content. Because if they don't they won't be able to compete with those that do.
On the Facebook side, as we discussed in episode 109, brands have seen engagement in the news feed drop since shifting to prioritizing user interactions over brand content earlier this year.
Brian: According to interviews in this Digiday article, Instagram's engagement can be three times higher than on Facebook and cheaper to reach. Which we've definitely experienced first-hand here at Buffer.
For example. Greg Allum, global head of social at Jellyfish, found that the CPM (or cost per 1,000 reach) on Stories is four to five times cheaper than Facebook's news-feed ads.
And for marketing software company Kenshoo's clients, the average price for Instagram Stories ads seen 1,000 times was $4.70 versus $5.34 for standard Facebook ads. Not a huge difference, but noticeable, especially at scale.
Hailley: It's pretty clear that Facebook is heavily focused on improving the creative for Instagram Stories. It does seem like they're launching a new feature every week over there.
And so for lots of brands and small businesses that means working more through influencers and improving their creatives. Creatives being video quality, audience targeting, product ads, and other things.
Eventually, of course, Instagram hopes to double down on revenue by pointing big ads budgets towards Instagram TV. The next evolution of Instagram Stories. We'll keep you posted on that here on the show.

Part II: A brand new Facebook guide to creating video on social media
Brian: Video is an opportunity that keeps growing, and it's evolving faster than ever. Vertical, square, landscape, whatever the format, the data shows that people LOVE consuming video content on social media.
Hailley: Recently, Facebook spoke with some of the top video producers on social media media and compiled their latest tips, tricks, and helpful suggestions to move your business forward with video.
We thought we'd share a few of our favorites here with you today.
Brian: At the very top of the Facebook list of best-practices is this idea of delivering personalized experiences at every touch point for your audience with video.
Which sounds great, but what does that actually mean?
On the organic side of things, that means investing in brand awareness campaigns. More often than not, people aren't looking to be sold to, at least they don't think they are.
Hailley: By creating content that's focused on brand awareness, not sales your business can accomplish a few things. One is that you'll grow engagement and trust. Top-of-the-funnel content is much more likely to be shared by users.
By simply getting in front of potential customers on social media, you'll help to increase the chances of actual sales down the road.
Brian: Exactly, and that might mean educational types of content, fun, entertaining content, contests, rewards, and more. In this stage you're focusing on providing informative and valuable interactions with customers.
Once you've got your brand awareness campaigns running, that's when you can begin to focus your efforts on moving people down the funnel.
Retargeting users who have previously viewed and demonstrated interest in your product by visiting certain pages or even added an item to their cart, is a great way to help them along.
Hailley: Right, and the video content at this stage shouldn't necessarily be sales-focused either, though it could be. Aim to give these folks reason to take the next step by inspiring them to purchase or learn more.
But be sure to be consistent with your brand and your overall narrative. At every part of the customer journey, you should be considering the relationships you are building with your audience.
Are they seeing random, conflicting ads from your brand? Or are they seeing one, cohesive story?
Brian: And I know we're not all used to creating humorous content, BUT, a breakdown of 250 video ads from 22 brands on Facebook found that humorous videos can drive a 70% higher video completion rate for informational videos and cost 60% less than emotional video ads.
Which really goes to show the psychology of people on social. I feel like when I see a funny ad I relate to it a lot more, and in turn, relate to the business a lot more. I might even share it with a friend.
Hailley: Another great tip from Facebook in this study was that you should aim to present your brand within the first 1–2 seconds of the video.
So typically you might save your logo or branding until the end of the video, but adjusting the video creative to the first 1-2 seconds can help to improve brand lift.
And make sure to tell your story with visual descriptions, including text overlays at the beginning which can provide important information and context to viewers. Studies show it helps to increase view time by up to 30%.
Brian: One part from this study that I found interesting is when they talked about video length. And I don't know why I didn't expect Facebook to say this, but they cited that to capture attention, remember that 6 and 15 seconds are the new digital standards for video.
So super short, actionable videos are where it's at in 2018. Shorter videos tend to perform better for capturing newer audiences' attention and can develop brand awareness.
Hailley: Yup, concise messaging and videos are absolutely the focus these days.
We should pretty much assume that the viewer is unaware of the video content starting out. Which means you have to give them a reason to stick around.
And when measuring the success of your videos, focus on relevancy score. Relevancy determines if your audience is stopping to watch your videos. Whether you're running direct response or branding campaigns, you need the content interesting right off the bat.
Brian: Yes, relevancy score is the main thing we look at for all of our advertising content, particularly when it comes to brand awareness. A score of 8,9 or 10 is great for top of the funnel campaigns.
And typically, we get scores of 9 or 10 when we boost organic posts or user-generated content.
I think it's because this type of content is less intrusive compared to produced ads. Users are more likely to engage longer with ads that mimic the other content in their News Feed
Hailley: Exactly and this goes back to to truly understanding your audience. We're living in a mobile-first generation and our campaigns should cater to that behavior.
For example, people are making on-the-spot decisions via their phones, does your video reflect that?
Consumers are reading reviews and doing research, does your video incorporate social proof?
Brian: Such a great way to think about it, Hailley.
Today, consumers have incredibly high expectations for right-here, right-now experiences and they are increasingly making last-minute plans. Make sure you're brand reflects those behaviors.
And speaking of mobile, Facebook recommends to not be afraid of the 3-second rule. Basically that the first 3 seconds is as long as it takes for people to decide if they'll continue watching or not.
Try and capture the viewer's attention at the beginning with a strong hook.
Hailley: And of course, if the theme or atmosphere of your content calls for a longer-form video and its performance is delivering high returns, don't be afraid to push the limits of each advertising channel.
You should absolutely be experimenting with different types of videos, lengths, styles, and format. Each brand is unique and will experience different results based on their audiences.
So just as a recap here for everyone:
When you plan, shoot and produce branded content, start with social media and mobile viewing in mind.
Brian: Exactly and make sure your creative idea can be conveyed in as little as 6 to15 seconds
Challenge yourself or your creative team to show how the video can get the same message across in a shorter timespan.
And lastly, always include captions if your video has dialogue or voiceovers. That keep your audience around and watching for longer.

Part III: 5 Important YouTube Facts You Can't Miss
Hailley: If you're ready to hear more about video, perfect, because we stumbled upon some pretty amazing YouTube facts you just can't miss as a business or brand.
But like all platforms, YouTube requires unique focus. The best practices for YouTube video won't necessarily be the same as they are on Facebook or Twitter.
Brian: With that, we've got some really awesome YouTube stats for you on how to improve your brand's performance on YouTube. And if you find these interesting, you'll love episode 95 where we talk about strategies that helped us grow our channel by more than 59% in 30 days.
Anyways, back to the stats. First is that comments are directly related to the ranking of your YouTube videos. The more comments a video has the higher it typically ranks.
Hailley: Second, longer videos heavily outperform shorter videos on YouTube. Get this, the average length of videos that rank on the first page is 14 minutes and 50 seconds.
And that goes back to YouTube being as much of a search engine as it is a social media channel. User intent is super high and so they're willing to spend more time watching content to learn.
Brian: This next stat is obvious, but worth mentioning, and that's that video views have a significant correlation with video rankings. In order to get more views to improve rankings, you have to make sure that you include keywords in your title, meta tag, and description as well as optimize the video for YouTube with things like length, keyword, research and more.
Again, all covered in episode 95 of this show.
Hailley: Next up is that subscription driven videos have a reasonably strong correlation with video rankings. In other words, videos that lead to subscriptions rank higher. That's why you always see people asking for a subscribe at the beginning and end of their videos.
It's a great tactic.
Brian: Last but not least, approximately 20% of the people who start to watch your video will leave after the first 10 seconds.
And this one does relate to most social media channels. You gotta' create a killer intro with a solid hook in the first few seconds to keep people around.
Hailley: Thank you so much for tuning in to the Science of Social Media today. The show notes for this episode are now available on the Buffer Blog at blog.buffer.com with a complete transcript.
If you ever want to get in touch with me or Hailley, we're always here for your on social media using the hashtag #bufferpodcast. You can also say hi to us anytime and hello@bufferapp.com
Brian: Yes we would absolutely love to hear from you all. Fun fact, we just surpassed 17,000 weekly listeners here on the show. Big shoutout to you all for, well, being awesome.
And a huge thank to everyone leaving iTunes reviews! Wherever you may be tuning in from and reviewing around the world, you hold a special place in our hearts.
Next two weeks we're chatting LinkedIn strategy and content discovery – a few you won't want to miss. Until then everyone!
How to say hello to us
We would all love to say hello to you on social media – especially Twitter!
Thanks for listening! Feel free to connect with our team at Buffer on Twitter, Buffer on Facebook, our Podcast homepage, or with the hashtag #bufferpodcast.
—
About The Science of Social Media podcast
The Science of Social Media is your weekly sandbox for social media stories, insights, experimentation, and inspiration. Every Monday (and sometimes more) we share the most cutting-edge social media marketing tactics from brands and influencers in every industry. If you're a social media team of one, business owner, marketer, or someone simply interested in social media marketing, you're sure to find something useful in each and every episode.  It's our hope that you'll join our 17,500+ weekly iTunes listeners and rock your social media channels as a result!
The Science of Social Media is proudly made by the Buffer team. Feel free to get in touch with us for any thoughts, ideas, or feedback.