The thing we love most at Buffer is to help you succeed at social media. And a key part of social media success is knowing which goals and targets to set for your team.
Without goals, it's hard to know exactly how well your social media strategy is performing and where you need to iterate to continue moving forwards.
Today I'd love to share with you a bunch of super-actionable social media goals you can use to help your team achieve great things. In total, we'll walk through 9 very different, but effective social media goals and for each goal we also relevant metrics to track and share how to measure your results.
Let's get started…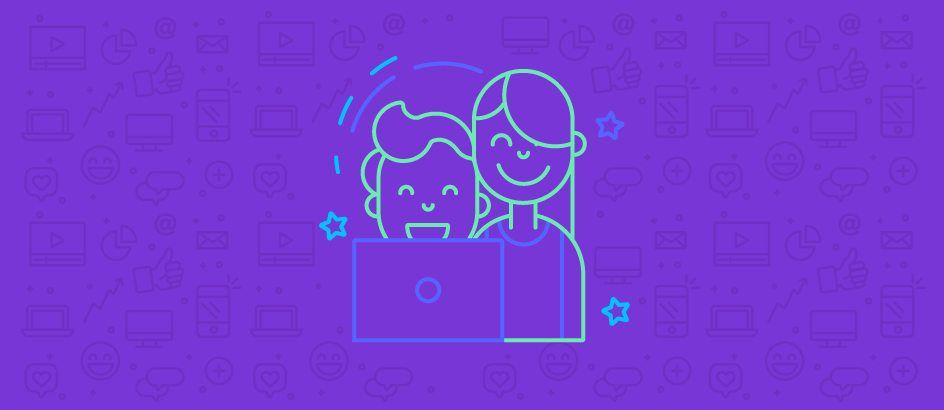 9 social media goals for your team (and how to track them)
Social media isn't only a marketing tool, it can affect almost every area of a business – for example, as we discovered in our State of Social 2016 report, social media is a key channel for brand awareness, engagement, lead generation, customer support and much more.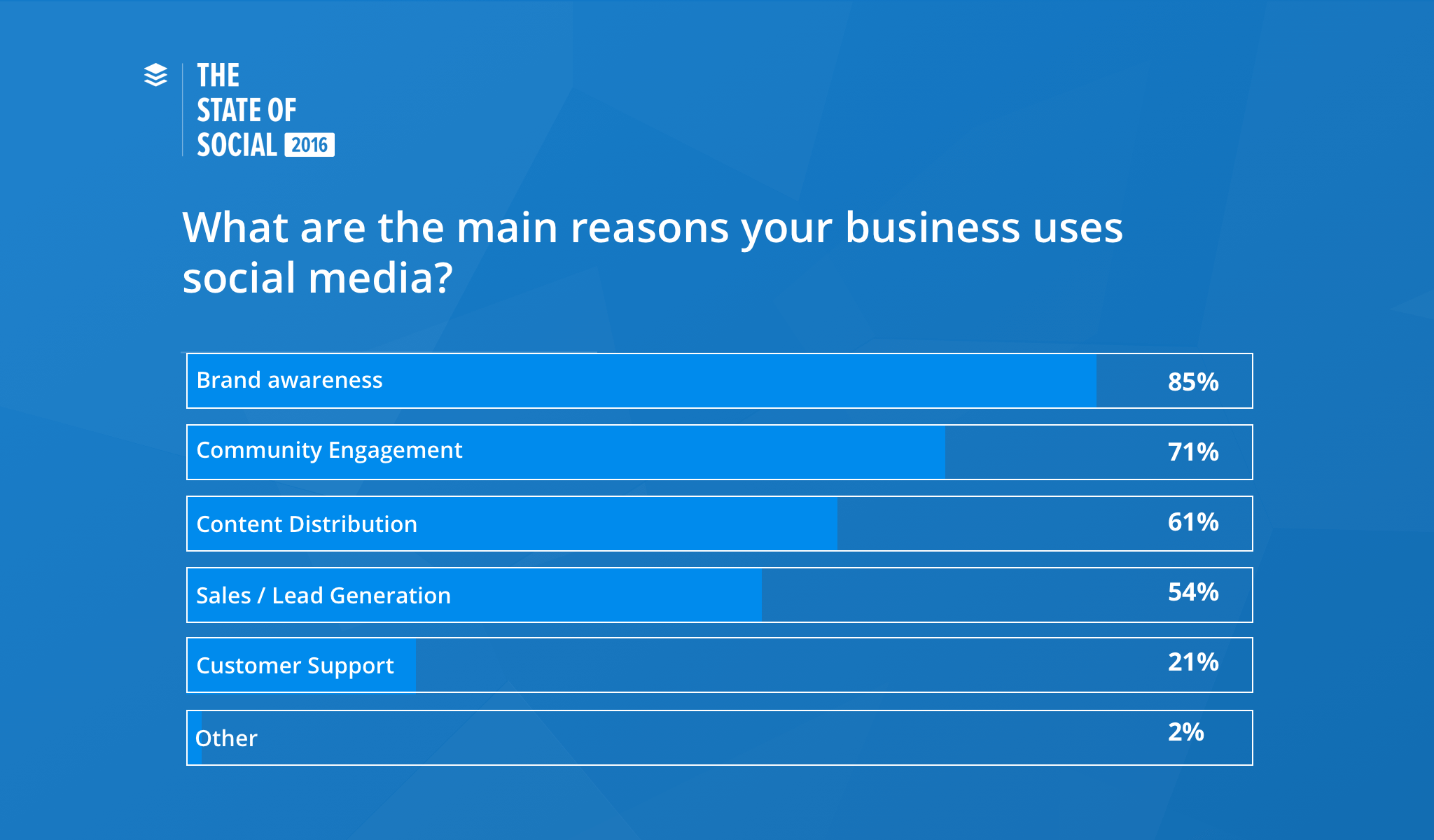 So, in 2017, we know that social media can aid businesses in many ways, but how can we ensure we're getting as much value as possible from the time and resources we put into social media?
One way is by setting goals. And a super-interesting piece of research I found, shares that goal setting can have a significant effect on an individual's performance and happiness.
In 2010, a group of researchers in Canada studied the effect of goal-setting on the academic performance of 85 students. After four months, they found that the group that went through an intensive goal-setting program achieved significantly better results and than the control group.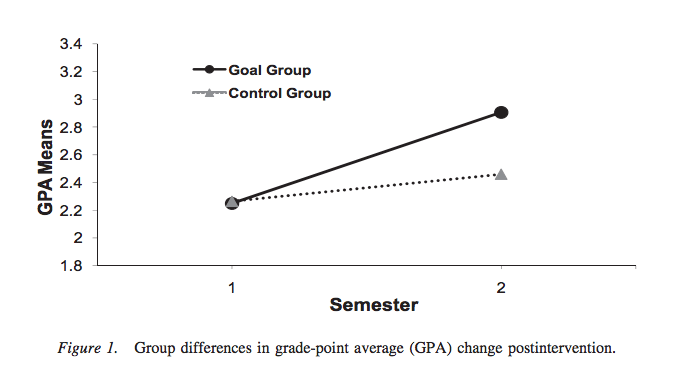 If you want to stay motivated and achieve more results for your company through social media, science recommends setting goals. But which goals should you set?
Below is a list of 9 ultra-effective social media goals to help you maximize your returns from social media:
1. Increase brand awareness
According to our recent State of Social Media 2016 survey, brand awareness is the top reason marketers use social media. It's easy to understand why: The average person spends nearly two hours on social media every day, and therefore social media is one of the best places to grab consumers' attention.
Social media has also enabled marketers to have a more quantitative understanding of their brand's presence and reach in the online world. And now most social media platforms provide data on the reach of your content, allowing you to report your online presence more accurately.
Potential metrics to measure brand awareness:
Followers count – "How many people can you potentially reach?"
Reach of your social media posts – "How many people have do reach each day / week / month?"
Mentions, shares, and RTs – "How many people are talking about your brand or sharing your social media posts?"
How to track brand awareness:
While most social media platforms provide native analytics, third-party management tools make tracking and reporting brand awareness metrics much easier. For example, using Buffer Analyze, you can find out your followers growth and reach on the various platforms.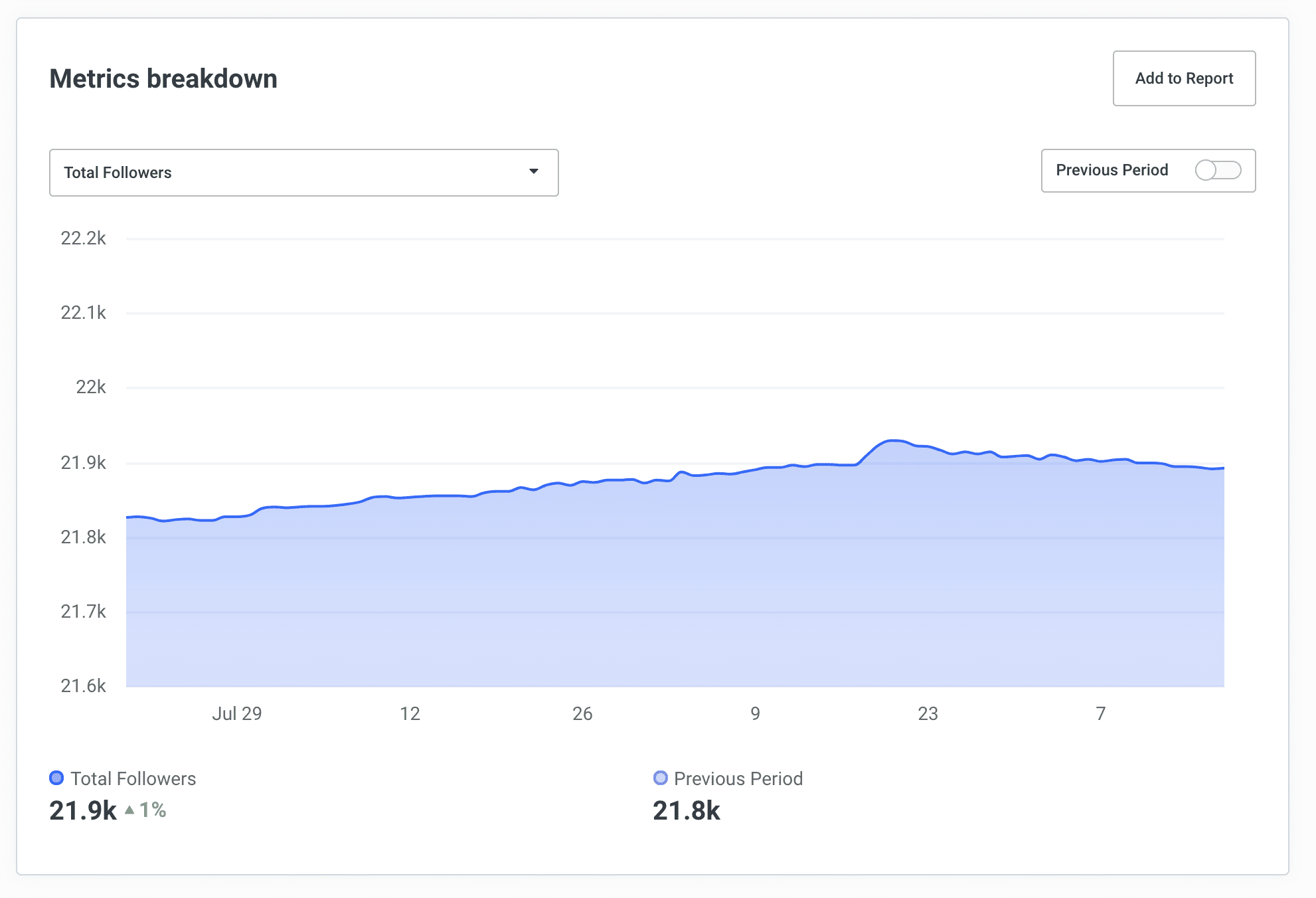 To do this in Buffer, select the account you are interested in and head to the Analytics and then Analysis in the sub-menu. Next, to see your followers growth and reach, select "Followers" and "Reach" from the two drop-down menus.
2. Drive traffic to your website
One step further from having a brand presence on social media is driving visitors to your website or blog, who might turn into your customers.
Three in five marketers use social media to distribute their content and drive traffic to their sites. A team at HubSpot, for instance, grew their monthly blog traffic by 241% over eight months through social media experiments.
Potential metrics to measure traffic:
Traffic from social media – "How many visitors are coming from your social media channels?"
Share of overall traffic – "How much of your overall traffic does social media account for?"
Bounce rate of social media traffic – "What is the quality of the traffic from social media?"
Clicks on your social media posts – "How well is the messaging of your social media posts?"
How to measure traffic to your website:
Google Analytics is probably one of the easiest tools for tracking web traffic. It provides you with information about your website or blog traffic from various traffic sources, including social media.
To understand the traffic from your social media channels, go to Acquisition > All Traffic > Channel.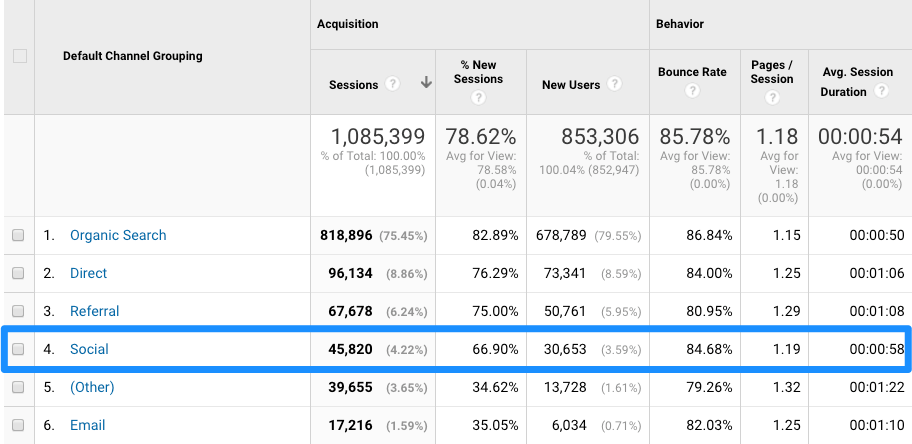 This view shows you the number of visits from each channel, the share of overall traffic (the percentage in brackets), the bounce rate, and more. For instance, in the image above, you can see that social media drove about 46,000 visits, which accounts for about 4 percent of the traffic.
You can break this data down even further in Google Analytics by clicking on the 'Social' link and seeing which platforms were driving that traffic: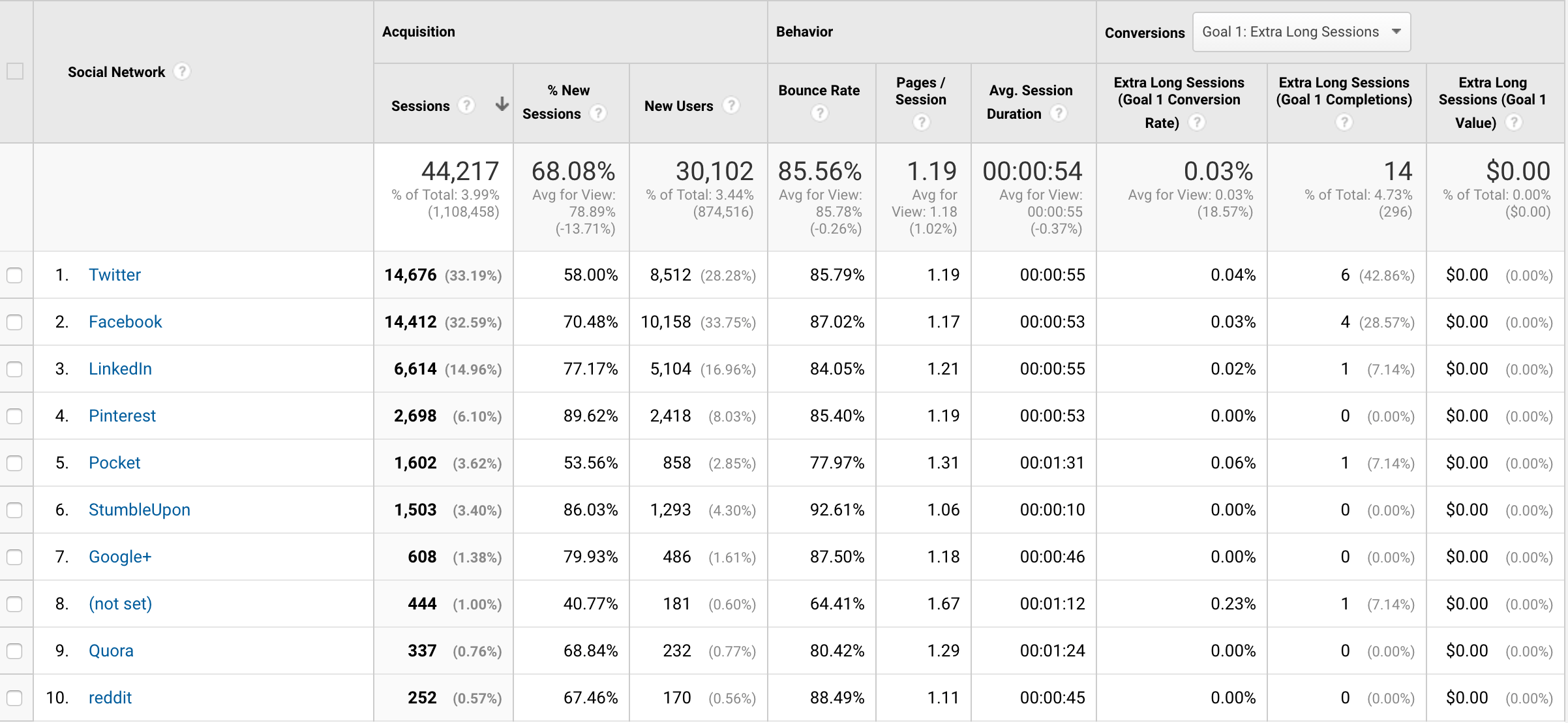 3. Generate new leads
Lead generation is typically used by companies with a long sales process, such as enterprise software companies.
According to HubSpot,
It's a way of warming up potential customers to your business and getting them on the path to eventually buying.
This "path" is essentially your sales funnel. With the huge number of people you can reach, social media can be a great tool for getting people to the top of your funnel (or warming them up to your business).
The definition of a lead is quite broad, but it usually means that the person has provided your company with some form of information about themselves such as their name, email address, and similar. There are many ways to track your social media lead generation efforts and the list below includes a few of the more common metrics to track to quanitify your social media leads.
Possible metrics to track lead generation:
Personal information (usually email addresses) collected through social media – "How many leads have you collected through social media?"
Downloads of your gated content – "How many people visited from social media and downloaded your gated content?"
Participation – "How many people participated in your social media contest or events and shared their information with you?"
Clicks on your lead-generation social media posts – "How well is your messaging on those posts?"
Conversions of leads from social media – "How good are the leads from social media?"
How to track social media lead generation:
Google Analytics is extremely powerful and if you have some conversion goals set up, you can effectively track your social media lead generation using Google Analytics reports. (If you haven't quite set up any conversion goals in Google Analytics, here's a comprehensive guide on how to do so.)
Once you've got a conversion goal set up, to view reports, go to Acquisition > Social > Conversions within Google Analytics and ensure you select the conversion goal you're looking to measure. You should then see a screen like this:
The conversion report will then show you how many leads your social media channels are bringing in or which channel is bringing in the most leads.
Other analytics tools like KISSmetrics and Mixpanel can also tell you such information (and perhaps in greater detail).
4. Grow revenue (by increasing signups or sales)
If you don't have a long sales process, you can use social media to turn your audience into paying customers directly. For example, social media advertising, such as Facebook ads, is a becoming an increasingly popular strategy to boost sales.
Possible metrics to measure revenue growth:
Signups / Revenue – "How many sign ups or how much revenue is your social media channels bringing in?"
Revenue from ads – "How much revenue is your social media advertising bringing in?"
How to track revenue growth:
Again, you could track revenue in Google Analytics by setting up a new goal conversion. But this time, you'd need to assign a dollar value to each conversion: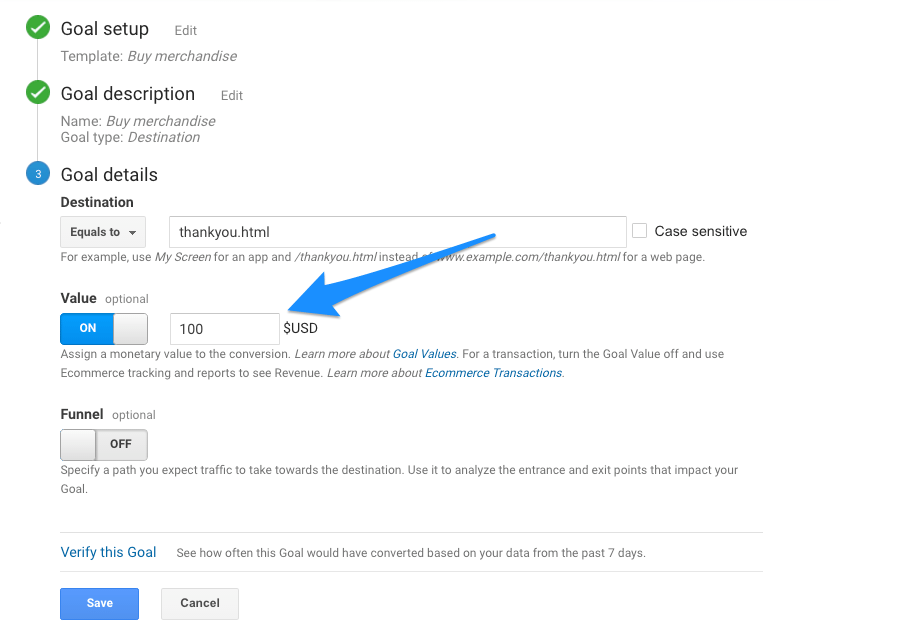 If you are an e-commerce site, Google Analytics' Ecommerce Tracking might be more appropriate. And if you are using Facebook ads, you can also set up conversion tracking with the Facebook Pixel and attribute values to the conversions. Here's a great beginner's guide to the Facebook Pixel by Shopify.
5. Boost brand engagement
Engagement is the second top reason why marketers use social media. And research has found that social media interactions improve brand perception, loyalty, and word of mouth recommendations.
Furthermore, social media platform's algorithms, such as those on Facebook and Instagram, are prioritizing posts with higher engagement on their feeds due to the belief that users will be more interested in seeing highly engaging content.
To summarize, if you want people to see your social media posts, you have to produce enagaging content and respond to your community.
Potential metrics to measure engagement:
Likes, shares, and comments per post – "How many people are interacting with your social media posts?"
Mentions and replies – "How many people are mentioning your brand, and how many have you replied to?"
How to track engagement:
Just like brand awareness metrics, you can manually track engagement metrics through the social media platforms themselves (Facebook Insights or Twitter analytics, for example) or you could use a social media management tool to help you.
For example, with Buffer, you can view all your social media posts by platform and filter your most engaging posts. For example, here's out 'Most Shared' Facebook post from the past 30 days: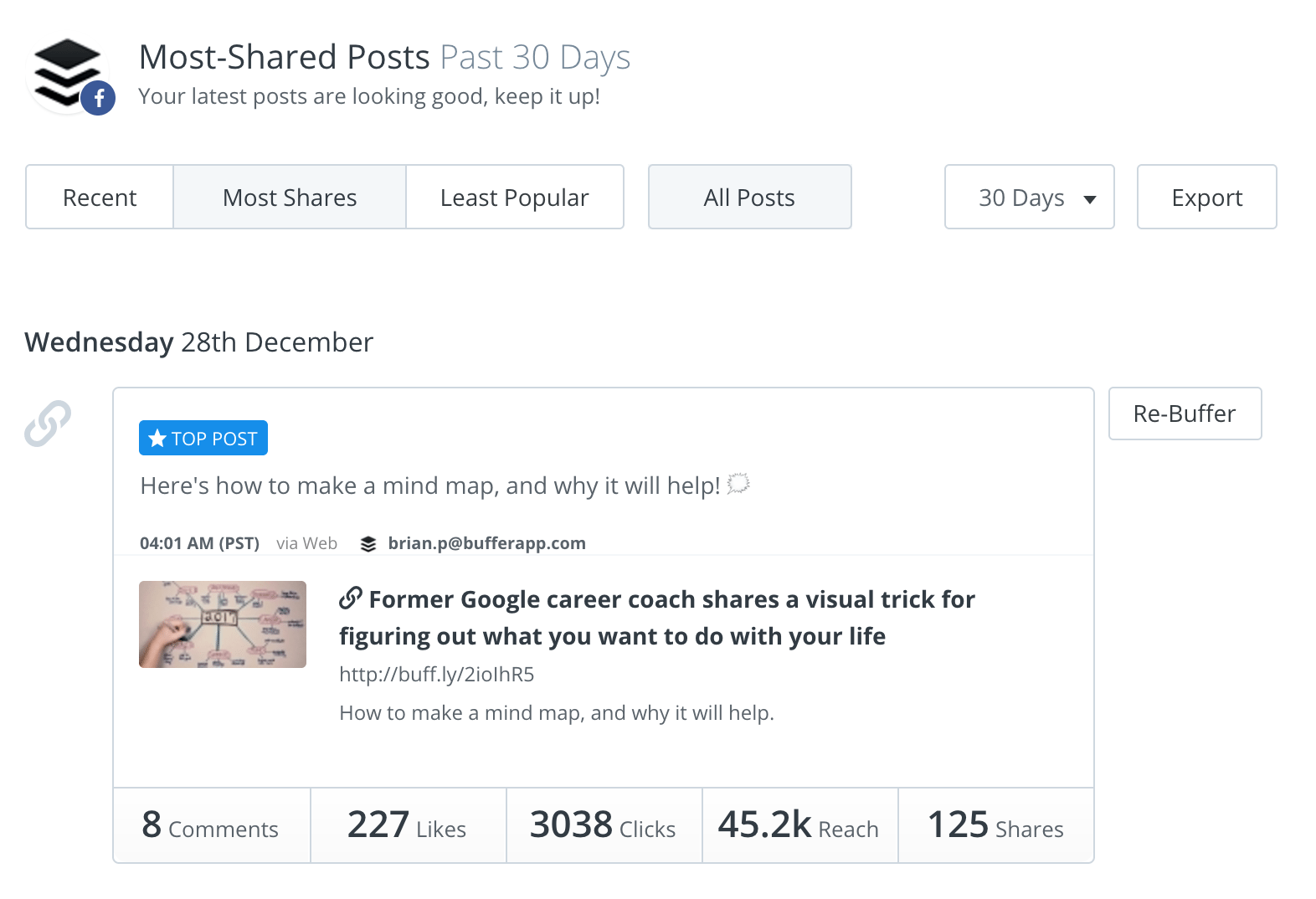 6. Build a community around your business
Tracking audience numbers such as total followers and fans is great, but we've also noticed a rise in the number of closed communities and chats business have been focusing on over the past year-or-so. For example, we run #Bufferchat every week on Twitter, we also have a Slack Community (and some businesses are even experimenting with Facebook groups, too.)
The types of goals you want to set for these communities may feel very different to your overall fan / follower growth goals and of course, the type of community you choose to build will have an effect on the metrics you choose to measure success by.
Here's a list to get you started:
Possible metrics to track community building:
For Facebook groups: Number of posts, likes, and comments – "How engaged is your community?"
For Twitter chats: Number of participants and tweets per participant – "How many people are involved in your Twitter chats, and how engaged are they?"
For Slack communities: Number of daily active users – "How many people are actively involved in your Slack community?"
How to track community building:
There are many great tools that can help you track such data automatically. For Facebook groups, there are Grytics and Community Analytics. For Twitter chats, there are Keyhole and Hashtracking. While most of these tools aren't free, they provide free trials for you to see if they suit your needs before you pay for them.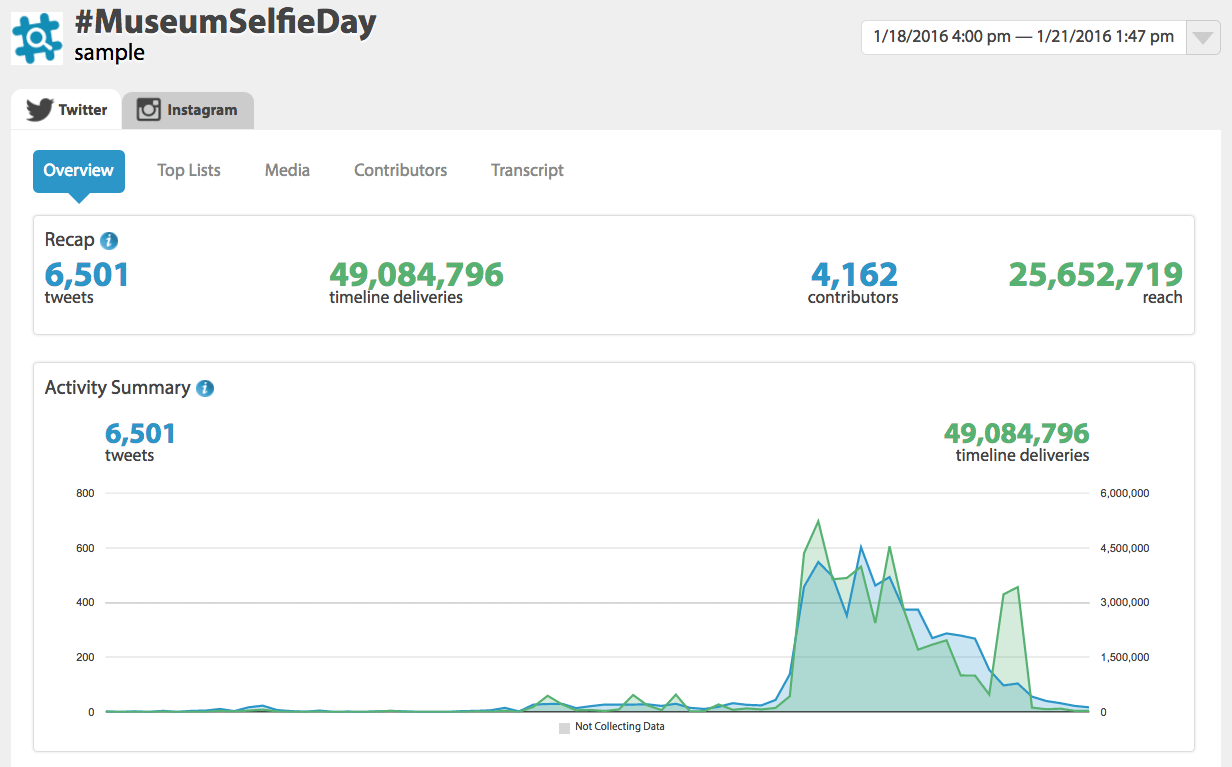 If you don't have the budget to pay for such tools at the moment, manually counting and recording the numbers in a spreadsheet is entirely possible, too! I also find that manual tracking helps me understand the data better in the beginning (though, it might get too tedious eventually).
7. Effective social customer service
Having a good customer service on social media can help to increase revenue, customer satisfaction score, and retention. But in our State of Social Media study, only one in five respondents (21%) said that they use social media for customer support.
The trend of people turning to social media for customer support will likely continue, and we think there's still a huge opportunity for businesses to differentiate themselves from their competitors with great social media customer service.
Metrics to track your customer service effectiveness:
Number of support questions – "Is there a demand for social media customer support for your company?"
Response time – "How fast are you getting back to your customers?"
Customer Satisfaction Score (CSAT) – "How satisfied are your customers with your service?"
How to measure your customer support effectiveness:
If you have a low volume of customer support inquiries on your social media channels, you could manually track the number of support questions and your response time. Otherwise, using a social media customer service tool will likely be more efficient. For example, in Respond, our social customer service software for support teams, you can access to data, such as Average Time To First Reply.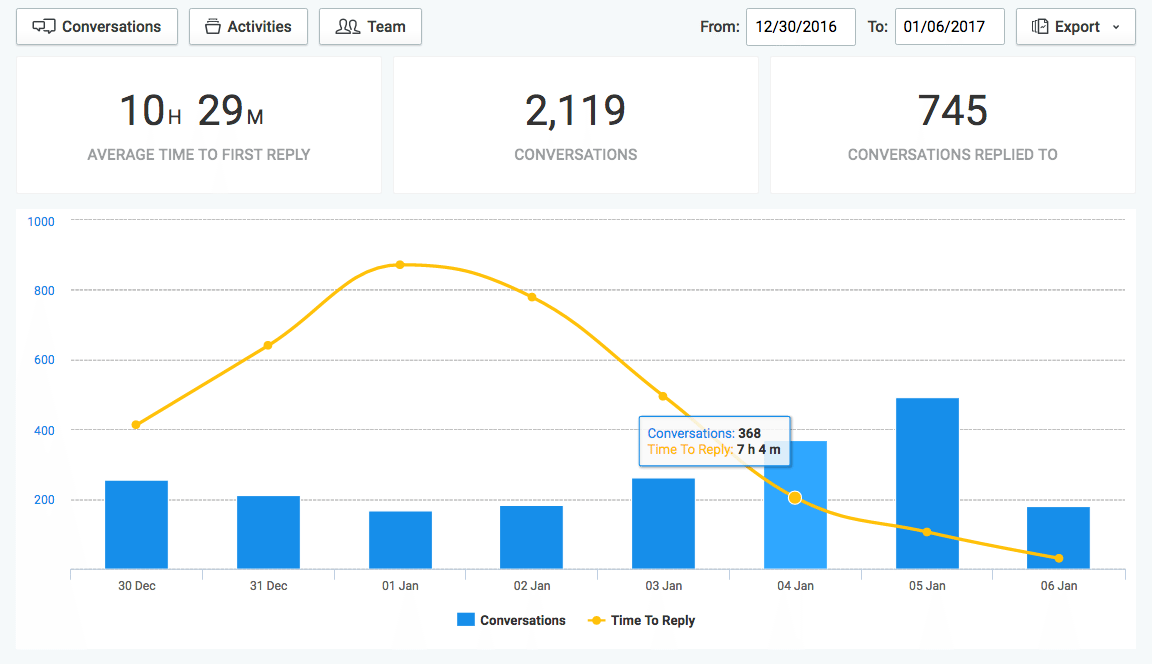 8. Increase mentions in the press
Despite the fact that social media has enabled companies to own their news and share stories directly with their fans and followers across social media, the press and media can still drive significant results and PR still plays a key role in many businesses' marketing strategies.
This makes it easier to build relations with relevant publication journalists for getting press mentions and to build thought leadership in the industry.
Possible metrics to measure your PR success:
Potential reach – "How many people did a PR campaign potentially reach through social media?"
Shares and mentions – "How many people are sharing or talking about your thought leadership articles?"
Influencers – "How many and who are the influencers or journalists talking about your articles? What's the size of their following?"
Outreach – "How many people are asking your company about industry-related questions? How many journalists are asking questions about your company through social media?"
How to track your PR mentions:
If you are just starting out, it might be possible to manually track all the social and press mentions of your company. When it comes to hard to keep up with the mentions (congrats!), Mention is a great tool for tracking mentions on social media.
To start tracking mentions of your company, there are three simple steps:
List the keywords you want to track
Set up your priority pages (pages that you wish to be notified about when they are shared on social media)
Select places where you want Mention to be tracking (e.g. Twitter, Instagram, and Pinterest)
If you go to Dashboards > Listening, you can see the data of the mentions. From here you can begin to discover and filter the most important and furthest reaching mentions of your brand.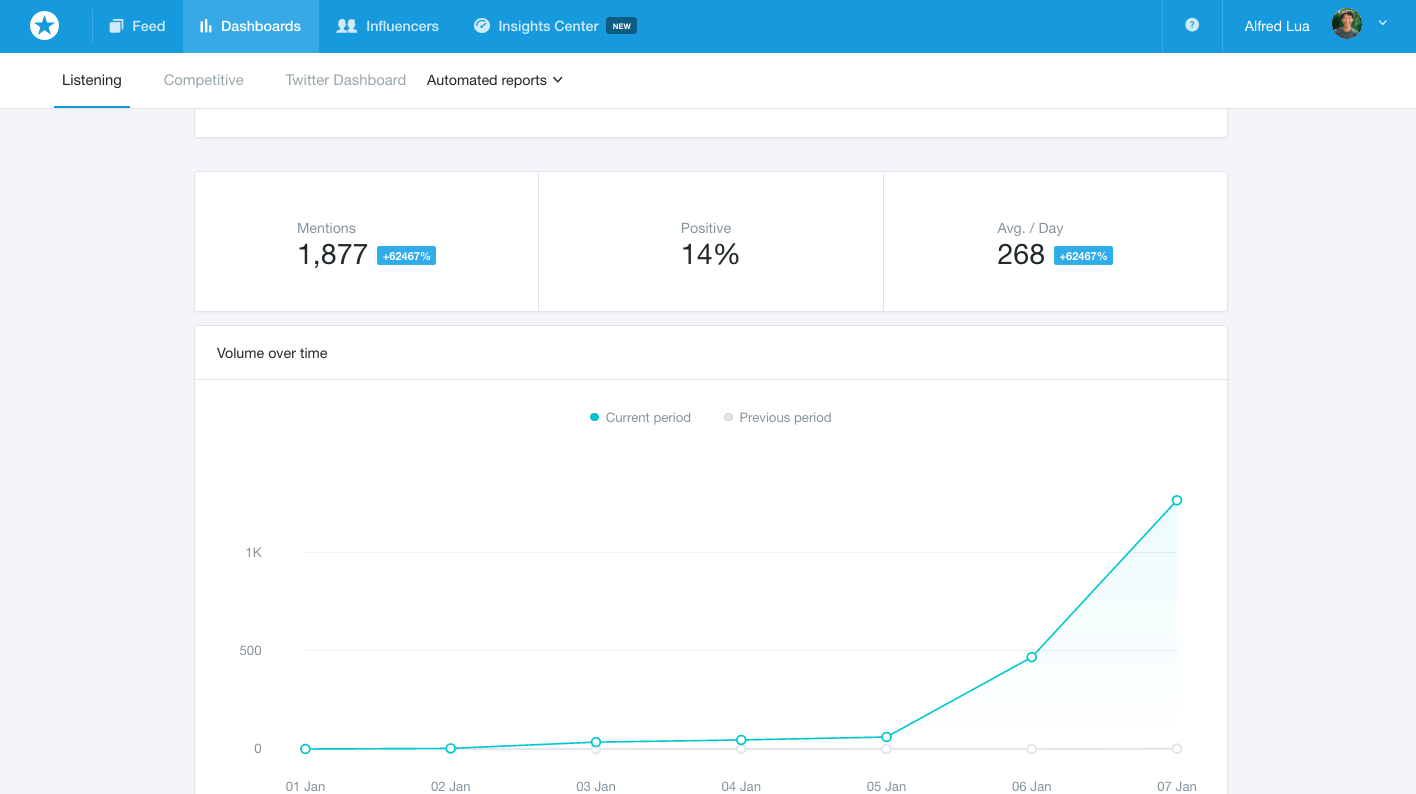 9. Never miss a mention through social listening
Social media has brought businesses and their customers closer and now it is much easier for customers to share their feedback with companies than it ever has been before. It has become a common trend for customers to air their thoughts about products and companies on social media. By catching and replying to these posts, your customers will feel heard.
Possible metrics to measure social listening:
Customer conversations – "How many conversations have you had with your customers on social media?"
Suggestions or feedback from social media – "How many suggestions are you getting from your customers through social media?"
Product/content improvements made from those suggestions – "How many of the suggestions influenced your product development or content production?"
How to effectively listen to social media conversations:
TweetDeck is a great, free tool for social listening and research on Twitter. By setting up the right keyword searches, you can capture and respond to the relevant tweets from your customers.
For example, if you have tweeted us about our iOS app, you might have received a reply from Andy, one of our iOS developers. He uses TweetDeck to "listen" for and reply any tweets about our iOS app.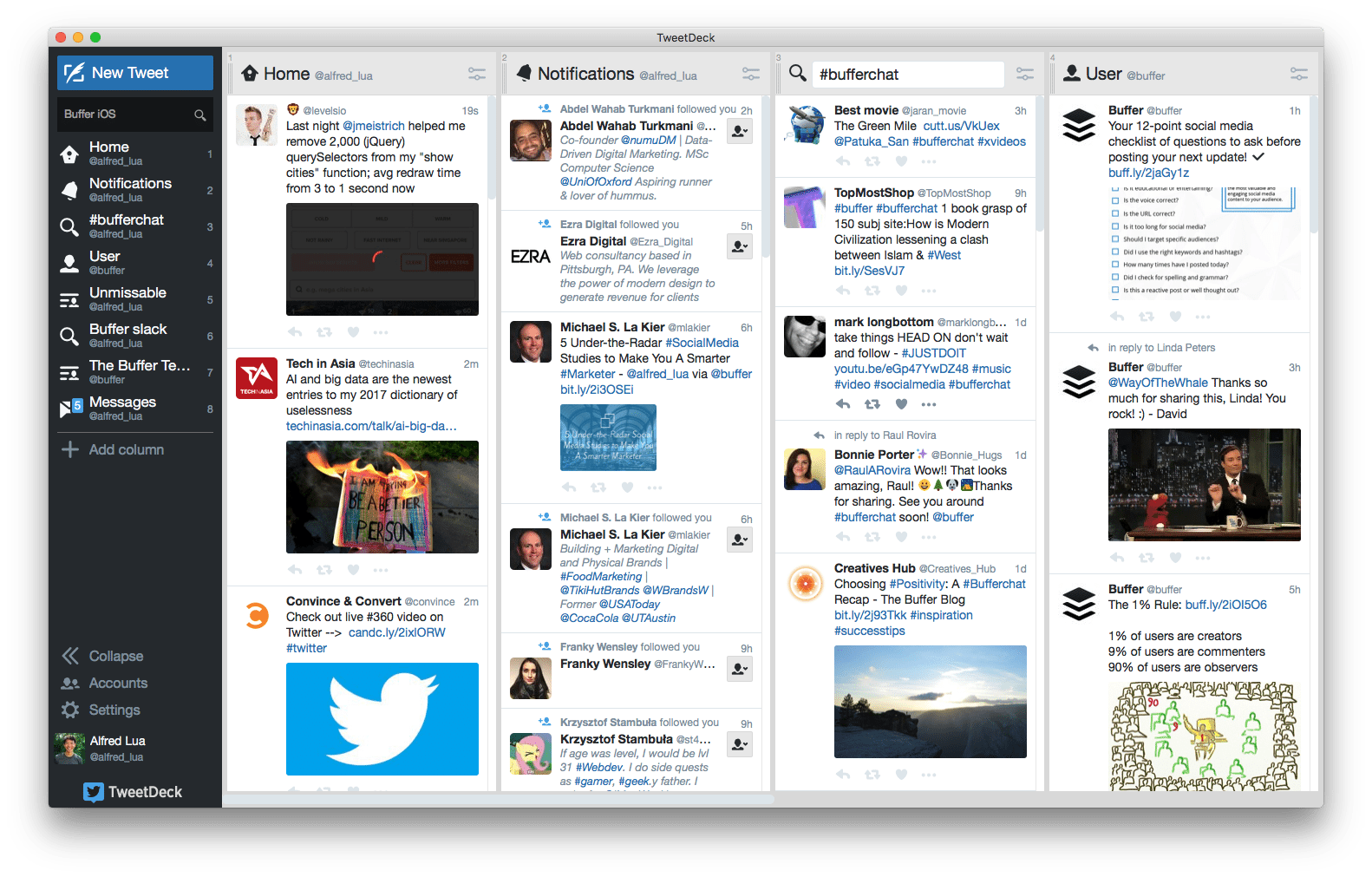 Top tip: As most social listening tools allow you to track keywords, you could even surprise and delight your customers when they didn't tag you in their social media posts. For example, at Buffer was keep an eye on all Tweets mentioning 'Buffer' as well as those that mention our handle '@Buffer'.
What are your social media goals?
With the social media landscape moving so quickly, new goals and ways to measure success are regularly emerging and I'd love to hear what goals you're currently focused on:
What social media goals do you use?
What new social media goals or use cases do you think will emerge in 2017, and why?
I'm excited to continue the conversation with you in the comments section below! Thank you.