We are very grateful for all the research that has been done on social media.
Social media studies have given us great ideas to improve our social media marketing, helped us understand the psychology behind social media behaviors, and made us better marketers.
To help you better understand the ever-changing social media landscape, we jumped into the latest social media research papers, hoping to discover some under-the-radar insights to help supercharge your social media marketing strategy as we head into 2017.
In this post, I'd love to share what we discovered and bring you some insightful and surprising social media studies of 2016, sharing the key findings and actionable takeaways you can try today.
If any of these studies inspired you with more ideas to experiment with, I'd love to hear from you!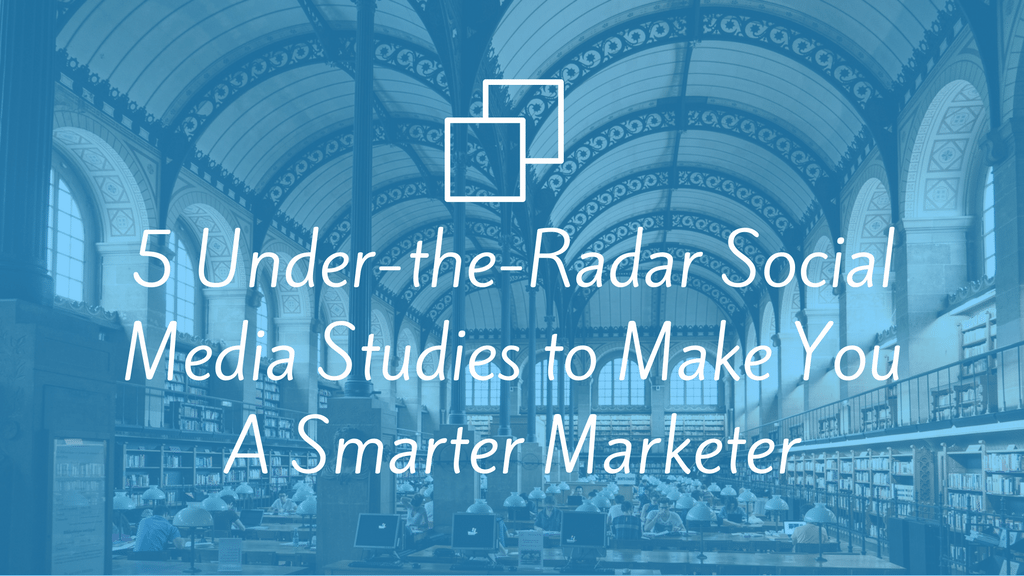 1. Facebook is more than 2x as popular as the next most-popular social network
79% of U.S. adults are on Facebook, more than twice the percentage of adults on Instagram (32 percent)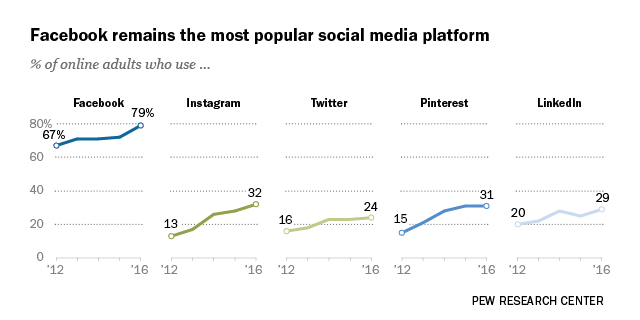 Surveying 1,520 U.S. adults above the age of 18, the researchers found that Facebook is still the most popular social media platform — and by a huge margin. The percentage of U.S. adults on Facebook (79 percent) is more than twice the percentage of adults on Instagram (32 percent), Pinterest (31 percent), LinkedIn (29 percent), or Twitter (24 percent).
It's also interesting to note that percentage of adults on Instagram has risen significantly over the last few years (from 13 percent to 32 percent), Pinterest has also seen a similar curve with 31 percent of U.S. adults now using the platform – that's just 1% less than Instagram.
The researchers also discovered that Facebook users are much more engaged than other social media platform users. 76 percent of Facebook users use it daily — 55 percent visit several times a day, and 22 percent visit once per day. This is a quite substantial increase from the 70 percent reported in 2015.
Instagram, coming in second, has 51 percent of its users using it daily.
(If you want to find out more, the report by the Pew Research Center also goes into the demographics of users on these social media platforms such as gender, age, education, and income breakdowns. It could be handy for creating your marketing personas.)
Key takeaways for marketers
As we discovered in our State of Social Media 2016 report, Facebook is one of the best platforms for marketers to reach their audience. Facebook's newsfeed algorithm seems to be prioritizing videos at the moment, so I'd recommend experimenting with videos and Facebook Live videos. If you have the budget, Facebook ads is a popular option among marketers, too.
Alternatively, Instagram is a very promising platform, too. If you are interested, we wrote a complete guide to Instagram marketing (which is one of our most popular posts recently).
2. Over 1/3 of Instagram users are on Instagram for surveillance (yes, surveillance!)
Knowledge-gathering is the No. 1 reason people use Instagram, followed by Documentation
Have you ever wondered why your followers chose to use Instagram? Research says: to keep tabs on you (and your brand).
A research team at the University of Alabama performed a study on the motivation for using Instagram. They asked over 200 undergraduate students how often they use Instagram for each of 20 given reasons such as "to follow my friends," or "to depict my life through pictures." Here's the full list:

After analyzing the results, the research team narrowed down the 20 reasons into four main motivators for using Instagram:
Surveillance – People use Instagram to keep up with or gain knowledge about what others such as their family, friends, and strangers are doing.
Documentation – Many use Instagram to document moments of their lives, and Instagram becomes a virtual photo album for those key moments.
Coolness/Popularity – People use Instagram to appear cool and to gain popularity. Having a following and receiving likes satisfy our psychological need to feel seen and valued.
Creativity – People use Instagram to portray their skills by posting creative posts.
Here's how I'd look at the findings: When someone chooses to use Instagram, 36 percent of why they use Instagram is because they want to know what others (or your brand) are doing, 10 percent is because they want to document moments of their life, 8 percent is because they want to be cool and popular and 6 percent is because they want to show off their creativity. The remaining 40 percent was not accounted for by the study.
All four motivators lead to more time spent on Instagram — but in different ways. Here's a chart showing the relation of motivations to activities: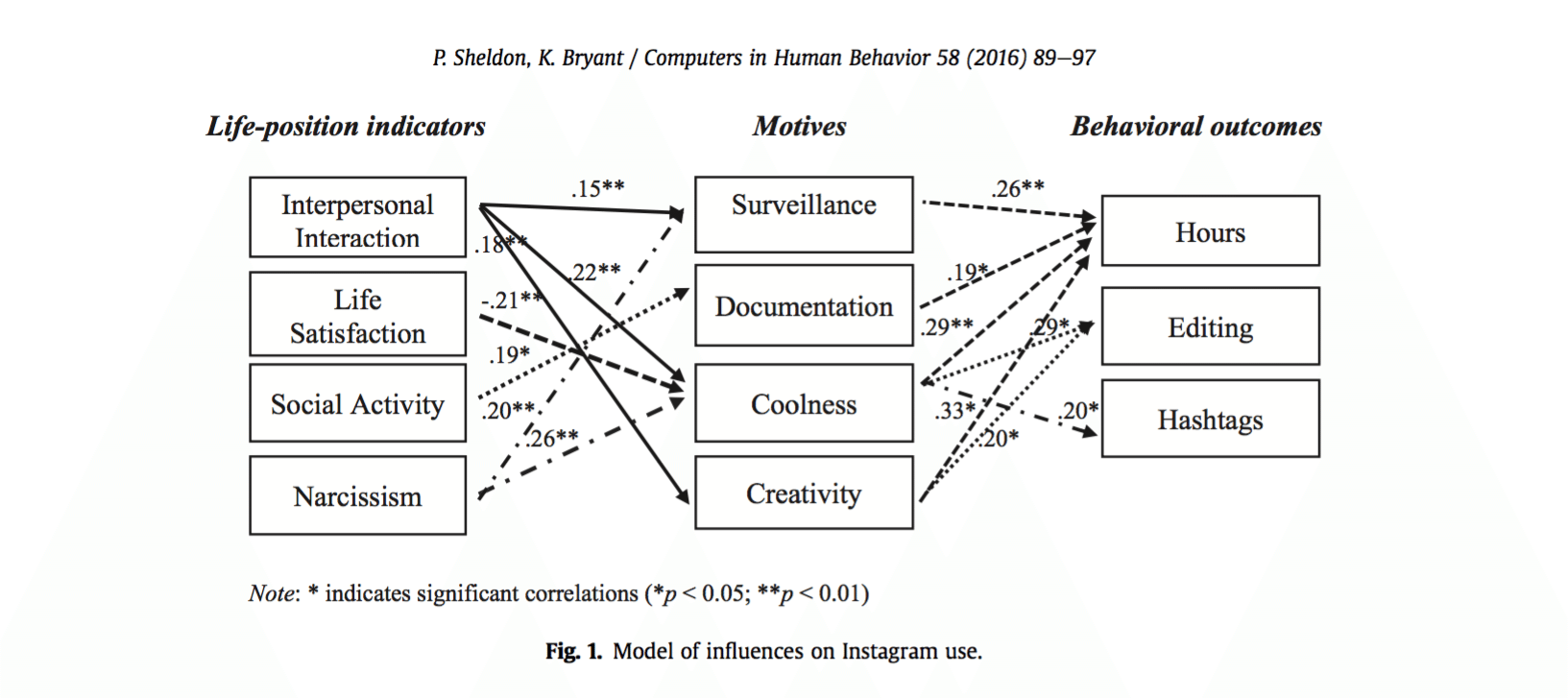 People who are driven by any of these four motives tend to spend more hours on Instagram than those who are driven by other motives not accounted for by the study.
Instagram users who want to appear cool or creativity tend to spend more time editing their photos than those who are motivated by other reasons.
Those who use Instagram particularly to appear cool and to gain popularity tend to use hashtags more frequently than the rest of the users.
Key takeaways for marketers
Understand your audience's habits and motivations for using Instagram or other social media platforms. This can inform your strategy for each social media platform.
For example, on Instagram, you can fulfill your followers' desire to know more about you and your brand by revealing more about yourself or your customers (through user-generated content).
3. 62% of US adults get news on social media
Most get news from Facebook, followed by YouTube, then Twitter
Social media has changed the way we consume news. Instead of watching the TV, listening to the radio, or reading the newspapers, more people are choosing social media as their source of news.
Through a survey of 4,654 U.S. adults, the Pew Research Center found that 62 percent of US adults get news on social media, with 18 percent doing so often. Back in 2012, the figure reported, based on a slightly different question, was only 49 percent.
Looking at the breakdown for each social media platform, the researchers found that 44 percent of the population uses Facebook to get their news. Interestingly, YouTube is the next platform with 10 percent of the population getting their news from there.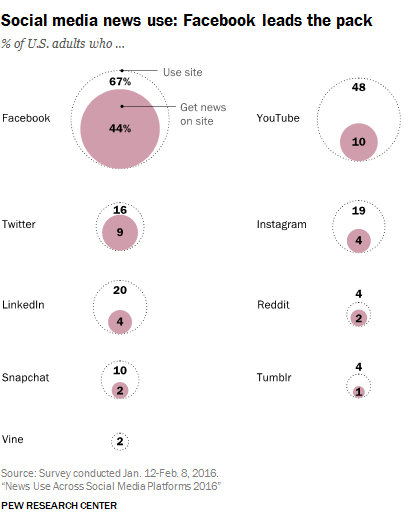 The researchers also discovered that Facebook, Instagram, and YouTube users tend to chance upon news when they are doing other things online. On the other hand, LinkedIn, Twitter, and Reddit users are slightly more likely to be seeking for news online.
Takeaways for marketers
You can take advantage of this trend by sharing news relevant to your audience on your social media profiles. Sharing great, relevant content can be a way to establish your brand's authority in the field.
In our case at Buffer, we see great engagement when we share the latest and most interesting social media news with our followers.
4. Social media is proven to increase consumer loyalty
Social media engagement improves brand perception, loyalty, and word of mouth recommendations
Social media spending is on the rise — 42 percent of marketers said their budget has increased this past year while only 7 percent saw a fall in their budget. But there has been little research on the effects of social media interactions on consumer-brand relationships.
This prompted a group of U.S. researchers to investigate how social media interactions with brands influence consumers' perception of the brand, their brand loyalty, and their word-of-mouth recommendations.
Overall, they found that consumers who engage with their favorite brands on social media have stronger relationships with those brands than those who don't. They are more likely to have a better evaluation of the brands, stay loyal to the brands, and recommend the brands to others.
They also discovered that this effect is influenced by how humanized the consumers feel about the brand. If they feel connected to a brand like they do with another person, the relationship is stronger than when they view the brand simply as an object.
Key takeaways for marketers
Be on social media and be social. It isn't enough to be on social media to promote your content. Your followers want to be heard.
Engage with your audience and make them feel connected to you. At Buffer, we try to reply to every tweet about us and every comment on our Facebook, Instagram, and LinkedIn posts.
5. The three types of gamification that increase social media engagement
Challenges, curiosity, and fantasies drive likes, shares, and comments on Facebook
So how do you engage your audience? According to this study, gamification could be one of the best ways.
Two researchers in the U.S. studied over 200 Facebook posts by Walmart to determine how gamification can drive more social media interactions.
They found that the use of gamification elements in social media posts generally led to high levels of engagement. On the flip side, posts without gamification elements had low levels of engagement.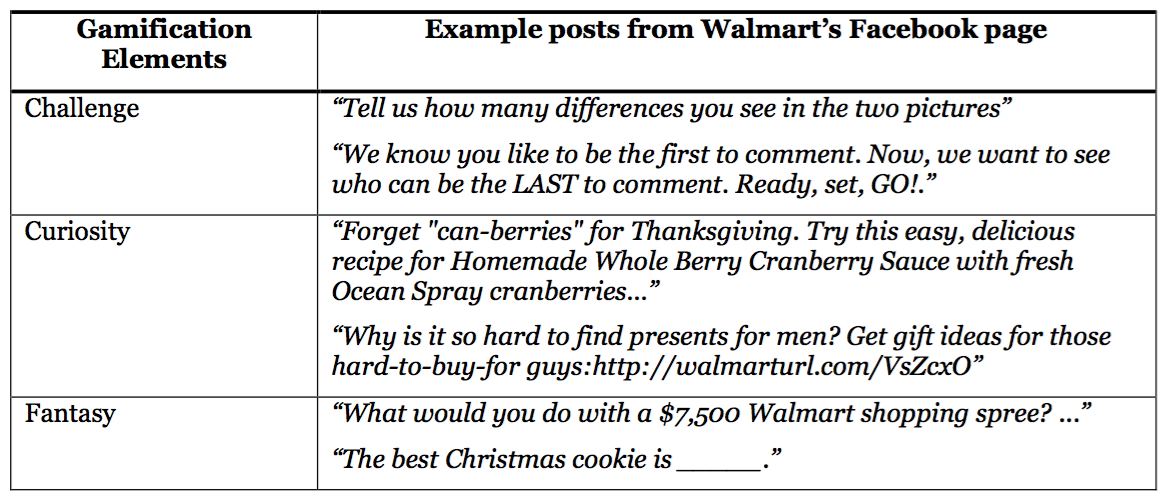 The researchers found three successful gamification methods:
1. Challenge: Posts that elicited a challenge tend to receive a high level of engagement if the challenge requires little effort. For example, this simple challenge to spot the number of differences in two pictures generated over 9,100 likes and 2,900 comments.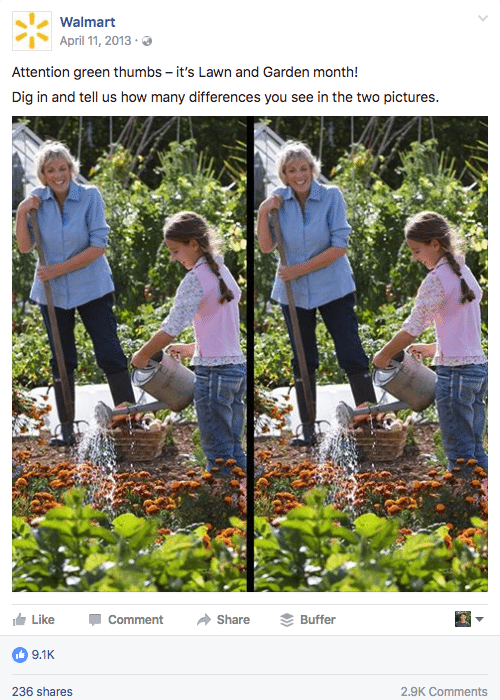 In contrast, when the challenge requires a great amount of effort, the social media posts had little engagement. For instance, this post asking fans to post a photo was less well-received by Walmart's Facebook fans.
2. Curiosity: Posts that sparked and fulfilled curiosity for fans worked really well for Walmart. There's a little caveat: only if there wasn't a link in the post. The researchers hypothesized that links redirect fans away from the Facebook page.
One of Walmart's top posts was an image of a biscuit recipe with a simple caption, "Boring biscuits? No way! Try this Sweet Potato Biscuit recipe." It was shared more than 3,500 times! As fans could view the recipe and engage with the post immediately without having to leave Facebook, they were more likely do to so.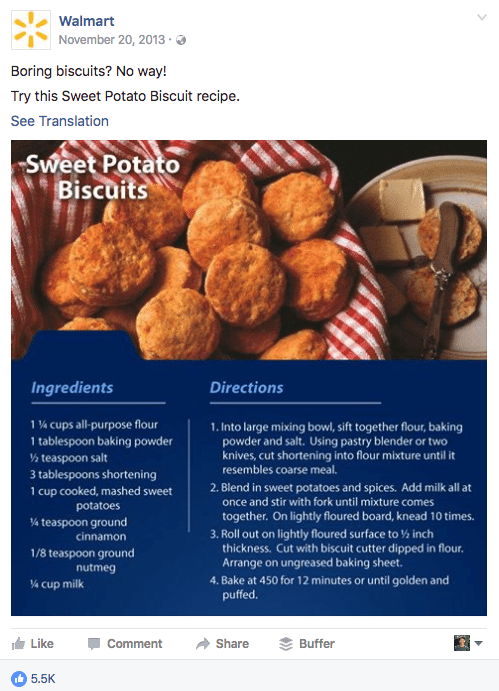 3. Fantasy: Posts that provided followers an opportunity to fantasize mostly had high levels of engagement. When Walmart asked their fans what they would do with a $7,500 Walmart Shopping Spree, the post generated more than 3,600 likes, 700 comments, and 150 shares.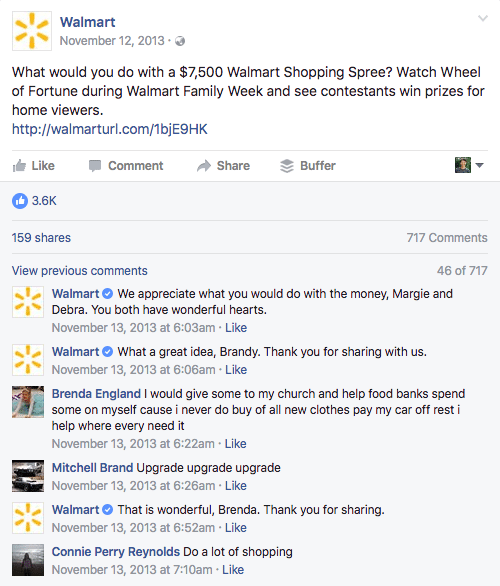 Such posts allow fans to express themselves creatively, share a personal narrative, and validate their emotional experiences.
Key takeaways for marketers
Understand the psychology of human interaction to better understand why your followers engage with you.
Experiment with gamification techniques in your social media posts (even beyond Facebook). Give your followers a challenge, spark curiosity, and create opportunities for fantasy.
Over to you
Are there any takeaways from the research that you have thought of and I did not mention?
Have you recently come across other interesting or surprising social media studies?
Feel free to leave any thoughts you have in the comments below! It'd be great to hear from you, and I'm excited to chat with you.