I'll sometimes find myself inspired by how jampacked and successful some people seem to be on social media, and I can't help but thinking:
What's their secret?
How'd they get so many leads and how can I do things exactly the same way?
Well, thank you, Internet! Turns out the majority of these secrets are sitting out there in blog posts and email newsletters and everywhere else that these generous experts in lead collecting tend to share their best stuff. I've collected some of the best ideas I've found (and a few I've had the chance to try, too, with great success!). Here's a rundown of the best ways to use Facebook, Twitter, and social media to get more leads.
(Note: I had the pleasure of sharing some of these tips at a talk I gave at Clearlink. Here's the slide deck, if that's helpful to flip through before reading!)
What is a lead? (And other possibly obvious questions)
Whenever I think about leads, I think about HubSpot. They've kind of cornered the market for me on lead thought leadership. Here's how they define a lead:
A lead is a person who has indicated interest in your company's product or service in some way, shape, or form.

In other words, instead of getting a random cold call from someone who purchased your contact information, you'd hear from a business or organization you've already opened communication with.
Further, there's even varying degrees of leads, things like direct leads, indirect leads, and marketing-qualified leads.
Direct Leads: Direct leads are generated through content that links directly back to a landing page on your website. On that landing page, visitors can share their personal information (a name, email address, phone number, etc) in exchange for an offer — whether that be an ebook, coupon, infographic, or any other piece of content.
Indirect Leads: Indirect leads are generated by using other pages or sites on the path to conversion — but it's not the final destination before someone gets to a landing page. For example, if you shared a blog post that had a call-to-action to a landing page at the bottom of the post, your initial pin is helping direct visitors to that landing page.
Marketing-qualified Leads: a marketing qualified lead is a prospect who has demonstrated an interest in your product or service; they're not yet ready to purchase, but are open to the possibility of doing so.
Sales-qualified Leads: An SQL has demonstrated a keen interest in the services and products you offer. They're the guys who are downloading multiple pieces of content, have signed up to every newsletter you run and are consistently engaged with your brand.
I like this graphic from Jonathan Wichmann, showing how the lead process might look in one particular flow (by the way, flip this picture on its side and you'd have a picture of a funnel).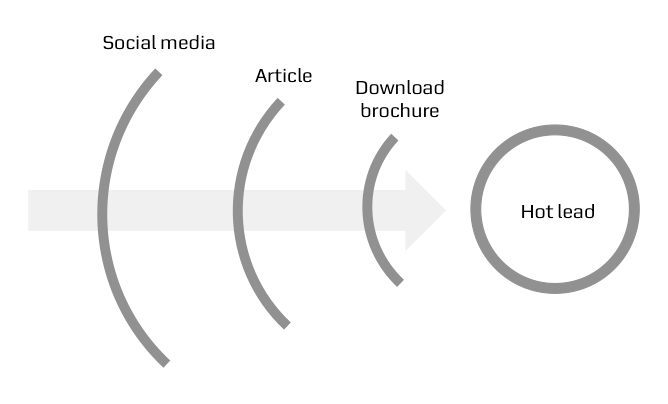 Ok great, but like what is a lead actually?
From what I've found, a lead could be …
an email address, or
a phone number, or
a real live person sitting in your lobby.
A lead is anyone who has shown interest in hearing more from you — and (this is the important part!) has given you a way to stay in touch with them.
With this definition in mind, it might be easier to see that leads can come from so many different places. It doesn't need to just be via landing pages and gated content, though those channels are great and proven. Leads can come from social ads or comments on status updates or most any online medium.
And it could be in so many different places. Research has found that 44% of marketers have generated leads through LinkedIn, while 39% have done it through Facebook and 30% through Twitter.
(Need a primer on where to find your target audience? Here's some social media demographic info that might be helpful.)
If you're ever stuck for ideas, you can search "how to grow an email list" or "how to build a newsletter." Those are basically lead-gen idea machines.
For now though, let's focus on all the many great ways that you can get more leads from social media in particular.
It's a big, great list!
The starter's list of lead capture tips
First off, I'm sure you've got some outstanding ideas on what to do here with getting social media leads. These ideas might not be new — but they do seem to work!
Just to be sure, you might want to build some of these into your base layer of lead capture strategies. Lots more to follow.
1. Instead of giving valuable content away, ask people to fill out a form before getting to the content. Try Lead Pages or SumoMe or the MailChimp for WordPress plugin.

2. Run a contest! Give something away to a winner or two, in exchange for everyone sharing an email or contact info with you. Try Shortstack for an easy way to integrate contests into your social media profiles.
3. Place a link in your social media bio that goes to a lead-capture page. For Instagram in particular, this strategy is key because the profile is the only place that shows a link!

4. Don't just send people to your site's homepage from social. Use landing pages as a more-targeted, lead-based option. Don't have any landing pages? Check out Unbounce.
5. Add a call-to-action link for anything you republish on LinkedIn Pulse or Medium.
6. Use bit.ly links or UTM parameters whenever possible so you can track the clicks and measure the ROI.
Solid-gold strategies for getting more leads from social media
Awesome, now that you've got a great base layer to work from — landing pages, call-to-action links, contests, etc. — here are some of the next-level strategies used by the pros to get more leads from social.
1. Collect emails with Twitter lead gen cards (and pin to your profile)
The one strategy that's led to 33% of my email subscribers
Twitter cards are pretty amazing. They're full of bonus multimedia and interactive elements that help make tweets as engaging as can be.
In particular, the Twitter lead gen card has been a fantastic way to gather new leads from Twitter.
The cards let a person click a button to automatically send along an email address — no extra typing or forms, just a couple clicks and it's done.
Sounds simple, right? It also works pretty great. Apparel company Rock/Creek gained over 1,700 new email subscribers in less than a week with a Twitter lead gen card.
These cards are fantastic on first use and even more powerful if you pin them to your profile and leave them at the top for folks to find long-term.
I've used a pinned lead gen card to add 373 subscribers to my newsletter list of 950 — that's more than 33% of the total subscribers, and it's more than one new subscriber per day, all without doing any extra work beyond the initial tweet.
Here's how to get setup with a free Twitter lead gen card:
Log in at Twitter
From the top right corner of your timeline or profile, click your profile picture, then select "Twitter Ads"
On the Twitter Ads page, click "Creatives" from the top menu and then "Cards."
Cool! You're there! Create your first card by clicking the big blue button on this page.
Fill in a card description, image, and call to action text. You'll also need a link to a privacy policy (you can get a free one at Iubenda) and a fallback URL, like your homepage or a newsletter landing page on your site.
If you're keen on connecting the card to your existing mailing list, there're some really great integrations. Here's an overview of how it's done for Mailchimp.
Once the card is made, you can compose a tweet and publish immediately. All the leads that come from this card will be available to download from the Creatives dashboard inside Twitter Ads.
And then for pinning the tweet to the top of your profile, you can:
Find the tweet and click on the icon with the three horizontal dots, just below the tweet text.
From the list of options, choose "Pin to your profile page."
You're set!
2. Use Facebook Lead Ads to get "all the things" demographics
Average Facebook cost per click: 80 cents. AdWords: $2.50!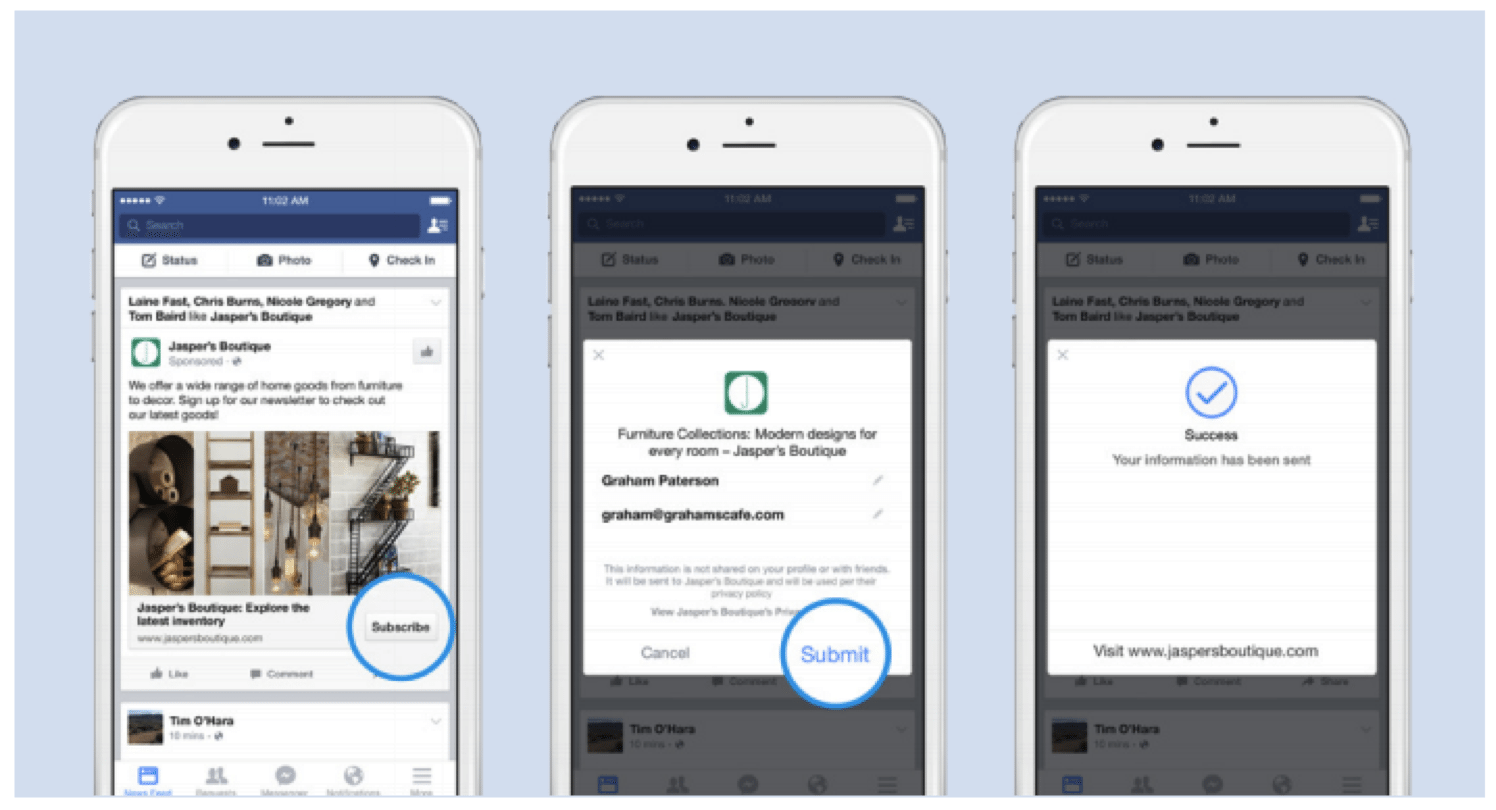 We've found Facebook ads to be one of the most cost-effective ad channels in all of online marketing. And these cost-per-click numbers from Social Media Examiner really help reinforce the post:
Facebook: $.80
AdWords: $2.50
Wow, that's a cost savings of over 300%.
Facebook ads in general are great, and in particular, the lead ads can be really helpful for anyone interested in getting more leads from social media.
In just two clicks or taps, a person can send along any of this info, which is all auto-filled to make it super easy:
full name
email
street address
phone
zip
city
state
country
country
company
job title
On Facebook especially, these types of lead ads are extra powerful with the many ways to streamline and customize an audience segment and target specific demographics.
To get started with a Facebook lead ad:
Go to your Facebook Ads Manager
Click the green "Create Ad" button int he top right corner
From the list of possible ad types, choose "Collect leads for your business" (it's likely the very bottom option from the list)
Choose your page, the settings, the creatives, the demographics, and you're good to go!
3. Try a Facebook "Ask" to seed your leads
Fresh leads from the people you already know
Hi everyone, thought I'd try a little something different. ? I'd love to improve my eye and ear for copywriting.If…

Posted by Kevan Lee on Friday, February 26, 2016
I read this really fantastic article on why everyone should try consulting as a side job (result: I really wanted to try consulting as a side job!).
Part of the article discussed ways to get your first clients, and I thought these tips were equally helpful for getting leads into your business. One of them in particular really resonated: It's the idea of using your existing networks as an ideal place to get started building leads.
The author of the article, Neville Medhora, cites a number of great examples and even gives a free sample of what this could sound like:
Let's say you wanna get started doing SEO (Search Engine Optimization) as a consultant…..but you're at the bottom-of-the-barrel and don't know where to start.

I would suggest you post this on your Facebook, and in any business groups you belong to:

I'll send you updates to make on your site for free! Send me your most popular page on your website (Google Analytics –> Behaviors –> Site Content), and I will make suggestions on how to best SEO the post. I will do keyword research on your page, then send you:

Title tag updates
Meta tag updates
Description tag updates
Which links you should add to your site
Tell you about any terms you should avoid using.
Tell you any content sections to add into your post.
Option 1.) Comment here with a link to your post, and I'll send you all the updates you should make via a personal message.

Option 2.) If you'd like me to do ALL OF IT FOR YOU….PayPal me $50 and I'll do it all. We will just need 15 minutes of time over a Google Hangout or Skype session. This small price can often get you ranked 300% higher in the search engine results.

I look forward to helping you out! Feel free to ask me any SEO related questions. I'll answer them here.

Holy crap!! Can you imagine how much interest you'll get in a post like that?? Even with ZERO EXPERIENCE someone can get lots of people to take them up on that offer.
I couldn't resist, so I tried this strategy out for myself. Within 30 minutes, I had five takers!
To do this for yourself, it's really simple:
Write a post on Facebook or any business groups you belong to
Offer people something awesome for free ?
4. Track your Buffer Retweets
Easy access to the people who are spreading your stuff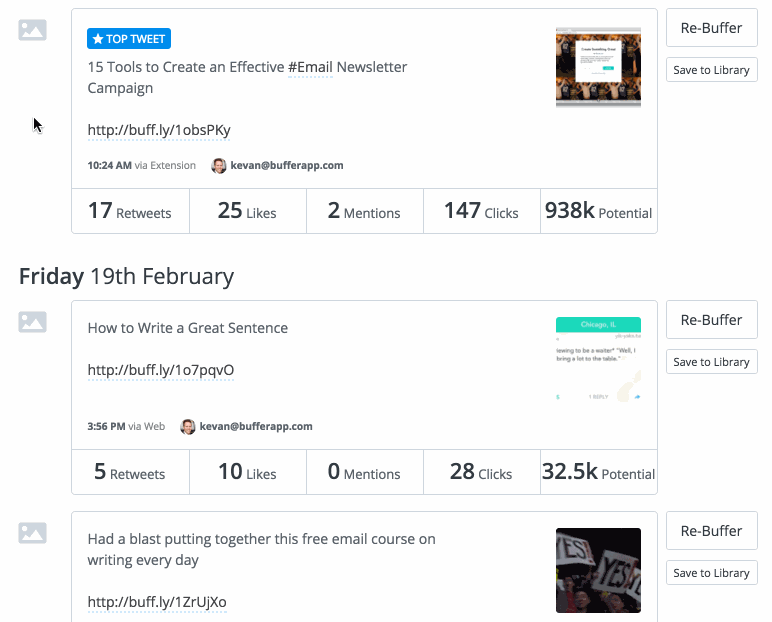 One thing I love about Buffer and other social media management tools is how easy they make it to get amazing insights into your social sharing. Even things I'd never think to look up!
In this case, I love how smooth it is to see the people who have retweeted me — people who, in a sense, would make for some pretty amazing leads. They're engaged with what I'm sharing, which is a huge first step!
Here's how to easily see your full list of retweeters (the GIF above might explain it all even!):
Log in to Buffer and go to the Posts section under Analytics
Find a post that's earned some retweets
Click retweets, and you'll see the list expand
From here, you can follow these people directly or click over to view their profile and get in touch with a DM.
5. Get localized leads with Social-Geo Monitoring
See which followers are nearby & who in your community needs your help
What I love about this social media lead gen tip is how targeted and primed it is. Basically, with the power of social media search and tools, you're able to see anyone in your vicinity who's keen to try a product like yours.
Those would make pretty decent leads, right?
Hootsuite has a pretty great example for what this could look like:
… if you're a chiropractor, you can type "chiropractor" in search and find people in your area who might be in the market for you. You could also type in "sore back" or other relevant terms in order to find these leads as well.
Twitter's Advanced Search is one of the best places to find this type of information.
Go to the Advanced Search page – https://twitter.com/search-advanced
Enter a keyword into the "This exact phrase" box
Choose your geographic location in the "Near this place" section (Twitter defaults to where you're at in the world currently)
Bonus: There's a neat extra option to select only tweets that include a question mark, with the idea being that you'd capture people asking for help/advice/research on your particular keyword. Pretty neat!
Another tool that fits with this social-geo monitoring for leads is Followerwonk, which gets you some great insight into your Twitter followers.
In particular, their follower map is quite incredible!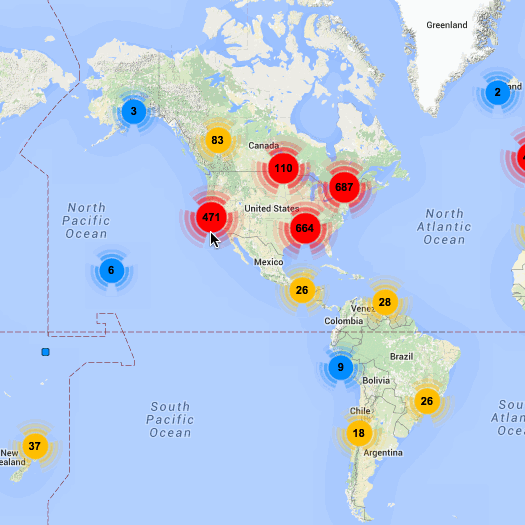 To get one for yourself,
Create a free account at Followerwonk
Go to the Analyze tab
Add your Twitter username and select "analyze their followers."
Check out your results! A ways down the page you'll see the map, which you can click on to zoom in and even click on the individual people closest to an area (clicking the dot opens up their Twitter profile).
6. Collect info with RSVPs to chats, AMAs, and more
The two-way street of a "remind me" option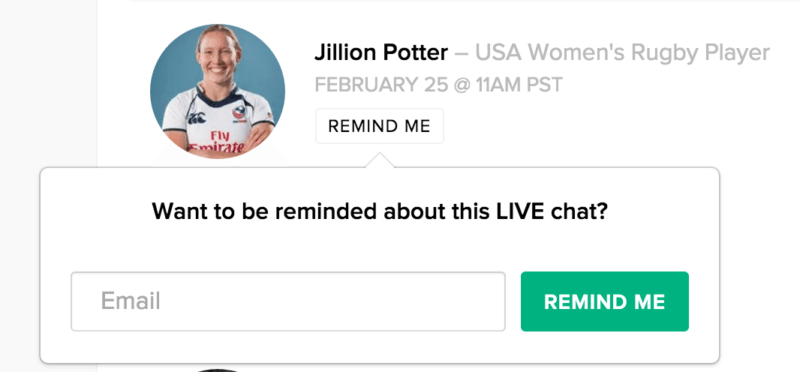 The primary focus of Twitter chats and AMAs is likely to gain engagement and goodwill. An extra bonus is that these events can be lead generation tools also!
I love the way that Product Hunt does this with their live chats. On their landing page, they list the upcoming events and give you an option to "Remind me," which links to a simple email capture form. Boom, just like that, Product Hunt has a lead that they can see about following up with.
We've been building out our #bufferchat landing page, and we'd be excited to explore this "remind me" option for ourselves. It's worked great for collecting interest in webinars and other events so far.
7. Add lead capture to your Slideshares
One of the best sources for high-quality leads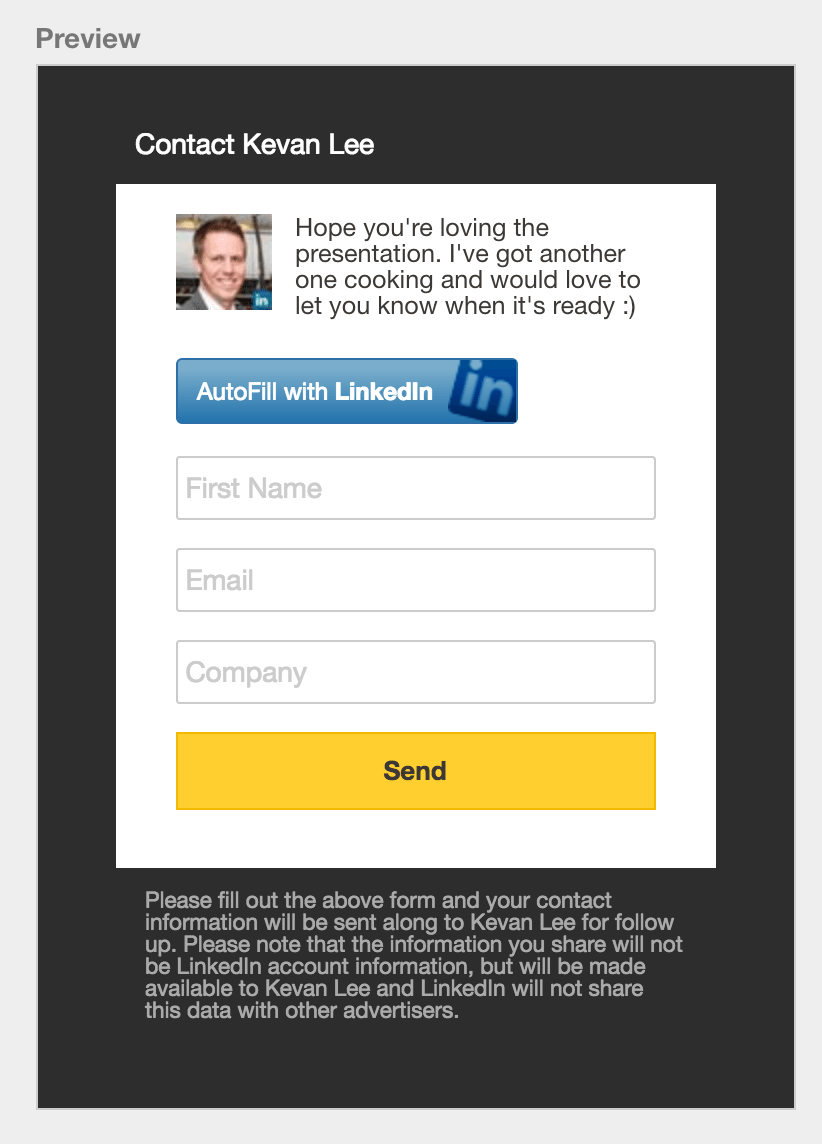 We've been really fortunate to have several of our Slideshares do really well in terms of views (100,000-plus for the best ones).
Some of our most popular Slideshares even get more traffic than some of our most popular posts!
And it turns out, Slideshare is also a great social lead gen tool.
Within Slideshare is an option for collecting leads. You can customize a message and which information you want, then tell Slideshare when to display the lead capture form during the slidedeck. We've run this one for ourselves here at Buffer, and we gained 82 new leads in a month. Pretty great!
Here's how to quickly get set up:
Visit the SlideShare "Collect Leads" page here.
Choose which slide decks you'd like to optimize for leads.
Add an intro paragraph, which information you'd like to capture, when you'd like the form to appear, and any budget or targeting
Note: When I tried it, Slideshare was very nice to let me know that the cost per lead was currently $8.00. It's definitely on the high end for social media leads, though I'd imagine the quality of lead from Slideshare/LinkedIn might be quite good also.
8. For brick-and-mortar traffic, try whisper codes
Great for business, great for tracking
A whisper code is a phrase that you share on Facebook that when repeated in store allows the customer to avail of a discount or a special offer.
I'd never known these had a name!
Amanda Webb wrote about whisper codes on JonLoomer.com, framing it as a great tip to capture more leads from Facebook pages. It'll probably work great no matter the social network, too. (Or even in email, like this example from Qdoba.)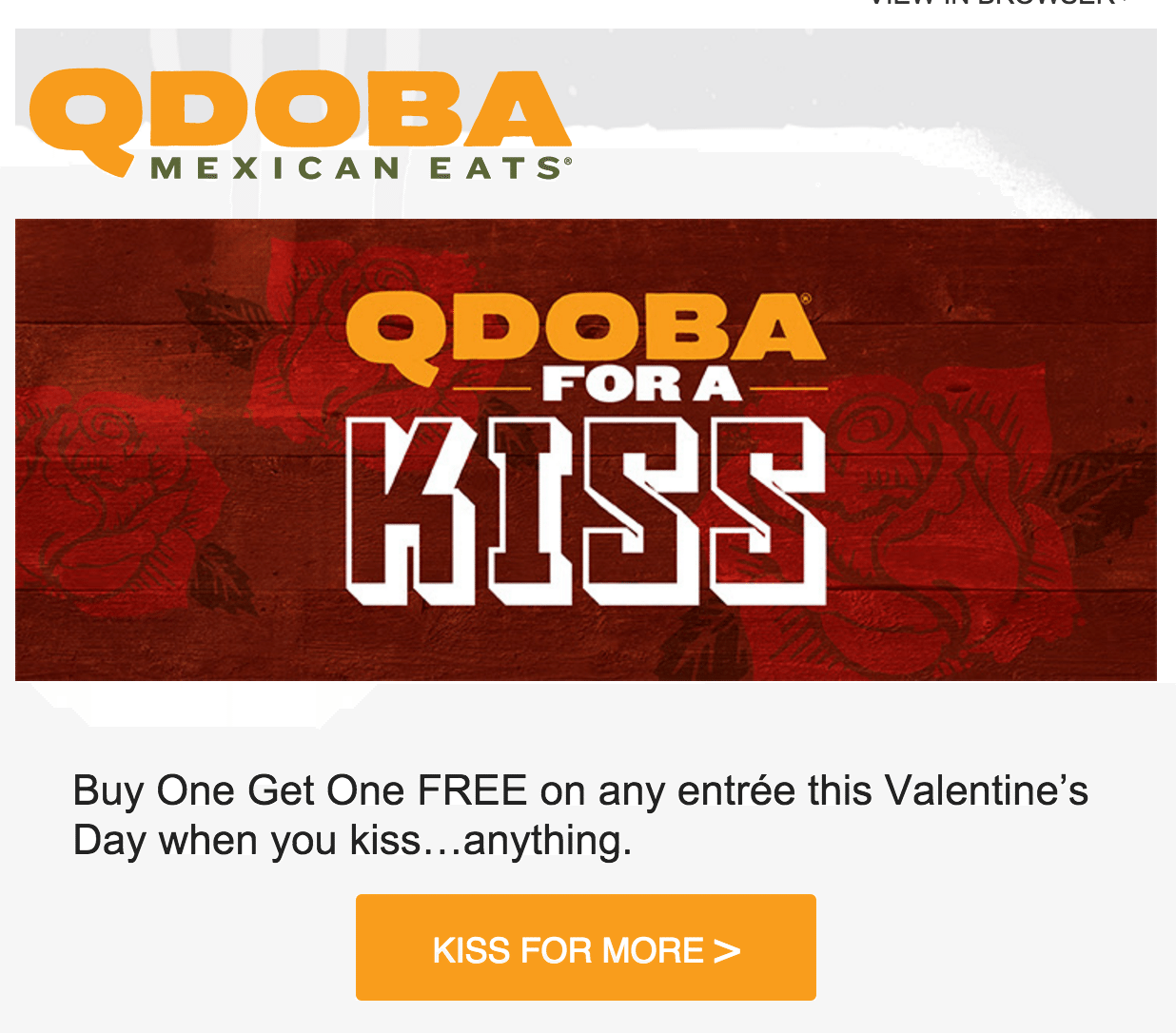 It's a pretty simple system. All you've got to do is
Come up with a unique phrase that's tied to a discount
Share the phrase with your social media audience
Hopefully that'll be the incentive they need to come visit your business, and if you've used a unique phrase, you can count and see how effective the strategy (and, in turn, your social media marketing) can be.
9. Get in touch with Medium letters
Simple email marketing, baked right into Medium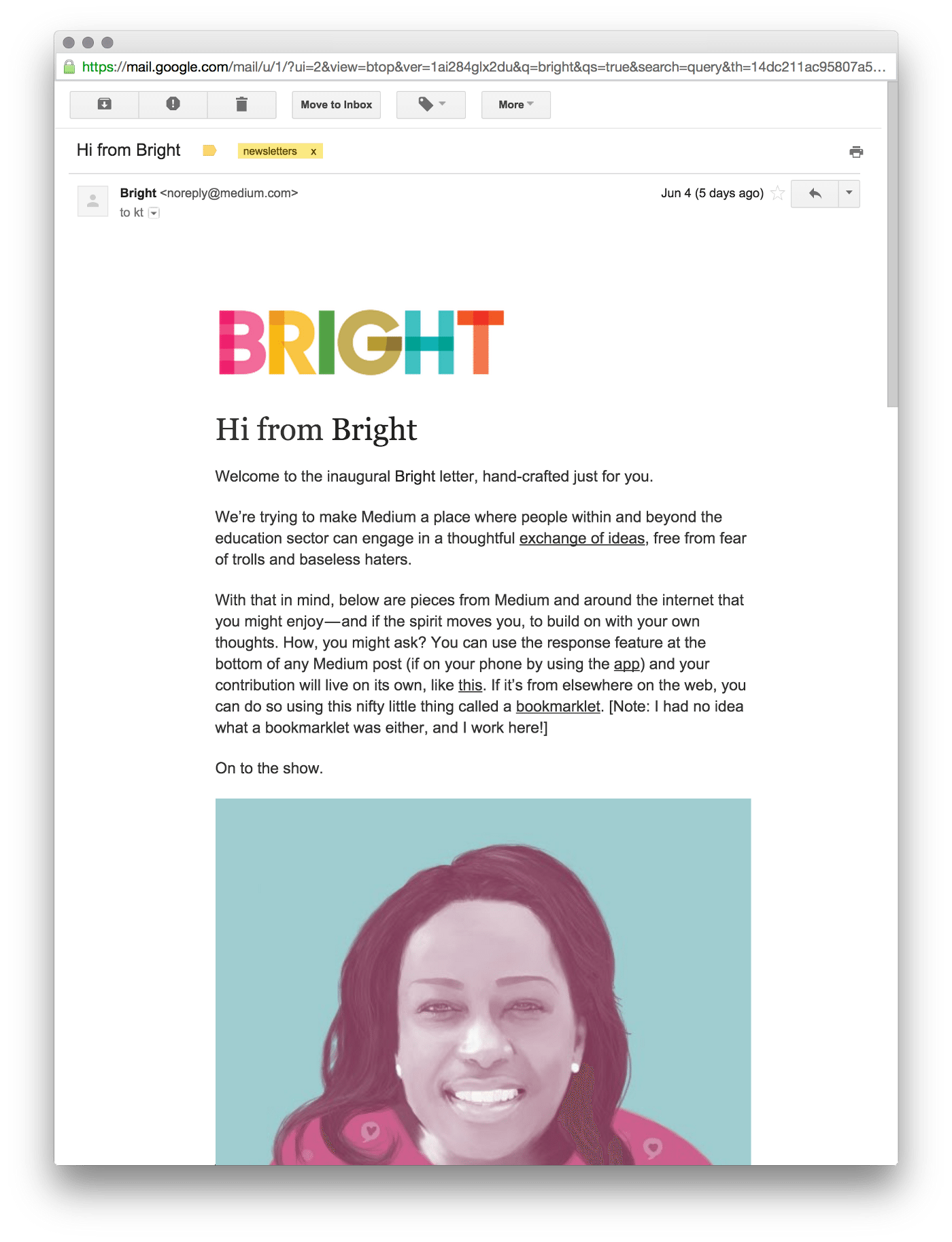 Medium has become a really amazing tool for bloggers and marketers, and with the changes they keep sending out, there are now more and more features that make for great new tactics to try.
Case in point: Medium letters.
An editor for a Medium publication has the option to email all those folks who follow their publication.
This is quite a powerful addition to the Medium platform. Already Medium makes it quite easy to connect with your existing social media audience, noticing your previous connections like Twitter followers as it builds your Medium following. If you're able to get connected with those followers via a publication also, then you have a great chance to continue the conversation all the way into the inbox.
To send a Medium letter
Visit your Medium publication
Click the Manage button at the top
Choose "Letters" from the drop-down list
Start writing, and hit Send when you're done1
10. Message anyone from a LinkedIn Group
Chat with anyone, whether you follow each other or not

LinkedIn is full of wonderful connections and great leads within an industry or niche. And bonus: You can get in touch with just about anyone, whether you follow each other or not.
Once you join a group, you can message any fellow group members. Of course, it goes without saying not to spam anyone and to only reach out sincerely. LinkedIn even has some structure in place to make sure this happens. Here are the rules:
You can send 15 free 1:1 group messages to fellow group members each month
You have to be a member of a group for at least 4 days.
You have to be a member of LinkedIn for at least 30 days in order to send messages to fellow group members.
Other than that, you're free to message! Here's how to get started with 1:1 messages within a LinkedIn group.
Visit the LinkedIn Groups page
Select any of your groups from the list at right
On the group page, look to the right column where it shows a section of group members. Above the avatars, there should be a link that says "x number of members." Go ahead and click there
You can search for any member or scroll through to find folks to connect with. Once you see someone to message, hover over their name and click the envelope icon that appears
Takeaways: You can do it! Here's how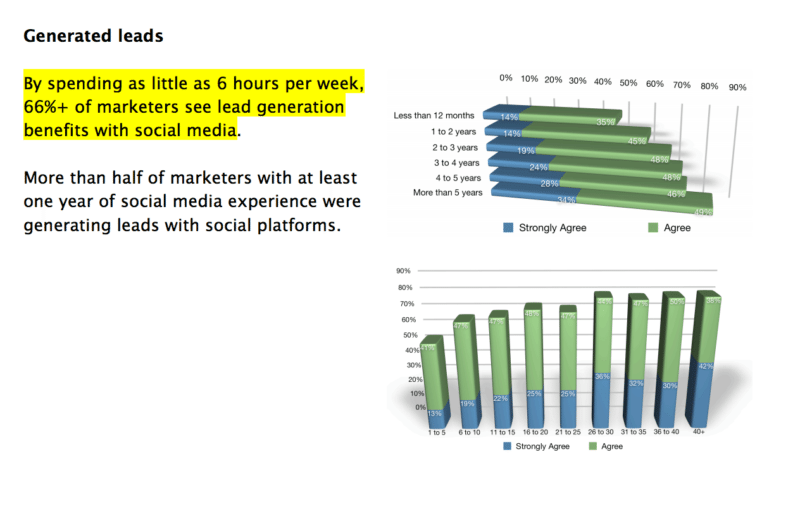 By spending as little as 6 hours per week, 66%+ of marketers see lead generation benefits with social media.
This great stat from Social Media Examiner is so encouraging! Basically with a little more than an hour per day spent on gaining social media leads, you're likely to see benefits.
This all might seem like a lot to do, yet people are seeing results without a major investment.
You can, too!
Which of these strategies jump out at you as interesting ones to try? Which have you tried before? (And, if you're up for it, how did they perform?) I'd love the chance to engage with you in the comments. Thanks so much for giving this article a look!
Image sources: Pablo, Social Media Examiner, Jonathan Wichmann, Facebook, Medium