The most fun and engaging social media posts take time and creativity — the former being something that small business owners are notoriously short on. But, when you consider 89% of people buy from a brand's website after following them on social media, it's clear you need to prioritize social content creation.  

When top content creators hit a wall, they turn to social media trends for inspiration. We've pulled together some of the top social media trends to keep your campaigns engaging and your calendar full all year. Anytime you feel your creativity well drying up, come back to this list — we have you covered.

Read More: How to create a social media marketing strategy [plus a free template]
1. Promote a contest
Contests and giveaways are a few of the most effective ways to drive engagement quickly. Plus, research shows they will likely continue to rise in popularity in 2023: 73% of consumers agree that more brands should run contests or giveaways.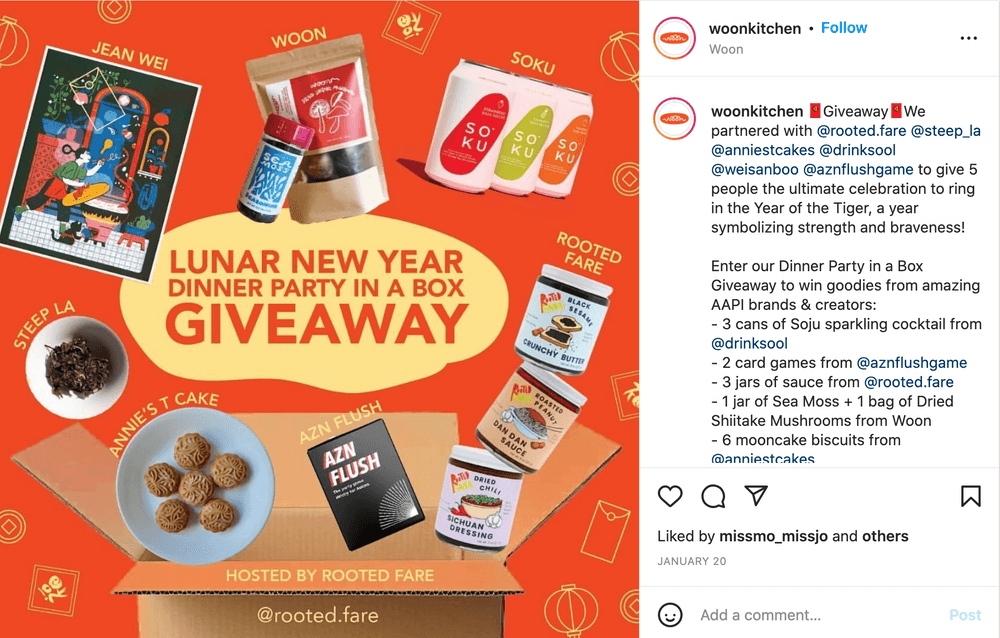 Woon Kitchen partnered with a handful of other companies to give away a dinner party box to celebrate the Lunar New Year. In order to enter the giveaway, you had to follow each of the brands. That means every entry equals a new follower — and a new potential customer.

In this example, Woon Kitchen offers free products alongside other brands, but you can run an Instagram giveaway using just your own goods or services. Start by defining what your social contest will be about and how people can enter. Then, post about your contest in-feed and in your Stories. Once the contest ends, make sure you follow through in announcing a winner and send them their items right away — plus, ask them to consider tagging you in any photos or videos they post about their products once they receive them.
2. Invest in influencer collabs
According to a recent study, influencer marketing campaigns yield an average of $6.85 for every $1 spent. That's why 77% of marketers plan to dedicate a budget strictly to influencer marketing in 2023. If you've been hesitant to get on the influencer train, now is the time.

Keep in mind you don't need to contract with an influencer who has millions of followers. Find micro-influencers, or anyone on social media with a niche and highly engaged following, to hype your brand. (Note, the numbers are constantly changing, but generally speaking, micro-influencers have fewer than 10,000 followers.) These people tend to have lower contracting rates and often lead to higher engagement than influencers with larger followings because their audience is more engaged.
Bando has a strong influencer program and uses influencer-generated content for the bulk of its social media strategy. They also don't necessarily rely on influencers with large followings to drive engagement on their social platforms. Case in point: this video with micro-influencer @nishagetsreddy. Here, Nisha filmed herself styling clothing from Bando's new line of graphic t-shirts.  

Posts like Bando's are particularly effective because users can see exactly what the clothing brand's products look like. It also takes the guesswork out of how a dress might fit a real person (not an editorialized model), and it gives you tips on how to style garments. These factors prove Bando's value in selling high-quality and stylish clothing.

Your brand can follow suit by researching 5 to 10 influencers that perfectly fit your brand identity. The most low-cost way to find micro-influencers is to comb through social media for users who are actively engaging with your brand or similar profiles. Once you've identified a handful of people, reach out to them to gauge their interest in working with you. Keep in mind their follower count doesn't matter nearly as much as a good brand fit.
3. Share user-generated content
Turns out, 72% of consumers see reviews and testimonials from real customers as more credible than a brand talking about its own products. Harness this energy into customer conversions using user-generated content (UGC).

Think about UGC as a close cousin of influencer marketing — it's a similar approach without the financial investment.

The strongest UGC comes from existing customers who love your brand and value your products. They aren't people who have gained financial compensation to hype your brand. Because of this, UGC is a great way to build brand awareness and trust because potential customers can see you have a strong and loyal following without having to compensate users.

Some ways to motivate users to create UGC include:
Ask customers to tag you in their photos
Ask customers to use a specific hashtag in their photos
Then, use social media listening to collect content people have tagged you in.
Outdoor Voices has a fiercely loyal following from placing community at the core of its marketing strategy. The brand has turned its motto, "Doing Things," into a hashtag that users can place in their captions. Because Outdoor Voices has amassed such a large amount of tagged content, they have plenty of high-quality user content to build social media campaigns.

In this example, Outdoor Voices reposted a video from user @idfksara wearing a new product: a special variation of the brand's popular Exercise Dress. At the time this video was made, Sara had about 7,000 followers, all dedicated to her harp playing content. This piece of content was likely chosen by Outdoor Voices because it perfectly encapsulates the brand's "Doing Things" motto, with Sara wearing the dress while playing the harp.  
4. Create meme-able moments
Despite the rise in demand for video content, old-school memes aren't going anywhere. They're a lo-fi approach to content that takes a minimal lift to create. Plus, they're fun. A whopping 75% of people share memes with friends through social media.

Memes are also a great way to repurpose media, making it a quick and easy way to create new posts even on your busiest days.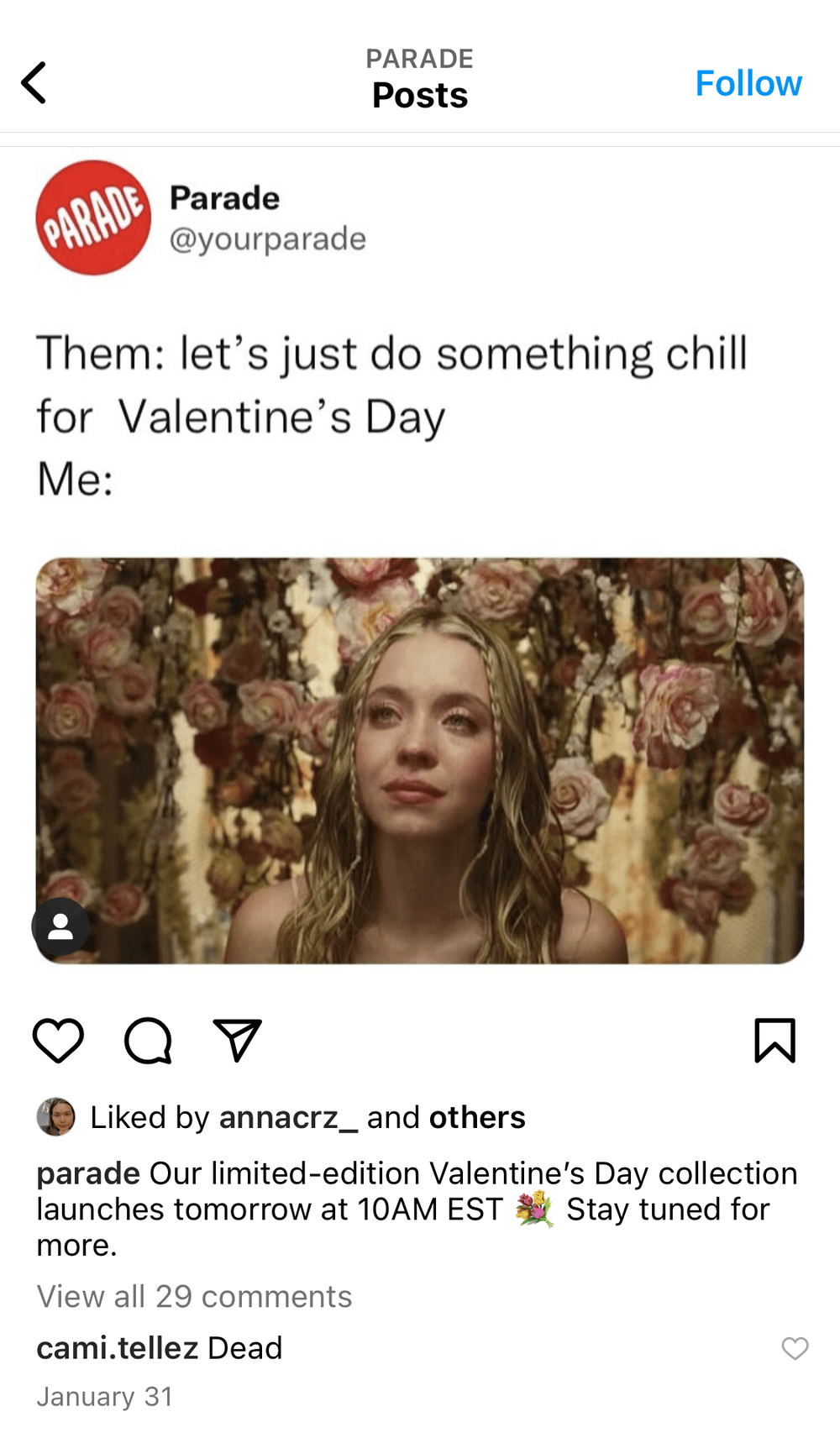 Parade rose in popularity at lightning-fast speed thanks to its Gen Z–friendly marketing tactics. Its content is always timely and based on the biggest trend topics at the time. In this Instagram post, Parade made a meme highlighting a memorable scene from an episode of Euphoria that aired just the night before. Because the meme features a scene from one of the biggest shows on television within hours of its airing, it's highly relevant and sure to grab attention.  
5. Educate followers with your content
Brands increasingly turn to educational content to talk about topics that are important to their ethos. This can look like an infographic, where users can scroll through images to learn about something. Or it can be a video.
Omsom uses TikTok as a way to create content that grabs people's attention quickly, all while tying back to their tasty sauces. In this video, co-founder Kim Pham talks about the not-well-known history of Chinese-American food and disproves stereotypes about Asian food being unhealthy.    
6. Use content to respond to customers
People don't just come to your social media channels to learn about your brand. Oftentimes, they're looking for more information about your products and services. Case in point: in April 2021, 47% of people agreed that brands should offer customer service through their social media accounts.

Incorporate customer service into your social media marketing strategy by responding to user comments and DMs. You can also get ahead of frequently asked questions by making content that talks about your products and services.
Duolingo has been making waves with its humorous TikTok strategy. The company often responds to user comments with video replies.

In this example, Duolingo made a video response to a user comment solidifying its stance on LGBTQIA+ rights. It may not have been the answer the commenter was seeking, but it does immediately clarify the company's values. Plus, over 7,000 users commented on the video praising the company for its inclusive stance.
Use a scheduling tool to manage your social media campaigns
Scheduling your posts ahead of time is the best way to keep your content calendar full. Once you ideate, create posts, and schedule them for the month, you free up more time to react to faster-moving trends like viral TikTok dances and new Instagram stickers.

Plus, when you populate content in advance, it shows you obvious gaps in your content marketing strategy. For example, do you notice user-generated content is received well by your followers, but it makes up only 10% of your content for the month? Planning ahead lets you see that you need more UGC posts.  

Enter: Buffer's publishing tool, which lets you schedule posts ahead of time on every major social media platform (even TikTok!). Schedule your posts across multiple platforms at once and choose custom times that work the best for your followers.

Brought to you by
Did you find this article helpful? You might also like our all-you-need social media toolkit.
Get started for free now