Just the other day, peeking into the social media schedule here at Buffer, I noticed that it was full of wonderfully-worded, completely click-worthy, queued posts—posts that I spent zero time writing or adding.
Such is the beauty of collaborating together on social media sharing.
Taking a team approach to filling a queue or managing a social channel is a splendid way of saving time on social media.
You don't have to do it all yourself.
Others have amazing ideas and content to share.
And of course, having the smoothest tools makes social media collaboration even easier. I did some digging to find a complete list of the best collaboration tools out there, including the ones we enjoy using here at Buffer. If you notice any that didn't make the list (or want to vote up a favorite), feel free to share in the comments!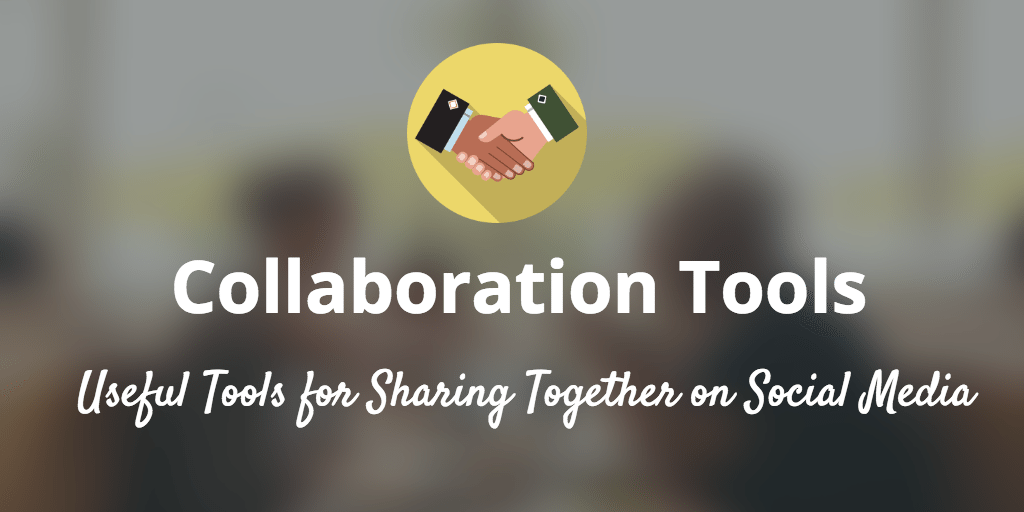 Quick collaboration tips on sharing to social media as a team
There's a lot to consider when sharing together as a social media team—whether that be a team of two, 10, or more. Courtney did a great job outlining all the different factors to consider when sharing as a team. Here's a quick overview; the post itself is full of detailed tips.
Determine your strategy and structure
Establish a consistent voice and tone
Know how, where, and what you'll post
Let your audience know who is posting
Delegate by shifts or networks
Use tools to make collaboration easier
Give everyone the right access (contributors vs. managers)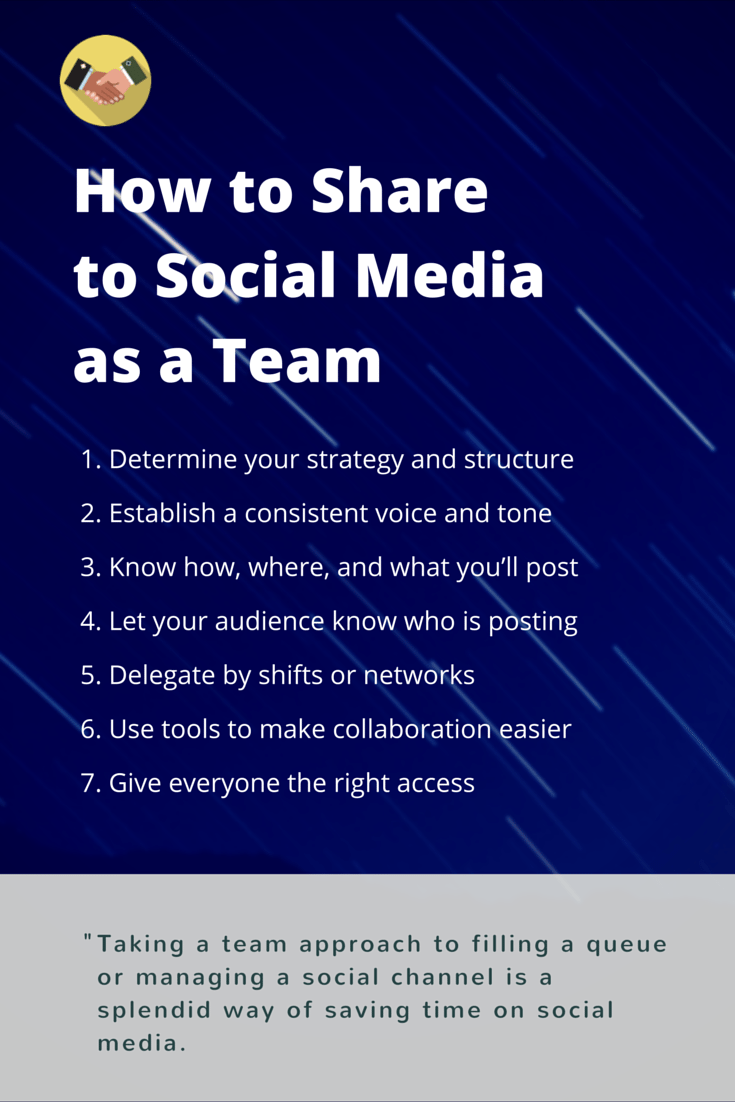 How we share to social media as a Buffer team
We like to consider ourselves a team of social media sharers here at Buffer. I have the privilege of adding content to the Buffer queues and teaming up with Courtney, Nicole, Mary, Leo, and others on writing social media updates and testing out new strategies.
How do we do it? The Buffer app is a big key to the way we share as a team.
On the Buffer for Business plan, you can invite collaborators to your account in one of two roles:
Contributor
Manager
For the Buffer profiles on Twitter, Facebook, Google+, and LinkedIn, we are all managers. We can add content to the queues directly, with zero friction. (If you'd prefer your collaborators to go through an approval process first, then the Contributor role is the way to go.)
Leo has even been experimenting with a type of advocacy collaboration, suggesting content for some of us on the team via the Contributor role. Here's a bit more about how this looks:
A lot of people were interested in getting some suggested content from me for their Buffer account, and the next step for me was to make it super easy to share these stories with other people's social accounts. So I went ahead and used Buffer's group feature to create a new group for the Buffer team only: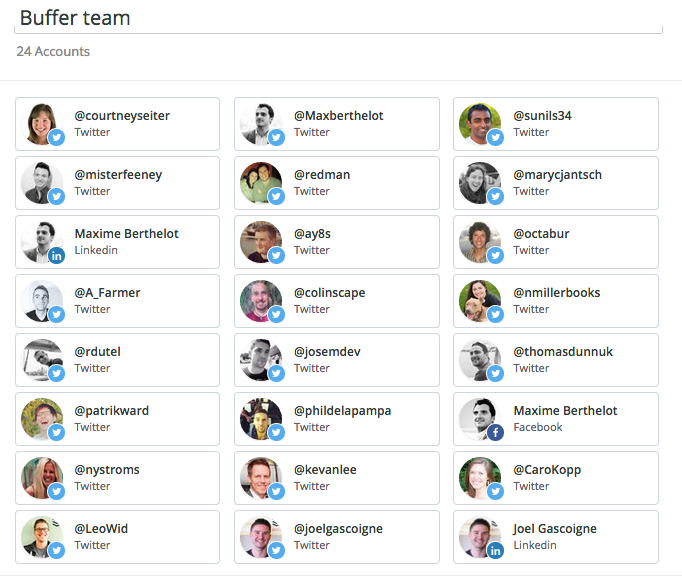 This was absolutely amazing—with the click of a button I could now suggest content for all these people that were interested in getting curated content for their social accounts from me.
As one who benefits from Leo's great suggested content, it's so amazing to have the luxury of clicking a great post in my contributions and sending it straight to my queue.
14 Essential Collaboration Tools for Social Media Marketers
At its core, Slack is a team communication tool, a robust chat room. And it's taken on a multi-dimensional role for thousands of teams. (We're Hipchat fans at Buffer, too, and appreciate the many uses we get from the tool.)
One of these roles is as a link sharing/collecting hub. Teammates drop fun and interesting links into one of the chat rooms for others to check out. It can be a great way to bubble up great content to fill the company's social profiles.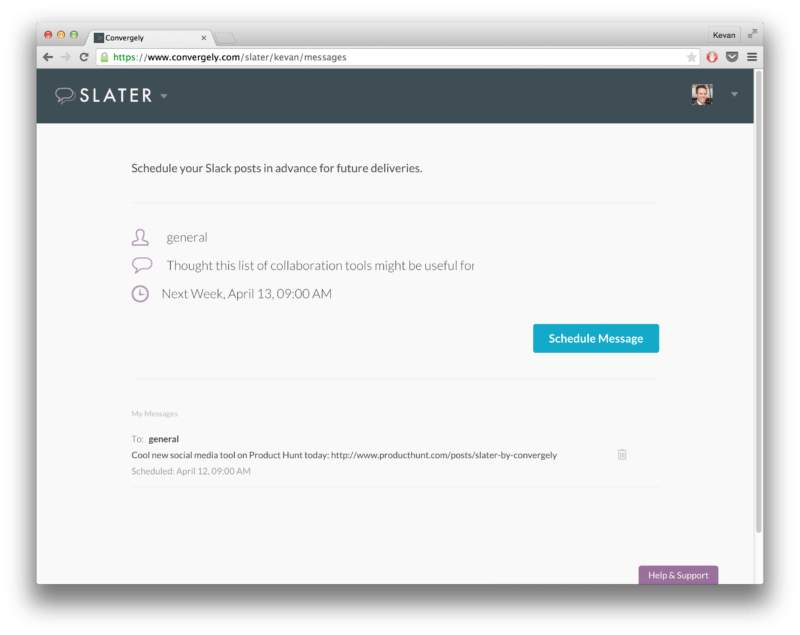 Piggybacking off the first tool mentioned here, Slater caught the attention of us at Buffer as it's described as "Buffer for Slack."
Find a useful link to share. Schedule it now. Post it to Slack later when more teammates are around.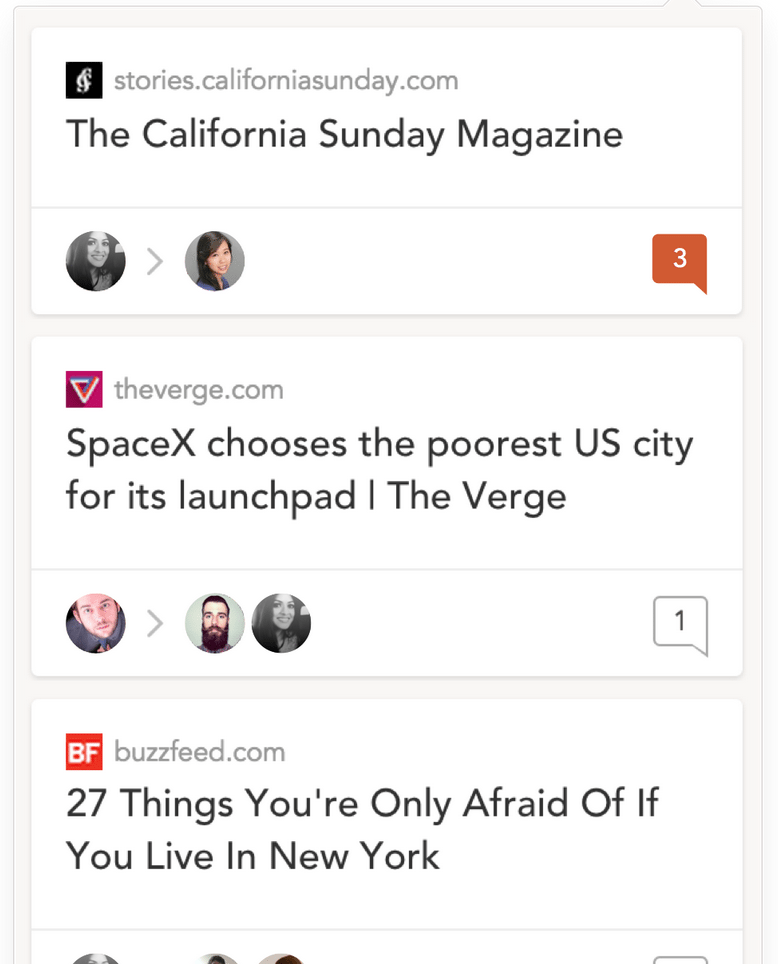 One of the coolest article sharing tools I've come across lately is Point, a chrome extension that lets you share stories with your team from any page you're on.
With the extension installed, you can type the "@" key on any page you're visiting, and this brings up a simple sharing box where you can add notes and send to different people on the team. Also, you can highlight parts of the article you share, and you can find all your history of shared links easily in the Point popover.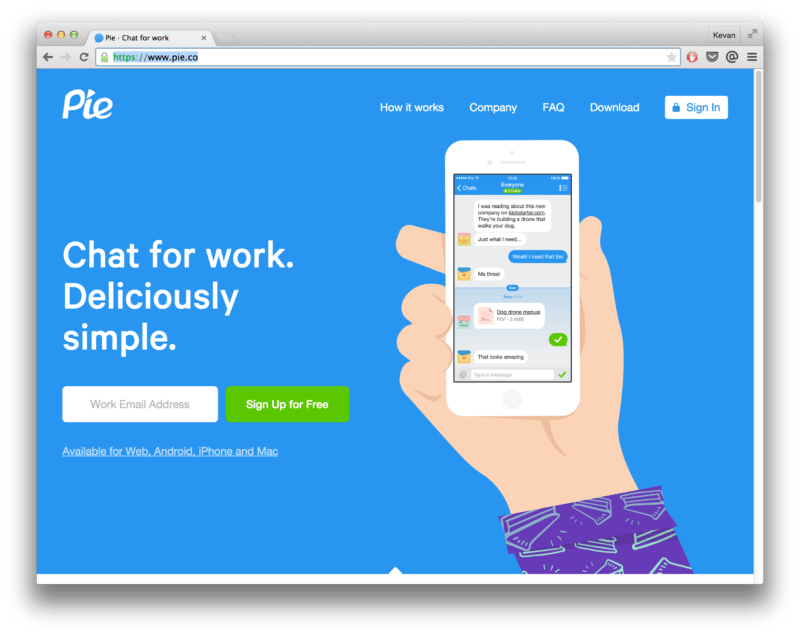 A clean and simple solution for communicating together on social media ideas is Pie, which helps with work chat and focuses on simplicity. You can get set up quickly by adding teammates from your email contacts, and you can share and store content ideas and tips in an easily searchable system.
Trello is a favorite remote work tool of the Buffer team. We use it for organizing blog post ideas, Buffer bugs, team task forces, projects, and so much more.
Another cool use case is as a social media content board.
David Hassell of 15Five shared how he and his team use Trello to work together on social media content.
We created a "Social Media Content" board on Trello and encouraged employees to drop in interesting files, images, memes, questions, and links. This allows our social media manager to pull from a rich, diverse repository of content.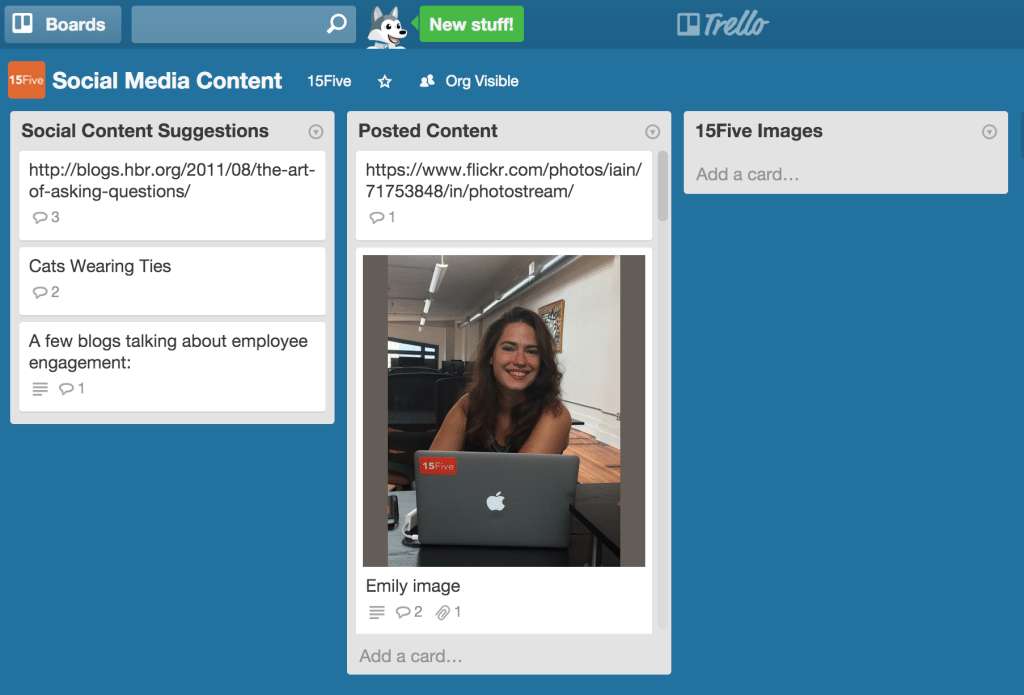 David's team uses simple lists for content suggestions, posted content, and images.
You could also try out a board setup with suggested links, suggested topics, interesting strategies to try, posted content, and current strategies—or virtually any setup you can dream.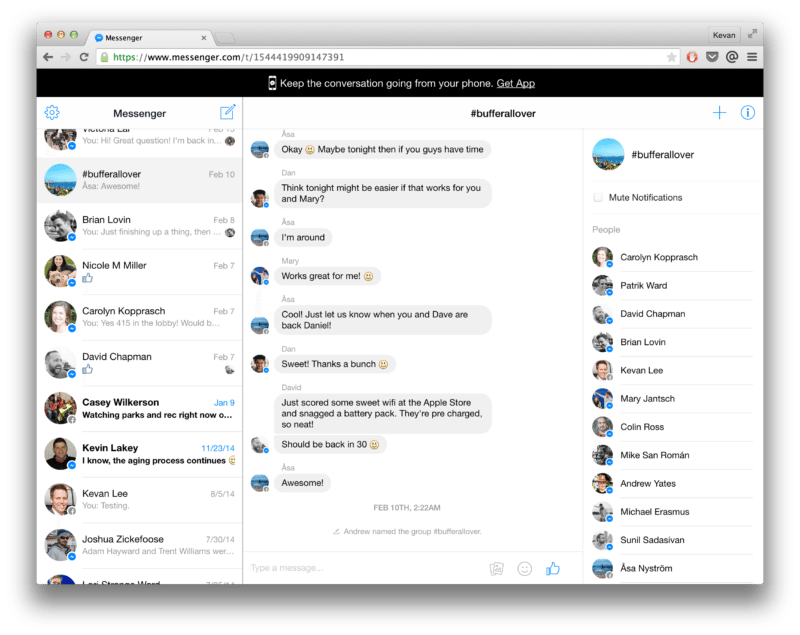 Facebook Messenger, previously a feature within the Facebook social network, is now a standalone app and website. You can send messages to connections and groups on Facebook through a slick and simple interface.
We used Messenger as a Buffer team to communicate on our latest team retreat. Doing so as a group proved to be an extremely useful feature and smooth experience for us. Imagine doing the same for sharing cool links and ideas back and forth for your fellow social media sharers.
A full-featured social media management app, Wrike helps organize campaigns and projects, assign tasks, share ideas, and followup on progress. The dashboards support huge teams like PayPal and AT&T and also provide free plans for teams of 5 or fewer.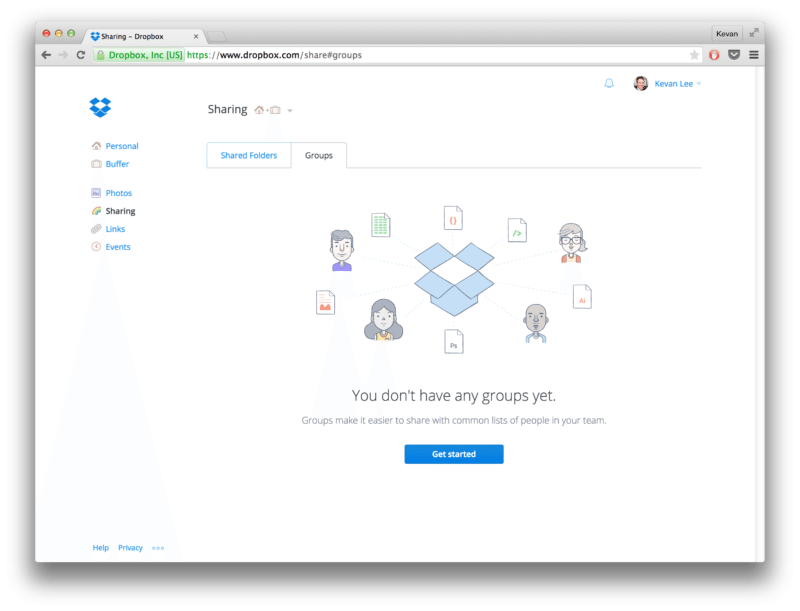 For file sharing of all kinds—social media images, strategy spreadsheets, in-progress documents, videos, slidedecks, and more—many teams turn to Dropbox. On the free individual plan, you can share folders and files with colleagues as if you were all working from the same, shared desktop. Dropbox also offers a business plan for those who need the extra storage space (we're talking terabytes), helpful revision history, deeper admin controls, and more.
Another favorite of social media teams is Google Drive, where you can collaborate together, live, on the same documents, spreadsheets, and presentations. Some popular docs you might choose to share:
At Buffer, we find ourselves working together on social media specs and ideas in Hackpad, a stripped-down alternative to Google Drive.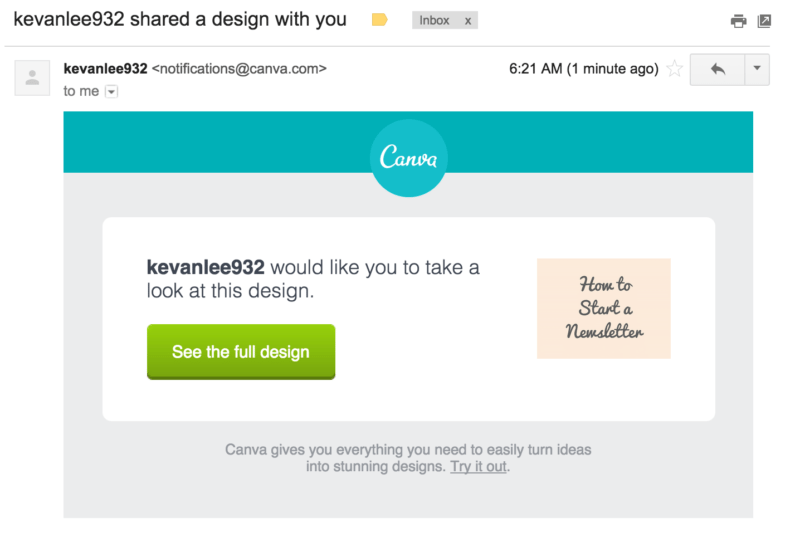 Need some advice from your team on a social media image you're creating? With Canva, you can share your in-progress images with anyone via email, and others can combine forces with you to design together on the same graphic.
Post Planner helps you find the best posts to share on Facebook, with a research-backed recommendation engine and a full image library, not to mention a queue schedule and the ability to work together with teammates.
Plans start at $7/month, or $15/month and up if you're interested in collaborating with one or more teammates.
Basecamp is one of the best project management apps out there, and social media campaigns are a natural fit as projects to manage. You can create your social media project in Basecamp, track progress with a to-do list, comment and share together in the discussion section, and stay on track with the latest happenings with project updates.
Basecamp is free to try for two full months, and plans start at $20/month with unlimited team members.
This Twitter management tool (the official one from Twitter) now lets you invite contributors and admins to share to your Twitter account for you, via Tweetdeck. You invite as many team members as you'd like and manage their roles as admins or contributors.
Super useful for tracking and monitoring when your brand is mentioned on social media, Mention also lets you listen in as a team, with full access for team members to your brand's mentions. With this, you can then split up your tasks of follow-up—send a teammate to reply to Twitter, assign a Google+ thread to another.
Bonus: Additional enterprise & paid options
In addition to the options listed above (most of which are free tools), there are some really great choices for those working with larger companies and teams or those interested in a robust, enterprise feel.
Over to you – What are your favorite collaboration tools?
What tools do you use to work together on social media marketing?
It'd be great to hear your experience and what you've found works best for you. We're always keen to try out new tools and workflows here at Buffer. Any advice you have for us would be amazing!
Image sources: Pablo, Death to the Stock Photo, IconFinder
Brought to you by
Did you find this article helpful? You might also like our all-you-need social media toolkit.
Get started for free now