Summary
Instagram has become a shopping destination for many consumers. And in this guide, we'll give you everything you need to know to get your Instagram page and posts optimized to drive sales for your business.
You will learn
How to set up an Instagram shopping account
Ways to drive sales from Instagram
Tips for creating an Instagram sales strategy
How often do you scroll through Instagram and love the look of something so much that you want to buy it? If you're anything like the 130 million people that click on Instagram shopping posts each month, you probably feel that way fairly often.
And that's why you need to know how to sell on Instagram.
Instagram gives business owners a chance to sell products, build brand awareness, and connect influencers and brand ambassadors all in one place. What started out as a visual-centric social media network has become a valuable ecommerce platform. People are already on the app for an average of 28 minutes a day. It doesn't take much for casual scrolling to turn into active shopping.  
When custom pin manufacturer WizardPins got started on Instagram, they knew driving sales from a brand-new account would be a challenge. But a series of pin giveaways on Instagram helped the company generate $25,000 in revenue. WizardPins also realized that Instagram had compounding benefits. Giveaways took them from 0 to 30,000 followers in 18 months, drove 100,000 visitors to their website, and turned the pin winners into brand ambassadors.
Keep reading to learn how to sell on Instagram, including instructions for setting up, options for selling, and tips for improving your Instagram sales strategy. For a full worksheet to guide you through every step of setting up your shop and improving your sales strategy, you can download our comprehensive guide.
Set up your Instagram shopping account
Start by converting your personal profile to an Instagram business account and checking whether you are eligible for Instagram shopping.
Instagram Shopping eligibility requirements:
Business needs to be located in a supported market
Business has to sell physical goods
Business must comply with the commerce policies
Instagram account must be a business page and connected to a Facebook page
All set up? Now you can either build your catalog manually or through a third party.
If you already have a Facebook Shops catalog, you can save yourself some time by connecting it to your Instagram account. Just make sure you're happy with the catalog you choose, because it will automatically create your Instagram shopping catalog, and you can't change it later.
To add products manually, use Catalog Manager to upload product photos and information individually. To speed up the process, upload products in bulk with a spreadsheet, or use a Facebook pixel to import products from your website.
You can also use one of the certified third-party ecommerce platforms:  Shopify, BigCommerce, WooCommerce, Adobe Commerce, or OpenCart.
3 Approaches to selling on Instagram
Here are three main options for selling products on Instagram:
1. Use Instagram Shoppable Posts
You can recognize Instagram Shoppable Posts by the white shopping-bag icon in the corner of an image. Other than the shopping bag icon, photos and stories will appear to users as normal posts. Instagram Shoppable Posts are very effective because they appear to potential customers as part of their regular Instagram experience.
Instagram's built-in ecommerce feature allows you to tag products in your Instagram stories or images and link them directly to your catalog.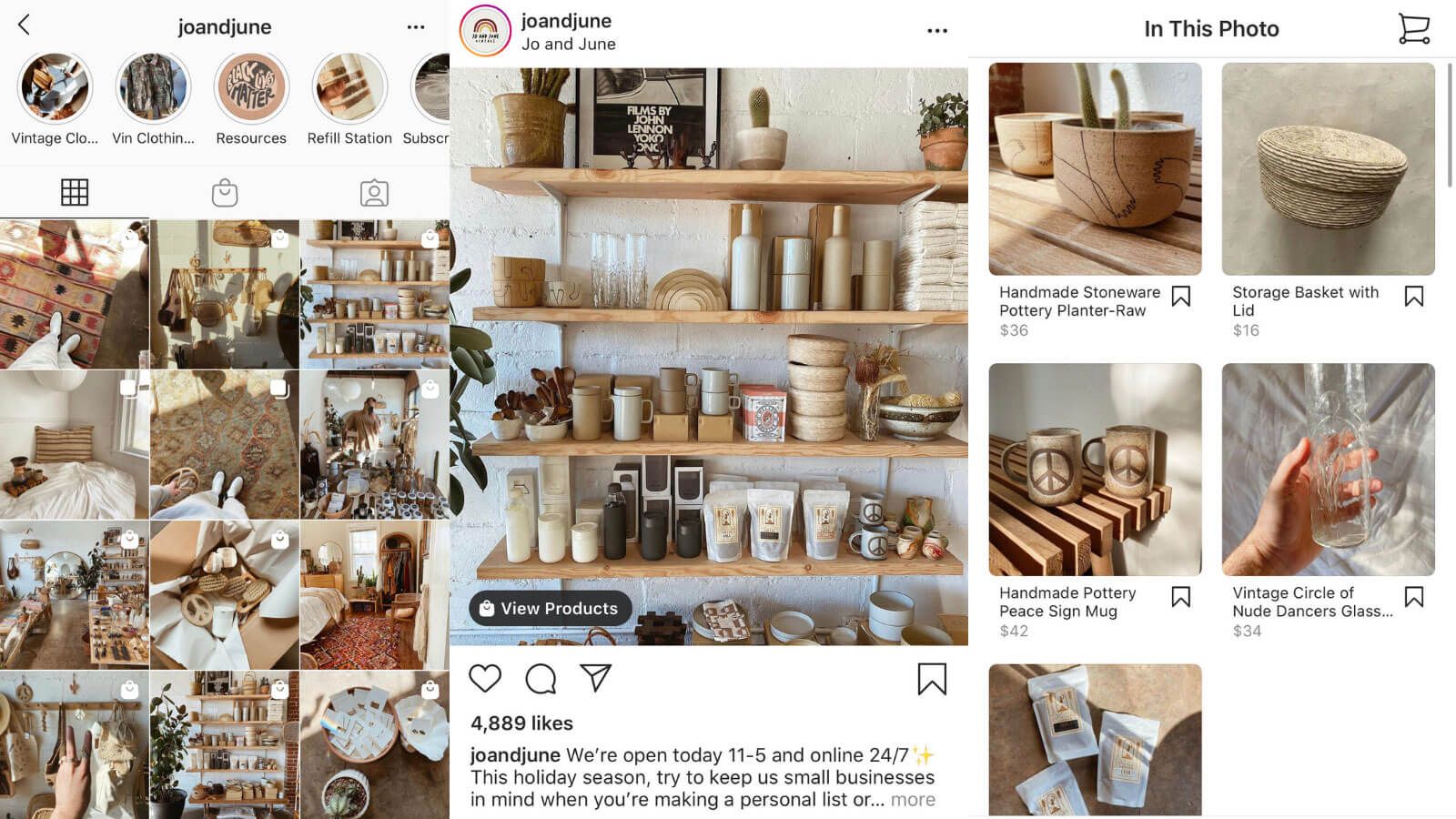 When creating an Instagram post, you can add up to five products per image or up to 20 for multi-image posts. Simply tap on products in the photo, and then tag products from your catalog. You can also share products in Instagram stories, but you are limited to a single product per Story.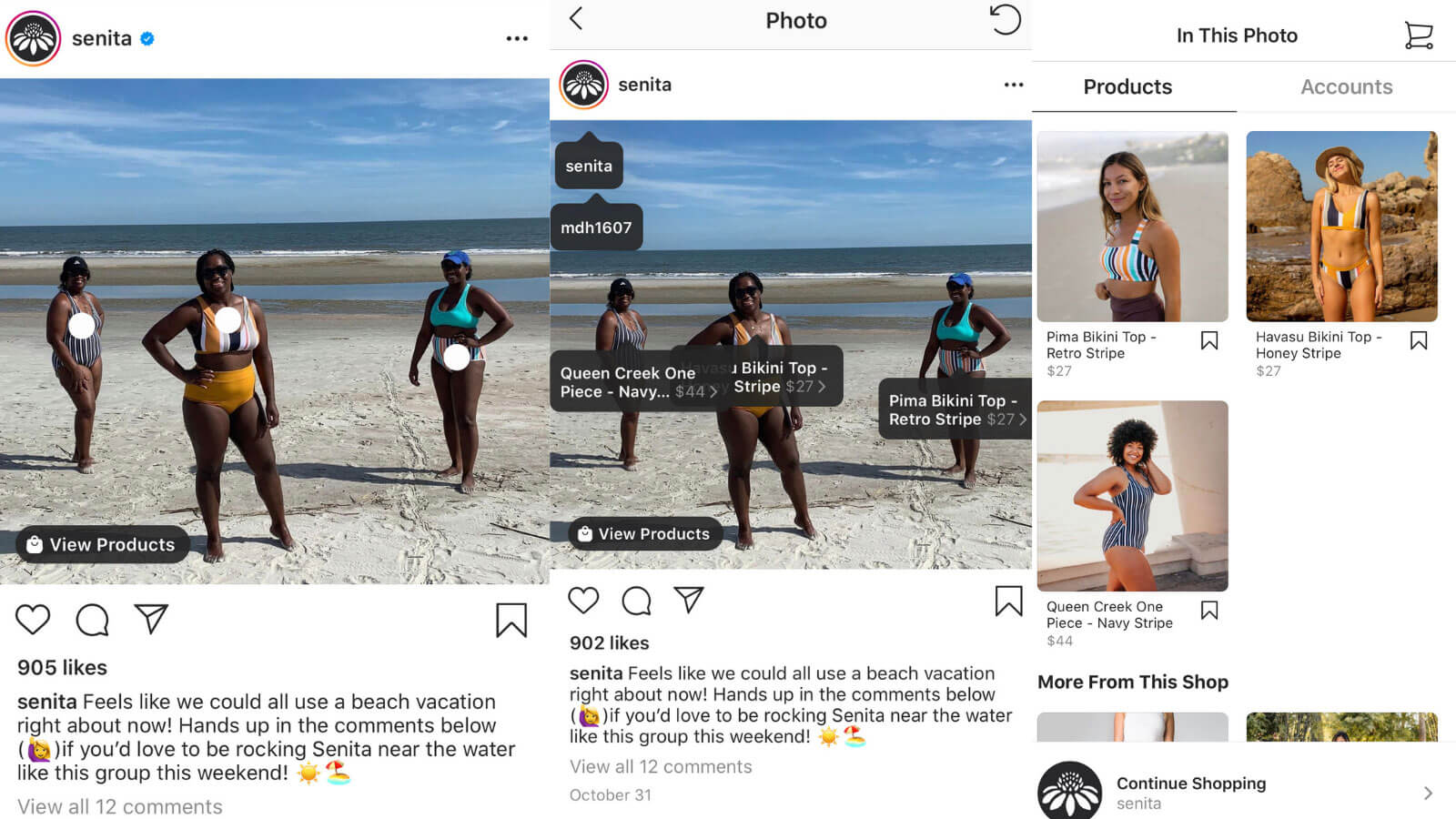 Not only can people see your Instagram Shopping Posts as they scroll through their feed, but they can also complete the purchase without fully leaving the Instagram app.
2. Try Buffer Shop Grid
Our Shop Grid feature turns your Instagram profile into a grid-inspired shop page. Think of your grid like your store's window display — a curated collection of products that show off your brand's style.
With Shop Grid, you can leverage your link in bio to feature multiple product pages. You can add a link to each photo that takes people directly to the product page on your website.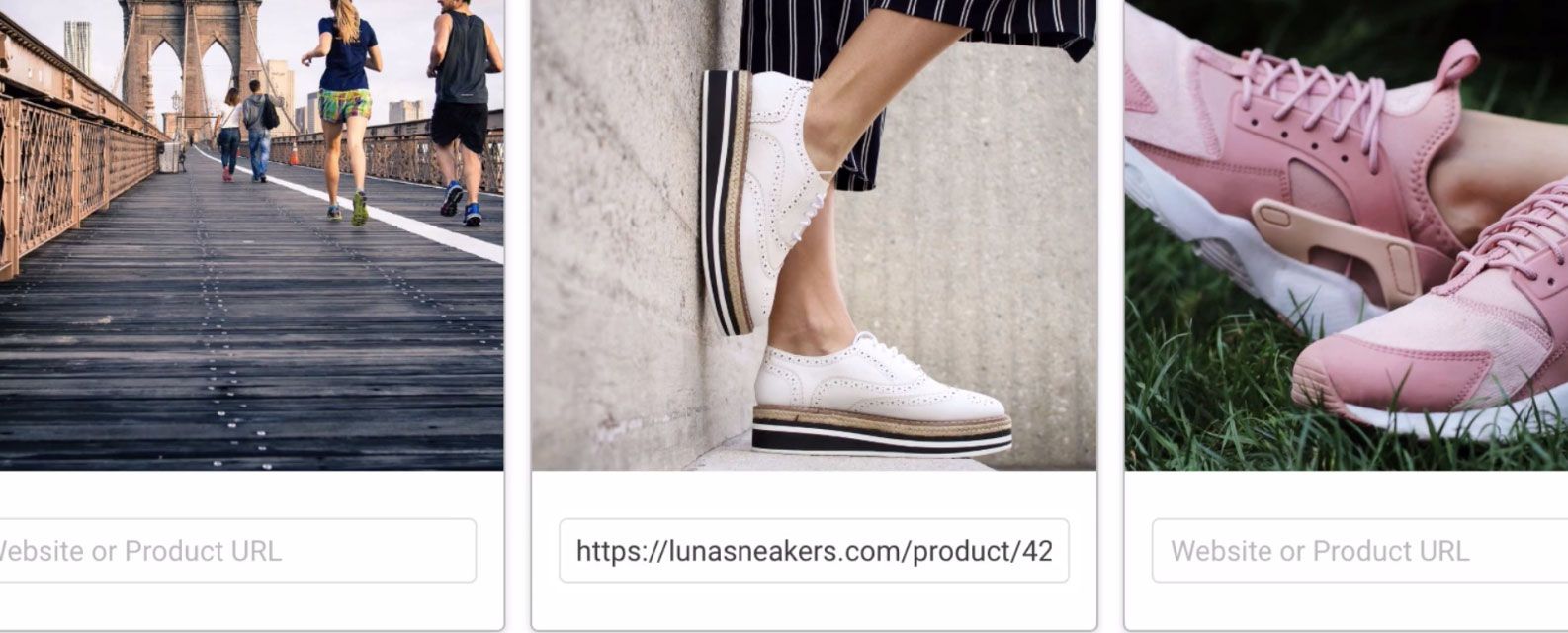 Instagram allows users to add only one link in a bio. With Shop Grid, you can make the most of that single link and turn it into a catalog for every product photo you share. Once people click on your Shop Grid link, they'll see clickable versions of your images that take them directly to the associated product's page.
And with Buffer Premium, you can schedule shop posts ahead of time and view Instagram analytics to improve your Instagram shopping marketing efforts
3. Sell through comments and direct messages
Wondering how to sell on Instagram without a website? Some startups and smaller businesses rely on manual methods, including comments and direct messages (DMs).
To sell through comments, share your product photos with "Comment to buy" instructions in the caption. For example, you might say "Comment 'SOLD [your size]' to buy" for a clothing item. Then, you'll need to follow up on each comment by sending a DM to arrange shipping and payment. Or you can use third-party tools such as Soldsie or Comment Sold to automate parts of the process.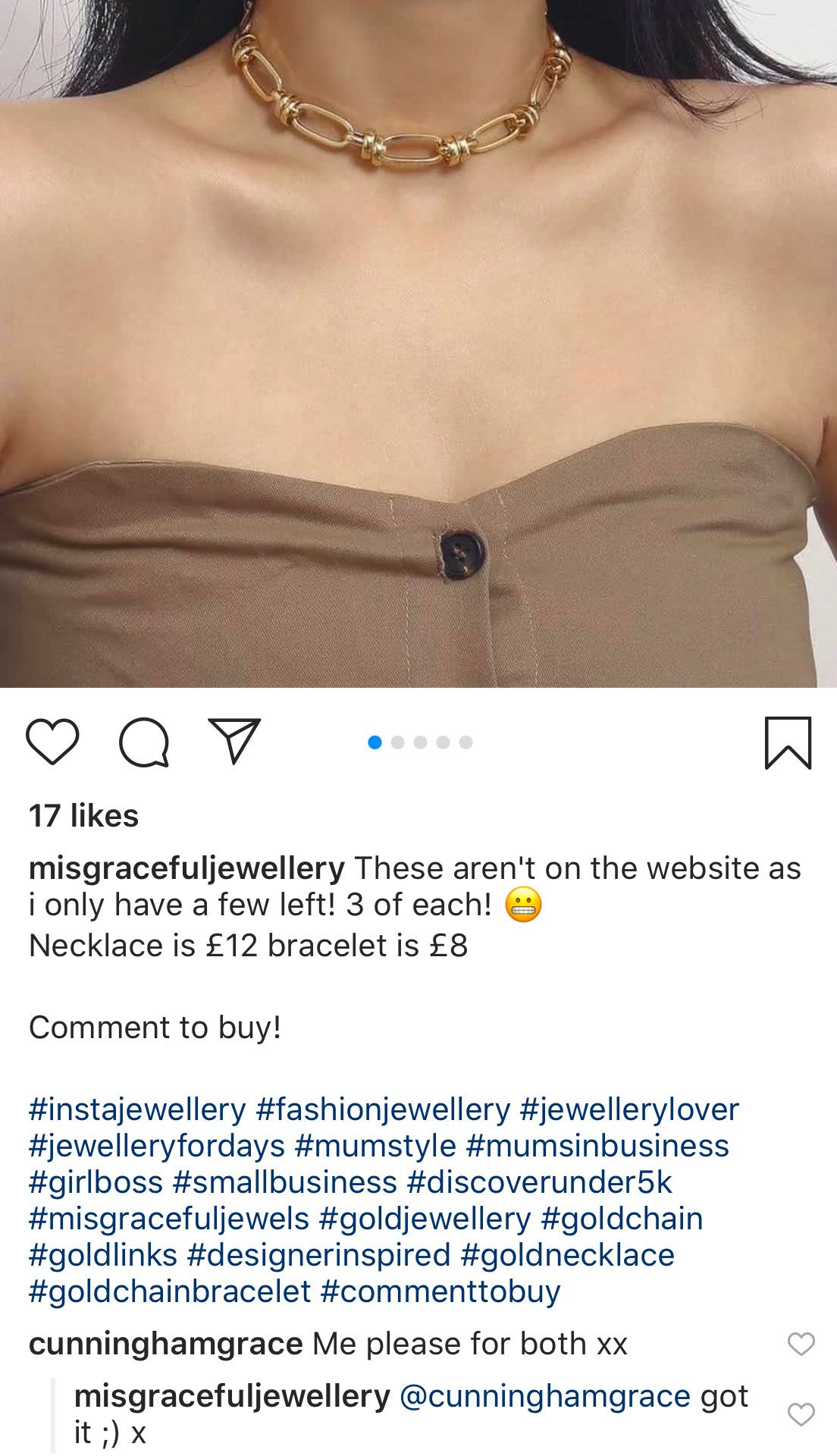 If you take this approach, Buffer's engagement features might help you to keep on top of any comments you get on your posts as these can easily get lost amongst other notifications on Instagram.
Many small businesses on Instagram prefer to skip straight to DMs. Selling through DMs is a popular option for artists who make one-of-a-kind pieces or a limited amount of a product.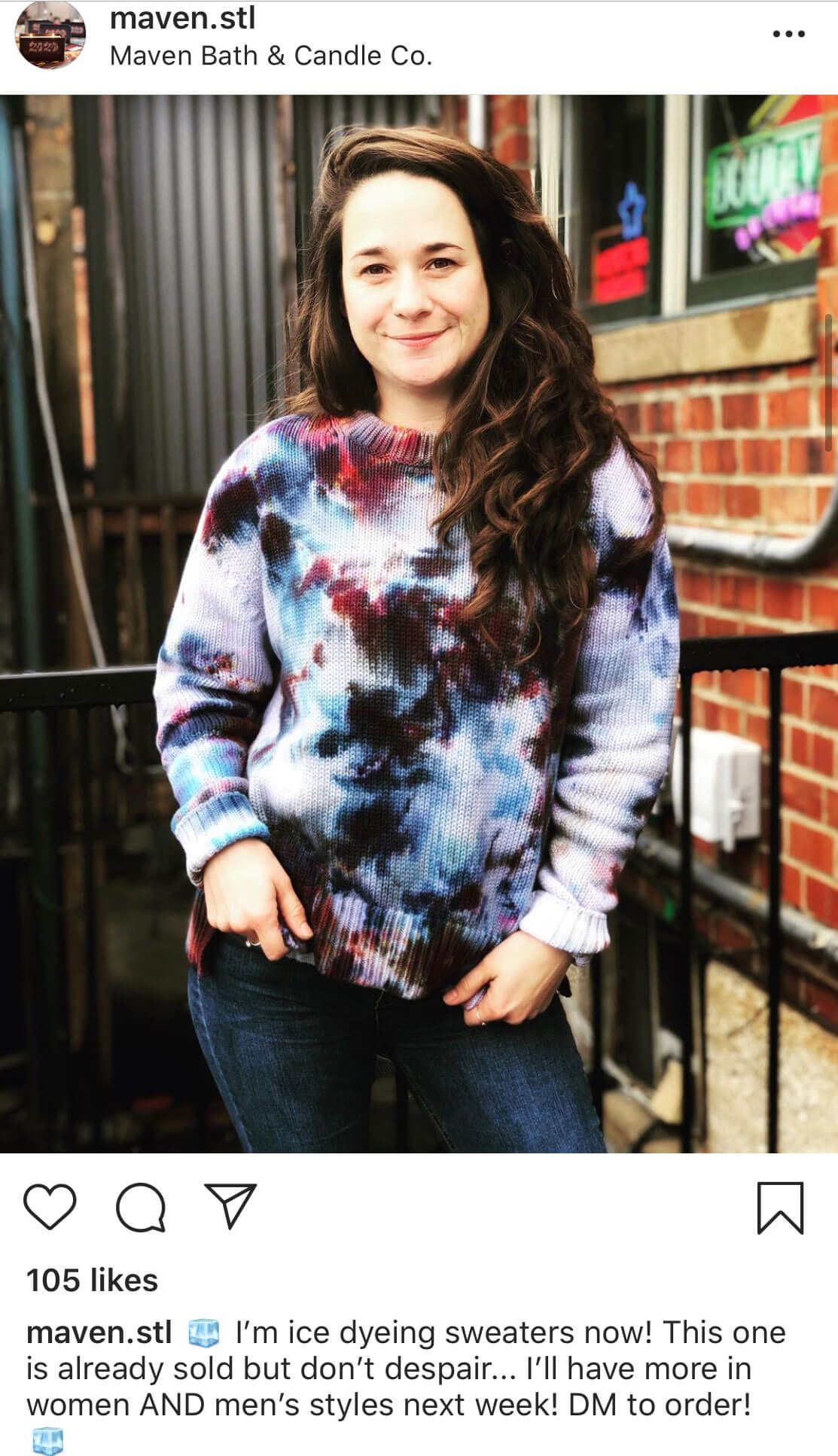 Comments and DMs require a lot more manual work than Instagram Shoppable Posts or Buffer Shop Grid, but this manual method is a good starting point for up-and-coming businesses that don't have a website or a formal product catalog just yet.
4 Ways to improve your Instagram sales strategy
Want to step up your Instagram shopping game? Try out these tactics.
1. Create a signature style for your photos, and stick to it
Close your eyes and think about your favorite physical retail store. What colors do you see? What vibe do you feel? We're willing to bet you can identify your favorite stores and brands just by their aesthetic. Great Instagram business profiles have a signature look and feel, too.
For example, eclectic_goods gives off that swoon-worthy Pinterest vibe with brightly lit, crisp photos of curated collections of products. Meanwhile, artist stella.stardust features her pieces individually on a plain gray or black background.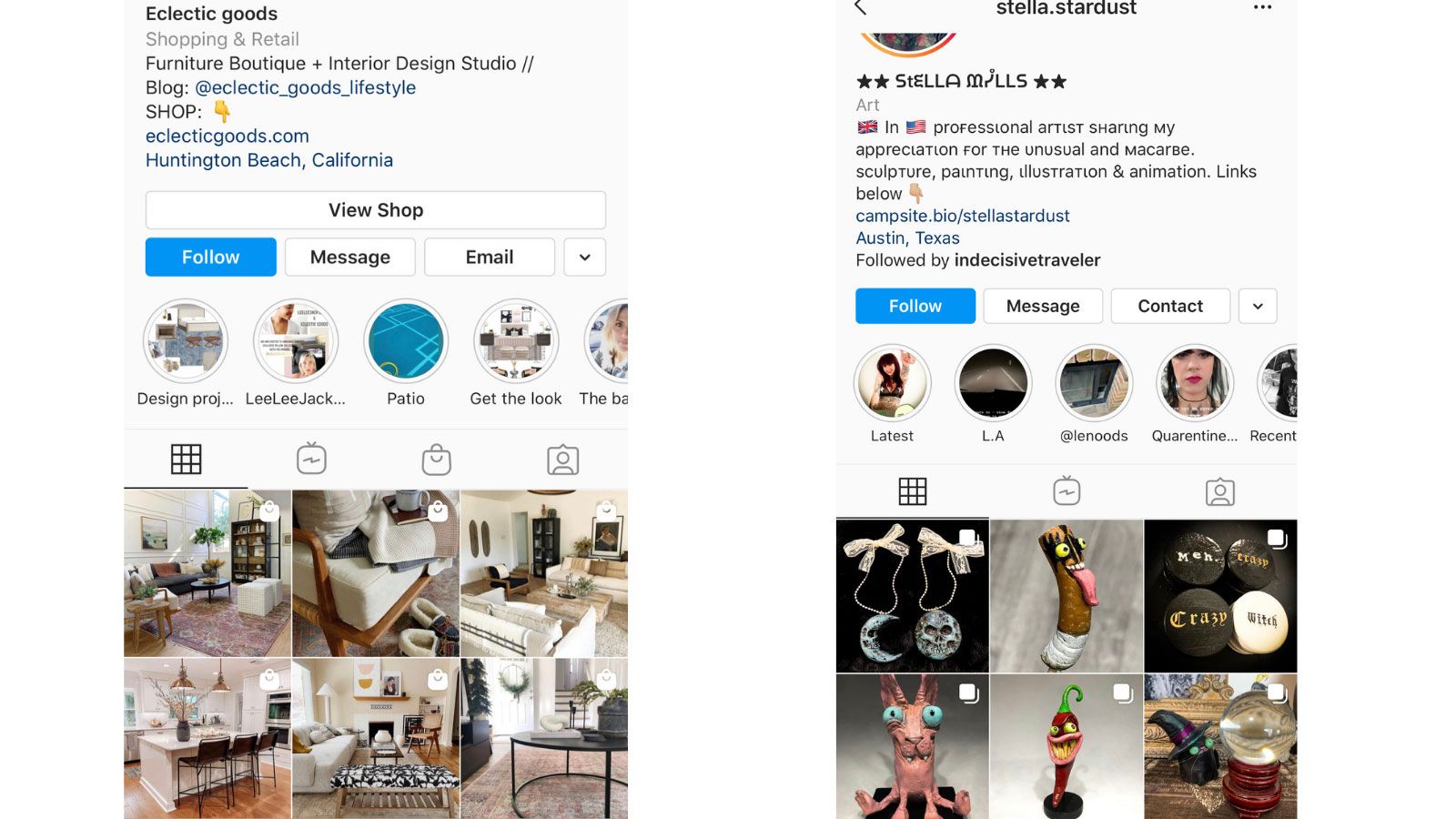 2. Use Instagram Insights
Use Instagram's built-in analytics, Instagram Insights, to monitor key metrics such as engagement rates, post shares, and likes. Keep an eye on which post styles and products grab people's attention so you can home in on what your audience responds to.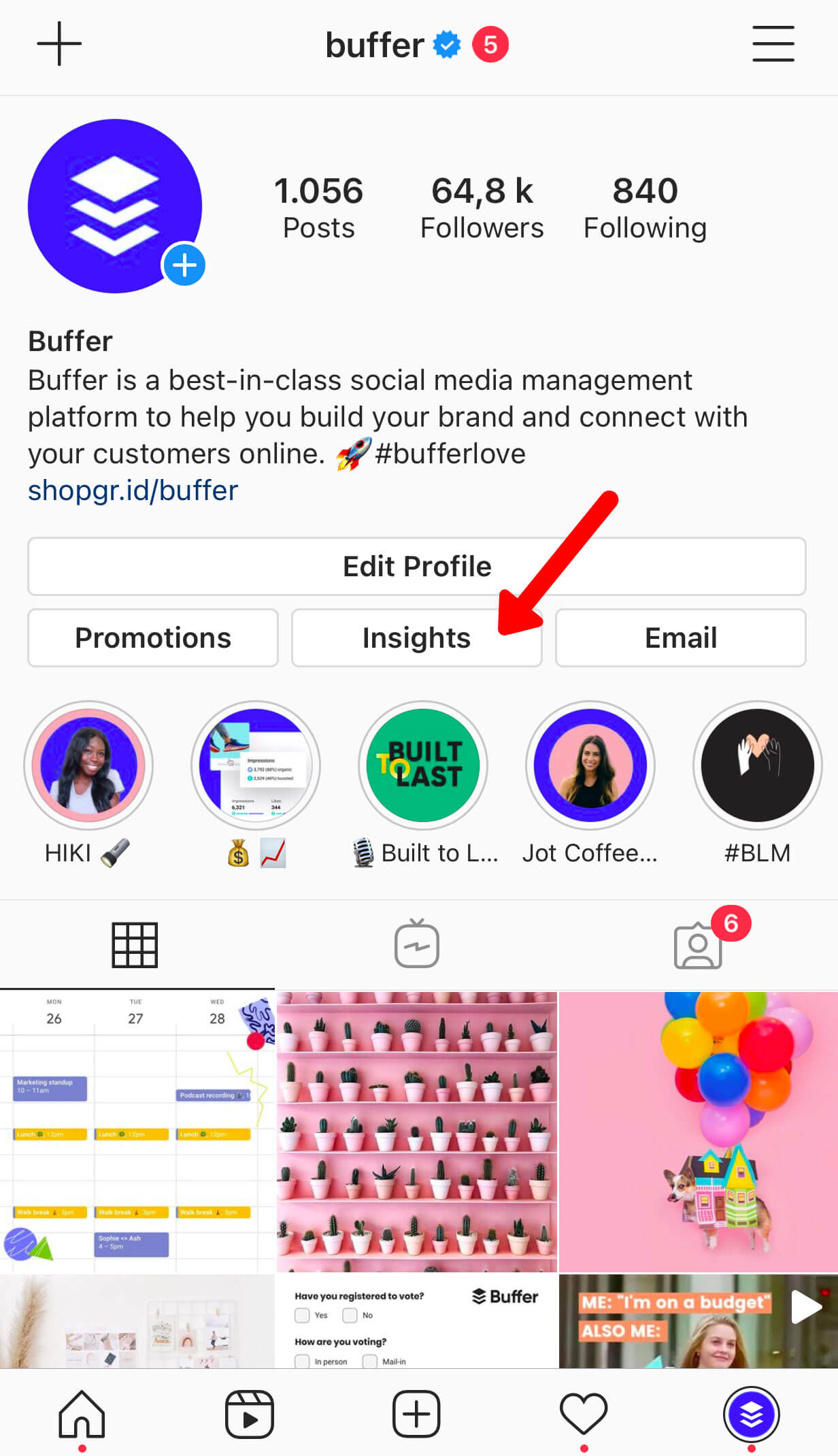 3. Encourage engagement and word-of-mouth marketing
Our survey of 800 millennial and Gen Z Instagram users shows 53% of users find brands through word of mouth. Try out different engagement tactics that inspire people to share your account and products. You can encourage your audience to spread the word with prompts like "Tag a friend who would absolutely rock this look!"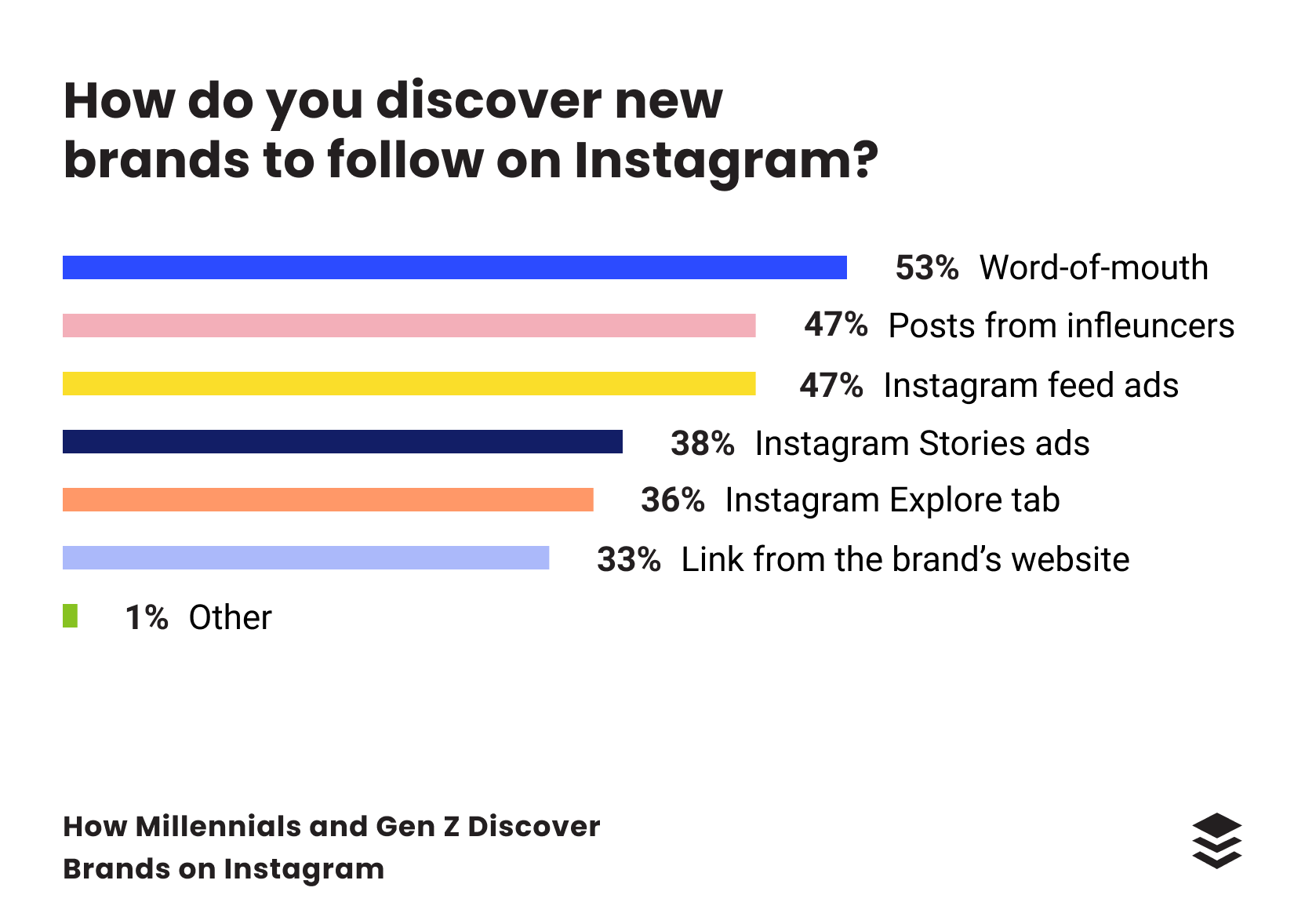 Giveaways are a solid way to incentivize social sharing. In addition to liking and commenting on the post to enter, you can ask people to share the post on their Instagram Stories or tag friends in the comments. When people tag their friends, it often sets off a domino effect: The friend gets the notification and decides to enter, so they tag more friends and the chain continues.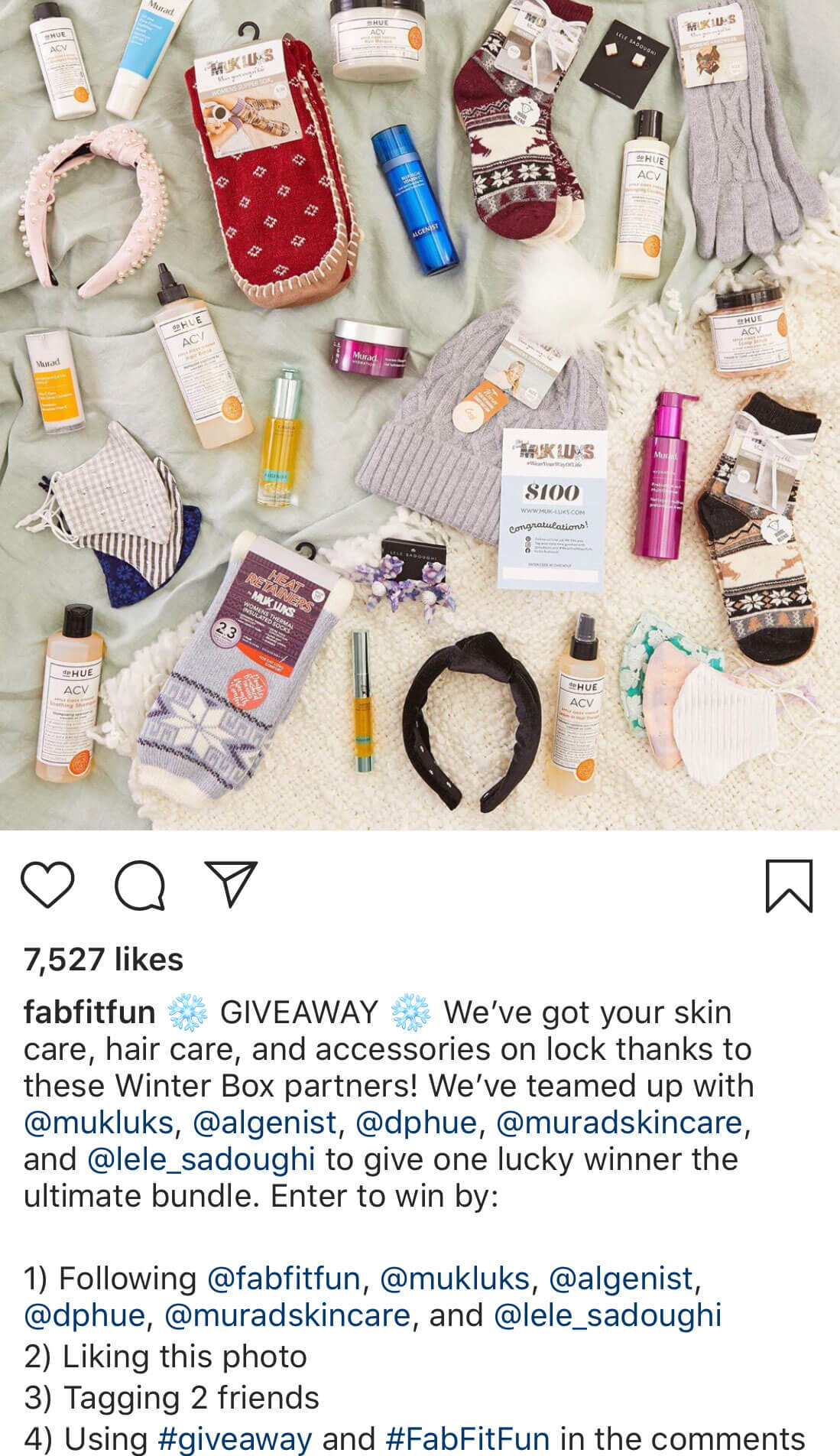 4. Partner with influencers
Instagram influencers are a powerful marketing tool. Our survey shows that 47% of respondents discovered brands through influencers.
While celebrity influencers can reach millions of users, micro-influencers (1,000-10,000 followers) are actually more effective. Micro-influencers have higher engagement rates than influencers with 10,000 or more followers.  Customers enjoy buying products from people they feel they can trust, and it's a lot easier to trust someone who doesn't have an agent, a stylist, and a makeup crew on call.
Skin care and beauty brand Glossier is well known for turning their customers into micro-influencers. Glossier's profile is full of customer-submitted photos that show off Glossier products on real people, not models.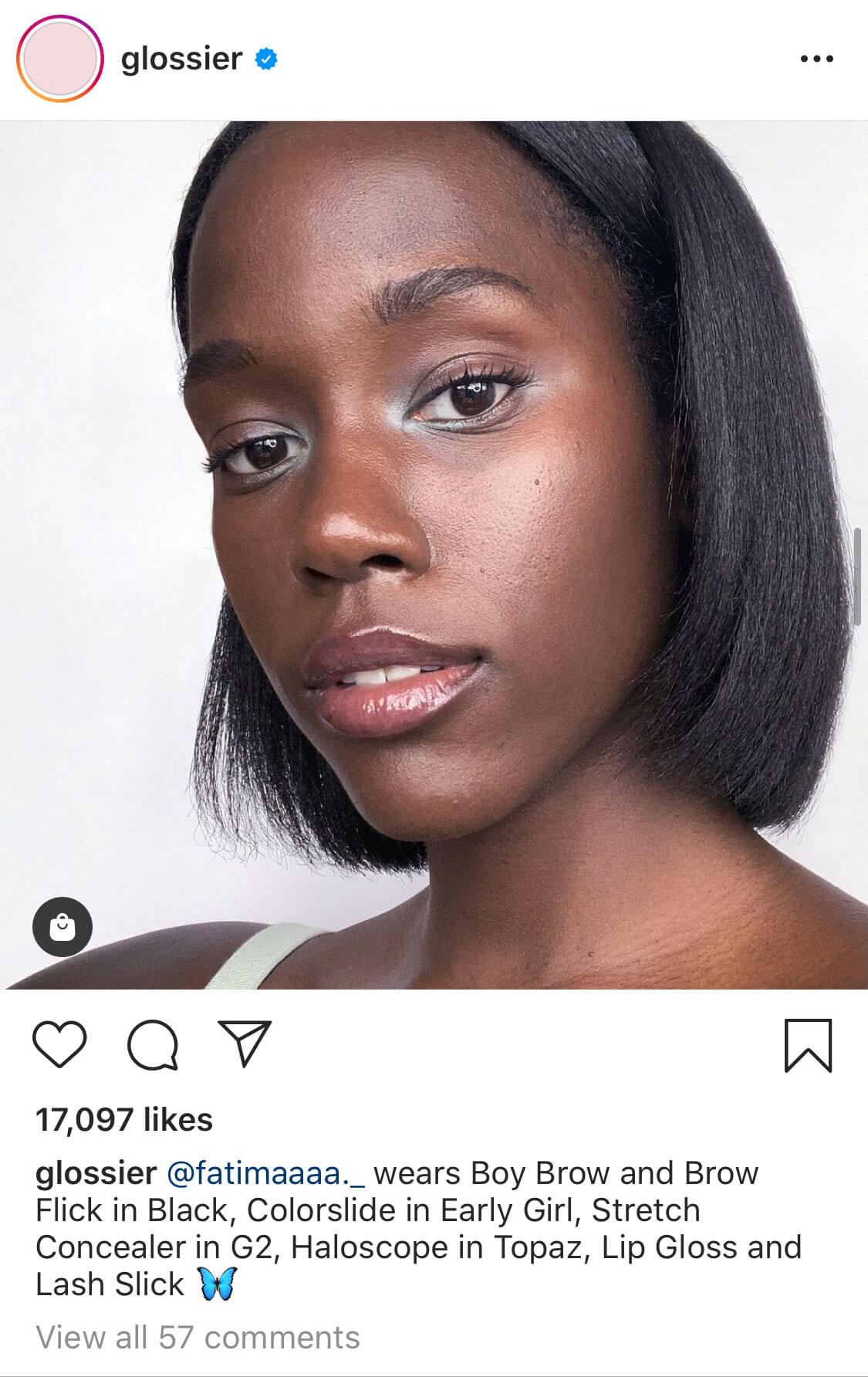 Think about it for a second: Are you more likely to feel that a look is achievable if you see it on someone like fatimaaaa._ (who has less than 2,000 followers) or Beyoncé? That's why micro-influencers often beat out celebrities when it comes to driving sales for brands.
Boost your sales with Instagram Shopping
As ecommerce sales continue to rise around the world, it's more important than ever to learn how to sell on Instagram. Our research shows that 76% of millennials and Gen Zers have made a purchase after finding a brand on Instagram. Considering the two generations make up the largest portion of Instagram users worldwide, that's a significant potential customer base.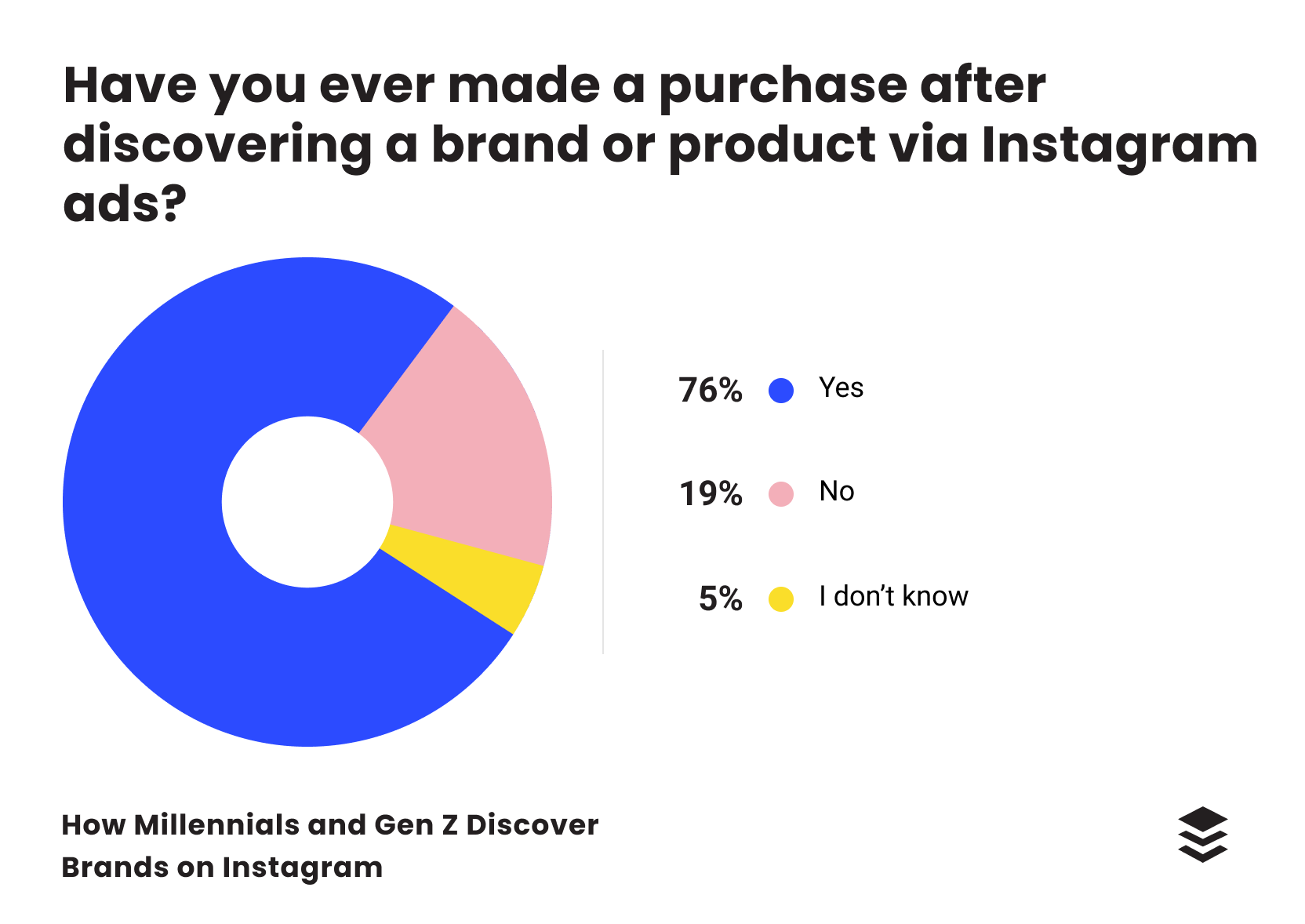 With Buffer, you can not only schedule posts and track key metrics, but you can also set up an Instagram shopfront without any third-party ecommerce tools. Get started today for free.  

Brought to you by
Did you find this article helpful? You might also like our all-you-need social media toolkit.
Get started for free now