As much as it can seem like a status symbol to be verified, there are also really practical reasons to have a verified Instagram account. Verification helps with engagement, can help Instagram users find real sources of news, and can stop impersonation among other things.
Getting verified adds credibility to any account — so it's no wonder that so many of us are keen to have that blue checkmark on Instagram. In this post, we'll cover what verification is, how to get verified on Instagram, tips for increasing your chances of getting verified, plus some FAQs about the blue tick.
Let's dive in!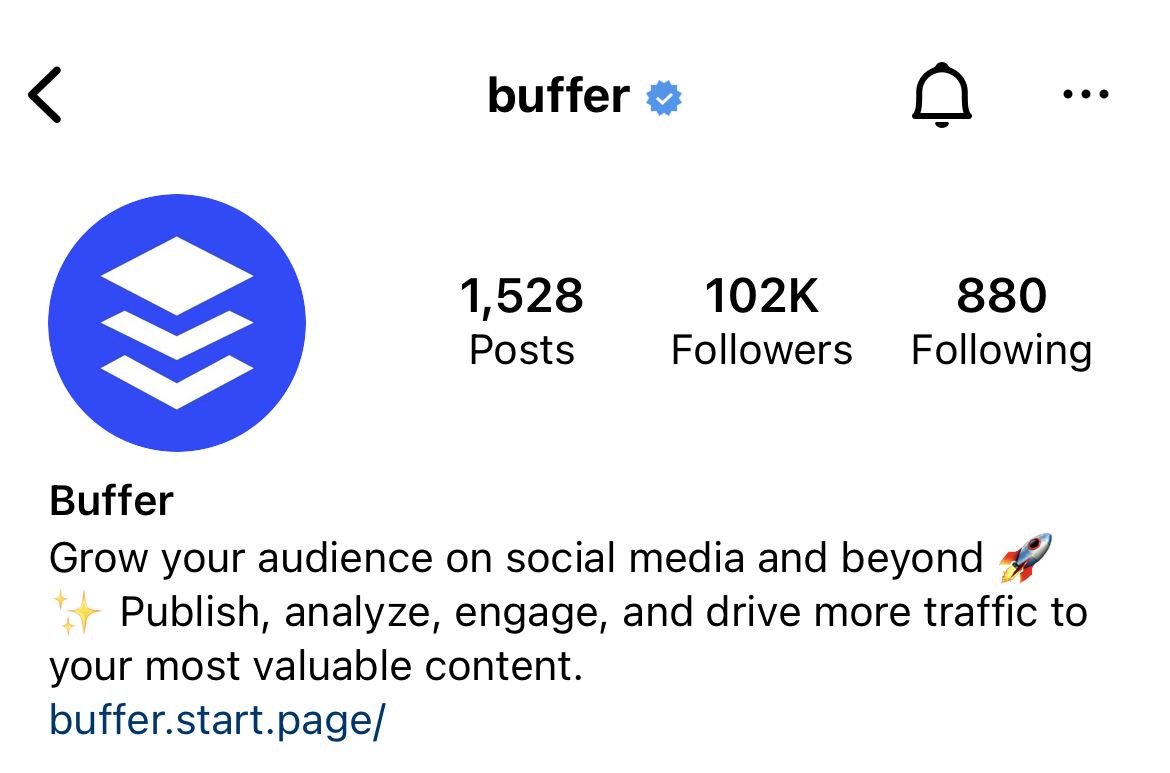 What is Instagram verification and why do you need it?
You've almost certainly seen the blue checkmark next to an account's name on Instagram — that means that the account in question has been verified. Verification is when Instagram confirms that the account is both authentic, and represents a notable brand, public figure, or celebrity. It's ultimately a resource for Instagram users to be able to find real accounts of celebrities and other notable individuals and companies.
Other than status, there are a number of benefits to having a verified account on Instagram:
It adds credibility — this can be key if you're sharing important research, news, or articles.
It helps you stand out in search results — verified accounts appear at the top of Instagram search results.
Verification assists with impersonation issues — Instagram won't verify more than one instance of a person or brand, so you can trust that the one that is verified is the real account.
Plus, verified accounts get higher engagement rates. A study of 6.5 Million Instagram accounts discovered that accounts that are verified on Instagram get on average 30% more engagement than other accounts.
How to get verified on Instagram
To get verified on Instagram, you first need to apply. Please note that you never need to pay to be verified on Instagram — so don't trust any account trying to sell you Instagram verification.
Follow standard best practices on Instagram (easy)
To be eligible to be verified on Instagram you need to do a few pretty standard things:
You have to follow Instagram's Terms of Use and Community Guidelines
You have to represent a real person
You need to represent the unique presence of that person or business (only one account per person/business can be verified)
And you have to have a complete profile: picture, be active, bio, public account
Prove that you are a notable account (more difficult)
This is where most people run into problems, because you have to prove to Instagram that you are notable, which is easier for some than others. Being notable means you represent "represent a well-known, highly searched-for person" according to Instagram.
Instagram shared a helpful tip that when looking at verification they look for accounts that have been features in multiple news sources. Paid and promotional content does not count. They also shared that they recently "expanded our list of news sources to include more diverse outlets including those from additional Black, LGBTQ+, Latinx media, and including more outlets from around the world for example." Which is great news!
If you haven't yet been featured in multiple outlets, head down to the next section on tips for getting verified and we will walk you through some advice. If you do have this proof, you can move on to submitting your application.
Submit an application to Instagram (easy)
The actual application to be verified isn't too bad, you do it right from within your own Instagram account. Here's how to request to be verified on Instagram:
From your Instagram account, click on the hamburger menu in the top right corner.
Click Settings, then Account, and you might need to scroll down to find Request verification.
Step 1: confirm authenticity
This just requires you to list your full name and upload a document to prove your identity.
For documents, you can choose from:
Driver's license
Passport
National identification card
Tax filing
Recent utility bill
Articles of incorporation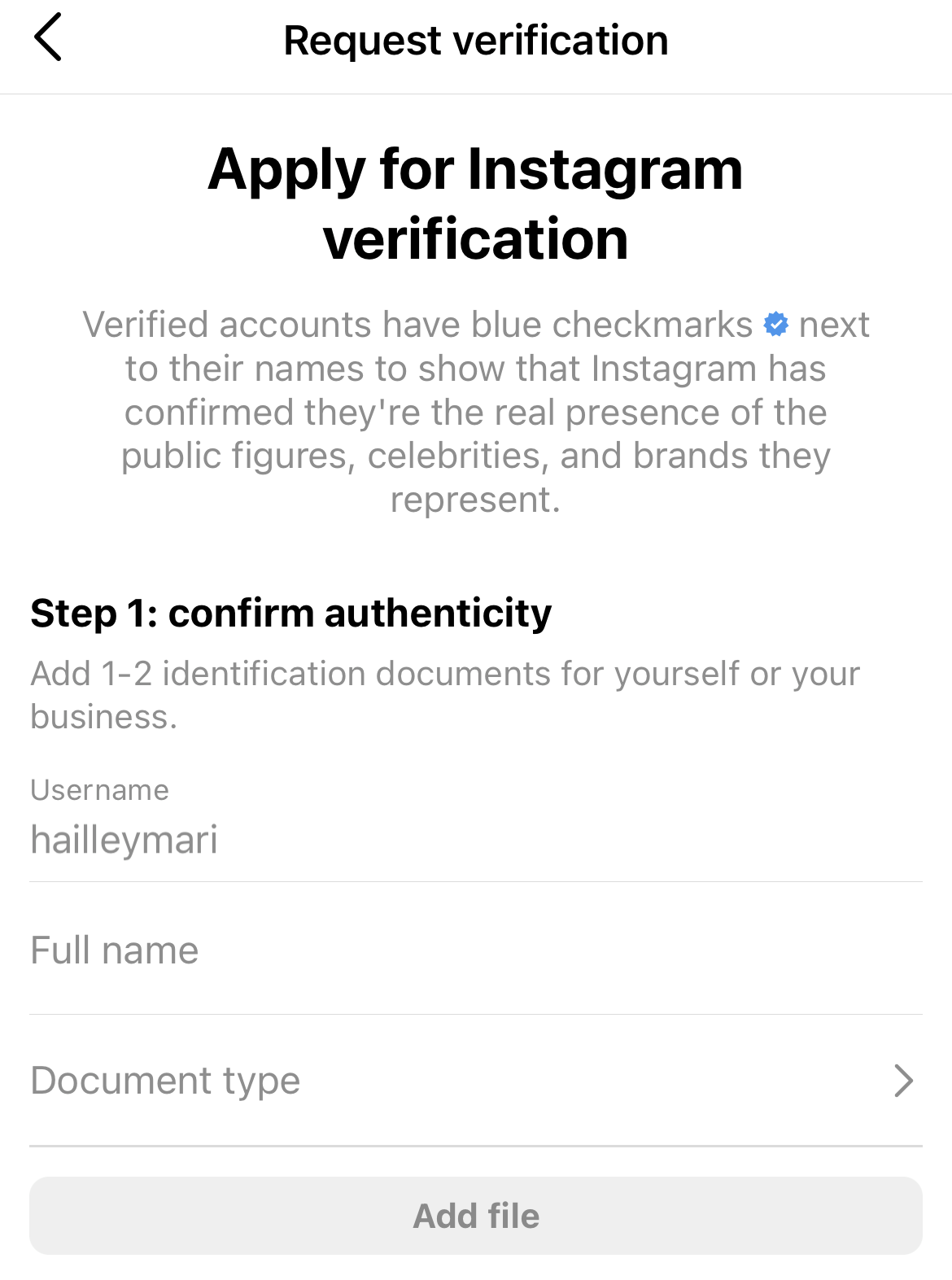 Step 2: confirm notability
This is the section where you need to show that your account is representing a public figure, celebrity, or brand that is notable.
You'll need to choose a category. The options are: News/Media, Sports, Government and politics, Music, Fashion, Entertainment, Digital creator/blogger/influencer, Gamer, Global business/brand/organization, or other.
You then select your country or region.
And you can optionally include more information about your audience. Instagram describes this as "Describe the people who follow your account. Include who they are, what they're interested in, and why they follow you."
The final optional piece is that you can fill out Also known as, where Instagram says "List all the names the person or organization your account represents is known by. Include different names and the same name in other languages."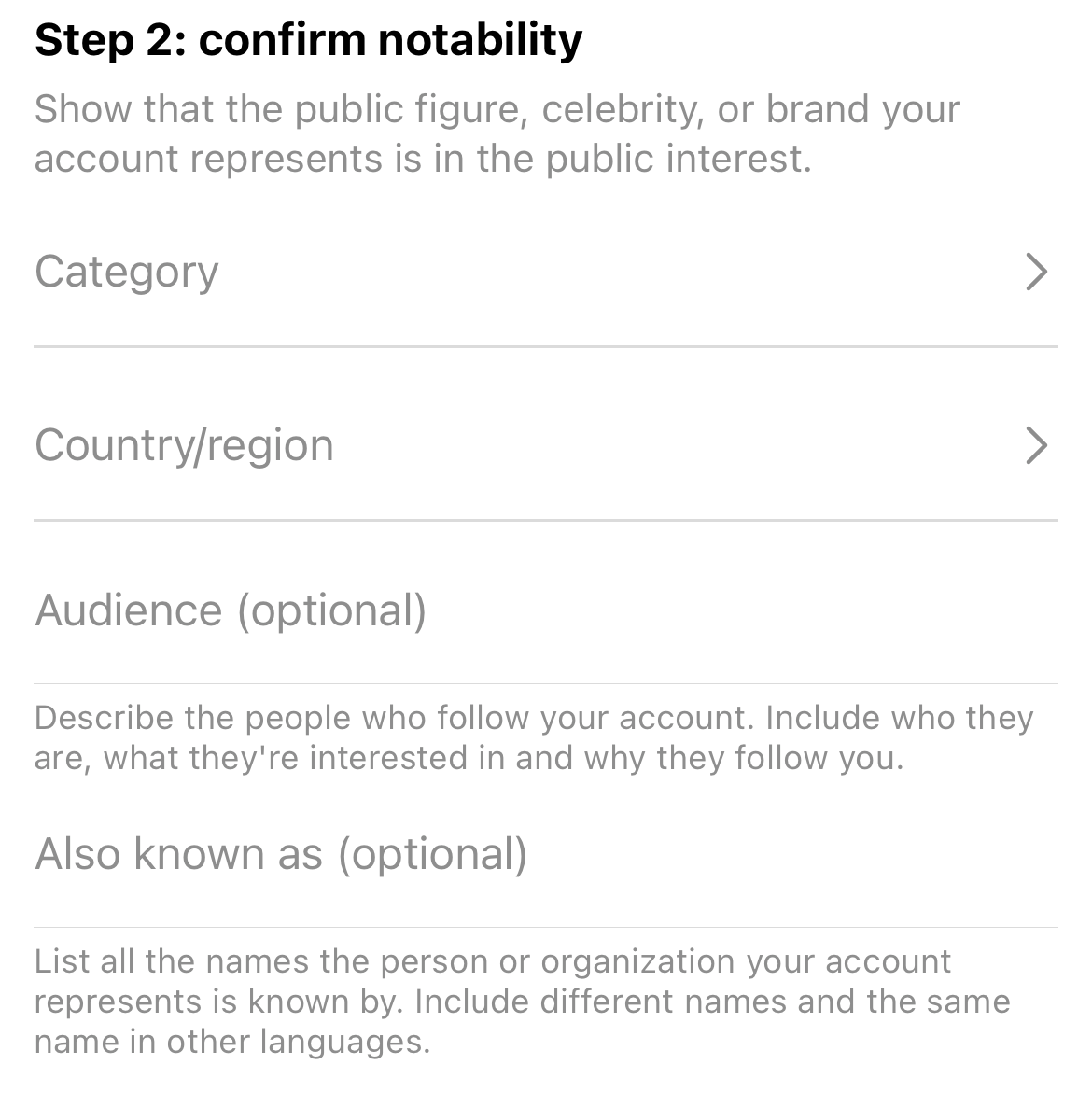 *Links (optional) But we recommend it
Finally, you can add links to your application to prove your notability. This is technically optional but we highly recommend it if you want to successfully get verified on Instagram.
Add links that are articles or social media accounts that show your Instagram account is in the public interest.
Be strategic about these — pick bigger name publications and outlets if you can and remember that promotional and paid content doesn't count, so don't include it here.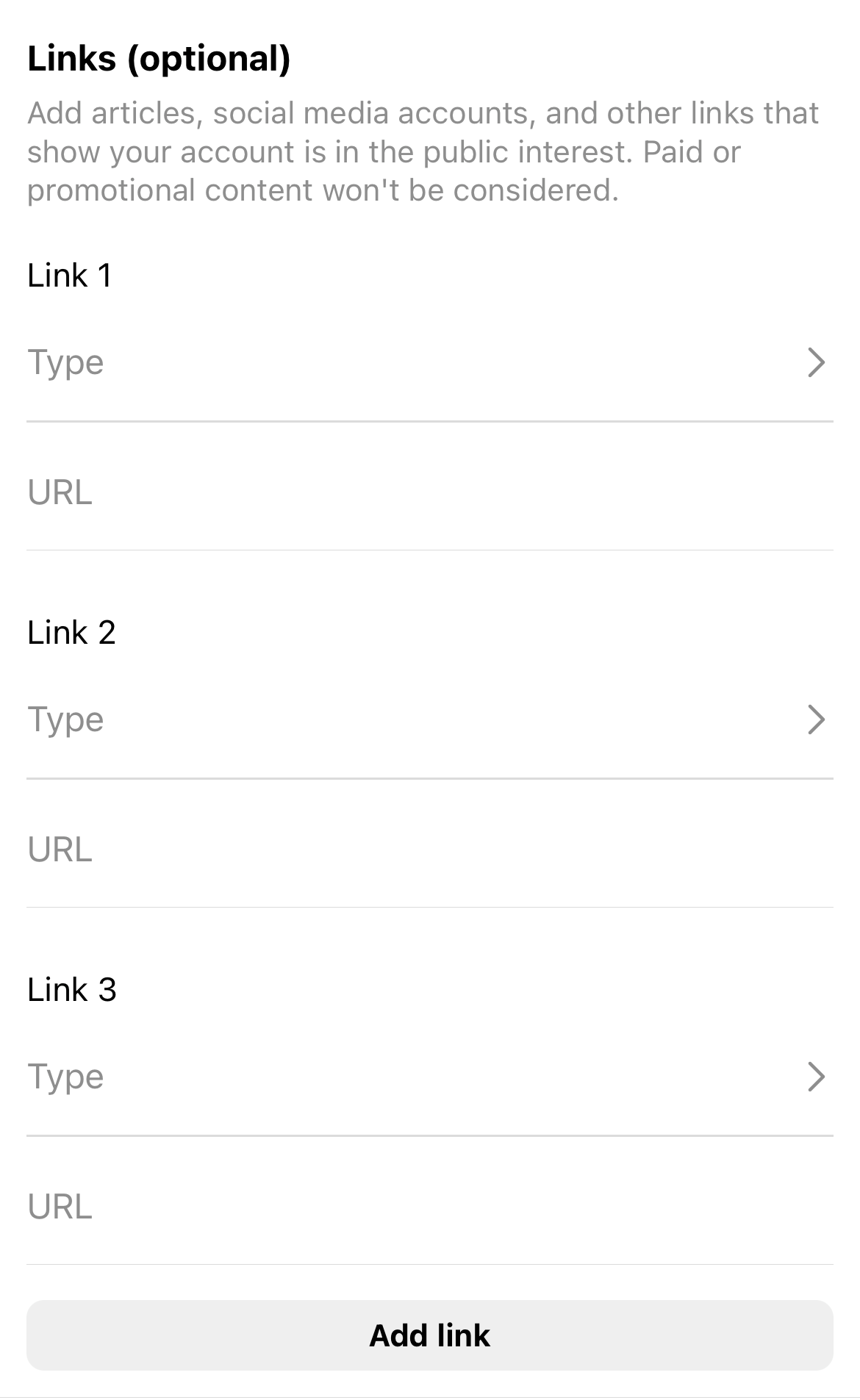 That's it!
You will be notified from Instagram within 30 days if your application is successful. If you don't get verified, you can apply again in 30 days. Note that if you apply more than once before they review your original application they will cancel the application entirely — so it's worth it to be patient here instead of spoiling your chances of getting that blue checkmark.
Tips for increasing your chances of being verified
Now, of course, if getting verified were easy, almost everyone would do it. But it's not — so here are some things you can do to increase your chances of being verified.
Grow your following on Instagram
Instagram verifies accounts that are active on the platform, so stay active while working to grow your account. Part of being notable in Instagram's eyes is how many people are following you on the network, so it's never a bad thing to keep increasing that number.
We can help with that:
Check out our complete guide to Instagram growth or dive into Instagram for small businesses.
Stay consistent with your posting schedule and check your analytics to see what kinds of posts are performing best. You can try Buffer for free to set up a consistent posting schedule across Instagram posts, Reels, and Instagram Stories.
Get media mentions
Easier said than done, but entirely possible. You want to start with at least three links for your application, and that's an achievable goal. You can start reaching out to publications that you believe would be interested in your story or what you're working on and pitch them your business. If you have the budget, you can also hire a publicist or PR agency to help.
Be strategic about when you apply
If you don't have a really strong case for being verified, be strategic about when you send off that request. Is a Reel of yours going viral right now? That's a great time to apply. Did you just get a ton of press mentions in a week? Go ahead and apply! Timing can be everything, so make sure you are careful and thoughtful about your application.
FAQs about verification on Instagram
How many followers do you need on Instagram to get verified?
There isn't a requirement to have a certain number of followers to get verified, however, you have to prove that you are notable and part of notability is having people interested in following you. Instagram will likely take it into consideration when they are reviewing your application, which is why we recommend growing your Instagram following before you apply.
How long does it take to get verified on Instagram?
Instagram reviews verification requests within 30 days, however you can be approved and verified much sooner than that. It depends on the team that is reviewing those applications so it varies a lot.
Do you have to pay to get verified on Instagram?
No! Do not pay anyone to get verified — ever.
The best approach to getting verified on Instagram if you aren't already a notable account is to work your way up gradually. Over time, you can grow your following and prove your notability, which will greatly help the success rate of your application. If you're off to apply for that verification right now — good luck to you!  
Brought to you by
Did you find this article helpful? You might also like our all-you-need social media toolkit.
Get started for free now