Projected to reach 1.2 billion users by 2023, Instagram has huge potential for small business owners to boost their marketing efforts, and marketers everywhere know it. According to Social Media Examiner's 2021 social media marketing report, "Seventy-eight percent of marketers are using Instagram." Marketers rank it second in importance after Facebook, and sixty-four percent of marketers plan to increase their activities on Instagram over the next year.

The potential of Instagram lies more in user behavior than the large number of active users: Instagrammers like to connect with brands.

Ninety percent of Instagram users follow a brand on the platform, according to Instagram. And according to 2019 data commissioned by Facebook, 54% of people have made a purchase after seeing a product or service on Instagram.

Instagram is particularly well-suited to small business owners who don't have the time or budget for expensive marketing campaigns. Unpaid social media marketing lets you grow your customer base without a dedicated marketing team or a big budget — just a free account and a smartphone camera are all you need to get started.

Just take a look at Southern Elegance Candle Company (SECC), a brand that has a thriving Instagram presence.
SECC uses social media to create a loyal fan base and bring in over $100,000 a month.

Once you understand some basic Instagram best practices, Instagram can become a key channel for you to grow your small business.
💡
Schedule your Instagram posts, carousels, stories, and reels with Buffer
Visually plan your content calendar and make your profile a "must-follow" with Buffer's suite of
Instagram scheduling and analytics tools
.
Can your small business do well on Instagram?
Any business can do well on Instagram — whether you own a local book shop, e-commerce store, landscape business, auto repair shop, or yoga studio. If your customers are on Instagram, you can be successful on Instagram.

But, if you only have time to invest in one or two social media platforms, then you need to make sure that Instagram is popular with your prospective customers. Here are a few ways to find out.
1. Ask your customers
If you want to know if your customers are active on Instagram, the easiest thing to do is just ask!

If you already have an email list, send a quick survey to your customers to ask about their social media habits. Ask what channels they use most frequently and where they like to follow brands.

Two free options to survey your audience are SurveyMonkey and Typeform. Typeform even has a social media survey template you can use for inspiration. Customize it with questions that will show you what you want to know about your customers.
2. Compare your target audience to Instagram's audience
Different groups of people are more active on certain social media platforms than others. Compare your target audience's demographics (things like age, gender, income, geographical location, etc.) and psychographics (psychological traits like interests, personality, and values) with the social media platforms you're considering.

For example, the 18-29 age group is most active on Instagram, while the 50-64 age group leads the way on Pinterest.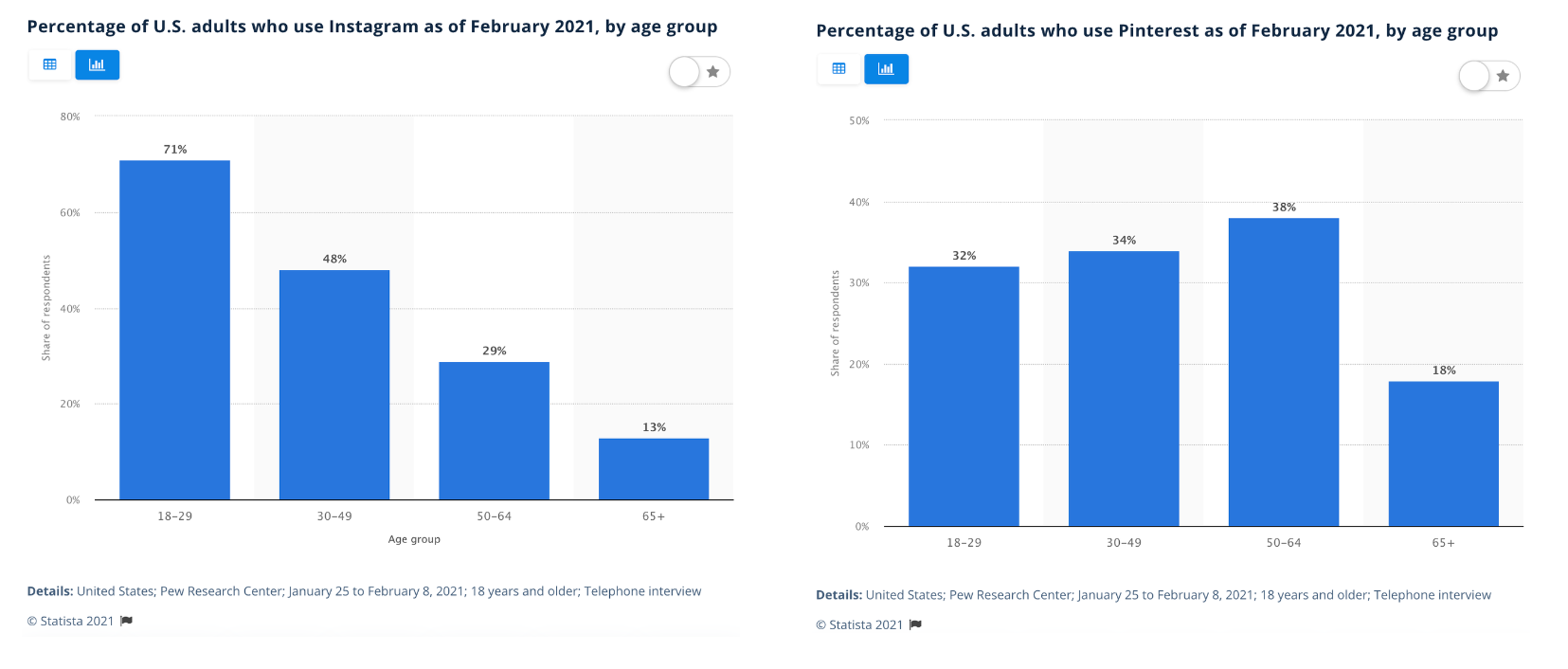 3. Look at your competitors
Your competitors' customers are also potential new customers for you. So if businesses similar to yours are doing well on Instagram, it's likely your people are on Instagram. You just need to start posting!

If your competitors aren't on Instagram, it might not be the right platform. But if multiple customers have told you they'd follow your brand on Instagram, go ahead and create an account. Instagram could have untapped potential, and you'll be the first brand in your niche to discover it.
Getting started with an Instagram strategy as a small business
Whether you're completely new to Instagram and preparing to share your first post or are already established and looking to boost your presence on the platform, it's important to start with clear goals in mind to guide the kind of content you should post on Instagram.
Instagram goals for small businesses
There's a plethora of content you could post on Instagram. Setting goals will help define your Instagram marketing strategy and narrow your focus, making it a lot easier to choose what to post!

Here are a few common goals small businesses might choose:
Increase sales
Grow their audience
Improve brand loyalty
Increase brand awareness
Drive website traffic
Establish business partnerships (with influencers or complementary brands)
Choose one or two goals for your Instagram profile and post content related to these goals.

Establish content pillars or themes that align with your audience
Once you know your goals, it can be helpful to choose themes that guide your content. Then your brand is more consistent, and your audience knows what to expect and gets excited to interact with you. Content pillars (or themes) can be a type of content such as behind-the-scenes content:
Here, travel backpack company Tortuga shares a sneak peek of upcoming product designs. Fans of the brand flooded to the comment section to share support and feedback on the designs.

Or, content pillars can be interest-based, like productivity:
Task manager app Sunsama posts regular productivity tips like this one, often introducing their take on better ways to work to spread their mission.

Use your audience's interests to inform your content pillars. It just needs to make sense with your brand. Even if Sunsama's customers were really into travel, it wouldn't make sense for them to post travel content as a to-do list app.

Instagram content pillar examples to help you get started:
Behind-the-scenes content
User-generated content
Polls
Giveaways
Product demos
Educational (e.g. tips or tutorials)
Culture-focused (showing the human side of your company)
Customer stories
Product launches
Travel
Productivity
Motivation
Food
Exercise
Mental health
Body positivity
Environmentalism
For example, for interest-based pillars, Girlfriend Collective tends to make posts about diversity, body positivity, beautiful nature spaces, and sustainability to move its mission forward. For content types, the brand uses UGC to keep a relatable feel and product previews to build hype around a launch.

Here, Girlfriend represents different body types in a nature space as part of a product launch:
Meditation app Headspace posts educational content about mental health:
And here, Hairstory uses polls in Instagram Stories to start conversations around self-care: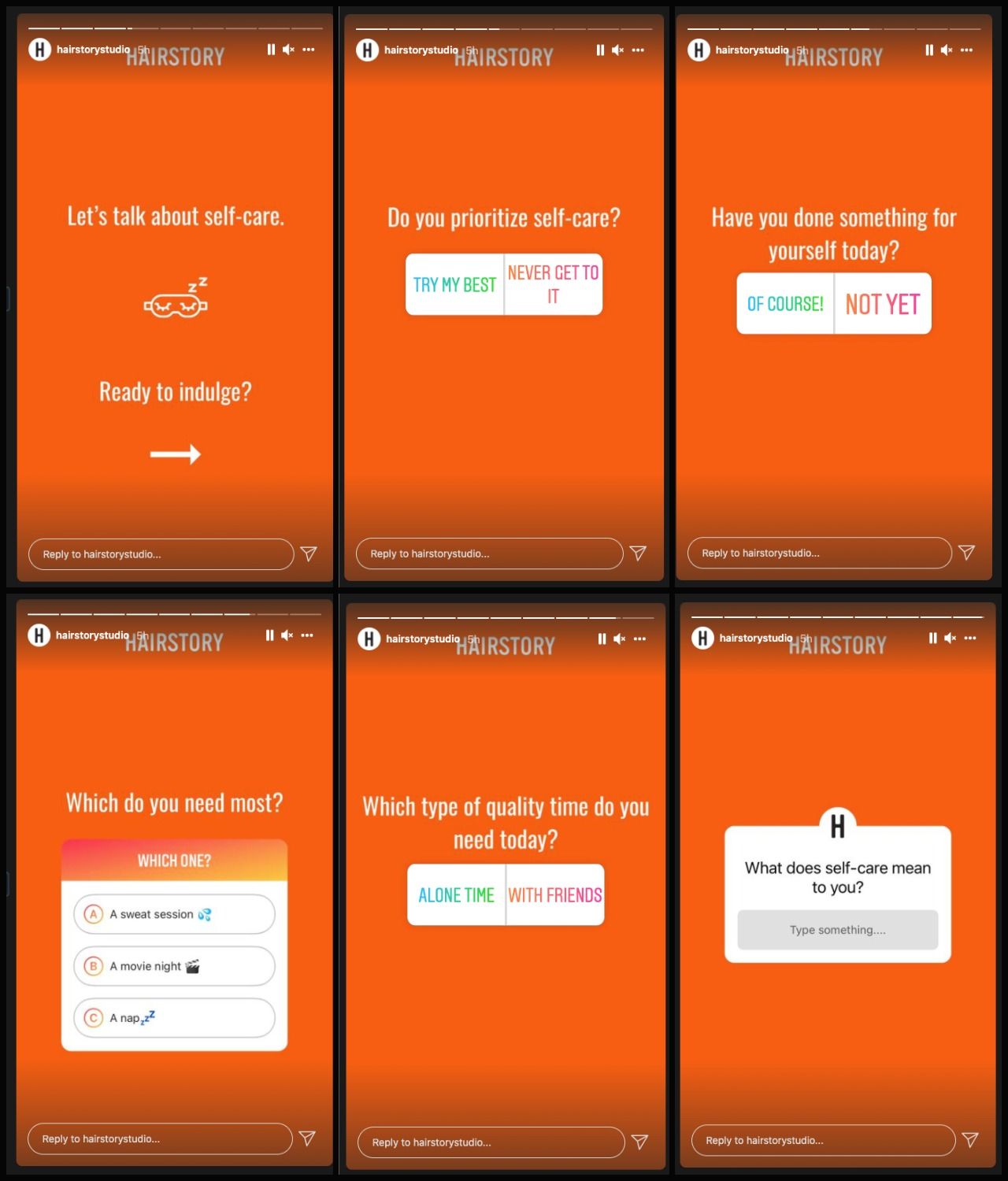 Choose what types of content you want to publish on Instagram
Now that you know what your goals are and the themes you want to post about, it's time to get posting!

Posts on the Instagram app come in five forms: regular posts, Instagram Stories, Instagram Live, Reels, and IGTV. The most popular ways to post on Instagram remain regular posts and Instagram Stories, but here's a breakdown of all of them:
8 Instagram for small businesses best practices
Now that you know what kind of content you want to create, use these best practices to be successful.
1. Set up your Instagram business profile the right way
Your Instagram profile is like your homepage on the platform. It tells people who you are and why you exist.

Start with your profile picture: Your brand needs to be recognizable. Use your logo or brand icon as your profile picture.

Evernote uses its recognizable elephant icon:

Then add your bio: This should represent your business and show new followers what you do as a company. You could include your brand slogan or tagline or describe your business.

MATE the Label uses its Instagram bio to describe its products and allude to its mission of sustainability.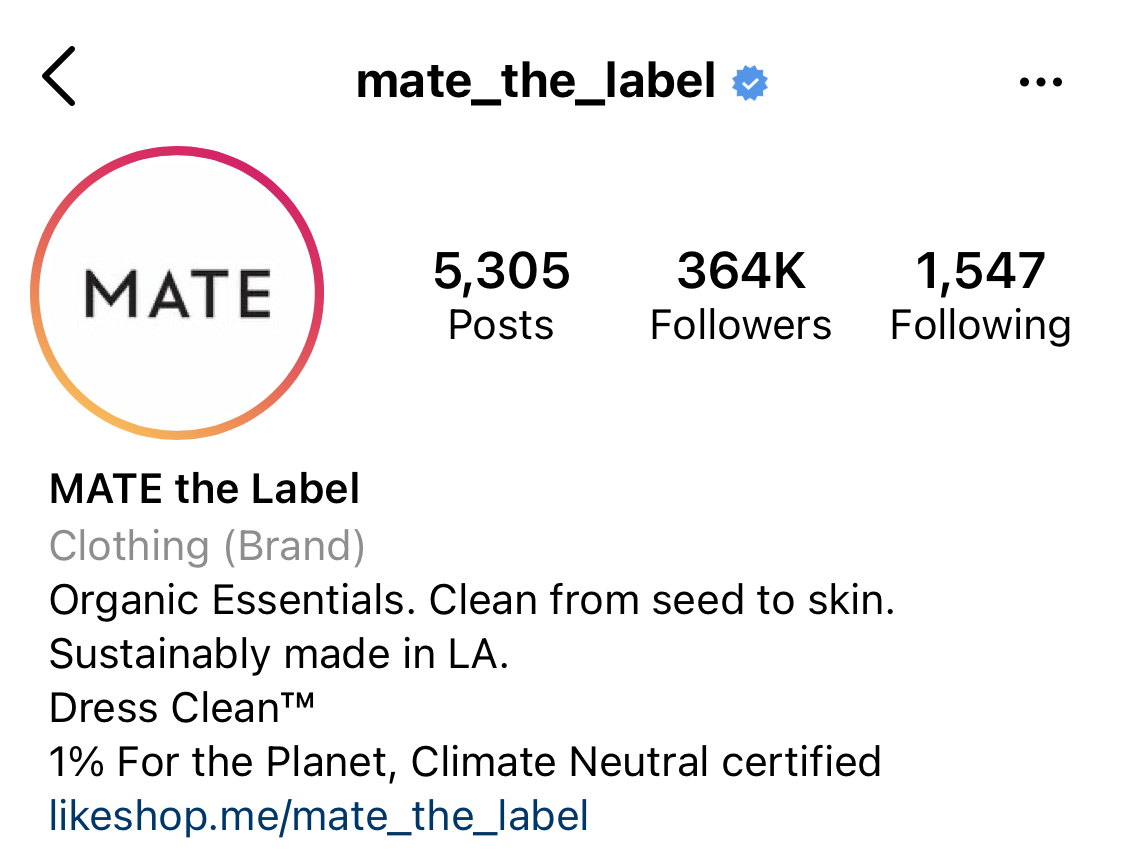 Last, add your link: Unlike other social networks, you can't add links to every post. You only get one link, and that's the one in your profile. (Though Instagram accounts with more than 10,000 followers can also share links within Instagram Stories.)

Most businesses link to their homepage to drive traffic: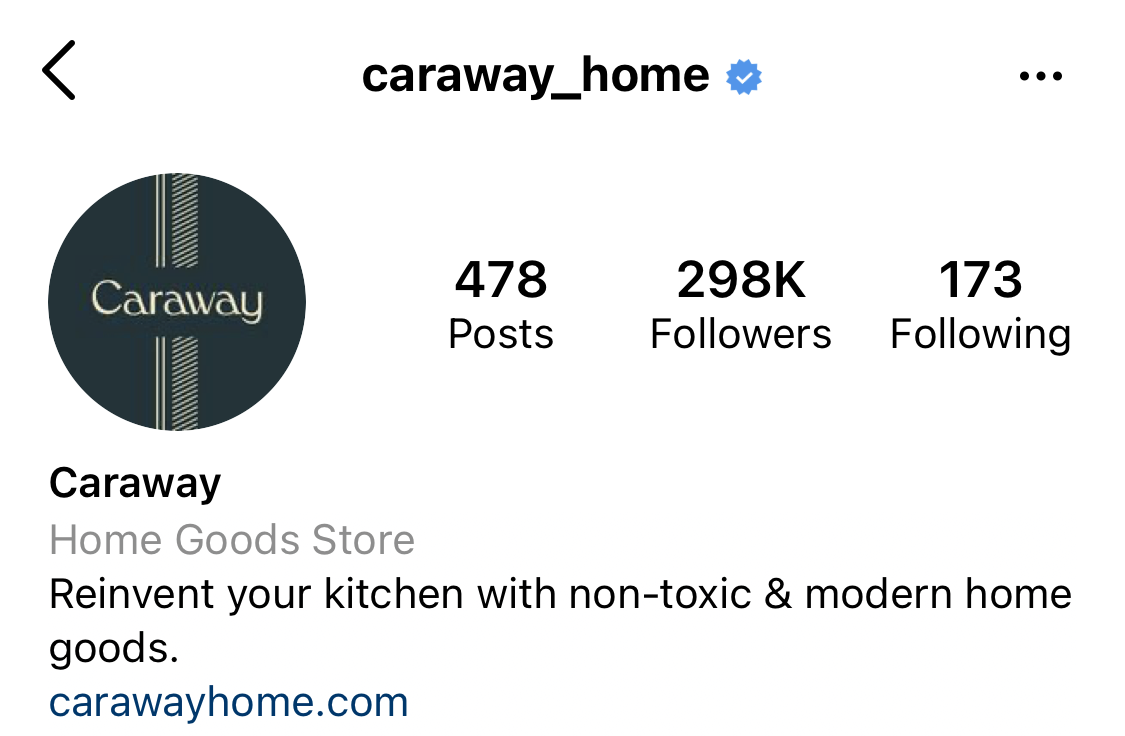 But you can also update your profile with a link you reference in your latest post, whether it's a blog post, recipe, or YouTube video — like NikkieTutorials does.
Or, you could use a link in bio tool to lead to a landing page that has multiple links your audience might be interested in (like your homepage, recent blog post, and more.)

When clicking on the link in the food blog I Love Vegan's Instagram profile, followers can go to the blog's homepage, find resources, or click on photos from recent Instagram posts to get taken to the recipe.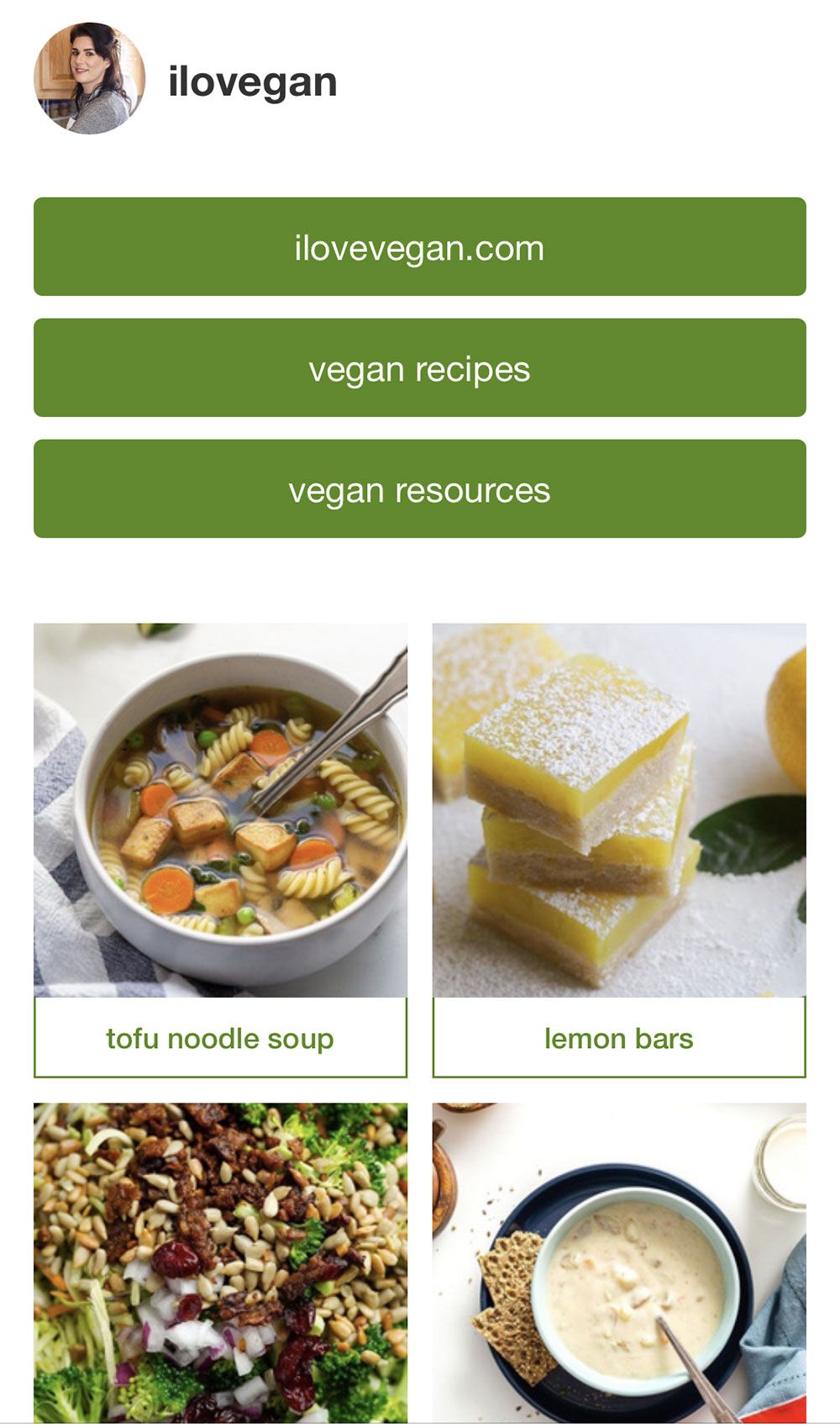 2. Be relatable, not salesy
Remember: it's a post, not an ad. It needs to be content people want to look at. That might be your product, or it might be more general content like a dentist posting about proper tooth brushing techniques.

Here, meditation app Headspace posts about mental health:

When you do post promotional content, it should be in the mix with plenty of non-salesy content to make your account worth following.

3. Engage with your followers
Doing well on Instagram is more than posting pretty photos. Engage with people who are interacting with you on Instagram.

Follow them back, like their posts, keep the conversation going by responding to comments. You'll build relationships with your followers, and it will encourage your fans to keep engaging with you.
4. Grow your audience organically, don't buy them
Buying Instagram followers can be tempting to boost your metrics, but it's not going to do anything for your business growth. Bought followers aren't going to interact with you. And if people find out you bought followers, they might trust you less and not want to give you business.

Instead, draw in new audiences with high-quality content. Encourage existing customers to follow you on Instagram by putting your Instagram handle at the bottom of emails or by your cash register.
5. Use hashtags to extend your reach
Hashtags help people find the content they're interested in. Add them to Instagram captions to get your posts in front of more people and grow your followers.

While brainstorming hashtags to use, you can do a search on Instagram, and it can tell you how many posts have that hashtag, which is a good indication of popularity. Stick with hashtags under 1 million posts, so yours doesn't get lost in the noise.

If you own a local business, consider hashtags specific to your region to find people in your community.
6. Use Instagram Carousels to hit the same users again
Instagram Carousels are regular posts that have multiple photos or videos in the same post. They act as a small photo album and enable you to show up in your followers' Instagram feeds more than once.

Here, Hairstory uses carousels to show hair color for curly hair in four different looks.
Viewers can scroll through the photos, but if they don't, the carousel post can show up in their feed later featuring a different photo.
7. Post regularly
Consistency and publishing frequency can help your audience learn when to expect new content from you and get them in the habit of interacting with you on Instagram. The more they interact with you, the more the Instagram algorithm rewards you — by putting your content at the top of your followers' feeds.

Keeping a consistent schedule makes sure you maximize engagement without hitting any lulls without updates. Once a week is plenty to get started.
8. Make sure your work is paying off by measuring your Instagram success
You need to make sure your marketing efforts are paying off. It'll take time to build a following, so your follower count and engagement rate will be low to start. Don't be discouraged!

Keep tracking your followers and engagement to make sure you're growing over time. And double down on what your followers want to see.

Here's a step-by-step guide to using Instagram analytics.
Save time with a social media scheduling tool
Adding Instagram marketing to your plate is no small task for small business owners. As an entrepreneur, you have dozens of projects to manage as it is.

So save time by using a social media marketing tool like Buffer to schedule your posts in advance. You can set up posts weeks in advance, so you never go dark on Instagram.

The best part? Buffer is free for up to three social accounts, and you can schedule up to ten posts in advance on each one. That's plenty for any small business to get started on Instagram.

Brought to you by
Did you find this article helpful? You might also like our all-you-need social media toolkit.
Get started for free now