Instagram has become a standard platform for creators looking to cultivate a following. However, growing an audience is not always easy since you compete with many other creators, businesses, and brands for eyeballs.
Sharing photos and Reels at optimal times is a great way to get around this hurdle – if your content immediately makes it to your audience's feed while they have time to engage with it, it's more likely to succeed.
There are multiple factors when figuring out the most ideal times to share content on the platform, and this guide will provide insights into best practices when posting on Instagram.
💡
Schedule your Instagram posts, carousels, stories, and reels with Buffer
Visually plan your content calendar and make your profile a "must-follow" with Buffer's suite of
Instagram scheduling and analytics tools
.
Is there a best time to post on Instagram?
Many platforms have researched the best time to post on Instagram, and a common consensus is that there are many factors to consider. Your audience size, level of engagement, location, and especially the algorithm can impact whether audiences see your content or not.
Figuring out exactly when you should schedule your content may seem a bit confusing at first, but research by Influencer Marketing Hub shows that these are the most ideal times (in EST):
What are the ideal times to post on Instagram (in EST)?
According to the data, the below times will help get your videos the most engagement.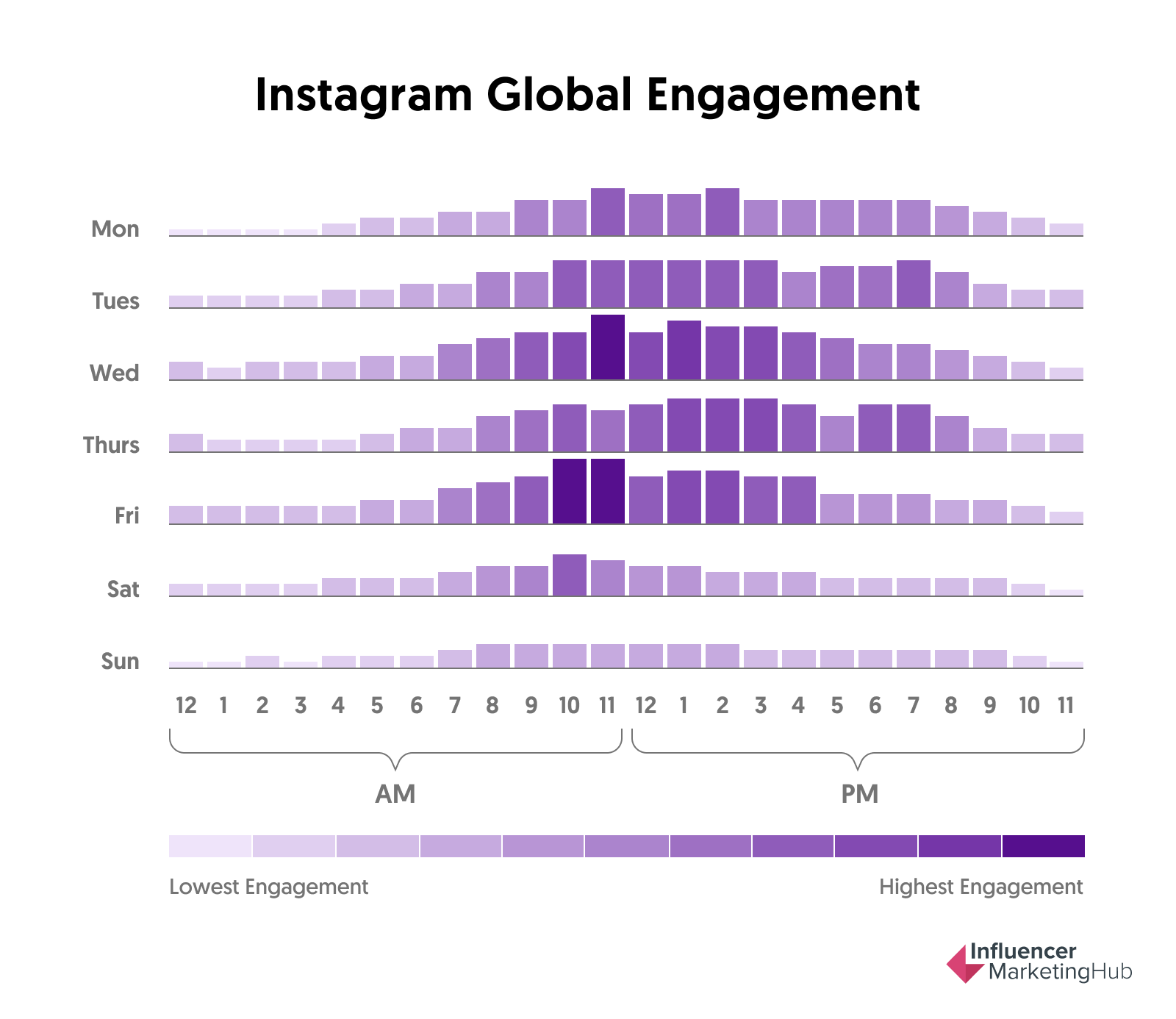 Monday: 6 AM, 10 AM, 10 PM
Tuesday: 2 AM, 4 AM, 9 AM
Wednesday: 7 AM, 8 AM, 9 AM
Thursday: 7 AM, 8 AM, 11 PM
Friday: 5 AM, 1 PM, 3 PM
Saturday: 11 AM, 7 PM, 8 PM
Sunday: 7 AM, 8 AM, 4 PM
However, we recommend that you focus on this data only if you're just starting to grow a following. Once you've garnered a large enough following, you'll need to use Instagram's proprietary data to discover what times your followers engage with your content and apply that to your content strategy.
💡
Looking for more ways to grow your Instagram? Check out
this article
for more in-depth advice!
5 important considerations to find the best times to post on Instagram
Whatever reason you create content, you're likely putting a lot of work into growing your following. It can be discouraging to share content that isn't seen by anyone or doesn't get engagement. And if you're posting on Instagram as a source of income, this may hit even harder as you miss out on connecting with your audience.
Some factors to consider when thinking about when to post on Instagram:
Day of the week: You may find that workdays have very early recommended posting times or that times when certain activities might be happening (just after waking, during lunch). This is in contrast to weekends when your audience may spend more time on social media and start consuming content earlier. Keep this in mind when scheduling content for different days of the week.
Your timezone and location: Location also influences your best time to post on Instagram. Audiences differ from country to country, and the more widespread your audience, the less you'll need to focus on the best time to post. However, if you're a local business or have a local audience, consider the best times to post for the region you find yourself in.
Your primary audience: Every audience is unique – different sectors and creators will see differing levels of engagement. Some accounts will always get likes, comments, and shares no matter what they post, while others will get high engagement half the time – and that's okay.
Your CTA: The most important thing is understanding who your primary audience is and what the most important action you want them to take is – is it a like? Replying to the question in your caption? Clicking through to your link in bio? Prioritize your primary audience in deciding when to post so that they take the actions that matter most to you.
Consistency and quality are also vital elements in improving your engagement. Some accounts will see engagement with little effort, but if you're just starting out, this is likely not the case for you. You need to post regularly to grow your account – this can be as much as one to three posts per day.
However, delivering quality content should always be your primary focus – don't sacrifice quality for quantity. If you're running out of content ideas, check out how other businesses and creators have utilized Instagram Reels or Stories.
Determine the best time to post for your Instagram
Ultimately, the best time for you to post on Instagram may differ from someone else's. Consider the factors we've mentioned when deciding when to post and don't be afraid to experiment. To understand your best time to post on Instagram, check your Instagram Insights. You can also create a spreadsheet to track which posts perform best at what times.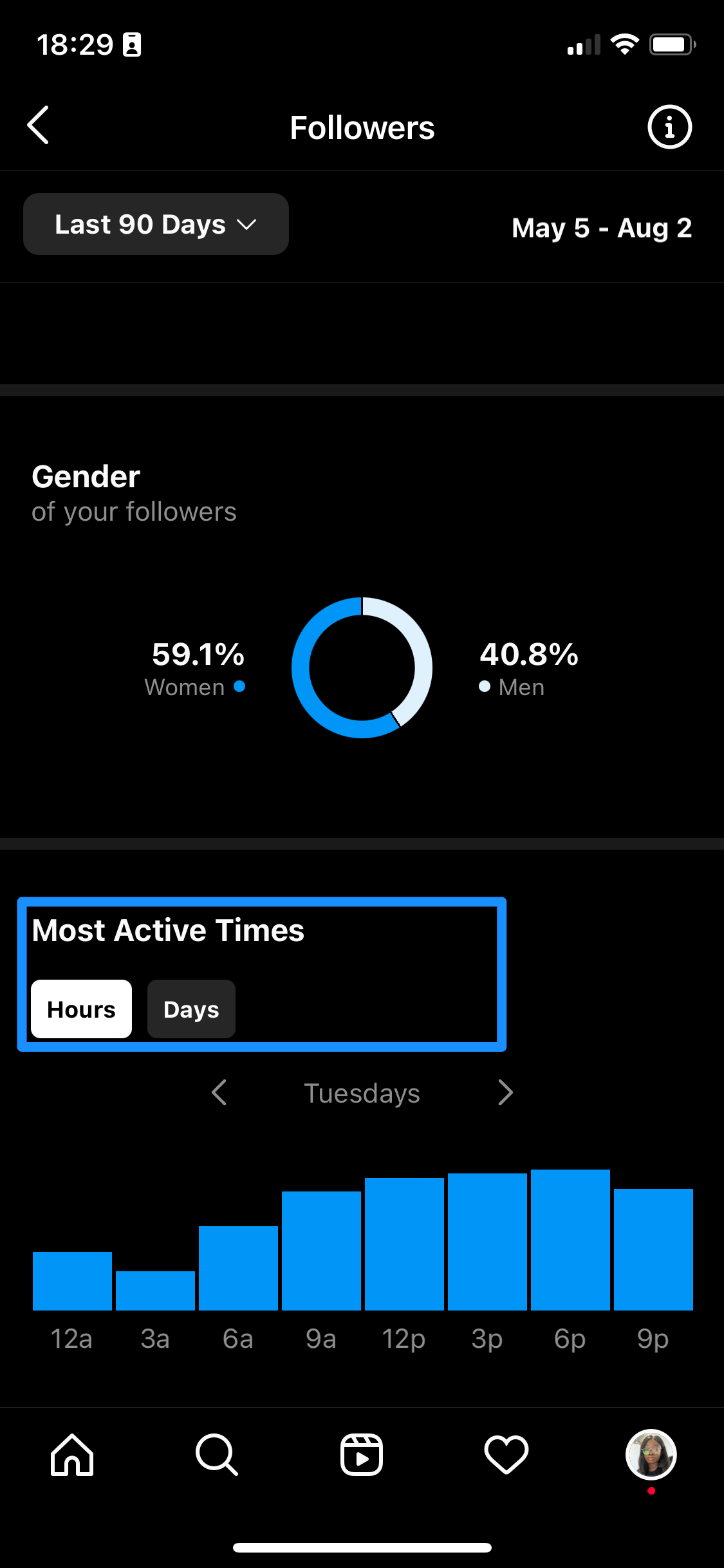 If you'd rather not think too hard about the best time to post on your Instagram account, Buffer has a great feature that allows you to "set and forget" several ideal posting times for your Instagram based on your data. You can find it in your Settings within the Buffer app and website.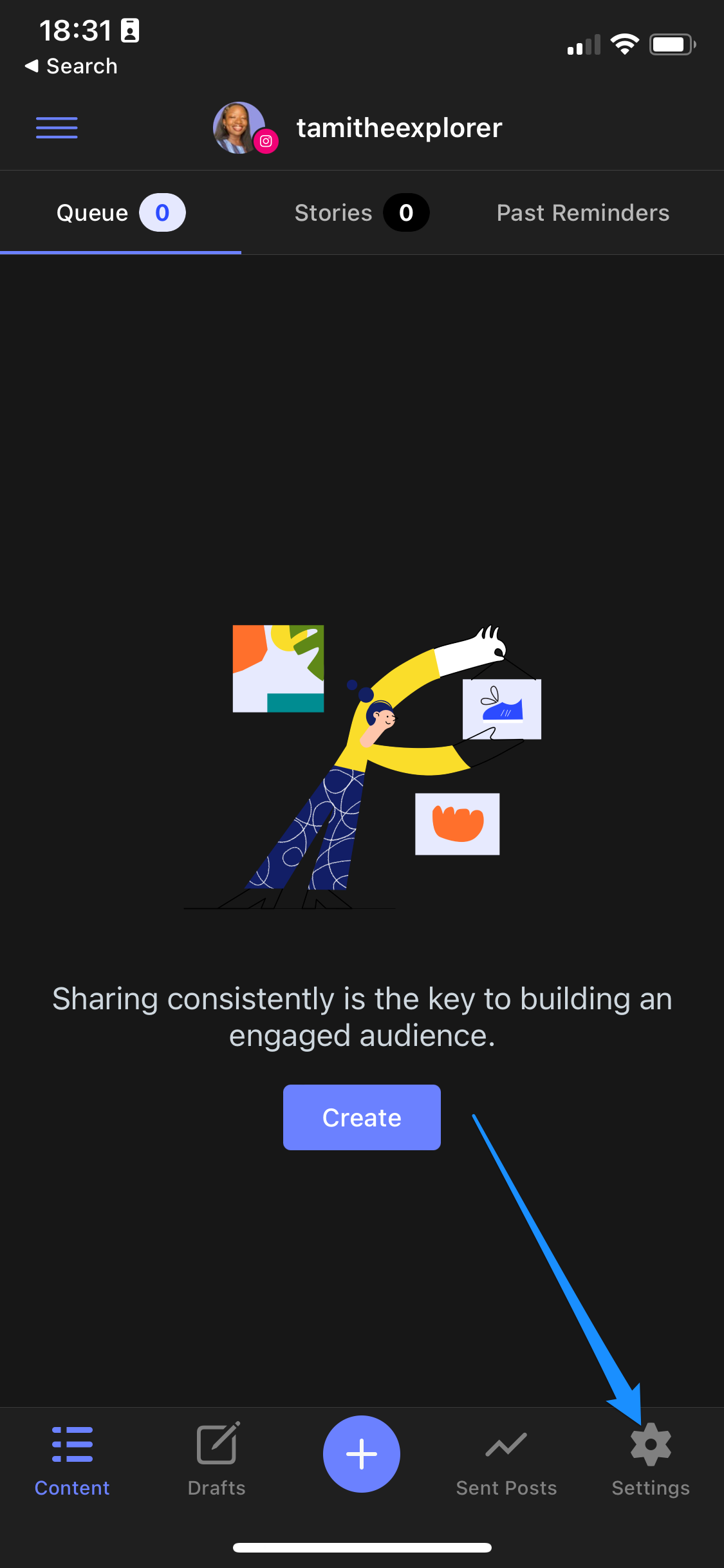 What have you found most helpful when determining your best time to post on Instagram? Let us know @buffer on all our social media accounts!
Brought to you by
Did you find this article helpful? You might also like our all-you-need social media toolkit.
Get started for free now