Discovery is a big part of what helps creators and small businesses grow on social media, and one of the oldest ways to discover content is through hashtags.
Hashtags allow users to easily find and engage with content related to specific topics. Looking for outfit inspiration? Check the #OOTD hashtag. Need some home decor ideas? The #interiordesign hashtag has what you need. Hashtags are a powerful tool for both personal and business accounts, and understanding how to use them effectively can greatly enhance your Instagram marketing efforts.
In this article, we will discuss the importance of hashtags for your Instagram strategy and provide tips on how to create and use relevant hashtags, best practices for using hashtags, and how to track their performance.
What are Instagram hashtags?
A hashtag is a combination of letters, numbers, and/or emoji preceded by the hash or '#' symbol (e.g. #bufferoo). They are used to categorize content and make it more discoverable.
Hashtags are clickable and searchable on Instagram. They are grouped under pages within Instagram that you can even follow to stay updated with the latest content under that hashtag. They help improve the discoverability of your single-image, carousel and Reels posts on Instagram by a new audience.
Instagram breaks hashtags down into nine types:
Hashtags describing a product or service: These are broad keywords describing a product or service, like #sweater or #furnituremaker
Hashtags within a niche: These are more specific, showing where a post fits within the context of its industry. For design styles, hashtags like #nordicdesign or #midcenturymodern come to mind
Hashtags identifying communities: These hashtags exist to help you identify with a community like #authorsofinstagram
Hashtags referring to the seasons or special holidays: These hashtags refer to either the seasons like #winterwonderland or a widely recognized event #WomensHistoryMonth
Hashtags mentioning a location: These hashtags help people identify where you are in the world and recognize if your content is relevant location-wise. If you post about visiting restaurants in Las Vegas, then #lasvegasfoodie might fit your strategy, and so on.
Hashtags for different days of the week: Every day of the week gets its own hashtags, from the popular #TGIF (thank god it's Friday) to the lesser-known #ThursdayThoughts.
Hashtags in acronym format: These hashtags are commonly used with popular ones including #OOTD for outfit of the day, and #YOLO for you only live once.
Hashtags of relevant phrases: These hashtags combine elements of product hashtags, niche hashtags, and community hashtags. They're essentially phrases people use on Instagram to regularly connect to existing communities like #5amwritersclub
Hashtags with emojis: Instagram allows you to search for hashtags that feature only an emoji or text with an emoji included. Some popular ones include #🌞to represent summertime or a sunny day
What you need to know about Instagram hashtags
Using relevant hashtags is an important step in increasing the visibility and engagement of your Instagram posts. The key to using hashtags effectively is to make sure they are relevant to the content of your post. For example, if you're posting a picture of your new puppy, using hashtags like #puppylove or #newpuppy would be appropriate. On the other hand, using hashtags like #fashion or #food would not be relevant.
Within Instagram, each hashtag gets its own page so you can see every post that has ever used that hashtag sorted by 'Top' 'Recent' and 'Reels'. Hashtag pages are a great way to direct a new audience to relevant content, especially if the post is in the 'Top' section. The more niche a hashtag, the more likely you are to be the most recent or even top-featured post.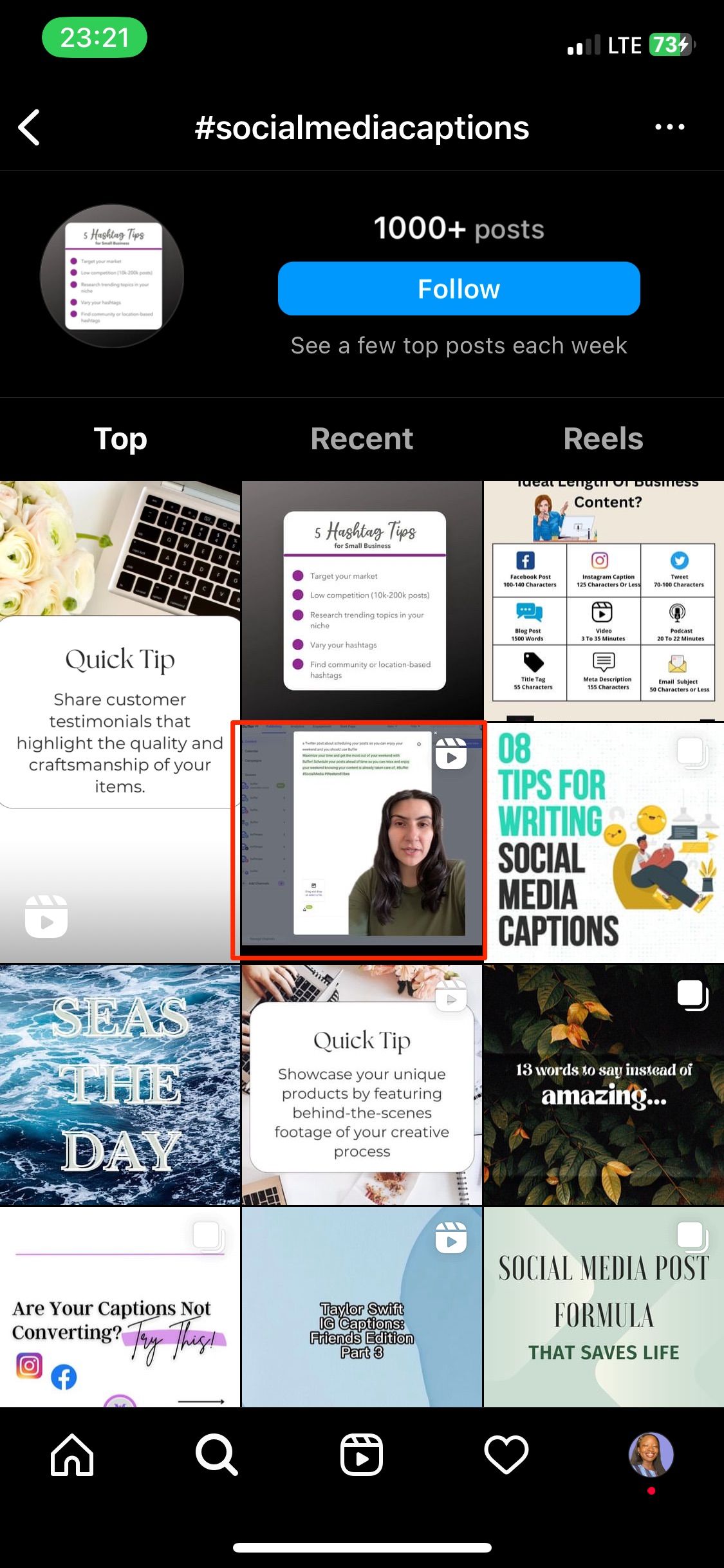 When creating hashtags, it's important to use a mix of popular and niche hashtags. Popular hashtags, like #instagood or #tbt (meaning Throwback Thursday), have millions of posts associated with them and can be used to increase visibility and reach a wide audience. Niche hashtags, like #dogsofinstagram or #coffeeholic, have fewer posts associated with them and can be used to reach a more targeted audience.
It's also important to avoid overusing hashtags. Instagram allows up to 30 hashtags per post, but using that many can come across as spammy and can actually decrease engagement. Instead, aim to use between 5-10 hashtags per post.
Tracking the performance of your hashtags is also an important step in understanding which hashtags are most effective for your content. Instagram provides Insights that allow users to see the reach and engagement of their posts, including which hashtags were used. By analyzing this data, you can get a better understanding of which hashtags are working for you and adjust your strategy accordingly.
Instagram hashtags can be a great way of building community online, so people are motivated to engage with your brand. A popular, valid example is the #IceBucketChallenge that went viral in 2017 and was used to generate awareness about ALS. Five years later, the hashtag is associated with over 600,000 posts.
Remember that the most popular Instagram hashtags are not necessarily the most effective. A large number of posts may mean lots of people follow that hashtag, but it also means there's a ton of content on it, and your posts might get lost. Instagram suggests using a combination of popular and niche hashtags to reach different audiences, from broad to specific.
6 tips for making the most of Instagram hashtags
Here are some of our tips to help you make the most of Instagram hashtags for your content.
Use Insights to see which tags work best: Keep an eye on the performance of your overall hashtag strategy by checking Insights to see how many impressions your chosen tags bring to your posts. You can do this if you have an Instagram business profile. Just select the 'Professional dashboard' option on your profile → 'Account insights' → 'Content You Shared' → the post you want to view.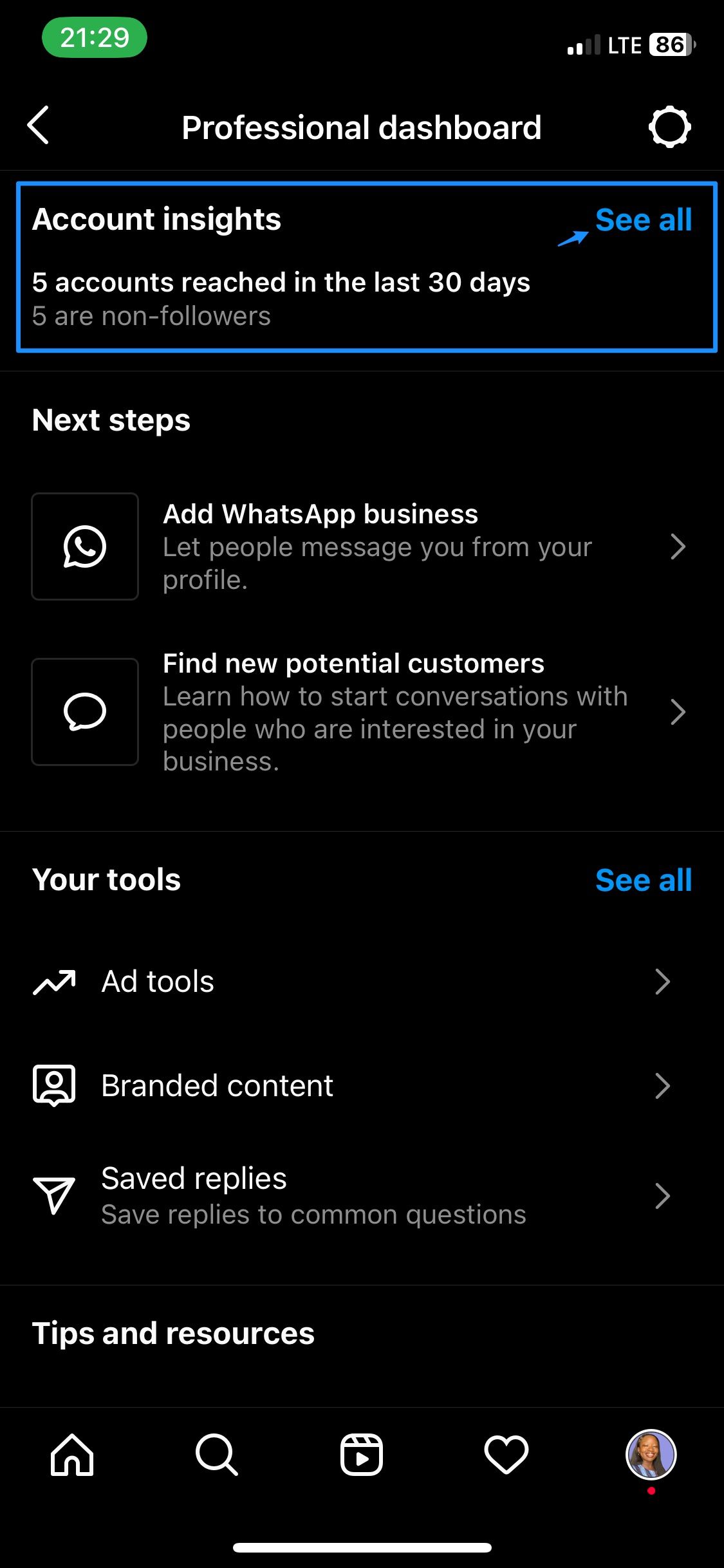 Or, tap the post you want to view the data of and select 'View Insights' just above the like button.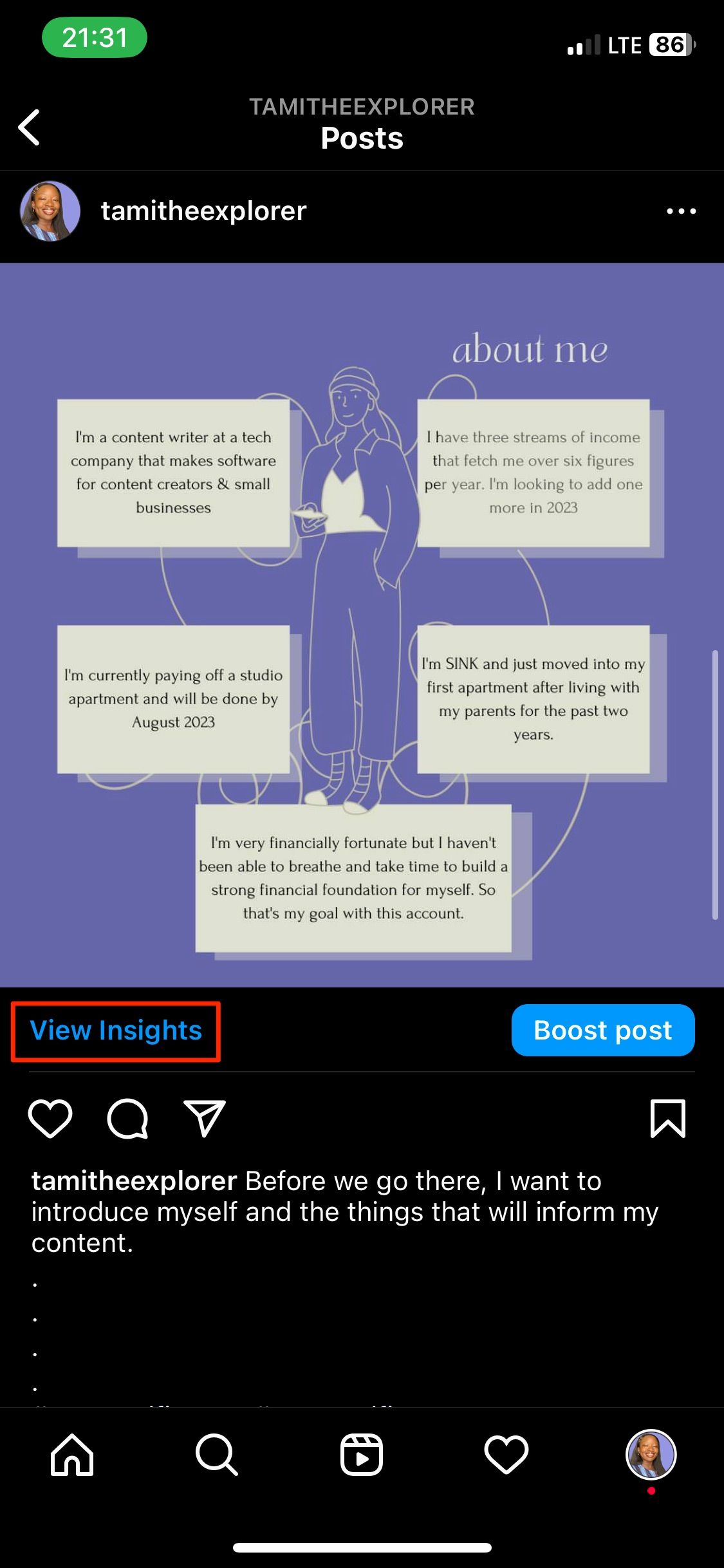 Create a branded hashtag: Looking to engage your community? A branded hashtag is a great place to start. If you're launching a new product or initiative, or simply want to get your audience excited about your content, creating a hashtag that people can associate with you is a great strategy. Once you've (thoughtfully) created your hashtag and checked that it isn't accidentally offensive, then you can promote it to your audience in your content, Instagram bio, and on other social media platforms. It's also a great way to gather user-generated content, as you can get people to include your branded hashtag on their posts and keep an eye on what they create to boost it or use in your marketing. At Buffer, we use #AskBuffer so that our audience can ask us their pressing questions about social media, and we can answer with blog posts.
Limit the number of hashtags you use per post: Instagram's limit on the number of hashtags you can use is 30 per post. You can't include more than that, or your post won't go through. But just because you can use that many doesn't mean you should. While there's no clear-cut number that is recommended for a post, the general consensus is that 11 is a safe limit. Most posts tend to use between 3 and 5 hashtags.
Hide your hashtags: If you don't want your hashtags to be visible, you can put them in your comments or far below the caption of your post or Reel. If you're posting a Story, you can either shrink your hashtag, tap it to change the background till it's transparent, or cover it entirely with an emoji, sticker, or GIF.
Implement trending hashtags in your strategy: While there's no way to tell what's trending on Instagram, using other creators or businesses in your niche is a great way to discover which hashtags will lead to discovery for your own account.
Avoid using irrelevant hashtags: The whole idea of hashtags is to improve discovery and help your audience sort out content that is relevant to them. So, avoid using hashtags that have nothing to do with the content of your post or Reel. Also, note that Instagram penalizes repetitive comments, so reusing the same hashtags in the same order over and over again might save time, but it will ultimately harm your account.
Take advantage of Buffer's hashtag manager
Coming up with new hashtags for each post can be very time-consuming – but not if you use Buffer. Within Buffer, you can autocomplete your posts with hashtags, and if you use the hashtag manager, you can create hashtag groups that everyone on your Buffer account can use. And if you prefer to put your hashtags in the comments, the hashtag manager offers that option.
Disclaimer: You'll have to get a paid plan to use Buffer's hashtag manager. Take a look at our affordable pricing options to find the most effective plan for your social media.
Brought to you by
Did you find this article helpful? You might also like our all-you-need social media toolkit.
Get started for free now