When people think of Buffer, often scheduling is the first thing to come to mind, but did you know there are a ton of other ways to use our platform that go beyond publishing? Through my own introduction to Buffer and with the help of our Customer Advocacy team, in this post, I've highlighted all of the extra ways to use Buffer in addition to publishing. You'll learn about creating a landing page for your brand, increasing customer engagement, and generating beautiful analytics reports. Let's dive in!
Buffer is a flexible, multi-use social media tool
We built Buffer with small businesses and ambitious teams of one in mind. With many folks juggling multiple tasks in a day, it can be difficult for them to devote enough attention to social media strategy. Our goal is to give you access to features that'll not only allow you to stay on top of your various social accounts but also elevate your content.
Engage with your Facebook and Instagram audience all from one place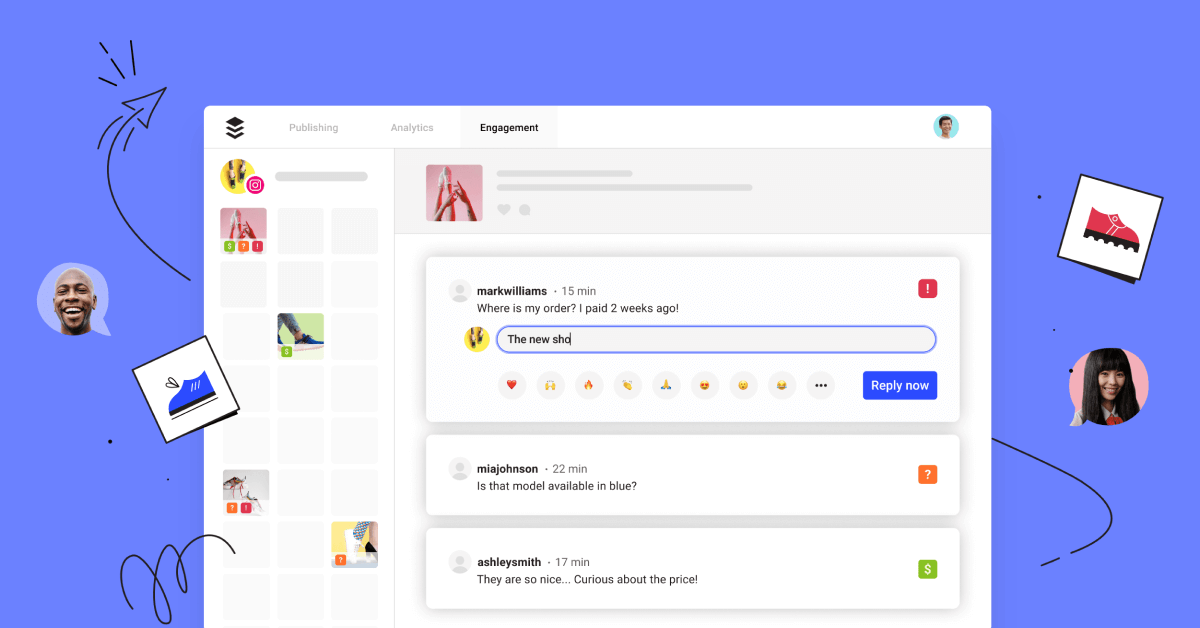 Conversing with followers is one of the most effective ways to grow a brand on social media, which is why we have created easy-to-use engagement tools. You'll be able to connect your Instagram and Facebook accounts so that you can reply to comments on all of your posts from right within Buffer. By responding to social media comments, your community will appreciate that you're hearing them out and you'll be building valuable connections.
Use smart alerts to prioritize comments
It can sometimes seem overwhelming to tackle notifications, so we've created smart alerts. Instead of receiving notifications in chronological order, smart alerts prioritize and flag your most important Facebook and Instagram comments, guaranteeing you'll never miss a pressing inquiry. Oftentimes, customers will go to a brand's social media account to ask a question or because they need help with an issue. According to Accenture, businesses lose 1.6 trillion dollars each year because of inadequate customer service. The goal of our  engagement dashboard is to simplify the reply process, making it easier to catch and respond to customer concerns.
Smart alerts also help you tap into your customers' feedback by providing an overview view of all comments. Once your notifications are clearly laid out in our engagement dashboard, you'll be more likely to notice certain patterns. Maybe most of your followers are requesting a new color, or are having a similar issue allowing you to easily collect this user data.
Prioritizing your comments is a great way to nurture and grow your brand's audience, but an added benefit is that posts which have more engagement are good for the Facebook and Instagram algorithms. The more you interact with customers on a post, the more likely that very post will be shown  – creating a positive feedback loop.
Use keyboard shortcuts to engage efficiently
We've built keyboard shortcuts and smart emojis right into our engagement tool, so you can answer questions quickly and efficiently. Every interaction you have with a follower is also displayed neatly in our dashboard – providing you with an accessible and organized way to view all of your conversations.  
Southern Candle Co. told us their business flourished once they reached out to more customers on Instagram. "We went from doing maybe $20,000-30,000 a month just posting pretty images to well over $100,000 a month now simply by engaging people more," Said CEO D'Shawn Russel. With engagement tools, you too can make connecting with customers a priority.
Analyze your social media strategy with post breakdowns and reports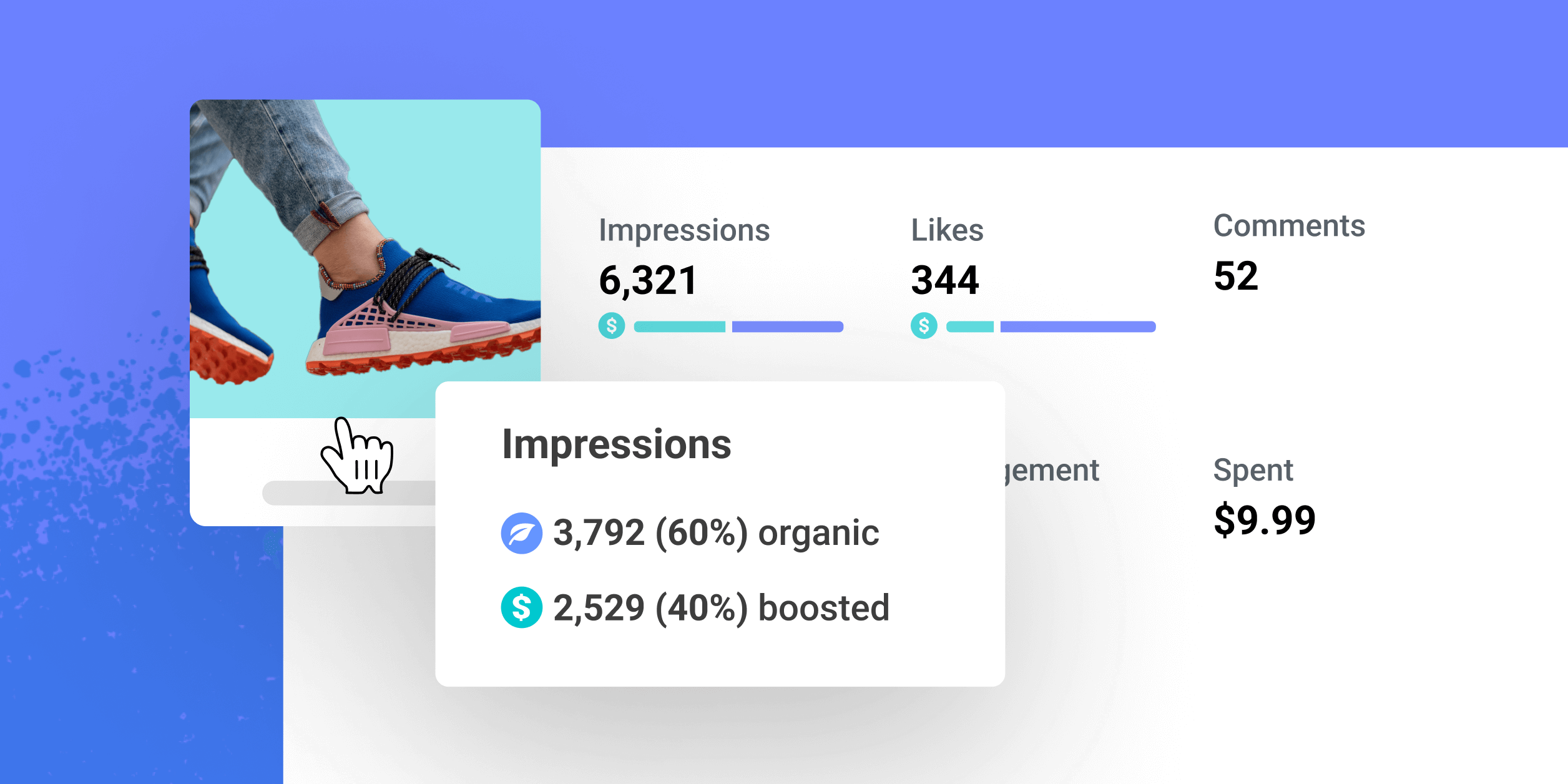 It's one thing to post onto social media and another to figure out whether your marketing strategy is actually working. Not all content is effective and deciphering which posts resonate strongest with your audience can be tricky. But that's where our analytic tools come in. We study important data regarding all your channels — Instagram, Twitter, Facebook, and LinkedIn — ensuring your social media game is on point.
Once you link a social channel to your account, the analytics are populated immediately. We'll backfill up to six months of historic data, meaning you don't need to wait to build a posting history to get useful insights. Our comprehensive dashboard tracks key metrics for each of your social accounts including likes, comments, impressions, reach, and engagement. Our analytics tool has a special feature that pulls key data from your Instagram stories, too.
Through the analytics tools, we also share post breakdowns on your top-performing content, providing data-driven recommendations on when to post, the best content to post, and how often to post, taking the guesswork out of scheduling content. If you're interested in exploring paid marketing opportunities, our analytics tool compares and contrasts the difference in performance between your boosted and organic content as well.
Understanding your audience
Creating the most compelling content means understanding your target demographic, which is why we've embedded 'audience overview,' into our analytics. With this feature, you'll be able to pinpoint the gender, age, and location of the followers who interact most with your posts. This will allow you to gauge whether your posts are resonating with your target audience and if there's a different demographic that seems to be attracted to your content.
Professional reports
If you want to get super in-depth, we also provide professional reports in our analytic tools. You have the power to choose how often you create reports and which data sets they'll include. For example, you can have a weekly Instagram report and also create a separate report that includes data from all of your social channels together. Reports can give you a more detailed view of your social strategy, allowing you to assess exactly which aspects of your content are hitting your marketing goals.
Spotlight your brand with Start Page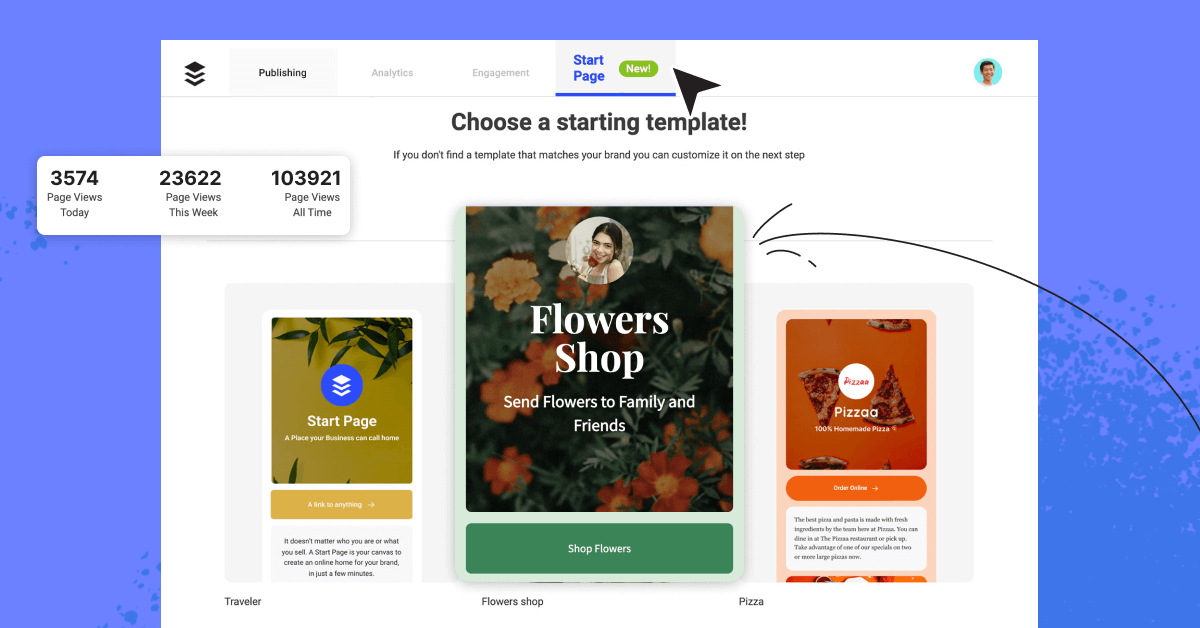 While running active social media accounts is important for brand exposure, most folks can also leverage a landing page that exists independently from other channels. Website development can be expensive and time-consuming,  which is why we've created Start Page — your brand's one key link. Start Page is a mobile-friendly link-in-bio that can be used in a myriad of ways.
Creating a Start Page takes only a few minutes thanks to its modifiable and user-friendly templates. Your URL starts with your custom name — ensuring your business is front and center. From there, easily build your page with Giphy integration, text, images, and link blocks. You can also embed a YouTube video or Spotify song on their page to add some extra personality. From the backend, you'll be able to track the click rate and other metrics just like you would on an actual website.
Start Page can serve as the perfect Instagram or TikTok link-in-bio as it houses your most important links, but it's also flexible enough to function as your brand's homepage. Whether you want a microsite for selling products and services or a simple link that contains all of your contact info, Start Page can do it all. Here are just a few creative ways other small businesses have organized their small businesses' Start Page.
Create Content with Buffer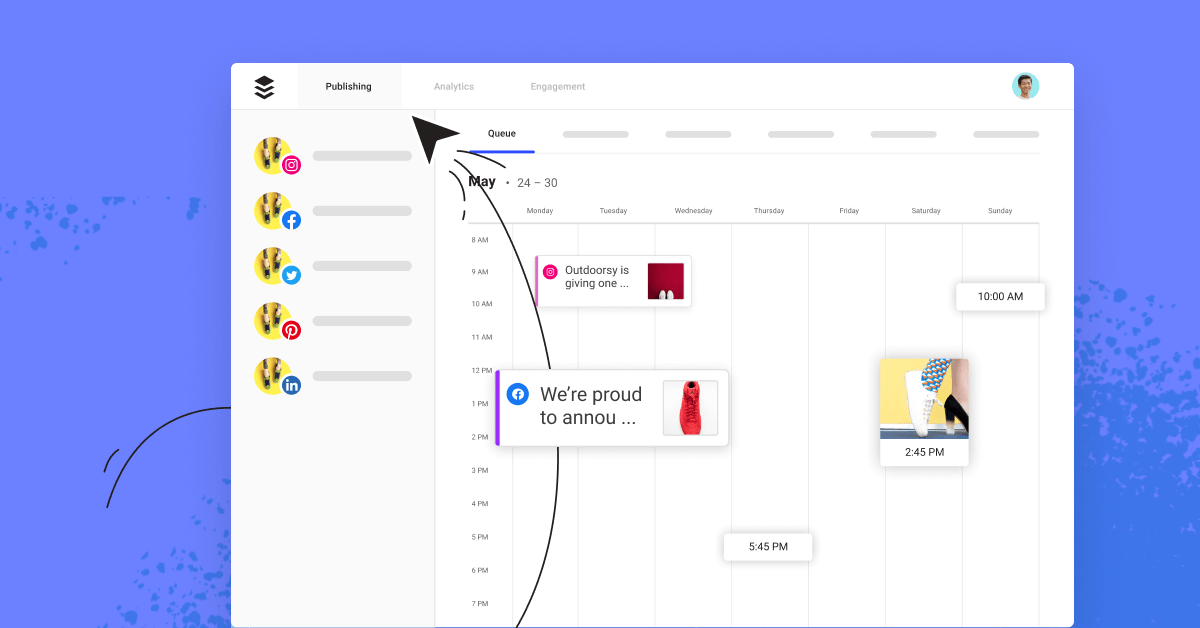 We want to empower all small businesses to feel confident creating their own materials right inside of Buffer. Currently, you may be transferring your work from platform to platform, but we've made it easier for you to rely on Buffer for more of your content creation needs.
Plan your content from start to finish
In the past, you probably opened Buffer once your content was finalized and ready to be posted. Thanks to our new drafts feature, you can now create and plan content right inside of Buffer. Drafts can be scheduled like posts but act as a placeholder until they're marked as finished and placed in the queue. This allows you to save content as a draft and come back to it later. You can essentially work on all the stages of a post — planning, drafting, editing, and finalizing — within our platform. With a Team or Agency plan, you can collaborate with teammates who'll also have access to all posts and can make their own edits. Drafts can be created on both the desktop and mobile versions of Buffer, ensuring you never forget a good idea – even when you're on the go.
Manage social media campaigns
You may be posting content tied towards a specific goal, whether it's a new product launch or social media series, that's why we've incorporated campaigns into Buffer. Users can create campaigns that essentially allow you to group and label posts into detailed categories. Once you've set a campaign, we will automatically create a report in our analytics tool so you can extrapolate data from each campaign independently. This can help you get a feel for which kinds of content are most effective.
Bring in content from anywhere
Along with making it easier to generate your own social media posts via Buffer, we've also added several useful integrations, including Canva, Dropbox, GoogleDrive, and OneDrive so you can smoothly sync content from other sites into our scheduler.
Link to all of your products with shop grid
Instagram links are a great way to generate sales for your small business, which is why we recommend connecting our shop grid to your small business' Instagram account. Shop grid is a landing page that is already integrated within your Buffer account and can double as your Instagram link-in-bio. You'll be able to mirror your Instagram grid and attach links to your posts, making it easy for customers to find and purchase your products.
Additional free Buffer tools
We've also developed a few free tools that make it easy to create efficient and appealing visuals for your social media in a matter of minutes.
Remix
Remix by Buffer allows you to take any link – including a Tweet or product page –  and instantly create an aesthetically pleasing graphic that can be posted onto your Instagram grid or other social platforms.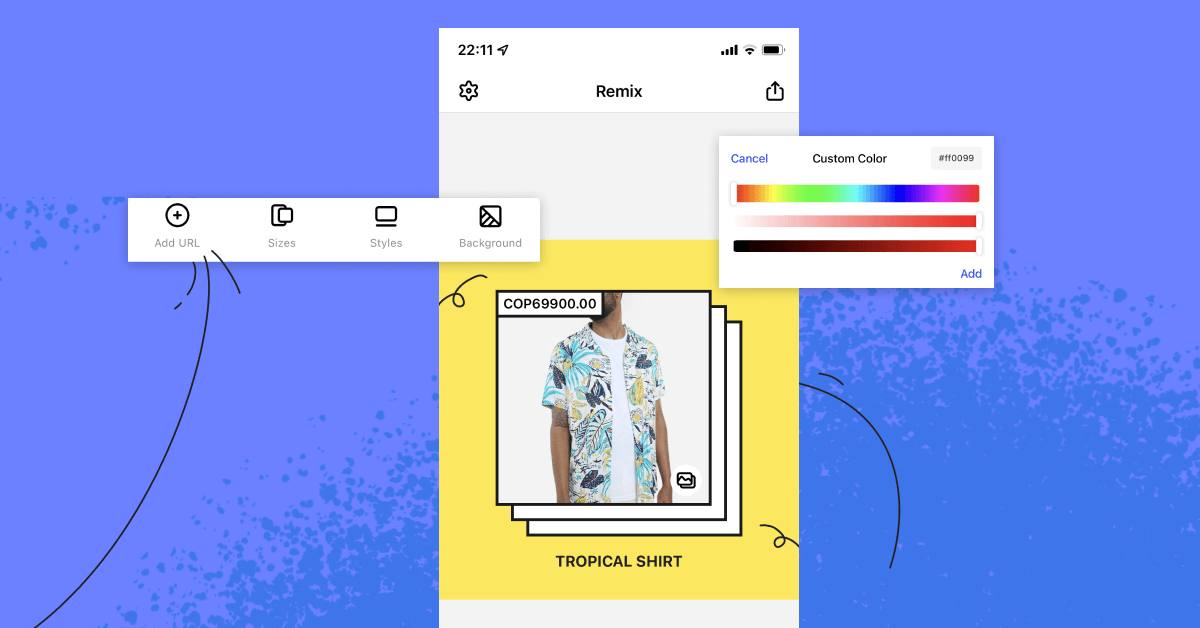 Stories Creator
Our Stories Creator is a quick way to generate the perfect Instagram or Facebook story! You can upload your own images, use existing templates, and add a CTA all within the app.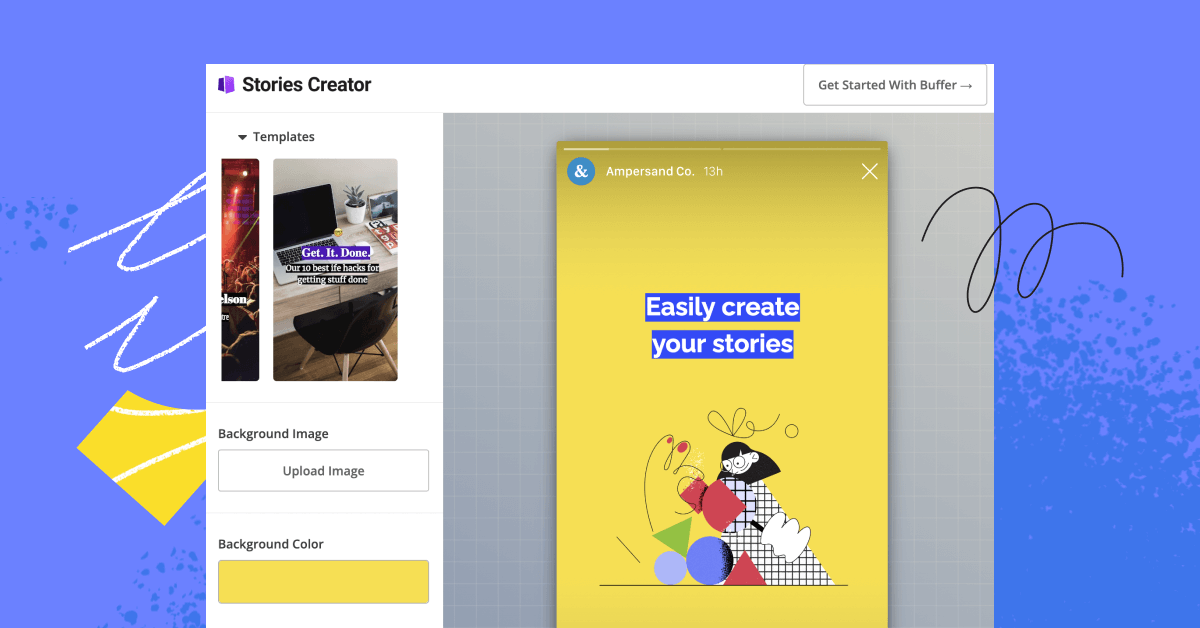 Pablo
Crafting simple yet striking images has never been easier than with Pablo by Buffer. The app comes with hundreds of preset images that'll be sure to stand out on your socials.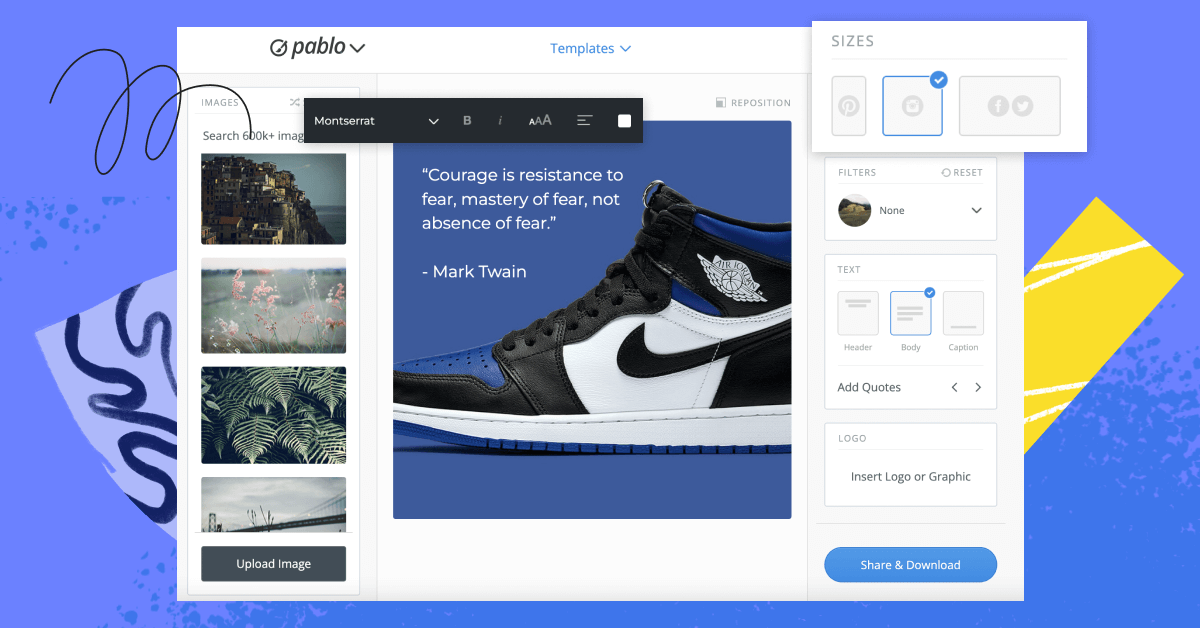 Hopefully, this article has inspired you to use Buffer for more than scheduling posts like building community with your followers, crafting your Start Page, and generating new content for your social accounts.
Have a favorite Buffer feature? Let us know on Twitter or Instagram!






Brought to you by
Did you find this article helpful? You might also like our all-you-need social media toolkit.
Get started for free now