Twitter is one of the most popular social media platforms – and one of the only ones where the best practice is to post multiple times a day. If you've ever been drawn into your Twitter feed, scrolling through tweet after tweet, you know that Twitter sees thousands of new tweets published every second.
This might make you feel pressured to post constantly to be sharing new updates on Twitter. But there's a smarter way to work. By picking strategic times of the day to post, you can increase engagement without overwhelming yourself, boosting productivity and avoiding burnout.
There are multiple factors when figuring out the most ideal times to share content on the platform, and this guide will provide insights into best practices when posting on Twitter.
Is there a best time to post on Twitter?
Users on Twitter get two options for what their feed looks like: 'Home' and 'Latest.' The former shows you recommended tweets regardless of when they were posted, while the latter shows tweets in chronological order.
While Home is the default state of most people's timelines, picking times when people are likely to engage with your tweet at its initial posting is the best way to engage your core audience.
What are the ideal times to post on Twitter (in EST)?
While there is no universally accepted time to post on Twitter, certain average times work best to start. Sprout Social conducted a study on the best times to post on Twitter and found the following.
Monday: 8 AM to 4 PM EST
Tuesday: 9 AM to 4 PM EST
Wednesday: 8 AM to 3 PM EST
Thursday: 9 AM to 12 PM EST
Friday: 8 AM to 1 PM EST
Saturday: 9 AM to 10 PM EST
Sunday: 9 AM to 12 PM EST
We also did a study back in 2016 that revealed:
On average, 1 PM local time for each time zone is the most popular time to tweet
The highest volume of tweets occurs between 11 AM and 1 PM
Tweets sent at 9 PM in the U.S. earn the most retweets and favorites on average
However, these are generalizations – every account has different factors to consider, from audience size to industry to topics. You must use data specific to your account to determine when to schedule your content.
Use Buffer to find your best time to post
Buffer users have access to a great resource for finding the best time to post. Through your Analytics, you can get a complete overview of your impressions, profile visits, and, most importantly, the best time to post on Twitter. If you've never tried it out, here's how to access yours.
Sign in to Buffer on your desktop
Click 'Analytics' at the top menu
Click 'Twitter' under the Channels at the left-side menu
Click 'Answers'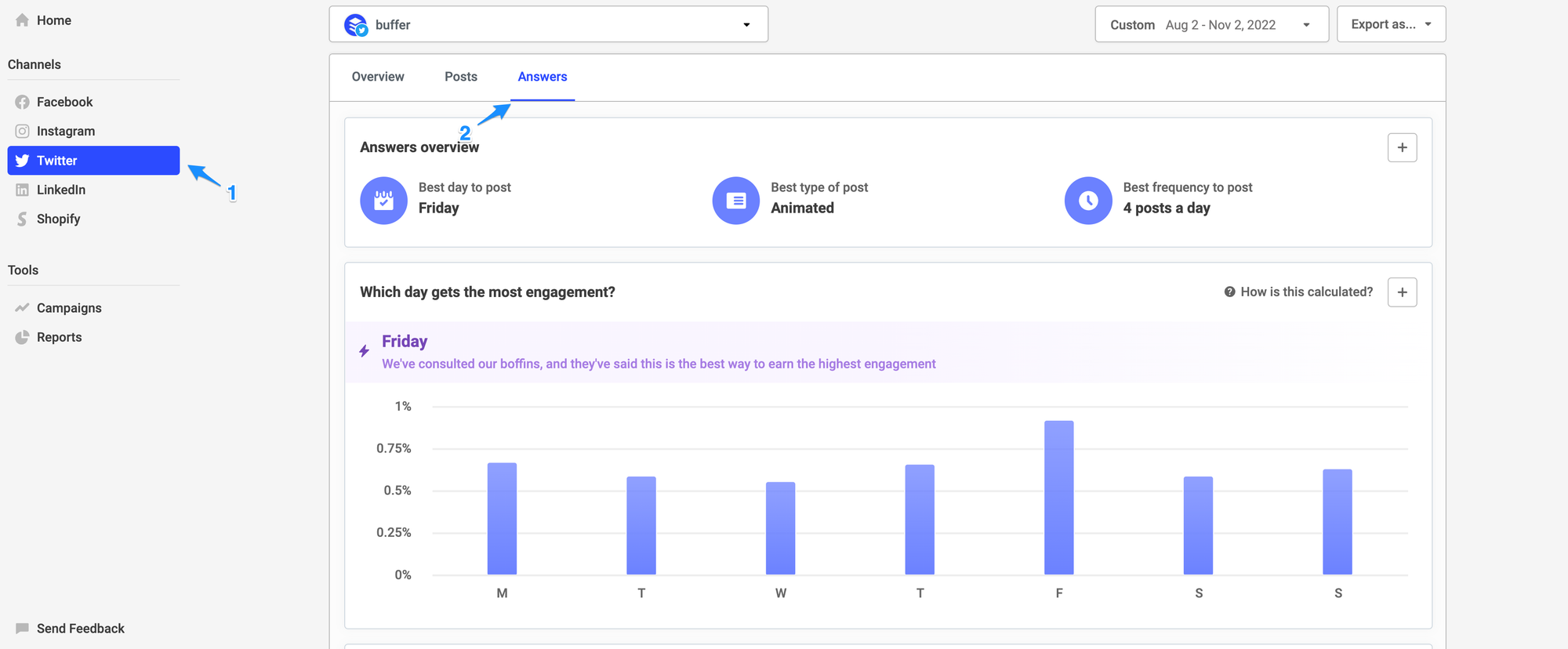 If you've been posting to Twitter for at least 30 days, you can track the metrics on all your tweets in that time period. The data we really need is under the Answers tab – this overview can help you determine what days you published that got the most engagement.
For us at Buffer, over a three-month period, our best content:
Fridays are our highest engagement day,

Four times a day is our best posting frequency,

And animated posts (GIFs) get the most engagement.

With the data from your own Buffer account, you can refine your posting strategy to target the times that have historically worked best or experiment with new timing.
📈
Our analytics tool is available on all paid plans, and you can
try it for free on our 14-day free trial
. No credit card required, and you can cancel at any time. You'll get in-depth insights, measure your social media performance, and create gorgeous reports.
Determine the best time to post on your Twitter
Multiple factors determine how effective specific times to tweet might be for different accounts. And for many creators, Twitter's recommendation algorithm is a major factor. Here are some other things to consider when thinking about what time(s) you want to share your content:
Twitter thrives on trends and timely content: Some topics must be covered as they happen, and Twitter doesn't lend itself to evergreen content. This means that some topics will take over your planned content. You must keep this in mind and stay agile as you create your content calendar and post on the platform.
Focus on publishing valuable content: Twitter users are constantly reading and engaging with a lot of content, so you need to stand out from the crowd. The best way to do that is by consistently providing value to your audience — one way to do that is by scheduling your tweets in advance. I love Erica Schneider, Head of Content at Grizzle's account because she shares content that is rooted in experience and helpfulness. On the other end of the spectrum is the Duolingo account, which is always humorous.
Use Twitter's features for maximum engagement: Twitter Threads are popular because they keep users engaged longer. They are also prime material for retweeting. Other Twitter features, such as Spaces and Communities, can also help you reach and engage with your specific audience.
Figure out what downtime is for your audience: Twitter is mostly used during downtime – on breaks at work or school, before or after a commute, and at home while winding down. So when you're determining your best times to post, consider what your audience might be doing at those times.
My top recommendation for any Twitter user is to experiment not just with different times but also with formats and content styles.
Try out Buffer's automatic scheduling while refining your posting strategy
If you're new to posting on Twitter or don't have the time to manually comb through what has historically worked, Buffer can help here too! When you schedule content in Buffer, you get stock recommendations for the best times to post based on your time zone.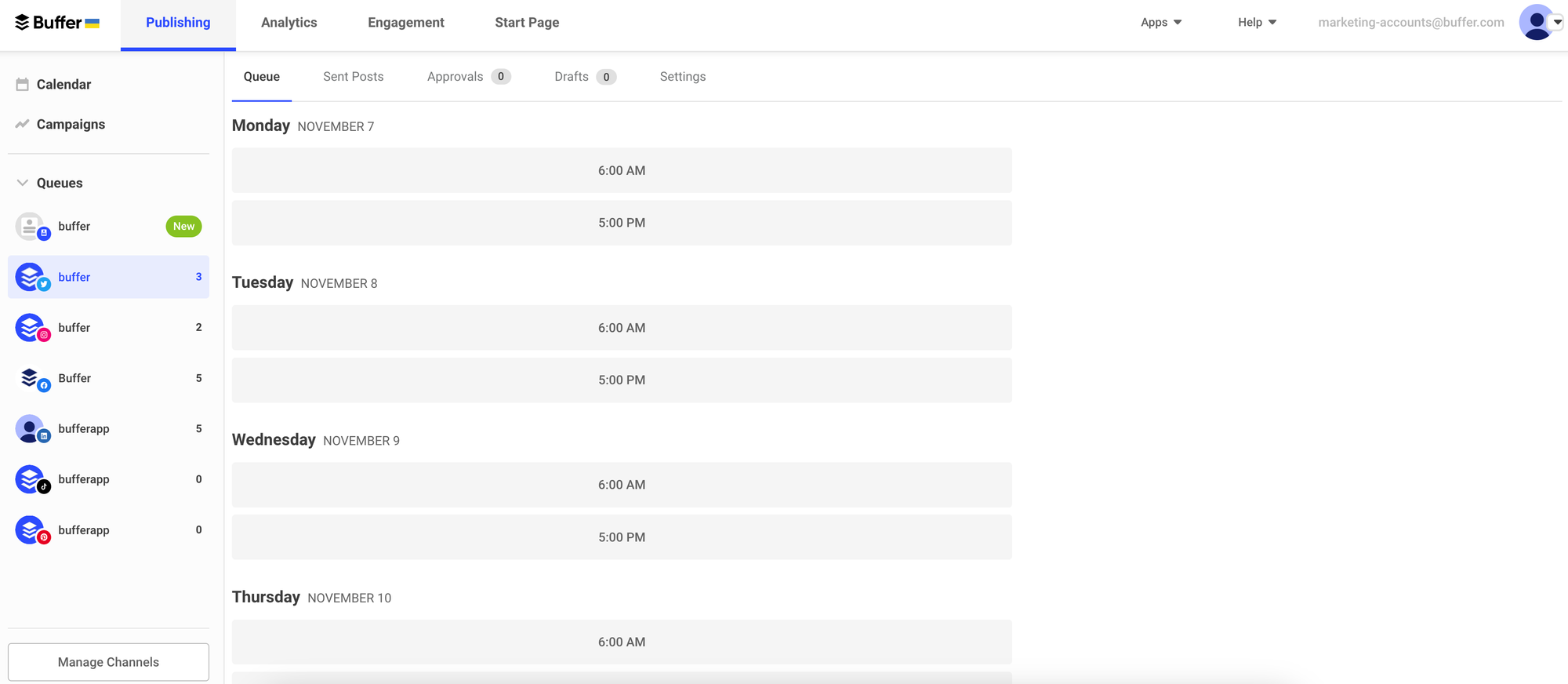 What have you found most helpful when determining your best time to post on Twitter? Let us know @buffer on all our social media accounts!
Brought to you by
Did you find this article helpful? You might also like our all-you-need social media toolkit.
Get started for free now