It's the end of the year, which means it's time to reflect on all the work you've done in 2022 and decide if you should make any changes going into the new year.
I'm Mitra, the social media manager here at Buffer, and this is my first blog post! Today I'm sharing Buffer's top performing social posts from each platform and will give you an analysis into why I think these posts performed so well. Not only is it fun to look back at our top posts of 2022, but it's also a great way to understand how we should shape our social strategy for 2023.
What metrics are we using to calculate these top posts?
At Buffer, we use engagement rate and impressions as our base metrics, so I'll be sharing the best posts on Buffer's Twitter, Instagram, TikTok, and LinkedIn for each of these metrics.
And if you noticed that Facebook wasn't included in that last sentence, that's because the platform has not been a priority for our social media strategy as it's not a channel where we've historically had great performance.
Now, let's dive in to see Buffer's top posts of 2022!
Twitter
Top Post Based on Engagement Rate
This was a fun one. At the time, this meme was trending and I knew we should join in with our own twist. We work four days a week and we really love to talk about it! So, this meme was the perfect opportunity to laugh about how passionate we are about the four-day work week while still telling everyone how much we love the four-day work week and how it works for us. A little meta, right?
This post a great example of how jumping on timely trends can pay off when executed well and staying true to your brand, and that's exactly how I think it ended up with such a high engagement rate.
Top Post Based on Impressions
This one ended up ruffling some feathers on Twitter. Many people took it as us saying we wanted them back in the office — which is the opposite of what we want!
I think this one performed so well because of a combination of things: Going back to the office is a controversial topic, many people were quote tweeting their answers which put our tweet in front of their followers, and seeing the quote tweets encouraged others to participate with their own answers.
It was a lot of fun seeing all of the responses to this tweet! Be sure to check out our TikTok with a recap of our favorites.
Instagram
Top Post Based on Engagement Rate
To be honest, I'm a little surprised to see a static image as our best post based on engagement rate. This graphic is simple, informative, and gets straight to the point with what you should be focusing on for your brand strategy.
There are a few factors that I believe made this post perform so well: It's a topic that our followers are interested in and something they may need advice on, it's simple and easy to read, and to be fully frank, this was posted before Instagram's algorithm changed to focus on Reels, so engagement was a lot better on posts like these. I have a feeling that if we posted this again today, the metrics would be a little lower.
Top Post Based on Impressions
Something we always say here at Buffer is that "Our company culture is our superpower." And this post really shows that to be true. Just like the Twitter meme above, this was a trend that I knew we could jump on. Not many companies are sharing their salaries, so I had a feeling this would catch people's attention and the audio just fit perfectly.
I have a few reasons for why I think this post got so many impressions. First, it's a short video (less than 10 seconds), so you don't need to worry about holding people's attention since it will be over before they lose interest. Second, not many companies are transparently sharing their salaries like we are (superpower!), so when people find out we have a whole page dedicated to our team's salaries, they're really surprised. And lastly, this audio was just starting to trend when this was posted, so more people were likely to see our post.
TikTok
For TikTok, our analytics are a little different since engagement rate is not provided in their tools. We use views to gauge our success on the app.
Top Post Based on Views

This was a really fun post! At the time, we were hiring a Growth Product Manager and thought it would be fun to post about the job opening on TikTok. Tom, our former Director of Product, was the hiring manager for the role so I reached out to him to see if he was open to being in the video. Fun fact: Tom was an actor when he was younger, so I had a feeling he would be pretty comfortable in front of the camera.
There are a lot of reasons I can say this video did so well (aside from Tom's brilliant acting skills), but what it all comes down to is this: Our company culture is our superpower (didn't I tell you?).
When you look at any job opening at Buffer, you'll not only see the job description, but the full salary range, and a list of ALL our benefits. I knew that starting the video out with that whole laundry list of benefits would really catch people's attention, and that's super important - TikTok's own research has shown that 63 percent of all videos with the highest click-through-rate highlight their key message or product within the first three seconds. I also knew that if people made it past that first section of all the benefits, they'd be just as impressed to see that we share the full salary range as well.
When we posted this TikTok, we had less than 100 followers, and we still ended up with almost 300,000 views. This video is exactly why I love TikTok — anyone can go viral, regardless of your follower count.
LinkedIn
Top Post Based on Engagement Rate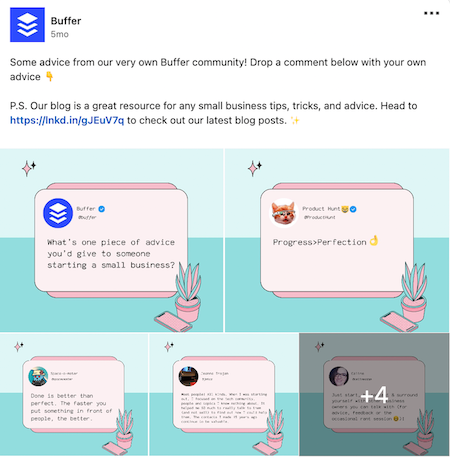 Two great things about this post: It is both user-generated content and repurposed content. Both of these are great types of content to implement in your social strategy because they will save you time and are more likely to perform well. I took the replies from this tweet and turned them into graphics to share on LinkedIn.
I think this post was our most engaged post because it featured our Buffer community and also encouraged others to join in with their own advice. Since there were multiple images to go through, people spent more time on the post swiping through each piece of advice. The theme also stays true to our mission, which is to help small businesses.
Top Post Based on Impressions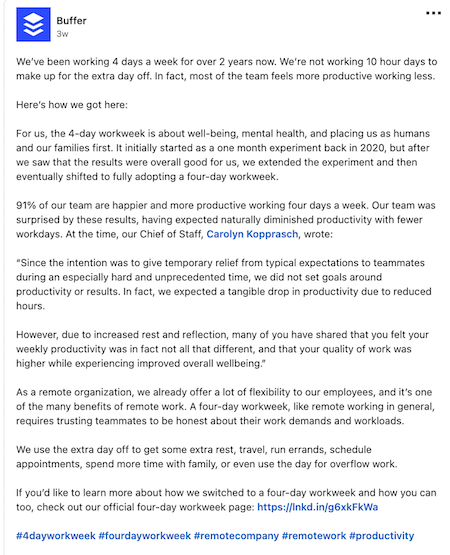 This post was my first time trying out long-form content on LinkedIn, so I was worried that people might not take the time to read the whole thing, but it ended up doing really well.
Once again: Our company culture is our superpower. The four-day workweek is definitely gaining traction right now, so I knew this was a topic that people would be interested in. Instead of just telling people, "hey, we have a four-day workweek," I thought I would go a little deeper and explain how the company made this decision and also share the results.
Along with this post including a relevant topic and sharing results, I think the opening lines are really what caught people's attention and encouraged them to read more ("We've been working four days a week for over two years now. We're not working ten hour days to make up for the extra day off.") Just like how you have to include your hook in the first three seconds of a TikTok video, you need to include your hook at the beginning of a LinkedIn post.
What are we taking away from these posts for our social strategy in 2023?
Posts about our company culture are high performers. Going into 2023 I'm being mindful of including those regularly mixed in with the rest of our great resources helping small businesses and creators
Simple = better. The posts that performed well are actually ones that didn't require lots of video editing or fancy graphics, so I need to remember that being authentic and relatable is more important than having the nicest-looking content.
Participating in trends can payoff if you can authentically connect it with your brand. I'll always be on the lookout for any trends we can jump on, but only if I feel like I can truly connect it with our brand. There's no pressure to do every single trend!
It's ok to be a little playful with your tone, just make sure to keep it positive. We're going into 2023 with a more playful voice, but still staying true to our message of helping small businesses, creators, and ambitious individuals.
Want to check out what were your best posts of 2022? Here's how.
Go to analyze.buffer.com
Select a channel on the left
Update your date range (top right) to Jan 1 2022 - December 20 2022
Select Posts
Scroll down to the Post Insights section
Select if you want to sort by impressions, likes, engagement rate, etc.
Make sure it's sorted in descending order
Your #1 post will be at the very top of the list!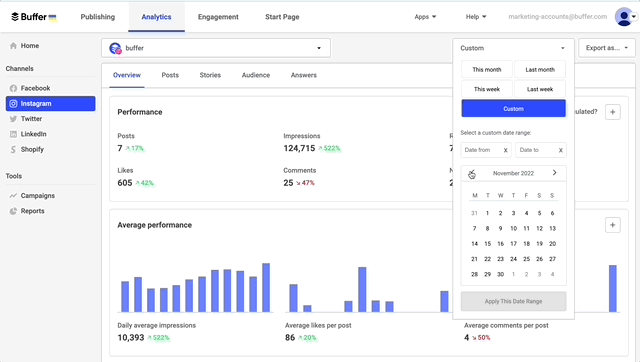 Thanks for reading! Have any questions about our top posts? Send us a tweet and please share your own top posts of 2022 and tag us, we'd love to see them!