Note from Leo: The below is an email Belle sent to the whole Buffer team on the 1st of October. It features our latest thoughts, ideas and questions about content and the Buffer blog. Since we default to transparency with our culture, we thought making this public could be useful for others too.
Quick Summary
In September we published 15 posts on the Buffer blog, 3 of which were guest posts. Our total uniques were 24% lower than last month, and our email subscribers jumped up 7%. Our three best-performing posts (in terms of traffic) were all published before this month.
How did the blog do overall
Total uniques: 562,361 (compared to 745,811 in August = 24% decrease)
Email subscribers: 11,934 (compared to 11,135 in August = 7% increase)
Total posts: 15 (3 less than August)
Total posts republished: 4 (Lifehacker, FastCompany, TheNextWeb, Women 2.0)
Total in-house posts: 12 (same as August)
Total guest posts: 3 (3 less than August)
Top 3 referring sites: Facebook (167,789 visits), A CUP OF JO – joannagoddard.blogspot.com (15,912), Twitter (14,184)
Top 3 keywords: "how to make yourself happy," "things that make you happy," "body language"
Which 3 posts performed the best?
10 Simple Things You Can Do Today That Will Make You Happier, Backed By Science
256,951 uniques, published in August
A scientific guide to saying "no": How to avoid temptation and distraction
42,825 uniques, published in March
A scientific guide to posting Tweets, Facebook posts, Emails and Blog posts at the best time
31,251 uniques, published in August
Experiments from September
Brian whipped up some excellent author bio boxes for the blog:
Top of blog post:

Bottom of blog post: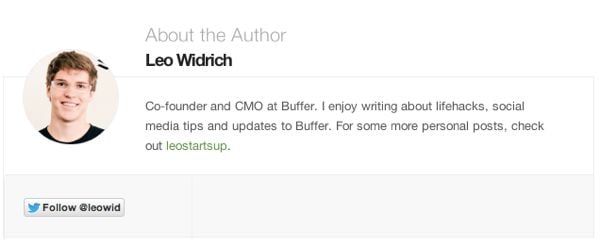 And we stopped using the text-based CTAs with email and Twitter links at the bottom of posts:

We started suggesting similar posts at the bottom of each one for further reading:
Questions and ideas that came up in September
Rather than pushing for higher volume of content, Leo and I decided focusing on 3 x high quality posts per week is the most sustainable plan for now.
Looking ahead to October
Our goals for the end of October are still a fair way off (25,000 subscribers and 1 million uniques/month). We need to keep these in mind as we plan and execute on content this month.
Starting to plan out the first Buffer ebook with Social Media tips and insights
Note from Leo: Let us know any more stats that we could share with you guys in the comments below!