With all the great articles out there, it can sometimes be hard to catch up on every single one of them.
So imagine being able to go through a 2,000-word article in a minute or two. Or even faster.
Enter: SlideShare!
With SlideShare, great ideas and strategies are condensed into a couple dozen concise slides. For marketers, it's a powerful content network: Over 70 million people visit SlideShare, and we had several Buffer SlideShares that got over 100,000 views apiece. For those eager to learn, the visual element of SlideShare also helps us absorb the information faster and remember it for a longer period of time, compared to reading texts.
So, here're 10 of the best social media SlideShares of 2016 to enhance your social media marketing in 2017. I'd love to hear if you have a favorite in this list or a favorite you'd want to add.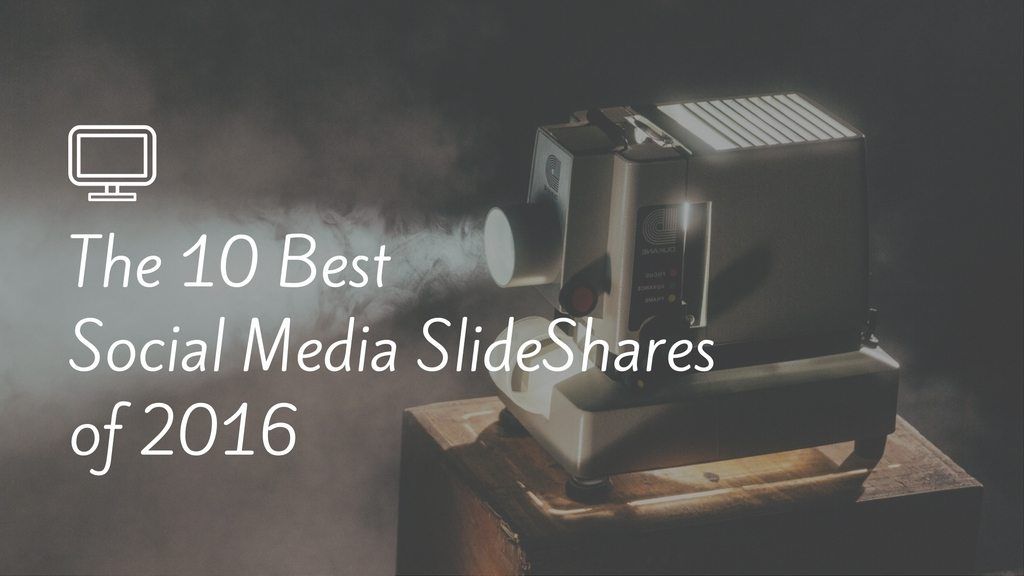 10 Best Social Media SlideShares to Enhance Your Social Media Marketing in 2017
1. Facebook is completely changing viral videos – Take advantage of it
(via 500 Startups)
Video marketing seems to be rising to its peak — 83 percent of marketers said they'd like to create more video content if they didn't have restraints such as time and resources. This is the slide deck that viral video creator Karen Cheng used at her Weapon of Mass Distribution 2016 talk on making viral videos. There's a 30-minute recording of her talk if you are curious to learn more.
My favorite slide: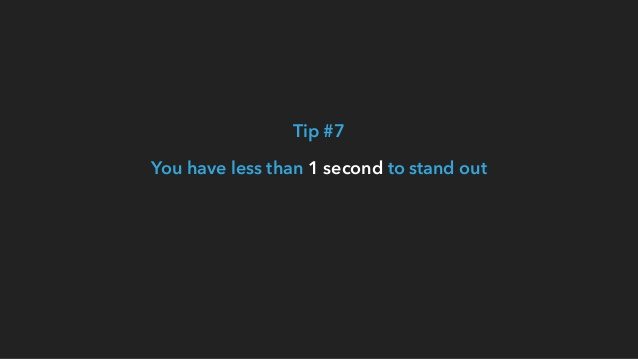 A key takeaway for marketers:
If you want to spread an online video — or even a blog post or an idea— write the news headline first. Think about what makes a compelling news headline. Then, let it inform the creative decisions you make during the video-making process.
For reporters to want to cover news about your business, they need an attractive headline for the news. Karen's first viral video took off because the idea "Microsoft employee quits with a song" makes a great headline. That attracted reporters to write about it.
2. How to wow! with a presentation
(via Canva)
While this SlideShare deck is on creating stunning presentations, I think it's great for designing awesome social media images, too. The design experts at Canva share how you can create engaging graphics using the right play of text and design.
My favorite slide: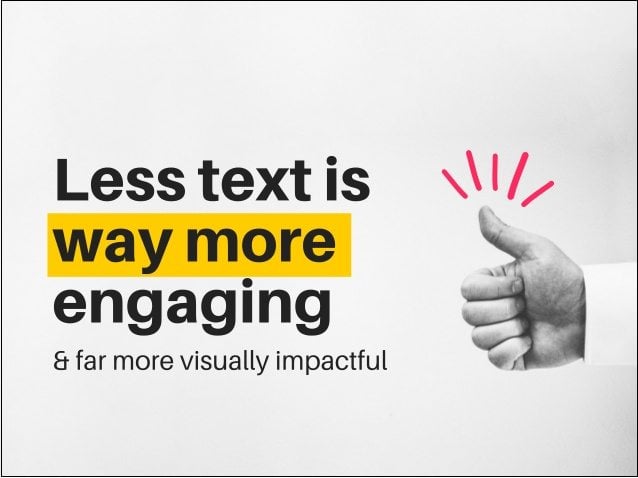 A key takeaway for marketers:
When you are creating your social media images, use relevant photos and less text to effectively convey your message.
If you can use self-explanatory images — images that can completely explain a concept without someone having to read any additional text — that would be even better. They are easy to understand and highly shareable.
3. 24 Awesome Infographic Ideas to Inspire Your Next Beautiful Creation
(via Piktochart)
Just like SlideShares, infographics are a great way to present information in a concise, easy-to-understand manner. They are not only great for blog posts but also shareable on social media. In this SlideShare deck, the team at Piktochart shares twenty-four cool ideas for your next infographic.
My favorite slide: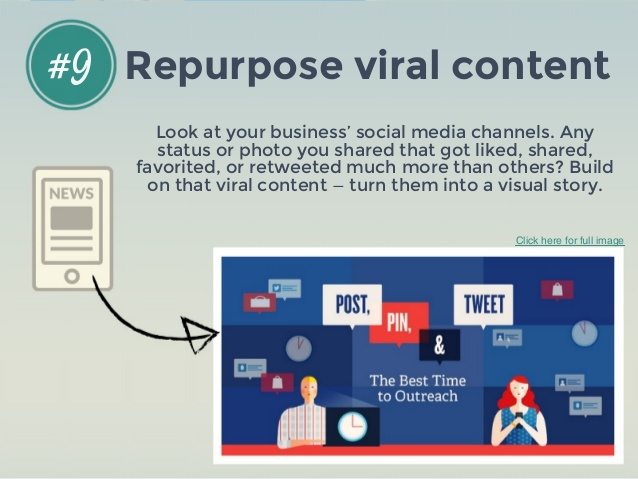 A key takeaway for marketers:
Creating an infographic is very similar to writing a blog post. One way to look at it is that an infographic is just another method of presenting the information in a blog post. Content ideas you have for blog posts can most likely be used to create infographics, too.
At Buffer, we like to use infographics in blog posts directly (such as this) or to update our best-performing blog posts with infographics (such as this).
4. How to Create and Use Snapchat's New Custom Geofilters
(via Gary Vaynerchuk)
We have written about Snapchat and its custom Geofilters before. But I thought it'd be great to hear from one of the top Snapchat influencers himself — Gary Vaynerchuck. In this SlideShare deck, Gary shares why you should use Snapchat's geofilters and how to create effective geofilters.
My favorite slide: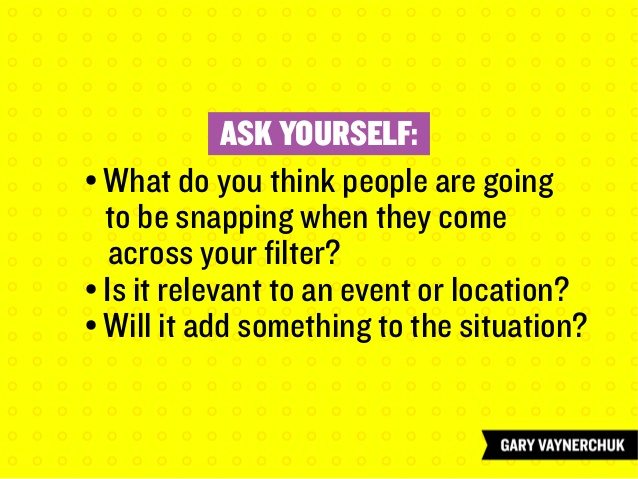 A key takeaway for marketers:
Snapchat geofilters are currently an undervalued way to reach your audience. For example, Chris Hall, the co-founder of a sneaker app, Kickster, was able to get $0.001 cost per thousand impressions (CPMs) for his Snapchat filter and generated over 10.5 million views of his filter in just seven hours.
From our State of Social 2016 report, we found that only 12 percent of marketers and brands are on Snapchat and only 5 percent are spending on Snapchat filters at the moment. If you want to stand out, Snapchat could be the platform to do so as the audience there isn't saturated with ads and sponsored filters just yet. By the end of 2017, that could be different.
5. 125 Clickass Copywriting Tips
(via Barry Feldman)
Barry Feldman has more than 25 years of experience in copywriting, and in this slide deck, he shares 125 copywriting quick tips. These tips are organized into 14 chapters such as headlines, content, style, credibility, and more.
My favorite slide: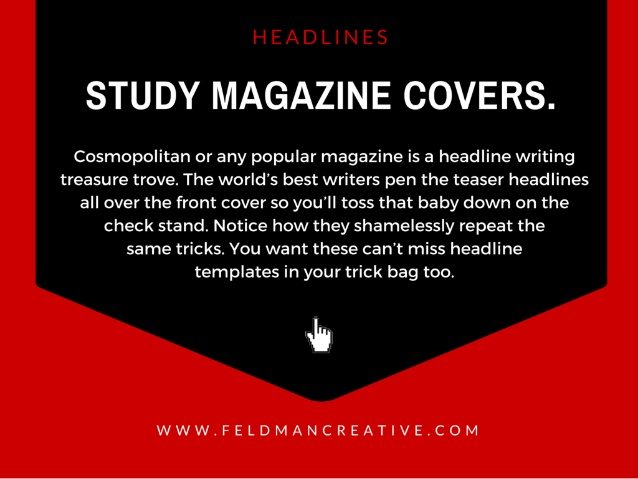 A key takeaway for marketers:
Write more than one headline. For each of our blog posts, we sometimes write between 20 to 30 headlines. This not only helps us find the headline that feels best, it also gives us headline ideas for our social media posts.
6. The Science Behind Effective Facebook Ad Campaigns
(via unfunnel)
HubSpot and AdEspresso teamed up to analyze more than 100,000 Facebook ads. Through the study, they found 9 best practices for Facebook advertising such as most popular headline length, most popular Call-To-Action (CTA), and more. In this SlideShare deck, they also shared their analyses of several great Facebook ads.
My favorite slide: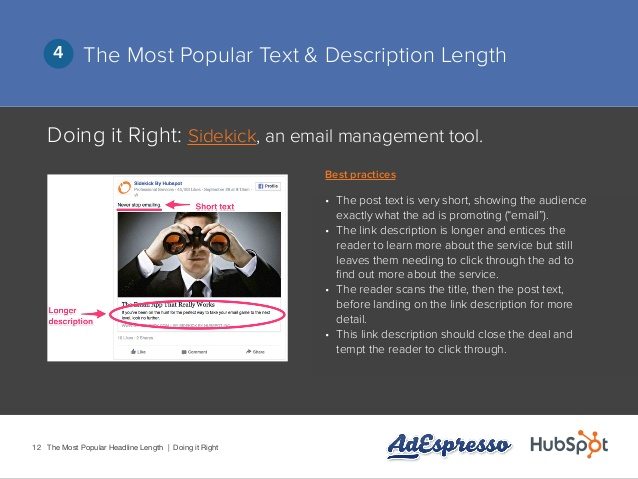 (Click to view a larger version.)
A key takeaway for marketers:
While targeting the right audience for your Facebook ads is important, don't neglect the design of your Facebook ads. There are 6 key design components for a typical Facebook ad: headline, text, description, caption, CTA button, and image.
From our State of Social 2016 report, we also found that 91 percent of marketers are spending on Facebook ads. This might indicate the effectiveness of Facebook ads to deal with the decline in organic reach on Facebook.
7. 13 Tips for Creating Facebook Ads that Convert
(via HubSpot)
HubSpot and AdEspresso asked five world-class experts in Facebook advertising for their top tips and insider tricks for creating successful, effective Facebook ad campaigns. This SlideShare deck features 13 short, digestible, and actionable tips for creating Facebook ads that convert.
My favorite slide: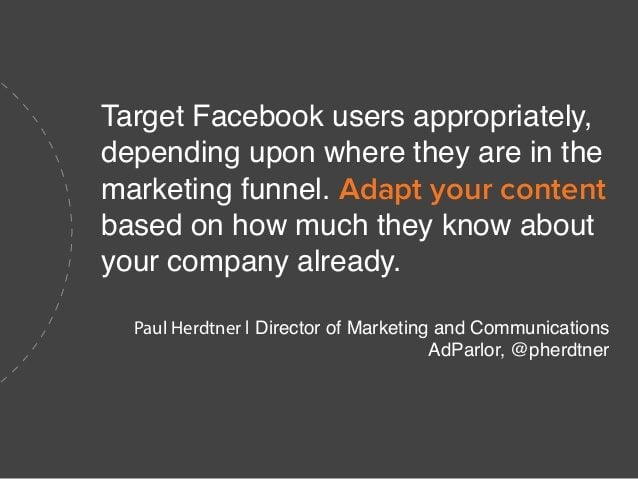 A key takeaway for marketers:
Explore all the features that Facebook's advertising platform has to offer. Advanced features such as the Power Editor, Unpublished Posts, Lookalike Audiences, and Custom Audiences give you the ability to be very specific with your ad targeting.
If you want to learn more about these features, Facebook has a comprehensive Advertiser Help Center with guides for beginner, intermediate, and advanced advertisers.
8. Top 10 Social Media Advertising Hacks of All Time
(via WordStream)
WordStream founder Larry Kim reveals his 10 strategies for getting the most value out of your social media advertising efforts. They include tips to drive more traffic to your content and increase your conversion rates.
My favorite slide:
A key takeaway for marketers:
Promote only your best content — or "unicorns" as Larry calls them. Such content tends to have a higher engagement level, which can lead to more ad impressions and lower cost per engagement.
An easy way to find such content is to look for top performing content that you post to Twitter organically. Then, you can pay to boost these tweets, share the content organically on Facebook, and pay to promote them, too. Since this content did well on Twitter, it is likely to do well on Facebook too.
9. Search Content vs. Social Content
(via SEMrush)
Ever published a piece of quality content and received no engagement on social media? Or it doesn't rank on Google? "It's not your content. It's your content marketing strategy," says Daniel Hochuli, Head of Strategy at King Content. In this SlideShare deck, Daniel breaks down the differences between search content and social content and explains how to create them.
My favorite slide: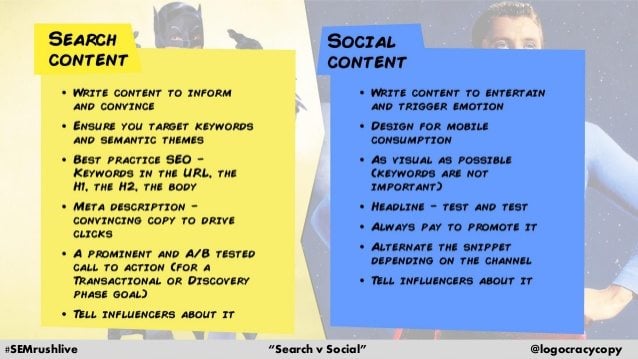 (Click to view a larger version.)
A key takeaway for marketers:
Not all content is meant to rank highly on Google and take off on social media — though, it's great if it does! When you are creating content, a framework you could use is that of Search Content vs Social Content. The idea is to optimize content for search and for social media separately.
There are also other ways to categorize your content such as the Brand Content vs Direct Response Content approach or the Customer Awareness Lifecycle framework.
10. Why Social Media Chat Bots Are the Future of Communication
(via Jan Rezab)
Here's one for the future! According to Jan Rezab, founder and chairman of Socialbakers, social media chat bots will be the next big trend. While chat bots are mainly used for e-commerce at the moment, they are also being used for entertainment, Internet of Things, community, and more.
My favorite slide: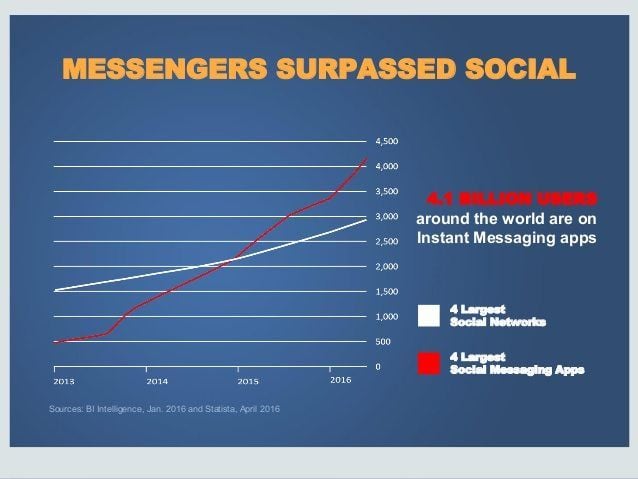 A key takeaway for marketers:
It's worth looking into social media chat bots. For instance, KLM Royal Dutch Airlines' Facebook Messenger bot was used more than 115,000 times in the first month!
Social media seems to be moving from a one-to-many channel to a one-to-few or even one-to-one channel in several aspects. This can be seen from the rise of chat bots and one-to-one messaging features such as Instagram's newest feature, disappearing photos, and videos in Instagram Direct.
If you want to be at the front of the next big social media trend, chat bots might be a good bet.
Over to you
Did any of the SlideShare decks stand out for you?
Did I miss your favorite social media SlideShare deck? Feel free to share it with me in the comments below. It'd be great to hear from you!