If you could travel back in time to when Facebook or Instagram first started grabbing mainstream attention, knowing what you do now about the opportunity they hold for brands, you'd jump aboard, right?
Well, that opportunity is now on Snapchat.
Snapchat, a platform built on short ephemeral messages, seems destined to become a long-lasting social media powerhouse.
This future seems all the more realistic with the addition of Snapchat Memories — a way to share photos and videos captured outside of Snapchat to your Story. I've done some thinking about what this new addition means to Snapchat content and the future of the social network. My conclusion: All good things!
Keep reading to see what Memories is all about and how Snapchat is evolving into a must-have social media channel.
My teammate Brian recently shared his thoughts about Snapchat Memories in this video commentary. Would love to have you take a look!
What Are Snapchat Memories? Here's an Overview
With Snapchat Memories, you can now, for the first time, share photos and videos captured outside of Snapchat to your Story.
That's one of the key features of Memories – an update that fundamentally shifts Snapchat, taking the platform that has become famous for its disappearing content and moving it in a new direction.
Alongside the ability to share content from outside the app, Memories also enables users to save Snaps to a smart, searchable camera roll and enables re-sharing (and embellishing) of previously sent snaps.
Here's the video that Snapchat put together for their announcement:
I'd love to show you more about how each of these new Memories features work.
1. Share any photo or video — from within the app or from anywhere else
Memories enable Snapchat users to tell bigger stories that incorporate more than just in-the-moment photos and video. Instead of purely spontaneous content, Snapchat can now be used to share much more thoughtfully — similar to the approach you'd take with platforms like Instagram and Facebook, where the content you post doesn't disappear.
With the flexibility to share any photo or video you want through Snapchat — not just those you took within the app — the company has opened up a whole new way to create content.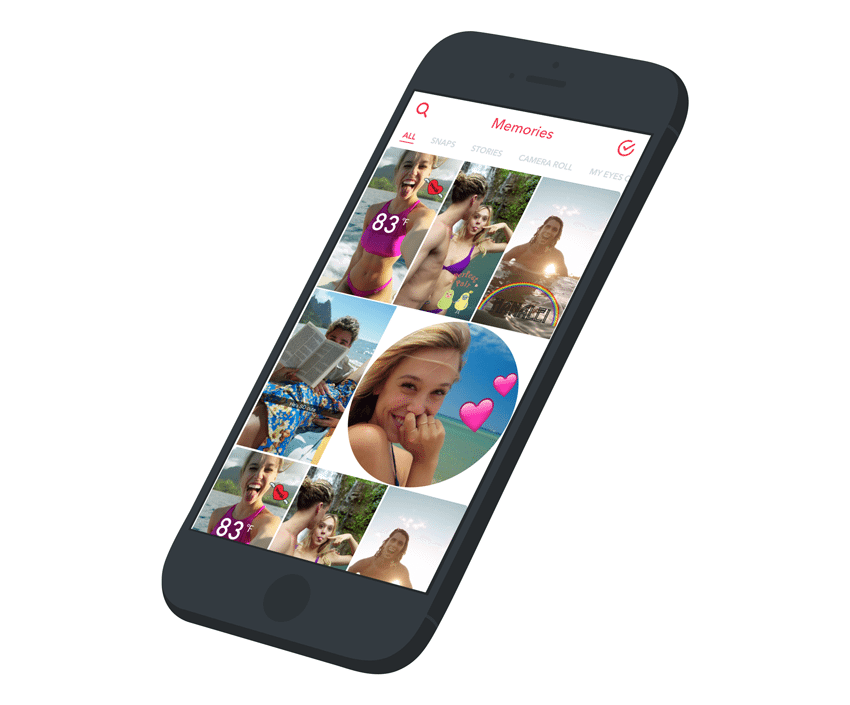 Users can access Memories by swiping up from the camera section of the app.
Saved photos and videos that are uploaded as Stories or Snaps have a timestamp to show when they were originally taken.
2. Save Snaps to a searchable camera roll
You can use Memories to create new Stories from Snaps you've taken, or even combine different Stories into a longer narrative. It's fun to celebrate an anniversary or birthday by finding a few old Snaps and stringing them together into a new Story.
All saved photo and video Snaps plus your Stories appear in the main Memories tab, where you can also import all of your previously saved Snaps. From the Memories tab (which serves as an in-app camera roll), it's super easy to find the Snap or Story you're looking for in just a few seconds by typing keywords like "dog" or "Hawaii."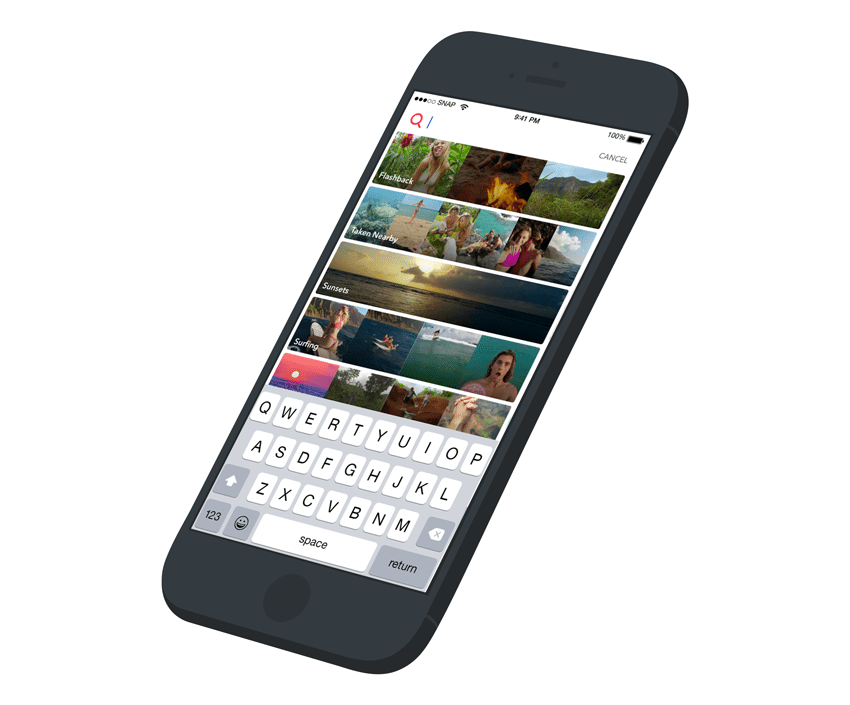 That's the ins and outs of Snapchat Memories covered. Now, what does this mean? And how will it affect the way brands create content on Snapchat?
On the future of Snapchat: How Memories will affect Snapchat's content
1. Memories raise the bar for quality Snaps
Political news site, The Hill, uses Snapchat to live-snap key political events and the larger world of politics and life in DC. They also have some recurring Snapchat series'. One, called Capitol Cribs, for instance, offers Snapchat tours of lawmaker offices.
Speaking to Nieman Lab, Taylor Lorenz, The Hill director of emerging platforms explained that Memories could lead to higher production qualities on Snapchat:
Memories will make producing this type of content easier in the sense that it doesn't have to all be done in real time, but harder in that I think it will raise the bar for repackaged content. Now that we have a longer lead time on creating these evergreen-type stories, the quality of what we put out on our channel should improve.
Lifting the limit on content creation from what can only be created within the app has a huge upside when it comes to creating engaging stories for Snapchat.  Allowing people to upload pre-existing content also opens up the door for .
2. Memories make a longer shelf life for content
These days, content on social media has a very low shelf life.
None more so than Snapchat, where content disappears after 24 hours.
With the new features in Snapchat Memories (saving, reusing), this will make it easier for brands to justify budgets and invest in high-end creative for their Stories. Any photos or videos created for Snapchat can now be re-used, and content from other networks can also be re-published on the platform.
3. Memories may help Snapchat expand to a wider audience
In order to continue its impressive growth, it's increasingly important for Snapchat to attract a broader (and older) audience. Currently, Snapchat dominates attention for 18 to 34-year-olds. Forty-one percent of all 18 to 34 year-olds in the United States use the app on any given day.

And the company is also making strides with older generations. According to numbers from comScore, 14% of smartphone users aged 35 and older use Snapchat, too.
This comes as no surprise, as Snapchat has put a lot of focus on becoming a more mainstream product and moving away from the stigma that it's only for teenagers.
In 2015, Snapchat Discover made the network a media destination by providing publishers with a mobile-first way to share editorial content. And now, Memories is another strong move to help Snapchat become a complete distribution channel for individuals and brands alike.
Snapchat has huge, multi-billion dollar revenue potential, and as reported by TechCrunch, the company is looking to be making and as much as $1 billion in revenue during 2017.
Hitting this revenue target will rely greatly on Snapchat's ability to spread its wings and continue to grow beyond its early adopters and increase its market share for the 35+ age range (and into the early majority). Much like when Facebook expanded from college students to parents (and now grandparents), Snapchat's future growth and revenues could rely on its ability to pivot and engage the older generation and mass market.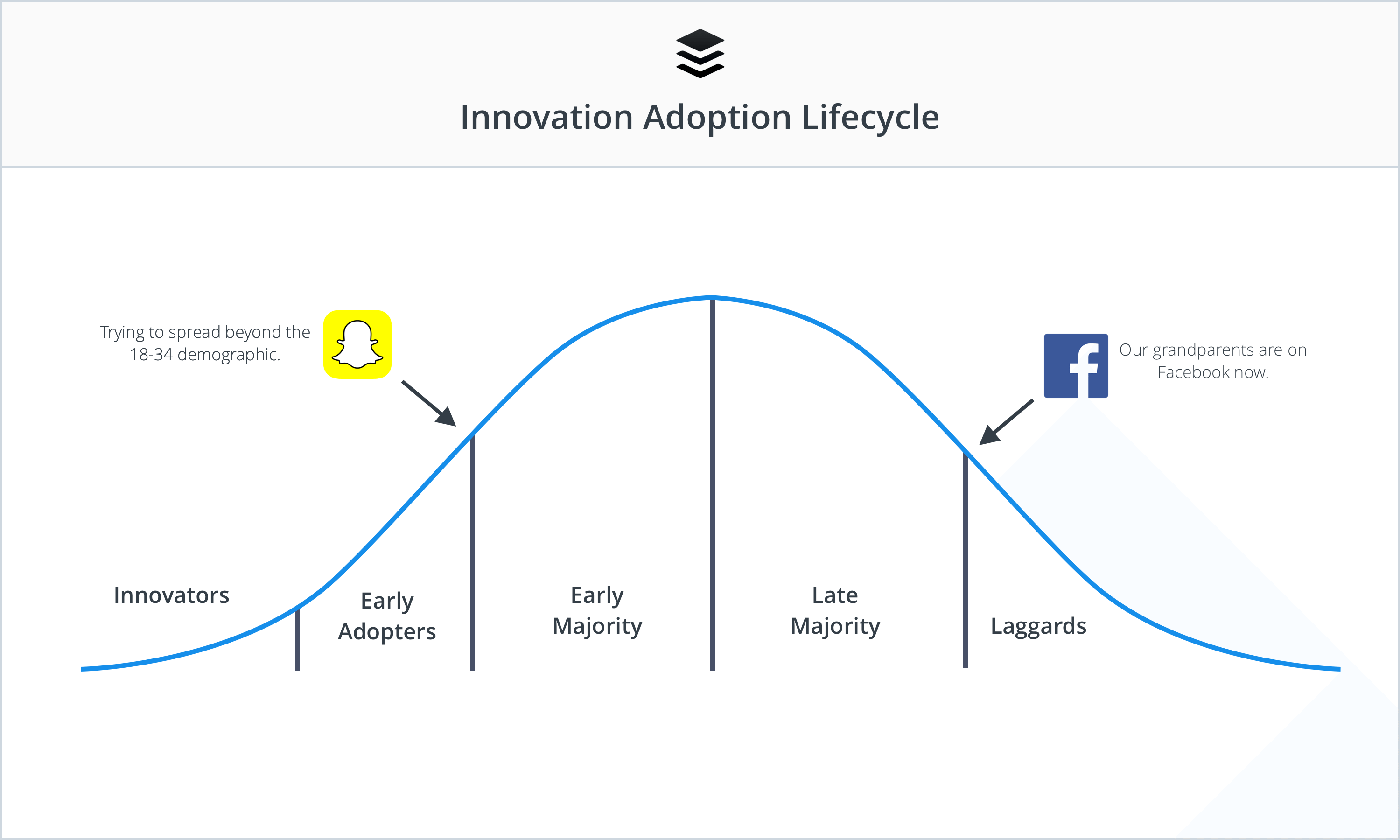 4. Memories can feed the evolution of Snapchat's ad product
While Snapchat has reportedly achieved 150 million global daily active users (overtaking Twitter), the company is still a ways off Facebook's 1 billion-plus user base.
And ads only work if there are users to engage with them.
With Memories, Snapchat now has a legitimate claim to be the go-to camera app for capturing and saving moments. Users in the early and late majority may also appreciate the ability to take a photo and video and worry about sharing later.
This shift could be seen as more user-friendly and easier to understand for the less digitally-native population and should help the company to build its user base, and in turn, boost its revenues.
The fact that Snapchat can now store photos and videos as Memories could also give it more insight into its user interests than before and more data should help Snapchat to improve its ad-targeting. Something that Facebook mastered on its way to becoming a dominant mobile advertising network.
Just last month (June 2016), Snapchat announced an advertising API – its biggest move yet towards becoming a pay-to-play network for large brands. The API will allow selected partners to sell Snapchat's video ad inventory via an automated, auction-based system.
With the API roll-out and launch of Memories, Snapchat is getting serious about growth and revenue. And I don't think it'll be too long before we see a Facebook-style 'ads-for-all' platform, enabling brands of all sizes to capitalize on Snapchat's highly-engaged audience.
Only time will tell how Snapchat's ad product will evolve, but one thing's for sure when it comes to revenue, Snapchat is just getting started…
Why now is the time to go all-in on Snapchat
At Buffer, we believe there are two key periods of opportunity for brands on social platforms:
Organic
Paid
We call it the law of the double-peak:
Right now, Snapchat is growing towards the mainstream and there's still a ton of opportunity to stand out and build an audience organically. Meaning you don't need ads or paid distribution to grab attention.
Think of it as Instagram in 2014-2015 or Facebook in 2009-2010.
Great content works on Snapchat, and you don't need a huge budget.
In a year or so, things may be different. Snapchat is rumored to be working on a Facebook-like algorithm that would curate Stories and show users content it feels they'll enjoy most at the top of their feed, rather than displaying each Story in chronological orders as the app does now. This, coupled with more brands and individuals vying for attention on the platform could make it harder to break through and get people to open your Snaps.
I'm confident when I say Snapchat will be around for the long haul. The ephemeral messaging app loved by teenagers could have been a short-lived fad, but what Snapchat is building has far, far more longevity and opportunity for brands of all sizes.
Your thoughts
I'd love to hear your thoughts on Snapchat Memories and the future of the platform.
How do you see Memories affecting your use of Snapchat? And how do you feel ads will affect the platform?
It'd be great to hear from you in the comments.