1/6/2016: We're excited to share an update to this article about our Snapchat strategy here at Buffer. All of the details are below. In short, we've felt encouraged to see the strides Snapchat has made with diversity and inclusivity initiatives, and we're eager to return to the network!
How we came to the decision to rejoin Snapchat
In August of last year, we chose to take a break from Snapchat (details in the full article below).
Over the course of the last few months we've kept up with the team at Snapchat and their efforts to create a more inclusive and positive experience on social media. From what we've seen, the network has made some incredible strides in creating a positive social media experience for everyone.
At the recent Tech Inclusion Conference in San Francisco, we were inspired to see Snap Inc. as a sponsor and a member of the job fair, along with many other companies we admire.
We also got the opportunity to hear directly from Snap Inc.'s Diversity & Inclusion Recruitment Manager, Jarvis Sam, about how Snap is recruiting, partnering and programming its infrastructure with a focus on diversity and inclusion.
We learned that Snap is collaborating with groups like Women Who Code, Girls in Tech, the Society of Black Engineers, and Management Leadership for Tomorrow to build programs that facilitate strong workplace diversity at Snap, Inc.
We're encouraged to see these initiatives put into place and hopeful that this is just the beginning.
Where we go from here
Now for the exciting part – where we're going with @BufferSnaps!
Snapchat is a robust and wonderful platform for people and brands to share their unique story. They're also blazing a new path in terms of technology and the way people use and consume social media.
We'd love to be a part of that journey. Starting today, we're returning to Snapchat and will be sharing an inside look into our culture, the future of work, and all of the social media marketing tips and tricks we're learning along the way.
Plus, we just picked up a brand new pair of Snapchat Spectacles! Stay tuned for a full review on Spectacles, including best-practices on using Spectacles and where we see the technology evolving in the future.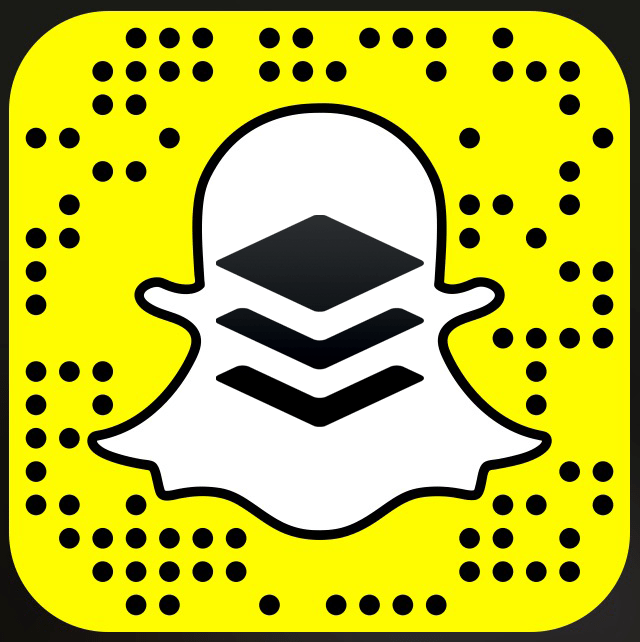 We'd love to continue the conversation with you! Feel free to drop us a comment below with questions or just to say hello.
---
Original Post Published on 8/16/2016
Sometimes it's easy to do the right thing, and you get all the pride and happiness that comes along with it.
Other times, doing the right thing is hard. It can take you away from what everyone else is doing, maybe even cause you to lose friends—or a platform for your voice to be heard.
During those times, is it still worth it?
As a team, we've decided that the answer to this is yes.
Doing the right thing—even when it's hard or when no one would otherwise notice— is one of our 10 strongly held values at Buffer.
So when we face the choice between saying nothing and speaking up when we see something that feels wrong, we have to speak up.
Similarly, we feel a calling to be transparent about our decisions so that others can learn the "why" behind our actions. We share transparently not to bring attention to ourselves but rather to be true to ourselves, to share knowledge with our community, and to ignite conversation.
These values have been at the front of our minds these past few days as we've reflected on one of social media's biggest stories. Last week, Snapchat users called out the social network for its recent release of an "anime-inspired" filter that slants your eyes, rounds your cheeks, and exaggerates your front teeth.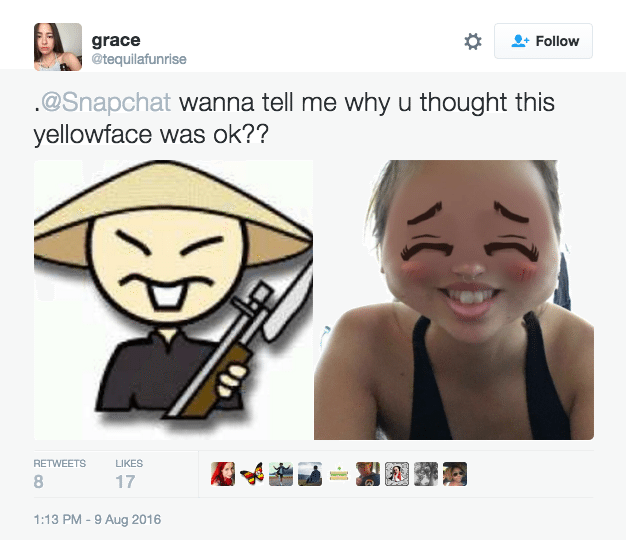 We can't know the intentions behind this filter, but we can know how the social media app's option to superimpose stereotypical Asian features, or "yellowface," onto peoples' faces made many of their Asian and Asian-American users feel.
Mocked. Minimized. Singled out. Othered. Shamed.
In a statement to The Guardian, Snapchat said the "anime-inspired lens" has been removed and wouldn't be put back into circulation, adding that "lenses are meant to be playful and never to offend."
A removal and apology is a great step. We've made many missteps in our own diversity and inclusivity journey, and it feels good to acknowledge them and learn from them.
But what happens following Snapchat's apology?
Only four months ago, the company released another racially problematic filter that superimposed Bob Marley dreadlocks and what many users described as a "digital blackface" on photos. These matters of race, diversity, and inclusion are ones that we're all doing our best to navigate as we build products supported by a worldwide audience. We empathize with the Snapchat team; we've made mistakes at Buffer, too.
As fellow product makers, we acknowledge the hard work that the Snapchat team has done to build a product loved by millions. They all wake up every day trying to build something people love and will be excited by.
And having done so — having built a product with velocity and relevance — they've inevitably gained new responsibilities.
Those who are privileged enough to build our social media platforms have a hand in shaping our culture — for better or worse.
In an essay at The Atlantic, associate editor Robinson Meyer introduces an important responsibility held by the influential apps within the tech scene:
You are a small though extraordinarily wealthy technology company, afloat in a sea filled with other such companies. Some are larger than you, and some are wealthier. People in your industry use language that touches on noble virtues and planet-wide connection. But in practice, you profit from a society layered with different kinds of oppression and discrimination. You have to decide how to use your wealth and power in a world that consistently falls short. What is your duty?

One approach to this problem might be: Do no harm.
Snapchat is one of the most popular social networks in the world and is especially popular with young people ages 18–34. This gives the app an incredible amount of opportunity for shaping cultural norms and attitudes. It's hard to reconcile that opportunity with filters like "yellowface" that normalize racism and othering, creating a climate of more division and less empathy.
Within the lens of social media, these outcomes of division run counter to our mission at Buffer. We seek to help people achieve a greater voice on social media. We believe that social media builds connections, encourages expression, and expands our world. Social media, for us, exists to bring people together, not drive people away.
As a social media tool, Snapchat has so much promise and we've enjoyed getting to know it. We have built a community there that we love.
But diversity and inclusion are not optional for us—they're imperative. We want to align ourselves with people and companies working toward the positive change we envision social media making in our world.
We understand fully why users might delete Snapchat, and we support their decision. For those those who wish to stay, we respect your decision as well. At Buffer, we'll be taking a leave of absence to reflect and determine the right path forward. As always, our decision is not the "right" one—our values are a guide for us but aren't intended to be prescriptive for others.
We truly believe that people and companies can evolve and grow in their understanding of diversity and inclusion. We're all still learning ourselves.
We're hopeful that this will be Snapchat's path, and we would be excited to aid their journey in any way we might be able to.