The concept of a career path at Buffer has changed a lot over the past seven years.
We've gone through various phases as an organization: beginning as an early-stage startup where everyone did a bit of everything, then to a period when we decided against having managers and leaned into a flat structure, and now to a lean level of management within a more traditional structure.
Currently, we're an 80-person team. And we're expecting to grow some, but not rapidly in the coming years.
As such, we've been asking ourselves, "What does a career path look like for someone at Buffer?"
At the core of this question is the unspoken acknowledgement that it's often unclear how to level up when your team size isn't scaling up. Not everyone can be a manager, especially when the team isn't expanding. So how does a teammate grow beyond her or his current role?
Is it possible to grow horizontally rather than vertically?
To answer this, leaders on a few of our teams have come together to create a formal career framework that includes growth opportunities beyond the traditional management track. We'd love for individual contributors to have an equal path for furthering their career and developing their skills. Here's what we're trying, what we've learned so far, and how you can get started on your own multifaceted career framework.
---
A Maker & Manager Career Framework
The two-path framework we've adopted at Buffer
Our previous career framework placed a lot of emphasis on typical career growth paths —  moving from one level up to the next, all within clearly benchmarked role descriptions. We didn't have as adequate a solution for managers (of which we had few when Buffer was smaller). And we didn't have clear career progress events for makers who have less interest in traditional people management paths.
Here's a basic look at our previous career framework: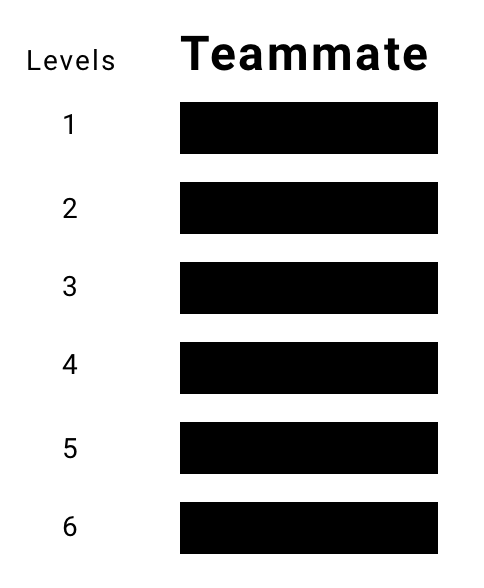 Now we feel we've made some good strides for both managers and makers, as well as giving our teammates more opportunities to be recognized for the great work they're doing.
Our latest version of a career framework includes paths for makers (individual contributors) and for managers, and in addition to traditional, vertical career levels, teammates can now also progress horizontally with steps.
Here is an overview of our current career framework:

To give a couple examples, a newly-promoted Customer Advocate II might be a Maker at Level 2 and Step 1. (Everyone has at least Step 1 on the horizontal Step chart. There is no Step Zero.)
And if someone is an Engineering Manager, they might be a Manager at Level 4, Step 3.
About Levels and Steps
With this latest version of our career framework, we've introduced the following definitions for Levels and Steps.
For a teammate to go from one Level to another is a large and distinct jump in terms of area knowledge, role complexity, and overall scope. It would be what a typical promotion at most companies looks like, and was the traditional framework we were previously using. A change in Level happens through a calibration process and involves our People/Finance team for guidance.
The second part of our framework, the Steps, are horizontal in nature, and there are four housed within each level. These Steps serve as smaller milestones of growth in terms of ownership and initiative. They are not a "progress bar" and are not necessarily meant to be a strictly linear progression; a teammate could potentially advance multiple Steps at once. A change in Step can happen at anytime through each area director's discretion and requires no approval or discussion outside of the area.
---
Building the Framework
Details on how we determine each teammate's level and step
Below are excerpts from our role leveling and step progression guides. Many elements of these charts have been adapted from Radford, our provider for compensation and role benchmarking. The Step charts are adapted from our own area frameworks as well as other public tech frameworks from likeminded companies like Fog Creek, Medium, and Rent the Runway.
Each chart is reprinted in its entirety below, just as we have it in our team handbook. If you'd like to adapt any of these charts for your own use, we've made them all available in a doc here.
For Makers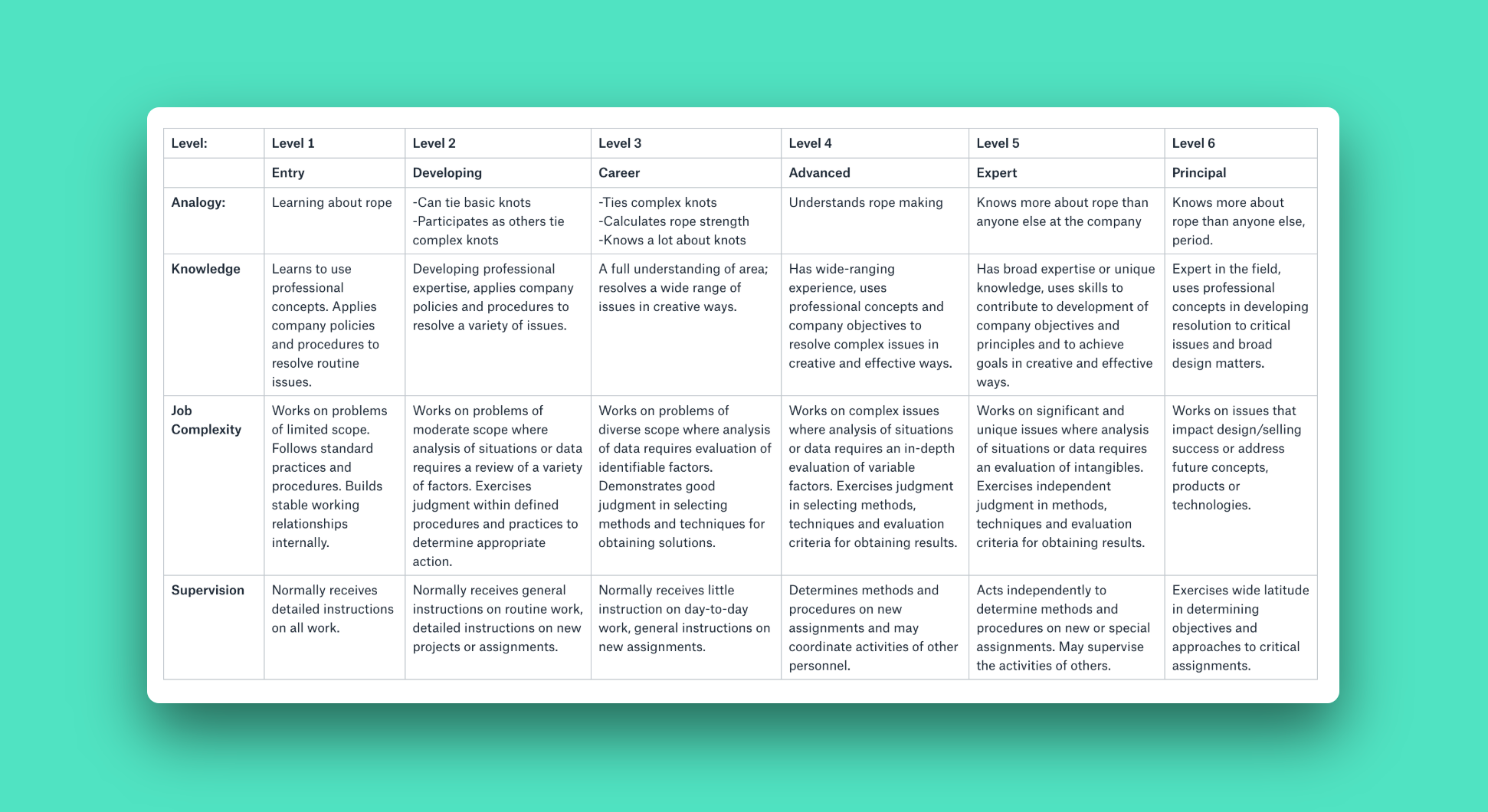 While the Level charts are meant to be thoroughly discussed with our People/Finance team before making a move, the Step charts are suggestion only, and area directors can interpret them and/or build onto them, to create area-specific guides with examples and principles that resonate for the work each teammate does.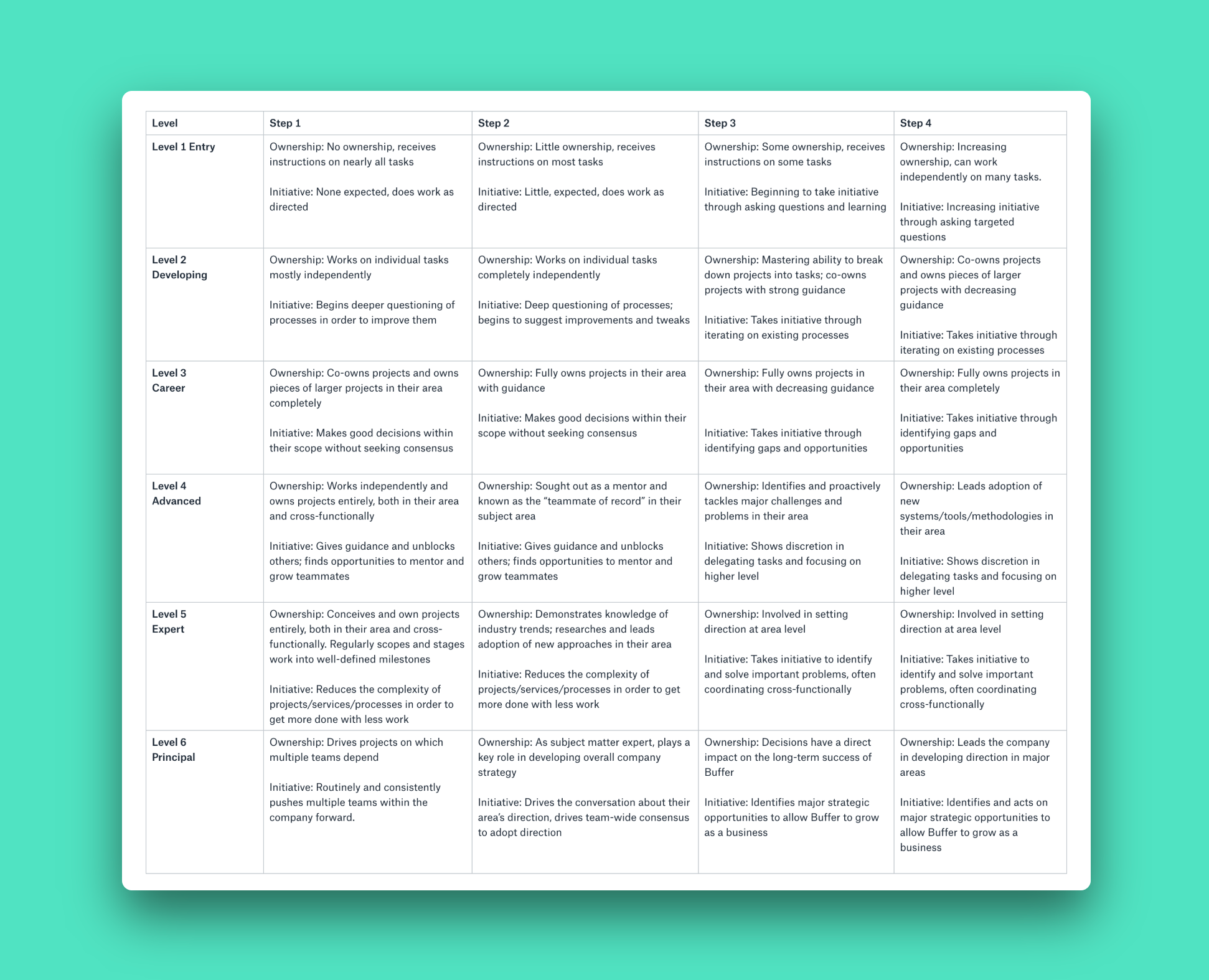 For Managers
We use a similar chart to assess where a teammate falls on the manager career framework. Here are the four manager levels and what goes into each consideration: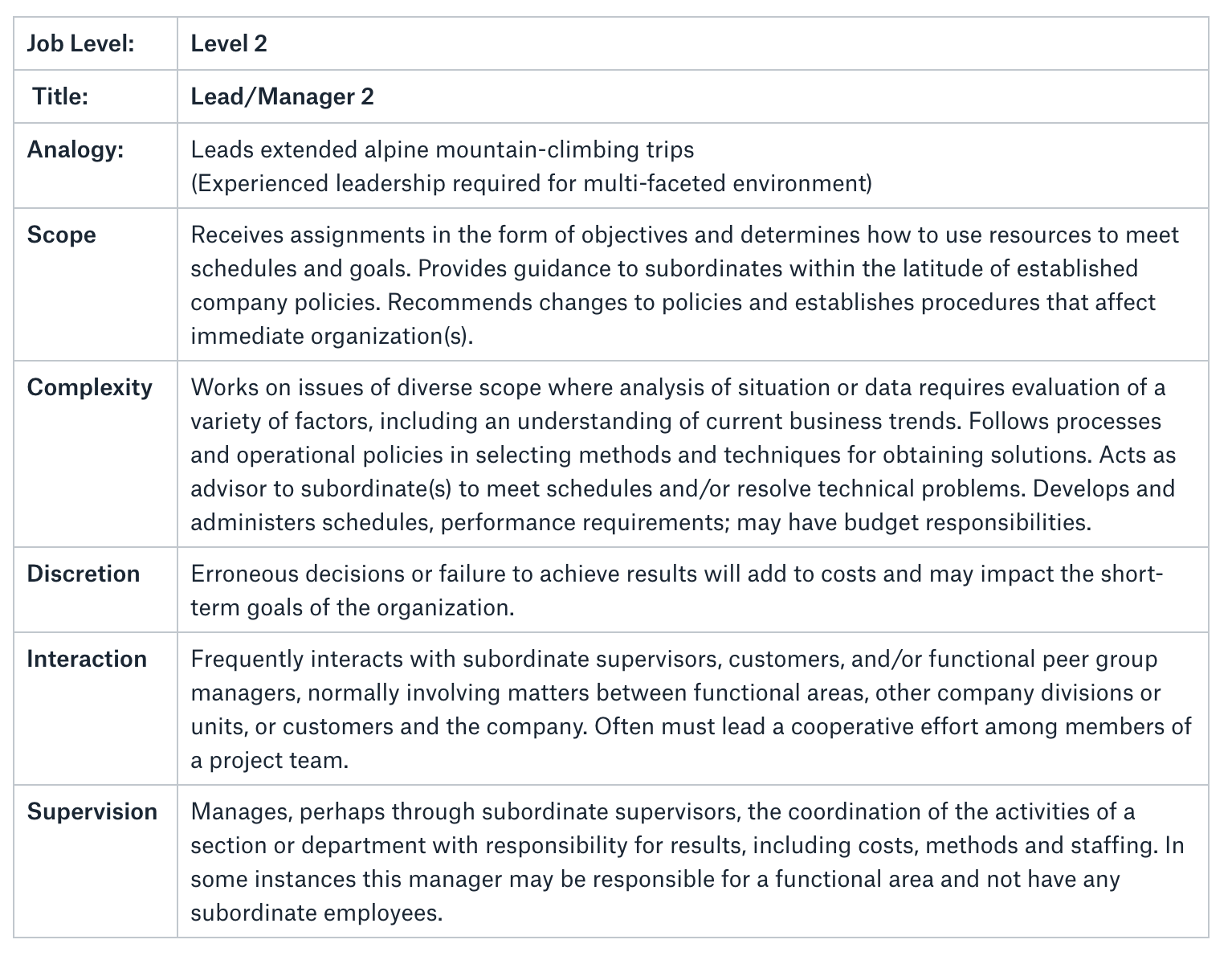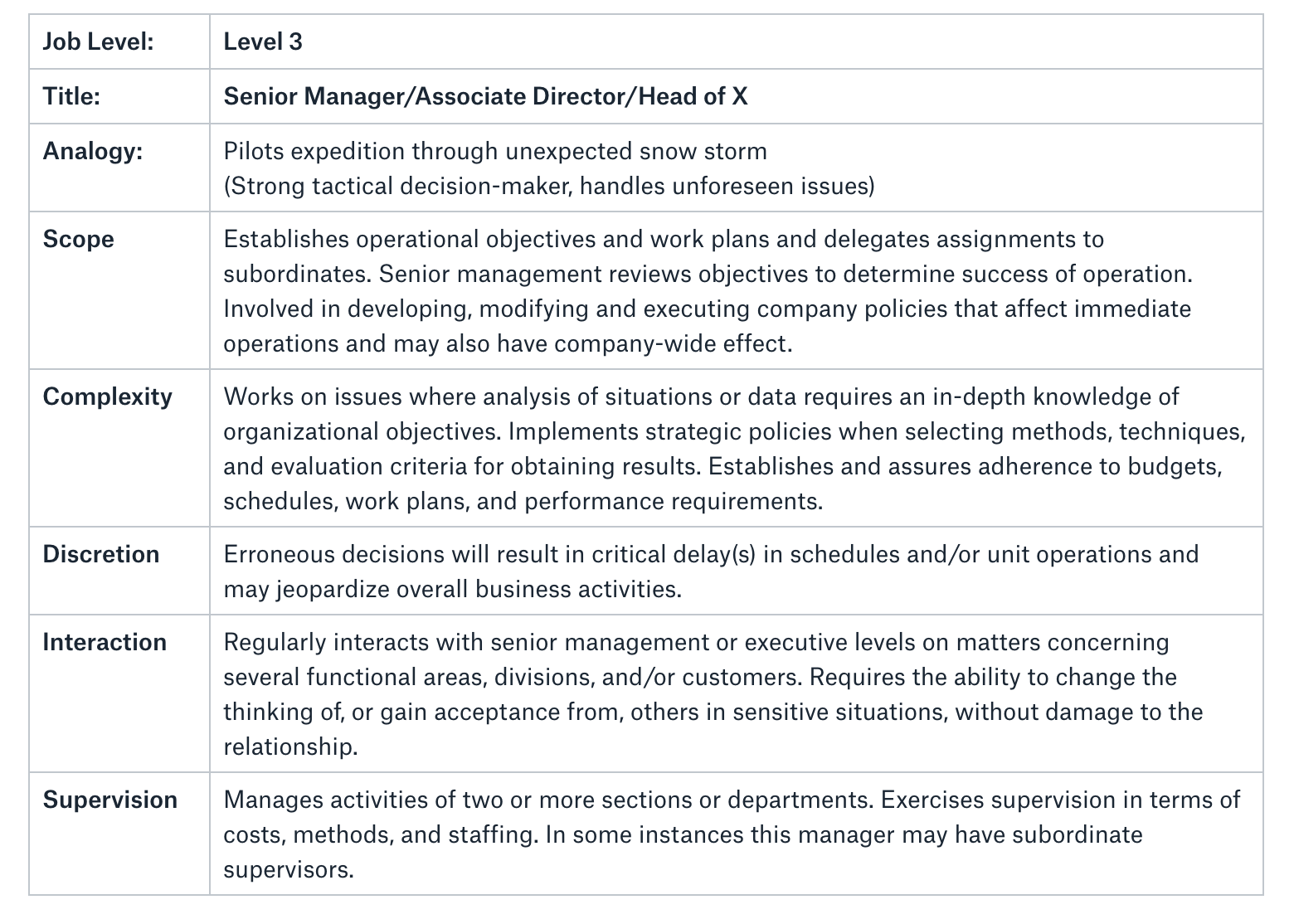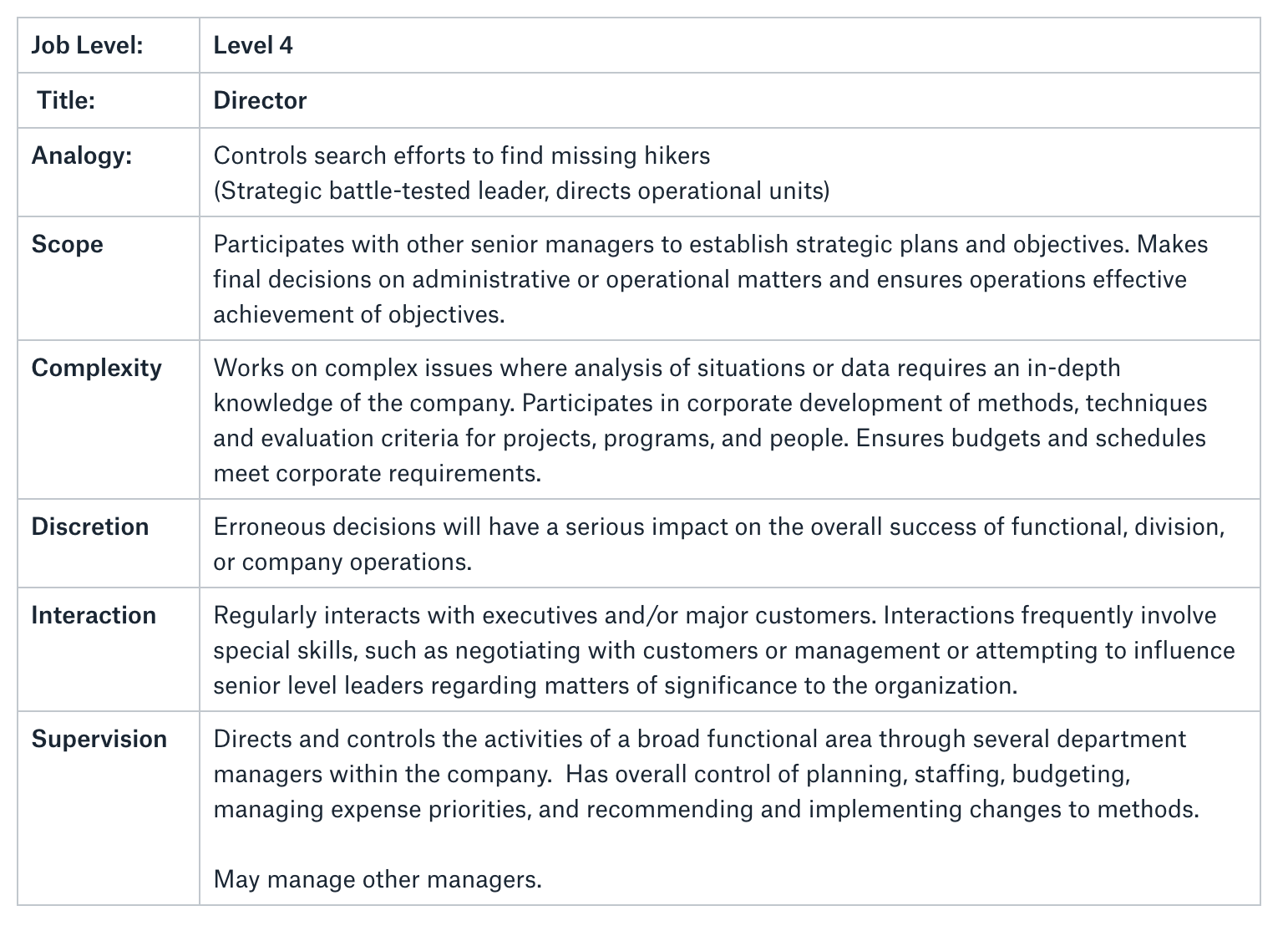 In addition, Managers have a series of Steps, just like Makers. Here is what goes into the Steps for Managers at Buffer.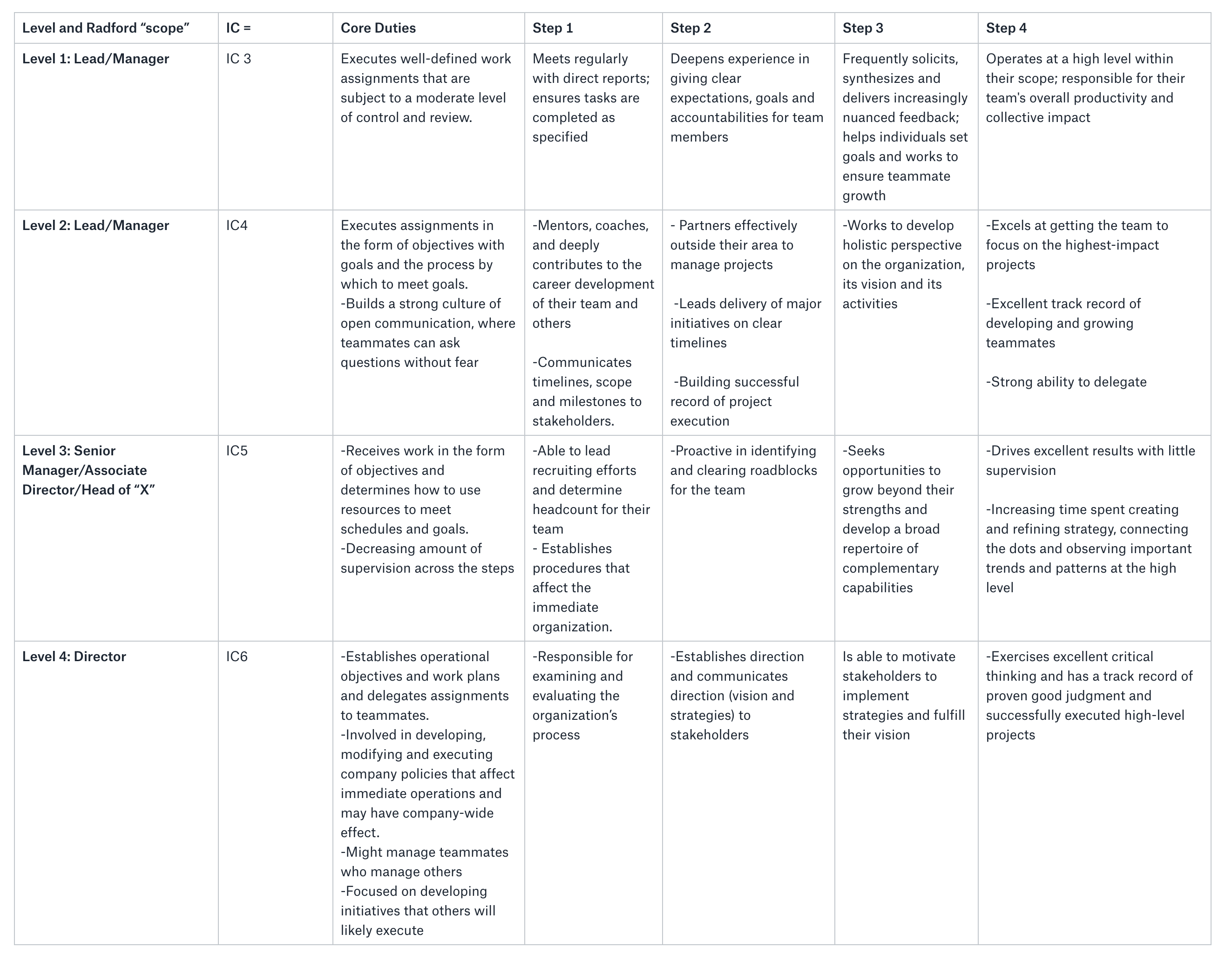 If you'd like to adapt any of these frameworks for your own use, feel free to copy and paste from the free doc file of the Level and Step charts here.
---
Over to You
Creating career frameworks is part of our work to make sure that Buffer is an equal and fair place to work for all of our teammates, and that everyone understands exactly how to move ahead and grow in their career.
We'd love to hear about your experience with all things career frameworks in the comments!
Do you have a clear career framework at your company?
Did the Buffer frameworks feel like good solutions to you? What do you like most or what might you do differently?
If you're up for sharing, what level would you put yourself in right now?
---
(Ed's note: We've updated this blog post from its original 2017 version when our career framework looked different than it does now. If you're looking for that older version, you can find the archived page here. Thanks!)