Being part of a remote team has special opportunities and challenges. In this video, hear Joel and Leo talk about how Buffer started remote working, as well as all the different tools we use at Buffer to work closely together even though we're physically far apart.
Want a little more info on those tools? Here's a deeper look at some of the products and services we use every day to help us stay connected and get things done.
HipChat: keeping in touch with the team
We keep in touch with each other using HipChat. This is a team chat tool which lets us create different chat rooms (for instance, one for design, one for support, one for announcements) as well as having 1-on–1 conversations.
Here's what our lobby looks like, showing all of our chat rooms, and a list of all of our team members (well, most of them—we're too many to fit on one page now!):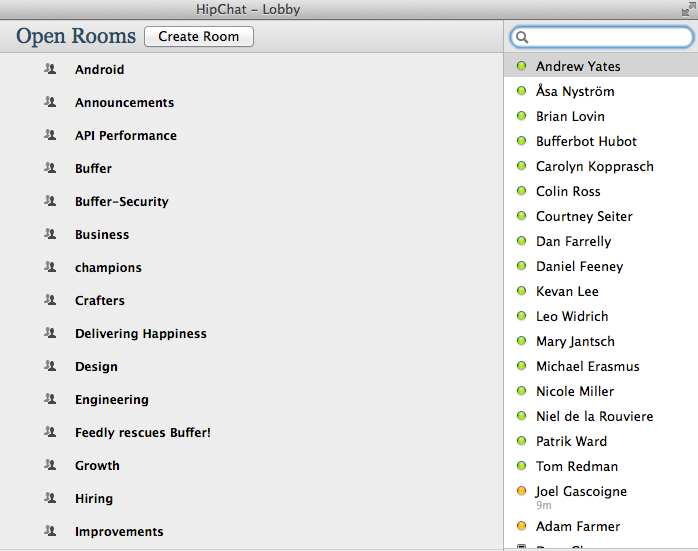 We do most of our general chatting in the Buffer room. This is where we say hello in the morning, share photos or press about Buffer, and discuss any company-wide issues or ideas.
We use Zapier to set up automatic notifications in HipChat of what's going on elsewhere, making it the central "office" of Buffer. In the screenshot above, you can see a whole bunch of notifications from Help Scout, our support email tool (coming up next!).
Other notifications we have include:
new posts on the Buffer blog or on any of our personal blogs
github commits
whenever someone grabs a free Kindle book
when a new comment gets posted on the Buffer blog (these ones go into our Content Crafters chat room, as you can see below)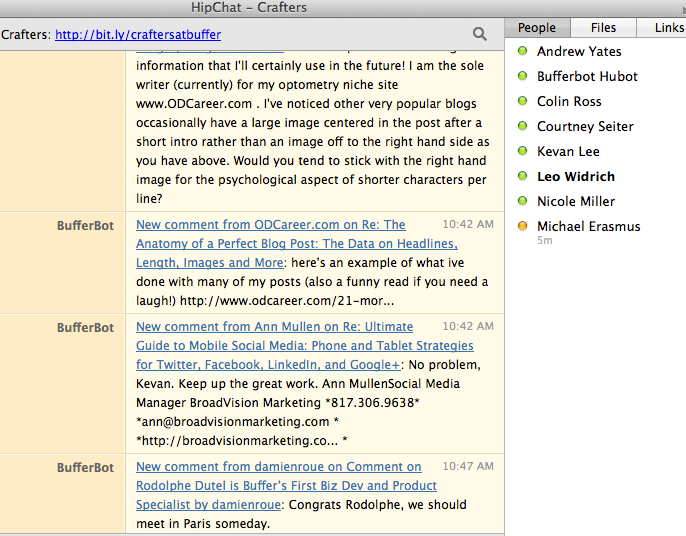 Sqwiggle: Face-to-face contact
Sqwiggle is a video chat tool that helps you stay in touch with your team when you're working remotely. Every few seconds, Sqwiggle takes a screenshot of you so your colleagues can see that you're around, and just by clicking on another person you can join a quick conversation with them.
Here's a recent snapshot of a bunch of our team members working away: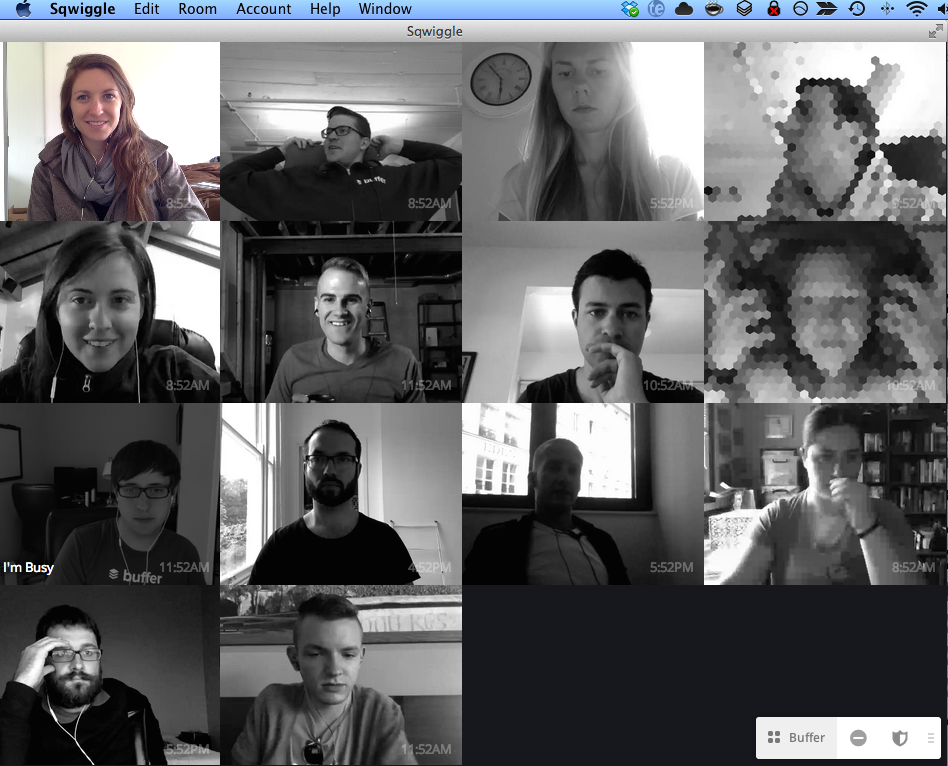 We generally leave Sqwiggle open whenever we're working. This helps us to feel more like we're working together, by seeing everyone's faces like we would if we worked in the same office.
Hackpad: Collaborating on documents
Hackpad is a collaborative document-editing tool, which lets us create and save documents that we can all view and work on together. Each document gets created by a team member, and then others can be invited to edit it. We use Hackpad for writing up meeting notes, working on new copy and sharing the results of any testing we do on the product.
When we collaborate on a document, our names get added so that it's clear to see who wrote which parts. This can be really handy when looking at meeting notes or a list of ideas. Here's a look at how this works for our Weekly Improvements document:
Read even more about how we stay connected in our post 8 Helpful Online Tools To Keep Your Company On Track.
What tools does your business use to keep in touch and get things done? Let us know in the comments.