At Buffer, we try to keep a beginner's mind: always experimenting, pushing the boundaries of the future of work and aiming for a "what if" mentality.
This is true in how we hire new teammates as well. We've recently added several new teammates to the Buffer team and thought it might be helpful to give Open blog readers a look behind the curtains at our full process.
This process has evolved over time and works well for us, though we'd never recommend taking a copy/paste approach – hiring practices are different for companies of all shapes and sizes.
Instead, perhaps this post can give you an extra data point as you work in your own organization to understand your needs and priorities, grow your team and make the most of everyone's time (including the candidates').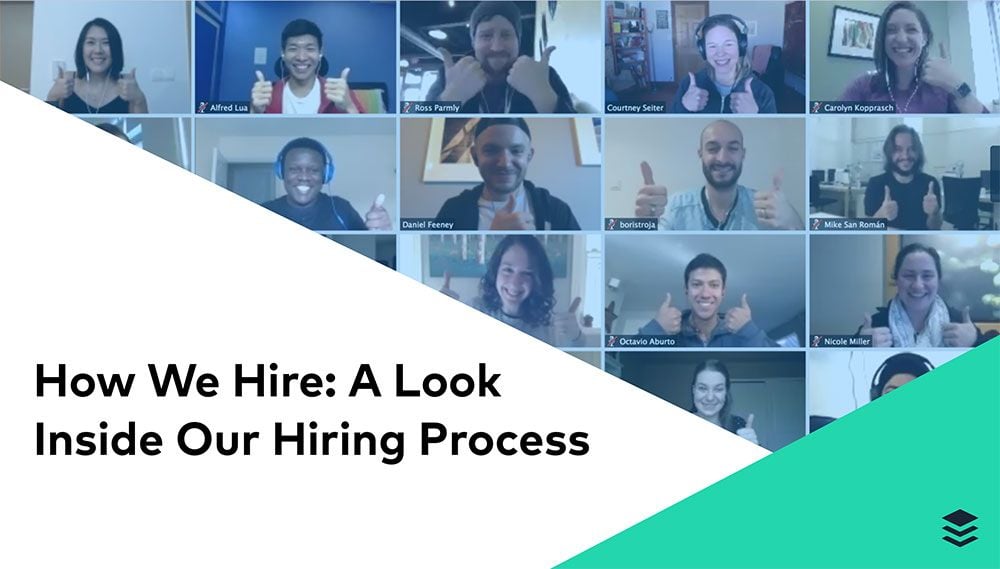 Step 1: Think and write
Before we post a new job listing, we always try to ask ourselves a number of questions about the role's business need, high-level objectives and goals, and needed skills. We take care to record these as a team – they become invaluable at later stages of the process!
Some of our questions include:
What are the objectives of the role?
What goals need to be achieved a year from now for us to consider this teammate a successful hire?
For an amazing candidate to accomplish that, what do they need to do during their first 45 days at Buffer?
What are the traits, skills, and qualifications this person will need to be successful?
Who will be involved in the hiring process and at what point?
Does everyone understand their commitment to participating in the process?
We do this asynchronously on a shared document and then follow up with a kickoff meeting before we open the role to align everyone who will be involved in the hire.
This helps us create the full job description as well as start out with a common and explicit definition of what we're looking for in the role.
We believe starting out this way creates a more fair hiring process because it sets the stage for candidates to be assessed for the same skills, traits, values and qualifications. This helps mitigate interviewer bias and enable consistent candidate evaluation so we can make evidence-based decisions.
This step generally takes us at least a week, since there's a good amount of reflection and a lot of teammates involved.
We've found that the more preparation we do at this stage, the smoother and faster every step afterward becomes. This also helps create a smoother candidate/teammate experience. We hope it shows every candidate how much we care about their success!
Step 2: Sharing the role internally, then externally
Before we release any new job listing to the public, we'll first share it internally with the Buffer team in case it's a good fit for an existing teammate.
Sharing the role internally first is an important part of our culture. We believe in cultivating and developing teammates' skills and talents. Many folks on the Buffer team have changed roles or evolved their positions over time, and we're always looking to create more growth opportunities for teammates – especially because our team doesn't grow especially fast on purpose.
We generally give teammates at least a week (including a weekend to reflect and talk it over with the people important to them) to apply for a role before it's released on our Journey page.
If the position gets applications internally, we'll skip right to a modified interview process. (We also offer a "no-strings-attached" trial period for teammates to try a new role. If after 45 days in the role they find they'd rather return to their original role, that's totally fine.)
If the roles don't have any internal takers, then we move on to posting the role publicly.
Step 3: Using the right tools
The tools we use to keep our hiring process efficient and help create a great experience for everyone involved. Here are a few we're particularly fond of:
Homerun
We've explored many tools over the past years at Buffer and have landed on Homerun as our Applicant Tracking System. Homerun is not API-based like a couple of systems we've used before, which means that we're using their system entirely to host our Journey page (with a custom domain).
We also use it for the back-end it provides to manage candidates. They also have embedded tracking tools that help us understand which sources are the most impactful.
Textio
Textio is a tool that we now use automatically before posting a listing. Our Textio score predicts how effective the job listing will be at recruiting qualified applicants quickly. It also gives great advice on how to make our listings more gender neutral, inclusive, clear and attractive to qualified candidates.
Step 4: Spread the word
At this point in our hiring journey, we're ready to spread the word!
The recruiting funnel is very similar to a marketing or sales funnel in that a strong company brand will lead to a robust inbound hiring funnel.
Thanks to our work towards crafting a transparent, open company, we're incredibly lucky to receive a large number of applications for most open roles – anywhere from 150 to 700+ folks, depending on the role.
We also take care to extend our opportunities beyond those who already know about Buffer. We're always trying to reach out to more diverse groups because we know there are perspectives we're currently missing on our team.
Our roles stay open for four to six weeks on average, and our general timeline is:
First half: We focus on diversifying our candidate pool by reaching out to job boards and groups that focus on underrepresented groups.
Following half: We continue spreading the word across all of our sources.
As we've created our sourcing plan, here are some key factors we focus on:
Laying out all the channels we want to use (tailored to the type and experience level of the role)
Setting goals and budgets for each
Tracking results so we can see what is working and what needs adjustment.
To take you even further into our process, here are some of the specific items from our sourcing strategy for an Engineering Manager position we recently launched.
Dormant talent pool:
[ ] Emailing our 'Interested in the Buffer journey' mailing list – 15,000+ people.
Underrepresented groups focus: (P.S. We'd love to grow this list if you know of other resources!)
[ ]Tech Ladies
[ ]2020 Shift
[ ]POCIT
[ ]Revision Path
[ ]Women Who Code
[ ]Power to Fly
Industry–specific focus:
[ ] Remote.com
[ ] Software Lead Weekly
[ ] Remotive.io
[ ] AngelList
Social media:
[ ] Referral/promoting on Twitter (through @buffer/our team)
[ ] LinkedIn posting
During the sourcing phase, we try to avoid looking at any individual applications so that we don't introduce bias. That can make things a bit tricky if you're aiming to adjust where/how you source to bring in candidates that are more aligned with your requirements or diversify the candidate pool!
Step 5: Reviews and interviews
Once we've gathered a talented pool of candidates for the role, we enter the review and interview phase.
Review Candidates
Timeframe: One week
Duration: 20 hours
The starring system and the notes section in Homerun makes it easy for everyone involved in the hiring process to review candidates on their own time.
Using the criteria we set forth in Step 1, we look for specific experience and culture indicators (we focus strongly on language and are able to spot some signs of alignment with our values based on the candidates' notes to us) to help us narrow in on a small pool we believe are a good fit to begin the interview process.
Interview One: Culture and Values Interview
Timeframe: Two weeks
Generally, our first interview is focused on culture, aimed at understanding the candidate and what they value and gauging alignment with Buffer's specific values.
When we say "culture" here, we don't mean the commonly used definition of "culture fit," (i.e. "do I want to hang out with this person after work?") – we've learned that this thinking can often breed less inclusive environments and teams.
Our interview questions are the same for each candidate, asked in the same order each time, and we already have in mind (and on paper) what elements we're looking for in the answer. This may sound boring and robotic, but we've learned that it's the best approach to remove as much bias as possible, and we share this with candidates up front.
While these interviews give us a good sense of alignment with our values, they do get quite tricky. We're lucky to be talking with many candidates, and we have relatively few roles to fill, so things get incredibly nuanced. We often end up looking at minor things to make our assessments, and we know this leads to observations that might not fully represent the candidate.
But we have to work with the information we have and make some assumptions, especially around how things would turn out if they joined the team.
The main question we have in mind is: Knowing that we never want anyone to change who they are to fit our culture, would they contribute positively to Buffer's culture and would we offer the happiest of environment for them?
Interview Two: Experience Interview
Estimated timeframe: Two weeks
In this interview, the goal is to understand the candidate's experience. This varies quite a lot depending on what role the candidate might be filling. Often it is coupled with a brief practical exercise so we can assess candidates based on a true work product as well as how they interview.
We try to keep each "round" of candidate interviews batched together so each interviewer can compare answers independently. This also keeps candidates in the dark for the least amount of time.
Final Interviews
By now, we've narrowed down the candidates quite a bit. The final interview(s) are designed to focus in on any element of the role we believe might need extra time and attention.
For an engineering hire, this might be a code walkthrough. For a leadership role, we might dive into some specific scenarios around common management challenges to assess candidates' critical thinking and empathy.
Step 6: Roundup sync
After all the interviews, everyone who's been involved with the process makes their independent assessment of which candidate should join the team.
Then we organize a meeting with all those folks and occasionally our CEO, Joel. We all share thoughts and discuss the candidates, with a goal of making an offer.
There doesn't have to be full alignment at this meeting, though there often is. In Step 1, we also designate the final "decision maker" for the role, who will take everyone's advice into account and then make a decision based on the full context available.
Once a decision has been made, we'll further define the candidate's level of experience so we can slot them into our salary formula and gather the resources and training plan that we'd need on their start date.
Then it's time to write one of the best emails in the world and – fingers crossed – say hello to a new teammate!
Over to you
Have you ever been involved in hiring someone? What criteria did you use? Do you see ways we could improve our hiring process? We'd love to hear from you!
P.S. We're hiring right now and will be throughout the year! Check out our open roles; we'd love to hear from you!
Photo by Simone Hutsch