Hi team! I'm so excited to tell you about January. This was a really exciting month for us as we tried several experiments to still deliver lots of happiness during higher than ever volume. What a luxury that Buffer is growing so fast that we can barely keep up with customer emails!
Exciting people news
I was thrilled to share that Mary and Adam have completed their 45 day Buffer Bootcamp periods and have come on board with us full time!
We also have a new Weekend Warrior starting. I can't wait to see how this affects our stats and how well we are able to take care of people over the weekend and on Mondays.
We're still looking for Happiness Heroes and Weekend Warriors in several timezones, so keep sharing this page! :)
Now, for the numbers:
In January, we sent a total of 9771 replies, our highest volume ever and a 22% increase over December. Nice work team! Through these, we helped 5312 customers.
We also had 268 live chat conversations and sent 5700 tweets. :)
*We use Help Scout, Spark Central, and Olark as our happiness delivering tools.
We set and missed some ambitious goals, and are looking forward to trying some more experiments in February to get closer to hitting these.
Goals:
Respond to emails within 1 hour:  65% (December was 55%)
Within 6 hours: 85% (December was 78%)
Over 24 hours: 5% (December was 7%)
Actual:
Respond to emails within 1 hour: 41%
Within 6 hours: 78%
Over 24 hours: 5%
Happiness Stats from Hively:
Here is how people felt about our email responses to them:
Happy: 94%
Satisfied: 5%
Unhappy: 2%
Felt WOWed: 11 people
2 Experiments we tried:
We had some fun getting creative with small changes we could make in order to better serve our customers.
Scheduling time for each tool.
The spike in volume after the New Year's holiday resulted in several "code red" days, where our Happiness Heroes go into "beastmode" in the email inbox to try to get answers to folks who have been waiting. Unfortunately, this resulted in far less attention to Twitter and Live Chat than we like. So, in the first week of January, we started scheduling one hour for Twitter and one hour for live chat for each Happiness Hero per work day. This carried on through the month and resulted in better Twitter stats and a daily live chat presence.
Sorting the inbox & not abandoning the "gravity" tickets.
We noticed that a few of the older tickets that require developer attention and an investment of Happiness Hero time have been a bit neglected. We affectionally call these "gravity tickets" because they tend to sink to the bottom of the inbox as they get older and stop getting replies when we are stumped. In order to overcome this, we tested a very small change that actually had a large effect. That is, we sorted our Help Scout emails by oldest at the top (thus the oldest emails are the most visible) instead of newest at the top. This caused our "within 1 hour" metric to get much worse, but the older ones were not being left.
We're big believers in "managing your energy, not your time," so we thought that having everyone jump into the tougher emails in the morning, when we're most fresh, would be best. However, we found that we were able to make a bigger impact by diving into the newer emails first thing in the morning. This allowed us to "wow" some people who have emailed recently, as well as kick off the day in a super productive way, which inspires the rest of the day. With both methods of sorting, we got to the same inbox level by the end of the day, but we managed to make people far happier (including ourselves) by having one person at the top of the inbox, answering the newer questions, while the person who had been online for a few hours already (due to timezones) jumped to the older ones.
Here are some stats to demonstrate just how inaccurate my initial hypothesis was!
Day of sorting by oldest and all working on the oldest ones (1/21, 386 replies):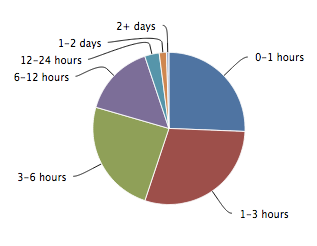 Day of sorting by newest and working from both sides (1/22, 374 replies):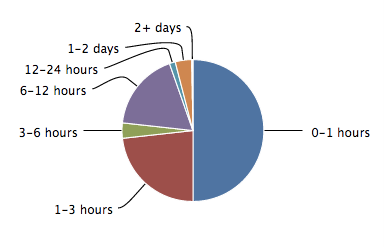 Result: Despite the fact that we had almost identical volume between Tuesday and Wednesday, the speed stats were far better on the day we had someone working from the newest emails as well as someone in the older ones. (For comparison, look at the "0-1 hour" percentage.
Despite the fact that this was the wrong solution, we still felt strongly that we needed to better address the older emails. So, Joel and I started meeting a few times per week, roughly 30 minutes each, to go through any emails that hadn't gotten a reply in the over 24 hours. This is a huge help and seems to be a success so far! Thanks, Joel! We'll carry this on through February and see if we can nudge down the "over 24 hour" percentage.
Tackling the "Weekend Gap"
This month we also planned some specific times over the weekend when we'd all jump in. (This has been completely informal in the past; we usually check in at some point over the weekend but don't have any specific goal or plan.) We first set a goal to do one hour each weekend day. We each did one day and failed to do the other day, which seemed like a strong signal to take one whole day off if possible. The following weekend, we each planned to do at least 2 hours on one day and take the other day totally off. This was far more successful.
We also brought on our first "Weekend Warrior" at the very end of January, and can't wait to see how this changes February's report!
The Trello bug board
We have always had a "bug board" in Trello in order to keep track of common bugs that are reported. This month, we gave it some more "oomph" and the Heroes recorded every single bug that was reported, even if we personally couldn't reproduce it. This resulted in us noticing patterns faster and allowed us to better follow up if we fixed something. I'm keeping a closer eye on this board now and report the key bugs to our product team each week.
A new schedule for Engineers in support
We have also just re-launched "Veggie Day," which is the term we use to refer to the days that developers work in the inbox with us to help answer the trickier emails. We're exploring the schedule of having one engineer work with the Happiness Team 3 days per week on a rotating schedule. We hope that this results in fewer 24+ hour replies and more happy customers. Stay tuned. :)
Lastly, a hiring update
We heard from a total of 1294 people in January for the Happiness Hero and Weekend Warrior roles. We'd be very glad to hear from you if either of these roles sounds like you, so please drop us a line if you would love to help us make Buffer customers happy! :)
Also, please let us know if there are any other numbers we can share or questions we can answer about our processes!