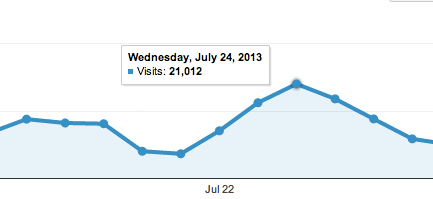 The below was originally an email that was sent out to the whole Buffer team
So, powered by one of our 9 Buffer values – "Default to transparency", we wanted to do the same here and be 100% transparent about our blog traffic in July
Quick summary
In July we published 16 posts on the blog, 4 of which were guest posts. Our blog traffic jumped by 59% from June, and our top post hit almost 30,000 unique views.
How did the blog do overall?
Total uniques: 341, 470 (compared to 213, 832 in June = 59% increase)
Email subscribers: 10, 369 (compared to 10, 472 in June = 0.9% decrease)
Note: I'm not entirely convinced these numbers are right, as there seems to be a lot of wavering in the subscribers report from day to day. Will need to do some digging into this with Leo (Note from Leo: Yep, we should probably move to Mailchimp or similar soon!)
Total posts:
16
Total posts republished: 3 (all on Lifehacker)
Total in-house posts: 12
Total guest posts: 4
Top 3 referring sites: Facebook, Twitter, Lifehacker
Top 3 keywords: "body language," "twitter symbols," "twitter jail"
Which 3 posts performed best?
Ranked by number of unique visits, these are the three top posts from July. Note that the sharing stats are cumulative, so they include the first week of August as well, but the uniques are from July only.
The science of time perception: stop it slipping away by doing new things
780 tweets, 1.3k fb likes, almost 1k g+, 29k uniques
10 of the most counterintuitive pieces of advice from famous entrepreneurs
1500 tweets, 1.9k fb likes, 25k uniques
10 Surprising social media statistics that might make you rethink your social strategy
2700 tweets, 1.7k fb likes, 900 buffers, 22k uniques
Experiments from July
1.) We added a text-based CTA at the bottom of each post that includes a link to email hello@bufferapp and my personal Twitter handle. This seemed to work well: I've noticed lots of people reaching out via Twitter and a couple via email:

2.) We added CTAs for readers to fill out the Wufoo form for Buffer for Business plans. 20% of the Wufoo entries in July came from the blog (20/75):

3.) We added notifications for new blog comments into the Crafters room in HipChat:

Questions and ideas that came up in July
1.) We might look into adding the email and Twitter CTAs into a more standard part of the blog, rather than as part of the text.
2.) The large volume of content we're producing (5/week) isn't working so well with our current layout. In the future we want to look at implementing a new style that helps readers continue reading and discovering our content, to build up the blog as a whole resource of knowledge and information.
Going forward
– Managing product/support-based comments on the blog. To start with, I'm going to mention Carolyn in the Crafters room whenever I notice one of these, and we'll see how that works.
– Working on metrics for the blog with Michelle. Hoping to uncover some solid trends in terms of topics/keywords that lead to conversions, email signups, high social sharing, etc.
– Focusing on social media and business-based posts to convert Buffer for Business customers and life hacking, productivity and science-based posts for spreading the Buffer brand.