As social media has evolved, our use of social networks has changed: We've found new ways to use Twitter, Facebook, and more to share, to communicate, to talk about our favorite things.
We engage more than ever with brands and businesses – brands and business like you and yours!
At Buffer, we've been fortunate to have a front row seat to watch this evolution of social media for businesses, as it's expanded from an engaging channel for marketing and community into many new channels, including one that's especially near and dear to us: customer service.
And we're so excited to share with you: Today marks the public release of our brand new customer service tool, Buffer Reply!

We'd love for you to be among the first to experience the real-time support experience with Buffer Reply. Click above to get started right away, and continue reading for the full story behind the product and all the unique ways that Buffer Reply supports you and your audience!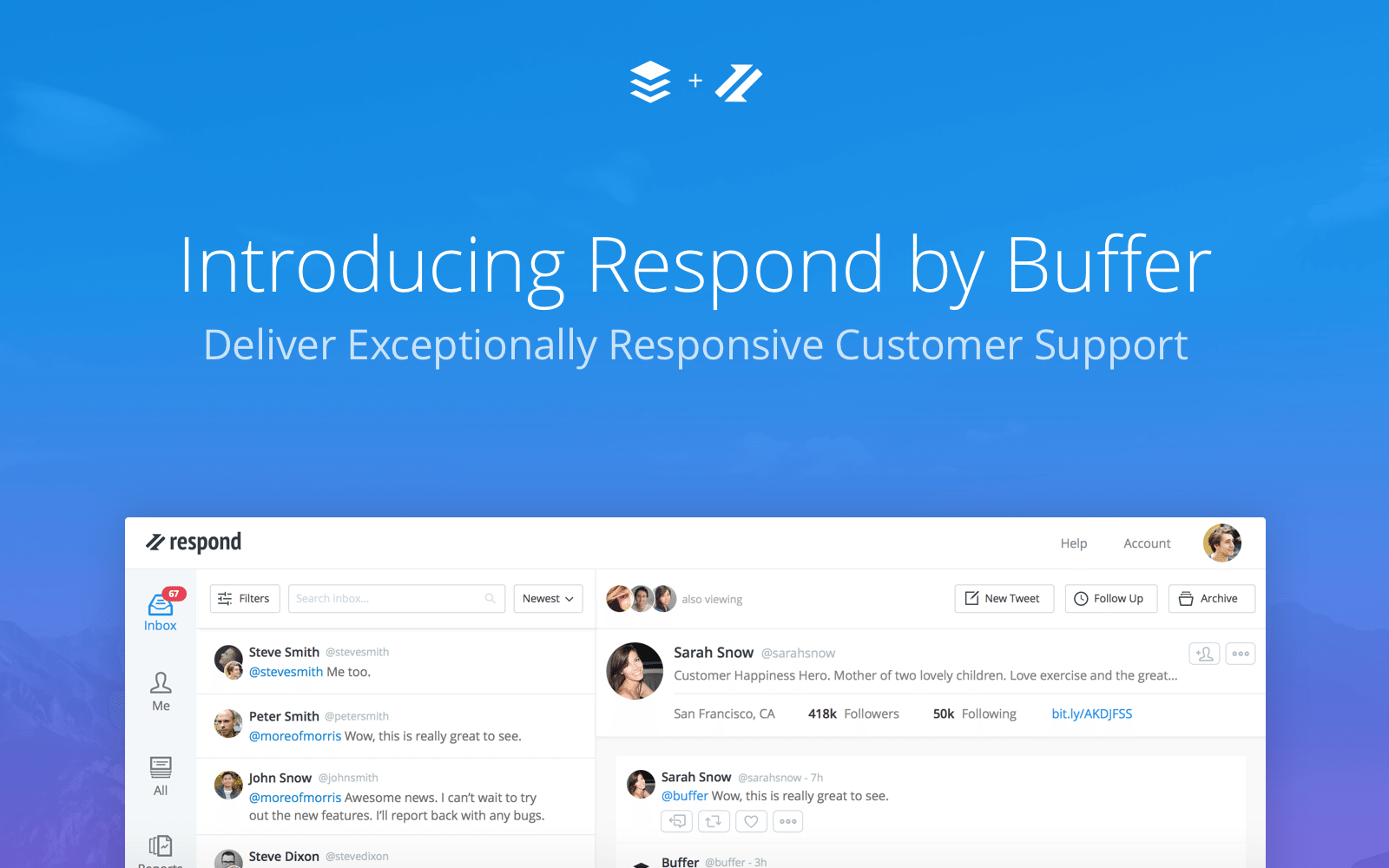 (Updated on August 8, 2017: We have rebranded Respond to Buffer Reply as part of our multi-product platform strategy. You can read more about this here.)
How to Get the Most From Buffer Reply for Customer Support
Having been big fans of the Respondly product before the acquisition and now daily users of Buffer Reply over the past three months, we've had the great opportunity to experience Buffer Reply's benefits first-hand in how it helps us support our community.
Here are some of our most-loved parts about Buffer Reply.
Buffer Reply displays your community's tweets in a real-time tweet inbox. The list of new messages—both tweets and DMs—runs down the left column. Each particular message opens into the panel on the right.
This intuitive layout gives the Twitter stream an inbox feel where you can reply, archive, keep track of conversations, and—excitedly—reach inbox zero!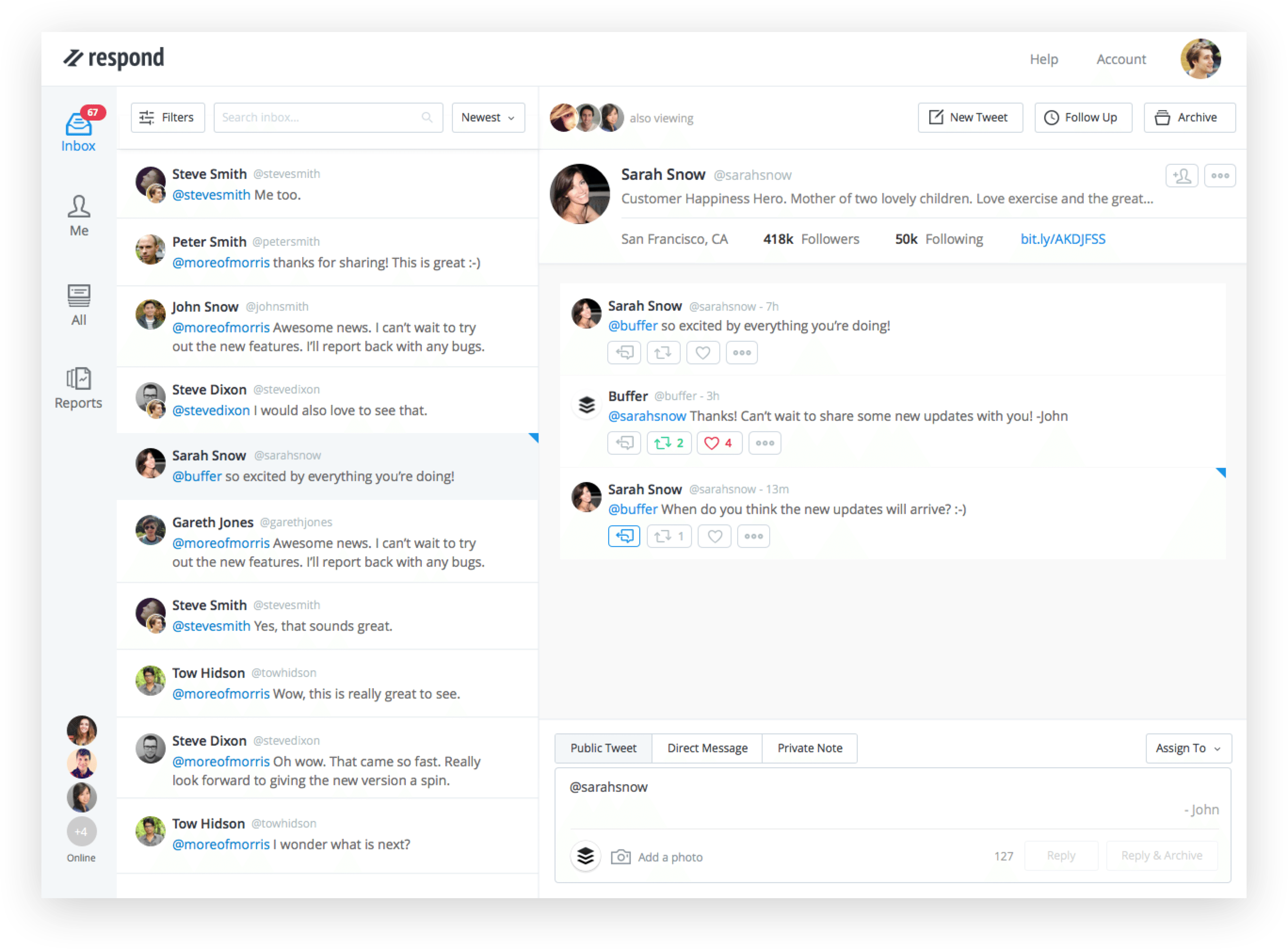 From the message panel, you can perform every significant action you may need to assist, engage, and support the person you're chatting with. In Buffer Reply, you can: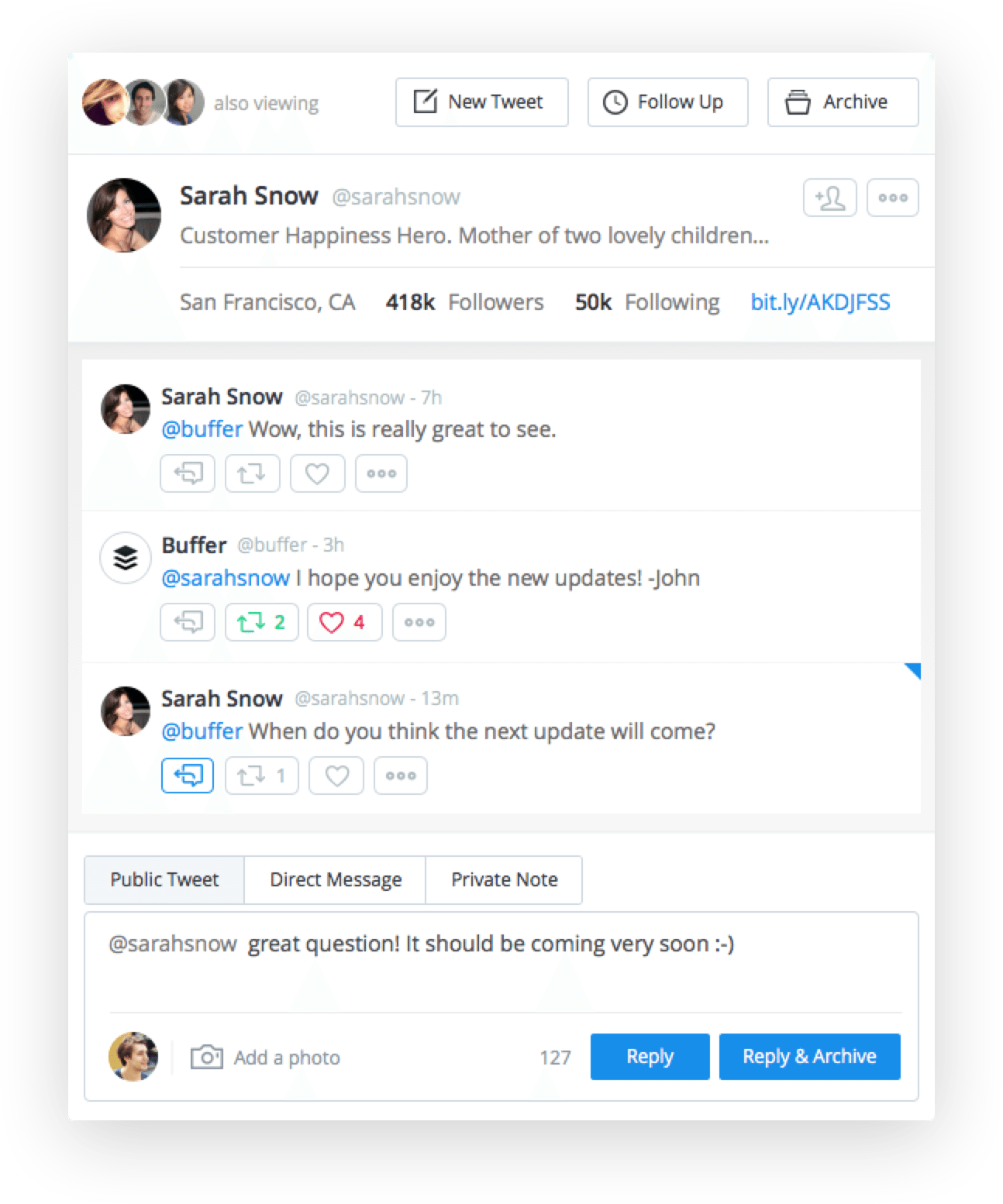 You can also tag a conversation for Follow Up — if you need to hunt down an answer maybe, or if you'd love to circle back on a conversation later to see how things sorted out — and you'll receive a reminder later on at whatever custom timeframe you've set.
(One of my favorite features is the semantic followup instructions: If you tell Buffer Reply to remind you "tomorrow," it'll know precisely what you mean!)
For tracking all the important conversations that matter to you, chances are you might want to stay on top of keywords, phrases, or hashtags, too. Buffer Reply includes custom search queries so that all the results from these searches appear in real-time alongside your tweets.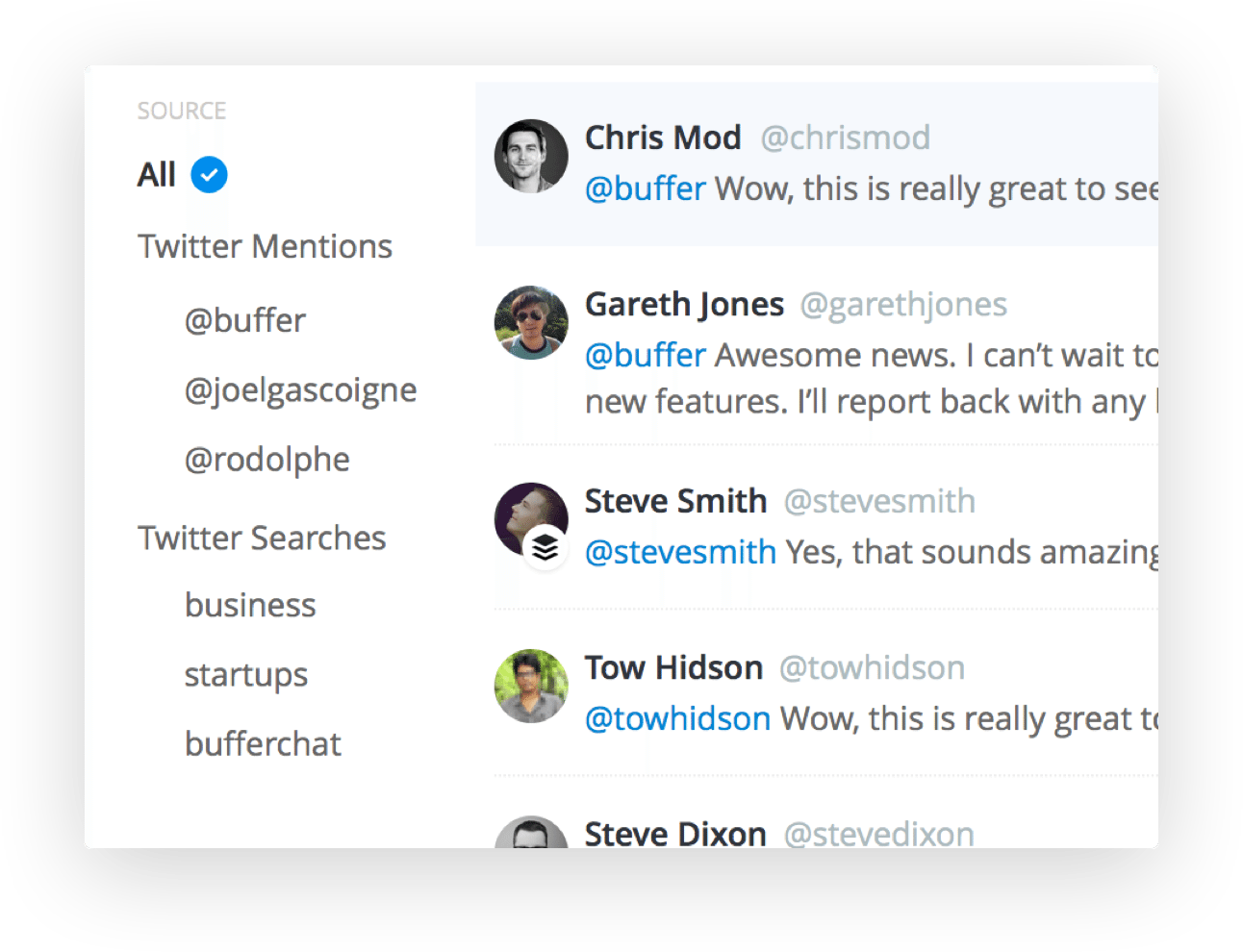 Buffer Reply was built for teams—and tested by teams! Some of the biggest names in Silicon Valley use it for Twitter support, including Slack, WordPress.com, Product Hunt, and Stripe. With this in mind, we've done our best to build out team features that we feel will make a world of difference to working effectively and efficiently together.
Team signatures
Double-reply prevention
Assign conversations
Oh, and Buffer Reply integrates with Slack! Woop!

Buffer Reply for individuals and Buffer Reply for teams
One of the really interesting discussions we've had here during the launch planning is thinking about what Buffer Reply does best: Is it a customer service tool or is it a social monitoring tool?
Why not both!
We've found that users tend to find great value from Buffer Reply, using it in either way. Our product roadmap is looking to support both paths also, with an initial focus on making Buffer Reply a perfect experience for teams.
We'd love for everyone to be able to try Buffer Reply! We're happy to offer two different pricing plans at launch:
The Free plan for individuals
The Pro plan for teams – $39 per user per month
There's a neat checklist of what each plan includes here, if you're interested in seeing more.
In addition to these two plans, we're looking into ways to best support Enterprise customers as well, and we'd love to chat further with you if this feels like it might be you.
Additional FAQs
What social networks does Buffer Reply work with?
We're really excited to offer a full support experience for Twitter, and we're currently exploring how Buffer Reply might fit with other networks, Facebook being chief among them!
Is there a free trial?
No, we don't have a free trial at the moment. We're hoping you might get a great taste for the simplicity and benefits of Buffer Reply with the Free plan. If there's any additional detail we can pass along about the Pro plan features, we'd be very happy to!
Can I get to Buffer Reply from my Buffer dashboard?
Great question! At the moment, the two products are separate from one another, and each can be accessed from its own URL – https://buffer.com for Buffer and https://buffer.com/reply for Buffer Reply.
Is Buffer Reply integrated into Buffer? Will it be?
For now, we've chosen to keep Buffer and Buffer Reply as separate products. Would love any of your thoughts on that!
—
How Buffer Reply came to be: The full story, from acquisition to launch
Buffer Reply has been an incredible, whirlwind product experience for us at Buffer, from acquiring the customer service tool Respondly in December (big thanks to Tim and the Respondly team!), to onboarding private beta testers in January, to the public beta release today.
We're couldn't be more thrilled for the chance to include Buffer Reply among the Buffer family of products.
On the day of the acquisition announcement, we shared this vision for the future of Buffer:
In the long run, what we hope to build at Buffer is the essential social media tool. Our goal: No matter how many other great tools (and there are many!) you might want to use, we hope Buffer is a key part of your mix to deliver great experiences and results on social media.
Buffer Reply feels like a natural fit with this purpose. In addition to building Buffer as the premier marketing tool for you to manage your social media, we're also hoping for Buffer Reply to become the premier tool for you and your customer service team.
Since the acquisition announcement, we've been working with a clear focus of making Buffer Reply a must-have, standalone tool for delivering exceptional support experiences. It's an amazing journey we're embarked upon and are excited to continue.
We've learned a ton from experiences like #bufferchat and how Buffer Reply can best scale to handle over 3,000 tweets in an hour — we're grateful for the chance to keep improving there!
We've given early access to some incredible companies like Slack, Product Hunt, and WordPress.com, and learned from how they support their audiences of millions
We've checked in with Buffer Reply's 18,000 beta signups to make sure we're building the best Buffer Reply possible
What we're excited to release today is a premier, standalone tool to help you reach out to your customers, reply to their questions, monitor what's being said about you and do so in a fast and reliable way to deliver a great experience for your community.
Buffer Reply is a social-first support experience. We want you to feel empowered to dive into conversations and questions in real-time, so we built the dashboard and interface with speed, interactivity, and engagement in mind. Instead of ticket numbers or wait times, Buffer Reply is all about what your customers need right now and helping you deliver ultra-responsive support.
We feel this helps set apart Buffer Reply in a really unique way and that the timing of a tool like this couldn't be better. In particular, the timing with Buffer Reply seems to have felt quite ideal for a number of reasons:
1. How Buffer Reply helps us set the standard for customer support
At Buffer, it has been our stated mission to:
Build the simplest, most powerful social media tool on the market and to set the standard for customer support.
During the very first days of Buffer in the fall of 2010, our co-founder Joel started delivering happiness, answering questions on Twitter, and proactively reaching out to new customers. Customer service has been part of Buffer's DNA ever since, and it feels incredible to now have a product that supports this mission.
Buffer Reply also happens to be the product that helps us achieve our vision for support. We use Buffer Reply on a daily basis, helping us connect and assist our awesome Twitter audience of more than 485,000.
How huge has support been for us? (And Buffer Reply in particular.) Here're some numbers:
We have a team of 21 people who work exclusively on delivering happiness to customers.
We aim to answer emails and tweets within 60 minutes.
We respond to 350 emails and 300 tweets per day. (During our busiest times we're fortunate to start a new Twitter conversation every minute!)
We send 170 outreach messages per day to people who are interested in Buffer
With Buffer Reply, we want everyone to feel capable of doing great support on social media. Having the right tool can feel a bit like having a super power! This has been the case for us with Buffer Reply, and we're delighted to let you in on the fun as well.
2. A social media strategy now involves more than marketing
Did you know: Only 20% of top retailers answer customer questions on Twitter. Kudos to that 20% because they are doing it right! People—customers—are using social media in more ways than before, and with that boost in use comes a whole host of expectations, conversations, and opportunities.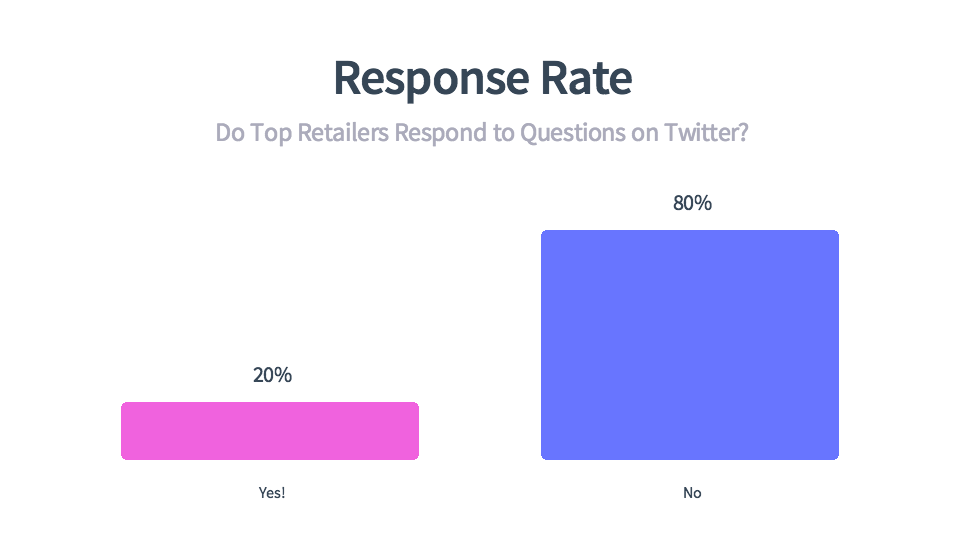 It's no longer enough just to post consistently (though that's still a huge difference-maker!).
We feel that today's social media strategy requires more, starting with a way to respond to the people who're reaching out.
From what we've seen, Facebook and Twitter are more than just marketing channels. They are engagement channels. Here's another amazing stat: Over 80% of inbound social customer service requests happen on Twitter. That's a huge percentage of your audience looking to connect with you on social!
We've found that you can engage to a certain degree with your marketing strategies. We believe that you can engage even further with a social-first support plan, too.
3. As the Buffer team grows, so do the opportunities
When Buffer started five years ago, social media looked a lot different. Facebook and Twitter were private companies, yet to have their IPOs. Neither was as fully embedded into society and culture the way they are today.
A lot has changed for social media, and a lot has changed for Buffer.
We started as a team of two, Joel and Leo, and we're now a team of 80. In the past six months, we've doubled in size, adding 40 new team members (and keen to hire still more!).
And as the team has grown, we've felt confident that we can build out an amazing product experience not only for the Buffer product, but also for new areas like our image creation tool Pablo and, now, with Buffer Reply.
We're grateful for the chance to have a full team—product, engineers, data, customer development, support—solely focused on delivering a great experience for you with Buffer Reply.
What's next for Buffer Reply …
We're building toward a tool that is great for everyone: teams, individuals, personal brands, and more. And certainly would love to welcome all types of users and teams to try Buffer Reply and see how the fit feels. (We'd love any feedback and input from you as well!)
We know that big companies have certain needs also, and we're building out enterprise options at the moment. If that feels like you, definitely drop us a line and we'd love to chat!

Thanks so much for the chance to serve you and your support team.
Happy Replying!